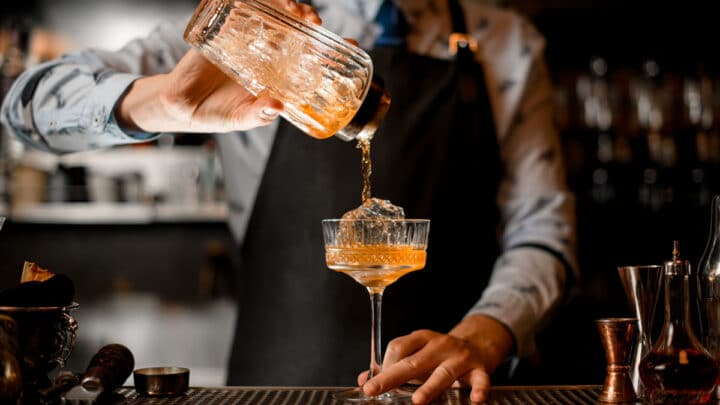 Ready to be the toast of the town in Hackney's hottest bars? Get ready to sip in style as we guide you through the trendiest drinking holes in the area.
Ranging from cheap (£), doable (££), to the exorbitantly pricey (£££), this area provides a kaleidoscope of bars for every kind of wallet.
Whether you're on the hunt for the top lip-smacking cocktails or looking to make best friends for life in the loo after one too many, Hackney's myriad of bars have got you covered.
Let us take a journey through the hullabaloo and take a gander at the cream of the bar-hopping crops in this East London gem. Old Fashioned, anyone?
The Best Bars in Hackney
Last Tuesday Society
££
One of the coolest (and weirdest if we're honest) bars in Hackney – Last Tuesday Society is no ordinary drinking spot. If you're looking to encounter the whimsy of East London's underbelly, this cocktail bar in Hackney is a dream come true.
Known for its Absinthe parlour, you'll be able to encounter the once forbidden pleasures of chasing the "Green Fairy".
Tucked away in the Viktor Wynd Museum of Curiosities, Fine Art & Natural History – a place packed with all kinds of weird shizz.
Ranging from spooky skulls to stuffed animals decorations, you'll never quite know if it's the bar's decor or if your cocktail-soaked brain is playing tricks on you.
Grow
£
Grow is a fresh and 'in the now' take on the traditional bar scene with a vibey atmosphere featuring a sustainable edge.
With live music floating in the air with seating right on the edge of the River Lea, you won't get a wine bar in Hackney with a better view.
Ranging from delicious lagers to organic wines, you'll be stuck on the menu all day and night from all the great choices.
Encapsulating an all-inclusive feel to their cocktail concoctions, vegans can enjoy the creamy taste of a vegan oat milk Russian to start with.
Behind This Wall
££
A bar name that immediately sparks curiosity, Behind This Wall is a hidden gem that radiates the essence of effortless chic. A top contender for the best bar in Hackney central, you'll marvel at the speakeasy feel of this underground hotspot.
A contemporary space that provides a simplistic feel, Behind This Wall is a unique basement bar that will instantly up your local insider street cred. This establishment also encourages you to order any drink of your heart's desire (yes, you read that right), and they will prepare it accordingly.
Howling Hops
£
In order to put a hop in your step, the Howling Hops is an excellent choice to kick your Friday night up a notch. Passionate about crafting a good pint, the Howling Hops offers delicious and bold beers that stray from the norm.
While they offer beers for online purchase, you can drink these foamy delights at their tank bar. From the citrus zest of a Tropical Deluxe pale ale to the inventive nitro beer called We Buy Teeth (yikes), this bar will make any beer connoisseur weak at the knees.
CRATE Brewery & Pizzeria
£
Situated in the hipster haven of Hackney Wick, CRATE Brewery is another wonderful pick next to the River Lea. While outside of the dark and daring realms of traditional bars, this riverside beauty is the perfect place to enjoy some pints in the sun-soaked outside area – it also happens to be one of London's coolest breweries.
Known for its traditional killer combo of pizza and beer, you'll have plenty of carb-infused wonders to choose from. If you're not a beer kind of guy or gal, this Hackney canal bar also offers an extensive wine list.
Four Quarters East
££
Known as one of the best arcades in London, this retro-style gaming bar will be sure to hit you right in the nostalgic childhood feels. You'll be able to drink to the wins and losses of old-school classics and create some new fond memories to look back on.
The Four Quarters East has house drinks creations inspired by some of your favourite games. Nothing will quench your thirst after some nail-biting gaming sessions, quite like a few Princess Peach cocktails.
Two More Years
£
Outdoor bars in Hackney possess a space embedded with feel-good energy. Creatively named after the time left on their lease before the property will be redeveloped, Two More Years is the top place to create some magical memories.
Adorned with idyllic panoramic views of the River Lea, Two More Years will have you captivated. Serving big burgers, tasty draughts, and warm smiles — this slice of riverside heaven is the perfect space to catch up with long lost friends or make some new ones.
The Karaoke Hole
££
Do you get your kicks from belting your heart out to some exceptionally dressed strangers? The Karaoke Hole is a vibrant gay bar in Hackney that will have you revel in its glitz and drag-tastic glam.
With giant pizzas to chow down and delicious pitchers of cocktails on offer, this bar amplifies the finer things in life — comfort food, big drinks, and endless bouts of laughter.
Tip: While some might think they're the next Mariah Carey, you might encounter a few singers that sound similar to a few screaming cats in a bag. So, be sure to take a good pair of earplugs just in case.
Barge East
£££
Situated on a Dutch barge built more than a century ago, this floating restaurant and bar will have you sailing towards an unforgettable experience. That's the idea anyway.
From outdoor seating areas to lower deck options, decide if you're ready to embark on a water or landlubbing adventure. Barge East will add a splash of class to your bar-hopping experience with set dinner menus and an inventive cocktail list.
Netil 360
£
If you're searching for the hippest Hackney rooftop bar, the Netil 360 will not disappoint you. This multiple-use venue, including a workspace and a sauna, caters for every type of outing.
However, the 360 view of the rooftop bar is where the establishment takes an average drinking experience to the next level.
Enjoying the live DJ sets while absorbing the city skyline with a drink in your hand, this rooftop bar in Hackney is a treasure trove of experiences.
Off Broadway
££
Ready to experience the razzle-dazzle of one of the best bars near London Fields? Off Broadway is inspired by the East village scene from the Big Apple, which adds a touch of the American dream to little old Hackney.
This dazzling bar first opened its doors in 2008. You can enjoy its lively ambience that usually features a variety of show-stopping performances. Order another round of martinis, you're in for a long and eventful night at this exciting establishment.
The Natural Philosopher
££
Embellished in a Roaring Twenties style decor, this unique bar cultivates a space where you can imagine Ernest Hemingway frequented. Don't miss out on the Happy Hour that runs from Tuesday to Thursday from 6 pm – 8 pm and spend a mere £6 on selected cocktails.
With butter-soft leather seats and cocktails inspired by herbal medicines, The Natural Philosopher will be sure to cure your hump day blues. A herbal cocktail a day will surely keep the doctor away.
Bars Near Hackney
Dalston Superstore
£
A hip and happening establishment with a fun LGBTQIA+ flair, Dalston Superstore is a cornucopia of fun times. A trendy bar, queer club, cabaret space, and cafe mixed creation — there ain't no party like a Dalston Superstore party.
Whether you prefer classic creations or looking for a drink with a funny name, this bar provides the goods. Another round of Whore's Handbag, perhaps?
Happiness Forgets
£££
OK, OK, it's more arguably on the Hoxton side of things but Happiness Forgets is a low-key basement bar with a hella lot of ambience.
This grunge-inspired space has a no-nonsense edge and is the best place to visit if you're looking to have a few expertly-made drinks with your mates. From the simple pleasures of an Old-fashioned to the exciting whiskey elixir of a Peach Gold Rush, this bar is a must for any flavour hunters.
Nightjar
££
If you're looking for a bar that lives and breathes the intoxicating ambience of sweet jazz and old-school vibes, this low-lit dive is the place to be.
Known for its historically inspired cocktail menu, Nightjar will transport you to various eras by simply sipping on a carefully crafted beverage.
Travel to the Prohibition plains through a bourbon-heavy Ampicillin or delve into a Post War classic of a Snake in the Grass, your alcoholic adventure awaits! Be warned — the tastier the drink, the more dangerous it can be.
Hackney Bars: Map
Looking for More London Bar Guides?