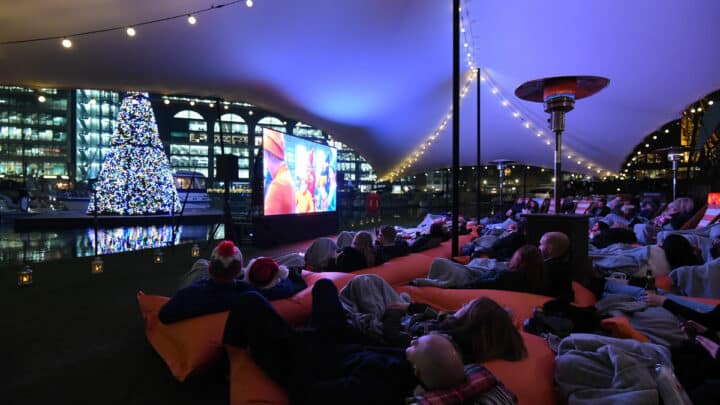 St Kathrine's Dock is bringing back its festive floating film festival. Here's everything you need to know.
The floating film festival at St. Kathrine's Dock is coming back next week – just in time to generate a bit of Christmas cheer.
If you missed it last time round, this is an outdoor (yes, at this time of year, but fear not) film festival right on the waterfront.
What's On
This year's festive film fest will run from the 5th – 11th of December and feature some real classics. It kicks off with Love actually, Home Alone makes the cut, as does this year's Top Gun release. We're not quite sure if it's a Christmas film, but we're not complaining.
We guess you're wondering who in their right mind would want to sit outside on a night in December. But the good people behind the film festival have got this down to a fine art. There'll be blankets galore and winter warming drinks to help you get even more cosy.
On the food front, they've got Kilikya's Turkish Bistro in to deliver some of their mouthwatering fare – that's also great on a cold night – as you snuggle up, lights glistening off the water, and watch a Christmas classic.
Tickets start at £16.76. You can see the complete schedule and book below.
St Katharine's Dock Film Festival: The Complete Schedule
Monday the 5th, 7pm – Love Actually
Tuesday the 6th, 7pm – Home Alone
Wednesday the 7th, 7pm – Top Gun: Maverick
Thursday the 8th, 7pm – Nightmare Before Christmas
Friday the 9th, 7pm – Home Alone 2
Saturday the 10th, 2pm – Miracle on 34th Street
Saturday the 10th, 7pm – Elf
Sunday the 11th, 2pm – The Grinch
Floating Film Festival: Practical Information
Address: 50 St Katharine's Way, London E1W 1LA
Floating Film Festival: Map