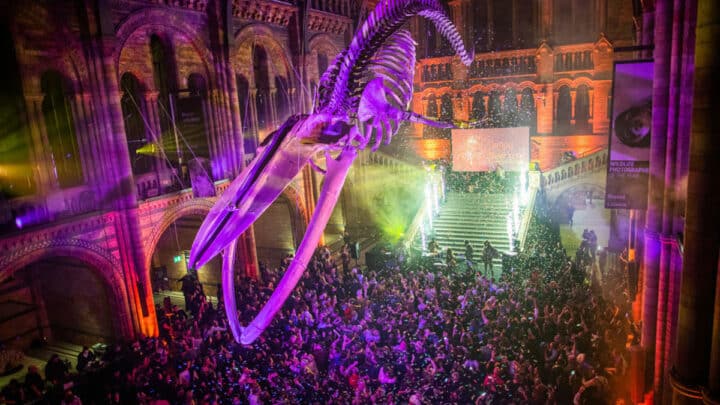 Bringing in the New Year in London? You've got a lot of options. Here's a guide to the best of them.
Ready for a bold claim? London is the best place to celebrate New Year's Eve. There's just so much to choose from. You can rave until the early hours of New Year's Day. You can dine at the city's many fancy restaurants, you can sneak peaks at the fireworks from vantage points around the city.
But with all that choice it's not easy to know which plan to make your own – you can't do everything remember…
So we've put together this guide with some of the best options. It includes spectacular sky-high dining, parties on boats, raves at the city's best clubs, ABBA discos and special New Year's Eve restaurant offerings that have got our mouths watering. Let's jump right in.
Things to do on New Year's Eve in London
Party at an ABBA Disco
Know your Waterloo from your Mama Mia? Can't get enough of the Swedish superstars? Well there's a giant ABBA disco kicking off in the capital for New Year's Eve. It's being held at Pizza East in Shoreditch.
They're going to be running through all the big hits, plus a few other 70s classics the ring in 2024. Dress code: groovy 70s disco. Tickets are £55 per head but you can get them for £25 if you act fast.
Take Part in a Bit of Sky-High Dining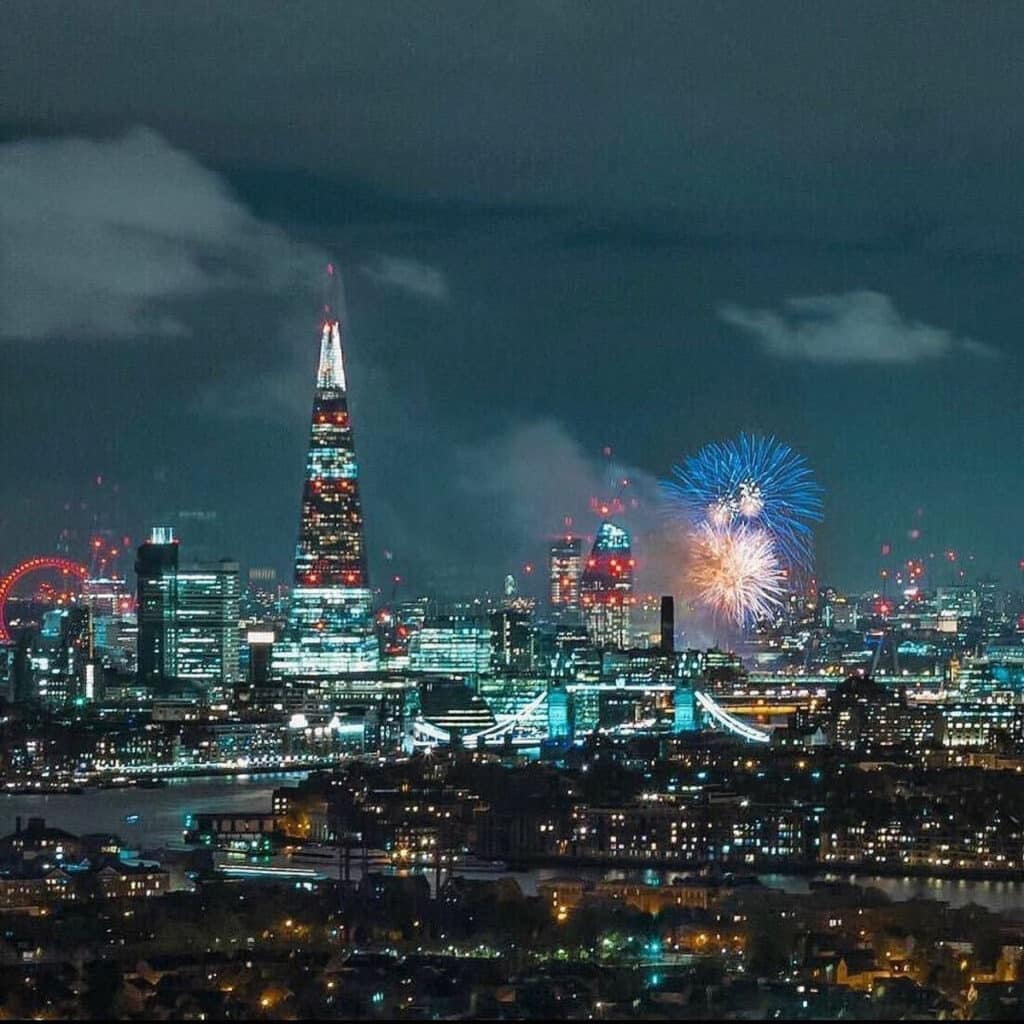 Dinner – how should you eat the last meal of the year? With a wildly good view wouldn't be a bad shout for this occasion. At Bokan 37 they've got just that. It sweeps from the top floor of a Canary Wharf skyscraper and feels like it belongs more in New York or Hong Kong than it does in London.
They're offering a couple of different packages, including one that guarantees you a window seat for the duration of the night. That's on top of a six-course tasting menu, obviously. We've eaten here before and were pretty impressed. Let us tell you the creative modern-European fare they turn out would make fitting fodder for NYE.
From 9pm onwards they've got a DJ too, and they'll be opening the upstairs bar and turning it into a full-on party space. Just to confirm, that bar also has killer views.
Hit Lio London For Ibiza Levels of Madness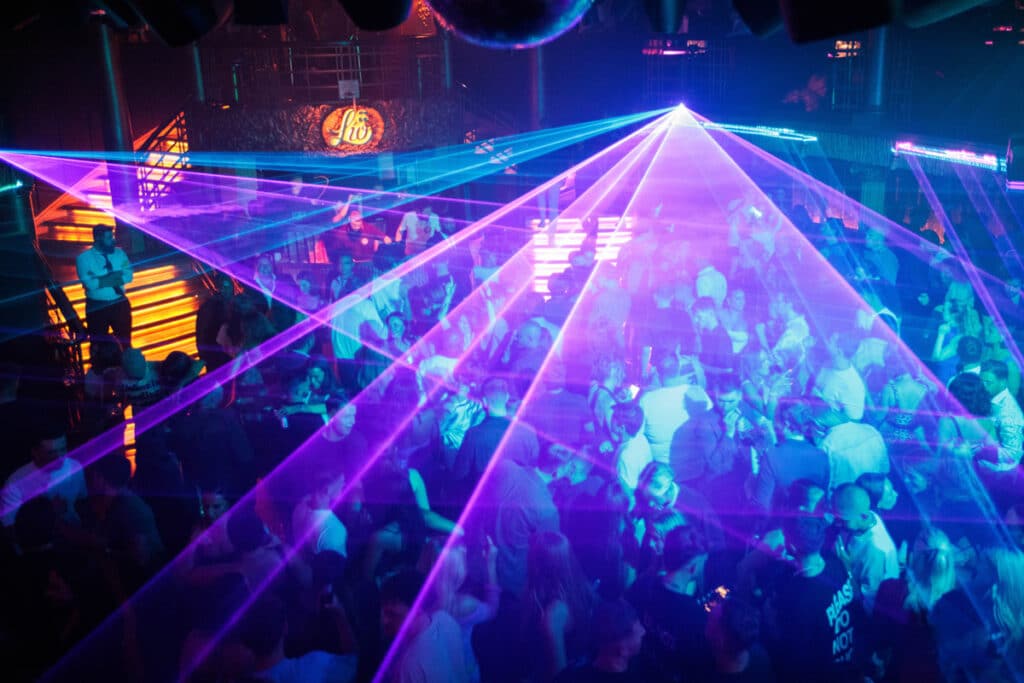 Hot new club opening of 2023, Lio London, are maintaining their reputation for throwing mega parties Ibiza style to see their inaugural year off.
If you hadn't heard, this spot is the sister location to the ultra-popular club of the same name in Ibiza. The parties they throw reflect the scene of the Spanish party island to the fullest – and they tend to get wild.
For this fiesta they've DJ Fat Tony manning the decks and the dresscode is 'sportlich elegant' (is that German for sporty?).
Celebrate in a Georgian Mansion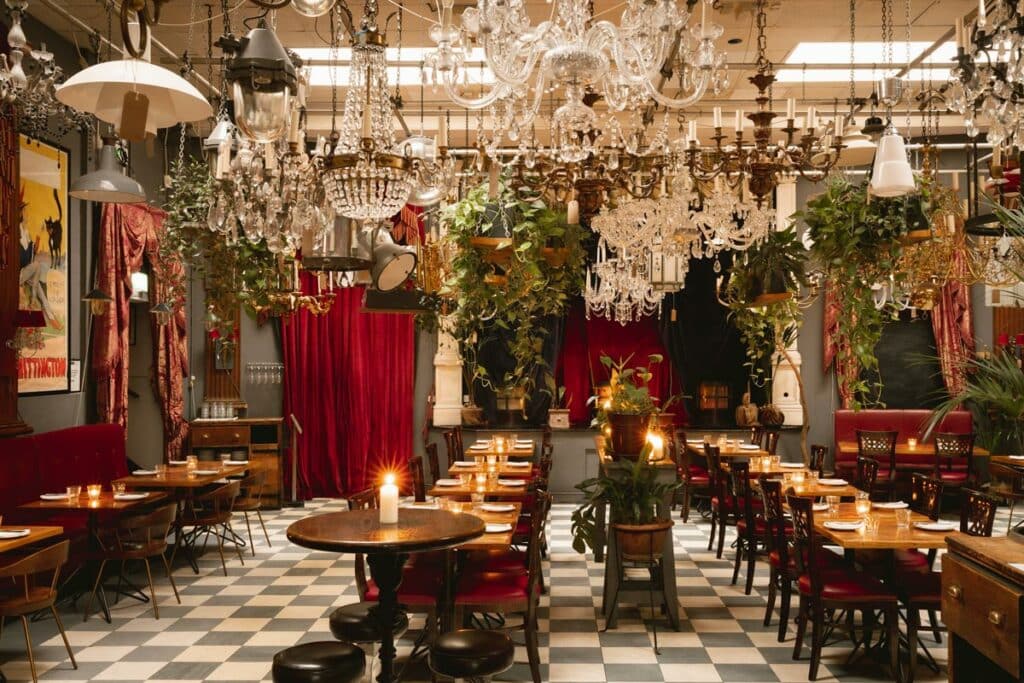 The ever-elegant Brunswick House has been on our radar a lot this year. They serve up some great food in a one-of-a-kind dining room – it's sort of a throwback to a bygone age with old decor and vintage furniture abound.
For NYE this year they're opening up that restaurant and the many bar spaces they've got in the mansion to throw a multi-room party that has really got us rethinking our plans. The night begins with a four-course meal (£90) that boasts steaks, freshly caught fish and something listed as a Boozy Prune Tart that's pretty much made our decision for us.
See you there…
More information and bookings here
See Woody Cock DJ at a Swanky Battersea Power Station Venue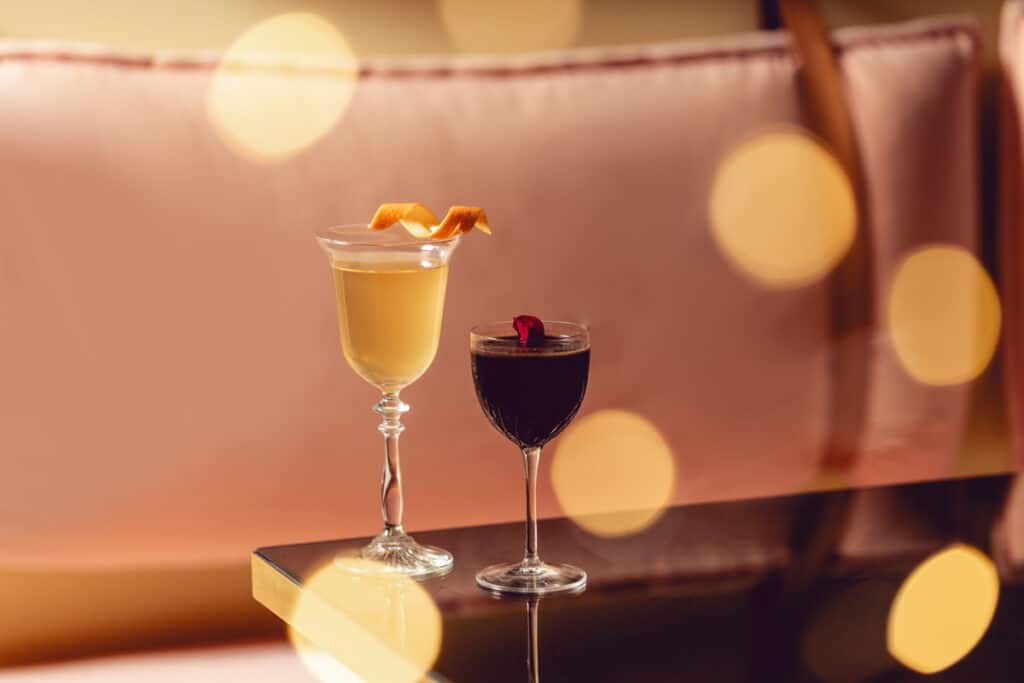 All right you filthy animals, we know what you're chuckling at. Woody Cock is a real DJ! He also happens to be the son of Fat Boy Slim. He's been making quite a name for himself in recent years and he'll be spinning the tracks at a location fitting for the biggest night of the year.
That spot is the bar at JOIA in Battersea Power Station. The place opened this year to much fanfare – the chef of the adjacent restaurant is popular in the Michelin guide – and the drinks are on point – delightful cocktails that are paired on this occasion with canapes throughout the night.
The place has one of the best views from that part of the river. We're guessing you'll have killer views of the fireworks while Woody does his thing.
Rave All Night at This Top London Club
Since Printworks is sadly now a thing of the past, we'll have to direct you elsewhere if you're looking for a wild night that stretches right into New Year's Day. Luckily we've got just the spot.

It's Phonox. Brixton's biggest nightclub venue and a mecca for clubbers across the city. They know how to party and so we're going to go out on a limb and say that this wouldn't be a bad dance floor to be on when the clock strikes midnight.
Their lineup isn't fully released yet but Moxie has been confirmed as a headline act – with a special guest…
Get Groovy at a Silent Disco
Who needs to blow their eardrums out listening to music on an enormous soundsystem? Why not save your capacity to hear things for 2024? There's a silent disco bringing in the new year and that could be one way to do it…
The party runs until 2am slap bang in the middle of the City of London in Banking Hall – not a bad location for it either. Three different DJs will be on hand to curate stations you flick between to pick the right vibe for you.
Expect everything from garage bangers to party anthems.
Somerset House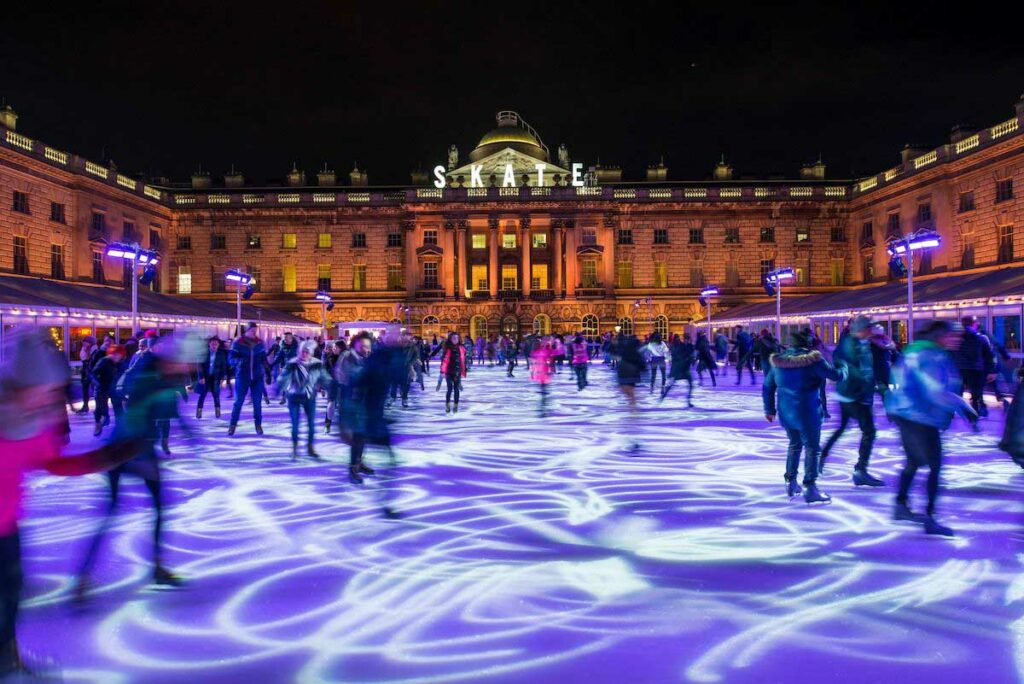 We hope you're ready, because Somerset House have partnered up with Moët & Chandon to throw a New Year's Eve party like no other. After the success of Skate at Somerset House yet again this year, they've decided to keep the celebrations going right into 2022.
Ice skating, festive food pop ups, live music and DJs, as well as a secret ice cream parlour are all on the cards. And plenty of fizz from Moët, duh.
Not only that, but Somerset House will be opening up the rarely entered dungeon below for a late-night karaoke session like no other – Drag Queens and booze ensure all round fabulousness will ensue.
Grab your tickets here before they sell out!
Get Wild at Sushisamba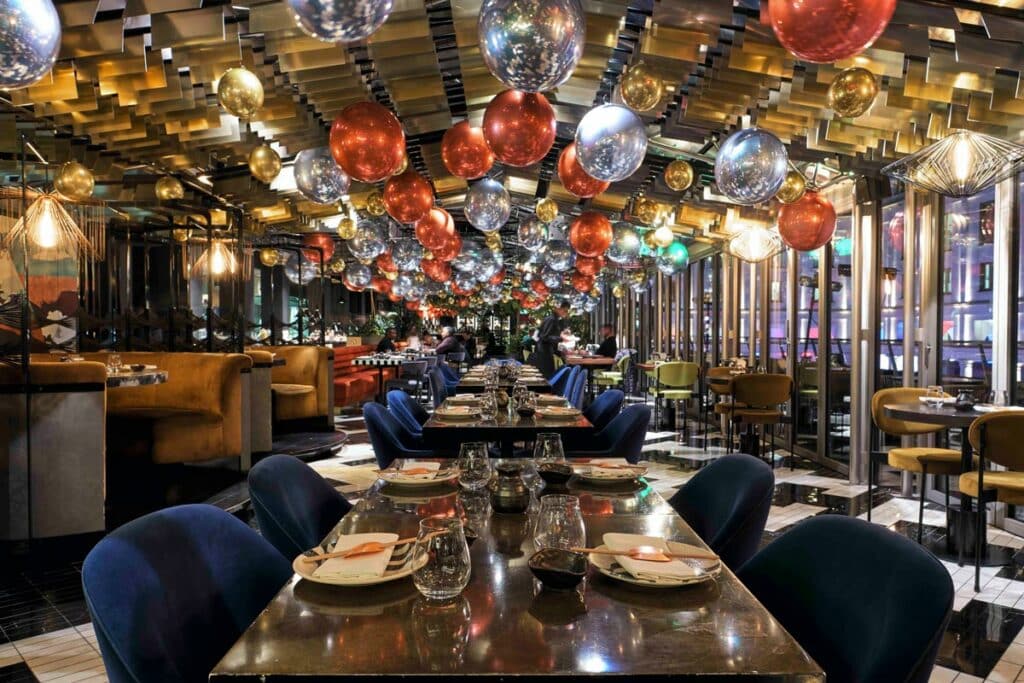 Every New Year's Eve the ever-glamorous SushiSamba throw a wild party at their Covent Garden location. This year is no different. The young and the hip will be gathered en masse to bring in the new year with what they're calling 'a disco celebration like no other'.
That means DJs laying down tracks right into the wee hours of the night, but because this is SushiSamba it also means over-the-top live performers and entertainment of the extravagant kind throughout.
Party with Burlesque Dancers at Courtesan Musical Extravaganza
In our books, New Year's Eve should be a night of uproar, and extremes – few things say that better than burlesque.
In that style then, we're pretty excited about The Courtesan and their NYE offerings. It's a venue we seriously rate, imperial Chinese-themed and classy as you like with a killer menu of dim sum and (most importantly for this guide) cocktails.
Last year their New Year's celebrations kicked off and this year they're back at it a prohibition themed night where entertainment includes being serenaded by a West End star.
Get Magical at The Savoy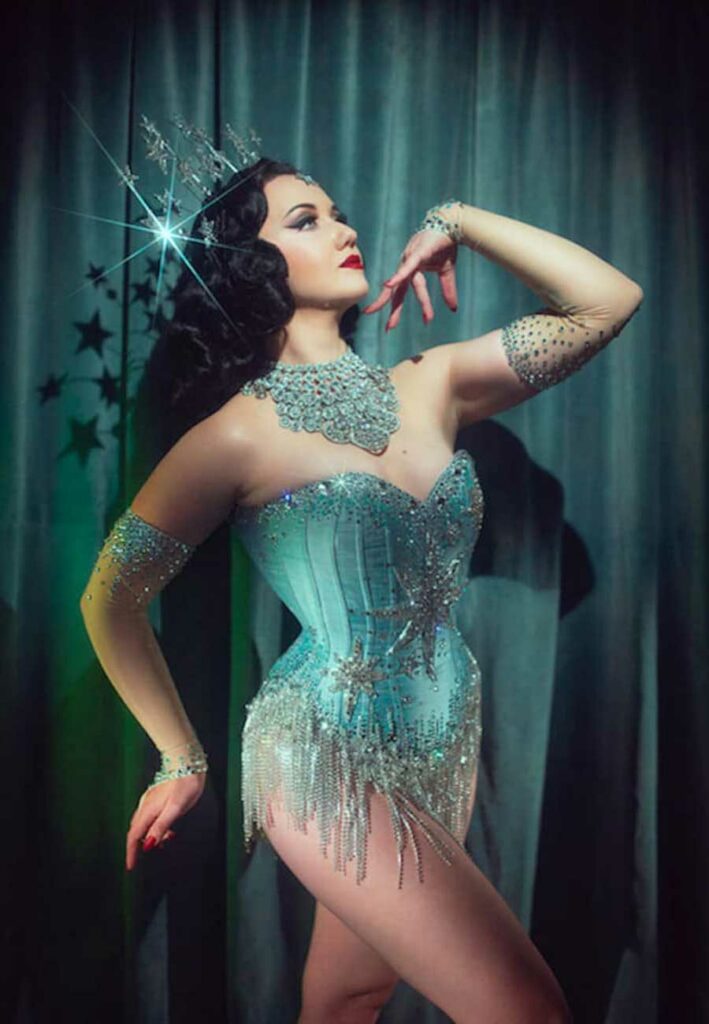 If you want to party in true style and sophistication you'll have a hard time finding a better place for it than The Savoy. The hotel is one of the most iconic and revered in the city, and this year they're pushing the boat out for New Year's Eve.
They're decking out the Lancaster Ballroom in the style of an enchanted forest and laying on a four-course dinner to kick off an evening that will see more than enough Champagne flow.
Their riverside location also means The Savoy is a great place to watch the NYE fireworks.
More information and tickets here
Party at the Natural History Museum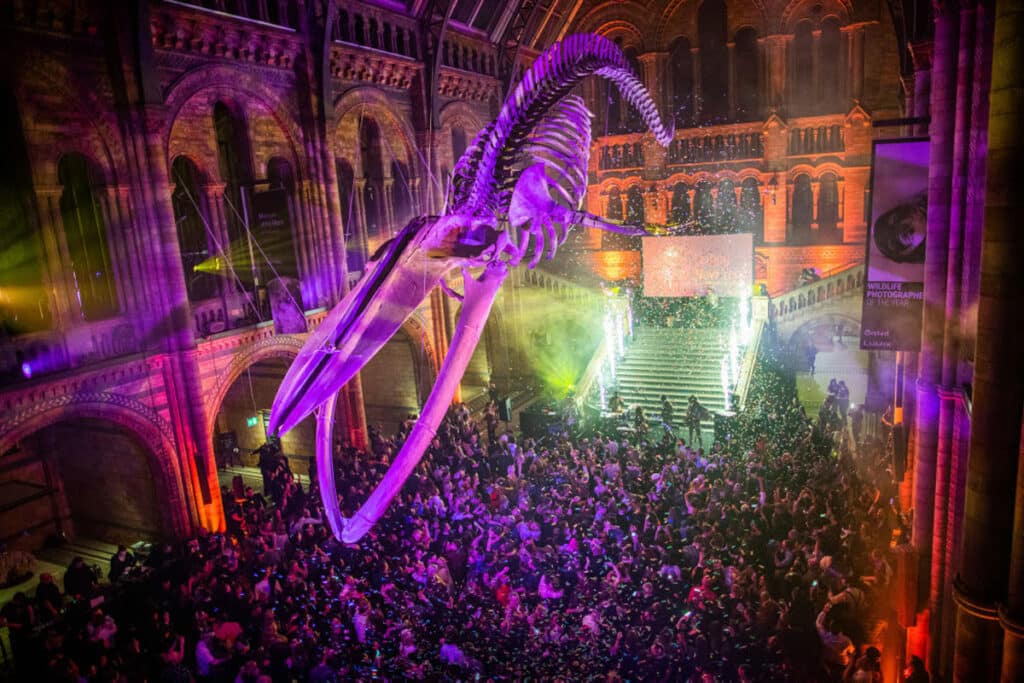 With the year now becoming part of the history books it's time to get planning. This event at The Natural History Museum could be the one for you. It's a party, yes, a genuine party in the museum after dark.
You'll be treated to performers and plenty of drinks while DJs turn that grand central hall into a dance floor and bring in 2024. Fancy dress is highly encouraged and we're guessing people will be taking inspiration from the stuff on display – which is stuff you can go and look at on the night by the way.
Just don't get too drunk and spill a drink on a priceless fossil.
Let Loose on the Rooftop at Skylight Tobacco Dock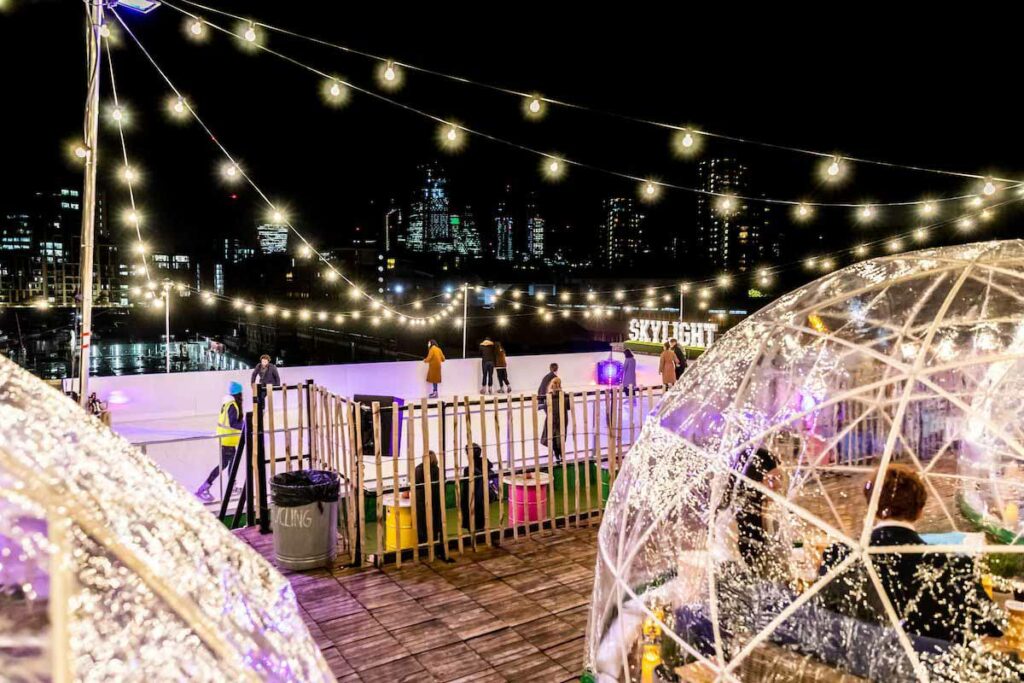 Like its sister bar in Peckham, Skylight Tobacco Dock offers panoramic views of the capital – and so is a great place to scope out any potential fireworks.
They've got a regular thing going with New Year's Eve parties and let us tell you it's a bit of a banger. They lay on some great packages where you can be VIP for a night and take over one of those igloo huts with your pals (and fill it with Champers of course.
Even if you don't want to splurge on the igloo package (it is £999 for ten people) a regular ticket is just £45 and comes with a complimentary glass of Moet & Chandon, and let us tell you again, the views here are on point.
Catch Comedy Carnival's New Year's Eve Special
Sometimes we think so much about stuffing ourselves and partying till the early hours that we forget that NYE can also be about having a laugh. If that seems to ring home for you too, check this out…
Comedy Carnival are putting together a night of stand-up comedy at both their Covent Garden and Clapham locations. Headline acts include names like Nathan Caton who you might have seen on Live at the Apollo, and hilarious Irish comic Mary Bourke.
The party doesn't run past midnight but once you've stocked up on laughs you'll be right in the mood to keep the party going, and if you're in Covent Garden you'll be swamped for choice.
Begin the Night with a Classical Concert
New year's is also a time of reflection. How did 2023 go? What can you do better next year? Where better to pause for thought than while listening to some classical music in a beautiful church.
This annual concert is exactly that, and one we love to recommend. The very talented Piccadilly Sinfonietta are playing Vivaldi's Four Seasons and the headline piece, supported by Piano Concerto in A Major from Bach with Warren Mailley-Smith on the piano.
The setting is the beautiful St. Mary Le Strand church. Not a bad location for a night like this if you ask us.
Shows are at 5pm, 7pm, and 8.45pm so you'll still have plenty of time after to hit that fancy restaurant or sip champagne while watching the fireworks.
Hit a Boat Party
There are few better ways to make a big night than to party on a boat. In London, where a cruise down the river adds to the vibes with great views of the city all lit up, and on New Year's Eve where fireworks will be popping overhead.
There's one boat party in this city you don't want to miss. That's the ones put on by Skyline. They throw them for all occasions and have been getting the thing down to a fine art in the process.
For this oh-so-special day of the year they're even throwing in an after party, location hidden until the night. On the boat there will be two decks with DJs on both. Deck one: club and house tunes. Deck two: more club, but with some Ibiza party bangers thrown in for good measure.
Dine in Style at No. Fifty Cheyne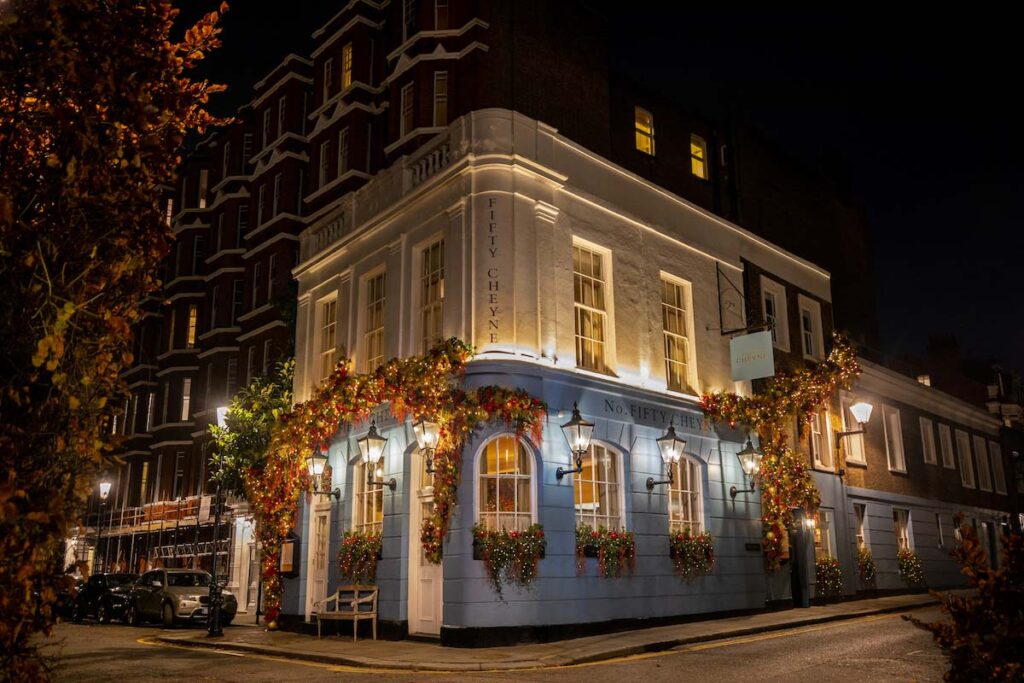 If you fancy feasting like royalty to see out the year, No. Fifty Cheyne do a feast that seems to get bigger and better each year. There are choices of menu throughout the evening – you can even dine at sunset to make the evening all that more special.
If you'd rather wait till a bit later you'll have options of a four-course tasting menu or a la carte that's laden with sumptuous dishes like Dexter beef chateaubriand, glazed citrus and vanilla duck breast and Pistachio and dark chocolate fondant.
That's just the tip of the iceberg. Check their website here for the full menus and reservations.
Party with a Stunning View at Oblix at The Shard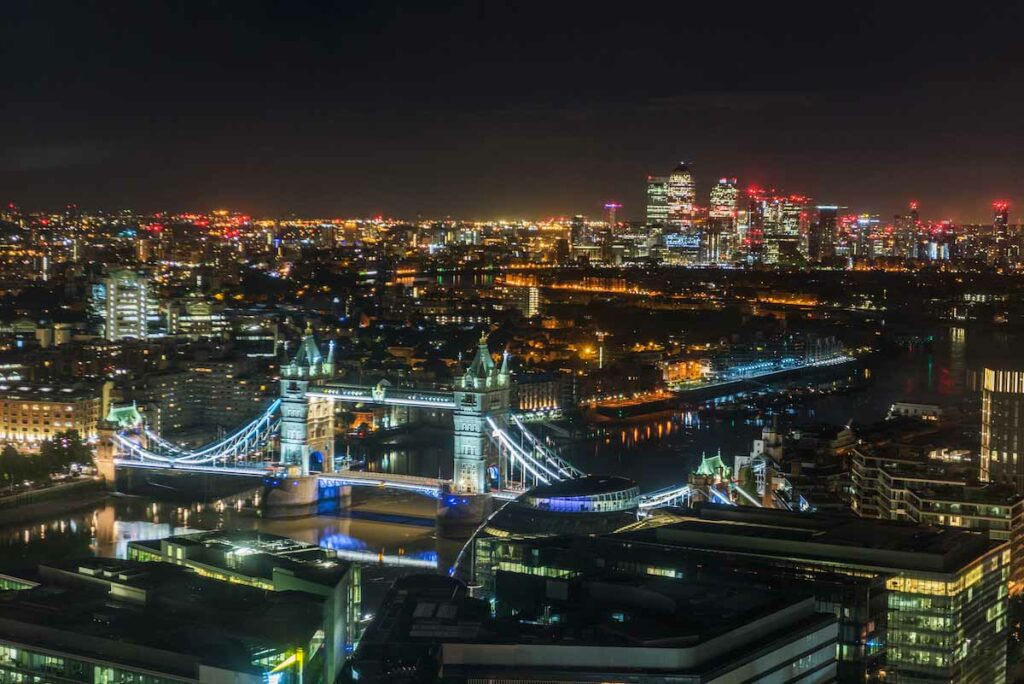 If you want to be truly on top of the world for NYE then you couldn't do much better than being at the top of the Shard with a glass of fizz in your hand really.
Oblix offers precisely that location – looking out over London with a view to die for. You'll be able to see all the fireworks from here, that's for sure.
You'll have to put down a pretty penny for the privilege though. Dinner and the after party will set you back £470. To be fair you will be dining on a full three course with wagyu steak as a choice for mains. It's one to think about at least…
More information and booking here
New Year's Eve Fireworks in London
Alternatives to London's usual firework show that you shouldn't miss…
Primrose Hill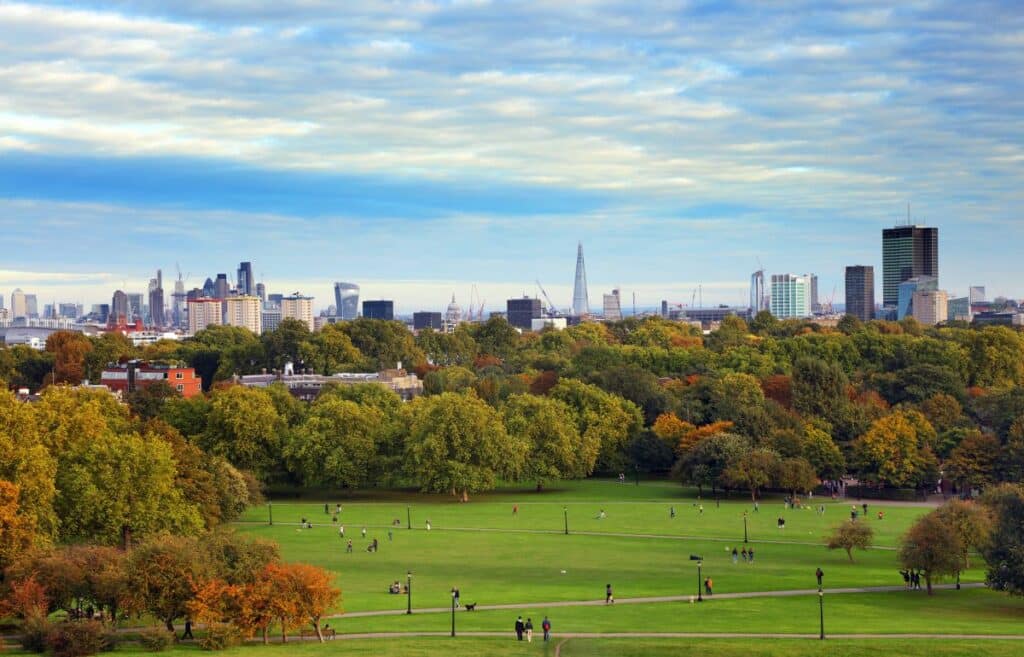 Whenever there are fireworks displays in London, folks love to gather on top of Primrose Hill and watch the drama. It comes with some rather stunning panoramic views of the city. But listen up…
This year gates were added to Primrose Hill so that people couldn't stay up there being noisy late into the night. Royal Parks did have a record of keeping the hill open until past midnight in recent years but they haven't announced if they will for 2023/24 yet.
Check back on their website for more information closer to the time. We don't recommend chancing it.
Skylight Peckham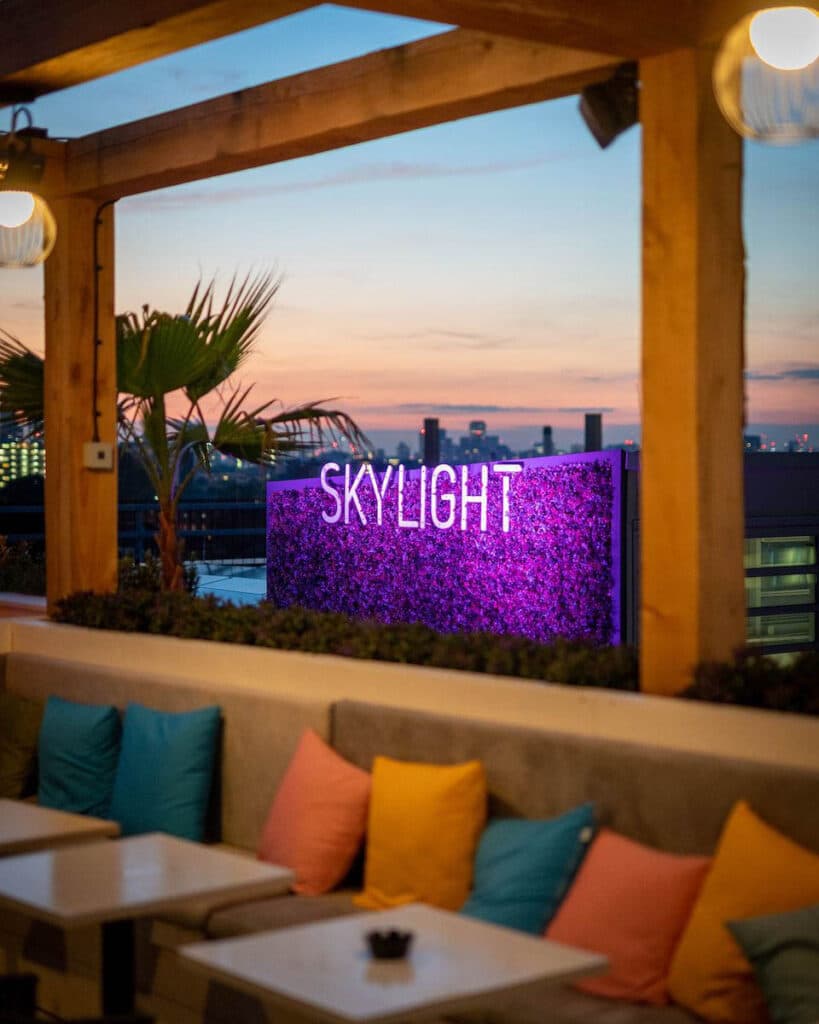 We've mentioned a couple of times in this guide locations that will be ideal for catching the display and getting down at a good party. Just to recap for those at the back, those were Oblix at the Shard, The Savoy, JOIA and Skylight Tobacco docks.
Skylight has another branch in Peckham that's also got some great views of the city, though from a bit further back. You'll be able to see fireworks well from there too.
Then again, most of London's rooftop bars would be a good shout. Here's a guide to the best of them.
At the Official Viewing Locations
The fireworks on NYE are an organised affair. So far we've just told you where you can catch them out and about, but actually there are some dedicated, ticketed areas along the river where you can get up close and personal.
The fireworks launch near the London Eye and the areas along the river and bridges east and west of there are all cordoned off for designated viewing spaces. Tickets at £20 each and you can book up to four per person.
More information and booking here
Alexandra Palace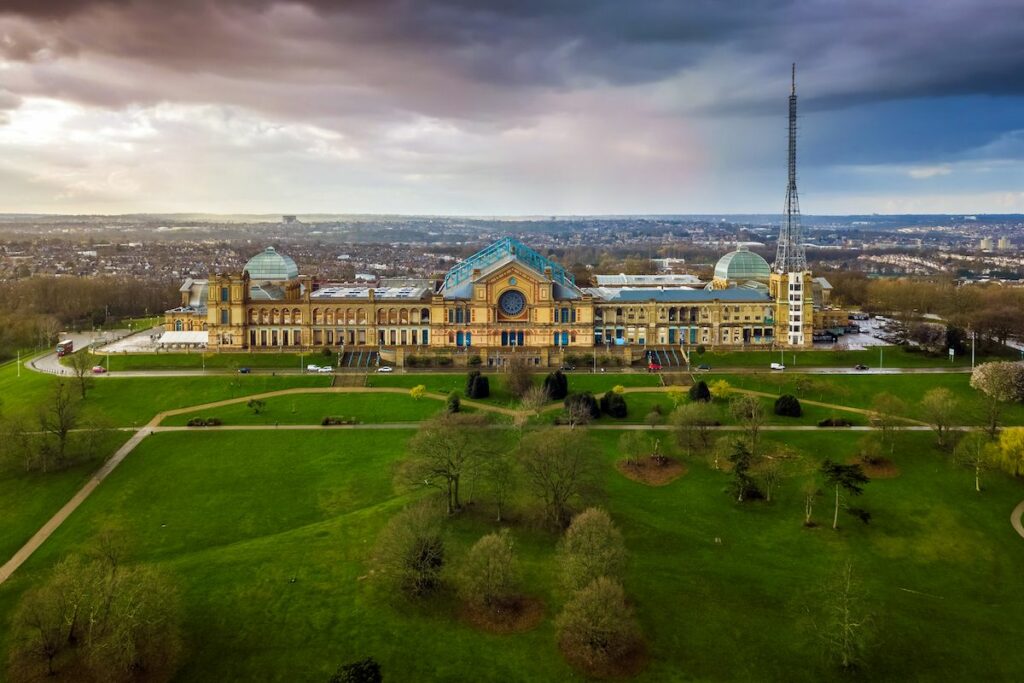 Another popular spot for people to gather is Alexandra Palace. The vibe is much the same as it is at Primrose Hill, people bring their own bottles and line up on the lawns to watch the displays – in fact, we recon if the gates stay shut this year, much of that crowd will be moving up here.
The view from up here is pretty fabulous. It's a wide shot of most of London from a high vantage point. The only drawback worth mentioning is that you are pretty far back from the action. You could argue that allows you to see more though…
New Year London Celebrations: Map