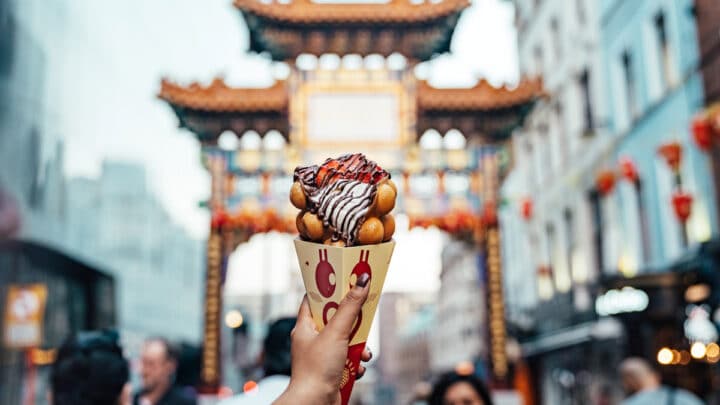 From places serving the crème de la crème of crispy duck to steaming bowls of hot pot, these are the Chinatown restaurants you should be eating at right now.
Chinatown sits at the epicentre of London. It's "that road" of endless red lanterns, buzzy shops and… amazing restaurants.
There are a lot of them though – to the point that it can be tough to navigate your way to the very best. Here are our favourite restaurants in Chinatown.
Best Restaurants in Chinatown
Baozi Inn
£
Baozi Inn is one of the best Chinese restaurants in Chinatown that's known for its spicy, kicking food and lively atmosphere.
Sure you can get other things, but the hot pot is really the star of the show here.
For those not in the know – a hot pot is a large bowl of boiling water which is placed delicately on the table and has various ingredients that can be skewered and cooked in the water. Sounds delicious right? It is.
The hot pot at Baozi Inn is rather adventurous and instead of just the same old veg (which of course, you can still have) you can also choose from hot dog, kelp and… pig intestine. Don't knock it till you try it.
Rasa Sayang
£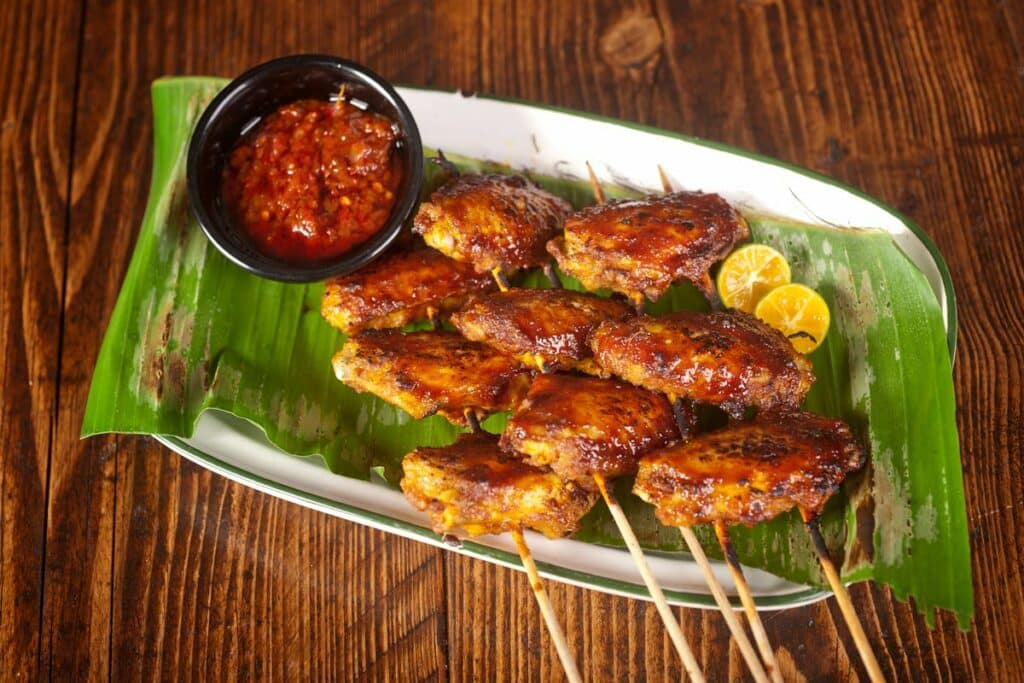 Chinatown is far more multicultural than you'd think and thanks to a strong Asian influence, you'll find a bunch of different styles of cuisine.
Rasa Sayang is one of the best Malaysian restaurants in Chinatown – although many dishes come with a Singapoeran twist. This restaurant remains very under-the-radar and basic in it's decor, it's unpretentious and lets the food speak for itself.
You'll find classics like char kway teow (stir fried noodles) and beef rendang along with some of the most incredible spices and herbs.
The best part about this restaurant may very well be the price. It's incredibly affordable and you'll leave feeling like you've eaten well without breaking the bank, a rare feeling in London.
Leong's Legend
££
We all love a little bit of a culinary adventure – and that's exactly what you get when you set off to dine at Leong's Legend, a tiny Taiwanese restaurant in Chinatown.
What's the deal then? You have to knock on what looks like a locked door before someone will let you in.
Mission complete, prepare to enter into a wonderful bamboo-panelled local whipping up Taipei street food and spicy noodles along with some of the tastiest rice bowls out there.
The food is absolutely delicious. We recommend going for the slow-braised pork belly with steamed rice and Taiwanese stir-fried rice with pork chops. It's so unbelievably tender it'll melt right in your mouth.
The restaurant is quite small so it's more of an "in and out" situation when it comes to how long you can stay there. But either way, it's an incredible restaurant with some very tasty food.
Remember to book for Leong's Legend, it gets pretty busy!
Four Seasons
£££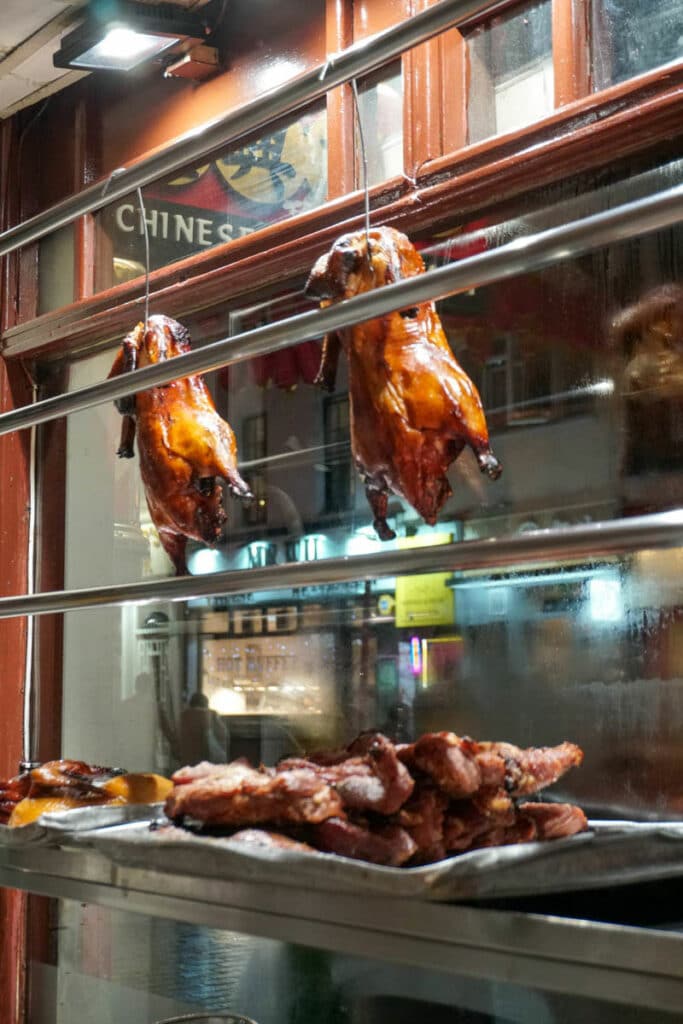 For all the duck lovers out there, if you're looking for the crème de la crème of crispy duck then look no further than the Four Seasons in Chinatown.
As far as duck goes, it's been named as the best roast duck in the world by Financial Times magazine – and they don't mess around.
The recipe is Pan-Chinese yet the ducks are actually from Ireland, which makes the best of both worlds. It's incredibly good quality duck that melts in your mouth and is as tender as butter. By far Four Seasons is the best duck restaurant in Chinatown.
Gerrard's Corner
££
We love Gerrard's Corner because of its old-fashioned style, it genuinely feels as though it's always been there.
Right in the centre of Chinatown on the corner of Wardour and Gerrard Streets is the amazing bustling dining room, both unpretentious and local. If you want to avoid the tourist traps, then head here.
The dim sum dumplings are by far the most popular thing on the menu packed with tasty fillings, a good dollop of sauce and whatever else you choose. It's a bit of a timewrap in there and you'll want to just lounge around eating all day long – which we highly recommend going.
Orient London
££
A slightly more upscale Chinese restaurant with so much to offer. Some say, Orient really is the best food in Chinatown and although more expensive, we'd have to agree.
There's no frozen dishes here, everything is made fresh on the day and you can really taste the difference.
We recommend trying a bit of everything and going for the mix of rice, noodles, duck and dumplings. The portions are big though so you will probably be full by the first dish!
It's a little bit more quiet than the other restaurants in the area, which is perfect if you're looking for something more intimate.
Ichibuns
££
Ichibuns is a blend of American and Japanese food like katsu sandos and wagyu burgers as well as exciting new innovative sushi options.
We love the decor here, if you're after a proper Japanese-inspired restaurant with lucky cats and retro Japanese adorning the walls then this is your place. It's a wonderful buzzy, funky Japanese spot that also has some very tasty inventive cocktails.
Whatever you do, order the burger. It's one of the best burgers in London and definitely one of the funnest restaurants around Chinatown.
Dumplings' Legend
££
Dumplings prepared from scratch are exactly what we look for in Chinatown, and Dumpling's Legend has to be some of the best dumplings in Chinatown. It's what they specialise in.
We recommend sampling as many as you can because, why not? The standard vegetarian one is very impressive, along with the pork version. It's tightly packed and has a lot of fragrant tastes to it.
If you're feeling all dumpling'd out then you could also go for the crispy duck which comes with all the bits and is very good value for money.
Café TPT
££
Café TPT has an amazing variety of Chinese food in their very large menu yet manages to stay affordable and tasty at the same time.
We recommend going for the roast duck on rise or the stuffed tofu served in a hot stone bowl. If you like your seafood then you're in for a treat as there's over 50 dishes to choose from.
This is a great place to come to if you're in a big group and want to order a little bit of everything and try it all. The real showstopper is, surprisingly, their bubble tea. If you haven't tried it before then this is a great place to try Taiwan-style drinks.
Other Places to Eat in Chinatown
Bubble Wrap London
£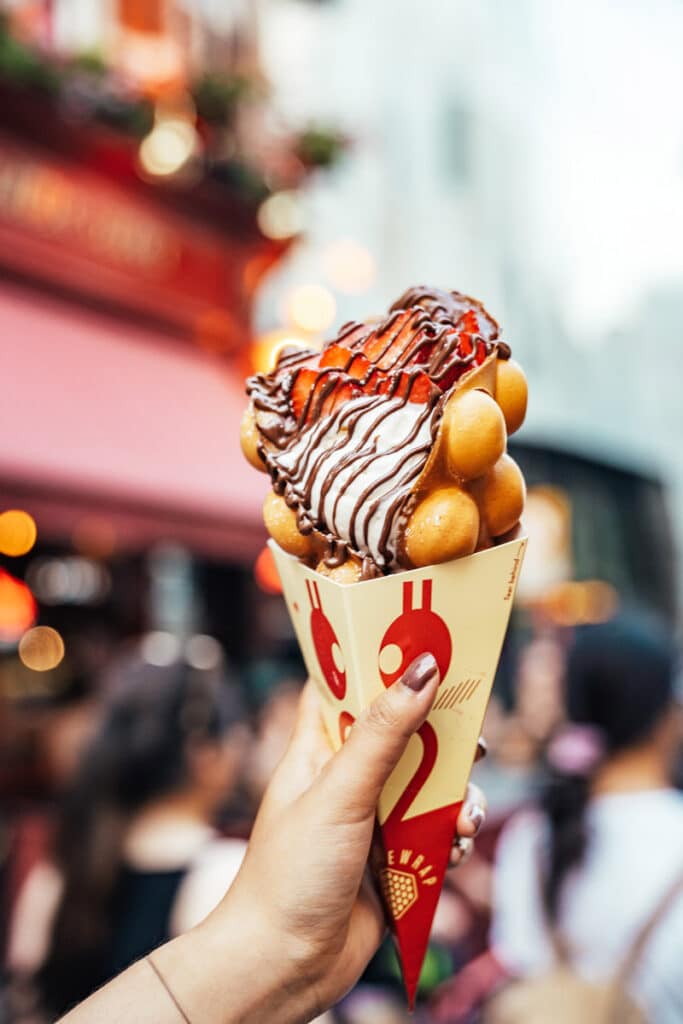 Bubblewrap Waffle is a trendy, street-style snack shop turning out handheld waffle cones filled with gelato and different toppings and, it's incredible.
The presentation is top notch and the combination of tastes makes it the perfect desert, or even main meal of the day!
On top of having incredibly tasting waffles, they also have very good vegan options. We went for the 'Oreo Up' which had ice cream, oreo and chocolate sauce and wow – it was out of this world.
The perfect sweet treat in Chinatown.
Ji Chickens
£
One of the most famous spots for chicken in Chinatown is Ji Chickens. This place is busy, so be considerate when you want to go to get a table and try to avoid the long queues. If you do find yourself in a long queue, fear not. It's worth it in the end.
You'll soon find yourself holding a small bag of the best fried chicken in London. Whatever you choose, basic or cheesy – you're in for a treat.
Ji Chickens is well and truly shaking up the fast food fried chicken industry and without a doubt leading the way to the tastiest fried chicken out there. Don't leave Chinatown without trying it, you won't regret it.
Practical Tips for Exploring The Best Chinatown Restaurants
Spend longer than you need there. Don't just run into the first restaurant, instead have a good walk around and soak in the history. It's an amazing spot in London and you'll want plenty of time to take pictures and explore.
If you can, book before or be prepared to queue a little bit.
Restaurants in Chinatown, London: Map
Best Places to Eat in Chinatown: Read Next