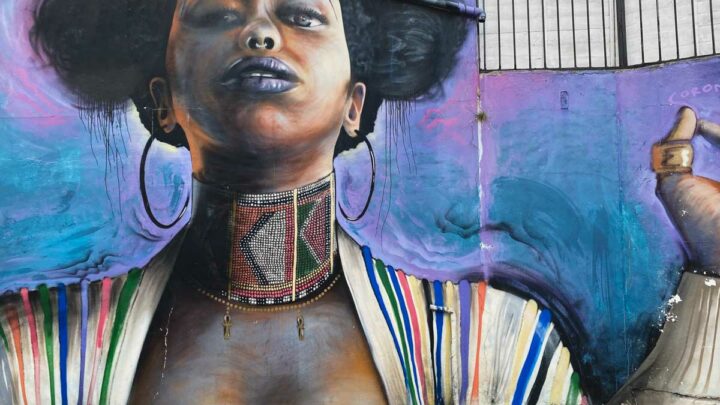 Love street art? Make a beeline for Penge, home to one of London's most exciting street art scenes.
London's no stranger to incredible street art: a quick stroll around areas such as Shoreditch and Camden will prove it – as will ducking underneath Waterloo Station to Leake Street Tunnel. That's before I even mention the inaugural London Mural Festival where pieces from some of the best artists – homegrown and international – gave the city's walls the glow up they never knew they needed.
Even so, the street art in Penge stands out. After low-level stalking a friend's 'Gram stories for the whole of lockdown, I decided it was finally time to go and check it out myself. Verdict? Blown away.
Want to take a quick peek? Check out this reel I made with some of the pieces from the walk! PS: you should totally follow along for more London discoveries 😉
We spent hours walking around the area, nipping off down small alleys, into car parks and peeping at the sides of residential properties – each new road offering a new piece or three to gawp at.
Take a little time to explore Penge and you'll be richly rewarded – not only in the sheer number of murals dotted around the area, but also in the level of skill and talent on display. Swotted up on your who's who of the international street art scene? You'll recognise familiar names such as Zabou, Mr Cenz, Dan Kitchener and Ant Carver.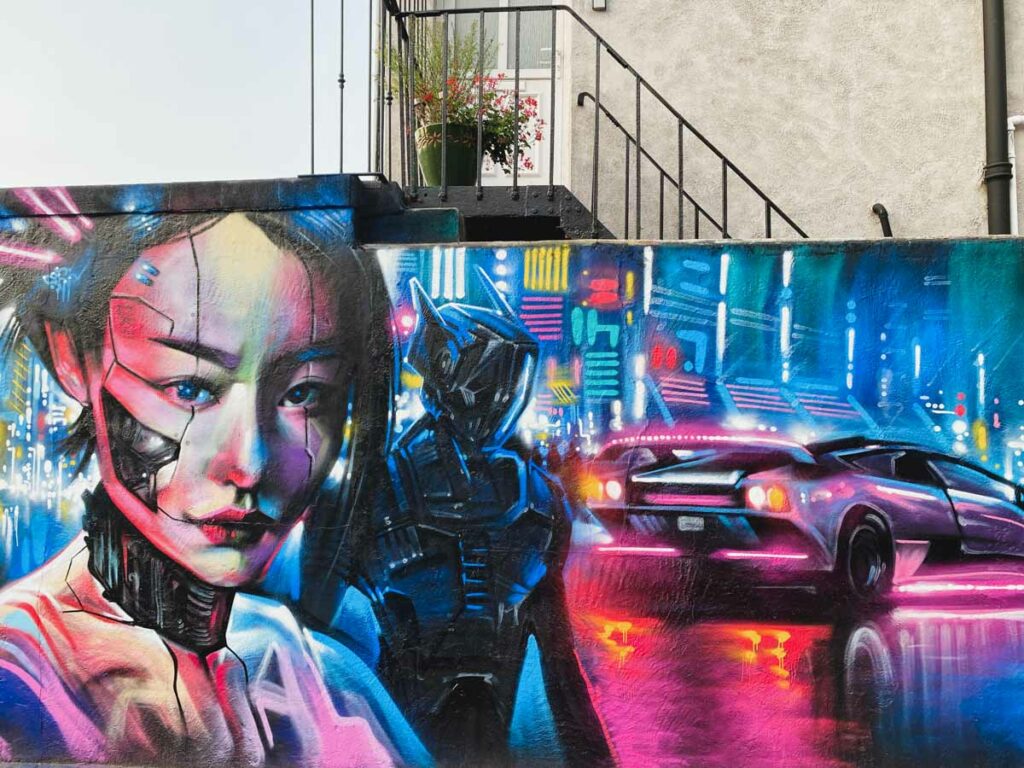 No clue about any of the above? You'll still love it – trust me.
The recent proliferation of murals in Penge is largely down to the SprayExhibition20 festival organised by London Calling – shoutout to those guys for creating an incredible experience and putting this little-talked about part of South London on the map.
Ready to discover Penge's street art scene? I've created this self-guided tour complete with a handy Google Map at the end for you to save to your phone. It doesn't take in every single piece, but it takes in a large number of works in around 2.5 hours, so is perfect for a leisurely weekend stroll.
As with all street art, pieces may change over time so grab a look as soon as you can.
Self-Guided Tour of Penge Street Art Hotspots
Starts and finishes at Penge East Station.
Penge East Station Car Park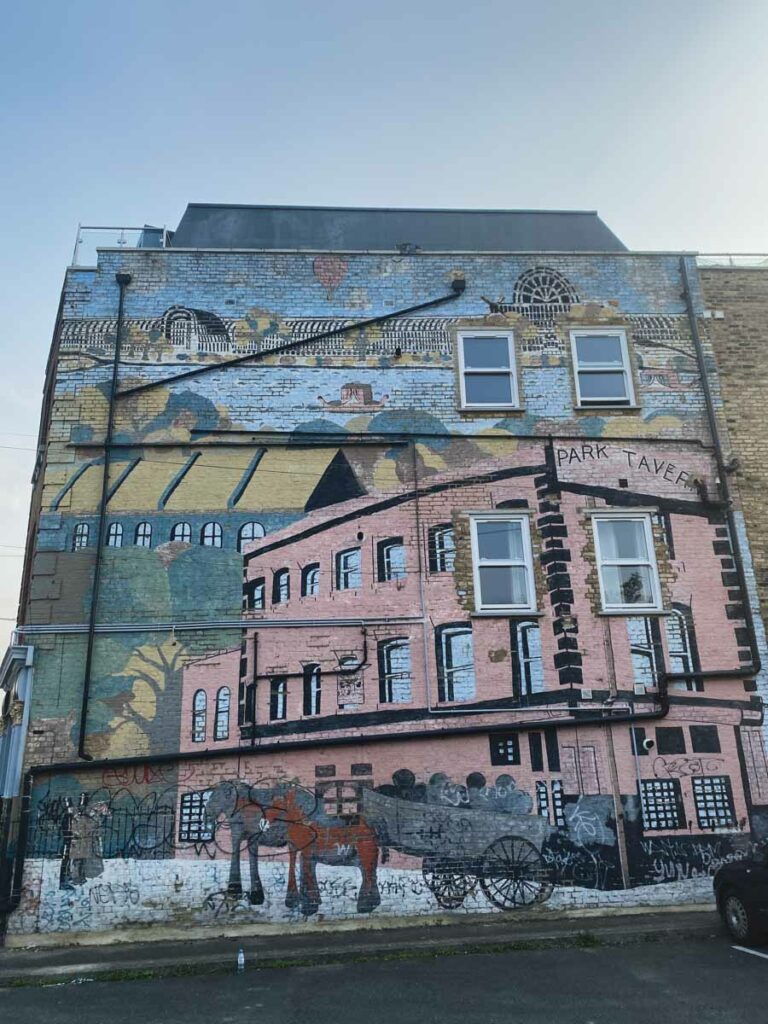 We'll kick things off with this old-school piece in the car park at Penge East station. You can call this the OG of Penge's murals – it dates from 1982 and was painted by the Coal Yard Youth Group on the back of what used to be the Park Tavern.
Walk over the railway bridge to the other side of Penge East station.
Little Things Cafe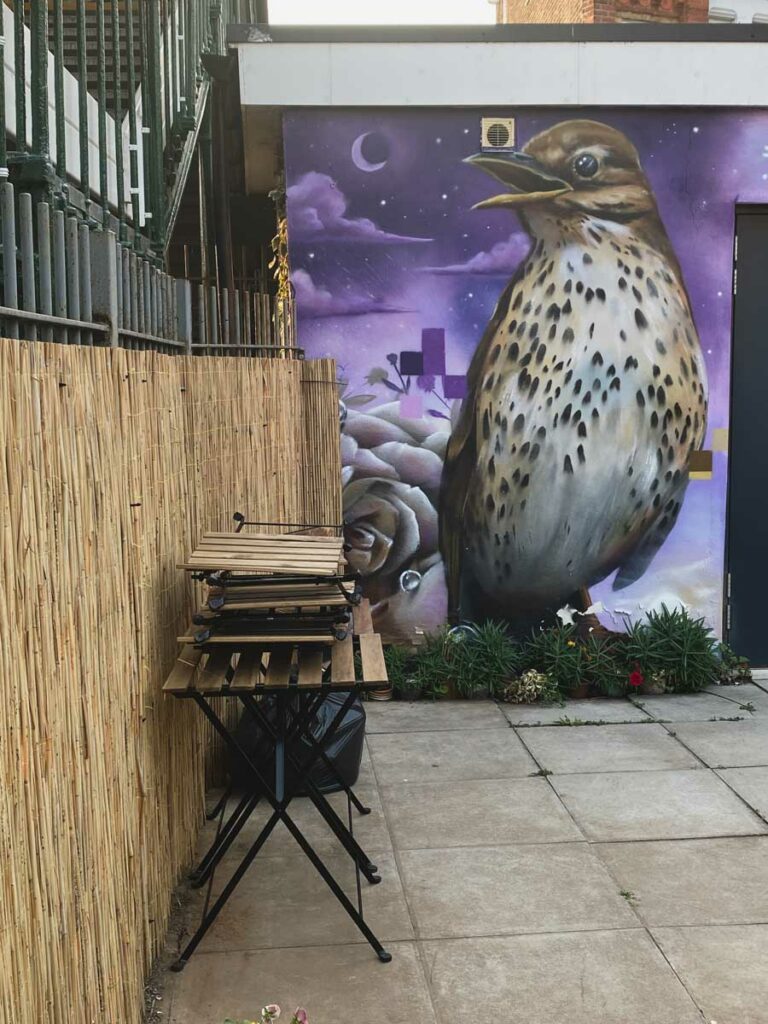 Bird and nightscape by Aspire and a vibrant depiction of a black woman by Woskerski.
Walk down Linden Grove and follow the road as it bends to the left.
Linden Grove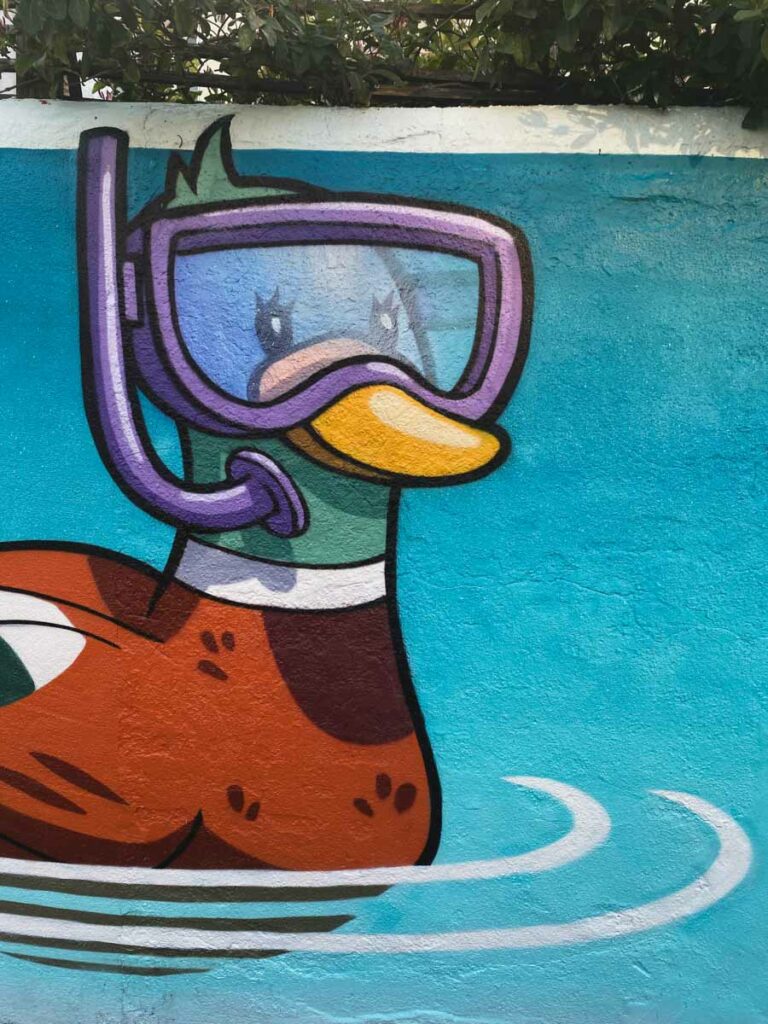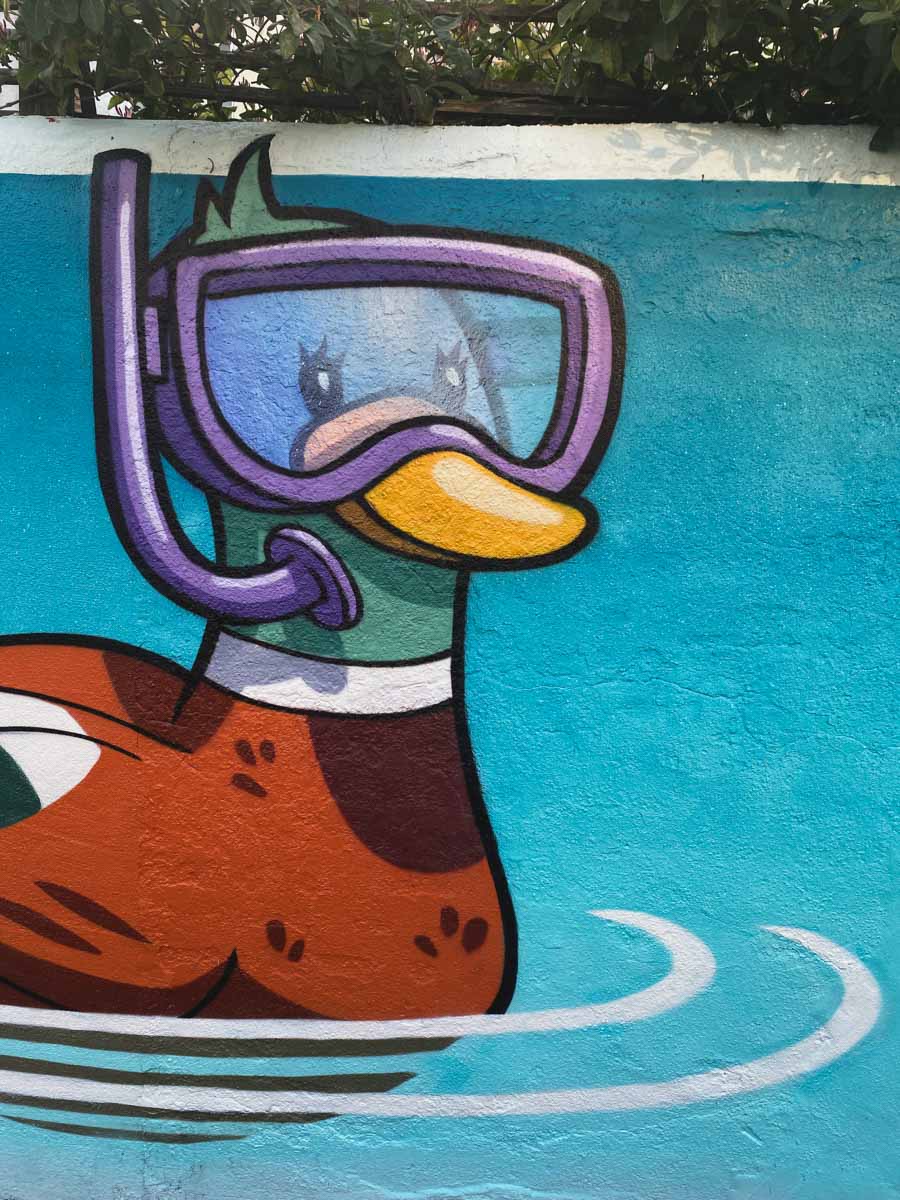 Snorkelling duck by Roo. A very good boy by Layla.
Double back on yourself to take the small alleyway to Parish Lane and turn left.
Parish Lane
Keep an eye out for the sliver of work depicting a mythical seahorse woman on the side of one of the houses. Artist unknown.
Carry on down Parish Lane towards Alexandra Nurseries.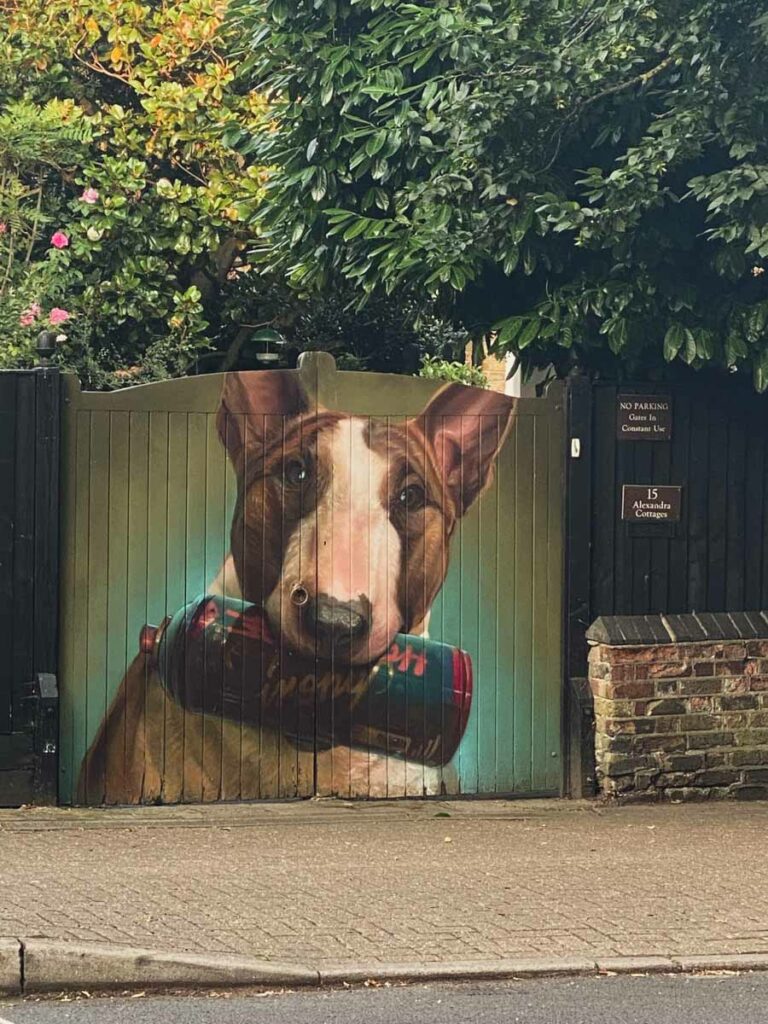 A dog clutching his spray can by Irony.
Carry on down Parish Lane and turn right after Stitch & Clean Dry Cleaners onto Bycroft Street.
Bycroft Street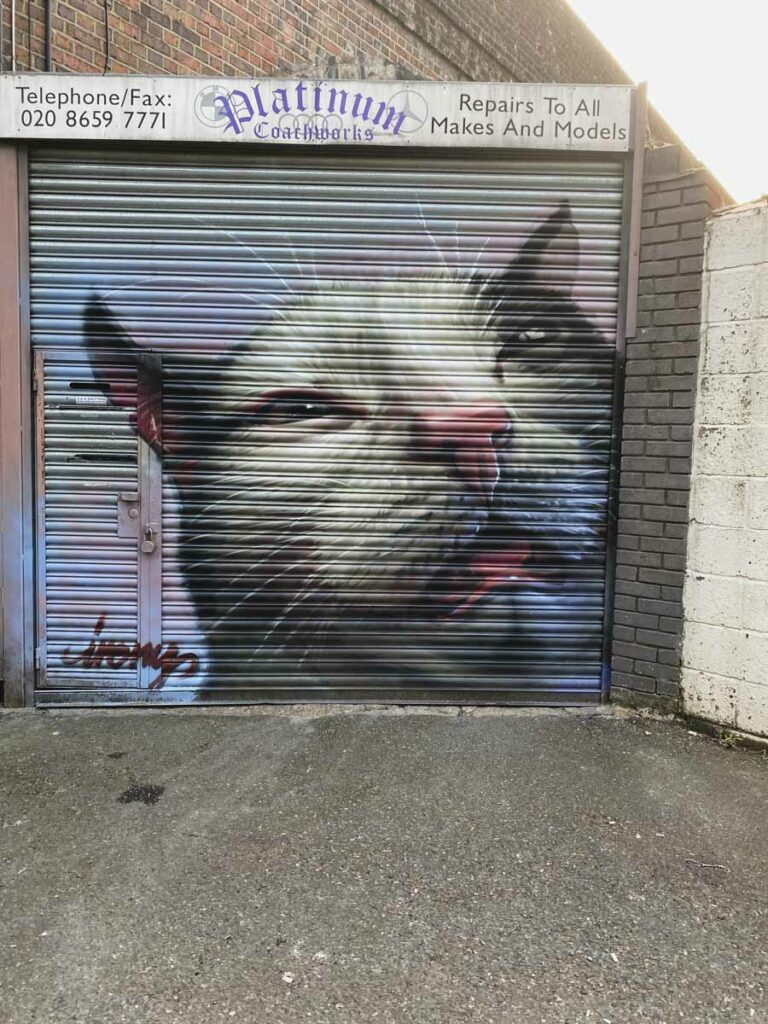 Another one from Irony – presumably the dog from the previous work's very best friend.
Walk underneath the railway bridge.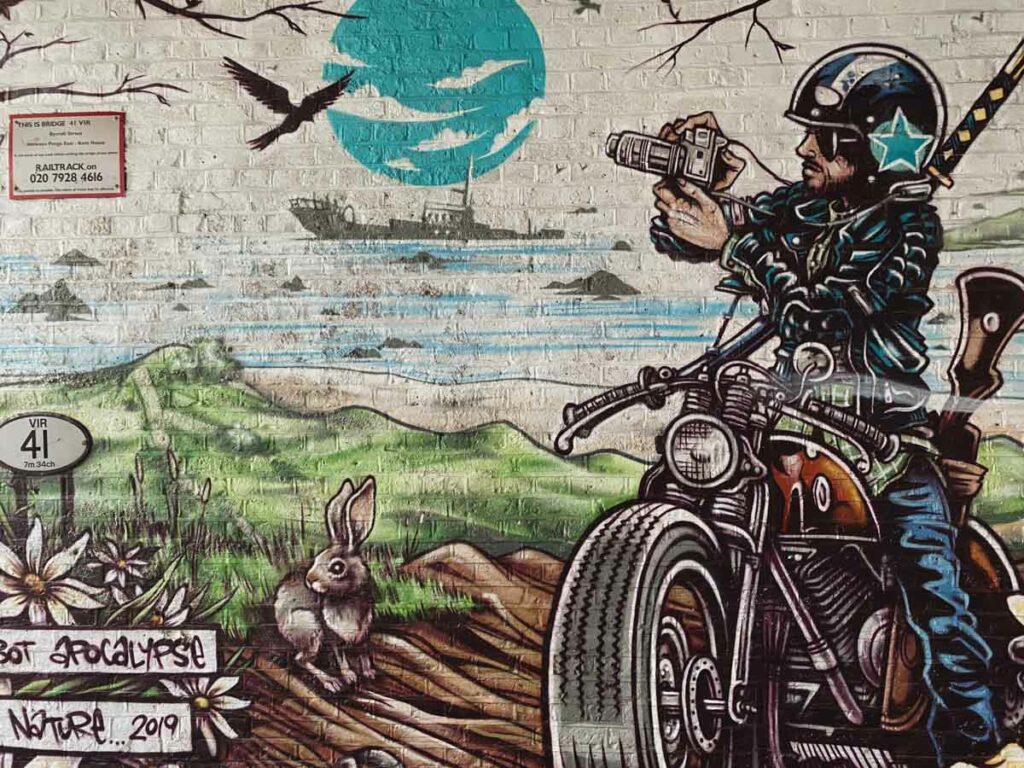 There are two pieces underneath the bridge – Bot Apocalypse – artist unknown and this glorious piece of letterwork by Sky High.
Continue straight then turn back to look at the side of the bridge as you emerge.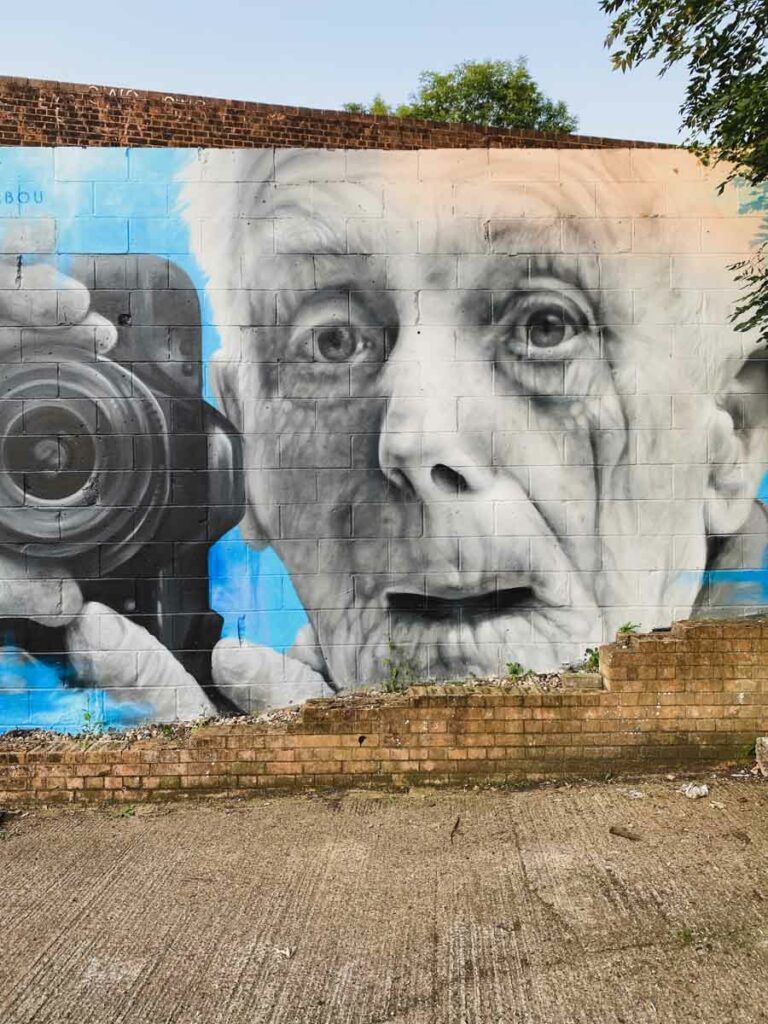 An old man and a camera by Zabou. I've long been a fan of her work and this one's no exception.
Continue straight along Bycroft Street.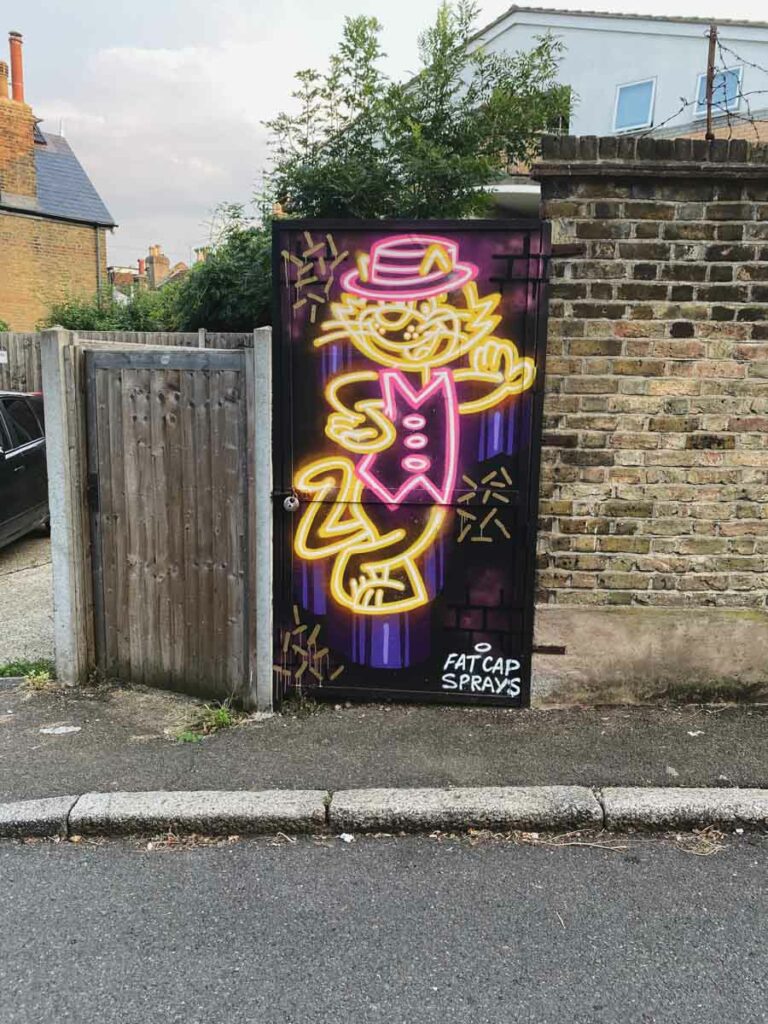 Quirky little neon number by Fat Cap Sprays.
Continue to the end of Bycroft Street.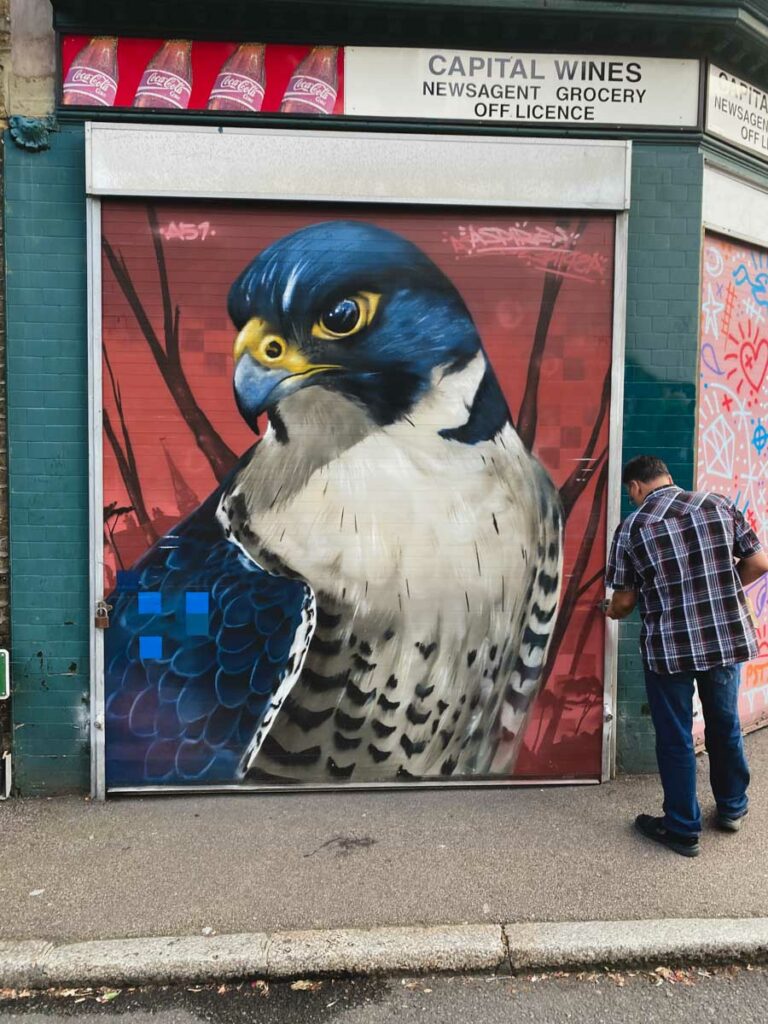 Another one by Aspire – this striking falcon is actually on the shutters of Capital Wines, so you'll need to catch them when they're shut to see it. Turn left onto the Penge Lane side of the shop and you'll spy another one on the other shutter – a cool little inspirational piece by WRDSMTH.
Penge Lane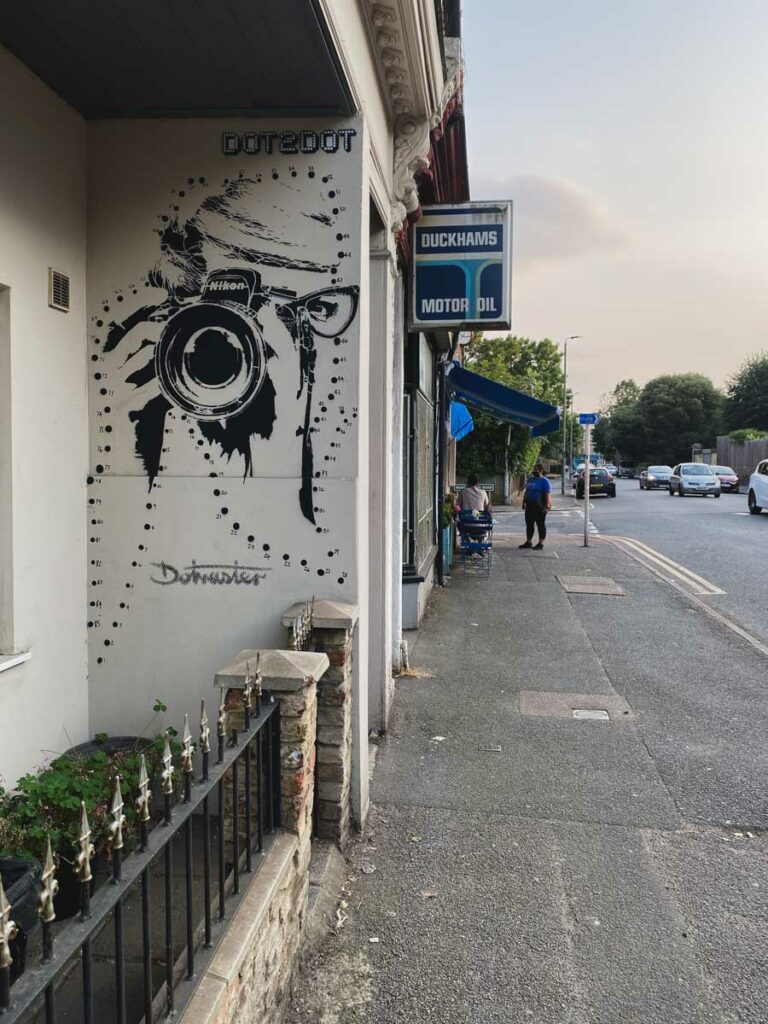 Blink and you'll miss this Dot2Dot by Dotmaster.
Walk straight down Penge Lane towards Himalayan Kitchen.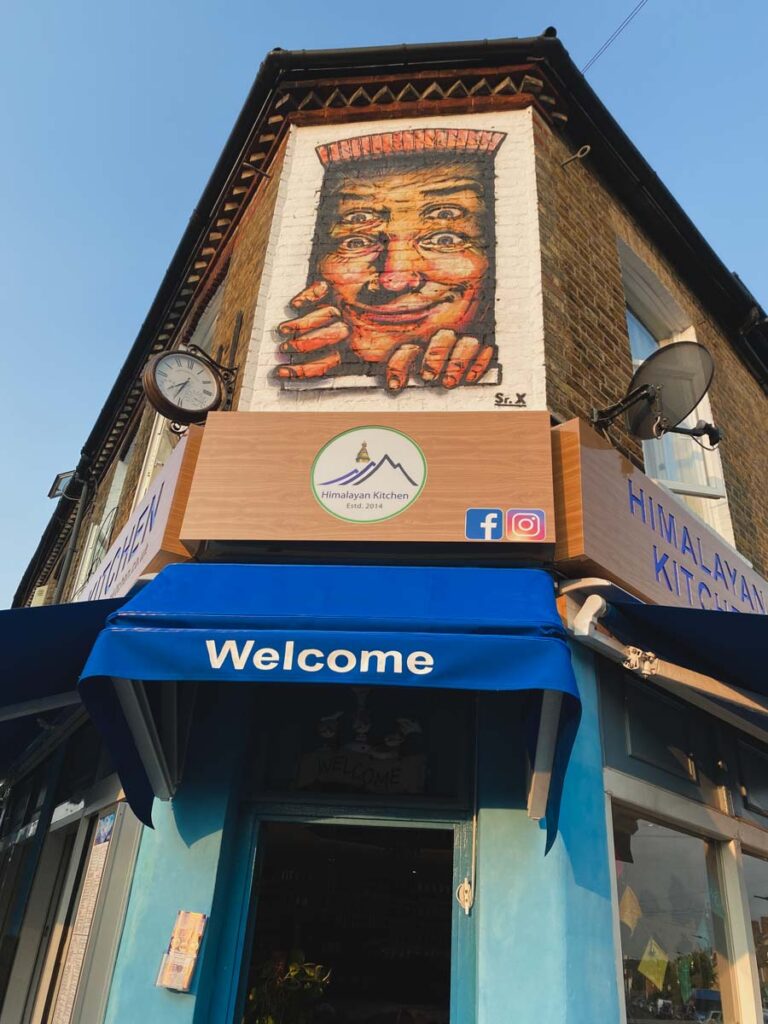 This cheeky little piece from Sr. X peers down at you. His pieces always have an air of the surreal about them – an exaggerated detail that makes it slightly unsettling – this dude's four eyes being the perfect example.
Take a left onto Penge Green, turn left onto the High Street then take a left onto Southey Street.
Southey Street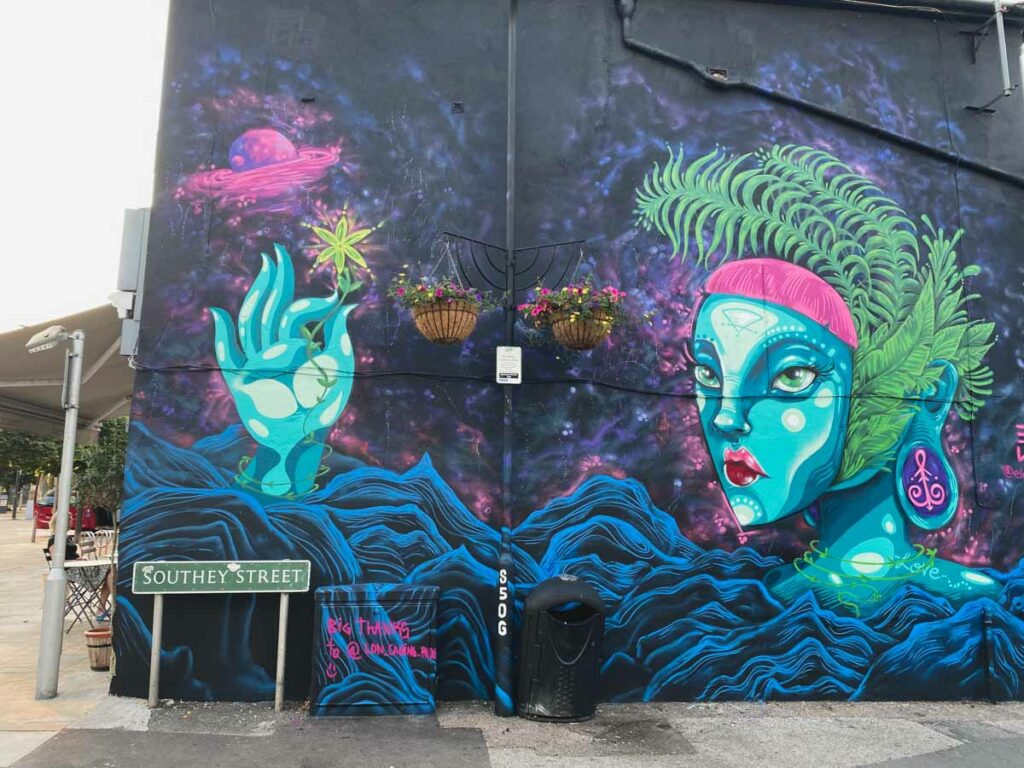 This surrealist piece by Elno is perched just on the corner of Southey Street.
Walk down Southey Street.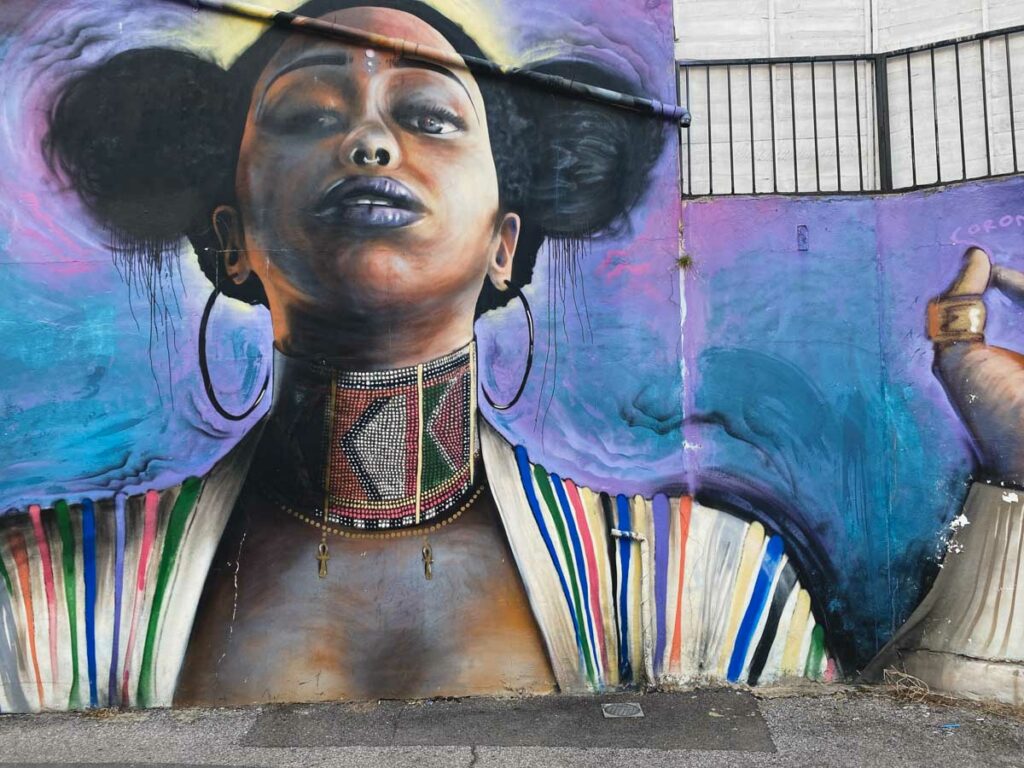 I've been creepin' on Dreph's pieces for a while – I think this piece shows you why.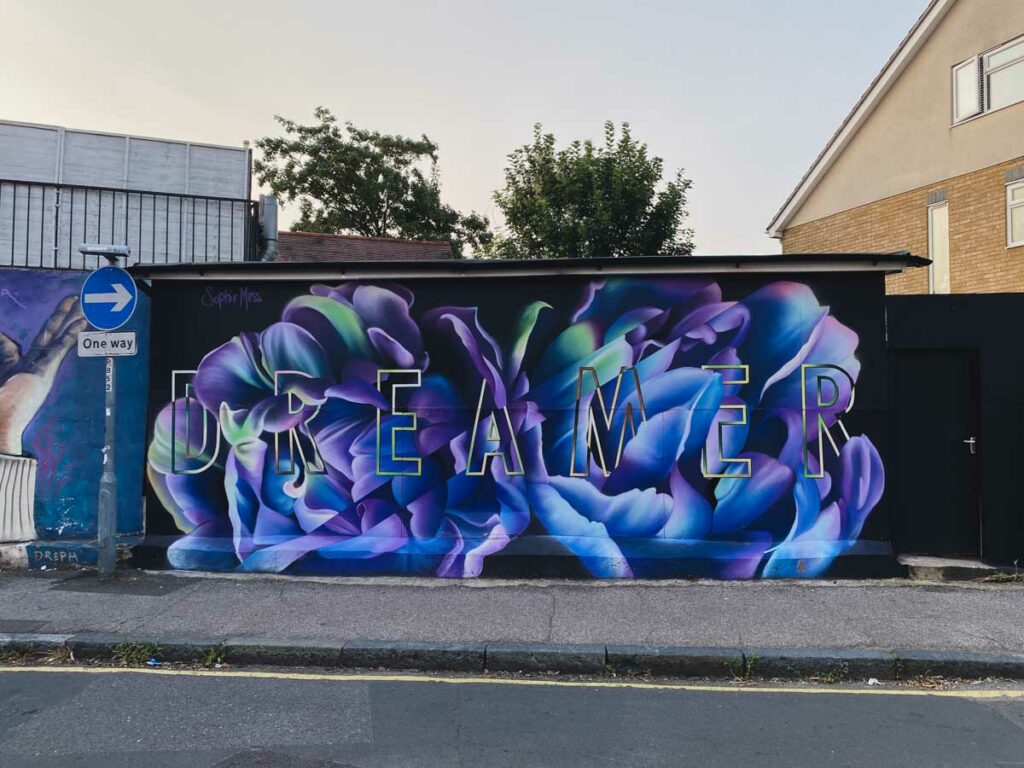 You'll find this punchy floral piece by Sophie Mess right next to it.
Turn into the alley leading to Southey Brewing behind you.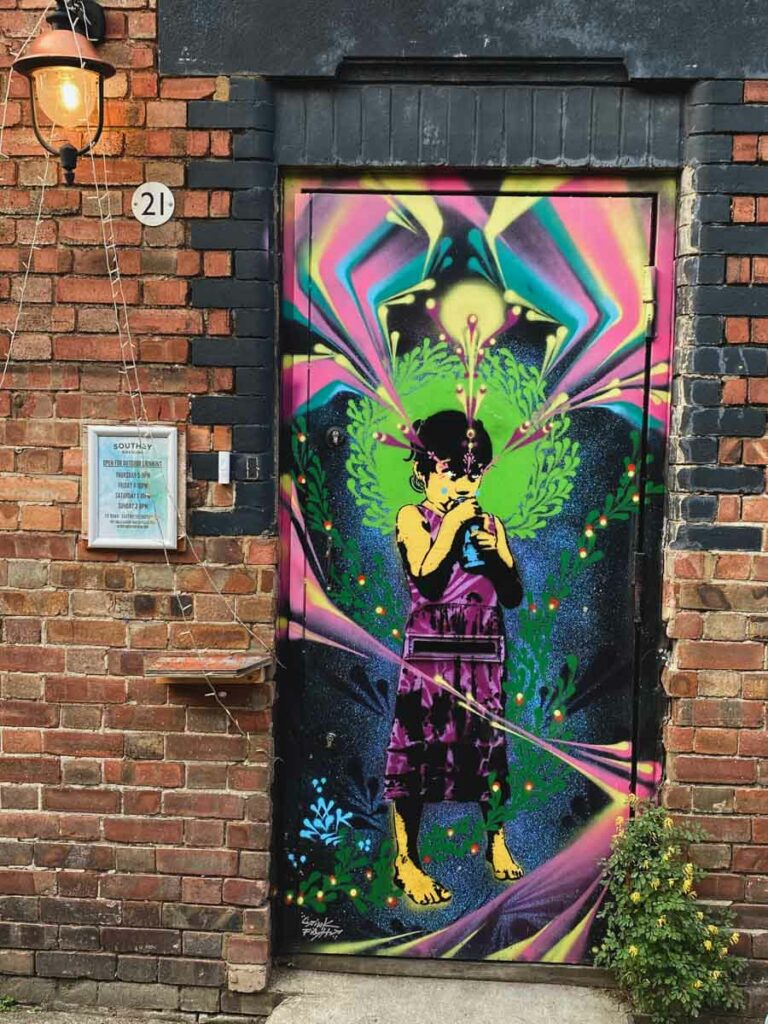 An eye-catching piece by Stink Fish. This colourful work by Dharma is a few paces further down the alley, as are these ones by Mr Christa, WRDSMTH and Airborne Mark.
Retrace your footsteps along Southey Street back onto the High Street. Cross onto the other side of the High Street, turn left and then almost immediately right into a small alley.
Unnamed Alley
Walk down the alley.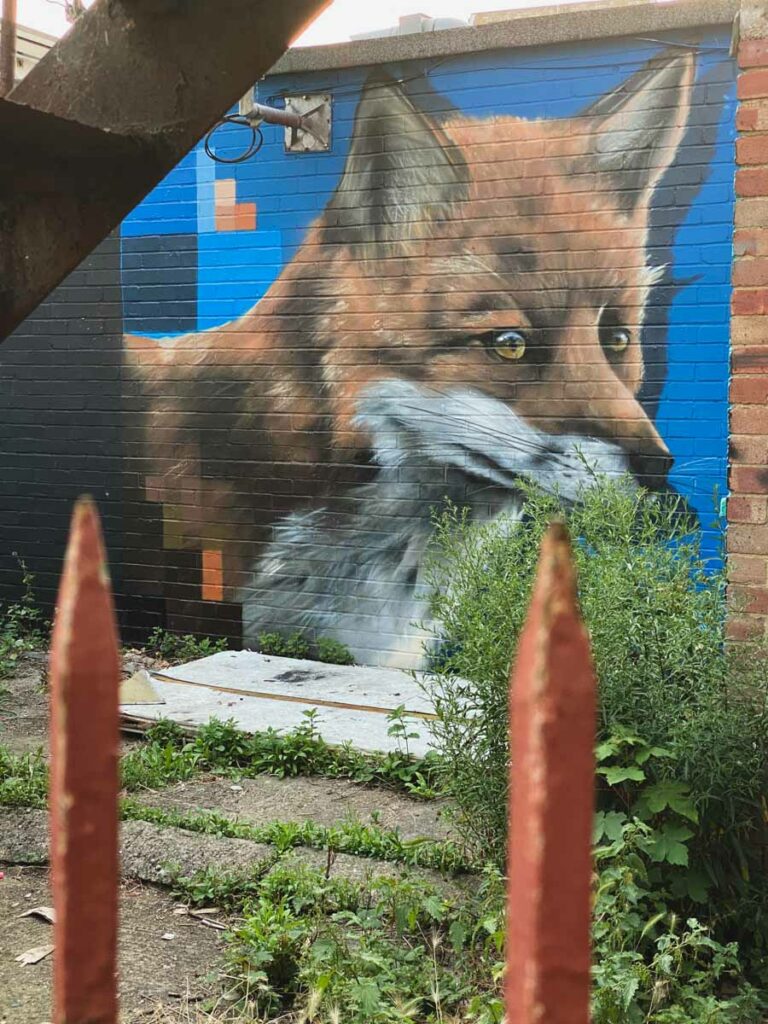 Another one by Aspire – this time a fox on a royal blue backdrop. Next to it, you'll find the delicately-rendered Fragile by 0707.
Follow the alley as it turns left, opening up into a small road. Turn left onto Maple Road.
Maple Road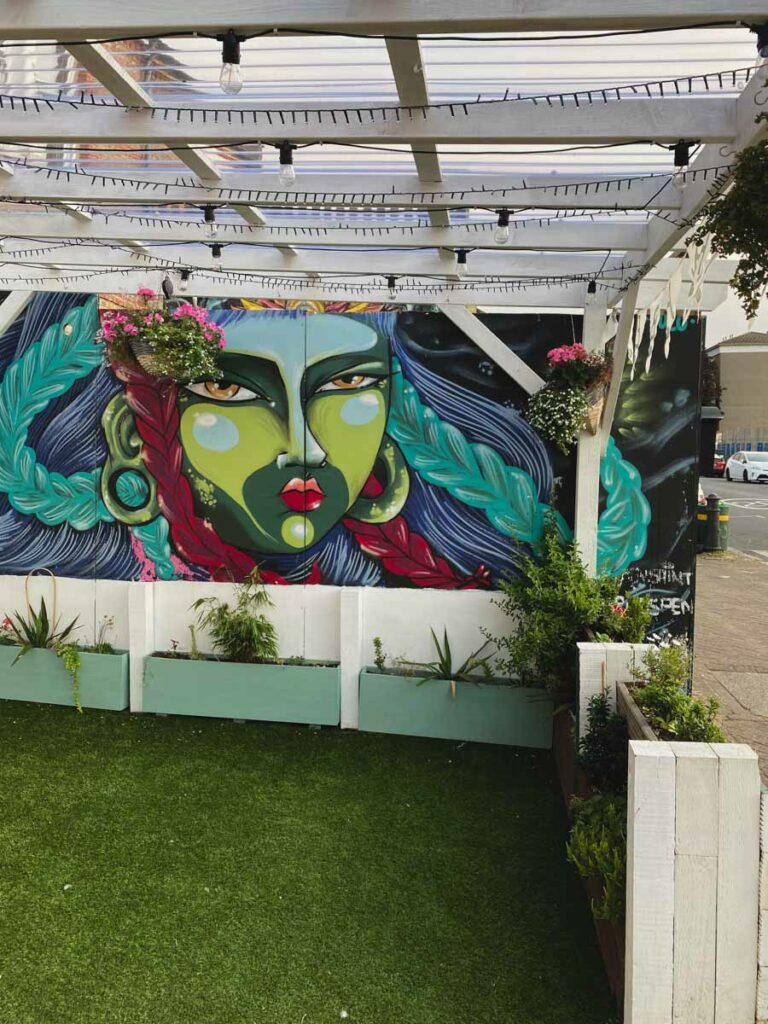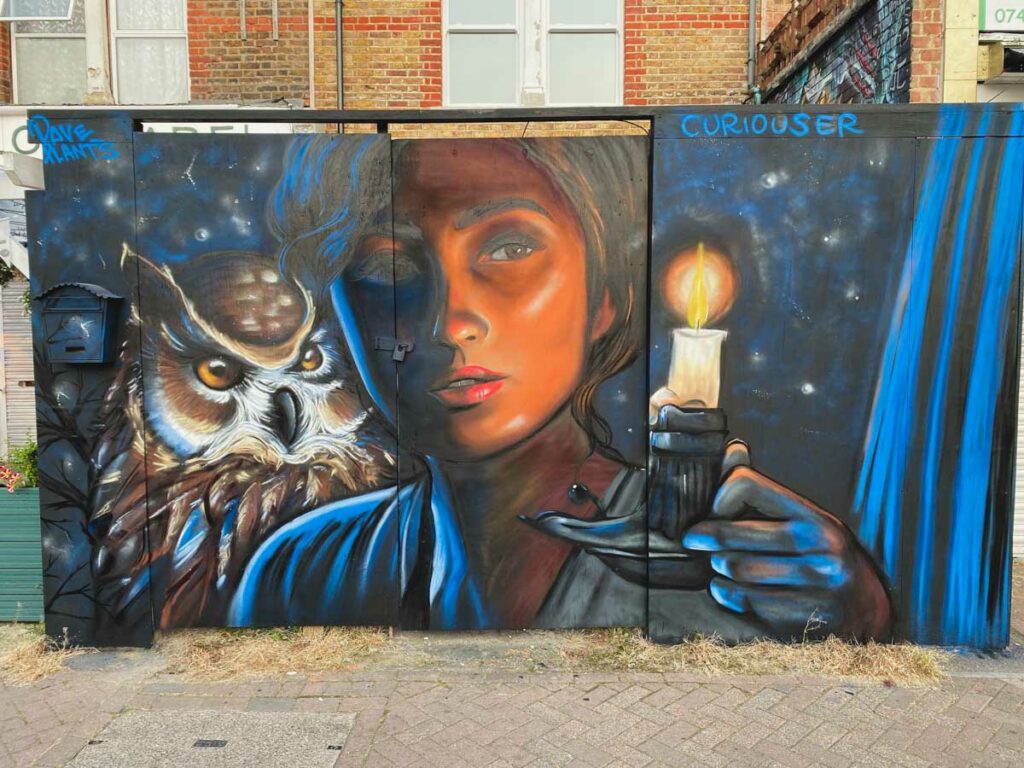 Look under the awnings of Taylor & Abel and you'll find this piece – artist unknown. Peek around the corner on the hoardings over the building next to it to see this stunner by Dave Plants and Curiouser.
Walk along Maple Road.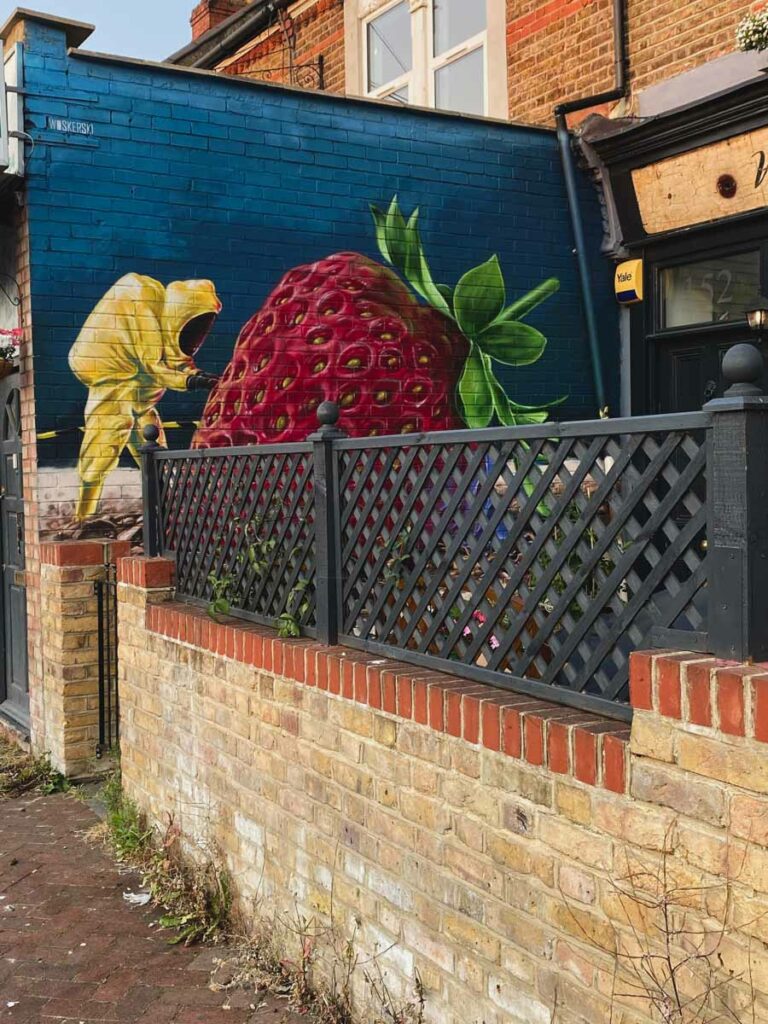 You'll have to keep a sharp eye for this piece by Woskerski as it will be behind you as you walk along Maple Road.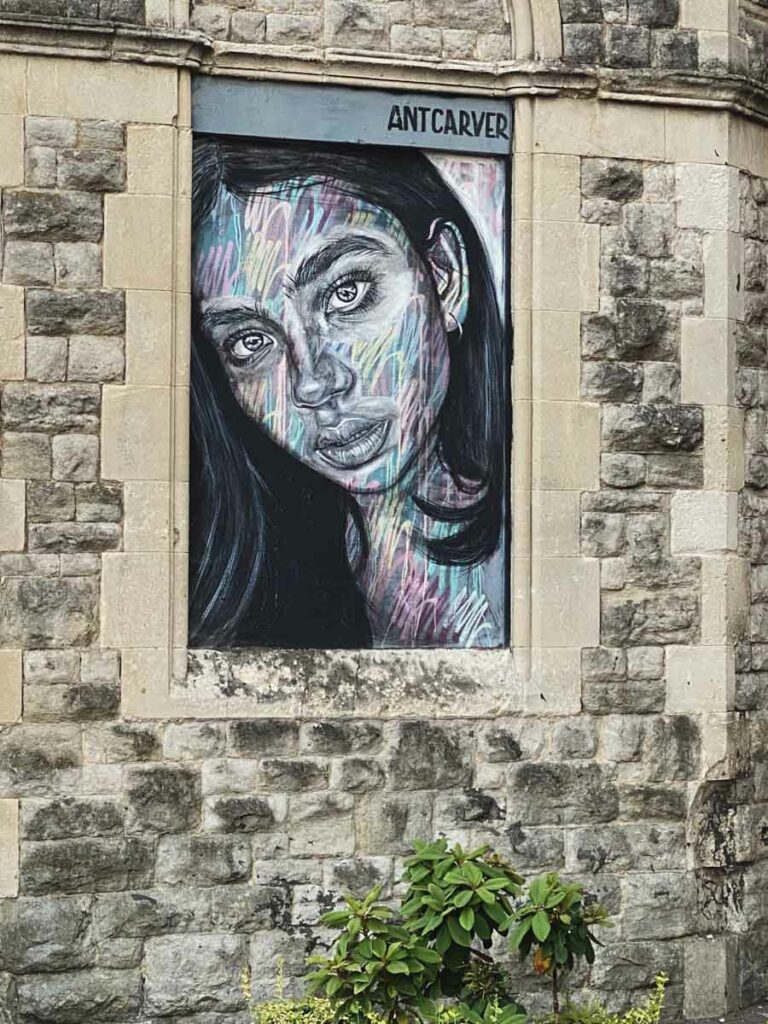 Carry on further down to spot this work by Ant Carver in his distinctive pastel style.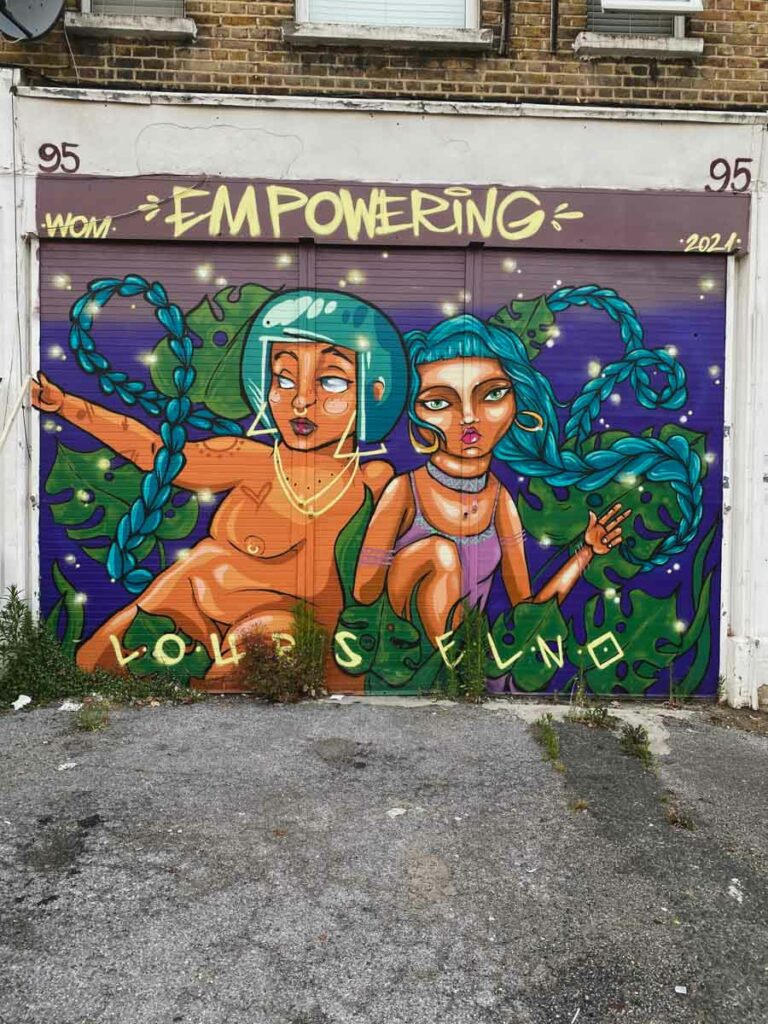 A few more paces will take you to this one Empowering by Elno and LourS from the WOM Collective.
Turn left onto Padua Road.
Padua Road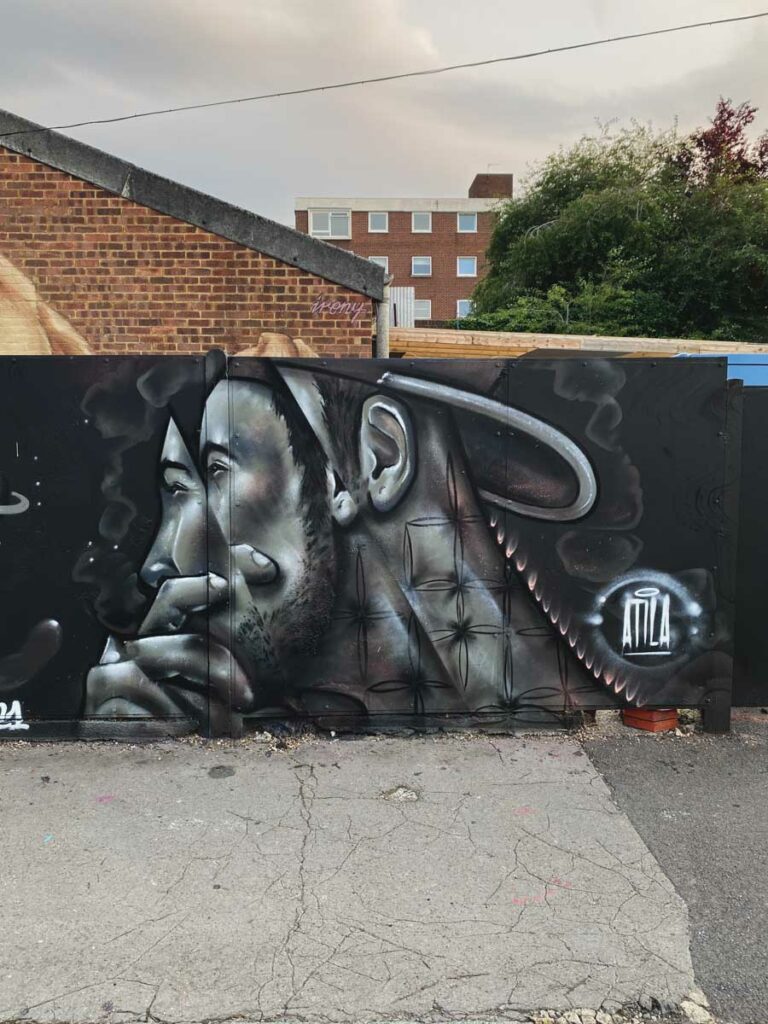 Walk down Padua Road to find a veritable glut of pieces clustered together.
Though they each have their own distinct style, they work incredibly well together, playing off each other to form a cohesive whole. I love the dog peeping over the wall! Works from right to left by Atila, Fiya 101 and Fat Cap Sprays and Dotmaster – dog by Irony.
Walk to the end of Padua Road and turn left onto Croydon Road. Turn left onto Evelina Road.
Evelina Road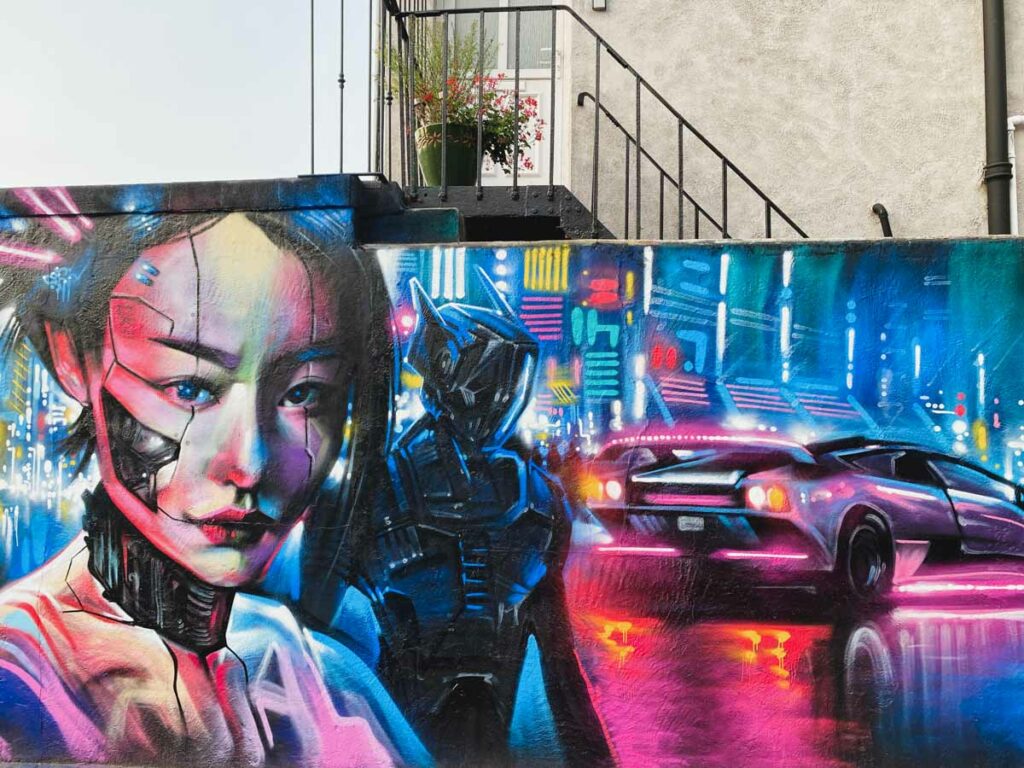 As soon as you turn into Evelina Road, you'll spot this arresting piece Tokyo Street Racers by Dan Kitchener.
Turn left into the alley next to it.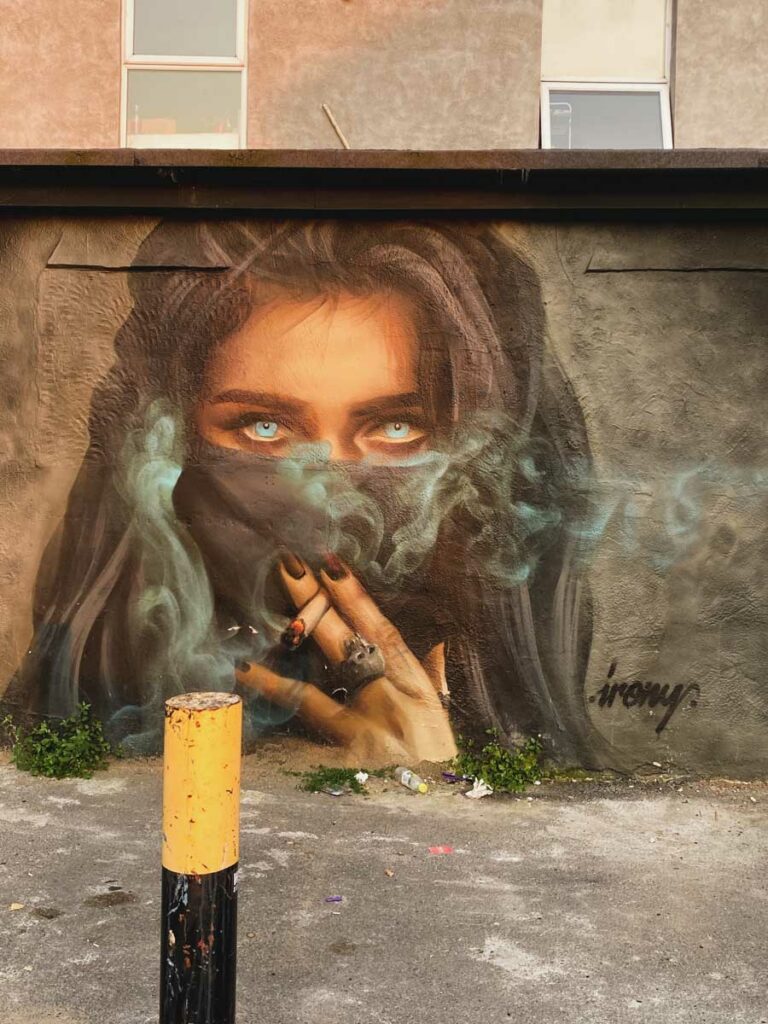 Woman in a haze of smoke by Irony and a rather startled looking hare by Dzia.
Walk back onto Croydon Road, turn left and then turn right at the cross roads to walk along High Street. Turn right into a small alley next to Stitch to Stitch.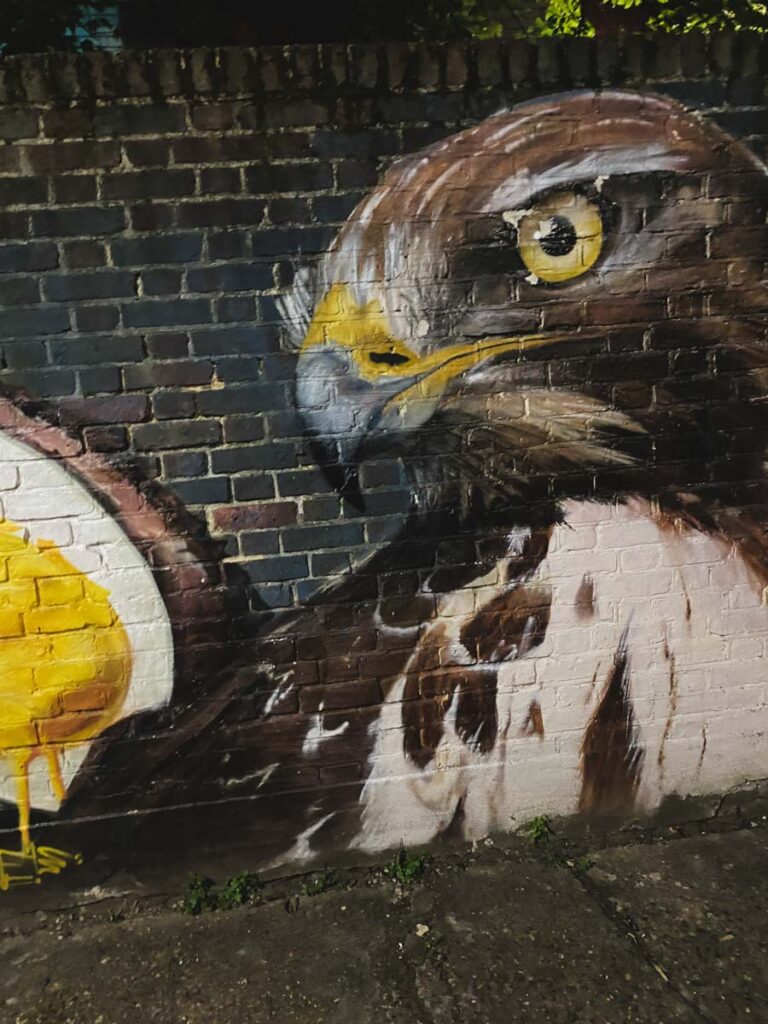 It's no street art walk around London without a piece by Mr Cenz – one of my favourite – not to mention one of the most prolific graphic artists in the city. There's one of his signature abstract women down this alley, along with this eagle and egg by Aspire and this unafraid young woman – artist unknown.
Turn back onto the High Street, retrace your footsteps to the crossroads and turn right onto Green Lane (which later turns into Thesiger Road). It's quite a walk down to the next piece but it's worth it.
Thesiger Road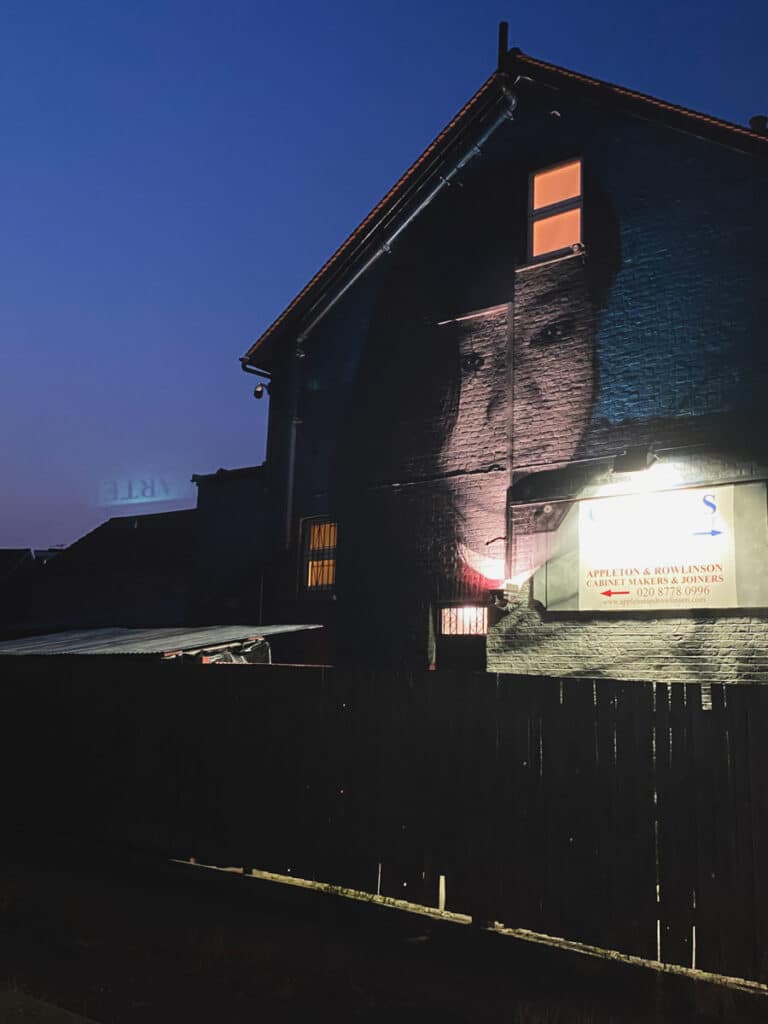 Here we are – the penultimate piece and another one by Zabou. Time your visit after dark and you'll see the way that Zabou has cleverly used the light on the building to represent the glare from the girl's phone.
Retrace your steps partway along Thesiger Road and turn right onto Parish Road, turn left onto Bycroft Road, left onto Penge Lane and right onto Queen Adelaide Road. Turn left onto St John's Road.
St John's Road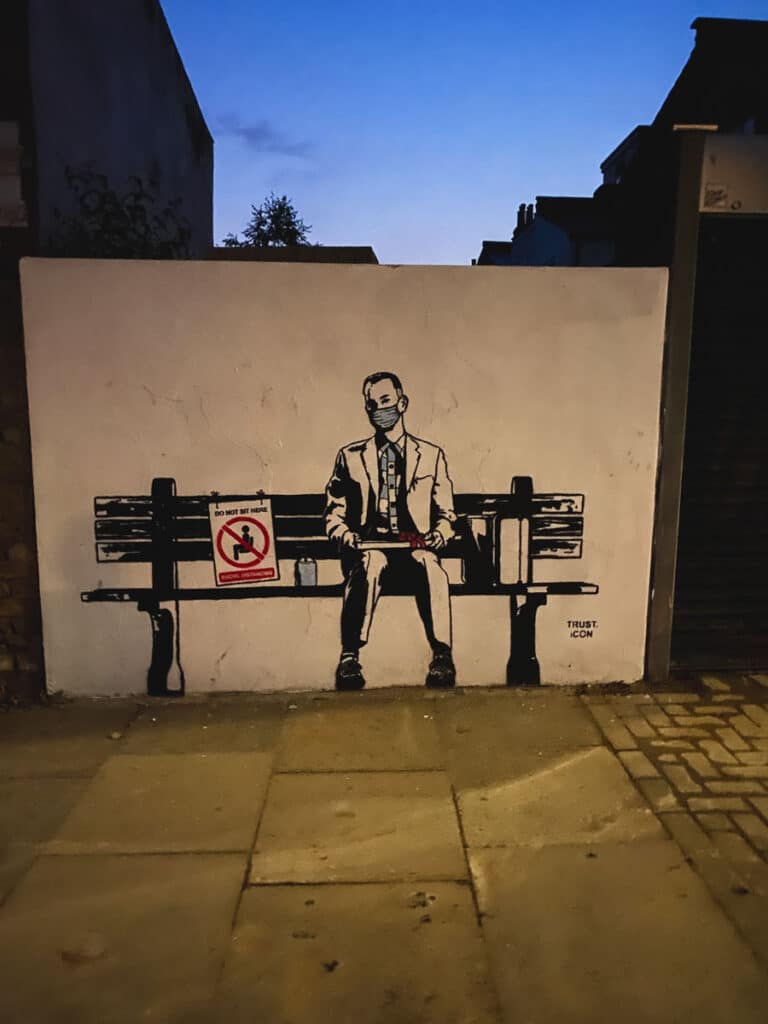 And here we are! The last pieces of the day – a social distancing statement from Forrest Gump by Trust Icon and a flowery piece by Artista.
Turn left at the end of St John's Road to walk back to Penge East Station.
Penge Street Art Map
The map directions are in two sections as Google doesn't let you go past J!
Practical Information and Tips for Exploring the Street Art in Penge
This walk starts and ends at Penge East Station – trains depart four times an hour in each direction to London Victoria and Bromley South.
The walk takes about 2.5 hours – if you have longer, I'd recommend having a stroll around a few more streets, there's so much around Penge and neighbouring areas of Sydenham, Anerley and Crystal Palace you could walk all day and find new pieces around almost every corner.
Looking for more London Street Art Guides? Read These…