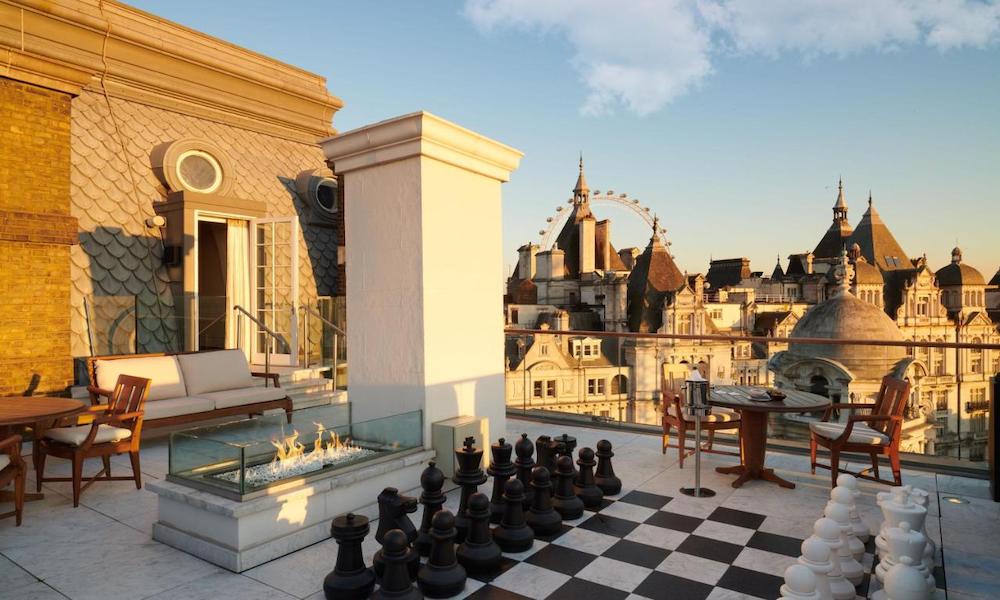 Hotels with balconies in London can sometimes seem hard to track down. Rain or shine (okay, often rain) a view from a hotel balcony can take a mid-range break up a level, or put a cherry on the top of a luxury vacation spot.
That's particularly true when it's a London hotel with a balcony, as views over the city are often stunning.
To help you pick the perfect pad for your next city break, here's a guide to some of our favourite hotels with balconies in the capital.
Best Cool Hotels with Balconies: At a Glance
Best Hotels with Balconies in London
The Soho Hotel
Soho, ££££

Located in Soho just five minutes from Oxford Street and close to bars, restaurants, shops and theatres, The Soho Hotel offers private balconies with London views in many of its rooms.

This is a luxury hotel with a price tag that reflects that, but you get a lot for your money. Rooms are large and air-conditioned, with a bright design that verges on maximalism. Grab a drink from the minibar, throw open the doors to your balcony, and sip while you look down on the excitement of Soho.


Batty Langley's
Shoreditch, ££

We love Batty Langley's. In fact, we've included it in guides before, including our best cool and quirky hotel picks recently. But it's so great, we're talking about this East End gem again!

Located in Tower Hamlets, just a mile from the Barbican and close to Brick Lane and Soho, Batty Langley's rooms with balconies offer a look over the hustle and bustle of London life without dropping you in it. Plus, there are roll top baths, 24-hour room service, and quirky decor that will get you snapping pictures for Insta from the moment you arrive. If that sounds up your street, then check prices and availability for a room with a balcony at Batty Langley's now.


Fraser Place
Canary Wharf, ££

This London hotel with a balcony offers something a little different. Every room is more like a serviced apartment, meaning that you get the privacy of a private home with the convenience of a hotel.

Fraser Place is in Canary Wharf, which is central and close to the river while still having a bit of East End edge. The hotel is housed in a purpose-built tower, which means that the views from its private balconies are stunning. If you fancy looking out over the river from one of their studios or apartments, take a look at prices and availability today.


Apex London
Fleet Street, £££

Apex London is a central London hotel with private balconies for several of its rooms, but every single one of the rooms is elegant, well-designed and packed with thoughtful features.

As Apex is located in the middle of the Temple legal district, there are plenty of historic sites to visit nearby (or, indeed, gaze at from your balcony). There's also a 24-hour gym, a modern restaurant, and an exclusive club lounge for anyone who is booked into a suite rather than a room.

Basically, it's all very upmarket. If that sounds like your cup of tea, check out prices and availability for Apex London today.


L'Oscar Hotel
Camden, ££££

L'Oscar is an opulent hotel with balconies in London, just a few hundred metres from the Royal Opera House and a stone's throw from the Lyceum Theatre. This makes it a perfect choice for theatre lovers looking for a break with a balcony.

French architect and designer Jack Garcia did all the interior design for L'Oscar, and it shows. There's fantastic drapery, richly coloured walls, well-chosen art, and wild wallpaper everywhere you look. If you're looking for elegance and sophistication, with a balcony to top it off, check prices and availability for L'Oscar Hotel now.


The Cavendish
Westminster, ££

The Cavendish is right in the centre of things, by the National Gallery, close to Buckingham Palace, and within walking distance of the royal parks. That means that the views from this London Hotel's balconies are fantastic!

Do be aware that only the larger, more expensive rooms come with balconies so you may have to splash the cash a little if you want to enjoy those views. We promise it's worth it, though, with the great location complemented by excellent amenities and simple, modern design. Check rates and availability for The Cavendish now.


The London Edition
Fitzrovia, £££

The London Edition features a clean, Scandi-inspired design with a midcentury modern twist. It's located in fancy Fitzrovia, a beautiful part of London, and of course, it has balconies too.

If you're into clean lines and finding tranquillity in the heart of the city, get yourself a room with a view at the London Edition. You'll love the cocktail bars and modern British restaurant, but chances are you'll be spending most of your time on that balcony looking out over the nearby architecture. Check out prices and availability at The London Edition now.


Corinthia London
Westminster, ££££

The Corinthia is a London hotel with both private balconies and a larger, public balcony too. The hotel's balconies mostly offer views of the Thames and St Paul's, so you really feel like you're in the middle of things while not having to worry too much about things like traffic noise.

Rooms are beautifully designed, with eclectic but tastefully chosen furniture, and there's both a spa and a Michelin starred restaurant onsite. Essentially, The Corinthia has it all. So, why not check out rates and availability for The Corinthia today?


Eccleston Square
Pimlico, ££

This lovely grade II listed London Hotel has balconies for several of its rooms. It's got great outdoor space in general too, with a rolling green lawn outback and a tennis court to boot (really unusual at a London hotel). Eccleston Square is really well located for seeing the sites of London, and the historic street it's on means all views are of the lovely old buildings that neighbour it. Guests get access to a nearby spa, too, so you can get some pampering after your game of tennis.

Why not check prices and availability for Eccleston Square today?


ME London by Melia
Westminster, £££

Home to Radio Rooftop bar and STK London Restaurant, ME London is all about rooftops and balconies. The hotel offers tailored tourist itineraries for visiting the attractions that are in many cases just steps away from its central Strand location, but you can get a pretty good idea of the lay of the land simply by stepping out onto your balcony and looking out over London.

Interiors are designed by Foster and Partners and are ultra-modern and stylish while never verging on boring. To enjoy the view from the balconies at this London hotel, check prices and availability today.


Sea Containers
Southwark, ££

We mentioned Sea Containers in our guide to hotels with a view recently, but we just can't get enough of the place. This riverside hotel has private balconies or patios for many of its rooms, with views across the water. Decorated by the award-winning Tom Dixon, the hotel is modern and streamlined, with views inside as good as those out on its balconies.

There's an on-site Curzon Cinema, and a great restaurant to complete the package, as well as the Tate, the Globe Theatre and the BFI all within easy walking distance. If that sounds appealing, check prices and availability for Sea Containers now.


Practical Tips to Consider Before Booking a Hotel with a Balcony in London
If you have your heart set on a hotel with a balcony in London, make sure you are clear about that when booking your room. Check if the hotel charges extra for balcony rooms, and take a look at whether or not it's an automatic option when booking. If not, give them a call after you book and ask if they can make sure you're in a room with a private balcony.
Location matters more than ever if you want a balcony. Is the hotel overlooking a river or park? That's a top balcony experience right there. Where a busy A road might be less enjoyable to gaze at as the sun goes down.
Other features you need are important too! Don't be blinded by the perfect balcony if the hotel isn't great in other ways or is in a poor location. The perfect London hotel with a balcony is out there, and we'll find it together.
Looking for More London Hotel Guides?
Check these out…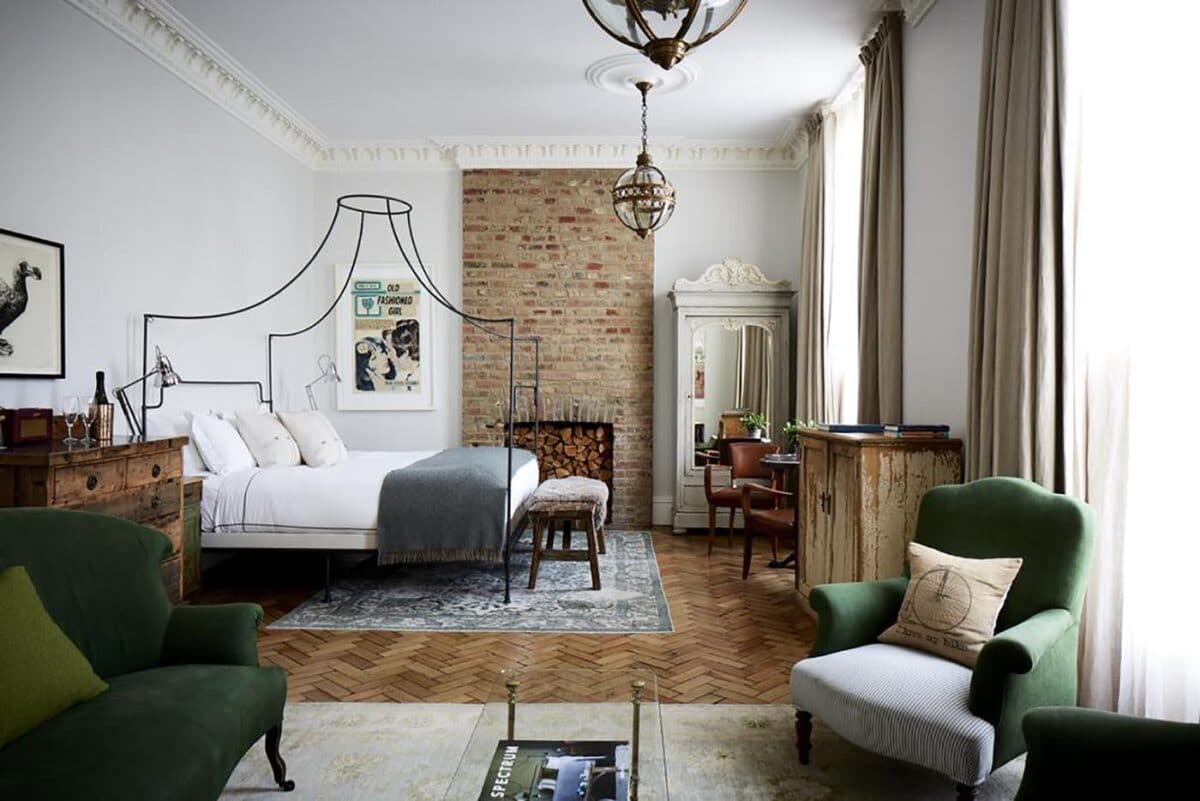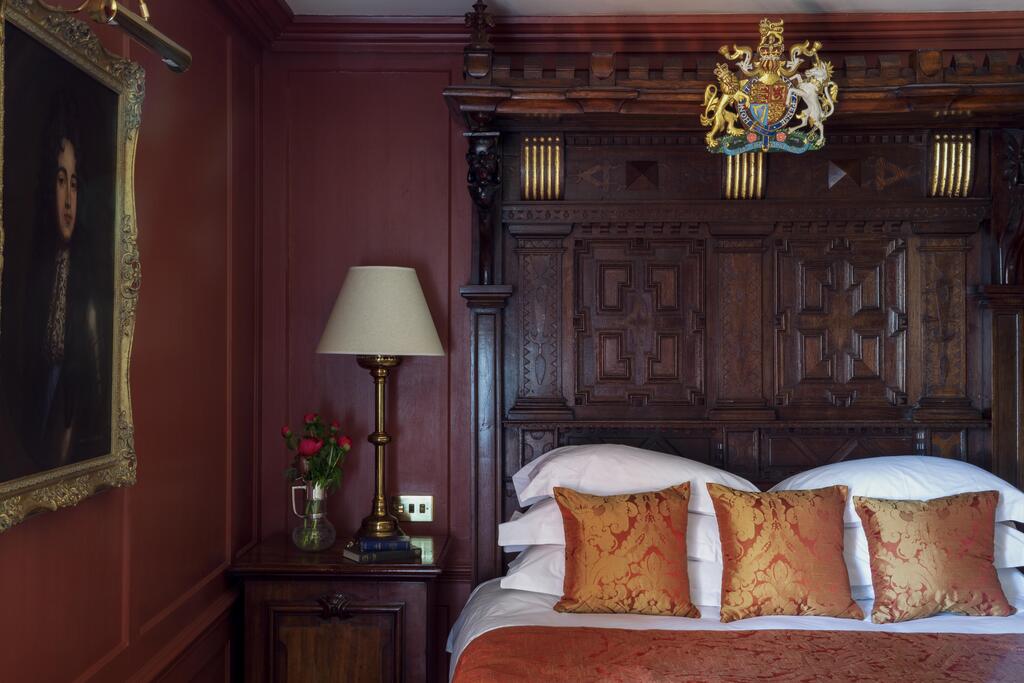 Cool and Quirky Hotels
in
London
Where to Stay in London: Area by Area