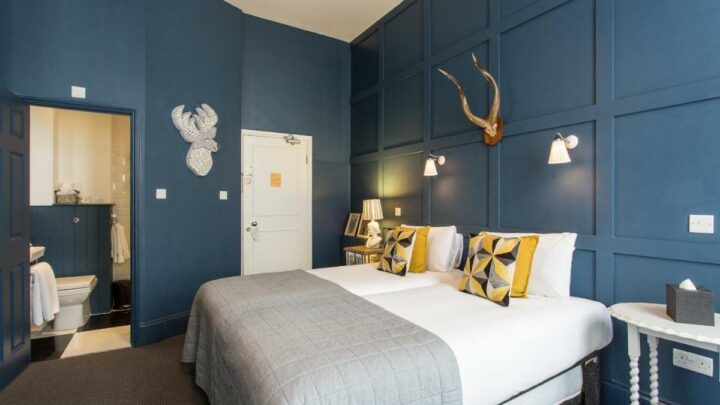 Bringing a car to London? There's no need to faff around with a public car park – these are the very best hotels in London with parking.
For many people travelling to London, the big question is: how do you get there? Do you squeeze yourself on the train and hope for a seat? Or face the gruelling journey of a Megabus? For many, the answer is a simple one – you drive.
However, as anyone who's stepped foot in the great city will know, parking can be a nightmare. That's why we've written this guide to the best hotels in London with a car park.
These are the best places to stay if you're bringing a car into the capital.
Best London Hotels with Parking: At a Glance
London Hotels with Parking
Park Plaza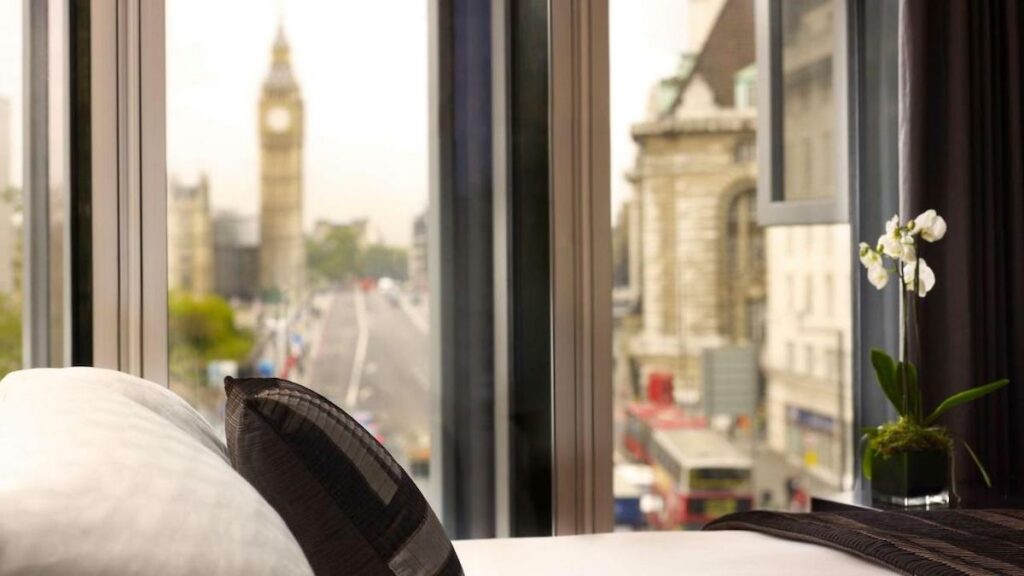 Park Plaza is just a stone's throw away from some of the most stunning and iconic London attractions, like the Westminster Bridge and London Eye. The views offered from this hotel are simply gorgeous, making it one of the best hotels with parking in London.
With modern furnishings and amenities in each room, a stay at the Park Plaza is a luxurious experience. The hotel also offers a wide variety of rooms, including wheelchair-accessible suites.
Parking: The hotel conveniently has its own on site car park, with rates starting at £65 per day. It also has a first-come, first-served policy.
Georgian House Hotel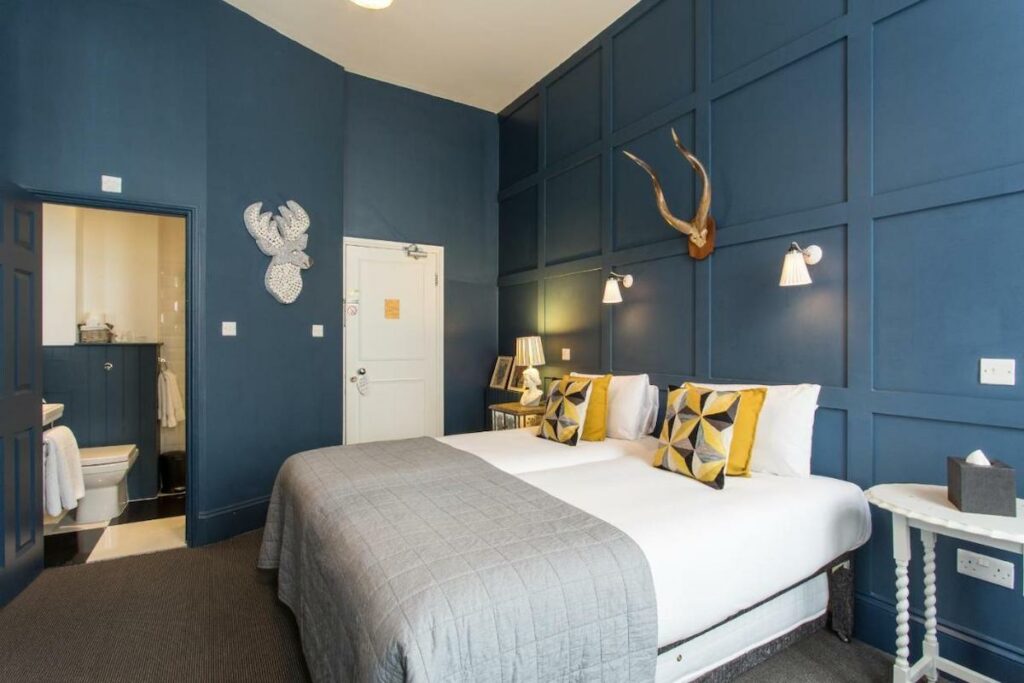 At the Georgian House Hotel, meticulous attention to detail has been given to all of their rooms. Clearly influenced by Georgian fashion and design, the rooms feature whimsical wallpaper in bright pastel blues and greens, with unique furnishings in every room.
For those wanting something extra special, their 'Wizard Experience' suites are available. The experience offers a wizard chamber with portrait lined passageways and stately gothic decor, an enchanted afternoon tea and potion making.
Parking: Parking is easy as there is a secure car park just 3 streets away called the Q Park Pimlico. It's just a short 1 minute drive from the hotel itself.
K West Hotel and Spa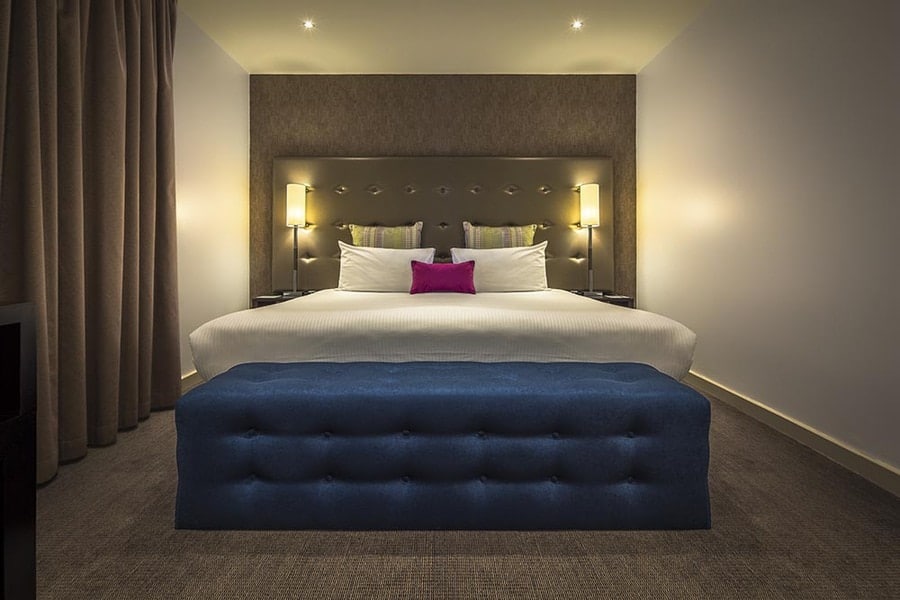 If you're looking for a trendy getaway at one of the swankiest spots of London, this boutique hotel might just be the place for you. In fact, you can read our full review of the hotel here.
K West Hotel was once a former BBC recording studio and is renowned for having music legends like Bob Marley and the Kinks in its hallowed halls.
Aside from its roster of celebrity guests, the K West has many modern amenities, like tablets in each room, so that just by the tap of a finger, you can access the full range of their room service. Not to mention their dreamy spa packages.
Parking: The hotel not only provides on site parking but a full valet service starting at an hourly rate of £1.50.
Nhow London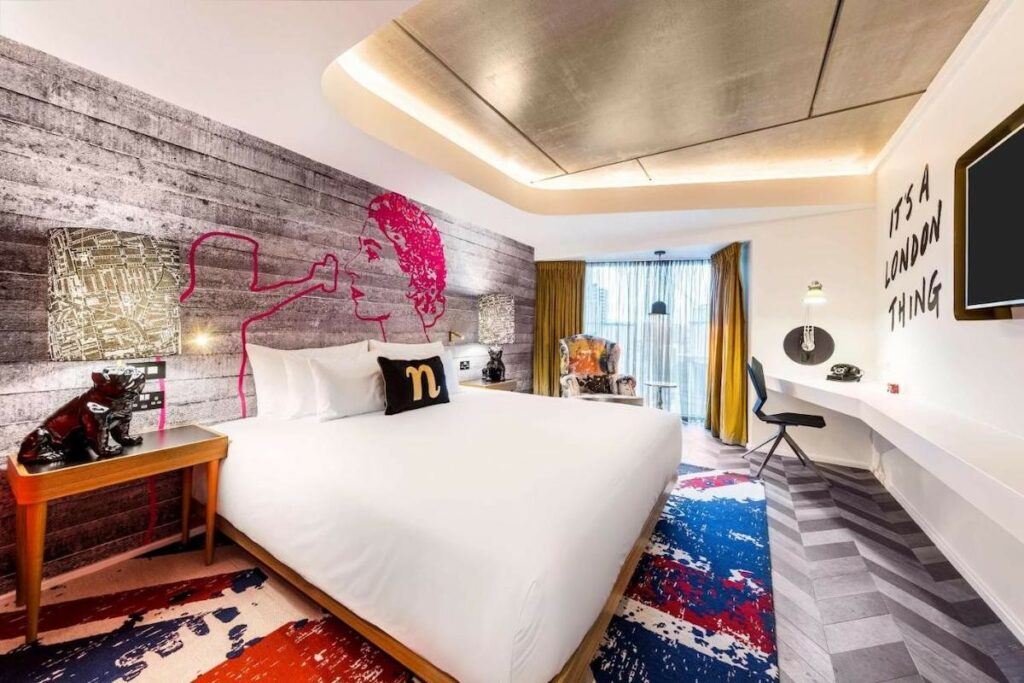 Looking for cheap London hotels with parking? With bright, arty rooms and unconventional furnishing, wallet-friendly Nhow can definitely be described as out there.
The rooms were designed by architecture and interior studio Project Orange and feature fun takes on modern and contemporary art, with each room designed in a mixture of punk and high tech-aesthetic.
This London hotel with parking also has a stunning bar with a terrace attached, so you can enjoy all the views that London has to offer whilst sipping your cocktail.
Parking: Handy on site parking is offered, with a charge of £35. However, there is no option to reserve a space in advance.
Vintry and Mercer Hotel
Just moments from St Paul's Cathedral, Vintry and Mercer is a fairly new hotel in London with parking nearby. Boasting 92 bespoke rooms and suites each decorated in a contemporary style with character-filled touches, the hotel oozes elegance and luxury.
With a swanky basement bar serving all manner of cocktails, a traditional pub-style restaurant, and a fully kitted out gym, Vintry and Mercer has everything you need for a comfortable stay – and then some.
Head up to the rooftop bar at sunset for dreamy views stretching out across the capital, and a delicious drink or two.
Parking: There is no on site parking for the hotel but just a few streets away parking is available at the NCP Vintry Thames Exchange car park, located on Bell Wharf Lane.
Moxy London Excel
Royal Victoria Dock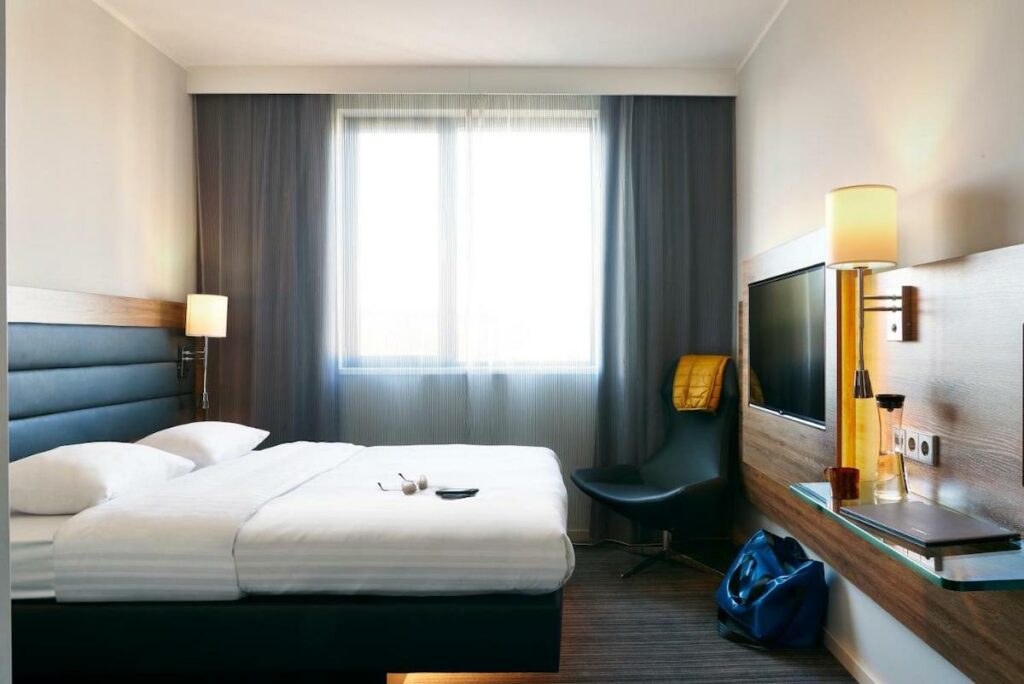 If you're looking for hotels near Excel London with parking, The Moxy London Excel is a stylish and affordable option for any traveller.
They proffer themselves as a vibrant and bustling setting with their fresh cappuccino bar for anyone needing their caffeine fix – or there are a wide variety of cocktails available on the menu if you're in need of something stronger.
Parking: On-site parking is available to patrons, with a reasonable charge of £15 per day. There is also an eclectic charging station at the hotel.
DoubleTree Hilton Tower of London
City of London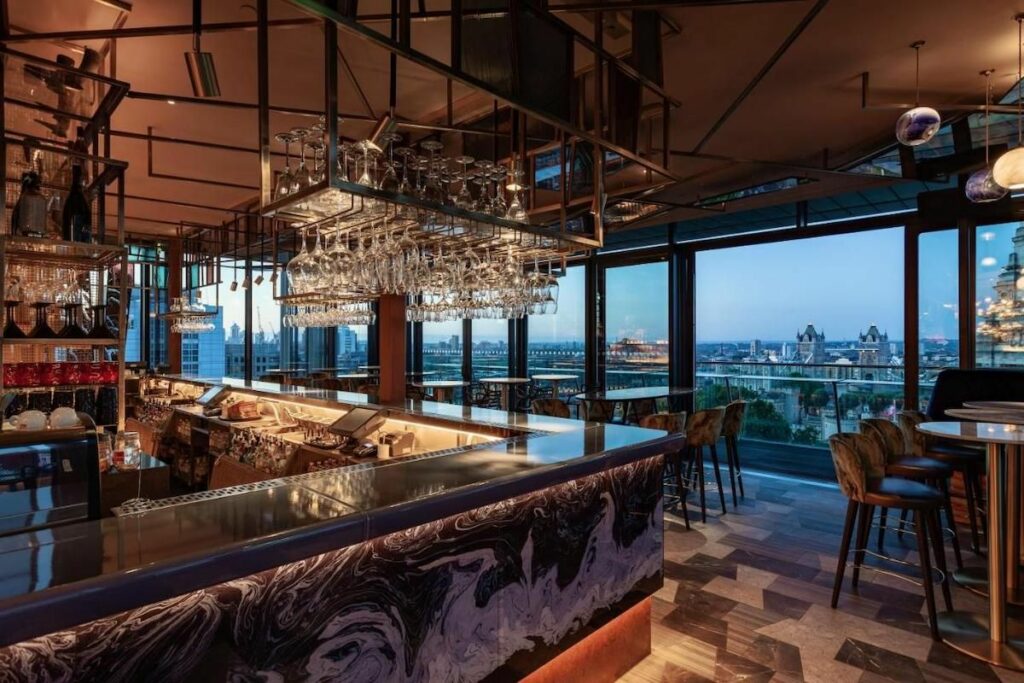 At just a five minute walk from the Tower of London, the Double Tree is surrounded by the best sights London has to offer. Their suites are decorated with a minimalistic and clean look and the rooftop bar is open in the evening to take in the stunning views as you unwind after a busy day.
There are pet friendly rooms available if you'd like to bring a furry pal along on the adventure with you too.
Parking: There is convenient on site parking, with a charge of £35 for the day.
Hotel Cafe Royal
West End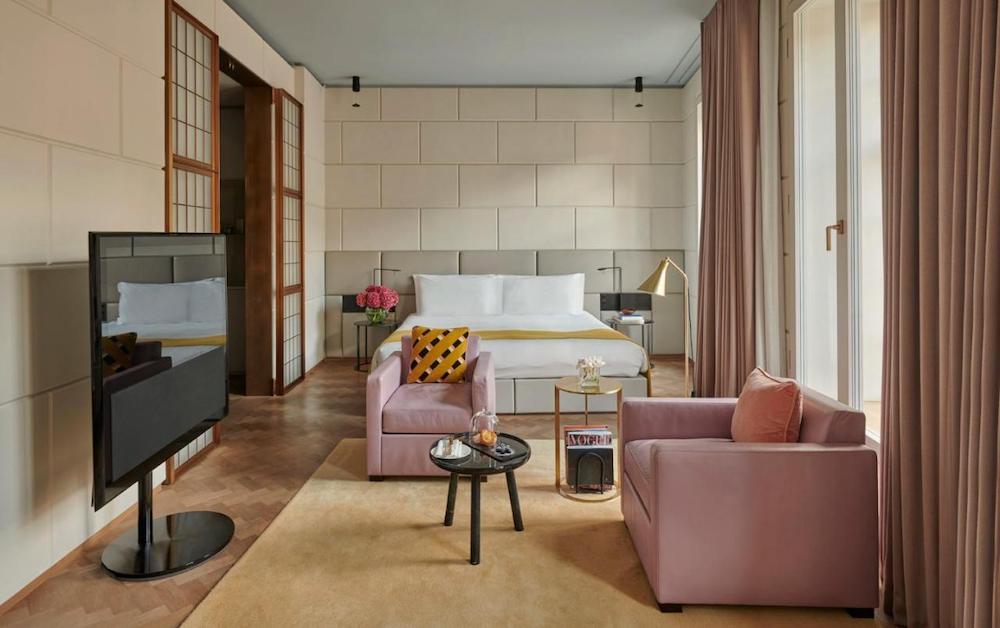 When it comes to central London hotels with parking, we think this one is the best (even though it's a real splurge). Located on Regent Street, the Cafe Royal promises a luxurious and elegant stay for its guests.
Their holistic wellness spa, Akasha, promotes several treatments – from meditation to reiki. The spa has nine treatment rooms and even offers hydrotherapy as a way to relax.
Parking: A secure underground car park is available twenty four hours a day just a few minutes from the hotel, with a rate of £14 per hour. The hotel also offers a valet service for a seperate charge.
Mama Shelter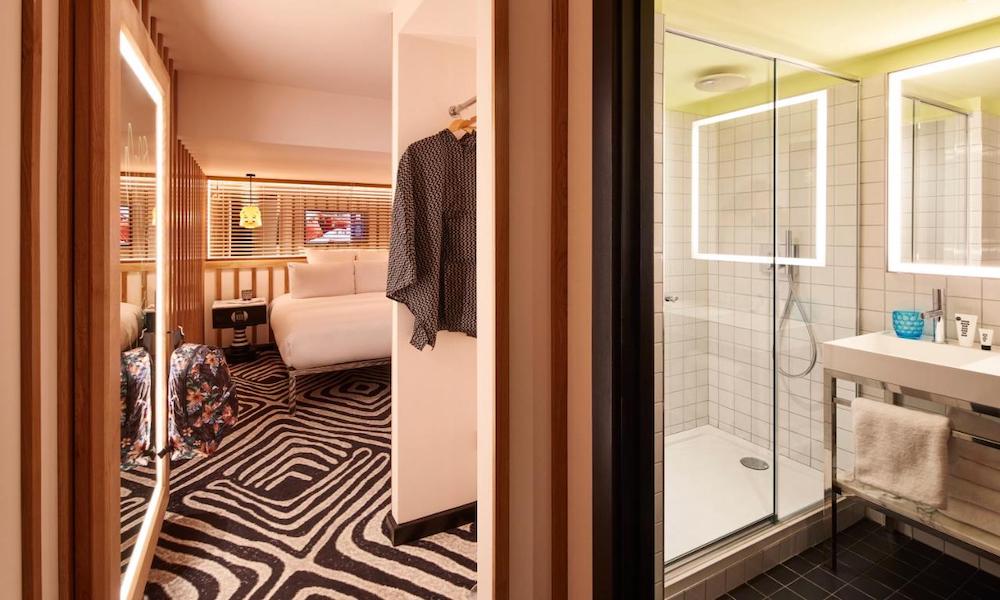 When it comes to east London hotels with parking nearby, Mama is a quirky hotel offering endless fun. The Japanese style karaoke rooms and cute garden bar is the epicentre for entertainment.
There are 194 rooms in the hotel, each one designed with hand crafted furnishings created by Dion and Arles. The effect is a cosy and comfortable living space, with modern amenities.
Parking: There isn't on site parking for this hotel but luckily the Euro Car Park is just a few minutes away and offers secure, private parking.
The Chamberlain Hotel
Tower Bridge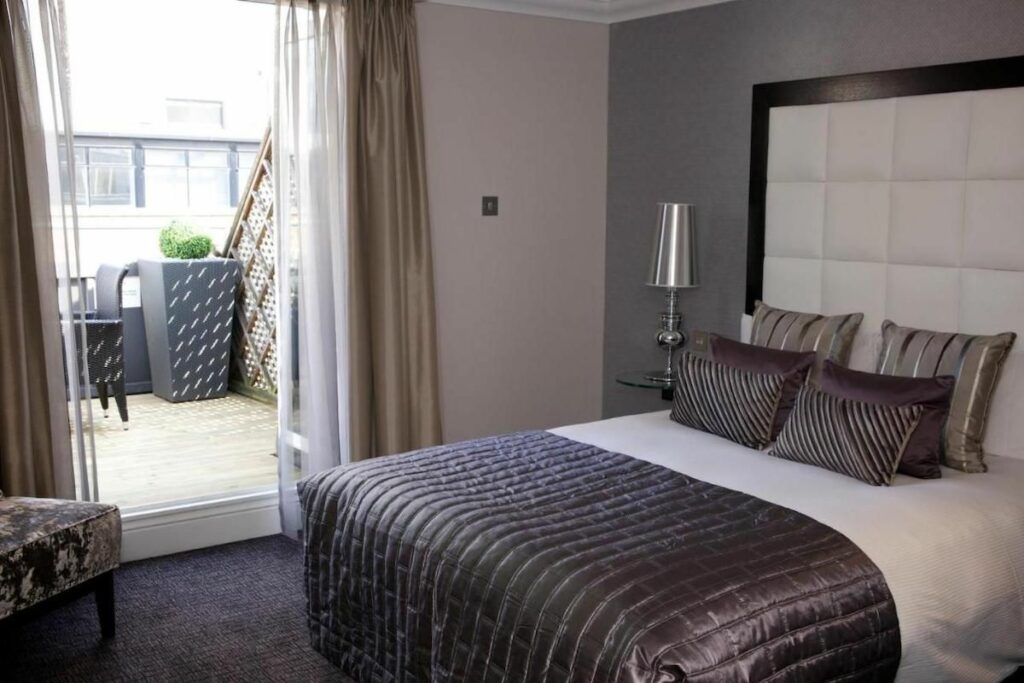 The Chamberlain has a modern and refined style, which is reflected in each of their rooms. The restaurant is a fine dining experience and includes a varied menu, with quality ingredients sourced in the UK – perfect for anyone who enjoys more formal dining.
The rooms are in an Edwardian style, with dutch gables on the roof and vintage furnishings adding depth and character to each room.
Parking: There are street parking bays available outside the hotel at no extra charge. Though, it should be noted that there are few of these so the NCP Minories Car Park, just five minutes from The Chamberlain, might be a more likely option.
The Bromley Court Hotel
Bromley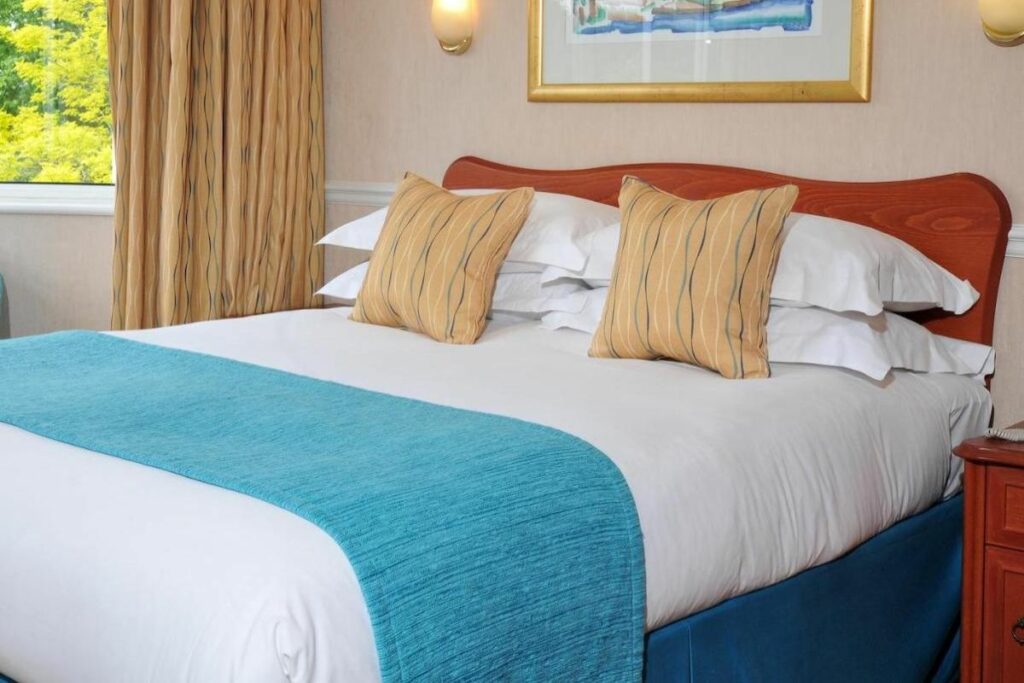 Looking for the top London hotels with free parking? The Bromley Court Hotel has 2 acres of beautiful gardens and is a popular venue for weddings. With such a carefully maintained landscape, Bromley Court is a dreamy setting for any trip to London.
The hotel has a range of dining options, including the lounge and cocktail bars. The menu focuses on contemporary British cuisine and has a range of both casual and formal dining.
While the hotel is located outside of central London, it's still closeby to Greenwich Park and The O2 – with brilliant links to the rest of the capital.
Parking: There is free on-site parking at the hotel, with plenty of space available.
Millennium and Copthorne Hotel
Stamford Bridge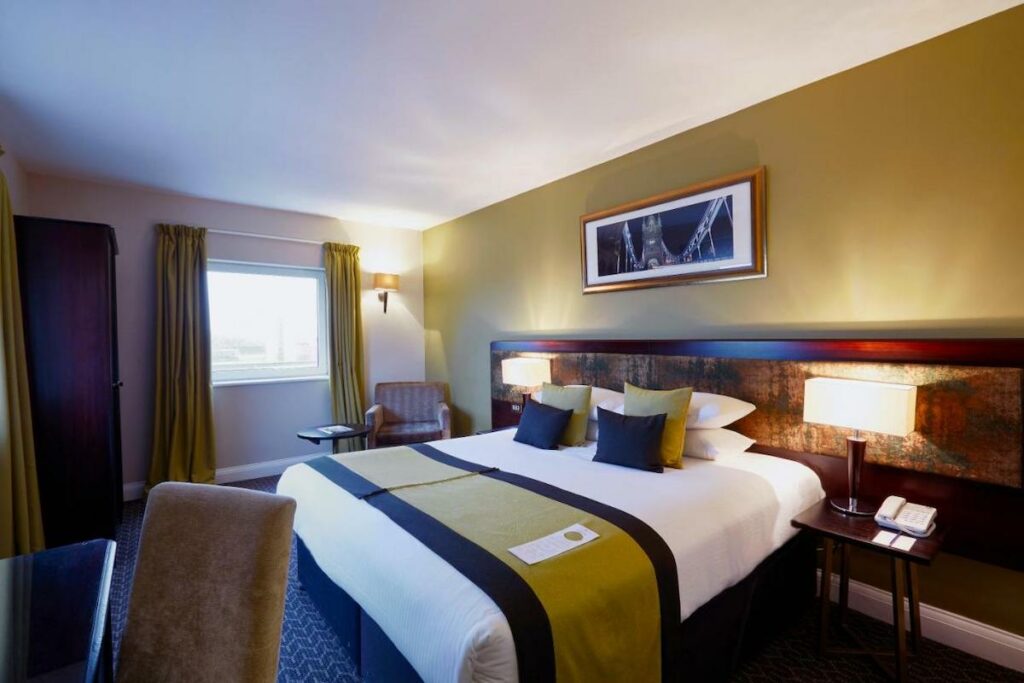 Looking for an ideal hotel near Stamford Bridge? For any football fan, a stay at the Millenium and Copthorne hotel is a must. Located within the grounds of Chelsea Football Club, the hotel is split between two sites.
The hotel boasts a state-of-the-art gym as well as a swimming pool and spa treatment facilities. Their 55 restaurant is renowned for its hearty English breakfast – the perfect pre-game pick-me-up.
Parking: There is a car park located on-site at Stamford Bridge, though spaces cannot be reserved. It is also worth noting that on match days, there is a strict No Entry policy to the carpark.
Hotels with Parking London: Practical Tips and Map
It's worth checking before you book the hotel whether the car park is free or if there is a charge – if so, booking your parking in advance is advised.