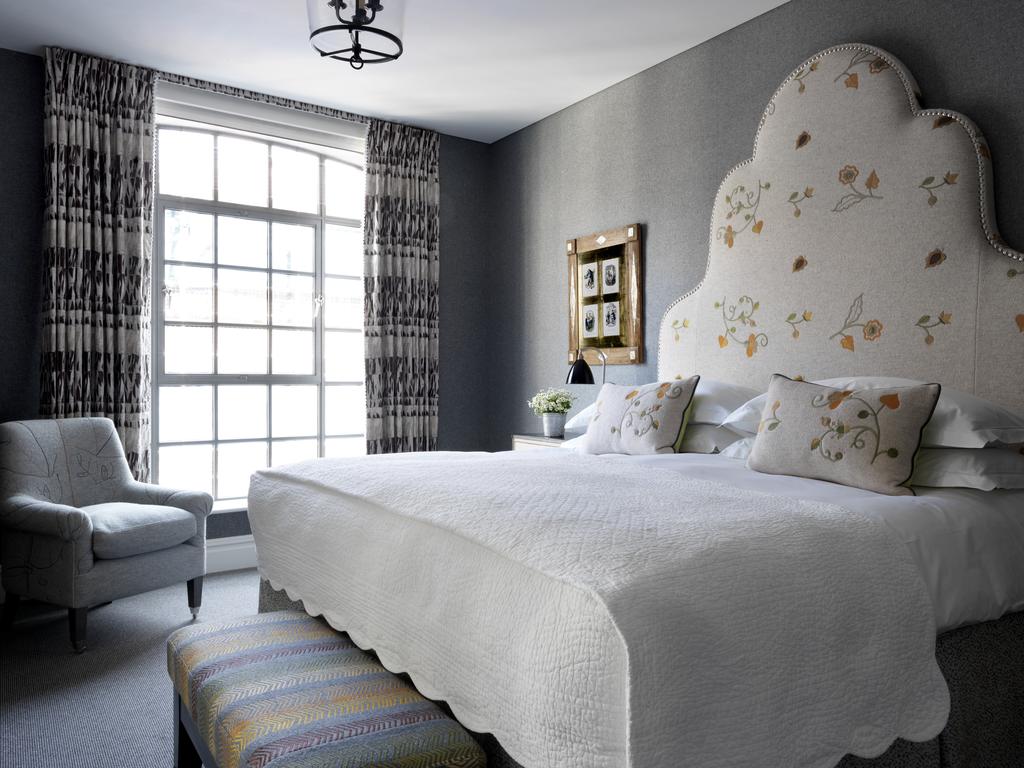 It's difficult to believe that once upon a time, Soho was one of the seedier parts of town.
Today, you'll find it in the heart of London and the centre of theatreland, with the city's best pubs, restaurants, bars, clubs and shops on its doorstep: times have very much changed.
It's no wonder then that Soho is now one of the hottest destinations for a stay in London.
Question is, where are the best places to stay in Soho? With multiple hotels to choose from, it is difficult to pick your perfect location.
That's why I've created this Soho hotel guide. The best places to bed down for the night in Soho for the perfect London trip.
Best Hotels in Soho: At a Glance
Best Hotels in Soho
The Soho Hotel
As its name suggests, the Soho Hotel couldn't be found in any better location. Only 5 minutes from Oxford Street, it is centrally located in the heart of the city.

Inside, you're greeted by cool, calm and colourful interiors bursting with life.

With just 96 bedrooms, this boutique hotel is decked out with upholstered bed frames, quirky wallpapers and large marble bathrooms, providing casual luxury amongst the bustling streets of Soho.

When you're ready for some down time, to escape all the bright lights, then nip into either the Drawing Room or the Library for some peace and quiet. With polished interiors, these rooms are not as stuffy as their names suggest, and instead feel playful and fun – like the rest of the hotel.

Price Range: £££

Hazlitt's
If you're a sucker for a traditional, period property then you're going to be a big fan of Hazlitt's.

Just off Soho Square on Frith Street is this beautiful, Soho boutique hotel dating back to 1713. It is the former home of the popular essayist, William Hazlitt and its unique history can be felt throughout.

With squeaky floorboards, sloping walls, heavy silk curtains, carved wooden beds and priceless antiques – this small hotel feels very authentic, and you could have easily stepped back in time!

The bathrooms are similarly created to still reflect this old-school style, with period features and free-standing bath tubs – it is the sort of place where you can indulge in a long, relaxing soak before a busy night out in London.

Price Range: ££

Kettner's Townhouse
Part of the Soho House empire, Kettner's Townhouse, a historic Georgian building just off Shaftesbury Avenue, is an 1867 London society haunt.

Now a small, boutique hotel with 33 bedrooms, it is perfectly nestled into the Soho scene.

Back in its 19th century heyday, its rooms were the sites of naughty activities! And in true Soho House fashion the glamour of these scenes can still be felt across this boutique hotel today.

With old-school panelling, statement-coloured velvet headboards, and walls adorned in William Morris prints, the bedrooms create an image of a French boudoir.

In line with these cool, classy interiors and representing the splendour of Soho, both the buzzy Champagne Bar and Piano Bar (with a pianist performing all day and night) are the perfect hangouts to recuperate from a busy day in London.

Price Range: ££

W Hotel
Perched in the heart of Leicester Square the lively W Hotel could not be any closer to Soho.

Full of energy, on arrival it looks more like a club than a hotel. Surrounded by disco balls, playful designs and a touch of cool Britannia, prepare to be mesmerised.

Step into the spacious bedrooms with cool-grey interiors, open-plan living spaces and large bathrooms with rainforest showers, and you'll be ready to relax and unwind ahead of your night out.

This is made even easier by the technology in the bedroom that will surely wow you! In line with its OTT style, guests can control the whole of their room from the touch of an iPad; from check-in, to room temperature, to lightning and all streaming services, there will be no reason to get out of bed once in.

Price Range: ££

Courthouse Hotel London
Almost adjacent to Oxford Circus station, and opposite the impressive Liberty London department store, the Courthouse Hotel holds a prominent Soho location.

Built within a grade II listed Magistrates' Court, this Soho boutique hotel has retained many of its historical features but with a modern twist.

Step inside and you'll find 116 bedrooms, which are all spacious and warm in style. Despite its old court room features they still provide a more contemporary feel, with dark wood panelling paired with brown and beige décor.

However the hidden gem is up on the sixth floor, where you'll experience the Soho sky terrace bar. You're greeted with panoramic views out across Soho and the rest of the city. Come summer, request a private BBQ up here; an ideal way to sink into a London weekend.

Price Range: ££

London Edition
London Edition is a sophisticated hotel occupying a row of ornate Georgian townhouses on the edge of Soho. Dating back to the 19th century, the London Edition mixes elegant old-school with the 21st century.

Its sleek, traditional style is reflected in the bedrooms, which with oak flooring and wood-panelled walls still feels very minimalist.

The large windows found in all room categories provide an abundance of natural daylight flying through, bringing a sense of warmth and cosiness to the rooms.

But the most impressive part of this boutique hotel is its renowned restaurant; Berners Tavern, overseen by the Michelin-starred Chef, Jason Atherton. With its 18-ft high ceilings, glitzy bronze-coloured chandeliers and masses of artwork from floor to ceiling, Berners Tavern is a sight in itself.

Price Range: ££

Z Hotel Soho
The original Z Hotel, built into a classic townhouse offers an excellent location, in the heart of theatreland and at a more affordable price!

With 85 bedrooms, it is the perfect place for a boutique experience when spending a couple of nights in town. As a cheap hotel in Soho, the rooms are undoubtedly small, but offer standardly tasteful interiors; with black and white decor and glass partitions.

Down on the ground floor you will also find the Z Hotel Café. Renowned as a sociable hangout, it is a sophisticated spot and – get ready for this – from 5pm to 8pm every evening guests are entitled to complimentary cheese and wine! If that's not enough to entice you, then what is?

Price Range: £


Ham Yard Hotel
Sister property to the Soho Hotel, and in yet another thriving location, Ham Yard is super stylish with colourful interiors.

Designed and curated by the renowned owner, Kit Kemp, it is known for its mismatched textiles and quirky styles.

A moment's walk from the vivid lights of Piccadilly Circus, this hotel is perfectly situated in the heart of Soho but nearby to the more elegant streets of Mayfair. With smart, spacious rooms and windows looking out over the city, you can really feel your proximity to the buzz of the nearby streets.

The perfect place for all the family, this small hotel also offers numerous facilities, including a cool cinema, bowling alley and spa. If you head up to the fourth floor, you'll find a rooftop bar with sweeping views looking out over Soho; a great spot for snuggling up with a hot cocktail come winter.

Price Range: £££

The Sanderson
Located inside a 1950s style building in the centre of London, this five-star Soho hotel is moments' walk from Tottenham Court Road. Although the exterior of the Sanderson is not the prettiest building in sight, the inside is a totally different story.

It may have been over twenty years since the bedrooms were originally designed, but to this day they still remain very cool: Low lit, white minimalist in style with hints of bright retro colours. You can sense the wit and irony of the hotel's character throughout.

If you're looking to take the fun even further – and of course in a perfectly British way – then book yourself in to experience it's Mad Hatter's Afternoon Tea. In Sanderson's whimsical way, enjoy utterly fabulous pastry creations that bring the famous story of Alice in Wonderland to life.

Price Range: £££

The Resident Soho
Previously known as the Nadler, The Resident Soho is 78 room boutique hotel that's also perfectly located in the heart of Soho, adjacent to the famous Soho Square.

It's not hard to miss this property, with its elegant winged sculpture 'Selene', perfectly stood above the hotel's entrance. Appropriately representing 'sleep', (which this part of London clearly lacks), this small Soho hotel can definitely provide it!

Its bedrooms are designed to offer a relaxing oasis in the heart of the city.

Stylish yet cosy, quiet but comfortable, it has all the luxuries you'd need for a boutique stay in the centre of Soho and at a more affordable rate.

Price Range: ££

Soho Hotel Guide: Practical Tips and FAQ for Your Trip
Although there are multiple Underground (Tube) stations in Soho, they are all very much in walking distance of each other, so don't be fooled by needing to catch them, as it may actually be quicker to walk!
Very often there will be a movie premiere at Leicester Square. When this happens, the whole square is cornered off, making it difficult to get from one side of Soho to the other. Bear this in mind if you are staying on or near the square.
Best Hotels in Soho: Map