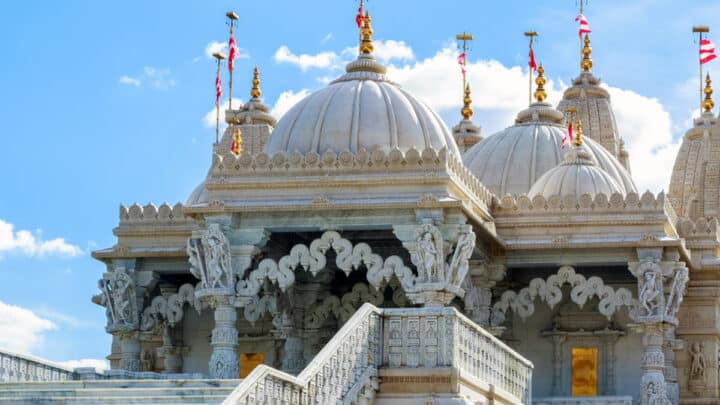 Have you spotted BAPS Shri Swaminarayan Mandir in London? Discover the incredible story of London's spectacular Hindu temple.
Did you know that, for a time, the largest Hindu temple outside of India was in London? And that the same temple was painstakingly built by thousands of craftsmen in a project that spanned most of the world?
The BAPS Shri Swaminarayan Mandir isn't on the radar of your average Londoner, but the Neasden temple is one of the most spectacular things you can see in this city. It's also got a fascinating story.
Let's dive in.
Why Visit BAPS Shri Swaminarayan Mandir?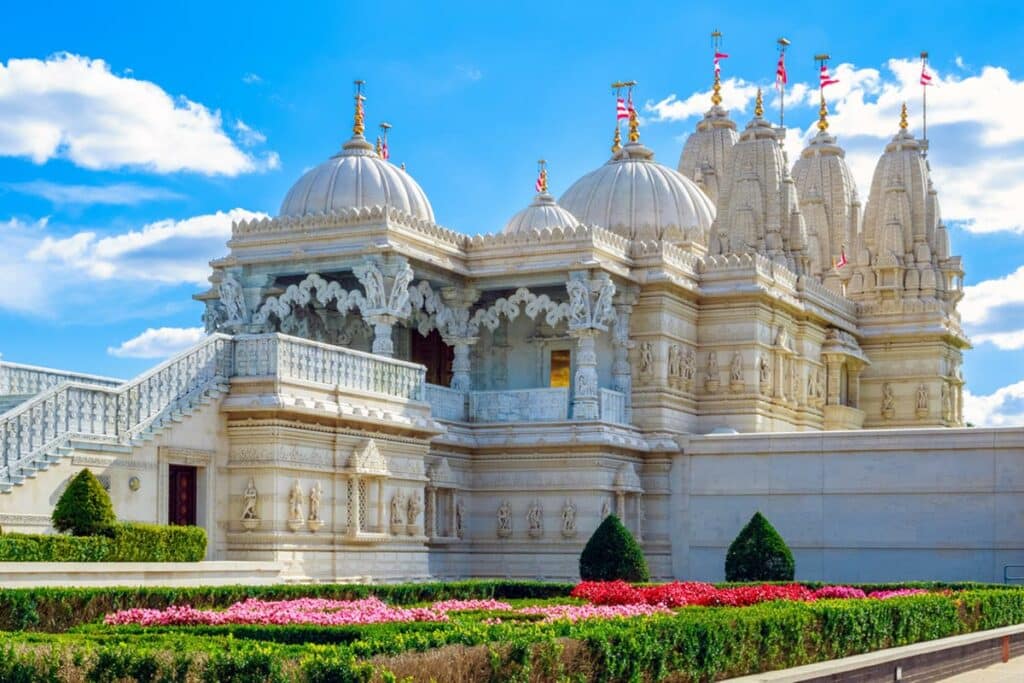 You should visit the BAPS Shri Swaminarayan Mandir for the significant reason that there really is nowhere like this in the rest of the UK, let alone London. The mandir is a triumph of willpower and design.
In its intricately carved stone halls, you'll find some of the finest examples of Hindu craftsmanship outside of India and an opportunity to learn about the faith that made such an amazing building possible.
The History of BAPS Shri Swaminarayan Mandir
The Mandir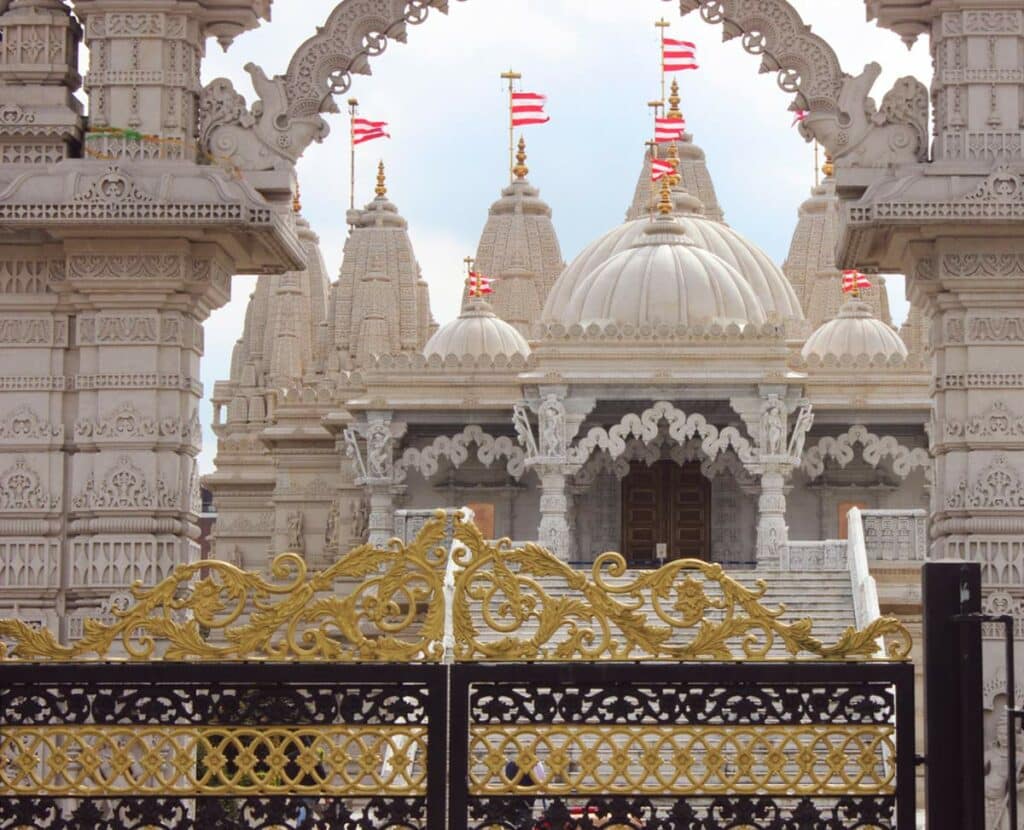 The Mandir may look like an ancient Indian temple but, actually, its history only dates back to the 90s. It's the construction process that really blows our minds.
The concept of building a Hindu temple in Neasden was thought up by Pramukh Swami Maharaj, he was an important guru and president of the Bochasanwasi Akshar Purushottam Swaminarayan Sanstha – or BAPS for short. BAPS is a denomination of Hinduism.
Plenty of Challenges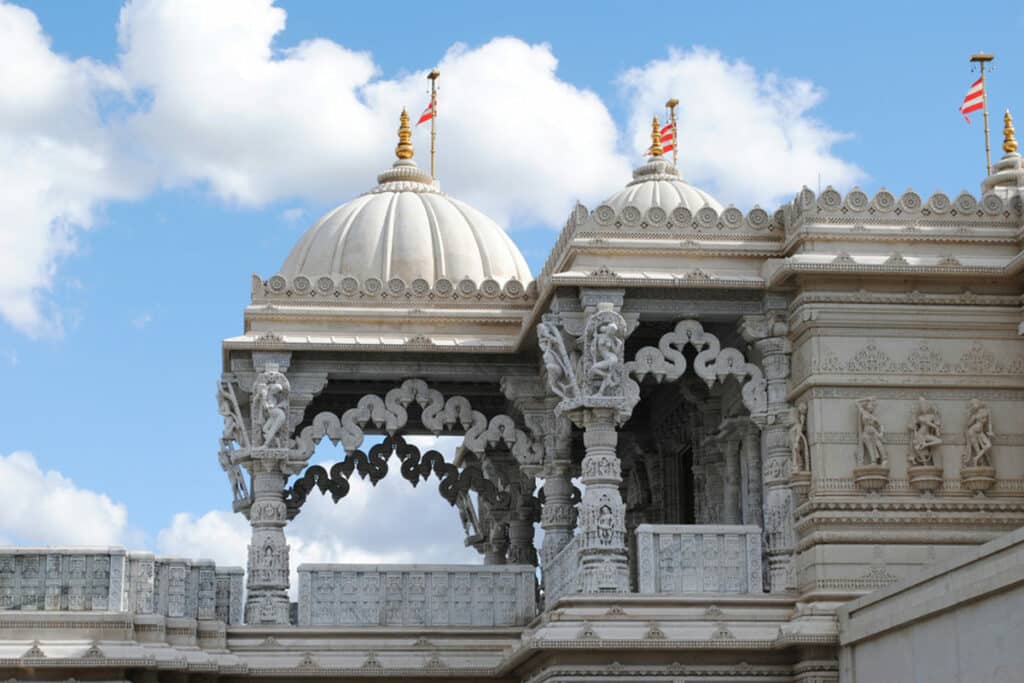 Once Pramukh Swami Maharaj had his idea, he needed to get the concept to become a reality. With the help of architect C. B. Sompura, they set about planning a groundbreaking project. They wanted to create a mandir – the scale and intricacy of which had never been done before outside of India.
Stone was sourced for its soft colour from quarries in Italy, Bulgaria and India, but this posed another challenge: the only craftsman able to carve the stone into the styles the mandir required were in India.
No task was too big. Thousands of tonnes of marble were shipped around the world to Kandla in Gujarat, India, where a workshop employing 1,500 highly skilled artisans was set up for the project.
Once complete, the 26,300 individual pieces of stone were to be shipped to London where construction could begin.
An Exceptional Temple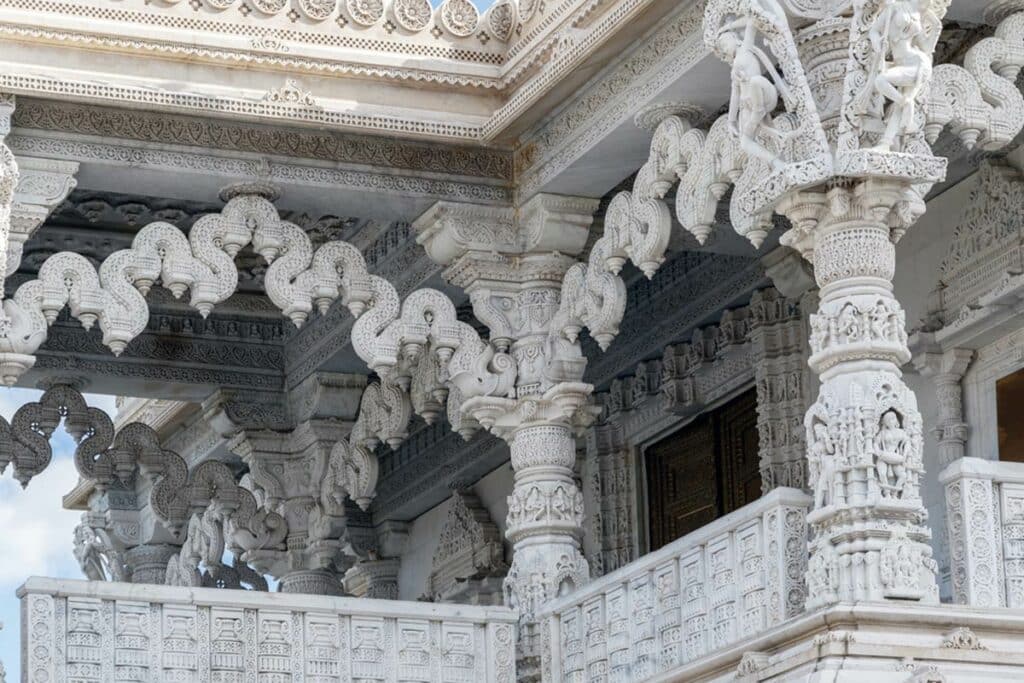 In Neasden, the bricks would be slotted and stacked together – which is itself a pretty exceptional point, considering the general method for a building project like this in the UK would be to fix everything together with a steel frame.
It's not the only fascinating thing about the BAPS mandir. The project was assisted by over 1,000 volunteers who helped with construction and fundraising, even going so far as to collect tin cans for recycling.
By the time of its completion in 1995, it had broken a Guinness world record by becoming the biggest Hindu temple outside of India.
The record has since been broken, but the Neasden temple still stands, a testament to what can be done when you put your mind to something and a symbol of divine faith to Hindus everywhere.
Visiting the Temple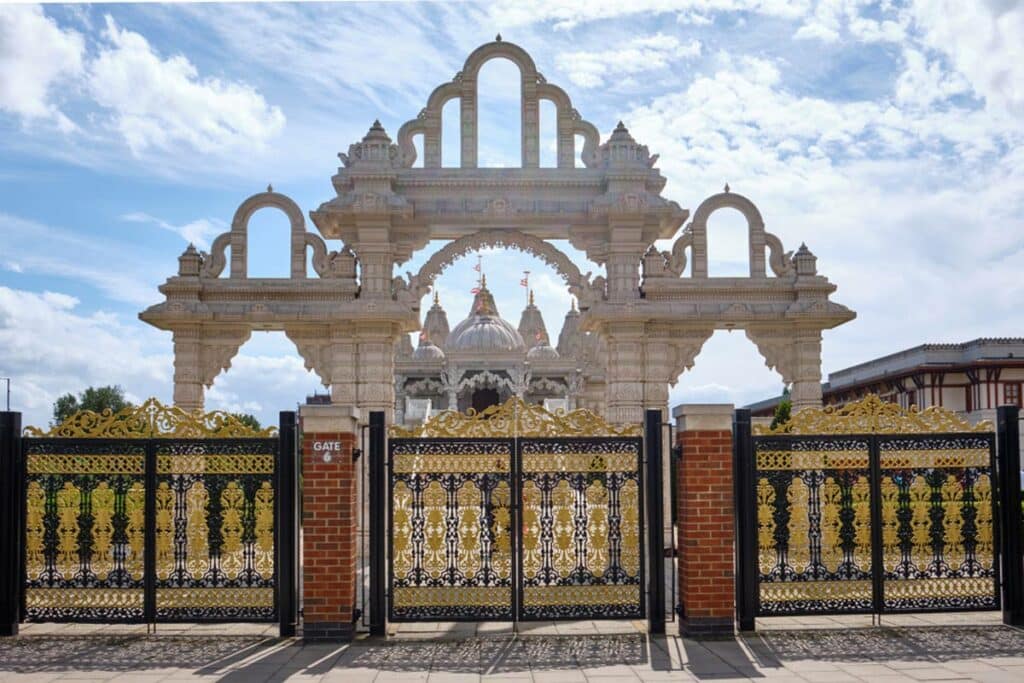 Today you can visit the Mandir in Neasden. It's a bit of a journey to get there, but we can wholeheartedly say that it's worth the visit. The Mandir is free to enter but there's an exhibition about Hinduism on the site that you'll need to pay £2 to get into.
We should also gently point out that, while anyone is welcome at the Mandir, it is a very important religious site, so do be on your best behaviour.
It's common practice at Hindu temples for both men and women to cover their legs and shoulders. You may also be expected to take off your shoes.
BAPS Shri Swaminarayan Mandir: Practical Information
Address: Pramukh Swami Rd, Neasden, London NW10 8HW
Opening Times: Everyday 9am – 6pm
Tickets: Entry is free but the Understanding Hinduism exhibition is £2
BAPS Shri Swaminarayan Mandir: Map