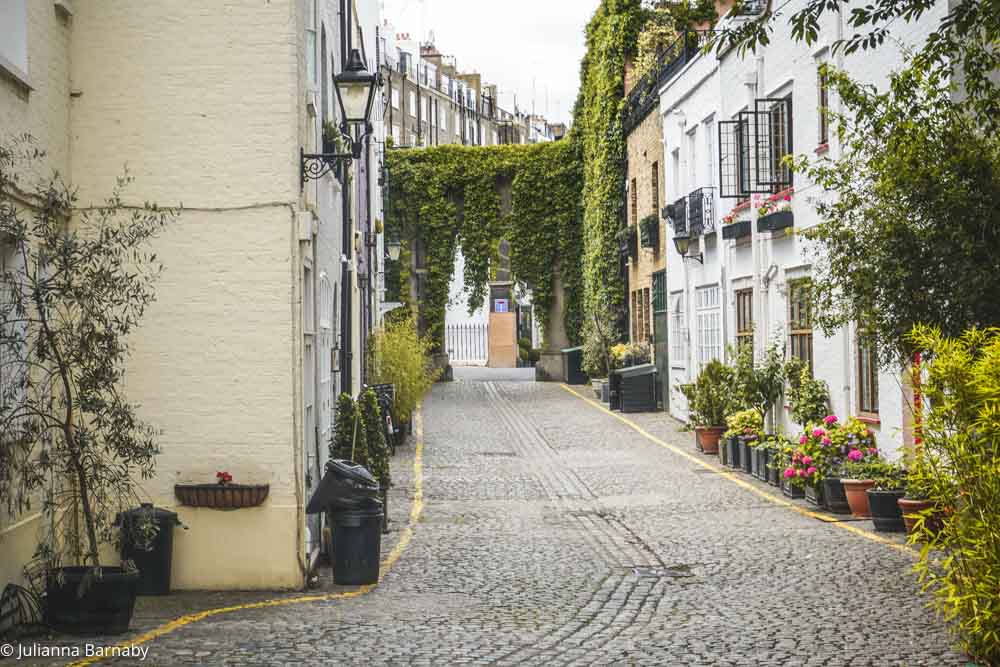 London's mews are all the rage. Who can resist the allure of these pretty enclaves dotted around bourgeois parts of the city? But what exactly is a mews? And why are they found in classy areas like Kensington, Belgravia and Notting Hill?
It turns out, London's mews are not only gorgeous, but also a bit of living history. Mews houses were originally built for the coach men and horses that served the much larger Victorian and Georgian townhouses nearby.
This is why you often find a mews behind a grand, imposing street in an area like Belgravia or Notting Hill. These days, though, the dinky little mews houses are hot property in their own right. They're often home to cute pubs, independent boutiques, and reportedly, celebrities.
Here's our guide to the absolute best mews in London, so you can take a look for yourself.
Gorgeous London Mews
Conduit Mews
Closest station: Paddington
This is one of the London Mews that's kept a hint of its old life about it, turning the stable doors into garages or doorways rather than filling them in. Though it isn't as grand as some of the Belgravia mews on the other side of Hyde Park, Conduit Mews' charming pastel colours make it special in its own way.
Stanhope Mews South
Closest station: Gloucester Road
This is a London mews that will cheer you up as soon as you set eyes on it. Every house on the long, narrow street is painted in pretty pastel colours, with shrubs and flowers lining the cobbles. It has a community feel, and people clearly enjoy living in Stanhope Mews South. Well, how could you not?
Bathurst Mews
Closest station: Lancaster Gate
Just a road up from Sussex Square, Bathurst Mews has two claims to fame. Firstly, it's the longest mews in London with 65 properties lining its cobbled street, and secondly it's home to the Hyde Park Riding School. That means when you visit this lovely London mews you get a historical scene complete with horses!
Osten Mews
Closest station: Gloucester Road
The houses on this lovely London mews are a little larger than some ex-stables. They're well-kept, but not trying quite as hard as some of the Kensington mews you'll come across. That's a good thing, however, with a couple of the houses eaten up by red and green ivy, and the original features of the mews evident at a glance.
Colville Mews
Closest station: Ladbroke Grove
The mews house painted with a huge union jack catching the wind used to be fashion designer Alice Temperley's boutique. Now, it's a draw for Instagrammers and tourists alike, and it brightens this Notting Hill mews up fantastically. And in an area like this, you need to stand out! The closest food shop is an Ottolenghi, and you're just round the corner from the Portobello Road.
Queen's Gate Mews
Closest station: Gloucester Road
This Kensington mews was once home to Madonna and Guy Richie, and before that, it was home to London's first petrol pump! Quite a journey – and interesting that they decided to put a petrol pump on one of the smallest streets in the capital.
Now, Queen's Gate Mews is white and picturesque, with The Queen's Arms, a very adorable little pub, at one end. Why not grab a drink and imagine Madonna taking out the bins?
St Luke's Mews
Closest station: Westbourne Park
Yes, it's the mews from Love Actually. That scene with Keira Knightley and Andrew Lincoln that we guess we… thought was cute at the time?
Living through the early 2000s means a lot of self reflection. Anyway, this brightly painted, cheerful mews attracts a lot of visitors. Especially number 27, the very very pink house, which Andrew stood in front of creepily, basically holding Keira hostage and asking her to lie to her husband?
Honestly, the biggest mystery of that scene is how they could afford a house on a Notting Hill mews. We guess 2003 had some up sides.
Cresswell Place
Closest station: Gloucester road
This London mews looks like it has been lifted straight from a home counties village and placed carefully in Chelsea. If you're doing a tour, you should head to Cresswell Place to get a feeling of the variety possible in mews homes.
Of course, Agatha Christie also lived here in the 1920s and Creswell Place is said to be the setting for Murder on the Mews, so that's another selling point.
Drayson Mews
Closest station: High Street Kensington
A mews with a hairdresser at number 1 is an unusual site. Apart from that, Drayson Mews is pretty traditional, but that's what makes it a bit of a gem. If you want to see what London mews looked like before they got super desirable and designer, then check out this twisting Kensington mews.
Warren Mews
Closest station: Great Portland Street
This is an unusual London mews, hidden just off Great Portland Street in buzzy Camden. It's beloved by London Instagramers because to enter Warren Mews, you have to pass under a monolithic black-painted building that feels somewhat like a gate to another realm.
The mews itself is very cute, and remains more traditional than many other London mews despite its edgy location.
Kendrick Mews
Closest station: South Kensington
Kendrick Mews stands out amongst the Kensington mews surrounding it. Most of them are traditional, with exposed brick, wooden windows, perhaps a little adventurous planting. Kendrick, on the other hand, is all bright garage doors and modern murals. Definitely one to visit if you want to see all the possibilities for a London mews in 2021.
Stanhope Mews South
Nearest station: Gloucester Road
This is a good-looking cul-de-sac mews, conveniently located just round the corner from the Natural History Museum, Science Museum and Victoria and Albert Museum.
Imagine just being able to pop in to see the dinosaurs! Well, residents of Stanhope Mews South can. If they ever get bored of their handsome, white-painted homes, and their cobbled street lined with shrubs and flowers.
Kynance Mews
Closest station: Gloucester road
There are no multicoloured garage doors on this Kensington mews. In fact, there are no garage doors at all.
With muted panelled wooden doors, many with windows, keeping things traditional instead, this mews is, undeniably, very classy. And its residents are proud of that fact.
It's also just by Christ Church Kensington, where there's a lovely lavender garden.
Perfect for sitting primly and imagining you're a Victorian lady taking a break from your daily constitution.
Holland Park Mews
Closest station: Holland Park
This is a mews that feels almost like it should be in Florence instead of London.
White washed houses trail with bright vines, and every house has a set of steps leading to an upper landing that is just calling out for evening drinks in the sunshine.
Holland Park Mews was very popular in the '60s in particular, appearing in films like Corruption and Crossplot at the end of the decade. And you can see why!
Enter by the archway at the west end of the street for the full experience.
Ennismore Garden Mews
Closest station: Knightsbridge
Close to the domineering basilica-style Dormition Cathedral, this cute Knightsbridge mews provides a calm counterpoint.
The houses are pastel-painted, and the stable doors have largely been converted into big windows that must be amazing from the inside, letting loads of light into these little mews houses. The rounded balconies on many of the upper windows are also great, totally made for leaning wistfully against on a summer's night.
Hyde Park Garden Mews
Closest Station: Hyde Park Corner
With a very swanky address just a couple of streets back from Hyde Park, these mews will be up there with some of the most sought after in London.
Having 46 houses on the mews makes this spot one of the bigger mews you'll find in the capital. It's also very well preserved, having not succumbed to the renovations that have changed some of the city's mews in ways that makes seeing their original function somewhat difficult.
You'll also notice the gorgeous archway that marks the opening to the row of ex-stables. It's simplicity is really quite charming.
Ensor Mews
Closest Station: South Kensington
Tucked away in a street between the two well-to-do neighbourhoods of Kensington and Chelsea you'll find Ensor Mews. The space is marked with an archway that mimics the furrowed brick structure of many of London's grander buildings.
Behind it you'll find a quaint mews that's small enough to be taken in with just one cast of the eyes. It's quiet and has a very lived-in feel, and that's one of the reasons we love Ensor Mews so much.
Beautiful London Mews: Practical Tips
These places are people's homes so you should be respectful of their privacy. Don't go peeking through the windows and try to limit the amount of selfies you take outside their front doors.
If you're walking between many of these mews you should wear some comfortable shoes. London is a sprawling city and getting around can take a lot of walking. You don't want to be doing that in your high heels.
Bring water and sun cream if it's a hot day, and a coat if it's likely to rain.
Map of Beautiful London Mews Streets