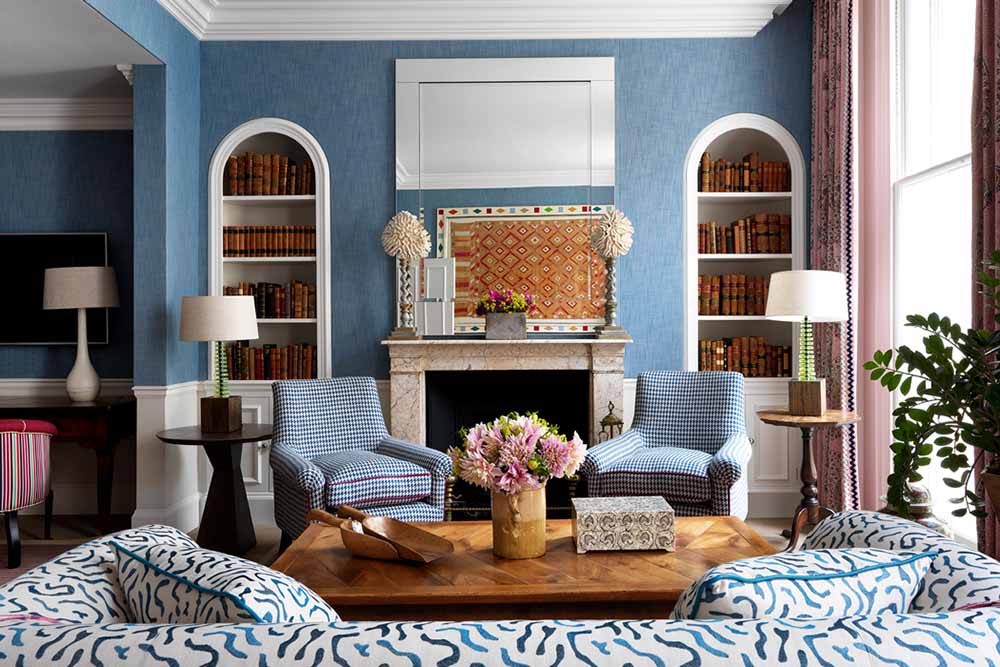 Looking for cool and quirky hotels in London? Here are 17 fabulous and unusual places to stay for your trip.
I have one question for you.
Why stay in a bland and boring hotel when London has so many straight-up amazing places to stay?
No, seriously.
Even though I live in London – there's nothing I like more than booking into a swanky hotel, going for a blow out dinner and making the most of this crazy metropolis.
Let's face it: in a city that's packed with quirky things to do and with such a vibrant social scene, it's no surprise is it that you're never short of a characterful place to lay your head at night.
Want to stay in rooms surrounded by amazing art? What about a floating hotel? Come along and discover these cool hotels in London.
Cool & Quirky Hotels in London
Hazlitt's
London's theatreland has long walked the line between debauched and opulent, so there's no better place to stay than Hazlitt's.

Named after the Victorian essayist who lived here (I have always maintained that Hazlitt's The Fight is one of the best pieces of writing in the English language), Hazlitt's is a London institution.

Tucked within a building that dates back from 1713, the interior oozes old-school glamour with rich hues, panelled walls and hardwood antique furniture.

It's the kind of place that you imagine has hosted its fair share of salacious affairs and opulent parties.

After a glamorous evening, wake up the next morning with breakfast to your door – the best way to shake off last night's shenanigans.

Area: Soho
Long known for its neon signs and affiliation with the theatre, Soho is still a nightlife hotspot. Think glamorous cocktail bars and parties that continue on well into the night. It's also well located for all of the major attractions in London.

Artist Residence
I'm not sure about you, but I often find myself torn between the convenience of a hotel (hello, 24-hour reception) and the homely charm of a rental.

Luckily, you can enjoy the best of both worlds with Artist's Residence, one of my favourite funky hotels in London.
Each room is carefully and uniquely decorated, with a particular highlight being the amazing art pieces on the walls. (No boring old flowers here, thank you very much.)

Plus, there are only ten rooms in the whole property, so you can expect some personal attention.

You can also expect all the convenience that comes with a luxury hotel – including a prohibition themed cocktail bar.

Area: Pimlico
This quirky hotel in central London enjoys an enviable location close to the city's main attractions. It's just a short stroll to must-sees like Buckingham Palace, while there's also brilliant shopping, dining and nightlife in the area.


Zetter Townhouse
If you're looking for quirky places to stay in London, look no further than The Zetter Townhouse.

This is where I imagine my eccentric old great-Aunt would live, if I had an eccentric old great-Aunt.

Think weird and wonderful paintings and oddities collected from all over the globe, wallpaper/floor combos that shouldn't work but do, and antique furniture.

It's all fabulous as far as I'm concerned – and the modern amenities like super-fast wifi, flat-screen TVs and luxury toiletries are great too.

Area: Clerkenwell
Staying in a quirky boutique hotel in London doesn't mean being banished to the outskirts. The Zetter Townhouse is located in Clerkenwell, just a quick stroll from the Barbican. Within the neighbourhood you'll also find pubs, bars, shops, restaurants and coffee shops aplenty.

Batty Langley's
Live like the royalty you are at Batty Langley's, a unique hotel in London that's quickly establishing itself as a firm favourite.
There's really nothing like antique furniture, heavy silk curtains and fine china to yell 'look at me, I'm fancy!' – and Batty Langley's has all of that in spades.

It's a totally charming hotel that also offers super-modern conveniences.

I especially love the breakfast, which can either be enjoyed in bed (yes, please) or in the sun-filled terrace (also good.)
There's also 24-hour room service, which is always a good shout in my opinion.

Area: Shoreditch
The hotel enjoys a fabulous location within a short walk to the famous Old Spitalfields Market. Shoreditch is heaving with cool things to do, bars and pubs. Other popular hotspots like Hackney and Whitechapel are also close by, while nearby Tube stops connects you with the whole city.


Andaz Liverpool Street
Converted from a historic building (it was built as The Great Eastern Hotel but has not one but TWO Masonic Temples inside – including a crazy Egyptian-style one that you have to see) and on the doorstep of cool Shoreditch, Andaz Liverpool Street is a great choice if you're after unique hotels in London.

With 267 rooms, it's one of the larger hotels on this list – and Andaz is part of the Hyatt chain – so not exactly independent. That said, it's still got plenty of personality – think beautiful art and hand-selected furniture.

The Andaz is stylish and unique, without being quite as out there as some of the other quirky hotels in the capital.

I love the little touches here, like the free non-alcoholic minibar that's replenished daily, as well as free drinks and canapes in the lobby in the evening (ummm, yes please.)

Area: Liverpool Street / Spitalfields
The hotel is located on the iconic Liverpool Street in Spitalfields. You are located smack bang in one of London's liveliest neighbourhoods, with its abundant bars, pubs, quirky shops and awesome cafes.
Ham Yard Hotel
Proving that you don't have to choose between fun and luxury, Ham Yard Hotel is a chic yet cool hotel in London, a stone's throw from the city's greatest hits.

If the thought of 'brightly patterned wallpaper' makes you cringe, be prepared for a shock – this hotel can convert even the biggest wallpaper sceptic.

The rooms here aren't cookie cutter, but instead have their own personality and decor. There's an emphasis on bright, whimsy styles that will make you smile.

Head out to nearby Covent Garden and Piccadilly Circus for meals, drinks or shopping – or, do it right in the hotel. Or better yet, do both.

Area: Covent Garden
You can't get much more central than bustling Covent Garden. There are endless options for shopping, drinking, dining and eating, while London's premier attractions like Trafalgar Square and Piccadilly Circus are less than a ten minute walk away.

Haymarket Hotel
If it's fun hotels in London that you're after, you'd best take a look at the totally charming Haymarket Hotel.

The decor vibe here is hard to put your finger on – think your grandmother's house meets the Tate.

I mean, with a description like that, how could you not visit this luxurious yet unusual hotel in London?

As well as the quirky and charming decor, the hotel also offers up great amenities including a swimming pool, fitness centre and an afternoon tea that goes on until 4.30pm daily.
Not bad at all.

Area: Westminster / St James's
Located in an area that's most famous for its expansive Royal Park, you know things are going to be pretty fancy around the hotel. There's excellent shopping, dining and eating – oh, and a little house called Buckingham Palace not far away.

Town Hall & Apartments
Get a taste for London living with Town Hall & Apartments in the city's bustling East End.

Forget squeezing yourself and your belongings into a tiny room, with Town Hall & Apartments you'll have plenty of room to spread out.

Most of the rooms are self-catered, meaning you can enjoy a cosy night in. If you prefer, however, there's an on-site restaurant.

Or, step outside and choose from one of the many eateries at your doorstep. And perhaps finish off the meal with some late night cocktails or pints from a local haunt.

Area: Bethnal Green
A more residential area, things here are a little less overrun by tourists meaning you're likely to stumble across some hidden gems. That said, you're still within an easy commute of the big ticket items, and the V&A Museum of Childhood is particularly closeby.

Good Hotel
Ironically, one of the city's most boringly-named hotels is also one of the most interesting places to stay in London.

You see, the Good Hotel is one of the most unique offerings in the capital.

Firstly, it's a floating hotel. As in, on the water. So you're pretty much assured of a unique experience and gorgeous views.

Secondly, it's a not for profit that reinvests its profits into supporting vulnerable people in London and Guatemala. Pretty amazing, right?

The interior is stylish and a tad quirky, and the rooms are too. Definitely one of my top picks for cool places to stay in London.

Area: The Docklands
With an impressive riverfront location, Good Hotel enjoys views over the water not far from the London City Airport. While there are a few amenities nearby, you're probably best off hopping onto the tube towards the city's hotspots. It's great if you're heading to Excel though.

The Curtain
Shoreditch is one of the coolest places in London, so it's only right it offers up a pretty cool hotel as well.

I'm talking about The Curtain, a luxury boutique hotel near Hoxton Square. With a stylish and industrial-inspired interior, it's got buckets of modern charm.

Some highlights of the hotel include an amazing rooftop terrace. With a pool. That's open all year round, if you're particularly brave.

There's also a pretty amazing bar, which is perfect when it's too cool for the pool (which is often, let's be honest). There's also frequent live music here which adds to the cool factor.

Area: Shoreditch
Ultra-cool Shoreditch is one of London's most popular neighbourhoods. An abundance of street art as well as many fine cocktail bars and pubs make it a pretty perfect place to stay.

Ace Hotel
The interior of Ace Hotel looks a little like the Kardashian-West minimalist mansion, with just a hint of British punk for good measure.

Intrigued? You should be.

Continuing the cool and stylish vibe, there's also a pretty amazing basement bar that's perfect for a nightcap.

Area: Shoreditch
The hotel is located in Shoreditch, one of London's coolest neighbourhoods. It's famous for its incredible street art, fantastic nightlife and bargain hunters paradise of the Brick Lane Market.

40 Winks
Described by Vogue as 'the most beautiful small hotel in the world', this one is for the fashion lovers. It's also one of the most unusual places to stay in London.

The hotel is converted out of the former home of an interior designer, and style is certainly in its DNA.

For decades, it's been a hotspot for models, both on and off duty. If its walls could talk, it'd surely tell some salacious tales of fashionable parties.

Join the fun by booking in a stay at 40 Winks. However, with only two rooms (yes, you read that right) on offer – you'd better book quick.

Area: Whitechapel
Once known as one of the most run down parts of London, Whitechapel has shaken off its past and undergone a seriously cool rejuvenation. Today, it's a mix of fabulous galleries, shops and coffee shops not too far from the centre of London.

Leman Locke
Looking a little bit like the Candyland board game come to life (only make it fashion), Leman Locke is proudly 'design-led'.
This means it's all very unique and aesthetically pleasing.

The design is on the minimal side, but with enough pops of colour to keep things interesting. It could have been a snoozefest but Leman Locke is one of the London hotels with character.

With 163 rooms on offer, you might be concerned that the rooms will be, ah, "cosy". Not so – the rooms are practically palatial.

There are also great facilities, including a gym (with free weekly classes) and a very trendy restaurant.

Area: Shoreditch
Shoreditch is nestled in East London – traditionally London's grittier side. Today, however, it's undergone a rejuvenation without losing its street cool. You can expect ultra cool bars, galleries and restaurants.

Rough Luxe
There's nothing hipsters love more than a gritty location come good, and a hotel with all the mod cons, and that's exactly what's on offer at Rough Luxe.

As the name suggests, the hotel is in a what used to be one of London's less salubrious areas not far from St Pancras Train Station. It's also a play on the hotel's unfinished luxe style that totally works.

The approach here is unashamedly homely. Although the decor is by an acclaimed interior designer, it's got a slightly eclectic, dare I say second-hand, vibe.

You can also expect a very warm welcome, and the staff are always happy to help.

Area: Kings Cross
The hint is in the name – this isn't exactly the glitziest part of London. That said, there are a few quality restaurants nearby, and excellent transport links to other parts of London. It's very central for London, so a convenient base.

The Mandrake
Trendy hotels in London don't come much more luxurious than the stunning Mandrake.

Part atrium, part art gallery, part uber-cool drinking haunt and finally part hotel, this amazing place really is something else!

There are only 34 rooms (and 3 suites), so you'll want to book well in advance – this place only opened recently and is already attracting the crowds.

With such gorgeous decor and a seriously good restaurant to boot, it's no surprise.

Area: Fitzrovia
If you're looking to up your own style stakes after a stay at The Mandrake, you're in luck – you're just steps away from Oxford Street. And there's more – think many of London's best restaurants, cafes, bars and pubs – as well as attractions like the British Museum.

K West
Tucked away on a quiet residential street, K West Hotel is a funky hotel in London's Shepherd's Bush.

There's a lot to love about this sleek hotel: it's housed in a former BBC recording studio that, in its day, saw the likes of Jimi Hendrix and David Bowie walk through its doors. These days the vibe is no less creative and eccentric – the colourful lobby bar buzzes with local creatives and hotel guests making the most of the very drinkable cocktail list.

The rooms are stylish – with lots of technological mod-cons to make your stay as easy as possible. There are many benefits to booking somewhere outside of central London – in K West's case, one is definitely the size of the rooms, which are huge in comparison to many more centrally located spots.

Finally, I can't mention K West without talking up their sumptuous spa – it's frequently named as one of the best in London don't you know.

Area: Shepherd's Bush
No-one really paid that much attention to Shepherd's Bush until the mega-monolithic Westfield shopping centre opened there about a decade ago. With it came a whole host of bars, private member's clubs and cool restaurants – along with the realisation that Shepherd's Bush is less than 15 minutes' tube ride to Oxford Circus and the West End. Why hello there.

Quirky Hotels in London: Practical Tips and FAQ for Your Trip
London's famous 'Tube' network makes it a piece of cake to get around. If you're on a budget, heading out a bit further is a great way to make your pounds stretch that bit further.
Many of the quirky hotels in London are in old historic buildings, which often means stairs. It's best to double check accessibility ahead of time, just in case.
Where do Hipsters Stay in London?
In short, Shoreditch. Shoreditch's title as one of the coolest places to stay in London is still going strong thanks to the vast numbers of poppin' restaurants, bars and cultural hotspots in the area. There are lots of London's most unusual hotels here and it's also home to some of the best street art in London too.
Don't let that put you off if you would rather than die in a ditch than describe yourself as a hipster though – it's an all-round great area to stay.
Map of Cool Hotels in London
Click here for a map of the cool hotels featured in this guide.
Interesting Places to Stay in London: Read More
Love this? Save and Share on Pinterest!