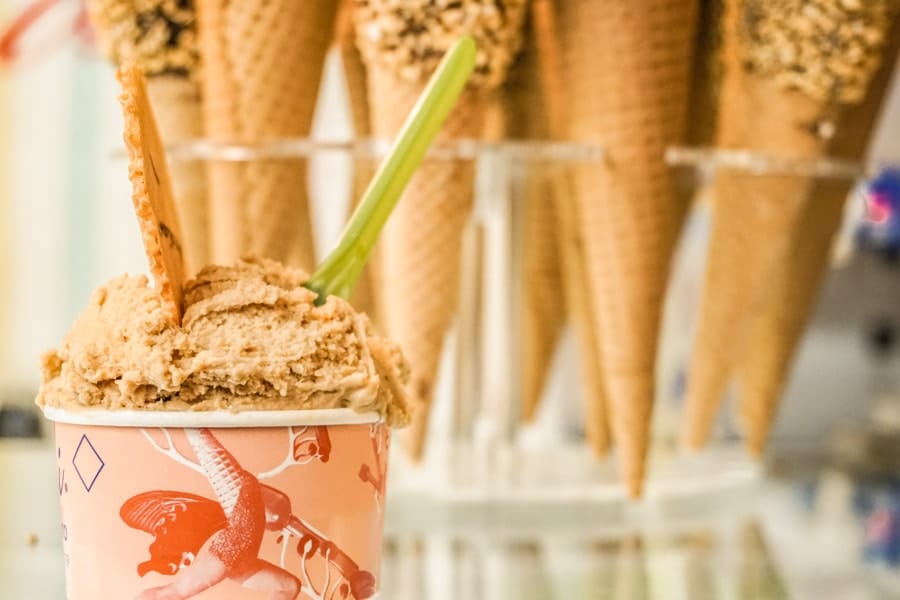 Looking for the best ice cream in London? We've got the inside scoop on the places you need to visit.
Whether you're after a classic cone of vanilla or want to try an eccentric gelato flavour, the capital is filled with lovely parlours that range from traditional to crazy.
Let's face it, when the hotter weather shines its light and that ice cream craving hits, all you wanna do is cool off with a de-whip-ous treat from one of these ice cream shops in London.
Where to Find the Best Ice Creams in London
Yolkin
Chinatown
Now, you've definitely seen the weird and wonderful Yolkin all over Instagram. Part macaron, part ice cream, this is a seriously sweet snack that you should try in London.
With over 16 ice cream flavours to choose from, you'll struggle to decide between banoffee, snickers, and lychee (not to mention the gorgeous coloured shells!).
Not a macaron fan? Yolkin also sells homemade soft serve ice cream and milkshakes, so it's the perfect place to satisfy your sweet tooth.
Milk Train
Covent Garden
Serving up some of the tastiest ice creams in London that are (almost) too pretty to eat, Milk Train's pretty cafe can be found in Covent Garden.
Alongside a small selection of flavours, usually vanilla, matcha, and a weekly special, you can add a candy floss cloud for just £1, transforming a regular cone into something extra cool.
Top tip: as with most places that are popular on Instagram and tiktok, it can get very busy, with lines stretching around the corner – so make sure to get here early!
Badiani
Mercato Metropolitano, Elephant and Castle
Nestled inside Mercato Metropolitano, Badiani Gelato serves up authentic Italian Gelato on its iconic counter.
From chocolate covered gelato sticks (cutely named pinguinos) to their unique trademarked flavour, buontalenti, there's something for everyone – and those who are dairy free can even opt for one of their tangy vegan sorbets.
Celebrating? Push the boat out and order their gelato ice cream cake for indulgent, creamy gelato sandwiched between layers of fluffy sponge and pistachio cream. Delicious.
Gelupo
Soho
With flavours ranging from traditional to quirky, Gelupo is an adorable little cafe serving up some of the best gelato and sorbet in the capital. Whether you opt for a tub or a cone, the flavours on offer here are sensational.
Prefer the classics? Stick to a chocolate or pistachio tub. Want to try something new? Their strawberry and pink peppercorn sorbet and ricotta chocolate pepper ice cream are both divine.
Chin Chin Labs
Camden
Another place for ice cream in London that you've definitely seen all over your social media is Chin Chin Labs. Famous for their hot chocolate with marshmallow fluff torched in front of your very own eyes, Chin Chin is completely eccentric.
Ice cream flavours like tonka bean, burnt butter caramel, and mango lassi make the carefully curated selection, and for toppings, you've got plenty to choose from – bee pollen, truffle crumble, marshmallow fluff, or, I highly recommend the chocolate crack.
Mamasons Dirty Ice Cream
Kentish Town
Want to try something new? Mamasons Dirty Ice Cream delivers exactly what it promises, pure decadence in the form of Filipino delicacies.
Get ready to enter the wonderful world of Ube – a purple yam-based dessert that tastes sweet and mellow, similar to vanilla.
You've got plenty of flavour options here, from traditional Ube ice cream to cheese and black coconut (or, you can always stick to their chocolate offering if you're feeling less adventurous). They also sell award-winning pandesal sandwiches, similar to a toasted donut with an ice cream filling, which I highly recommend.
Udderlicious
Islington
Udderlicious is a classic British ice cream parlour with plenty of much-loved flavours to choose from – and with 2 scoops costing less than a fiver, it's great value for money.
They offer a special flavour of the month, voted for by customers, but regular flavours include vanilla, hazelnut and stracciatella, and mint chocolate chip.
You can also opt for an ice cream cake, and they'll combine any flavours to create a personalised cake just for you.
Got kids? Udderlicious even offers smaller serving sizes, perfect for the little ones.
Oddono's
South Kensington
Although Oddono's has a few locations throughout the capital, the South Kensington offering is the original (and our favourite).
This is a family-run gelato shop and their selection of gelato all have a special homemade touch. To date, they've created over 130 flavours, so when you visit there's sure to be something to tempt you – from Madagascan vanilla to cinnamon and vodka lemon.
They also sell one of the best affogatos in London, which is basically a grown-up version of an ice cream float, made with coffee.
Gelatorino
Covent Garden
Another great place for ice cream in London is at Gelatorino, a cute gelato spot just a two-minute walk from Covent Garden.
With some interesting flavours including old fashioned cream and Zabaione, you'll struggle to decide which flavour to go for.
Staying in the area? You can get a 1L tub of gelato or sorbet delivered straight to you, allowing you to enjoy something sweet from the comfort of your bed when the craving hits (and, let's be honest, we've all been there).
Nardulli
Clapham
Nardulli in Clapham is a charming little parlour with a tempting array of ice cream flavours.
The impressive line up features traditional options like rum and raisin, hazelnut, and coffee, alongside the more unique fig, white coffee, and cardamom.
So, grab a cone to take away, or sit and indulge in one of their waffles and crepes with a generous scoop of ice cream, for a naughty afternoon snack.
Amorino
Camden
Amorino's is an iconic French gelato shop with a couple of London locations. Their gelato is light, with fruity flavours taking the lead here – the grapefruit and lemon flavours are particularly refreshing.
Did I mention it's served in the shape of a rose? Time to snap that perfect insta pic.
Not content on just smashing the icecream market, Amorino's also sells incredible macarons (they pair perfectly with a scoop of vanilla).
Greedy Goat
Borough Market
Hidden inside of Borough Market, you'll find Greedy Goat Ice Cream.
What makes Greedy Goat so special? Their ice cream is made from creamy goat milk. That, and they're the first UK ice cream company to package their selection in fully recyclable glass jars, so you can enjoy a practically guilt-free ice cream.
With each flavour blessed with a cheeky name (I particularly love Margoat Thatcher, the biscuit snatcher!) a scoop or two of this ice cream is sure to bring a smile to your face.
Marine Ices
Chalk Farm
Marine Ices is a classic Italian parlour where you'll find delicious ice cream in London. With recipes that have been passed down lovingly through generations, Marine Ices is our top pick for authentic, Italian gelato in London.
Flavours on offer here include banoffee, salted caramel, raspberry ripple, and coffee, with a selection of fruit sorbets and sundae's alongside this.
Price-wise, the best deal is to get 3 scoops, so it would be rude not to, right?
Romeo & Giulietta
Stoke Newington
The adorable Romeo & Giulietta ice cream parlour will have you head over heels in love with their selection of ice creams.
If a tub of creamy frozen yoghurt with a drizzle of tangy saucy sounds appealing, I highly recommend their yoghurt and passionfruit offering. Or, for a more classic cone, opt for a scoop of mint chocolate chip.
This parlour is a little bit out of the way, but definitely worth a visit if you're in the Hackney area.
Snog
Soho
Fancy a snog? There's only one place for frozen yoghurt in London, and that is at the cheeky froyo mecca, Snog.
I personally opt for the pistachio flavour with candy kittens on top, but you've plenty of flavours to choose from, including original, salted caramel, mango, and even a pink guava that pops up on the menu occasionally.
Definitely go mad with the toppings here – there's everything from fruit to biscuits, so you can make it as naughty as you like.
Venchi
Covent Garden
Made using only the freshest ingredients, Venchi serves up luxury gelato in Covent Garden.
Famous for their velvety rich chocolate, Venchi is, hand's down, the best spot for a lavish tub of ice cream.
Choose a rich dark chocolate for a tasty bitter flavour, or pick a creamy milk chocolate for a sickly-sweet experience – totally up to you, as it's hard to go wrong here.
Ruby Violet's
King's Cross
As they like to describe themselves, Ruby Violet's are wizards of ice cream.
You'll often see their ice cream bike cycling around Tufnell Park, but for a guaranteed cone, head over to their King's Cross location.
Plenty of flavours are available here – raspberry ripple, classic vanilla, and matcha green tea to name a few, alongside an array of zingy sorbets.
London Ice Cream Map