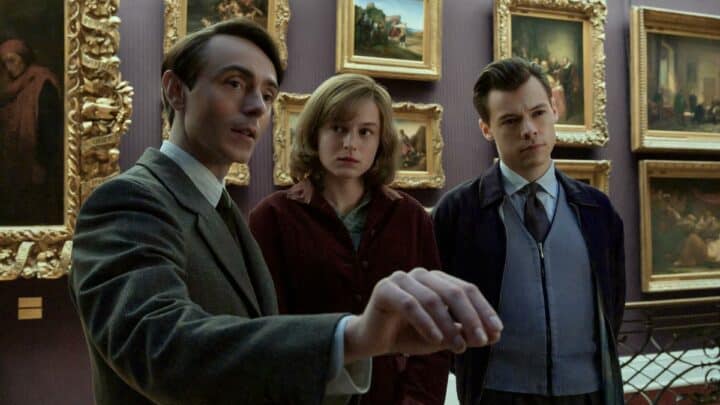 Guess what? BFI London Film Festival is back and we're excited – the line-up is fabulous. These are our top picks of what to watch this year.
Get ready for a cosy autumn filled with brilliant films as the BFI London Film Festival returns to the capital from 12th – 22th October 2023.
Events will be primarily shown at the BFI Southbank, though other venues across London will also be hosting premieres, talks, and performances. Exciting new films, TV series, and XR – or mixed reality events – will be celebrated both in-person and online.
Tickets will go on sale at 10am on Tuesday the 12th September.
Not sure what to expect? These are our top picks…
The Boy and The Heron
Hayao Miyazaki has retired and returned to cinema a grand total of seven times. At the ripe-old age of 82 we were starting to feel like The Wind Rises might actually be the final production from the Studio Ghibli co-founder.
As it turns out he's been secretly working on a new feature film: The Boy and The Heron flew so far under the radar that by the time of the release in Japan a few months back, all that was known about it was deduced from a single elusive movie poster.
It's since had screenings at Toronto Film Fest and has made its way into the hands of critics, some of which have already hailed it as a masterpiece. The story, it's now been revealed, involves a boy who's taken on a journey to another world by a magical heron.
Needless to say we're beyond excited.
The Killer
David Fincher of Fight Club and Zodiac (among numerous other big hits) fame has a new release premiering at the BFI London Film Festival. The Killer follows a freakishly calm and collected assassin who tries to leave the seamy underworld of contract killing after a botched hit.
Michael Fassbender takes the lead role as the story ramps up into Fincher's trademark thrill ride and the world the killer tries to leave comes back to haunt him.
One Life
In what is sure to be a big hit at the Oscars, Anthony Hopkins takes to the screen to play a man on a mission to smuggle Jewish children out of Prague ahead of the Nazi invasion of the Second World War.
The film is based on the true story of British humanitarian Nicholas Winton and the operation that later came to be called the Czech Kindertransport. No doubt it's going to be a moving tale and after Hopkins' recent performances in The Father and The Son we're confident he's going to act the living hell out of this.
The Kitchen
If you're looking for a film that's a little bit closer to home, The Kitchen will tick that box in a big way. It's a directorial debut from homegrown talent Daniel Kaluuya, who's teaming up with Kibwe Tavares in a gritty sci-fi drama.
The film stars Kane Robinson (Kano) in a vision of London where social housing and the welfare state are no more, and two residents of The Kitchen, a borough where residents are fighting to keep hold of their homes.
Chicken Run: Dawn of the Nugget
We loved the original Chicken Run. It was a pretty central part of our childhood film watching. Now the classic Aardman animation is getting a reboot. We'll be watching through knitted fingers and hoping this isn't just another revival and butchery of a film we love, but watching nonetheless.
The story this time around follows Ginger and Rocky as they have to leave the safety of the chicken utopia to find their runaway daughter Molly, who flew the coop in search of adventure and lands herself in hot water.
Samsara
If you're looking for something a little off-beat, grab yourself a ticket for Samsara. This avant-garde feature from Berlin Film Festival award-winner Lois Patiño follows a soul that travels between an old woman in Laos to that of a goat (yes, you read that right) in Zanzibar.
It's a visual and sonic spectacle that's being shown on the BFI's Imax – the biggest screen in the UK no less. If you're into strange, boundary-pushing cinema. This one's for you.
BFI London Film Festival: Practical Information
When?
The festival will be taking place between 12th-22nd October 2023.
Where?
Multiple venues across the capital will host events, with the majority taking place at BFI Southbank.
Tickets?
Tickets start from £1 for children and £10 for adults. You can find information about other events here.