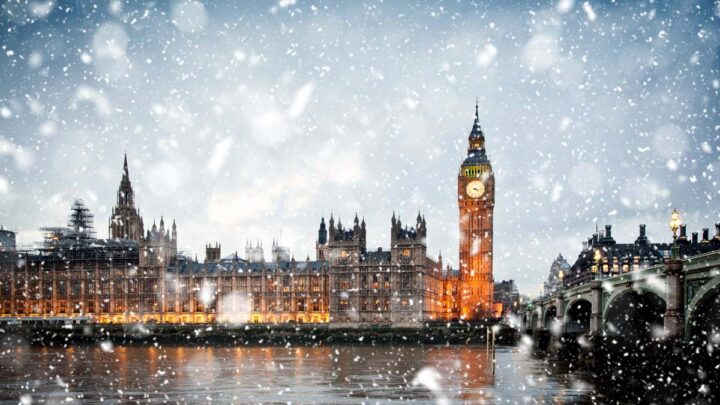 London in the snow is a very beautiful sight indeed – the stillness of snowfall a respite from the noisy hubbub we're used to in the city.
But when it properly snows in London, it's quite a celebration. Only question is what to do with that hedonistic snow day feeling?
Quick, before it melts – here are the best ways to enjoy London in the snow and a practical FAQ to answer all your burning (or perhaps that should be freezing) questions.
Cool Things to do When it Snows in London
Go Sledging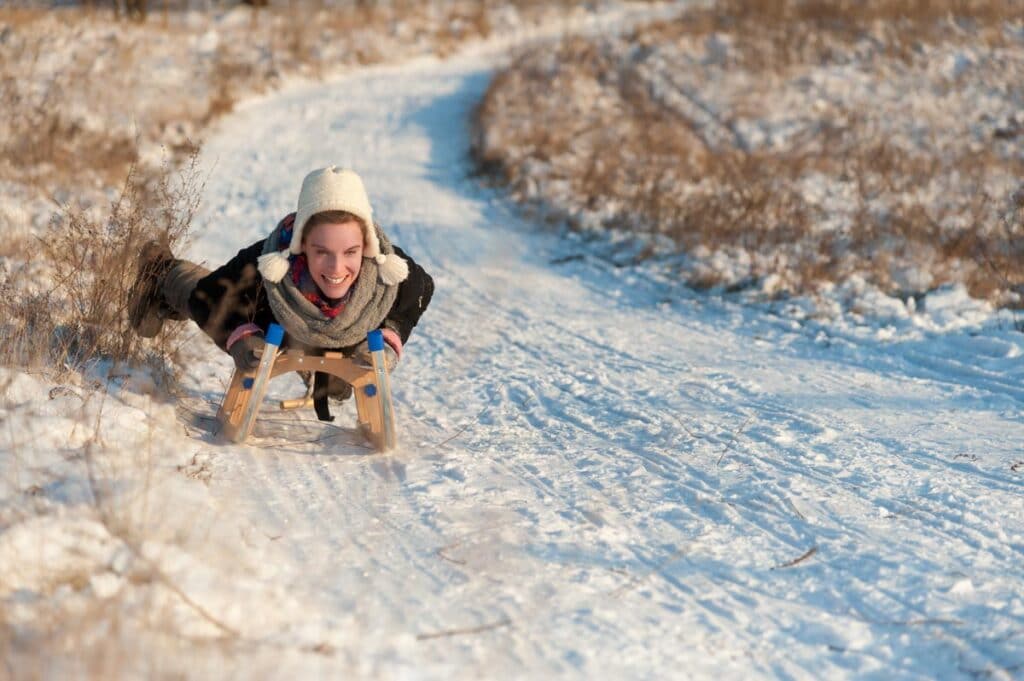 What you need is hills. Believe it or not, London has plenty of them. So which are the hilliest parks?
Primrose Hill, Alexandra Palace, Hampstead Heath, Richmond Park, the hill leading up to Greenwich Observatory all have great hills for zigzagging down. They'll also offer some great views of the city under a blanket of snow.
The countryside of course has an excellent topography for sledging, but do they have a nice cafe nearby where you can grab a hot chocolate at the end of it? Get your waterproofs on and whizz on down.
See the Views from Westminster Bridge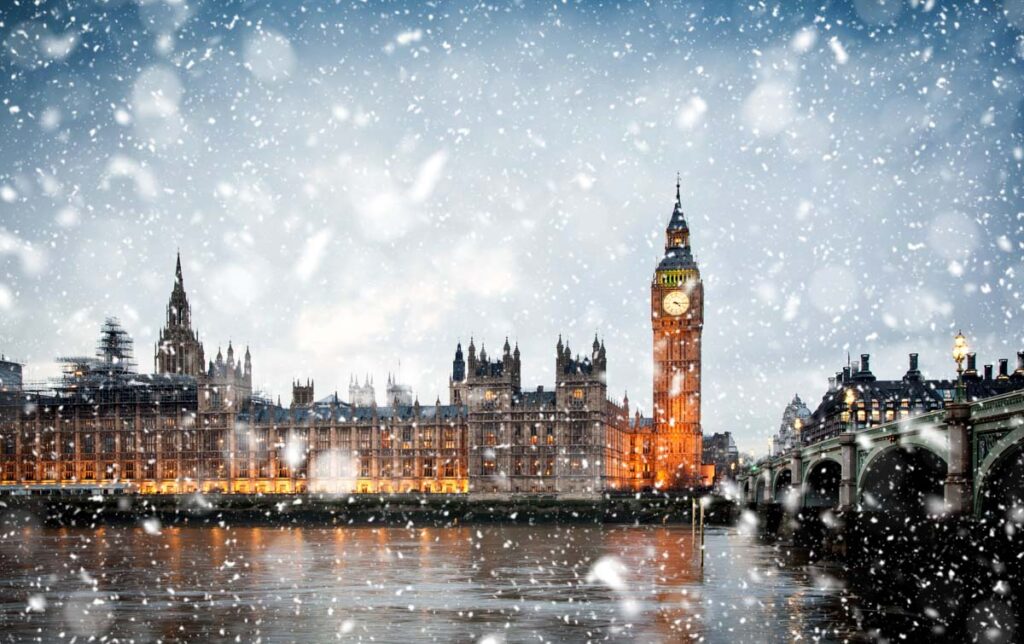 If public transport allows you into central, take advantage of some pretty good Kodak moments from the river, while you enjoy a bracing winter walk.
In the Westminster area you'll see some of London's iconic landmarks like you've never seen them before. And not just a dusting of white over parliament and Big Ben (if they ever finish renovating it).
Gaze up at the Gothic gargoyles of Westminster Abbey and the Victorian lamp posts on Westminster Bridge. You'll feel like you've stepped straight into a Dickens novel.
Build a Snowman in One of London's Biggest Parks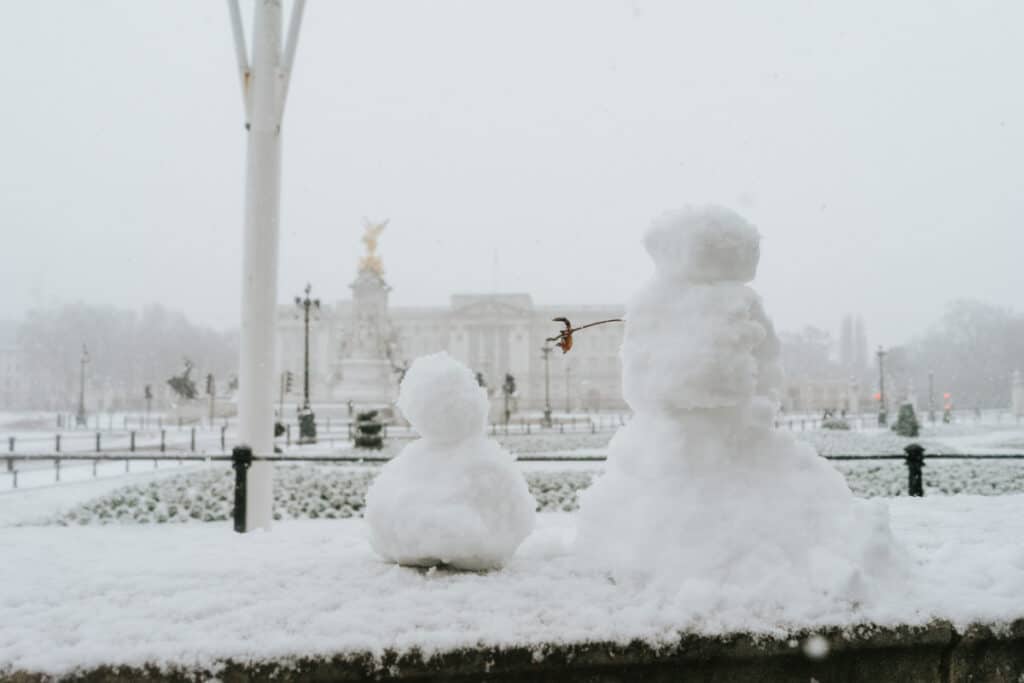 The ultimate snow day activity is of course, building a snowman – whatever your age.
With 2,500 acres of green, Richmond Park will have you rolling the largest snowball in the capital – just watch out for the deer.
Bushy Park comes in second at 1000 acres, Regents Park 395 acres and Hyde Park a close fourth at 350.
Regardless of size, any London park with frosted manicured gardens and tree lined paths will make for a heavenly wintery walk, reusable coffee cup in hand.
Don your gloves and woolly hat and let the best snowman competition commence.
Visit a Cemetery
Definitely one of the more sobre activities when compared to sledging and snowball fights, but London boasts some pretty magnificent cemeteries that simply look magical after it snows.
Some of the most noteworthy cemeteries include 'the magnificent seven', that were built in the 19th-century to avoid overcrowding in small parish churchyards.
These can be found in Highgate (where Karl Marx, George Eliot and Christina Rossetti are buried), West Norwood, Abney Park, Brompton, Tower Hamlets Kensal Green and Nunhead.
Note that some may be forced to close depending on weather conditions, so if you're making a special journey, keep an eye on online updates.
Warm the Cockles at a Ski Lodge Pop Up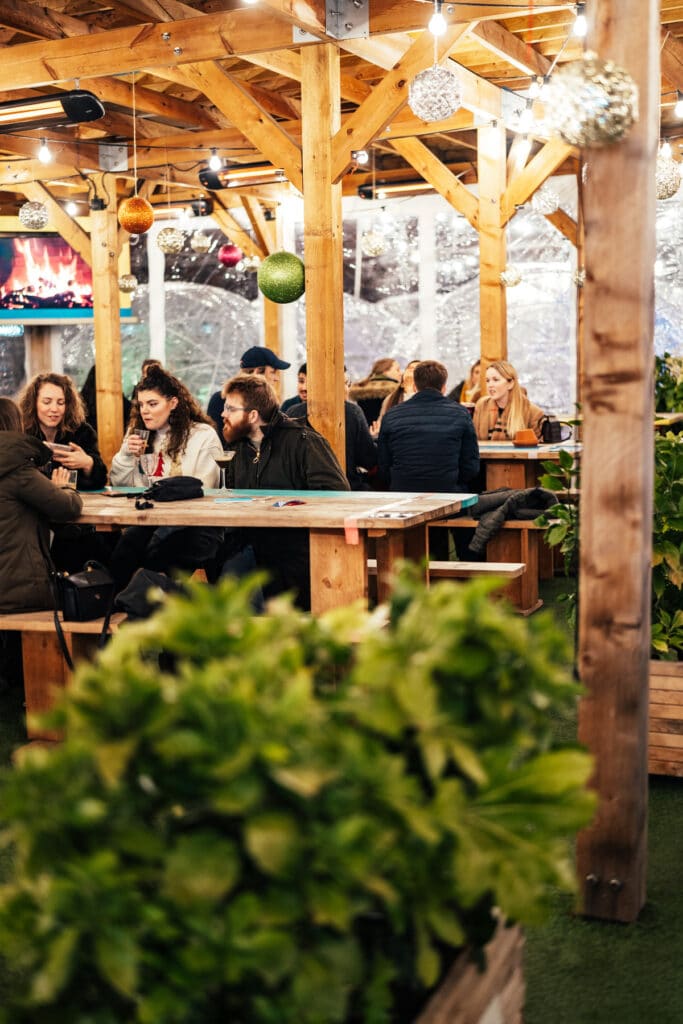 This will really get you in the mood for snow. We may be nowhere near a ski resort, but that doesn't mean missing out on a warming après ski tipple.
There are several ski lodge themed bars and pop ups around London. We're liking the look of Montague Ski Lodge at The Montague Hotel. Wearing your best Christmas jumper, sip warming drinks from the Alpine bar under the fairy lights.
For traditional fondue, marshmallow toasting (at the table) and boozy hot chocolate, check out the menus at Jimmy's Snow Globes on South Bank and the chalet-style Refuge at Hyde Park's Winter Wonderland. We also love Skylight's ski lodge-themed winter rooftop bar (pictured) for ultimate cosy vibes.
Go to a Museum or Gallery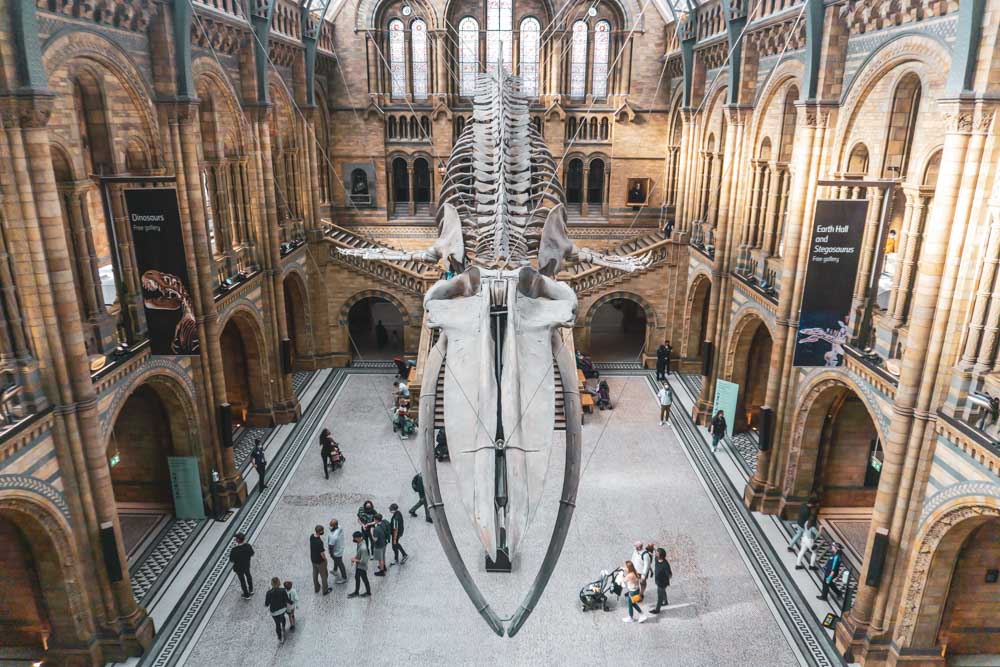 When you've simply had enough of throwing snowballs, and quite frankly, it's just a bit cold, perhaps it's time to get yourself down to one of London's best museums and galleries.
For a full day of culture, the vast British Museum or Tate Modern will keep you out of trouble.
There's the famous trio of museums – The Science Museum, V&A and Natural History Museum, all in South Kensington. And if the mood takes you, fit in a spot of ice skating while you're there.
Go for a Walk in the Woods
There are plenty of green spaces in London which transform into winter wonderlands with even a light dusting of snow. But did you know that there are actual forests too?
When all the snow in the parks has been thoroughly stomped on, you might get a rare glimpse of untouched snow amongst the trees.
Some of our favourites include Sydenham Wood on Sydenham Hill, Oxleas Wood at the top of Shooter's Hill near Greenwich, Selsdon Wood in Croydon, Queen's Wood between Highgate and Crouch End and Hampstead Heath.
Visit Iconic London Landmarks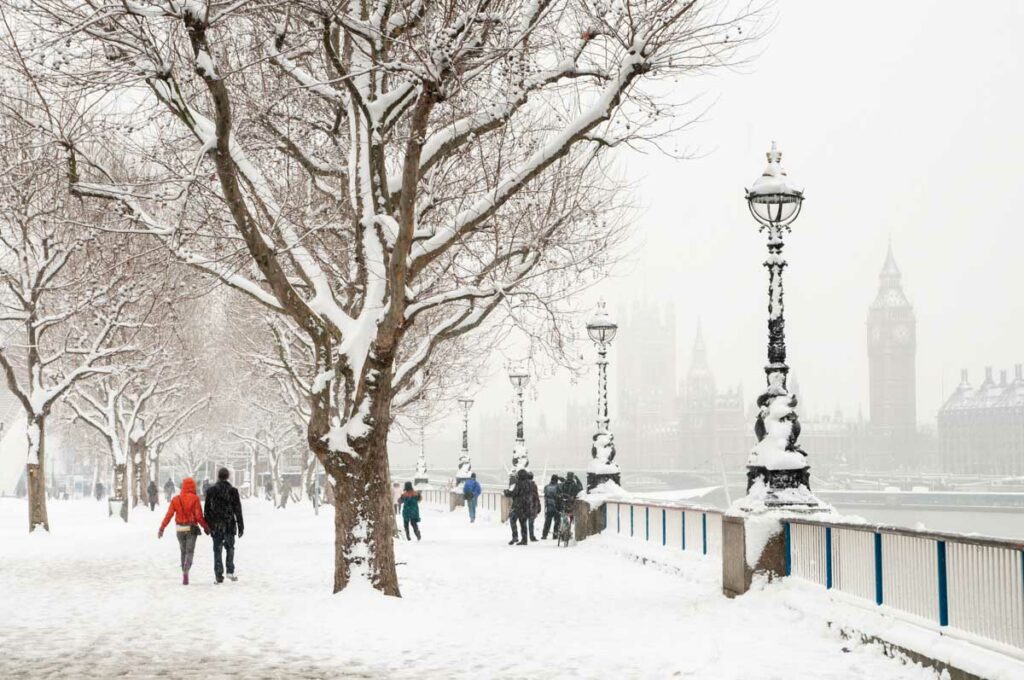 It's no accident that in the sequel to Raymond Briggs' 'The Snowman', they fly over London, complete with snowy views of the London Eye and the Oxo Tower to name a few (and while we're on the subject, the stage adaptation of The Snowman is playing at Sadler's Wells Peacock Theatre until 2nd January 2022).
With so much impressive architecture in London, iconic buildings, monuments and attractions are all the more majestic after a snow shower.
From the icicles hanging off the lion statues in Trafalgar Square or a dusting of snow atop the dome of St. Paul's Cathedral, the more ornate the better. When it snows in London, it's a great time to see the sights.
Stay Local
Perhaps you're reading this and thinking, well why not just stay in and watch the snow from my window? Well, it is quite plausible that after a heavy snow shower, public transport is just not happening and you won't be able to venture that far.
As mentioned in our piece on the best things about London in Winter, nothing beats a cosy pub to come into after being out in the cold, rosy cheeks and all, so seek out a mulled wine or an indulgent hot chocolate at your local pub or cafe.
Ironically, Londoners tend to warm up when it snows, so it's the perfect time to get chatting to the locals.
Let's face it… us Brits just love talking about the weather so you won't be short of conversation!
Snow in London: The Full Lowdown
Does it Snow in London?
Less and less. A full on snow shower is not unheard of in London, but particularly inside Zone 3, it usually turns to slush pretty quickly.
The average number of days with snow lying is around 5 days per year in most inland areas of the UK, including London. Between 1961-1990 this was 8 days per year.
When Will it Snow in London?
Snow rarely falls if the temperature is higher than 4 °C. For snow to lie for any length of time, the temperature normally has to be lower than this. Over most of the UK it's rare to see snow outside of December to March.
Why Doesn't it Snow That Often in London?
Due to climate change, the amount of snowfall the UK gets overall is declining.
Alarmingly, recent studies by the MET Office predict that with global warming, most of southern England could stop seeing sub-zero temperatures by the 2040s.
London also gets less snowfall than other parts of the UK because urban areas tend to be warmer than their rural surroundings.
Love This? Save and Share on Pinterest!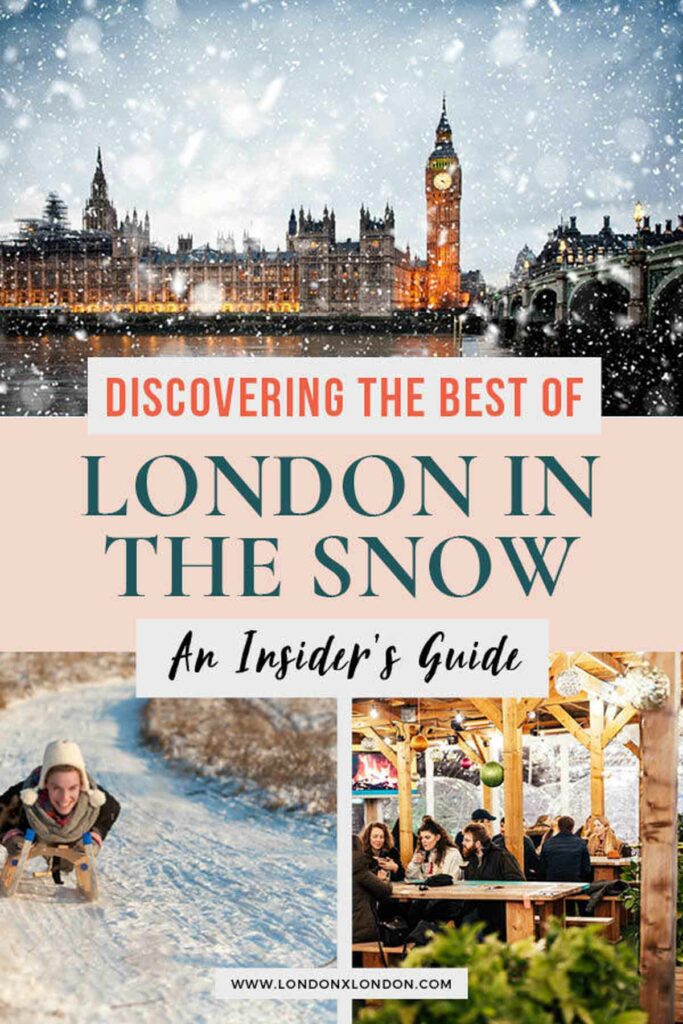 Looking for More London Winter Guides?