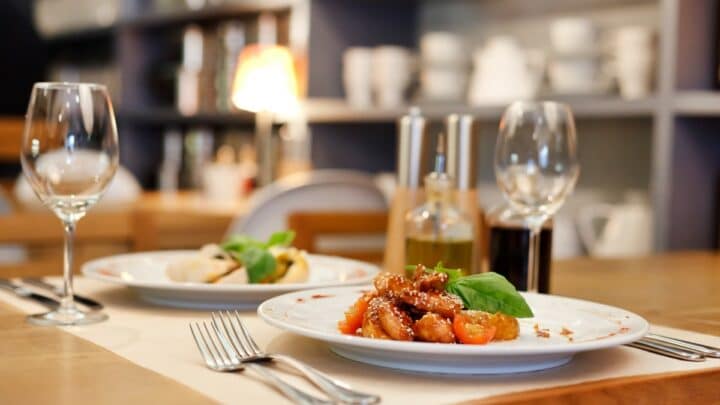 Looking for the top restaurants in Brockley? We've got you covered with this guide to the best Brockley restaurants.
This quirky little area in Lewisham boasts cute cafes and cool restaurants, not to mention the abundance of brilliant street food stalls that can be found at the iconic market running each weekend.
But with so many fabulous options for dining, where do you start? No need to stress – these are the top spots to chow down in Brockley.
Best Restaurants in Brockley
Meze Mangal Restaurant
££
Meze Mangal Restaurant is one of the busiest in Brockley. It was founded by two brothers all the way back in 2000, who made it their mission to alter the misconceptions surrounding Turkish food.
There are three different menus at Meze Mangal: food, bar, and takeaway. Those who seek to dine-in should try their delicious Tavuk Beyti or Patlican Kebab, while those looking to grab a quick takeout should definitely try their Adana Köfte or Vegetarian Güveç!
Address: 245 Lewisham Way, SE4 1XF
Malaysian Deli
££
This is a very popular deli that is always packed with hungry customers, soon-to-be satisfied with the wide variety of foods that Malaysian Deli has to offer.
This little joint offers delectable servings of roti canai, Kuah Kacang, and more local favourites for very reasonable prices. They also offer amazing drinks – visitors can sit back and relax while washing down their meal with a bubble tea or a freshly-made juice.
Note: The Malaysian Deli will only accept cash, so make sure to have some at hand if you are planning on stopping here for dinner.
Address: 339 Brockley Road, SE4 2BT
Babur
££
Babur restaurant is a favourite amongst locals, specialising in Indian cuisine for over 30 years.
They have a plethora of different menus, including A la Carte, daily set lunch, a tasting menu, and a Sunday buffet menu.
Highlights include their North Indian style chicken with onion, capsicum, and green cardamom, and the seared Gressingham duck and the masala raw jackfruit dosa from the A la Carte menu.
Address: 119 Brockley Rise, SE23, 1JP
Masala Wala Cafe
£
Masala Wala first opened in 2015 and has since grown into the food superpower that it is today. It was founded by Nabeela Muqadiss and her daughter Saima Thompson, who had the goal of highlighting Nabeela's amazing Pakistani cooking.
The results are amazing – their menu changes every month and features homemade curries, rice, and roti, all with distinct flavours that feel fresh. If you haven't tried it yet, then you're missing out.
Address: 5 Brockley Cross, SE4 2AB
Browns of Brockley
£
Browns of Brockley is considered by some to be one of the best coffee shops in London.
The employees here are said to treat every item on the menu with the utmost respect and can make ordering a simple sandwich and latte feel like you're ordering a three-course meal at The Ritz.
Speaking of their menu, visitors must try their legendary banana bread.
Address: 5-6 Coulgate Street, SE4 2RW
L'Oculto Cocina
£££
Looking for the top Spanish restaurant Brockley boasts? L'Oculto Cocina is a wine bar that locals like to keep to themselves because it is so wonderful.
It's run by Teresa and Ana, who initially started out as wine and food importers. They would supply unusual and unique ingredients to many chefs, and then opened a stall at Brockley Market. From there, they opened the first joint restaurant and wine shop, and the rest is history.
The ox cheek stew alone makes it one of the best restaurants Brockley has to offer.
The produce of L'Oculto Cocina is directly imported from Spanish producers. Visitors must try their pulpo a la Gallega paired with the Jose Aristegui Mencia wine.
Address: 325 Brockley Road, SE4 2QZ
The Orchard
££
The Orchard is an independent bar that first opened its doors in 2009. The Orchard proudly serves breakfast, lunch, and dinner, which they prepare with seasonal ingredients to ensure their dishes are always fresh and tasty.
The Orchard offers relaxed dining and lounge areas, and you can choose between a three-course meal, a light lunch, or even just a morning coffee (they pride themselves on their drinks, too!)
And if that wasn't enough, visitors with dogs will be glad to know their beloved pets are very welcome here.
Address: 5 Harefield Road, SE4 1LW
Other Places to Eat in Brockley
Brockley's Rock
£
Brockley's Rock is the local chippy that locals love. They have everything you could want from a fish & chip shop.
Traditional Brockley food like saveloy and crisp-battered cod sit waiting to be devoured by hungry Londoners and tourists alike – while their extras, like curry sauce and mushy peas, are a feast for the taste buds.
And, for the health-conscious among you, there is the option at Brockley's Rock to have your fish grilled, instead of fried. You'll definitely want to make a pit stop here on your tour of London.
Address: 317 Brockley Road, SE4 2QZ
Brockley Market
£
Brockley Market is a must-visit place for anyone taking a trip to London. It's open on Saturdays and is one of the best places to go for a quick bite to eat.
Brockley market hosts a variety of traders who produce some amazing dishes – take Mike and Ollie and their deliciously meaty flatbreads as an excellent example of that. And of course, you haven't lived if you've not yet had a Mother Flipper's Filthy Frank burger.
You're spoilt for choice when it comes to Brockley Market eats and once you try one stall, you'll want to try them all.
Address: Lewisham College Carpark, Lewisham Way, SE4 1UT
Brickfields
££
Brickfields is a bar in Brockley that serves some of the best food around.
They host residences from a wide variety of street food traders, so visitors to Brickfields may return to Brockley to find an entirely different chef taking up a kitchen residency. This is great for visitors and locals alike because it means there is always new food to be had.
Examples of great chefs who have taken up a kitchen residency at Brickfields include Yard Sale Pizza and Melissa Chi Mae Wong's Overseas Chinese Food.
Address: 293 Brockley Road, SE4 2SA
Practical Tips and Map for Exploring The Best Brockley Restaurants
If you're unsure where to start, head to Brockley Market to sample some of the best street food in the area. Though, if you're after an upscale affair, we adore Meze Mangal and L'Oculto Cocino.