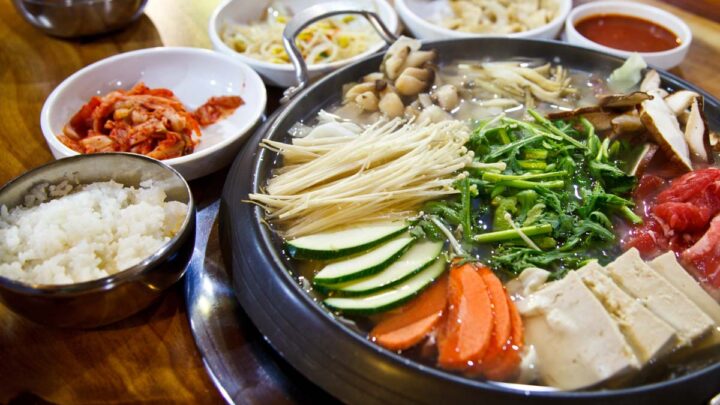 Are you excited to taste your way through the best restaurants in Angel? Get your knives and forks ready — it's about to get drop-dead delicious.
Tucked within the borough of Islington, Angel is a dining destination that has earned its wings.
Angel has a wide variety of cuisines and top-tier eateries to choose from. Also, what better way to unearth the hidden gems of a neighbourhood than by mouth?
Tasting the most delectable dishes in this area is the perfect way to get down and dirty (we all know how eating ribs goes) to experience its flavourful essence.
Unsure which Angel restaurants in London should be your next go-to spot? We'll guide you through the best places, ranging from affordable (£) to a salivating splurge (£££).
Best Restaurants in Angel
Thai Square
££
Providing the fiery spice of Islington, Thai Square is a great choice if you're looking for flavours that leave a lasting impression. This Thai restaurant in Angel provides authentic and quality Southeast Asian cuisine like no other.
From the evergreen botanical decorations to its impressively illustrated interior walls, Thai Square's picturesque and inviting feel is what makes it so special.
With mouth-watering dishes, such as Thai dumplings and jungle curry, you'll have a fun-filled gastronomic adventure at this hidden treasure.
Hot Stone
£££
Bringing in the heat of adventurous and exquisite cuisine, Hot Stone is a Japanese restaurant in Angel that will knock your socks clean off.
This restaurant offers an authentic and immersive experience for individuals. The ishiyaki (which translates to "cooking by hot stone") grilling stone on the table offers patrons the opportunity to test their Master Chef skills and create unforgettable memories.
Hot stone is also one of the few restaurants in the United Kingdom that serves the elusive meaty delicacy of Kobe beef and is a must for any true foodies.
Top Tip: Planning on eating sushi? Try bringing along a pair of reusable chopsticks to reduce one-use utensil waste.
Meat People
££
A sizzling paradise for meat lovers, this restaurant has strong Argentinian roots that show in its flavourful and aromatic atmosphere. Established in 2011, Meat People has a low-key bistro vibe that becomes enveloped by a romantic candlelit glow when night falls.
This elegant eatery spares no expense on enticing you with long lists of tasty pleasures. The restaurant stocks British Angus beef all the way from Pampa Valley, and these grass-fed beauties thrived in certified ethical conditions (who doesn't love a dish with a good backstory?).
So, whether you go for the juicy fillet or beef empanadas, you'll sleep better at night knowing the cattle probably lived a better life than most people.
For a night filled with endless bottles of wine and laughter, this establishment is the perfect place to make sweet memories with true friends or meet people — pun intended.
The Breakfast Club
£ – ££
Who doesn't love a good 80s movie reference? The Breakfast Club will have you pumping your fist in the air (one of the most iconic scenes of film history) with its all-day breakfast specials and energetic atmosphere.
Specialising in comfort food and down-to-earth goodness, this local grub spot will feel like a home away from home.
With its canary yellow exterior, The Breakfast Club is hard to miss. Whether you prefer the banana and pecan french toast or the simple pleasures of The Greasy Spoon (the ultimate hangover cure), this joint is the place to be.
Frederick's
£££
One of the best restaurants Angel has to offer, Frederick's is a contemporary establishment that exudes elegance and innovation. Peppered with captivating artwork and modern European cuisine, a trip to this hot spot is more than mere dining — it's an extravagant experience.
This delightful haven is locally known as one of the staple restaurants in Angel, Islington. Between sips of fine wine, you'll be able to enjoy plated culinary works of art that will forever have your pallet spoiled by its finely crafted execution.
From the succulent duck leg confit to the melt-in-your-mouth toffee and banana crème brûlée, you'll be floating on a culinary cloud on your way home.
Tas Firin
£ – ££
With the warm embrace of the stone stove and scrumptious starters, this Turkish restaurant in Angel is an exotic getaway for your taste buds.
This small and quaintly decorated establishment is the best place to experience authentic and traditional Turkish cuisine that provides a wide variety of flavours. Tuck into some hummus and halloumi at Tas Firin to prepare yourself for a night filled with diverse delights.
Mangia Bene
£ – ££
Bringing a cultural flair to your dining experience, Mangia Bene is an Italian restaurant in Angel that will have you intoxicated (in many ways) by its hearty cuisine.
With its rustic decor and traditional cooking, you'll momentarily be transported to the wondrous plains of Italy with just a few bites.
Through cheesy pizzas and an extensive wine list, this restaurant is the perfect first date spot to feel your nerves melt away in its homey and vibrant atmosphere. Carbs don't count on a date, right?
Tofu Vegan
£ – ££
Delectable cuisine with an earth-conscious kick, this vegan restaurant in Angel's vicinity is a fancy plant-based feast ready for the taking. Using mushrooms, tofu, and bean protein substitutes, Tofu Vegan provides all the meat-free goods.
This restaurant offers Chinese cuisine minus animal by-products. You'll be able to delve into the magical array of flavours from the East that abides by your dietary restrictions.
While this establishment offers exclusively meat-free dishes, you'll have your vegan and carnivorous friends alike racing for the last dumpling on the shared plate.
From the deep-fried mushroom and tofu balls to the veggie spring rolls, Tofu Vegan is a Friday night tradition in the making.
Tortilla Islington
£
While experiencing the best things to do in Angel, you'll be sure to work up an appetite from all the exploring. If you're looking for restaurants near Angel Subway Station, Tortilla is one of the best.
You'll spot the beckoning call of its neon sign from a mile away, so don't be shy to make a beeline to satisfy your cheeky carb-heavy cravings. Whether you're a quesadilla or nachos kind of guy or gal, this delicious joint will be sure to serve up a variety of feel-good dishes.
On a strict diet? The Tortilla website provides an extensive nutritional calculator to ensure you know the exact amount of calories you need to gym away the next day.
Angel Restaurants: Map
Looking for More London Guides?