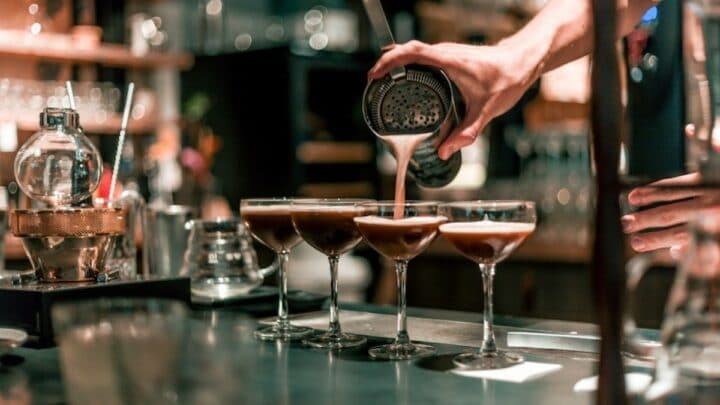 Thanks to the ever-growing number of Paddington bars, the area is fast becoming one of the hottest places to spend an evening in West London.
Whether you want to enjoy a nice glass of wine, quaff cocktails on a rooftop, or tuck into wholesome bar food with a pint, we've got you covered. Take a look at the best bars in Paddington.
Best Bars in Paddington
Pergola Paddington
Pergola is tucked away in West London, and they've created a beautiful space for all to enjoy.
During the day you can relax with a drink under the perspex roof, or venture out towards the open-air spots if it's a bit warmer. In other words, come rain or shine, there's no need to worry about the weather if you're looking to enjoy this Paddington outdoor bar.
Pergola has four self-service restaurants and two full bars, as well as daybeds that you can book and DJs on the weekend to really liven things up.
Vagabond Paddington
If you're looking for unique bars near Paddington, Vagabond is just the spot. What started out as a small shop in Fulham in 2010 has grown into a huge urban winery with seven wine bars throughout London (and a couple more across the rest of the UK), including this impressive one in Paddington.
The wine bar has the philosophy that great wine should be accessible to everyone, and the contemporary interior makes it a genuine pleasure to sit down for a glass… or three.
Futuristic wine machines let you try a taster glass of more than 100 wines at this uber-cool Paddington wine bar – and they also have 10 self-pour craft beers so you can really get stuck-in.
Darcie and May Green
It doesn't come much cooler than drinking at Darcie and May Green.
Offering Australian cuisine on two 50-metre barges that are floating on the London canal, the boats were designed by British pop artist Peter Blake and are, without a doubt, one of the most unique outdoor bars in Paddington.
They stock nine craft beers and all kinds of cocktails – but we recommend you head there for a bottomless brunch on Sundays for a real treat.
Skylark Roof Garden
This is a gorgeous rooftop bar in Paddington – and one heck of a brunch spot in London. You can enjoy views of West London's skyline from this tenth floor bar, which is perched above Hyde park, Notting Hill, and Little Venice.
Whether you want to relax and drink a few cocktails or taste fine wines and enjoy a delicious dinner, Skylark has got all bases covered. Take it from us, you need to try the rum-based Caribbean long island. It packs one heck of a punch.
Lockhouse
The Lockhouse looks out over the Grand Union Canal in Paddington, and fuses a contemporary style with vintage charm. The result? One of the best bars in Paddington, London.
With a wide selection of craft beers that are both draught and bottled, and as many as 20 international craft beers on tap, you won't find yourself short of drinks to try.
If you get hungry while you are there, you can try their award-winning burgers, as well as any of their other signature dishes. They have a cocktail menu and premium wines as well, so you can find cocktails near Paddington here.
Huckster
For people looking for a party and drinks in Paddington Huckster is the place to go.
Sitting downstairs from Skylark Roof Garden, this huge bar pays a nod to Manhattan and is decorated with graffiti art.
The delicious street food takes inspiration from global flavours and they have international bartenders that help to make the whole experience feel a little bit more authentic.
The only question is… will you head straight to the karaoke rooms to sing the night away, or relax in the swanky lounge with a drink in hand?
The Union Bar Paddington
Sitting next to Paddington Station and the canal in Sheldon Square, The Union is close to Little Venice and is one of the best bars near Paddington for anyone who wants a relaxing afternoon of drinks and tapas.
Offering fresh lunches, they fancy themselves as a modern take on the classic canal-side bar, and we have to say that we agree.
And better yet? It's the best sports bar Paddington has to offer.
Smith's Bar & Grill
Conveniently located next to Paddington Tube Station, Smith's Bar & Grill overlooks the Grand Union canal and is partially to thank (or blame!) for Paddington's blooming night-life scene.
They have a wide selection of cocktails, or flash the bartenders a cheeky grin and they'll endeavour to make you anything you want. The dinner menu has plenty of choices too, including steaks, fresh seafood, salads, and sides.
You'll also find a patio open all year long if you enjoy an outdoor bar in Paddington.
Brewdog Paddington
Don't be put off by Brewdog just because it's a well known chain – it's one of the best Paddington basin bars and well worth the hype it receives. It's a great choice if you want to sip on cold craft beers.
Located not too far from Paddington Station and with an abundance of beers, as well as wines, spirits, and Hawkes cider on offer, you can have a drink and look out at the basin or enjoy a burger for lunch. They also have plenty of vegan beer and vegan items on the menu.
Ayllu
If you're looking for a more romantic night out at one of the many cool bars near Paddington, Ayllu is a great spot.
In addition to drinks they offer Peruvian-Japanese fusion cuisine, and the bar's moody interior (and very comfortable seats, FYI) provide the perfect backdrop to a fiery date night.
They are located under Paddington Central, and they have a DJ on Thursday and Friday evenings and all day on Saturday – which is worth bearing in mind if you're looking for a quiet spot to chat.
Paddington Bars: Map
Looking for More Paddington Guides?