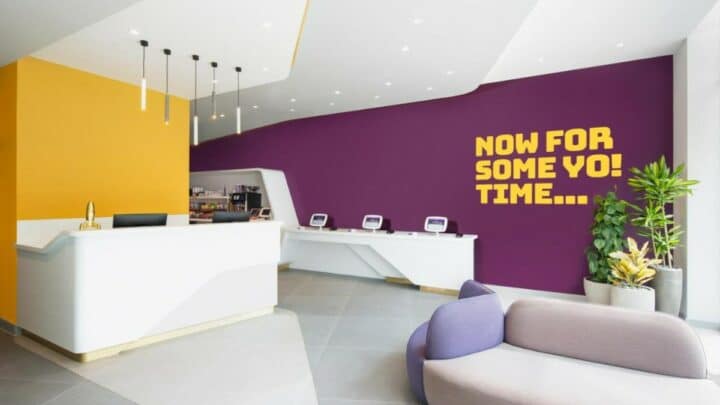 Tired of waiting in hotel check in queues? Stay at one of these self check-in hotels in London and get straight to the good stuff.
Say goodbye to queuing, having to show forms of I.D and interacting with other humans (the bit we loathe the most really isn't it?), and hello to contactless check in. There's not much we can't do from our phones these days so it makes perfect sense that we can now check in to hotels in a few taps.
These are the very best self check-in hotels in London right now.
Best Self Check-In Hotels : At a Glance
| | |
| --- | --- |
| Best Self Check-In Hotels – Top Picks | Hotel |
| Best Overall Self Check In Hotel | Citizen M |
| Best Self Check In App | Stow Away |
| Best Self Check In hotel for Amenities | Holmes Hotel |
| Best Self Check In Hotel for Location | Park Plaza |
Best Self Check-In Hotels in London
CitizenM Hotel
Tower Hill
£££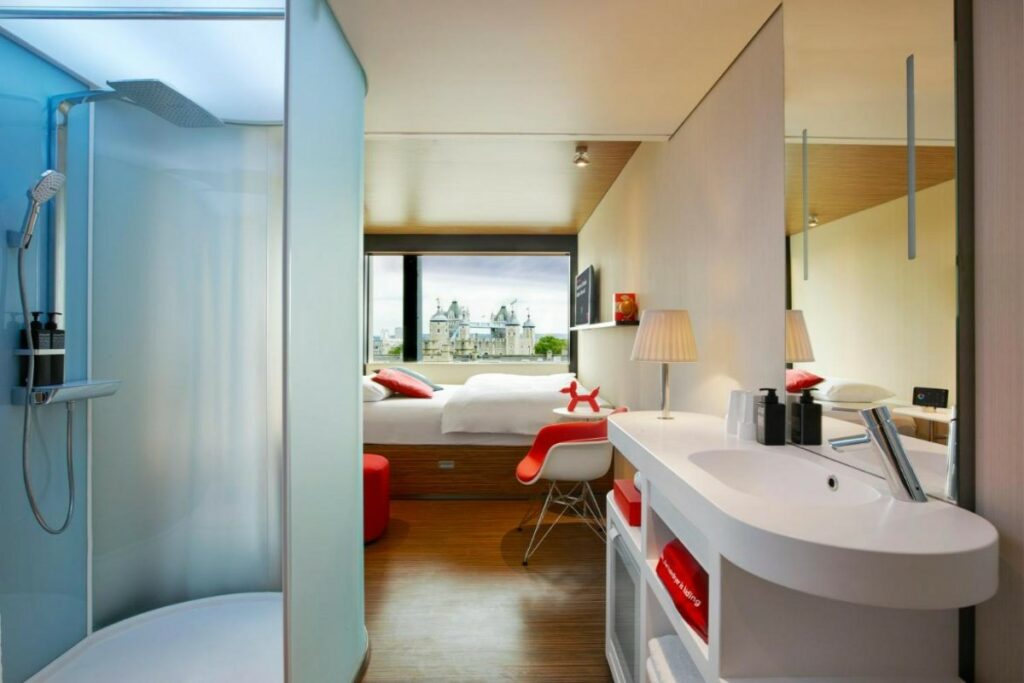 CitizenM Hotels are stylish, luxurious and great for business or fun. One of the reasons CitizenM is the best place to stay in London is, it's a self-check-in hotel.
Travel made easy, check in to the hotel via Citizen M's convenient and easy to use app– it really is that simple.
You can also use the app to control in-room features like the mood lighting or to order food from your phone straight to the door– we love this feature.
The Grand at Trafalgar Square
££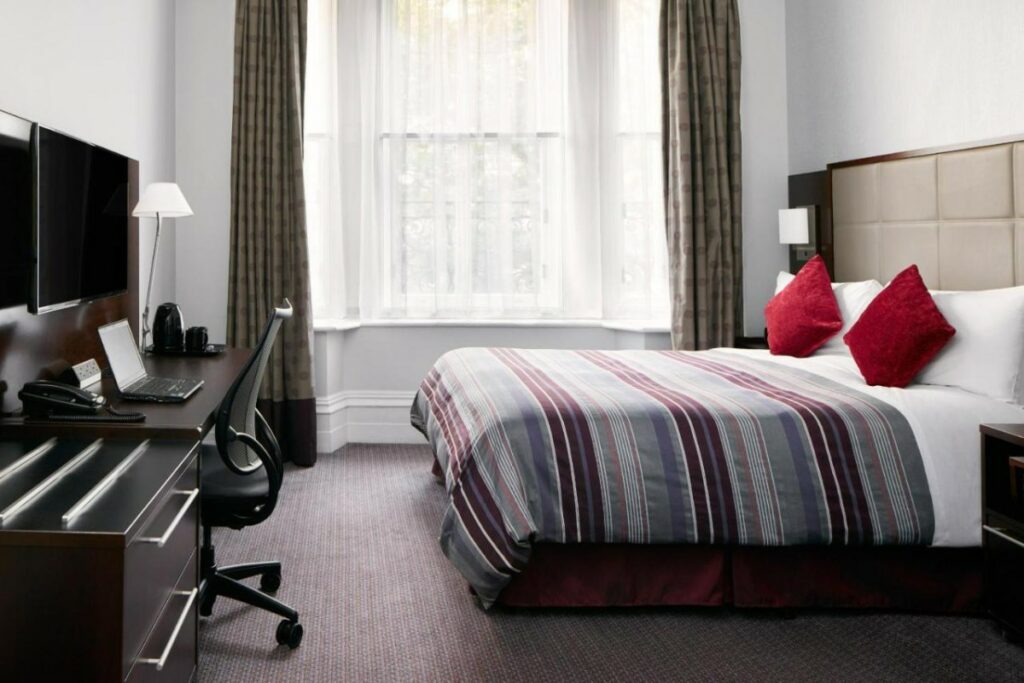 Embrace the liveliness of Central London at The Grand at Trafalgar Square, a boutique hotel just steps away from the National Gallery and Big Ben.
The best feature about this hotel is its mobile check-in service, you can check in easily through its mobile app.
This means you can get to all the fun stuff the hotel has to offer like room service, yoga and gym equipment, as well as an impressive ambient sound system that little bit faster– sounds good to us.
ME London
West End
£££
Located in the heart of the West End, ME London is the place to book if you're looking for a self-check-in hotel in London that's modern and sophisticated.
It's never been easier to check-in online at ME London, you can even check in online from 96 hours before your arrival and receive your digital key, meaning your stay is stress free even before it begins.
With all the time you'll save with checking in online, you'll have more time to spend at the wellness centre and the radio rooftop bar.
Park Plaza Westminster Bridge
££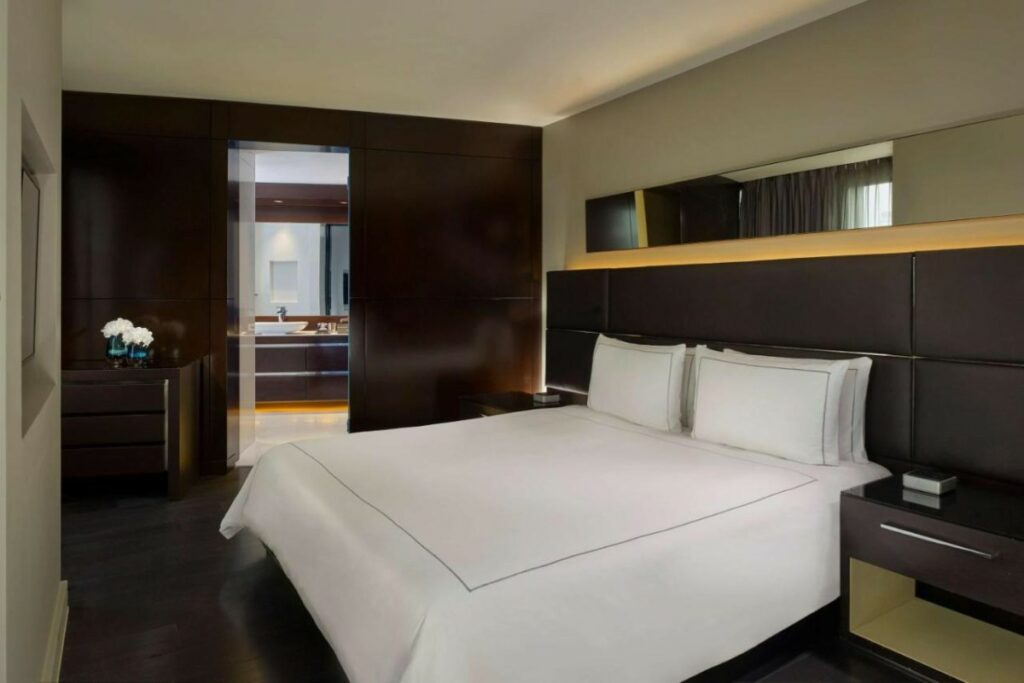 Park Plaza Hotel, located in Westminster Bridge, is the best location for London sight-seeing.
Eager to get exploring or just don't feel like talking to someone at the front desk? We've all been there– download Park Plaza's handy app for a speedy and seamless self-check in experience.
You can check in 30-seconds before you arrive and head straight to your room with the digital key– which is just what you want to hear after a long journey.

YOTEL London City
Farringdon
££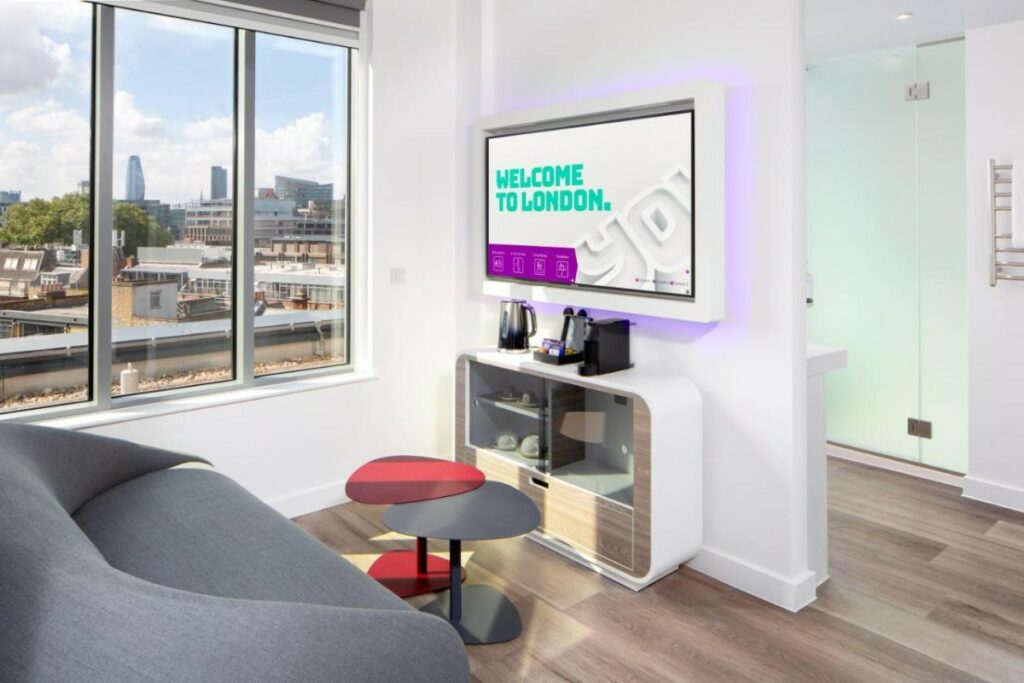 Yotel is a quirky place to stay on Clerkenwell Road and one of the best self check-in hotels in London.
Priding itself on tech-driven experiences for its guests, Yotel's contactless check in and smart key is the future. It's quick, easy and will save you lots of time and hassle, especially if you're arriving late at night or early in the morning.
There's nothing worse than arriving at your hotel and there's no one there to let you in– nightmare, we've all been there.
Eccleston Square Hotel
Pimlico
£££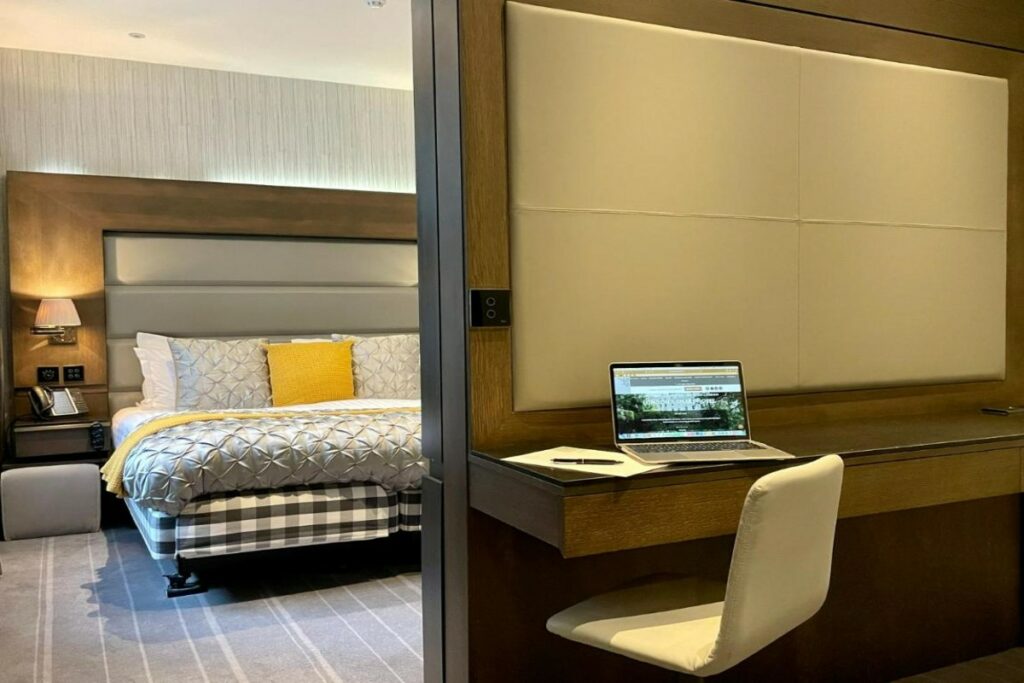 Forward-thinking luxury boutique hotel, Eccleston Square Hotel offers a friendly and personalised guest experience. Eccleston Square is one of the best self check-in hotels in London, and you can check in prior to your arrival.
You should receive a self check in link via email and it really is as simple as the click of a button to check in to this hotel.
The smart rooms boast lots of luxurious features like electrically adjustable Hasten beds and in-room samsung tablets that you can also order room service from.
Judd Hotel
Bloomsbury
££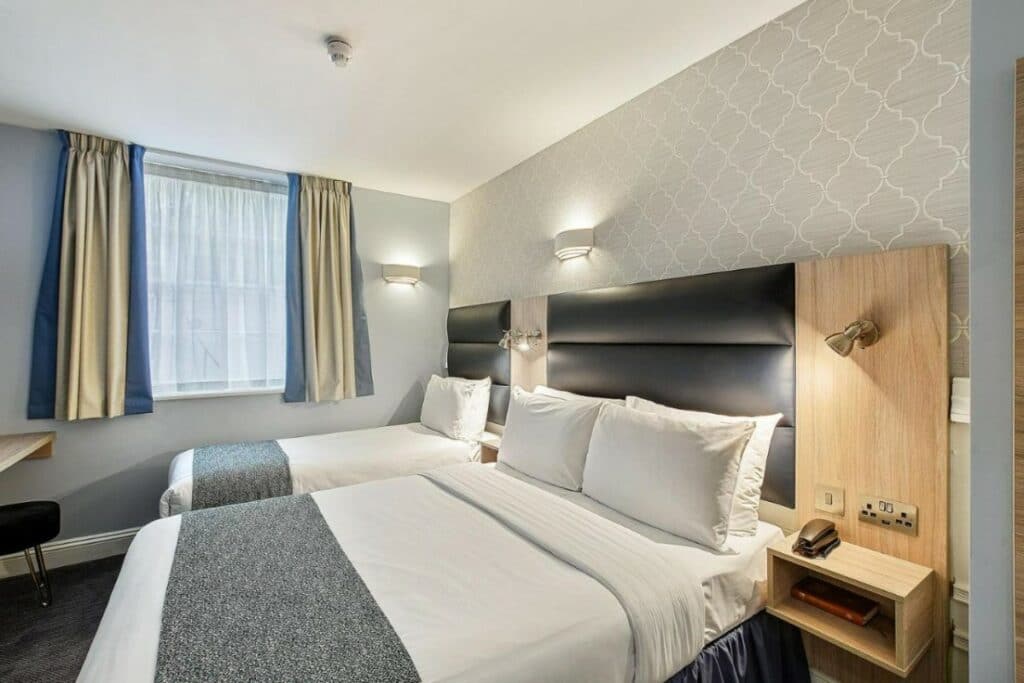 Looking for a contact free check in hotel near Euston station? You should stay at Judd Hotel. You can check in 48 hours before your arrival online meaning all you have to worry about is which restaurants you're going to dine at during your stay– it's a hard life.
Judd Hotel occupies three London townhouses with elegant Georgian features, there's also gardens and tennis courts for guests to use if you fancy hitting some aces. You can also enjoy a complimentary cooked buffet breakfast during your stay which should fuel you until lunch time.
Stow Away
£££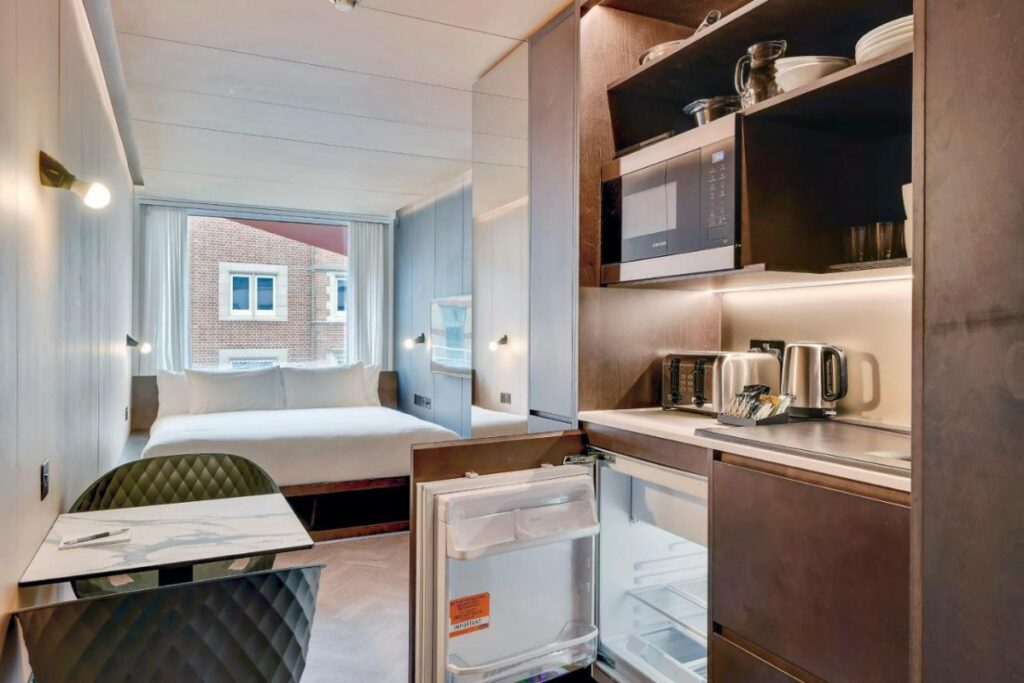 Eco-apart hotel, Stow Away is located in Waterloo, closeby to lots of tourist attractions, restaurants and bars.
Luckily for you, you can skip the queue at Stow Away and use the contactless check in service, so there'll be more time for wining and dining at Unwined Restaurant at Stow Away.
Download the Stow Away app before your trip and check in online and use your phone as a digital key too.
Bedford Hotel
£££
Looking for somewhere peaceful to stay in London? Book a stay at the Bedford Hotel, it's small and intimate and it has a fuss-free online check in system ensuring your stay is nothing but relaxing. All you have to do is download the Imperial London Hotels app, check in remotely and enjoy keyless entry to your room
Nestled in Bloomsbury, Bedford Hotel's secluded garden is a tranquil space to enjoy a coffee or glass of wine after your day working or exploring.
Holmes Hotel London
£££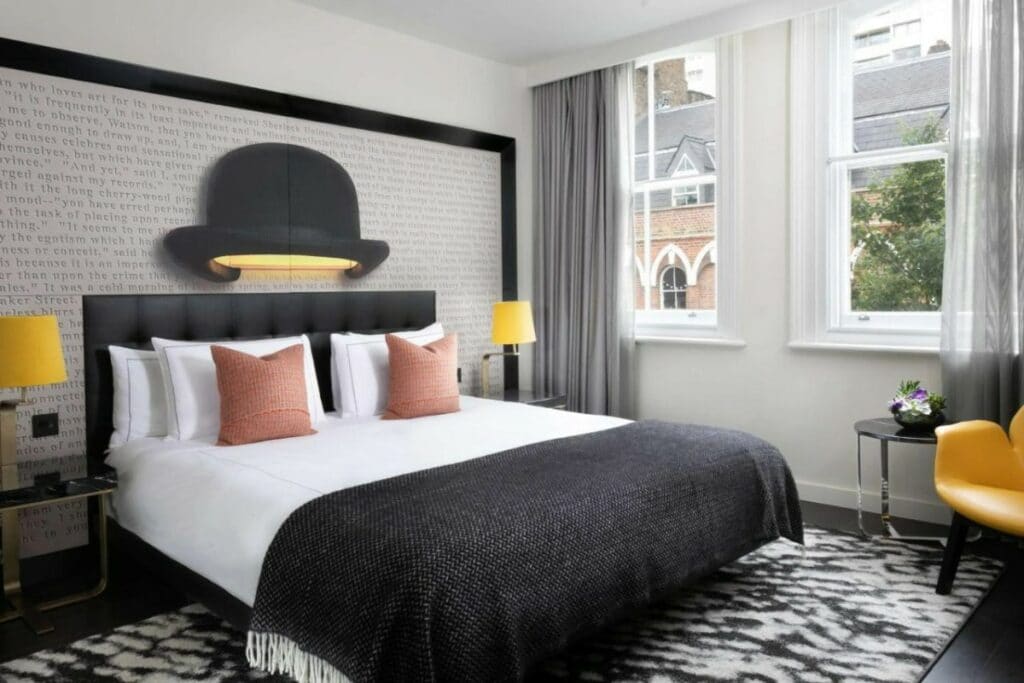 Holmes Hotel really is a home from home, situated inside four Georgian buildings in Marylebone– a great location to be for exploring London. The hotel is inspired by Sherlock Holmes and incorporates a mix of heritage and playfulness with an impressive 118 guest and loft rooms.
Holmes has gone digital and this means that you can check in, get your digital key for your room, check out and order all the drinks and food you can stomach straight to your hotel door from your phone.
Make sure you download the app to your phone before your trip to enjoy all of these great features.
Self Check-In Hotels in London: Practical Tips
Remember to pack your smartphone if you want to check in online- we know it's mostly glued to our hands, it seems obvious until you forget it.
Download the app for most hotels before your arrival and check in early.
Discover More London Hotel Guides
Self Check-In Hotels in London: Map