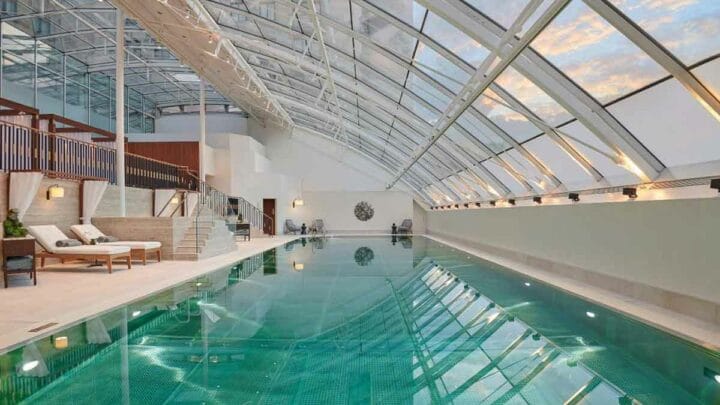 Looking for a fabulous hotel in London that really makes a splash? These are the best London hotels with a pool you need to check out.
We think you'll agree that there's nothing quite as luxurious as a hotel with a pool. Of course there are lots of public pools in London, but they're not always in the most convenient spots and can get pretty busy. Not exactly what you want during your stay in the city.
Whether you're looking for a hotel with a great pool to be a hotel guest at or just simply looking for a day pass, we've got you covered – this guide has all the vibes from a pool you could possibly want, pools with bars, relaxing pools, infinity pools and, of course, rooftop pools.
These are the best pools to take a dip in.
Best London Hotels with a Pool: At a Glance
Best Hotels in London with a Pool
The Berkeley
£££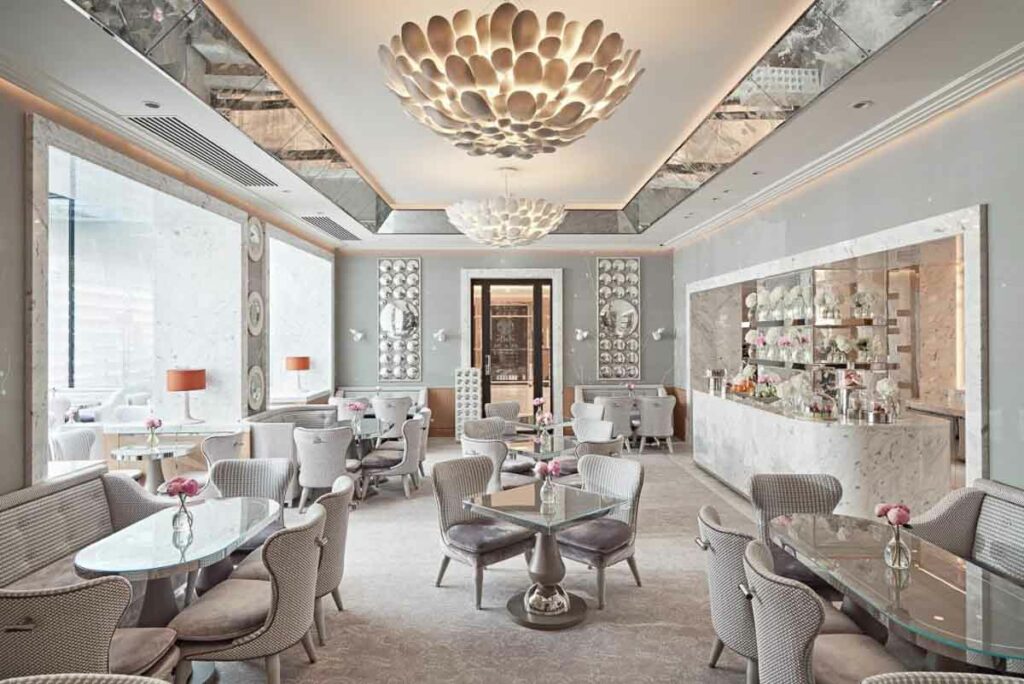 One of London's first rooftop pools was brought to us by The Berkeley Hotel and it's everything you could ask for: stylish, glamourous and exclusive to hotel guests only.
Its retractable roof allows you to take in skyline views of Hyde Park and Central London, while the pool is heated so it can be enjoyed all year round.
Take a dip in the pool and be sure to grab a tropical smoothie or seasonal spritz as well as small plates and snacks afterwards. Berkeley's rooftop swimming pool is the best place for a leisurely afternoon well spent relaxing on sunloungers.
The Langham London
£££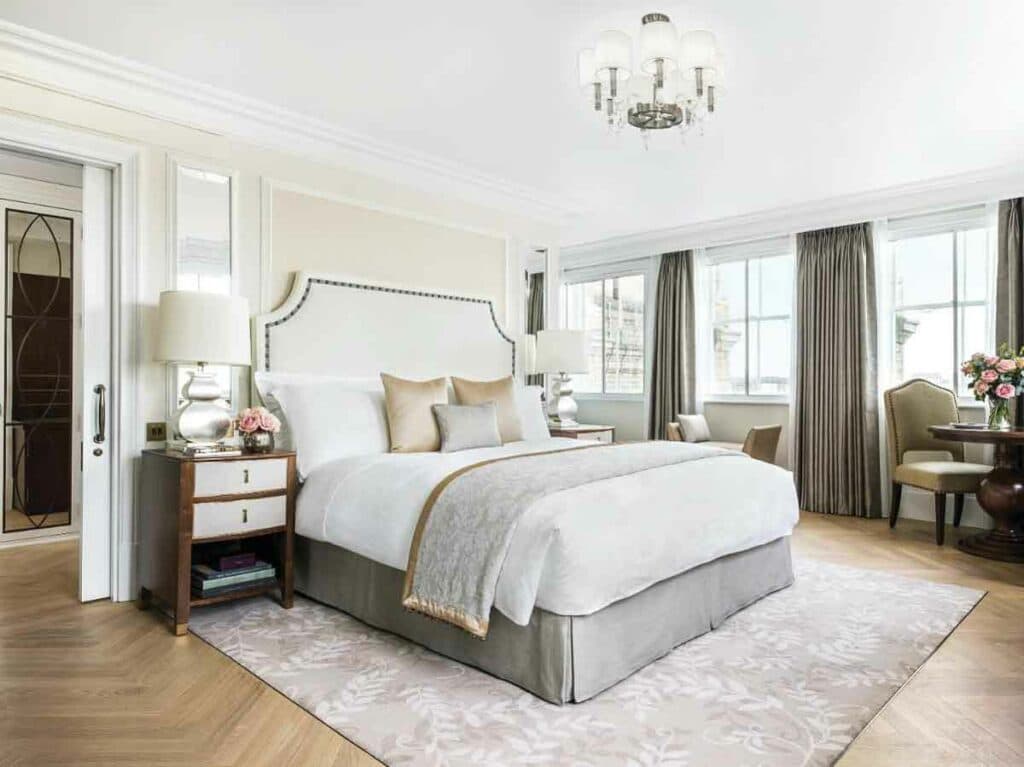 In its former life, The Langham London's basement pool was once a bank vault. Sadly you won't find any goblins down there, but you will be wowed by this 16m-long indoor swimming pool complete with a sauna and steam room.
This is one of the best hotels in London with a pool for all things tranquil and calm, it's especially good for after work swims or for a wholesome weekend swim.
Get yourself there, swim some lengths and watch all your troubles just wash away.
Shangri-La at The Shard
£££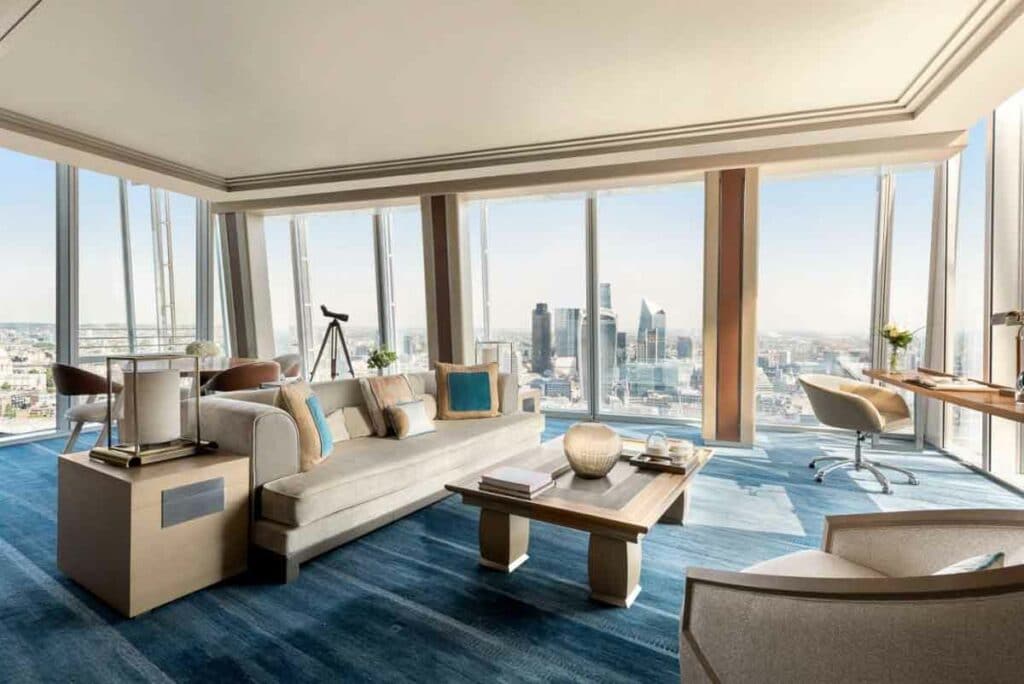 Revitalise and rejuvenate at Shangri-La's breathtaking sky pool with floor-to-ceiling windows that capture panoramic views of London's skyline.
This pool screams luxury and it's an exclusive escape high above the city. Admire views of St Paul's Cathedral and The London Eye from this 11m swimming pool from the sky.
There's also a Sky Sauna and relaxing spa treatments are on offer, so what are you waiting for? Grab your swimsuit and get yourself to the best hotel in London with a pool.
London Marriott Hotel Park Lane
Mayfair
£££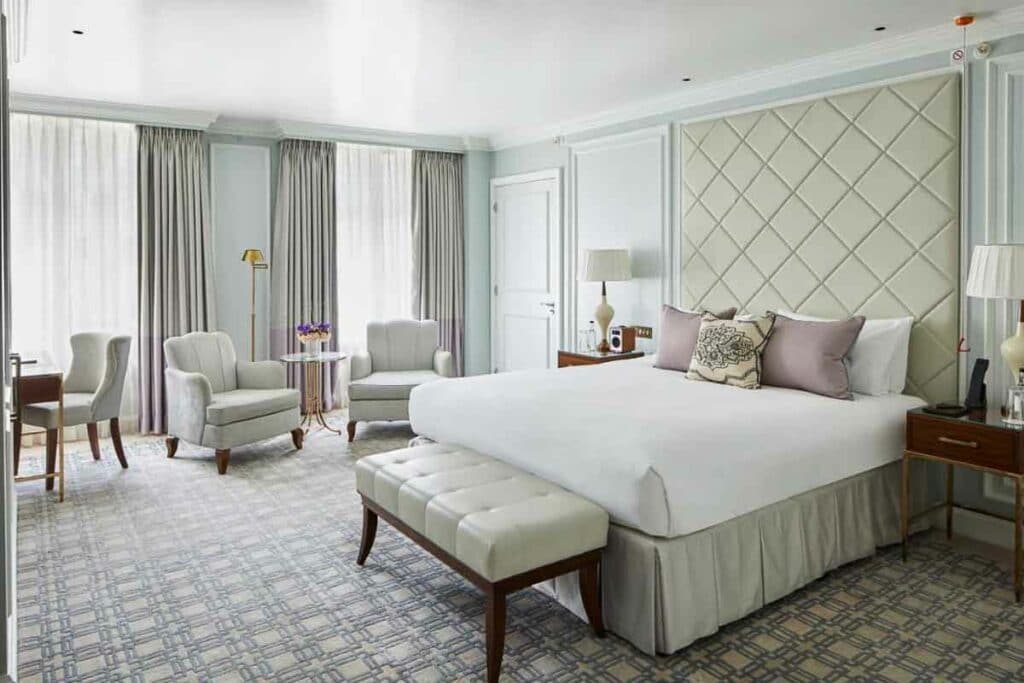 If you're looking for a pool that's elegant and classy, you should try out London Marriott Hotel Park Lane's indoor pool. Its low lighting and grand tiled pillars make for a relaxing evening dip in its heated indoor pool and aptly placed seating surrounding the pool to chill out in between swims.
Whilst at London Marriott, treat yourself to one of its tranquil spa treatments or sweat it out at the fully equipped gym if that's more your thing.
The Ned
Bank
£££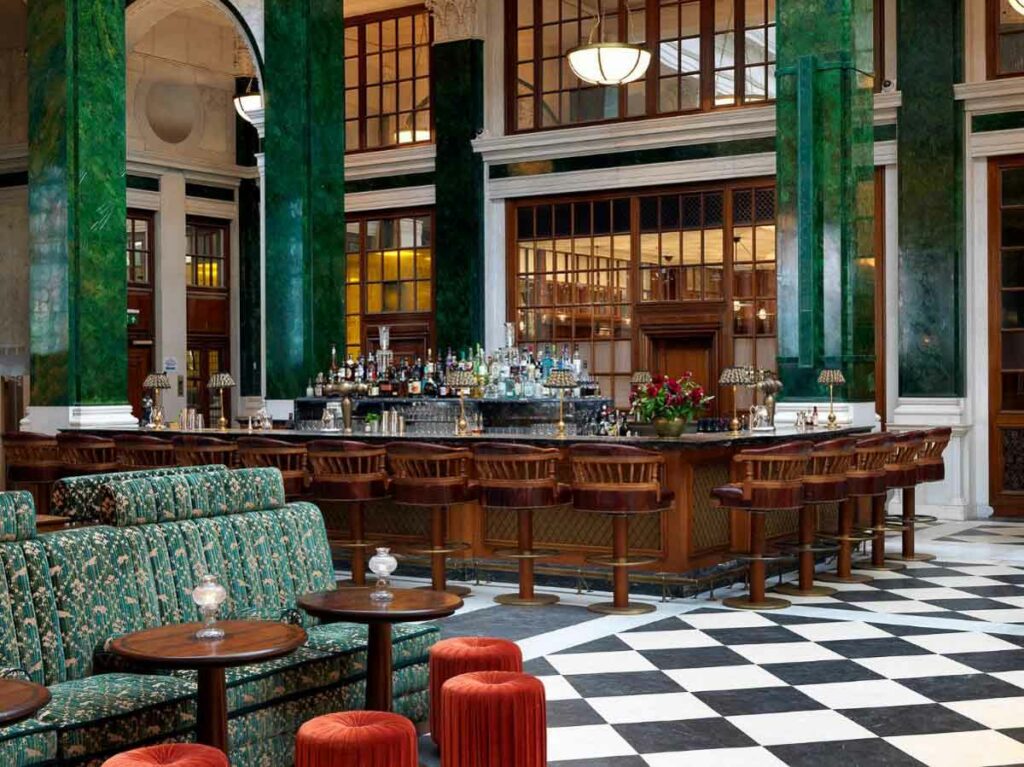 The Ned's membership club and hotel have been a place adored by Londoners since 1924.
It's easy to see why when its upstairs club is home to an amazing heated rooftop pool, two large terraces and a rooftop bar armed with poolside snacks and drinks to complete your vibrant experience at Neds.
Sun Loungers sit adjacent to the rooftop pool and you can catch views of St Paul's Cathedral and other notable London landmarks.
Corinthia London
Whitehall
£££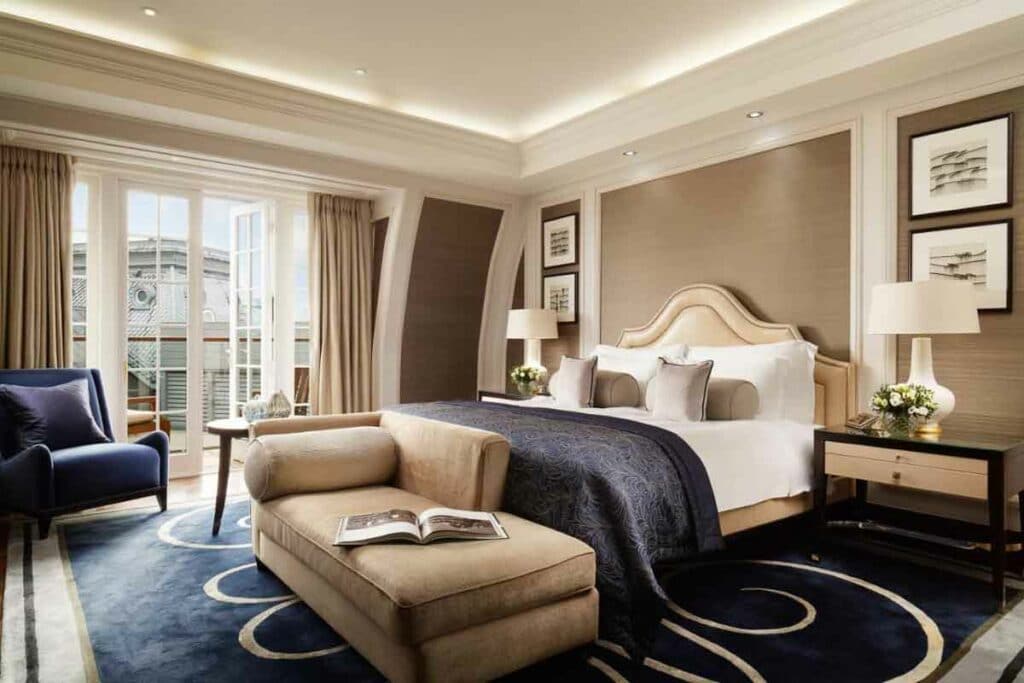 Pause, reflect and reset at Corinthia London's two indoor pools when you book into one of its day spa experiences or a room at this Central London hotel with a pool.
With not one but two indoor pools, you'll be spoilt for choice. Take a swim in the shimmering silver pool and finish off by sitting in the heated vitality pool that's best for relaxing in.
Corinthia has thermal underfloor heating, so you'll never get cold in between luxurious spa treatments, heading into the sauna room or sitting poolside on the loungers.
Haymarket Hotel
Soho
£££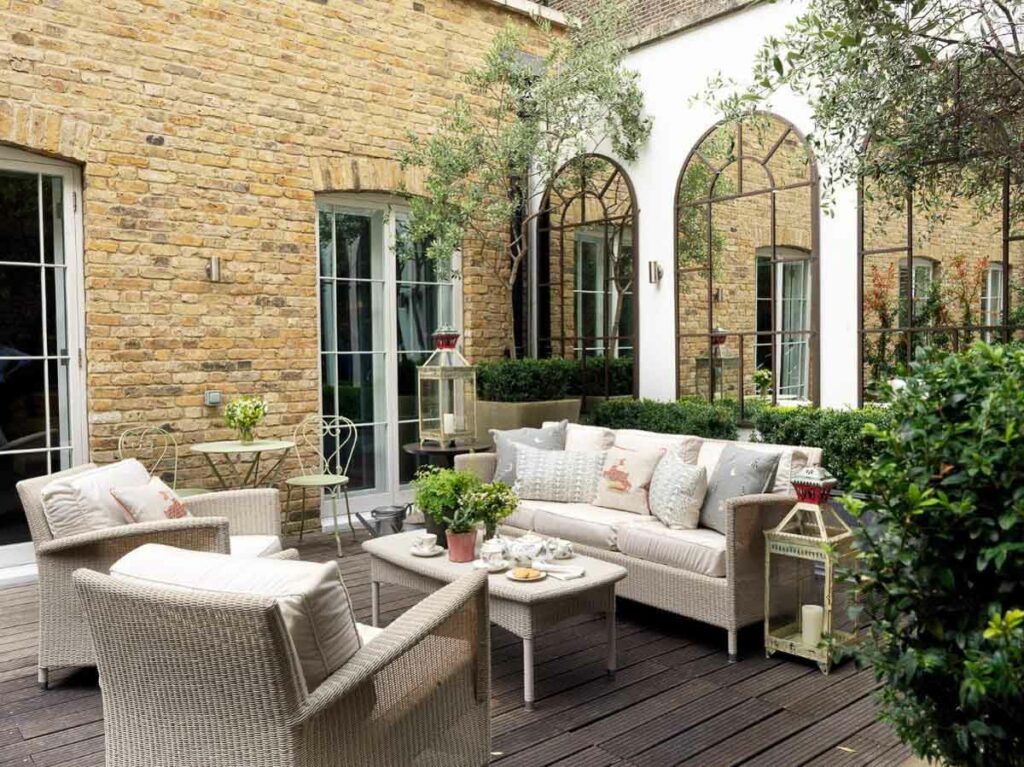 In the heart of Soho, is an eccentric hotel in London with a pool. Haymarket Hotel isn't your average hotel; its boutique rooms feature mismatched prints and vibrant colours.
Haymarket's indoor heated basement swimming pool is 18 metres long and edged in stone and surrounded by grey oak. The ceiling dazzles with an ever-changing optic light system spewing pinks, purples and yellows throughout the space– you may want to bring some shades.
This pool really does have it all with a poolside bar and tables, it's the best place to drink and dip and is one of the coolest hotels in London with a pool.
Canary Riverside Plaza Hotel
£££
Fancy swimming next to the River Thames? Get yourself to Canary Riverside Plaza Hotel for a riverside splash.
Canary's health club and spa spans three floors of fitness facilities, sauna, steam room, hydrotherapy pools and a 20m infinity edge lap pool.
The indoor swimming pool sits inside a detached box with floor to ceiling windows giving you 360 views of the River Thames.
Mondrian Shoreditch
£££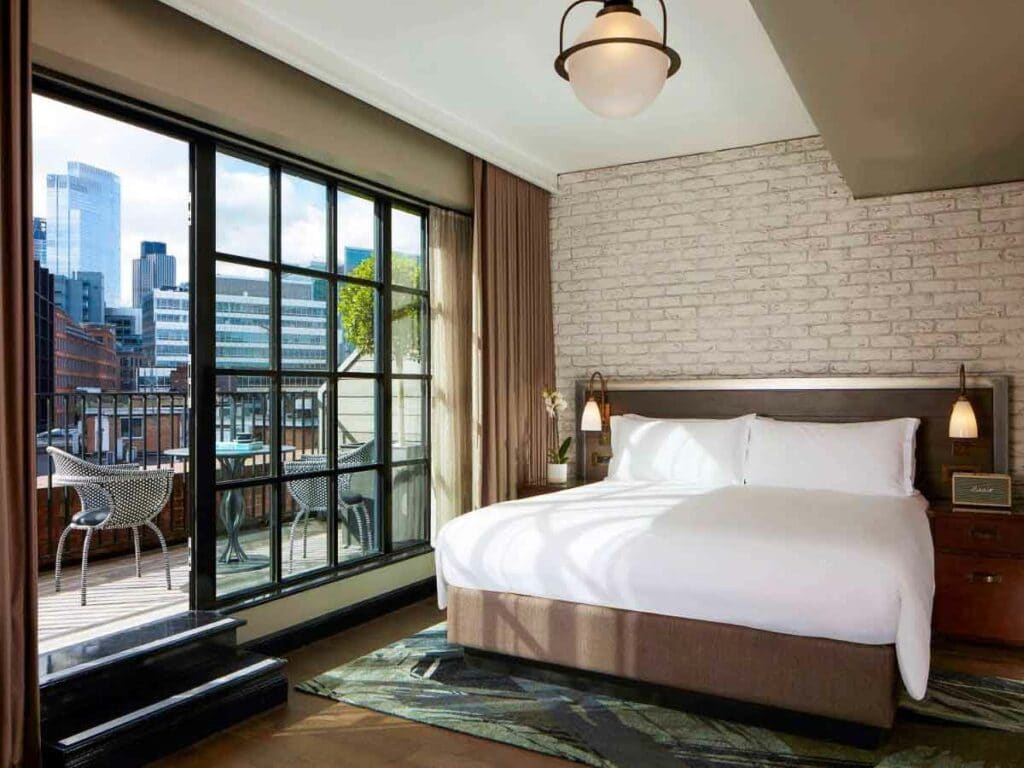 Inspired by 1970s LA and exclusive Hollywood Hills pool parties, Laurel's On The Roof at Mondrian Shoreditch is a fun hotel with a swimming pool in London.
Bringing you retro glamour to East London with a high-spirited and glitzy rooftop restaurant bar, and of course fabulous rooftop pool.
Not the biggest of pools, but a rooftop pool with good vibes nonetheless. It feeds you London views complete with seating areas and shrubbery. Relax here during the weekdays or enjoy DJ sets Thursday through Saturday for a more lively affair.
The Bvlgari
Knightsbridge
£££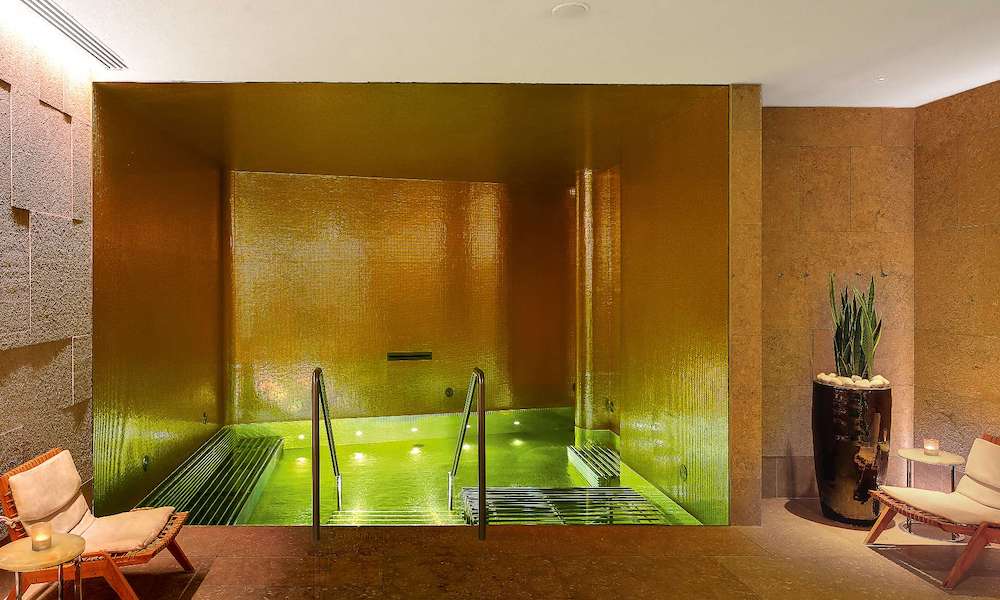 Not just a luxury fashion brand, Bvlgari's hotel is just as premium as its designer pieces.
The Bvlgari is an indulgent hideaway just moments away from Hyde Park and offers daycation packages where guests can make full use of the 25m indoor colonned swimming pool as well as facials, body treatments, manicures and the workshop gym.
The pool facilities will have you believing you've been whisked away on holiday just for the day. Guests will be served fresh fruit and a non-alcoholic drink of their choice, enjoy yours on the wooden loungers poolside.
St. Pancras Renaissance Hotel London
££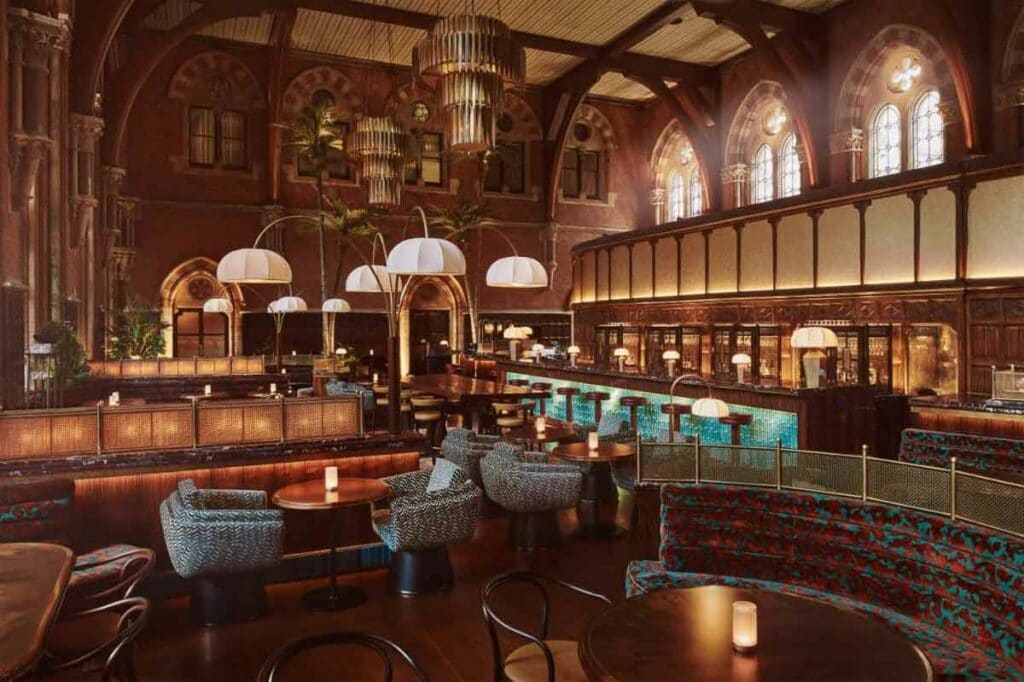 The grandeur and iconic St. Pancras Renaissance Hotel is luxurious and its decor is something to be marvelled at– but wait until you see the pool.
Step into a Victorian style haven of renewal and tranquillity at St. Pancras spa and mesmerising pool. Surrounded by subterranean tiled walls and granite floor with exposed ceiling, it's the epitome of cool meets renaissance.
The best part is that non-hotel guests can book a spa day pass for a very affordable fee and enjoy the gym, sauna, steam room and relaxation pool– this sounds too dreamy to be true.
Grange St Paul's
City of London
££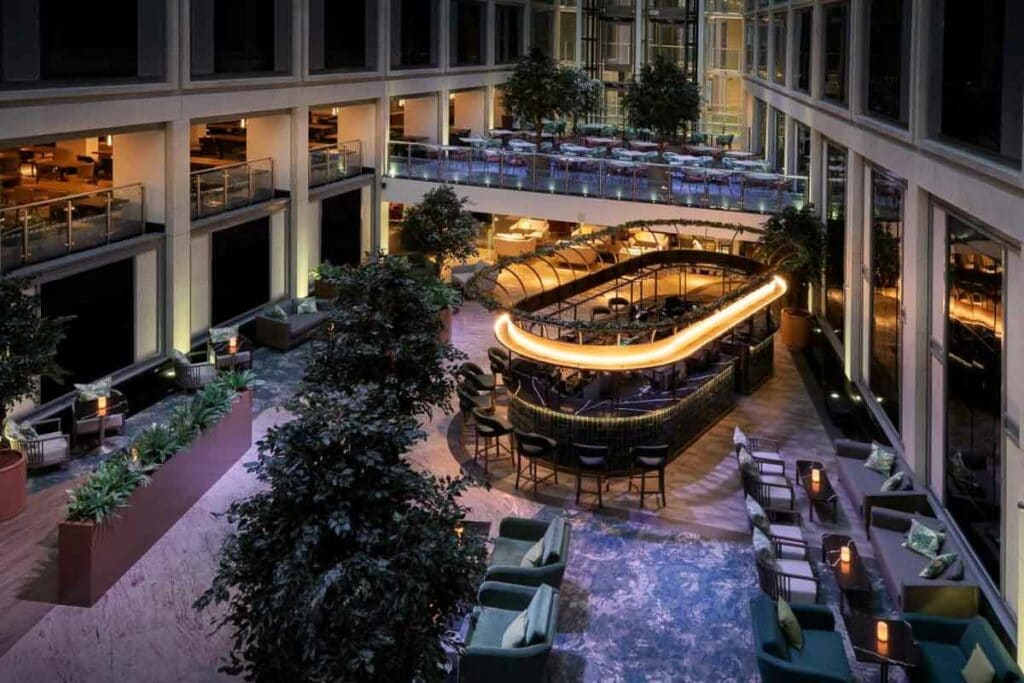 An 18m indoor swimming pool with a waterfall, sauna and steam room awaits you at Grange St Pauls.
The best part is, you only need to book a spa treatment to gain access to this London hotel with a pool. The Ajala spa offers rejuvenating and holistic treatments for a really luxurious spa break. You could easily spend the whole day here getting pampered, swimming a few lengths or working out in the hotel's gym.
Grange St Paul's swimming pool is worlds away from the hustle and bustle of the city and its dim lighting and aptly placed foliage give off holiday vibes.
Shoreditch House
Shoreditch
££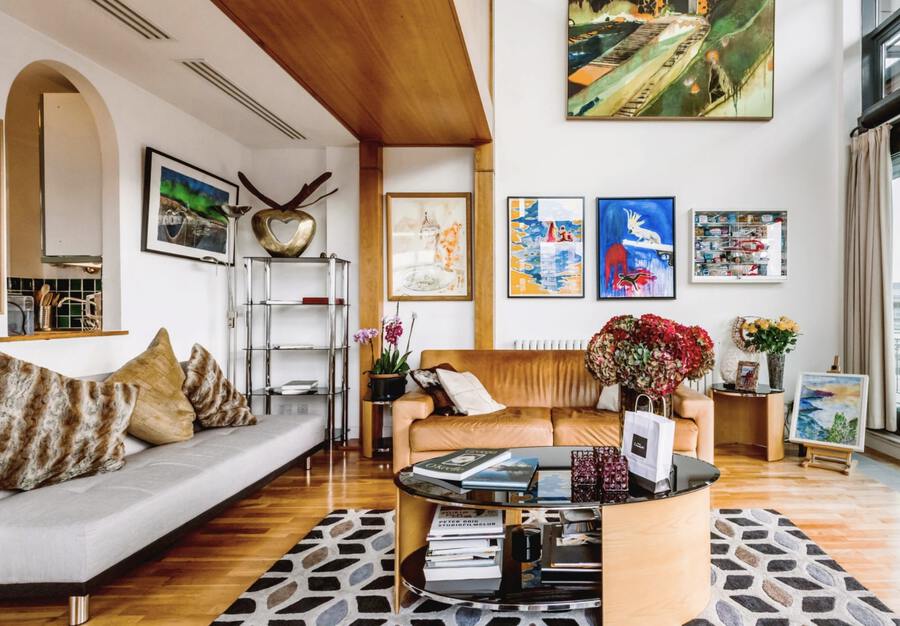 Exclusive for members or hotel guests and strictly no children allowed, Shoreditch House is a quiet oasis in East London. Under 27's can sign up for a very affordable monthly membership to enjoy access to a great rooftop swimming pool in a London hotel.
Its 16m rooftop pool is surrounded by shrubbery, sun loungers and is walled off by a timber fence for ultimate privacy.
Soak up East End views of The Gherkin whilst swimming a few leisurely lengths and dry off on the open air terrace with some food and drinks from the rooftop bar.
The Carlton Tower Jumeirah
Knightsbridge
££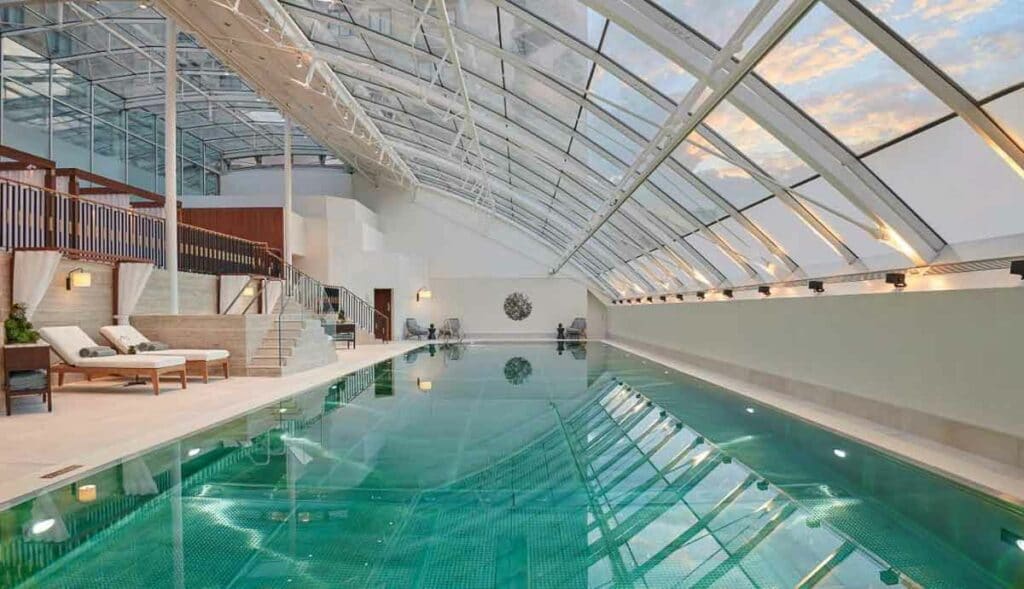 5 star hotel, The Carlton Tower Jumeirah is nestled in the bustling district of Knightbridge and has a stunning indoor pool complete with a spa.
Peak Health Club and spa is located on the second floor, the floor is bathed in natural light with a striking half domed roof. Swimmers can gaze up at the sky whilst swimming laps of the 20 metre pool. Don't forget to take advantage of the neighbouring jacuzzi and sweat it out in the sauna and steam room.
There's plenty of loungers poolside to relax on in between swims and at night time the pool lights are an illuminating purple colour. Free access to hotels guests or non-guests can gain access to the pool by booking a spa treatment for a very affordable price.
The Health Club at One Aldwych Hotel
££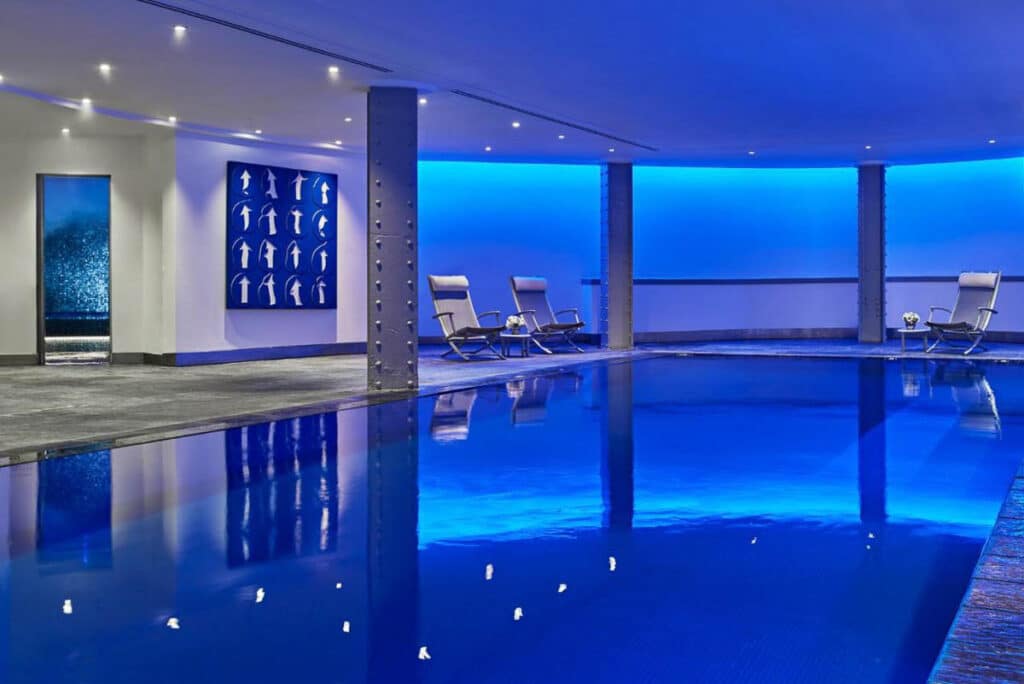 Centrally located in Covent Garden, The Health Club at One Aldwych Hotel offers 5 star luxury spa treatments. You can access the 18m indoor pool, sauna and steam rooms if you're a hotel guest or by booking one of the wellbeing treatments or are a hotel guest.
Ever wanted to still be able to hear music whilst swimming? Well you can do just that. This pool has an underwater music system as well as playful sealife projections and soft mood lighting creating that zen moment you've been dreaming of.
The indoor pool is chlorine free and has a mineral-cleaning system, so you can wave goodbye to those red stinging I've-been-for-a-swim eyes.
Aloft London Excel
Docklands
££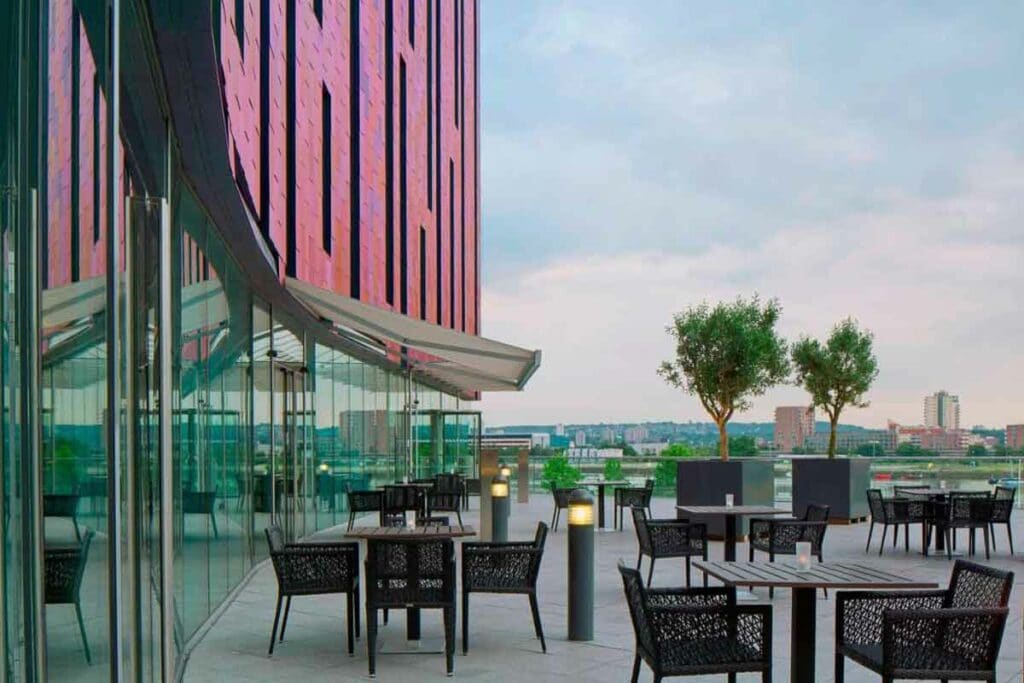 Recharge at Aloft London Excel's heated indoor swimming pool. Located in the trendy East End Docklands and easily accessible from Central London.
The pool has neon lights and is modern by design with cladded walls and floor-to-ceiling windows for you to bask in some much needed au natural light.
There's also a sauna, steam room and fitness room to try out after your swim.
The Intercontinental London O2
££
Did you know that there's a swimming pool inside the O2? Well there is, and you should definitely go. Escape to The intercontinental London O2 and try out its state-of-the-art facilities including a 17m swimming pool with water canons– sounds cool right?
Free for hotel guests and non hotel guests can book to chill out in the exquisite pool with a decadent ceiling and neon lights for a very affordable fee.
NYX London Holborn by Leonardo Hotels
££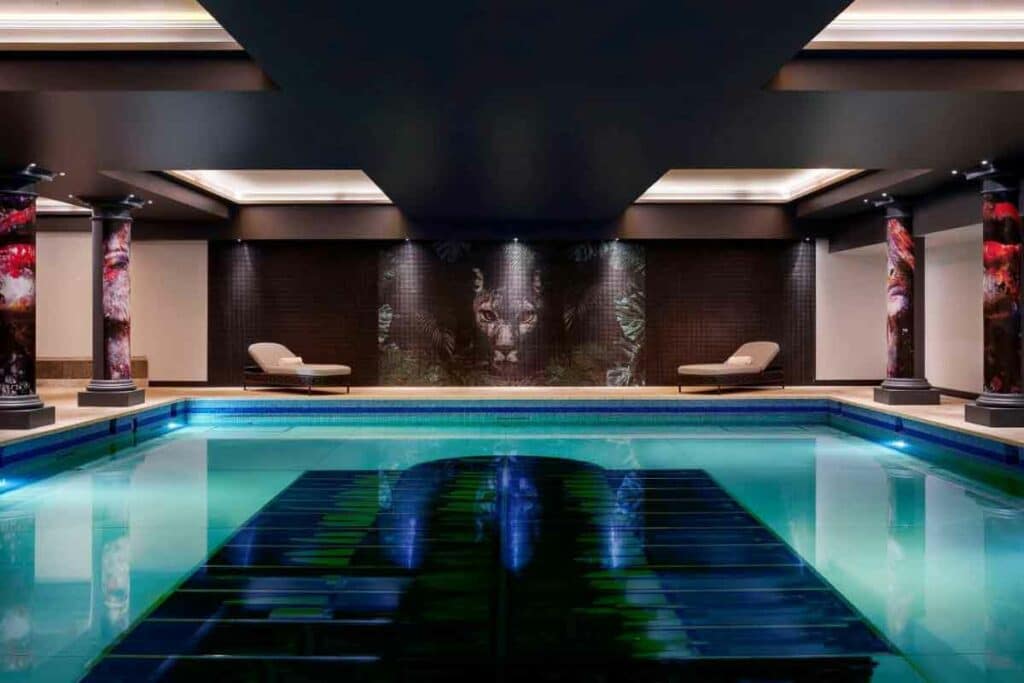 Looking for somewhere to unwind? You should visit NYX London Holborn Hotel's indoor pool. It's the ultimate place to replenish your energy and relax your mind.
The decor is also quirky, a large tiled tiger in a jungle themed background sits adjacent to the pool and oversized pillars with colourful artwork encompass the pool.
You also don't have to be a hotel guest to access this pool, just choose from one of the spa treatments and enjoy your swim after.
The Chelsea Harbour Hotel & Spa
Chelsea
££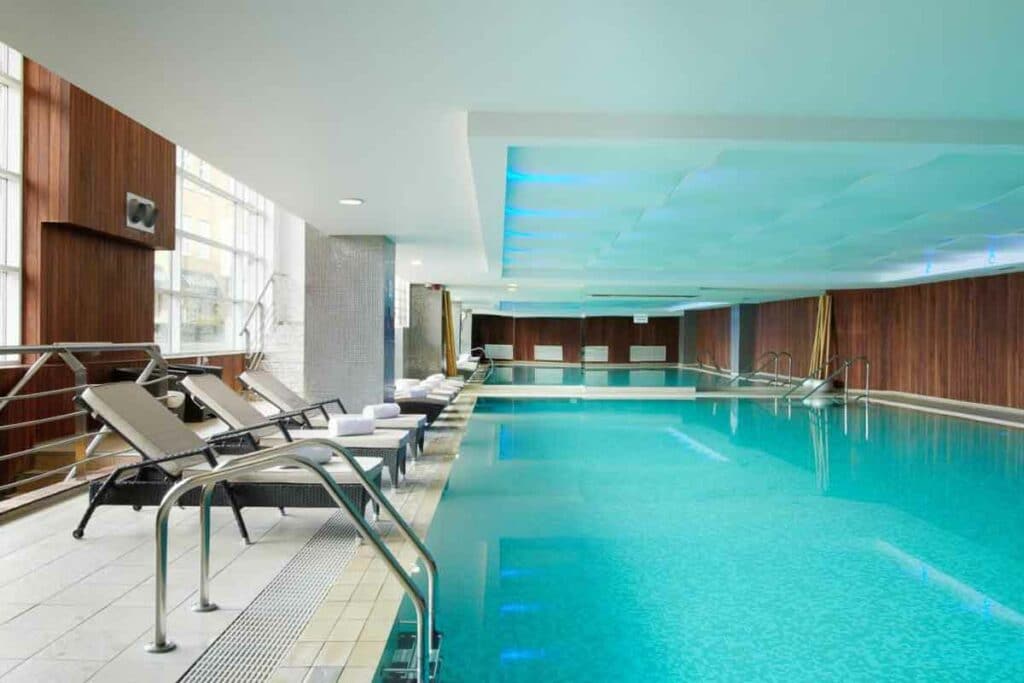 Situated in the classy Chelsea district, The Chelsea Harbour Hotel & Spa is the perfect London hotel with a pool.
Book yourself a room at one of its relaxing rooms or grab yourself a day pass for a great price and dive into its 17m indoor swimming pool with swan neck body jets.
Don't forget to try the sauna and steam rooms too, and maybe a fancy spa treatment for some much needed self-care.
Practical Tips to Consider Before Booking a London Hotel With a Swimming Pool
Check the pool opening times, there's nothing worse than thinking you're going for a dip and it turns out to be closed.
Check if the swimming pool facilities are included in your booking when booking the hotel. Also ask if towels are provided for swimming pool use, to save you lugging your own around.
Check if the pool is family friendly if you have kids or if you don't have kids and want a strictly adult swim.
London Pool Hotels: Discover More London Guides