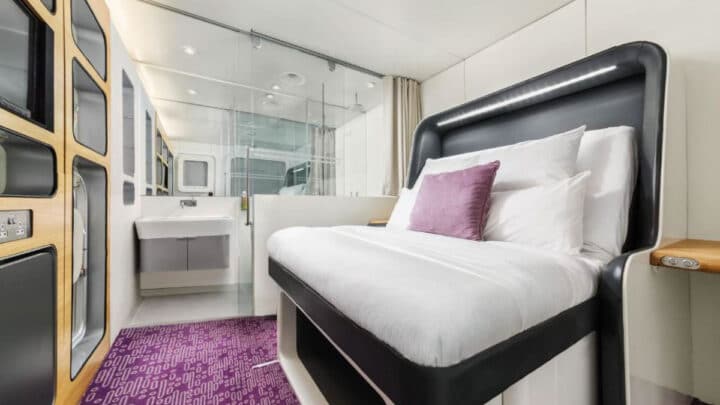 Pods, capsules, cabins, cubicles, call them what you will – it's the new way to sleep in the city. Discover the best places to lay your head with our guide to cool capsule hotels in London, with some ultra 'compact' hotel rooms added for good measure.
We've long been romanticising tiny houses and cabins. Now it's capsule pod hotels that are getting people talking. Could the cosy and cocooning feel of a small, dark, softly-lit space actually be quite inviting? Many believe it to be sleep inducing and all you need for a decent 40 winks.
Compact rooms and pods can also make staying in the city a whole lot cheaper and you'll be surprised at how luxurious they can actually feel. We dig deeper with this handy guide to sleep pods and cubicle hotels in London. Zzzzz.
Best Capsule Hotels in London: At a Glance
Best Capsule Hotels in London
St. Christopher's Inn
London Bridge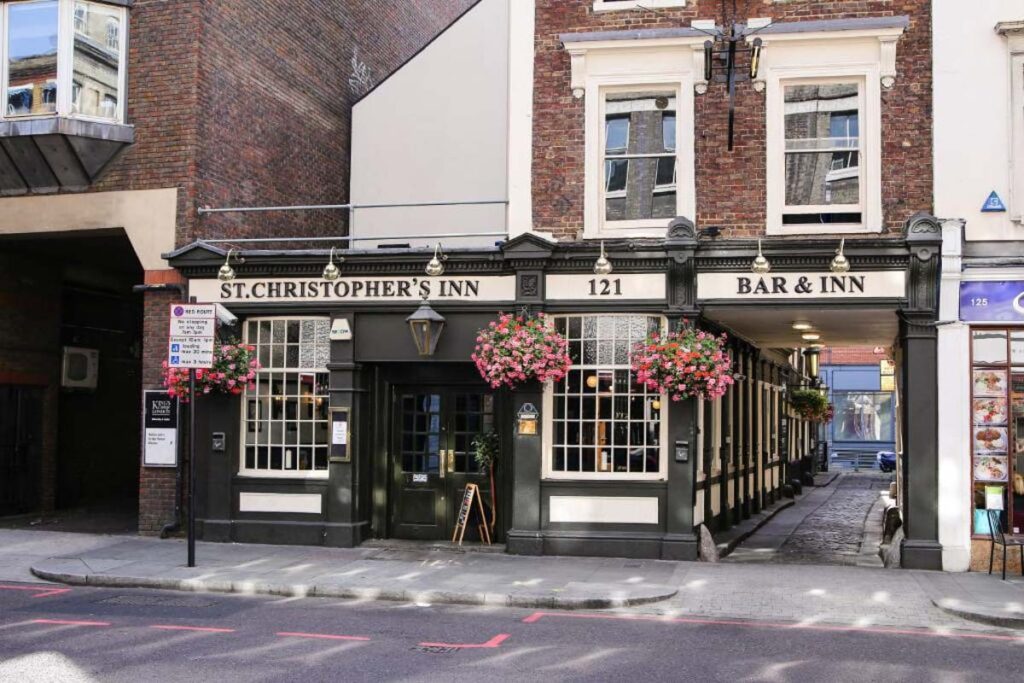 Why stay in a pod hotel in London? Well the most obvious answer is – they're cheap. The other appeal of sleeping in such a tiny space is the novelty value. It's a bit like camping with your mates, but less cold.
St Christopher's Inn owns backpacker hostels throughout Europe. In 2018, they brought a Japanese style capsule hotel to London Bridge – claiming to be the first of its kind in the UK.
There are 26 capsules in one room. Each has a bed, charging point, a mood lighting wheel with every colour imaginable, a curtain for privacy and enough space to get dressed. They're also fitted with a special ventilation system.
With its bar on the ground floor, it's a bit of a party hostel, but at around £20-30 per night, it's ideal for a cheap stay in the city.
Pop & Rest
Old Street + Holborn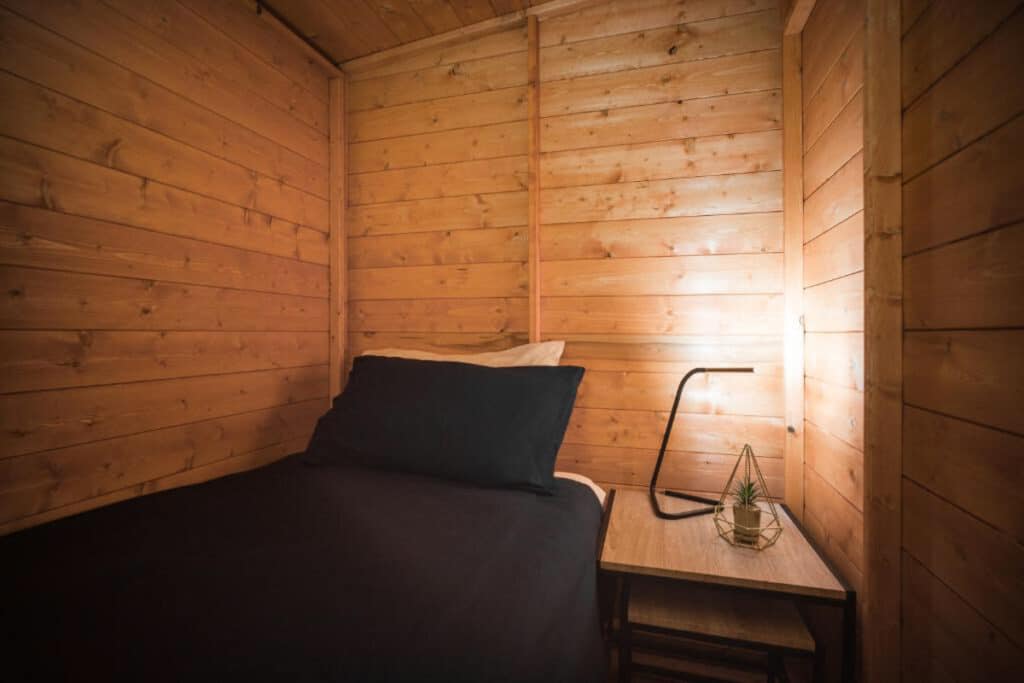 Pop & Rest are what they say on the tin. Falling asleep at your desk? Pop in for a 30 mins to 4 hour nap in one of their soundproofed cubicles with beds. You'll wake up refreshed and head back to your afternoon meeting with a spring in your step.
Founders Mauricio Villamizar and Yoann Demont brought their sleep pods to London with the intention of creating a space for day naps and meditation. The startup describes themselves as being at the intersection of smart hospitality and wellbeing, whilst also aiming to revolutionise under-utilised spaces.
Hire the space at £8-9 per 30 mins for meditation, work or a nap. Although the pod hotels are geared towards day use, it can be hired for overnight stays too. Check in from 4pm and check out by 9am, but bear in mind there are no shower facilities.
Yotelair
Gatwick Airport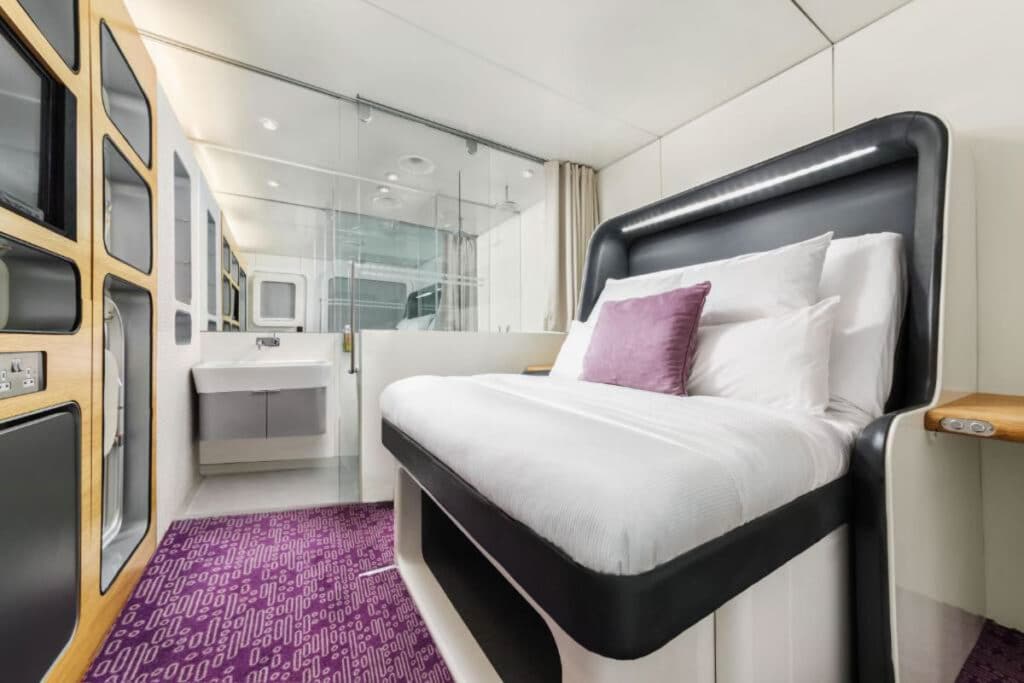 The Yotel chain was started by Simon Woodroffe, the man behind Yo! Sushi. A subdivision of the chain is Yotelair.
At Gatwick, Yotel is accessed via the South Terminal Arrivals hall and the whole thing is designed as if you were flying first class. Think lots of curves and elements shaped like aeroplane windows, a flat screen tv, fold out gadgets, room service and low-level lighting.
There's a 24 hour check in desk and rooms can be booked by the hour (4 hours minimum) so it's perfect for crashing before or after a flight.
And if you take a liking to this capsule hotel in London Gatwick they have them at Istanbul, Amsterdam, Paris and Singapore airports too.
Yotel London
Clerkenwell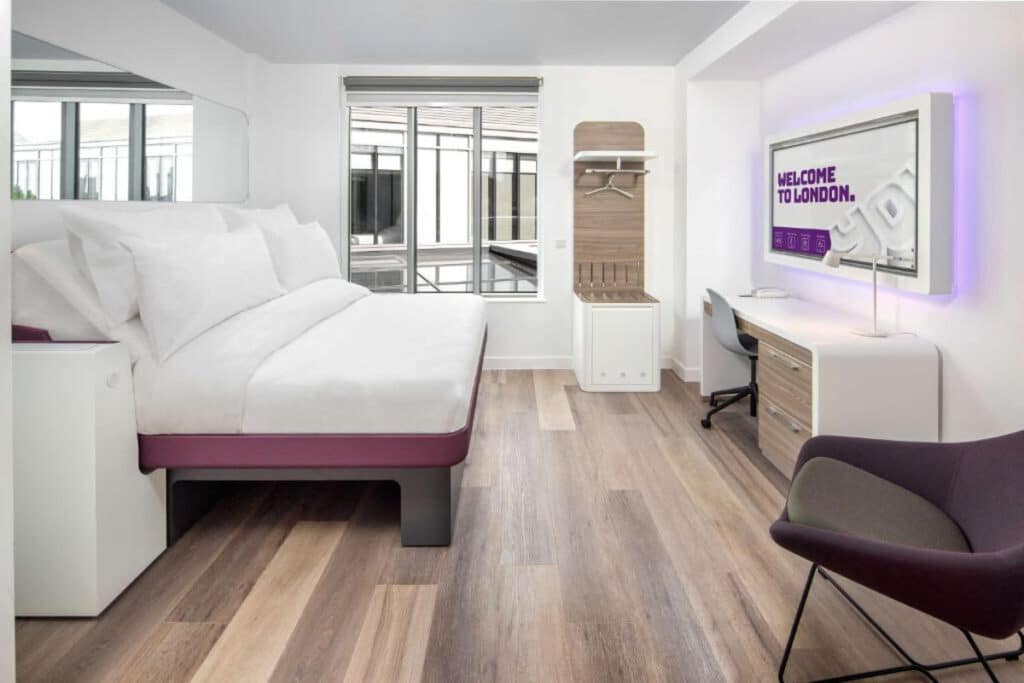 Clerkenwell's Yotel opened in 2020 and it offers the same clean, white space age rooms as Yotelair but with a slightly different feel.
The 212 rooms are actually referred to as 'cabins' and there are seven cabin types ranging from the Queens Cabin at 10m² to a 'VIP Suite' at 37 m² which sleeps four. You can get a room here for as little as £85 a night.
Unlike Yotelair, cabins have windows (some of which have pretty great views), but they are similarly designed around compact living – beds turn into sofas at the click of a button. The hotel also has meeting spaces, a gym and a very stylish all day bar and restaurant.
Bloc Hotel
London Gatwick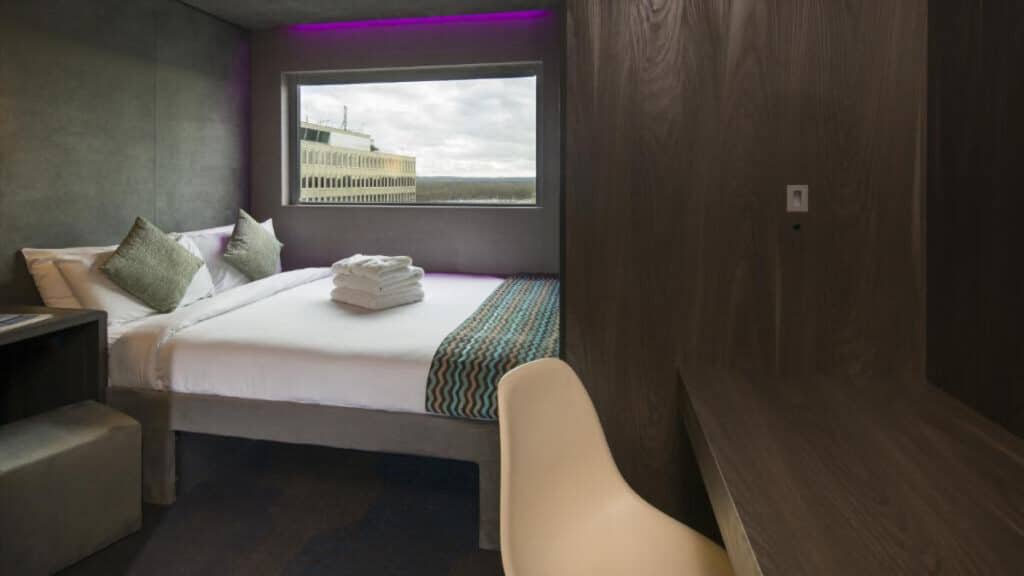 The Sleep Rooms at Bloc Hotel London Gatwick are described as 'no windows, no-nonsense, just everything you need for a great sleep.'
Despite being just 9.5m², the Sleep Rooms have bathrooms with monsoon showers, a king size bed, luxury linens and ambient lighting all geared towards a cocooning sleep space. Exactly what you want after an exhausting flight at some ungodly hour.
If you do want a little bit of natural light in your 'cabin' upgrade to a Vista room, the same size but with a window. The rooms get bigger and more luxurious as you go up the scale, culminating in the 'Runway Suite' which is basically a whole penthouse apartment with panoramic views of the runway.
The Corner
London City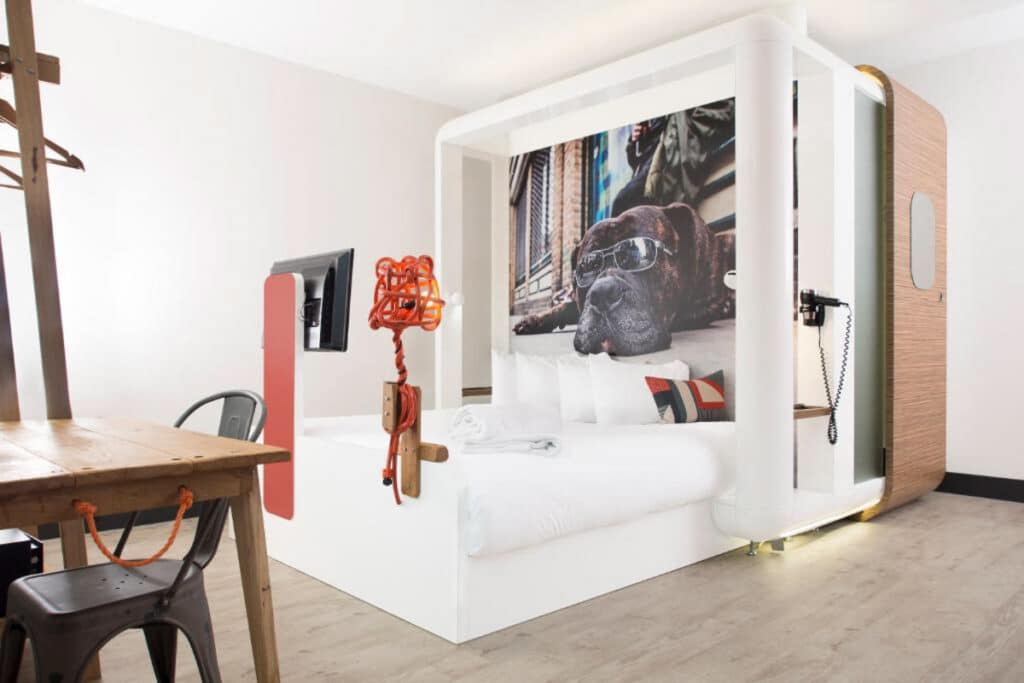 If you're going to sleep in a room with no windows, it's got to have added x-factor – interesting gadgets, great design, cool lighting. That's what you get with the Snug Room at The Corner Hotel.
The cosy rotund room (painted red) boasts an ensuite with rainshower, TV, superking Naturalmat mattress, quirky lighting and various design features that will take you by surprise.
The hotel also has spaces to work and a food and drink area. It's close to Brick Lane so it's a perfect place to crash after your escapades around East London.
Aerotel
London Heathrow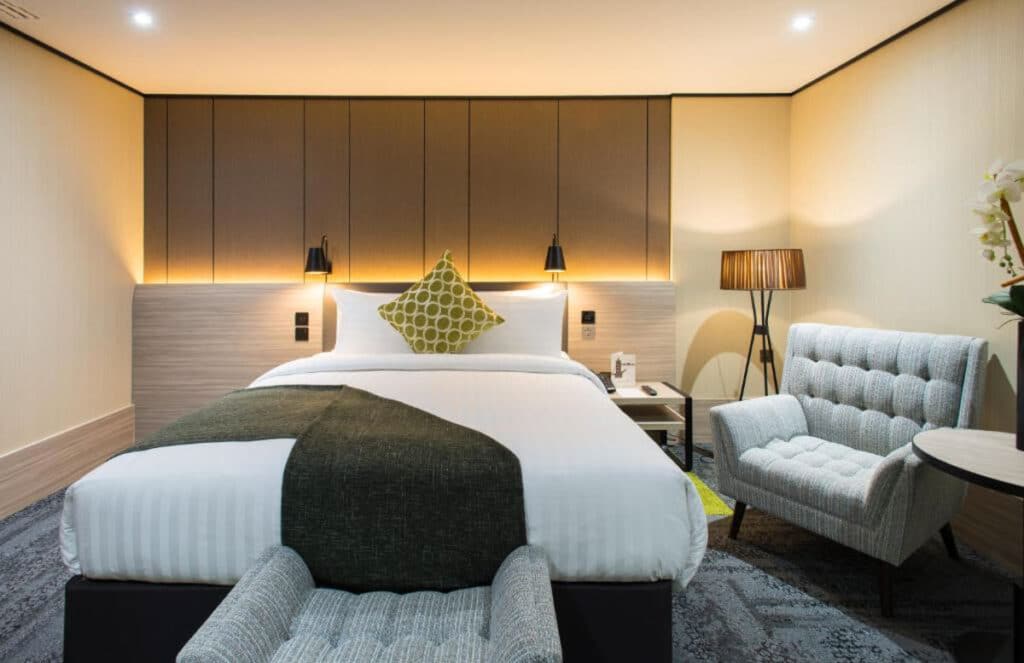 There are times when you would be willing to pay all the money you have in the bank, just to be able to lie down and sleep.
You've just stepped off a long haul flight, freezing because you're still wearing your shorts and flip flops and now you have to somehow get back to your house.
Aerotel might be a little luxury worth paying for – a capsule hotel at London Heathrow, specifically Terminal 3 Arrivals, with very easy access to all three terminals.
They call themselves an airport transit hotel and they really just cater for sleep. Book a room by the hour here for a quick pre or post flight stay (24 hours max). There's the Solo Plus 10m², Double Plus 14m² or Family Room 21m², all of which have their own private bathrooms.
Z Hotel
Shoreditch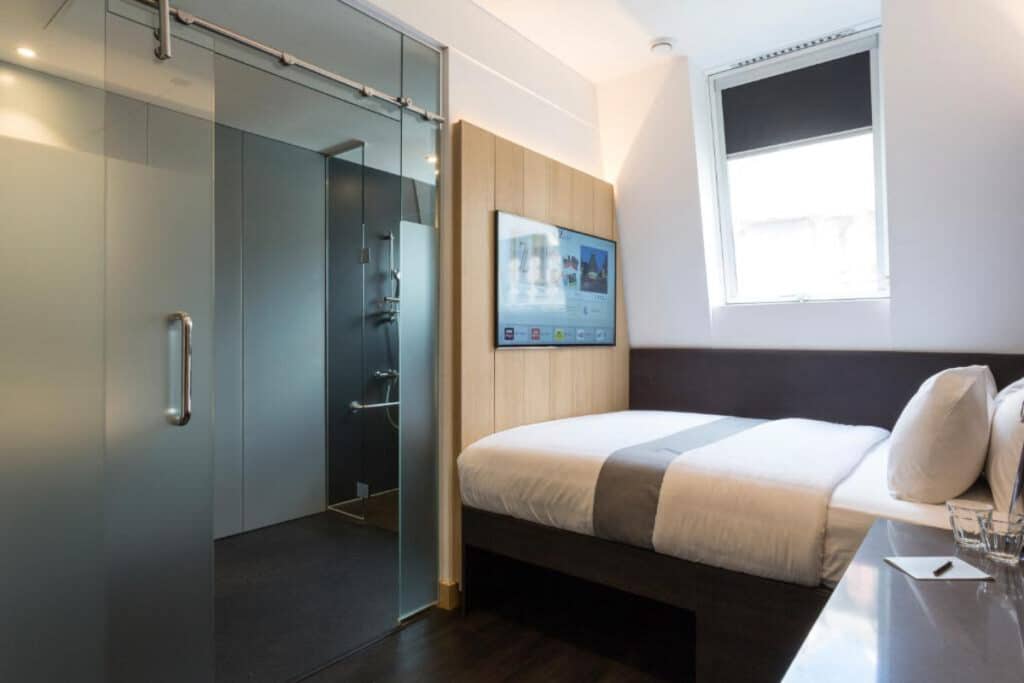 Z Hotel promises compact luxury, reducing things down to the bare essentials. The hotel cites the benefits of having 'no curtains to draw' for the Z Inside Double (10-12m²) and Z Inside Queen rooms (13-14m²). You can get rooms of the same size with windows should you want one.
Starting at £50 a night, it's pretty decent value for Shoreditch accommodation. All come with ensuite bathrooms, a 40inch TV, Sky Movies and toiletries too.
Room with a view or just a place to lay your head? Chances are you've come to Shoreditch to see Shoreditch, so opting for a compact but comfy room is definitely one way to save the pennies.
EasyHotel
London-wide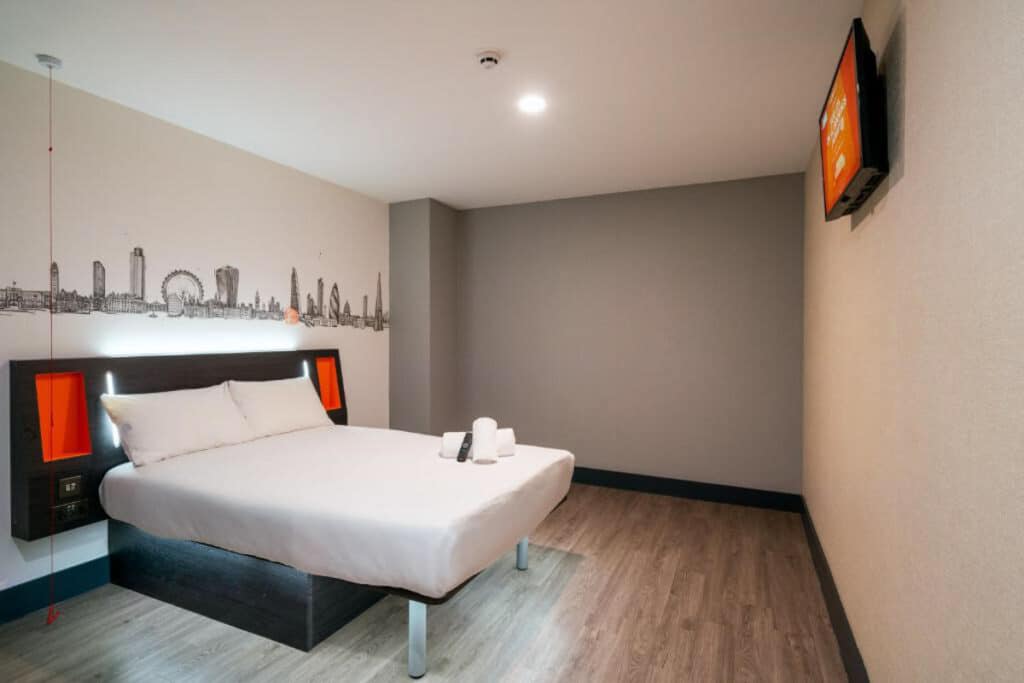 As you would expect from the EasyJet giants, you can book a hotel room at EasyHotel that's cheap as chips (at least in comparison to your average London hotel prices).
Hotels can be found in Croydon, Shoreditch, Heathrow, Luton, Paddington, South Kensington and Victoria. They don't all offer the same types of rooms at all hotels but you can certainly guarantee a budget stay.
At the Shoreditch hotel, a double room with an ensuite bathroom is 10-14m², with or without a window and costs around £60-70. They also offer wheelchair accessible rooms.
At the South Kensington branch they have teeny weeny double rooms that are 6-9m² (with or without window). These have an ensuite shower room with WC and you can get a room for around £30. Bear in mind you have to pay a little bit extra to use the TV and wifi.
Point A Hotels
London-wide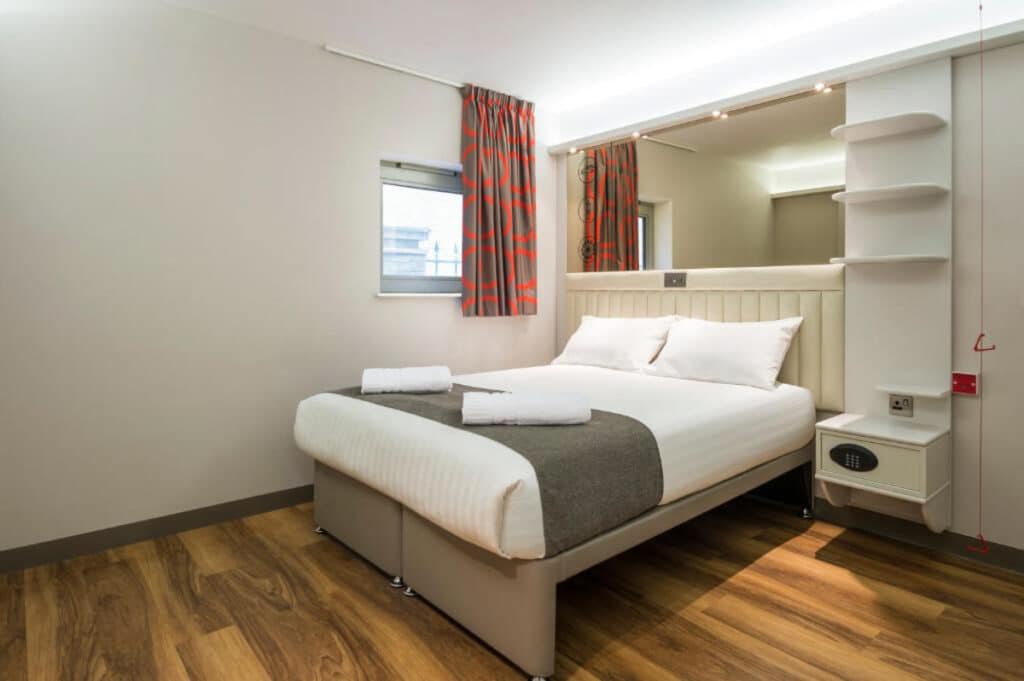 Point A call themselves 'budget boutique hotels' and you can find them in Kings Cross, Liverpool Street, Shoreditch, Canary Wharf, Westminster, Paddington and Kensington Olympia.
A Cosy Double or a Cosy Twin without a window starts at £67.50, although rooms with windows also go pretty cheap, starting at £76.50.
Rooms are 8-12m² and all have an ensuite with power shower, Hypnos beds, underbed storage, drop down desk, hanging space for clothes, Smart TV, hairdryer, toiletries. They also serve breakfast.
Worth nothing, if you become a member you get access to a number of perks such as 20% off bookings and discounts at local gyms, attractions and restaurants.
Assembly Hotel
Leicester Square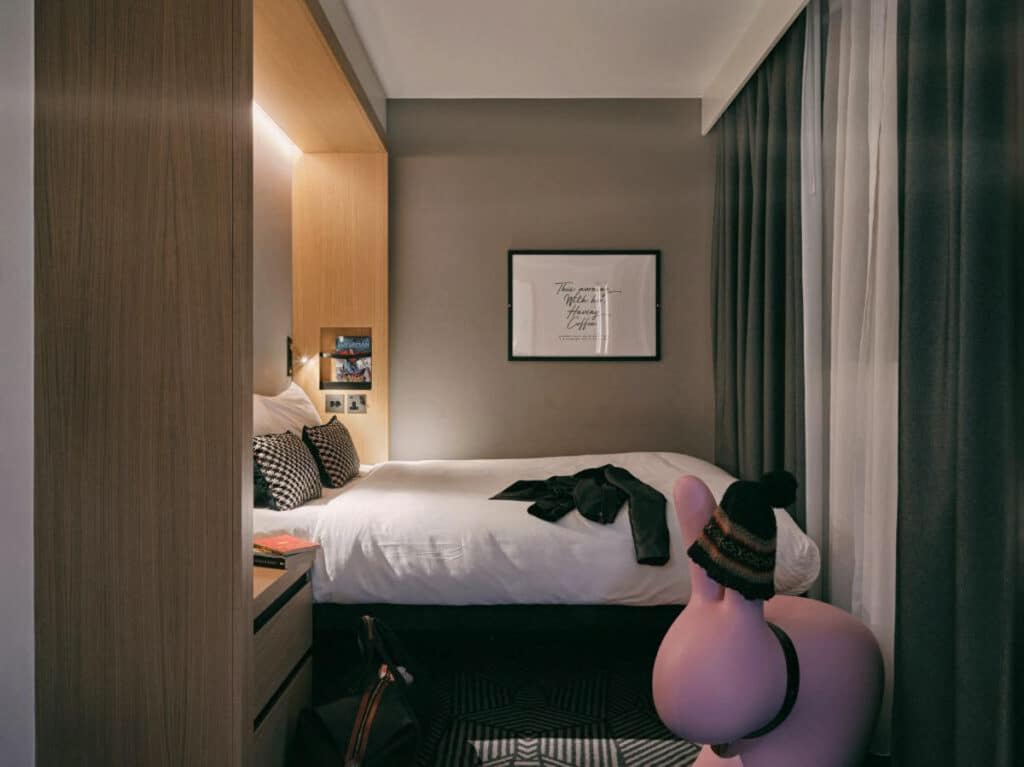 2 mins from Trafalgar Square is the Assembly Hotel. When you're this close to the action, it's no surprise they highlight just how soundproofed the rooms are here.
The Snug Rooms and Hide Rooms at Assembly are described as 'compact, cosy and soundproof'. In just 10m² they manage to fit an ensuite with power shower, double bed, room for hanging clothes. Prices start at £119 per night.
The trendy hotel design is inspired by British fashion designers Alexander McQueen, Stella McCartney and Gareth Pugh, who all studied at nearby Central Saint Martins.
Be sure to relax and enjoy the panoramic views from The Garden Room, the rooftop bar and restaurant on the 10th floor.
Hub by Premier Inn
London-wide
For budget cubicle hotels in London, you'll find some surprisingly stylish but compact rooms at Hub by Premier Inn. These are conveniently located in central locations such as Kings Cross, Covent Garden, Bank, Tower Bridge, Spitalfields, Shoreditch and Soho.
Everything is high-tech here from the automatic check in/check out to the touchscreen room controls behind your pillow that allow you to control lighting and temperature.
They offer three room types – standard room, bigger room and accessible. Additional features include a Luxury Hypnos bed, monsoon shower, underbed storage, smart TV. There's a food and drink area for breakfast and dinner too.
Generator London
Bloomsbury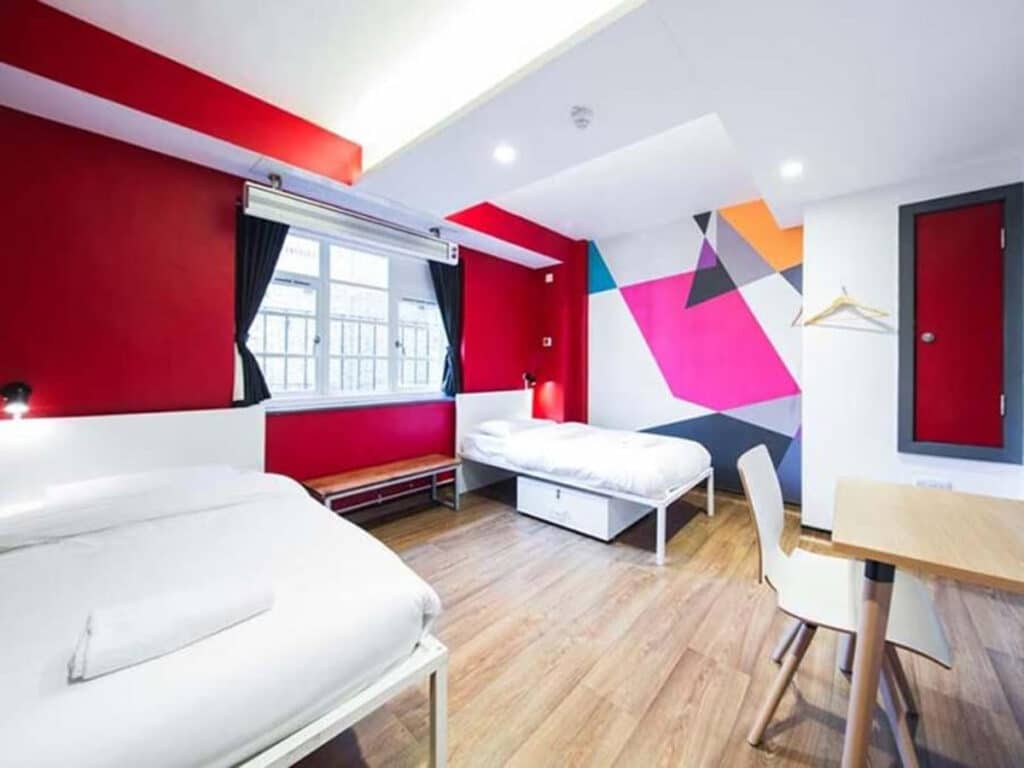 The Generator is a hostel. It's got hostel vibes. Downstairs you'll find the lobby covered in pictures of London landmarks, dotted with pool tables and other activities, options for food and drinks – the works.
Upstairs you'll have options for dorm bunking if you want it, but you're here for capsule rooms so we'll talk about those instead. You can snag yourself a nice private double room at The Generator for around £75 a night.
It's by no means the most comfortable place to stay in this city, but it does come with it's own shower and bathroom which is a major plus, and of course it will be clean, tidy and all yours. They're also decorated in funky ways – perfect if you're after a splash of character.
Zedwell
Piccadilly Circus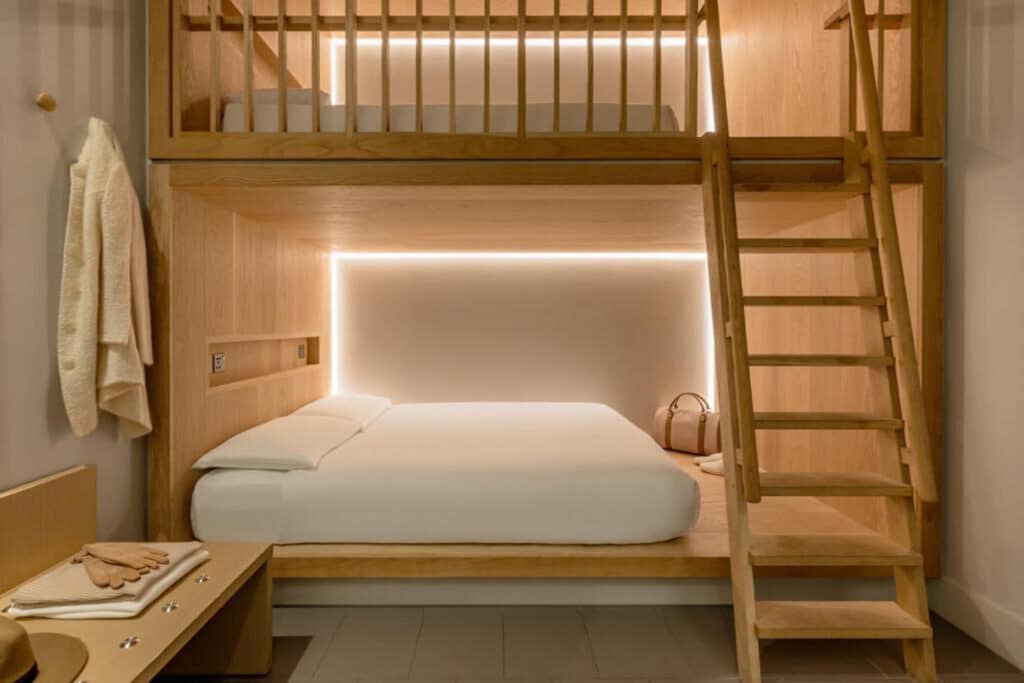 Staying in a capsule hotel doesn't mean you have to be roughing it. In fact some of them can be quite nice. Zedwell, for example, seems to take after the capsule hotel's Japanese origins in its quest for comfort and style.
A quick click through some of their images shows rooms that are decked out with stylish underglow lighting and house furniture that would look right at home in a Muji store.
Drawbacks? Well many of them don't have windows so you'll have to make your peace with that. The price is also a little higher for Zedwell's rooms than it would be at most of the other capsule hotels in our guide.
Though admittedly that price jump does come with some major comforts, those very slick rooms and access to an on-site fitness centre.
Practical Tips for Booking Capsule Hotels in London
Get an idea of the culture of the place before booking. Some capsule hotels pride themselves on being party hostels whereas others offer nothing but a great sleep with soundproofing a top priority.
Don't be deceived by clever photography that makes a 6m² bedroom actually look quite big. Some of these rooms really are VERY small.
Be aware that there may be slight differences between the different hotels under one chain (whether or not they offer accessible rooms for example).
If your room is super tiny, you can always take advantage of bad drop shops around the city to store the bulk of your luggage. These are the types of places that hold suitcases for you while you go off and have fun. They're pretty common, just ask at the hotel desk and they should be able to direct you to one nearby.