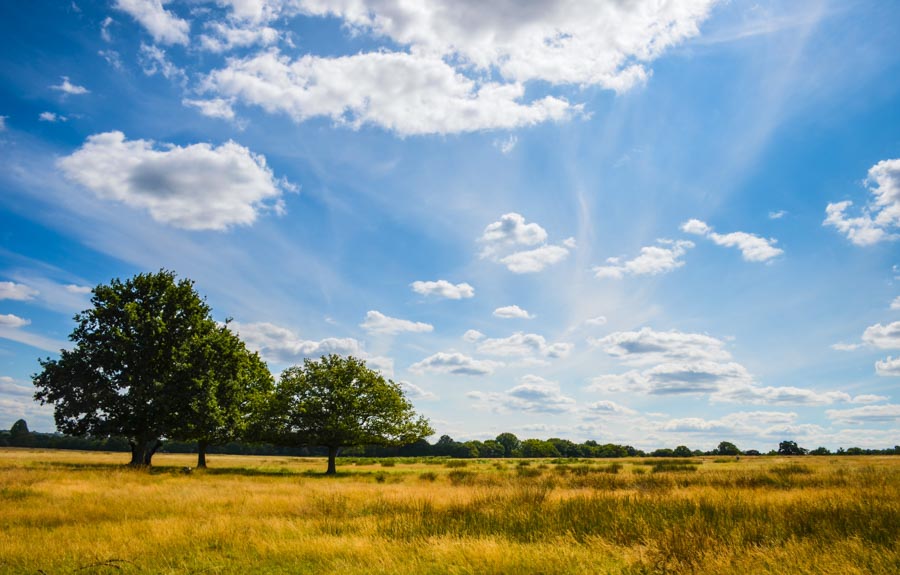 When the weekend comes around and you need a bit of inspiration, look no further – these are the best things to do on Saturdays in London.
Saturdays are, without a doubt, the best day to explore London. The city is bustling, with the perfect mix of locals and tourists all excited to begin their weekend.
But you don't just want any old Saturday in London, do you?
Answer = no.
You're after a Saturday that's filled with adventure and fun things to do. Don't worry – I've got you covered. Sit back and gather inspiration for the perfect Saturday in London with this insider's guide.
22 of the Best Activities for a Saturday in London
Experience Borough Market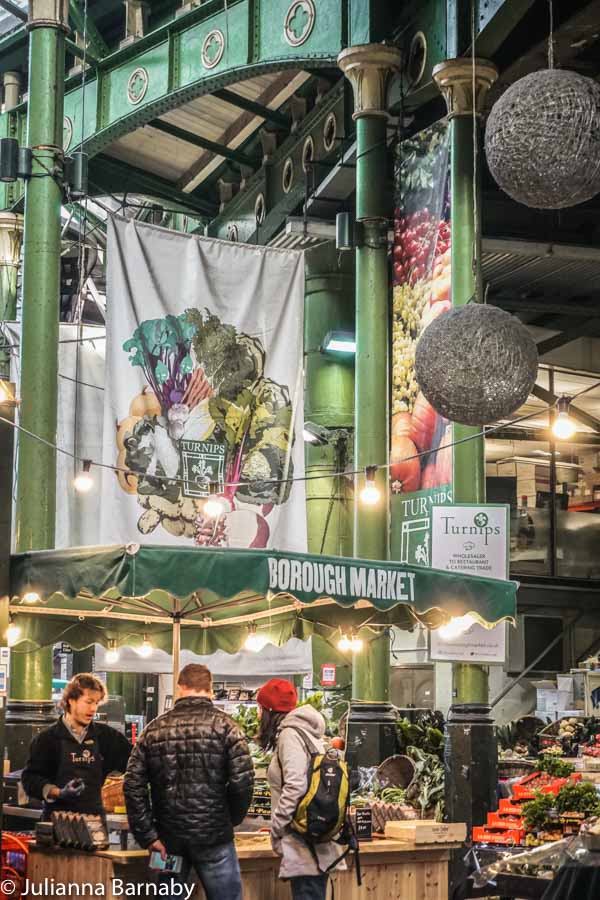 Borough Market is perhaps the most famous food market in the entire city. And for a good reason.
The delights on offer include freshly baked bread, crisp oysters and perfect pastries. Incredible wines can also be picked up, either by the glass to enjoy immediately or by the bottle to savour at home.
Borough Market is bursting with energy and one of the most popular things to do in London on Saturday. So, if you prefer to avoid crowds, aim to arrive by 9 am when the doors open.
Both London Bridge and Southwark stations are very close to Borough Market, making it easily accessible regardless of where in the city you are.
Saturday afternoons are the busiest time in the week, but an excellent opportunity to get to know the eclectic mix of people who make London their home.
Explore Richmond Park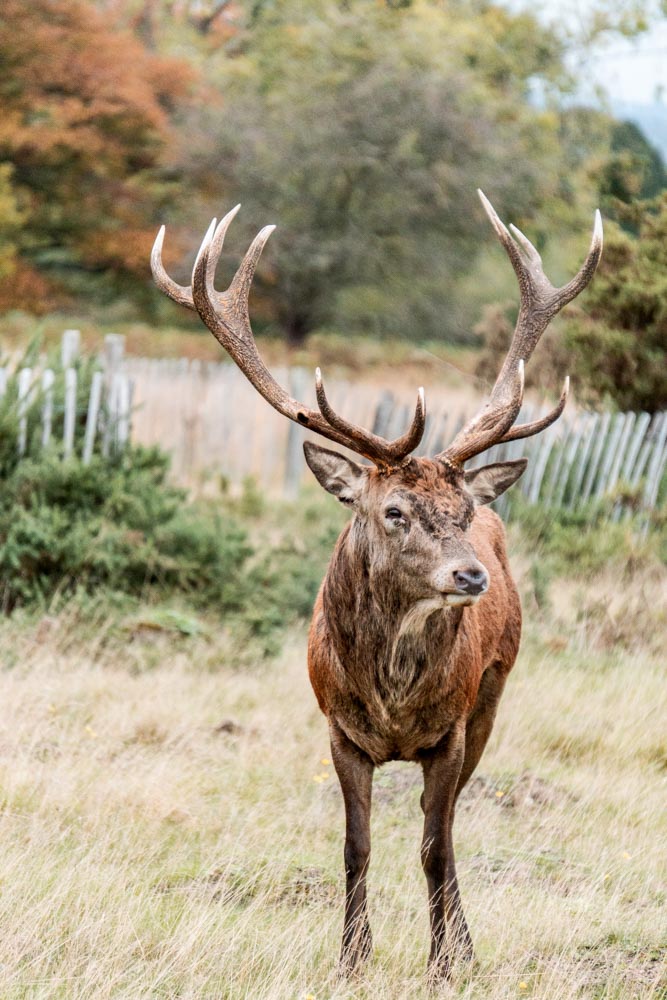 Richmond Park is the largest royal park in London, covering 2500 acres. The park is the perfect activity for a Saturday afternoon, especially for those craving a slice of tranquillity.
The park has plenty of great tracks, perfect for walking, running and cycling.
For those who prefer to explore on two wheels, bike tours are a regular occurrence around the park. These are a great way to see the park, and a wonderful way to make new friends in the city. Additionally, Richmond Park is one of the best parks in London for horse riding.
However, the highlight of the park is the 630 deer who live there. These majestic creatures roam freely and are a true sight to behold. Just be sure to admire from a distance as they can become aggressive, especially when their young are nearby.
Go for a Boozy Brunch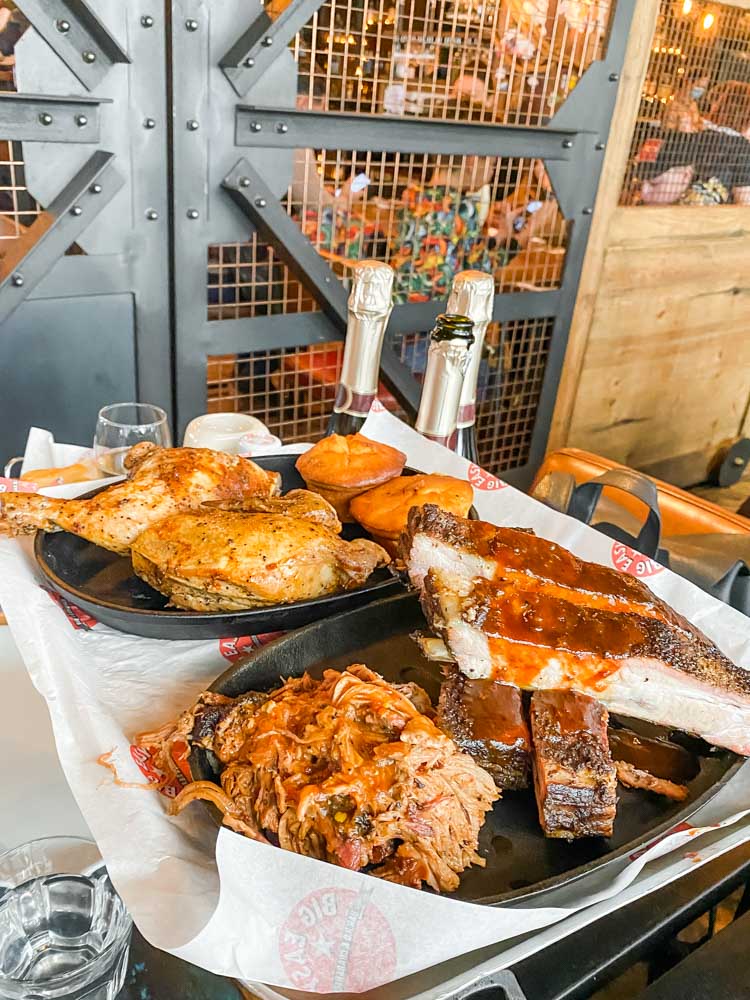 Brunch at Big Easy
Bottomless brunches are extremely popular across London, and a Saturday is where they shine.
There's more brunch options to choose from than is feasible to get to in one lifetime, or at least it can feel that way. Narrow down what kind of brunch you'd like, classy white table cloth dining with free-flow champagne, or drag queens serenading you as you chuck back unlimited cosmos, or anything in between. We wrote a handy guide to help you out.
For those looking for something wild, try bottomless brunch at Ballie Ballerson. Not only does this venue offer unlimited pizza and prosecco, but access to their onsite, pink ball pit.
Hit Up The Sky Garden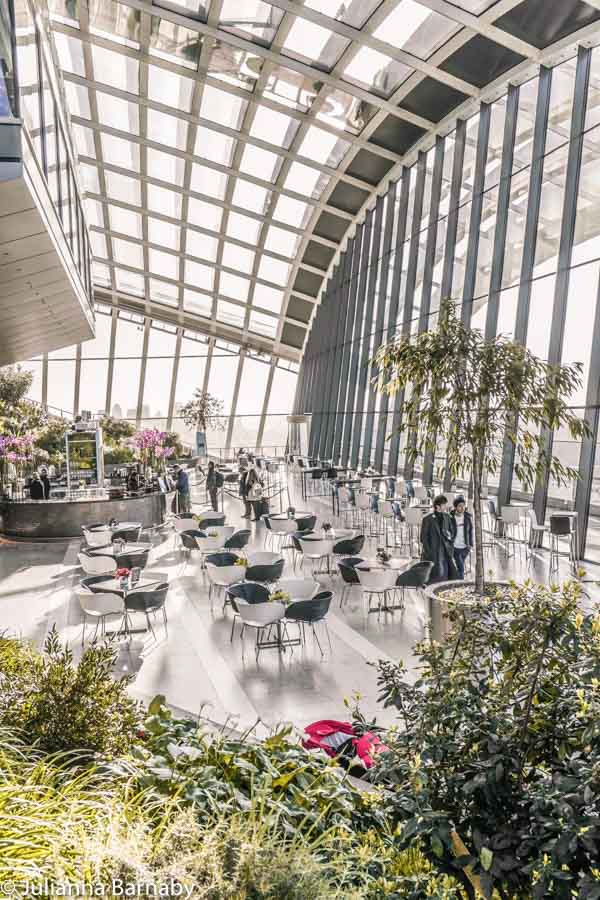 The Sky Garden opened in 2015 and quickly became one of London's top attractions. With incredible 360-degree views over the city, it is no surprise visitors flock in their thousands every week.
The sky garden is a true tropical oasis that immediately transports you out of the city and into a rainforest. The range of plants here is truly remarkable, and combined with the view, there is no better way to spend a Saturday in London.
Amazingly, the Sky Garden is completely free! Simply book your tickets online, turn up, and enjoy this incredible angle of the city.
Also, there is no pressure to spend when you are inside. There are refreshments available, but the ethos is to encourage customers they are more than welcome to have a completely free visit should they choose.
Sip Coffee in Shoreditch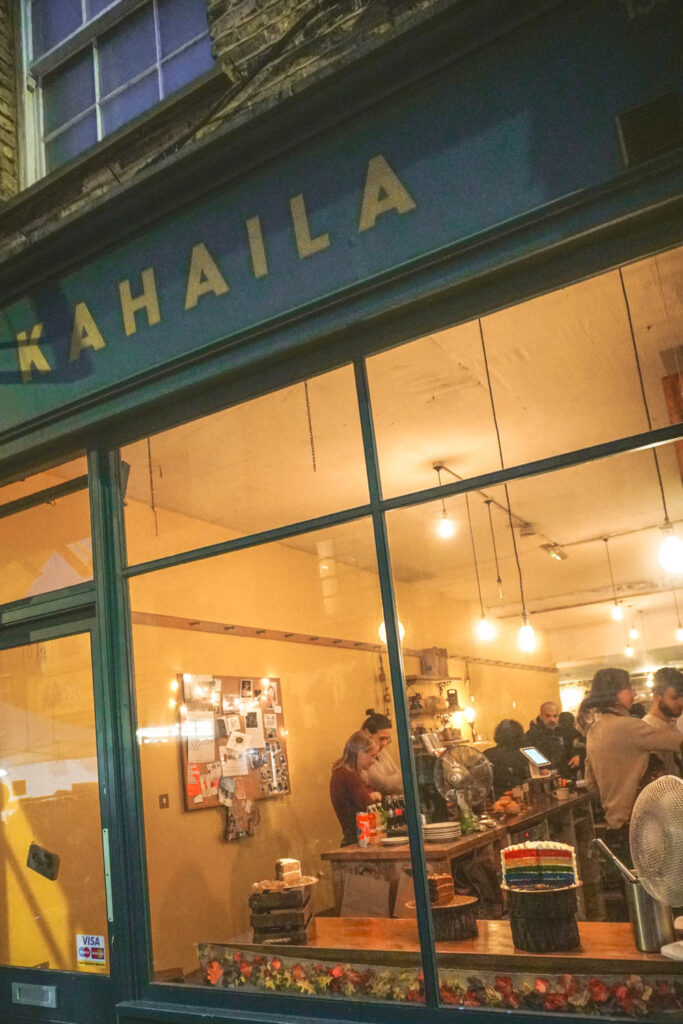 clothes is your idea of a heavenly Saturday, then Shoreditch is the place for you.
There are countless incredible independent coffee shops in Shoreditch. However, some of the most popular include Kahaila and Trade Coffee.
Find your new favourite spot in our Shoreditch coffee guide
See London from Above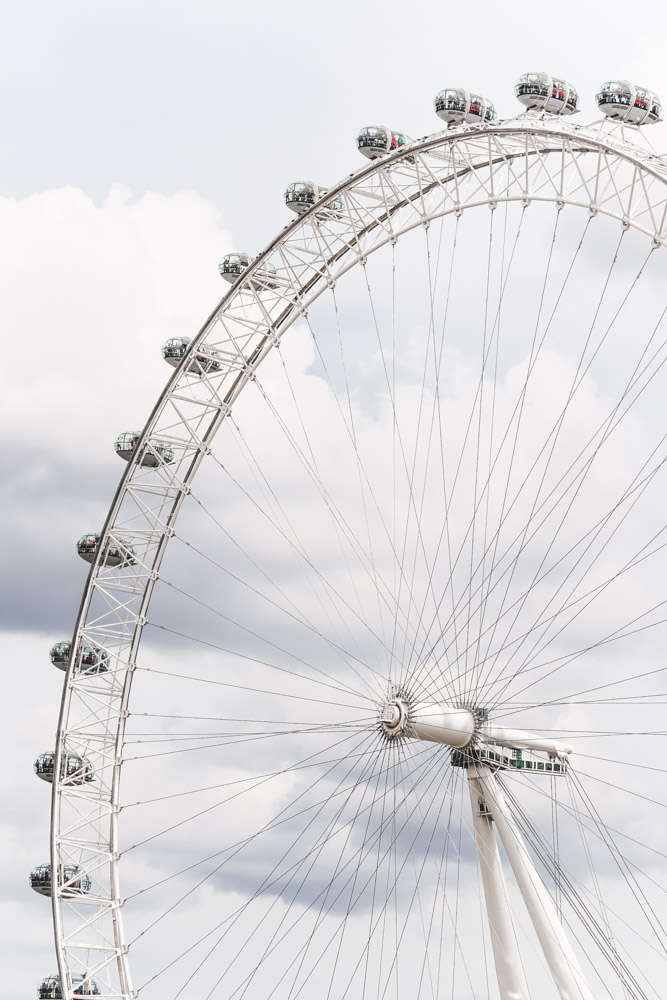 No Saturday in London is complete without a trip on the London Eye. A ticket entitles each guest to 30 minutes of the best views in the entire city.
For an alternative view, take the Emirates cable car from Greenwich Peninsula to the Royal Docks. A cable car across the city has to be at the top of most lists for fun things to do in London on Saturday.
The cable car is open until 10 pm Sunday – Thursday and 11 pm Friday and Saturday. It offers beautiful views of the London skyline and an extremely convenient way to cross the water.
A Day Trip Out of London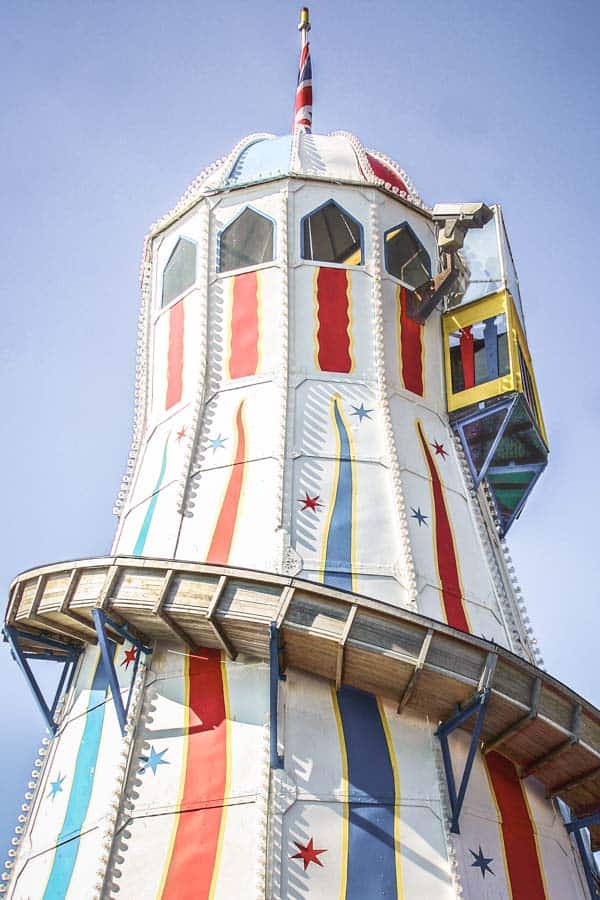 A Saturday provides the perfect opportunity for a day trip for those who spend heaps of time in the city.
Saturdays in London can become overwhelmingly busy, and the excellent transport connections make it the perfect location for those craving a day of peace and serenity.
Whitstable provides the perfect slice of the seaside for those looking for a beach getaway and is just one hour ten minutes by train from St Pancras. Alternatively, head south to Brighton, which takes around one and a half hours on the train.
There is a surprising amount of greenery for those who love hiking and camping, within a short distance from London city centre. The Surrey Hills are a perfect example, sitting just over an hour away from central London.
Shop Until You Drop
London is the shopping capital of the world. Oxford Street alone has enough shops to spend an entire Saturday enjoying your hard-earned money.
For those who prefer something a little more alternative, consider Saturday markets like Brixton Market or Shoreditch's vintage shops to grab yourself a bargain.
Sunset At Primrose Hill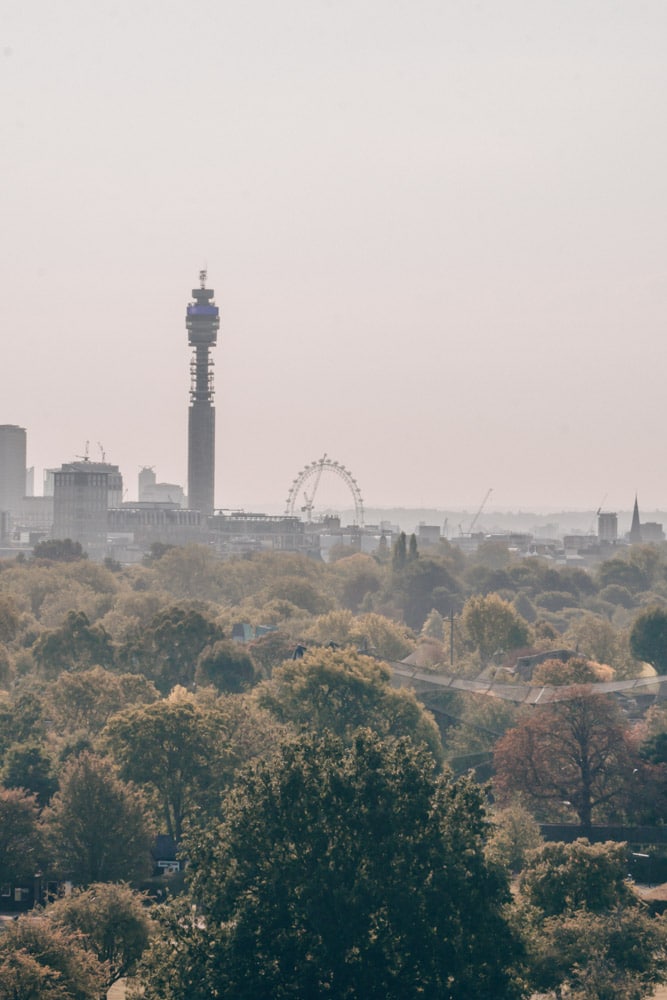 Primrose Hill is the best place in north London to catch a beautiful sunset. Located close to Regent's Park, the area becomes filled with tourists and locals alike every evening, watching the crimson sky fade away.
Its proximity to the city makes Primrose Hill a firm favourite for a Saturday sunset spot. There are many amazing coffee shops and pubs in the area.
Visit Colourful Notting Hill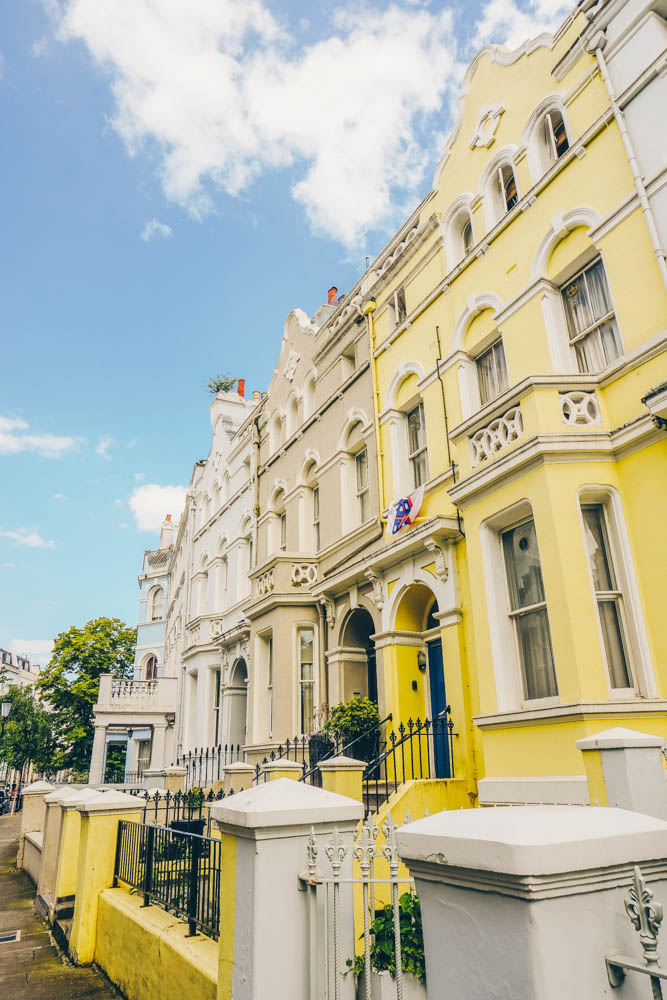 For any keen Instagrammer, Notting Hill is the place to beat.
The tall, pastel houses line the streets with their doors and windows covered in flower displays. The retro cars sit curbside, and tourists flock to take photos and admire their beauty.
Aside from the beautiful aesthetic of the area, Notting Hill is home to some fantastic bars and restaurants. Some of the most popular places to grab a drink include The Ladbroke Arms and The Churchill Arms. For an amazing brunch, try Farm Girl or Golborne Deli.
A Saturday is the best time to visit Portobello Market, which sells an incredible mix of food, clothes, and antiques.
Enjoy Nature at Kew Gardens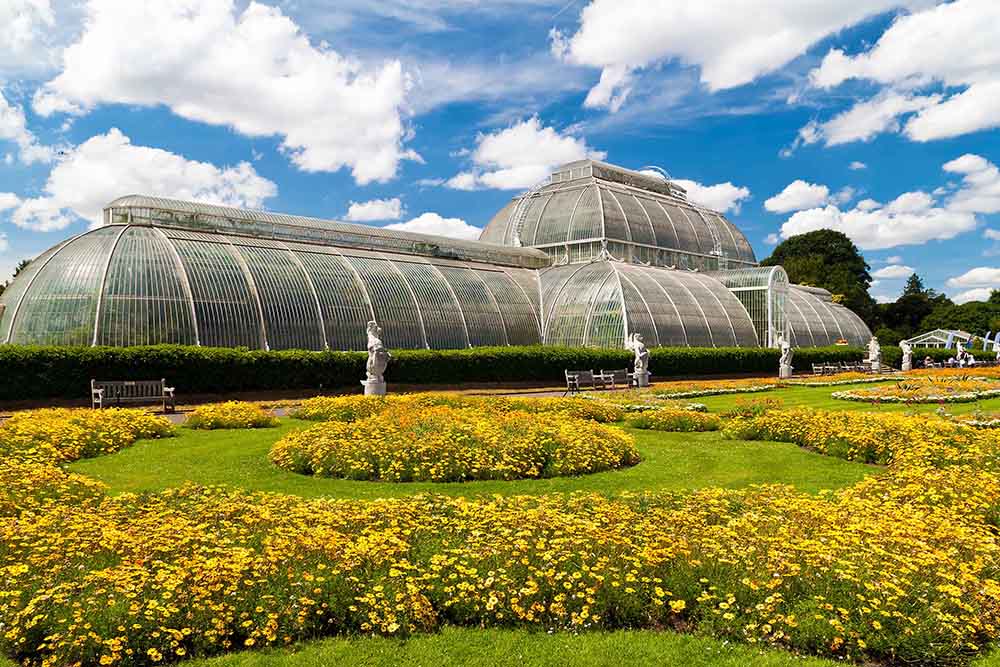 Kew Gardens is more than just a garden. It is over 300 acres of the finest plant and flower displays on the planet. It is London's largest UNESCO world heritage site and the most diverse collection of living plants anywhere in the world.
Kew Gardens is an excellent way to spend a Saturday in London, especially for those who enjoy nature. It is a little way out of the city but well worth the effort. Kew Bridge Rail Station can be accessed directly from Waterloo Station, and the journey takes around half an hour. From there, it is just a ten-minute walk to the gardens.
The gardens also offer free walking tours, perfect for those who want to learn more about life here.
Outdoor Swimming
When looking for things to do in London next Saturday, swimming might not be the first thing that springs to mind.
However, Londoners love outdoor swimming.
Rain or shine, you will see the many outdoor lidos packed with people enjoying the water.
There are lidos all over the city, including in Hampton, London fields and Brockwell. Alternatively, head south to enjoy London's first purpose-built swimming lake.
Try out a New Restaurant or Bar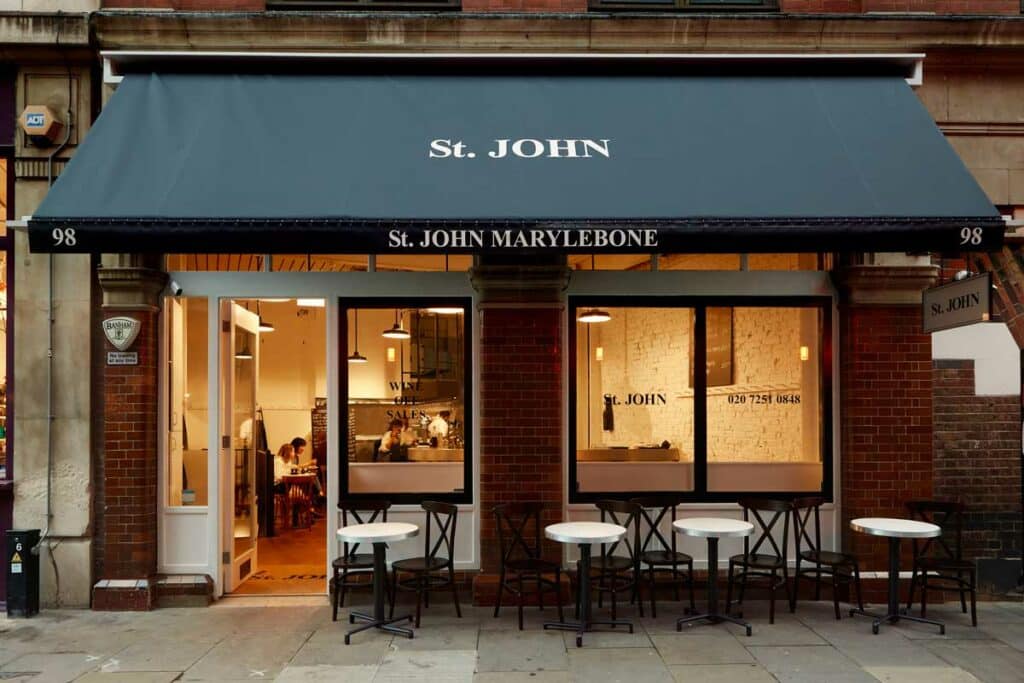 London has a near-fear-inducing amount of hot new restaurants and bars each month. If you want to stay ahead of the curve on this one it would be basically a full time job, that doesn't mean you shouldn't give it your best shot.
Check out our guides to the newest bars and restaurants for what's opening in London this month. There are some choices here that're sure to impress.
Scope Out Some Art (For Free!)
Undoubtedly, London is one of the most expensive cities in the world. However, there are a surprising number of free attractions, especially where art and history are concerned.
Take the Tate Modern for example. Britain's national museum of modern art is completely free to those who enter, providing incredible pieces from the likes of Picasso and Dali. The gallery has now been open for 21 years and has attracted a whopping 40 million visitors in that time. Situated in a former power station, even the building itself is a sight to behold.
Other favourites include Pace and Whitechapel Gallery.
Crawl the Waterside Drinking Scene at Iconic London Pubs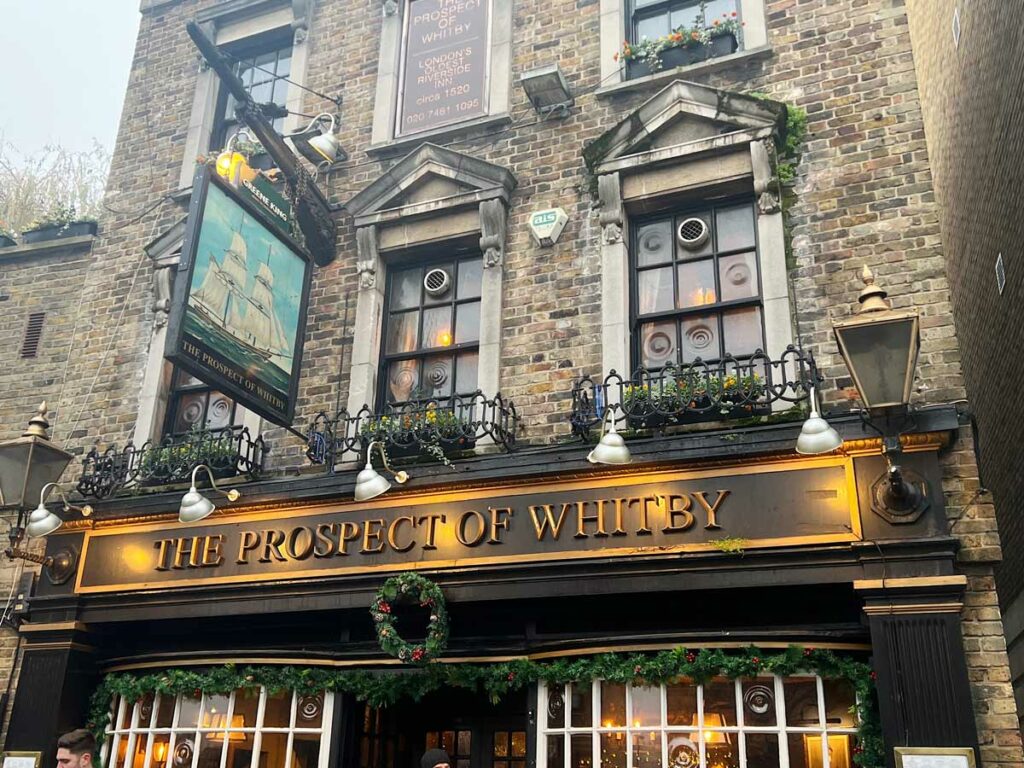 London has a lot of history. A LOT of it. Some are preserved in the great educational institutions like London's museums, other parts are preserved in the city's great drinking establishments. No where is that truer than in Wapping, where sailors have been docking ships to get drunk for milenia.
There are still the pubs to prove it. From the Prospect of Whitby that sits by the dock where they used to hang pirates, to the Captain Kidd, named after one of the very pirates they hung, you'll not be able to find a pub in Wapping without a good bit of history.
Visit East London's Broadway Market
Broadway Market truly encompasses East London. It is a bustling hive of activity selling everything from fresh produce to handmade ornaments.
The street is lined with fantastic places to eat and incredible coffee shops. The beauty of Broadway Market is that it sits right beside London Fields. So, you can purchase all your favourite foods and enjoy picnic-style in the park.
If you decide to stay for an extra night, the incredible Columbia Road Flower Market opens every Sunday morning, just a short walk from here.
Play a Round of Golf
Nothing says Saturday like a cool breeze on your face as you tee off. Though London's golf courses require a bit of travelling to get too, there's plenty of options in the city to exercise your swing. How about Greenwich Peninsula Golf Driving Range where you can even order food and beer to your table while you play.
Then of course there's the option of an afternoon of crazy golf at one of London's many funky, themed courses, the option of booze on the cards if you want it too. Are we noticing a theme here?
Catch A Show in The West End
2021 is seeing the return of the West End show, and visitors could not be happier about it.
There are few greater things to do in London on a Saturday night than see a West End show.
Whilst some shows dip in, and out of the magical west end, many have been here for years. Les Misérables, The Lion King, and Wicked are all popular year-round. Saturday is a great time to head to a musical, as matinee tickets can often be picked up at a fraction of the regular price.
Afternoon Tea at The Ritz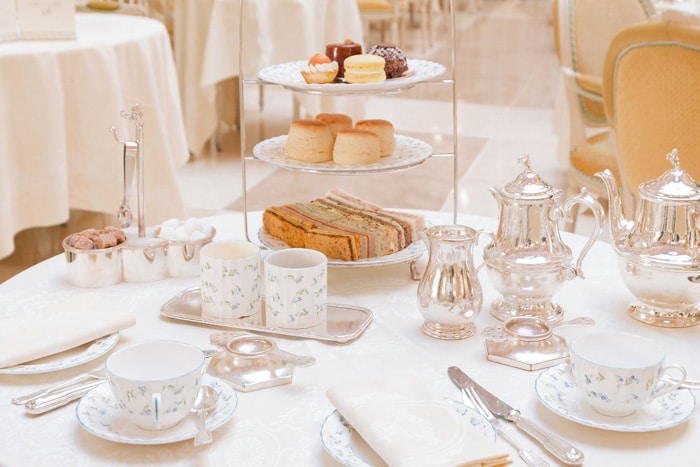 The Ritz is one of the most quintessentially British establishments that London has to offer. For those who love a sophisticated, elegant afternoon, the Ritz has to be one of the best things to do in London on a Saturday.
The champagne afternoon tea is an exceptionally luxurious experience. Finger sandwiches and delicate, freshly baked cakes are served to every guest alongside a glass of champagne. Moreover, no British afternoon tea would be complete without a warm scone, fresh clotted cream and jam.
See our guide on where to find the best afternoon tea in London.
See the City on Two Wheels
A Saturday cycling around London is the best way to get a taste of what the city has to offer.
The easiest way to rent a bike in the city is simply to use the Santander Cycles scheme. Download the app, link your bank account, and use the app to unlock a bike from one of the 750 docking stations throughout London.
It is also an incredibly cheap way to see the city, with every 30 minutes costing £2, but a maximum daily cap of £10.
You can also take advantage of Lime bikes. Those are the white and green ones that you'll see knocking about. Access them by downloading the app. They're electric so you won't need to pedal quite as much as with a Santander bike.
Get Involved with Sushi Saturdays
If there is one area London excels in, it is incredible sushi restaurants.
You will fail to find a better way to enjoy a Saturday in London than by experiencing one of the phenomenal sushi bars across the city.
For a truly exquisite taste of indulgence, visit Engawa, located just a short walk from London's bustling Chinatown. Interestingly, Engawa has consciously created sushi dishes catering for vegetarians and vegans, setting them apart from the crowd.
Jugemu in Soho is another excellent option, offering a more affordable and relaxed dining experience than some of its competitors. However, it still packs in an incredible amount of flavour and atmosphere.
Hit A Rooftop Bar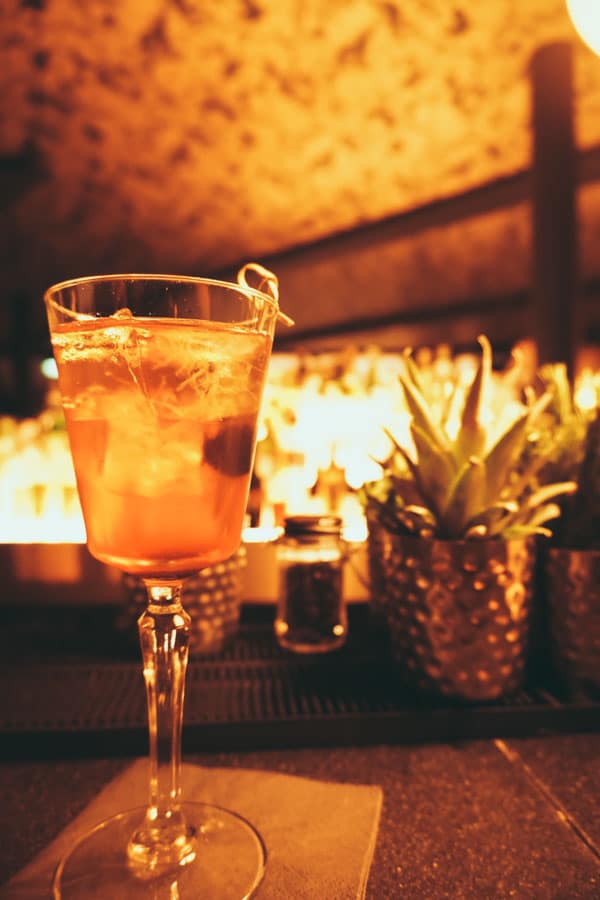 There is no better way to relax after an afternoon in London than a cold drink overlooking the most iconic skyline in the country. The best way to enjoy a cocktail in the big smoke has to be at one of the world-renowned rooftop bars.
Of course, these venues are used to the unpredictable British weather, so most come equipped with heaters and canopies should the rain begin to fall.
For something extra special, consider Radio Rooftop bar, which is just a stone's throw from Covent Garden. Additionally, the Allegra restaurant offers a beautiful rooftop location overlooking Stratford in east London. This is easily accessible from central London on the tube.
Alternatively, try the more relaxed Bussey Rooftop bar, situated in trendy Peckham.
Practical Tips for Making the Most of a Saturday in London
Be sure to consider the practicalities when planning things to do in London next Saturday.
Plan Ahead
If you only have one day in the city, plot your route on Google maps. This way, you can ensure your activities are in the best order logistically, and the least amount of time will be wasted commuting across the city.
Pre-Book Activities
Unfortunately, London does not lend itself to spontaneity very well.
It is home to over 8 million people, so the best spots get very busy, especially on Saturday. The best way to combat this is to book in advance. Most cafes, restaurants and bars accept pre-booking, and so do almost all activities.
Pre-booking also means you will avoid wasting time standing in lengthy queues.
Stay Safe
Many are concerned about their safety in London, often caused by scaremongering news reports.
But, of course, crime is inevitable, as in any other city across the globe. Simple steps can be taken to protect yourself. Avoid having your valuables on display, and always carry a bag that zips all the way closed.
Consider Your Transport Method
Ubers and taxis are convenient; however, they can quickly become costly.
Surprisingly, they can often also take longer than the tube. The traffic in London is unlike anywhere else in the world and therefore purchasing a day travel pass usually works out much more time and cost-efficient.
Looking For More Ideas for Your Saturday in London?