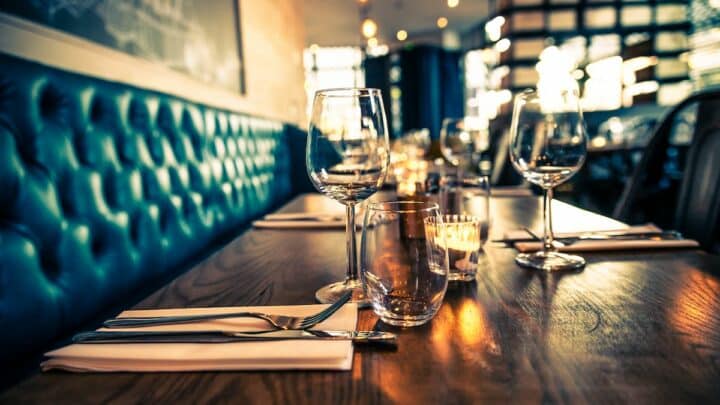 Looking to explore wonderful Dulwich's culinary delights? Read on to discover the best restaurants in Dulwich.
Words by Sam Jeans
With a golf club, art gallery, Georgian mansion and three wonderful parks, Dulwich is one of South London's best-kept gems.
But, we'll let you in on a secret – the food scene is why we love Dulwich so much.
The neighbourhood's restaurants cover practically every culinary base, from Japanese and Georgian to Italian, British, Middle Eastern and Mediterranean, to name but a few.
Lordship Lane is a foodie's paradise with around 15 to 20 restaurants within about a mile of each other – it's the perfect place to launch your culinary adventure of Dulwich.
Read on to discover some of the best restaurants in Dulwich.
Best Restaurants in Dulwich
Rocca Di Papa
££
Pizza, pasta and warm, homely vibes, Rocca Di Papa is a sublime Italian spot and one of the best Dulwich Village restaurants.
The straightforward menu combines classic pizza and pasta dishes with some excellent insalata (salad), carne e pesce (meat and fish) and many other traditional and contemporary Italian dishes.
There's a superb selection of starters for lighter bites, but be sure to check out the seasonal specials, too.
And, as expected from a stellar Italian joint – the wine list doesn't disappoint, with plenty of vino to choose between.
Belair House & 1785
££
We imagine there aren't many restaurants situated inside a Georgian mansion. But, among some of the many excellent restaurants in Dulwich Village is 1785, a bar and restaurant inside Belair House.
The house is a popular wedding venue – we're sure you'll see why when you go.
The swanky interior is true to the home's handsome exterior. The restaurant itself serves authentic north Indian cuisine from Monday to Saturday and a modern British menu on Sunday, including roast beef, lamb, chicken, nut Wellington and fish and chips.
Overall, an exquisite Indian restaurant, and Dulwich's 1785's unique setting only makes this spot more brilliant.
siOn LONDON
££
A sleek and modern bar and restaurant with an impeccable interior, siOn has earned itself some stunning reviews in a short space of time.
The cuisine here is dubbed Mediterranean fusion, and the menu is intriguing, with kebabs, wings and even KFC fried cauliflower. The cocktail menu is divine, and most are *reasonably* priced at £10 a pop, or thereabouts.
Among West Dulwich restaurants, siOn is truly unique and is well worth a visit for food, cocktails, or both (preferably both).
Park's Edge Bar and Kitchen
££
Park's Edge Bar and Kitchen is a cosy, inviting spot located at the edge of Brockwell Park.
This restaurant's stunning interior matches its superb brunch/lunch and dinner menus with classic dishes like steaks and shepherd's pies. Meanwhile, the burger menu elevates old faves with the likes of a King Truffle Wagyu Burger and Lobster Royale Cheeseburger.
If you're looking for something lighter, the brunch menu offers some excellent all-day-breakfast-style dishes like Morning Zen – a healthy omelette – and The Big Smoke, with hot smoked herring.
Megan's in The Hamlet
££
Megan's offers a loosely Mediterranean and Turkish menu packed with mouth-watering dishes like open kebabs and grilled halloumi. Sounds delish? We thought so.
Megan's in the Hamlet leans towards the Middle Eastern portion of Mediterranean cuisine with warming, spicy and healthy dishes cooked with fresh ingredients and served in a beautiful, well-lit room with appropriate decor.
Coupled with Middle Eastern salads and seasoned chips, Megan's is perfect for anyone looking for a little culinary escape to the Med.
Franklins
££
Franklins has an apologetically British menu with dishes like pork belly, partridge, seabass and sirloin for mains, ham hock, rollmops and soup for starters and quintessential snacks like Welsh rarebit and Scotch Woodcock. The menu is extensively gluten and dairy-free, which we love.
This award-winning restaurant is warm and friendly and has delivered many years of service to the local areas. It's still going strong today – which says a lot.
Yama Momo
££
From British to Japanese cuisine without walking more than a few minutes down the road – Yama Momo is yet another superb restaurant down Lordship Lane, which hosts between 15 and 20 restaurants and cafes by our (incredibly accurate) estimations.
This one won't need much selling to fans of Japanese cuisine with sashimi, sushi, nigiri and tempura. There are plenty of hearty mains like grilled sea bass, truffle tofu and rib-eye beef to sink your teeth into.
The chef's special sushi rolls are always a winner, and there are plenty of appetisers, salads and sides. Easily one of the best Lordship Lane restaurants – and the competition is hot!
Peachy Goat
££
One of our favourite restaurants in London, Peachy Goat's trademark Italian-inspired vegan cuisine can convert even the most die-hard carnivores.
The seasonal menu is 100% plant-based and stacked with healthy dishes, familiar options like plant-based burgers, gnocchi, spaghetti and some awesome desserts. The wine list is exemplary, and the venue itself is intimate and laid-back.
A no-brainer for purveyors of vegan and veggie cuisine.
Read Next: The Best Vegan Restaurants in London
Walter's Bar & Kitchen
££
Further south in West Dulwich, you'll find the relatively new Walter's Bar and Kitchen. With a compact and tasty menu, Walter's has already earned itself rave reviews with the promise of many more to come.
From the same duo, Matt & Rob, that opened Oystermen in the heart of Covent Garden, Walter's delivers fresh dishes cooked with genuine, honest ingredients sourced from Britain's land and sea.
The seasonal menu is well-represented with seafood like oysters and cuttlefish with mains like Barbary duck, and rosemary roasted lamb – DROOL. While the venue itself is wonderfully warm and modern.
Kartuli
££
Another sublime restaurant in East Dulwich's Lordship Lane is the fantastic Kartuli.
If you've been so lucky to try Georgian food before, you might already know about dishes like khachapuri and khinkali. If not, it's time to find out.
Kartuli's menu is adorned with succulent dishes from Georgia's unique corner of Europe, including a stunning wine list that comes with its own map of where each bottle is sourced from.
With its fantastic interior and friendly atmosphere, Kartuli is elevating the status of Georgian cuisine while providing Lordship Lane with yet another wonderful place to eat. One of the most exciting East Dulwich restaurants.
So, if you've been searching high and low for a Georgian restaurant, East Dulwich has you covered.
Other Places to Eat in Dulwich
Utter Waffle
£
Utter Waffle kicks the Dulwich food scene up another notch. These 4-time British Street Food Award Winners provide incredible sweet and savoury waffles in this wonderful spot in Dulwich and their famous food van Reggie which you'll find touring various spots in London.
The menu, as you might imagine, is packed with waffles. Savoury waffles like the Club Waffle are stuffed with fresh ingredients, or you can grab lighter, sweeter waffles for brunch – and there are some seriously indulgent treats for dessert.
We won't waffle on any longer… You simply have to try them for yourself.
Spinach Restaurant Dulwich
£
With its eclectic and healthy menus, Spinach Dulwich has been making a real impact across its two London venues (the other can be found in Crystal Palace).
The weekday menu is power-packed with fresh dishes like crushed avocado on sourdough. You can also choose a make-your-own salad and protein option by combining a salad with chicken, halloumi, steak, falafel or fish.
Dinner delivers more healthy meals like fried goat's cheese and sweetcorn ribs. Veggies and vegans – you're well-represented here. Prices are also extremely reasonable, with most main dishes costing less than £10.
Practical Tips for Exploring The Best Dulwich Restaurants
If you're looking for new restaurants, Dulwich delivers tons of options – too many to list. The best restaurants in East Dulwich are largely found in Lordship Lane, which makes for a pretty stroll.
If you're looking for lunch, Dulwich has got you covered. The cafe in the Dulwich Picture Gallery and Brockwell Park are both worth a visit.
Getting around Dulwich is easy courtesy of North Dulwich, West Dulwich, East Dulwich and Herne Hill stations.
Dulwich Restaurants: Map
Dulwich Restaurants: Read Next