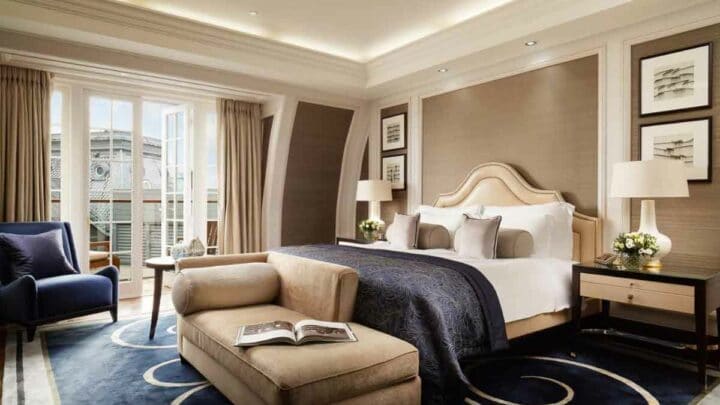 Looking for the best hotels to stay near Charing Cross? These are the top places to bed down in the area.
Sitting smack bang in the centre of London (quite literally), there's no denying that Charing Cross is one of the best places to stay in the city.
How close it is to Embankment and the Strand might be what attracts visitors – or, it could be the surrounding buzz of Leicester Square and the street entertainers in Covent Garden.
Whether you're looking for a quiet urban oasis in the heart of London or a luxury hotel with all the extras to accompany your stay near Charing Cross– our guide has the perfect place that's just right for you.
Ready? Let's go.
Best Hotels Near Charing Cross: At a Glance
Best Hotels Near Charing Cross
The Clermont
£££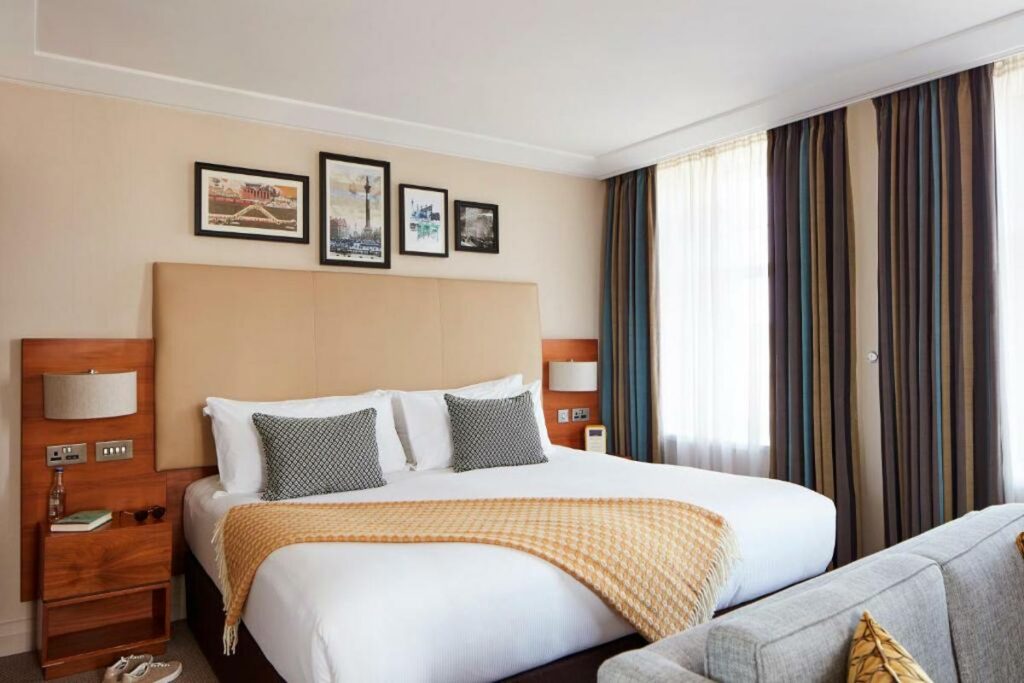 The Clermont is a grand Charing Cross hotel just steps away from Trafalgar Square and Covent Garden. Housed in a beautiful Grade-II listed building, this 4-star hotel is stylish and an elegant place to stay.
From the moment you step foot in your room you'll be greeted by calming neutral palettes, stylish lamps and vibrant cushions that add a designer's touch. Rooms have Nespresso machines, free minibars and unlimited free WiFi– all make for a comfortable and convenient stay.
The Clermont restaurant and bar offers all-day dining where you can enjoy an evening of drinks and cocktails, breakfast and afternoon tea.
Corinthia Hotel London
£££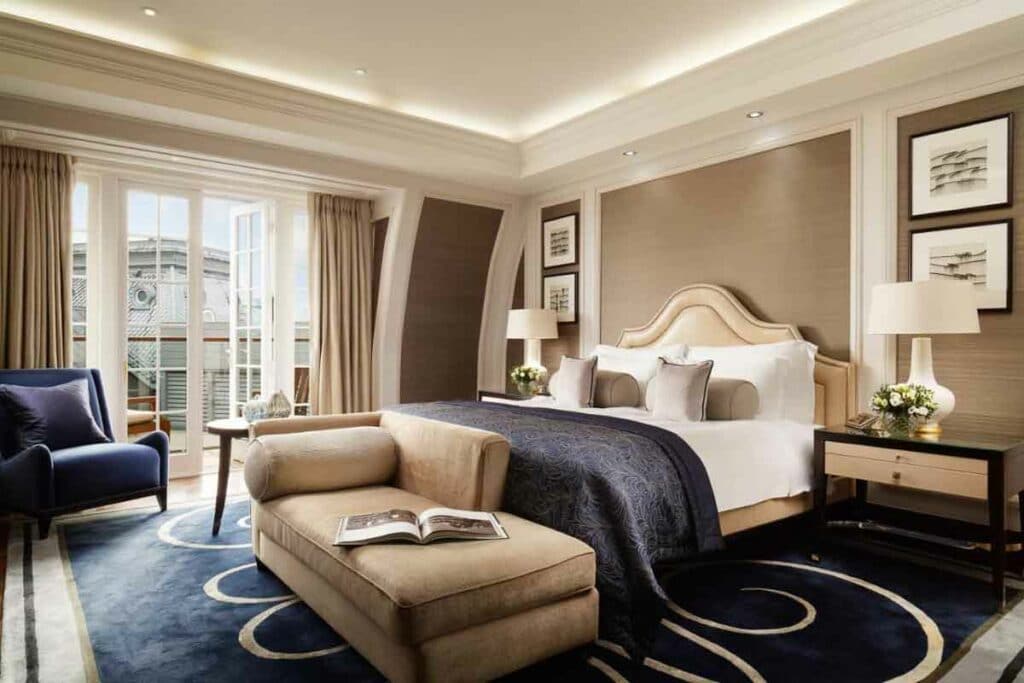 The luxurious Corinthia Hotel is situated by the river Thames. Once used as offices by Winston Churchill– now given a new lease of life with stylish rooms and glorious penthouse suites.
Corinithia's spacious and luxuriously decorated rooms feature air-conditioning, city views and blend 1885 design with modern technology. Enjoy marble bathrooms with underfloor heating and bathtubs with built-in TVs and separate rain showers.
A stay at Corinthia Hotel is more of an experience, the hotel boasts stylish restaurants and two elegant bars and the ESPA Life spa with a breathtaking list of spa treatments.
The Trafalgar St. James, Curio Collection by Hilton
£££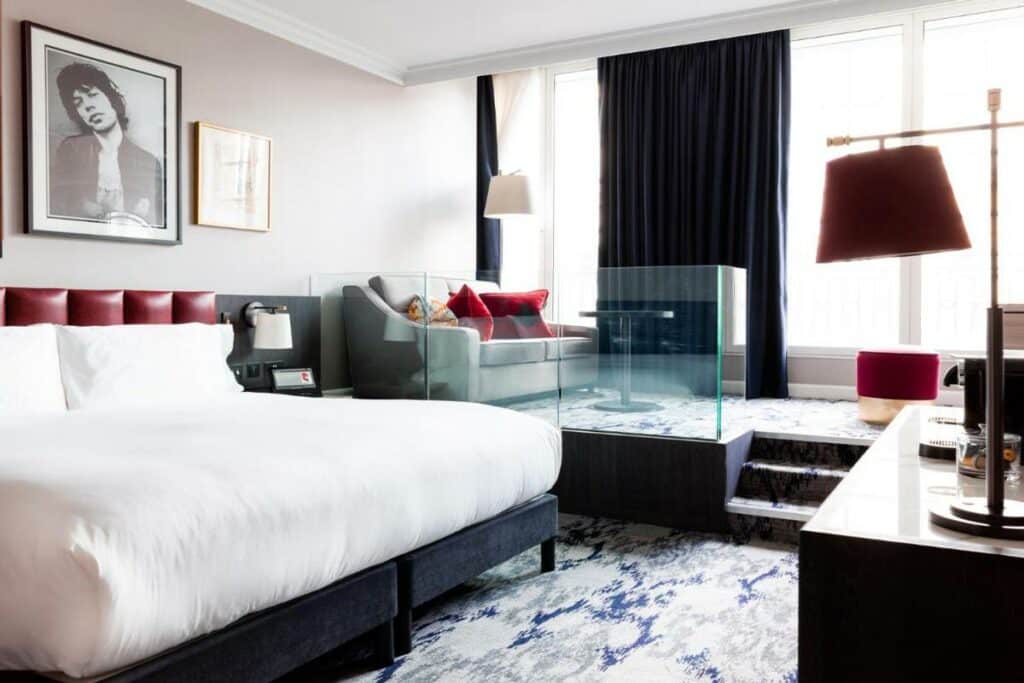 Just steps away from the National Gallery and overlooking the south side of Trafalgar Square, The Trafalgar St James encompasses chic luxury in London.
The contemporary boutique-style hotel is cleverly and artistically designed. Rooms have comfort in mind and feather pillows, black-out curtains and spacious walk-in showers are standard here.
Art Deco is at the heart of Trafalgar St. James' cocktail bar, Rockwell. Boasting a realm of colour, texture, taste and a place of escapism for inquisitive drinkers.
The Rooftop could be the best part about Trafalgar St. James, dine and drink alfresco style against the backdrop of London's iconic skyline with a menu of tempting small and sharing plates.
The Z Hotel
££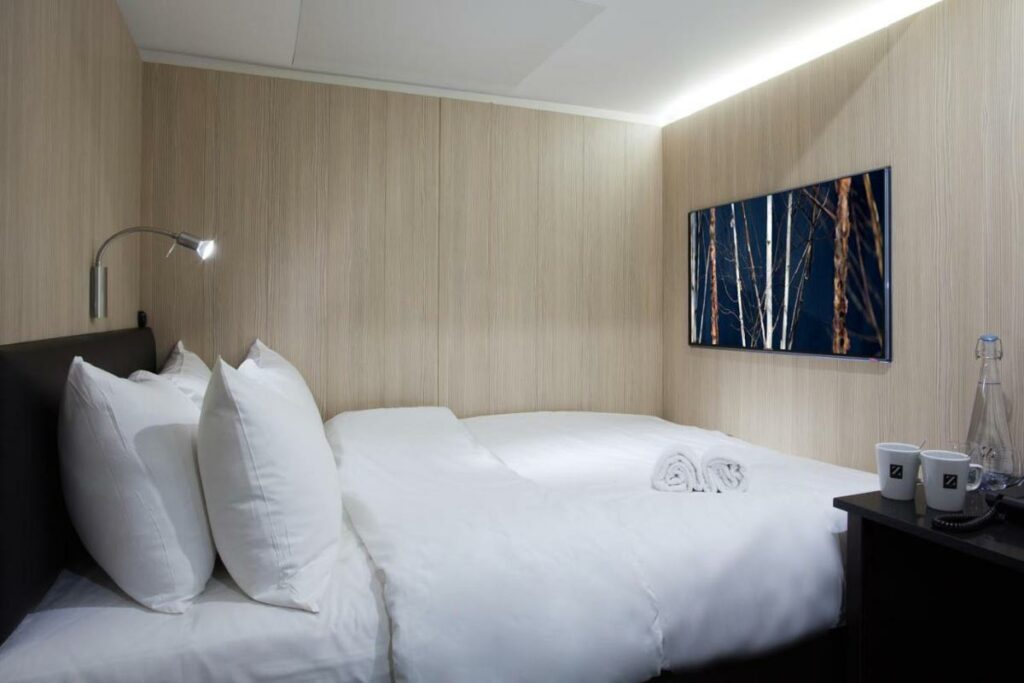 The Z Hotel in Covent Garden backs onto St Paul's Church and overlooks Covent Garden Piazza.
Your Z room in the heart of theatreland is cleverly designed with handcrafted beds, crisp bed linens and HDTV with all the Sky Sports and movie channels that you'll need for a perfect stay.
Z Hotel is a compact luxury hotel and you'll find everything you need in your room including complimentary toiletries, lots of hanging space, under-bed storage and in-room coffee and tea-making facilities.
Find everything from breakfast, snacks and drinks at the Z Cafe– staff are also happy to help you plan your itinerary. Or, check out our fabulous guide.
The Royal Horseguards Hotel
£££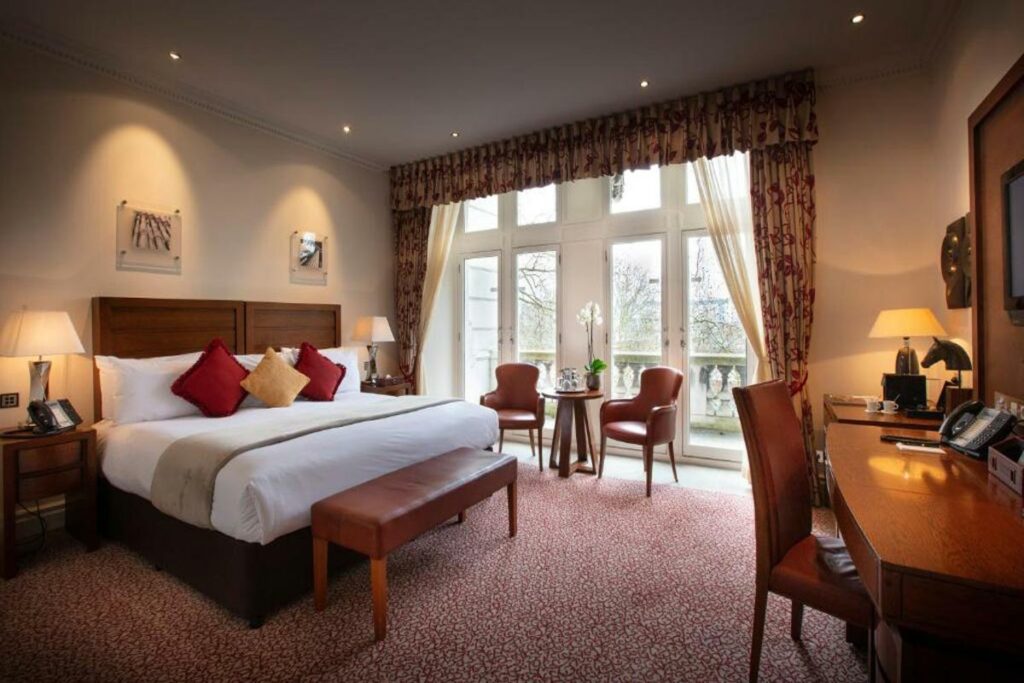 Looking for a 5-star hotel near Charing Cross? Look no further than The Royal Horseguards Hotel. Located on London's iconic Embankment and built in the style of a French Chateau, many of the rooms here afford views of the Thames.
You'll discover a mix of Victorian elegance and modern features in the rooms. When it comes to lights out, sleep with ease in your Hypnos bed and crisp Egyptian cotton bed linen.
During your stay, dine at award-winning One Twenty One Two Restaurant or sip sophisticated cocktails at the Equus Bar. For a more muted experience, head to the secret herb garden on The Terrace for a quiet drink.
Strand Continental
£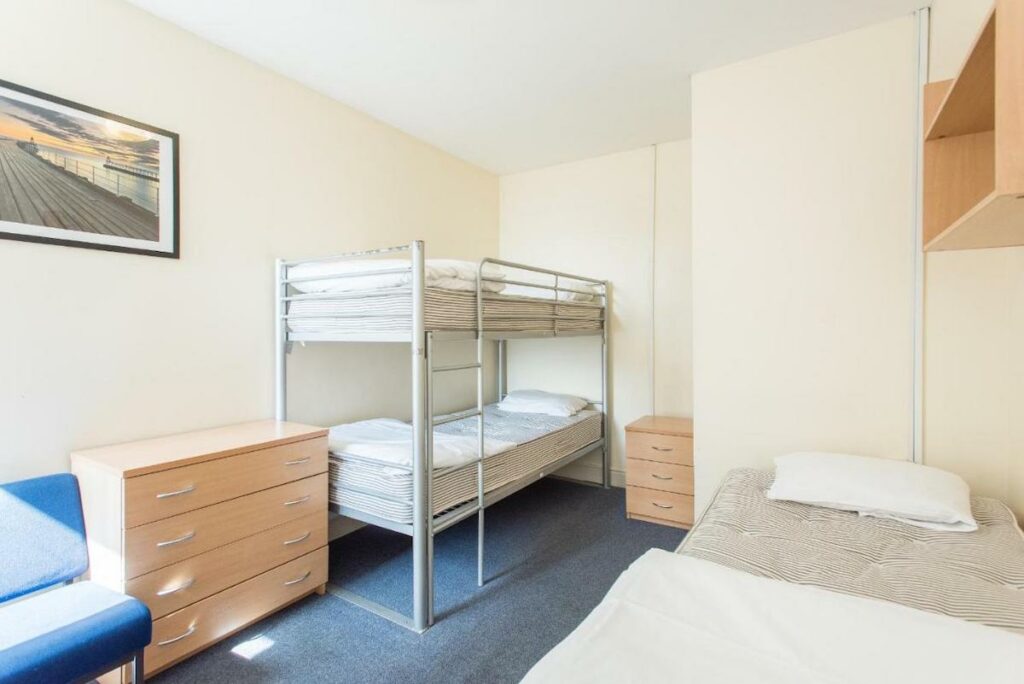 Strand Continental offers a budget-friendly stay in the heart of London.
With Trafalgar Square and the London Eye just around the corner, this is the perfect base to explore. Located on the Strand amongst some of London's best attractions and restaurants, rooms have all of the necessities for a comfortable stay.
Hang out in the first-floor lounge and plan your day or make your way downstairs to the historic India Club Bar & Restaurant. The 1950s restaurant retains many of its original features and serves some of the best authentic Indian food in London.
Zedwell Piccadilly
£££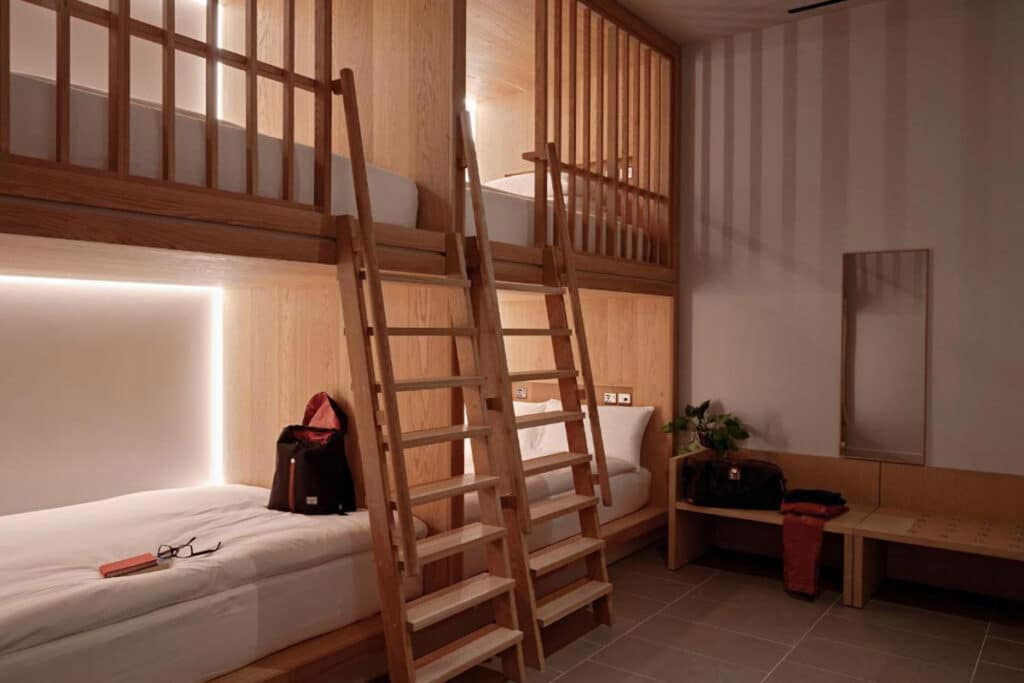 A little bit of zen in the heart of the West End, Zedwell Piccadilly's room designs are purposely unique.
Usually, windowless rooms would be a red flag, but not at Zedwell. Housed in the famous London Trocadero, clutter-free, windowless rooms are designed to focus on rest and relaxation.
Rooms are built to minimise distractions that disturb sleep, complicated technology and anxiety-inducing controls. To help you find your zen, rooms are lit with soft ambient mood lighting, fully air-conditioned with air purification and soundproofed.
Skip the queue at Zedwell and use the self-check-in kiosk with early and late check-out available too. This is the best affordable hotel near Charing Cross for both comfort and style- go on and enjoy your clutter-free stay here.
The Bloomsbury Hotel
£££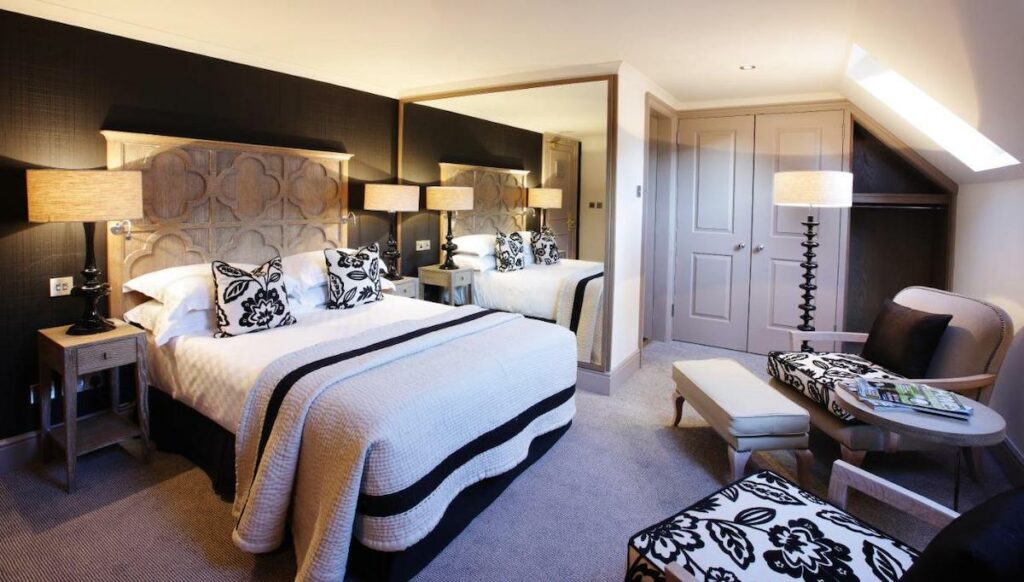 Bloomsbury is just one stop away from Charing Cross and a great area to stay in. The Bloomsbury Hotel is housed in a refined Georgian building just across the road from The British Museum.
Luxury bedding, bathrobes and slippers are in each room as well as indulgent Malin Goetz toiletries.
Dining at the hotel is an elegant experience, The Coral Room's vibrant 1920's inspired bar is a great start to your night out. Dalloway Terrace is a secluded poetic garden and you should enjoy brunch or afternoon tea here in the warmer months.
Assembly Hotel
££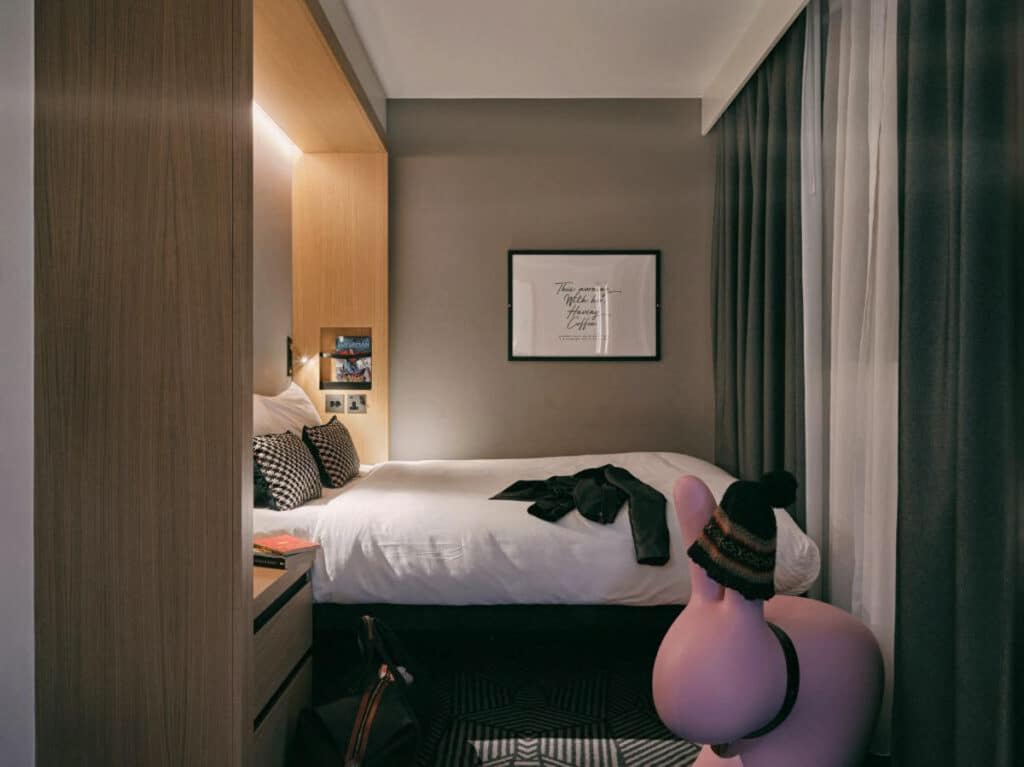 Located just behind Leicester Square is the trendy Assembly Hotel. A hotel designed with comfort and calm in mind, and a place to escape the busy West End after a long day.
Fun, sophisticated and playful rooms are inspired by fashion icons Alexander McQueen and Stella McCartney. Retreat to your super comfy bed with extra fluffy pillows and no need to worry about neighbours disturbing your beauty sleep– all rooms are soundproofed.
Clever under-bed storage will hide your luggage so you feel right at home, while a blast in the Assembly Hotel's power shower will see you start the day right.
You don't need to go further than the 10th floor to soak in the London skyline, The Garden Rooftop offers panoramic views and breakfast, brunch, dinner and cocktails.
ME London
£££
This hotel near Charing Cross is surrounded by the very best of London's West End. ME London is an urban refuge designed by the world-famous firm of architects Foster + Partners.
Floor-to-ceiling windows capture London city views and flood the rooms with natural light. Settle into your extra long bed and enjoy your entertainment system including free in-room music service.
There is no luxury spared at ME London, choose your pillow from the pillow menu, drink from the minbar, shower in the rainshower and experience atmospheric lighting with custom control.
ME London is pet friendly, you can expect your pooch to be pampered just as much as you.
Where to Stay near Charing Cross: Frequently Asked Questions
Practical Tips to Consider Before Booking Your Charing Cross Accommodation
Work out the best place to stay near Charing Cross for you. Base this on what you would like within walking distance to your hotel and which tube lines you'd prefer to be close to.
This guide gives a variety of prices – hotels with perks are great if you're going to make good use of them. If you're planning to spend dusk till dawn out exploring, skip the fancy ones.
Check if your hotel includes breakfast.
Charing Cross Accommodation Guide: Map