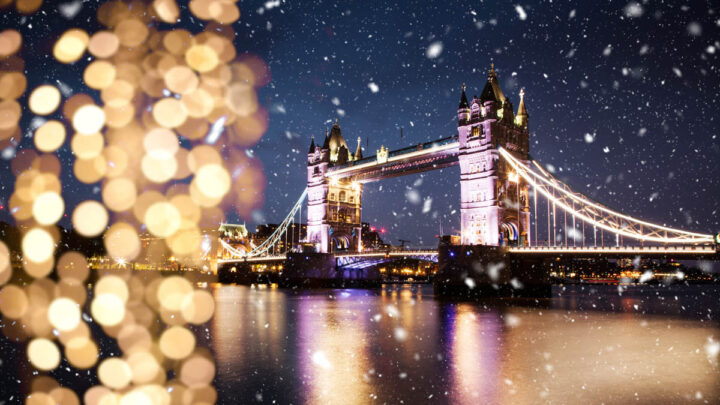 Spending Christmas Day in London? It may seem like the city has gone to sleep for the day, but there's still plenty of things to do and lots of fabulous food to eat. Here's how to make the most of it.
Things to do on Christmas Day in London
Go for a Wintery Walk
Probably the most distinguishing feature of Christmas Day in London is the fact that there is no public transport. Zilch. Nada. Which makes for a rather strange but refreshing change to the norm.
London parks will be open however, so even if you're not in central London, there should be some green space nearby to enjoy a bracing festive walk. Here are our faves from across the city.
Hop on a Boris Bike
Central London on Christmas Day is so quiet, it's almost like a scene from a movie, so what better time to go on a bike ride around the city?
It's the one day of the year where you can see the capital at its quietest. There will be some traffic about, so play it safe and do your cycling before reaching for the sherry.
Do an Open Top Bus Tour of the Sights
There is in fact one bus that still runs, even on Christmas Day. On the 25th December you can book tickets for an open top bus tour operated by Golden Tours.
It's a 90 minute tour, starting and finishing at London Eye. The first bus is at 9am and the last is at 4pm.
You'll see all the famous landmarks lit up with Christmas lights – the Tower of London, Regent Street, Piccadilly Circus, Buckingham Palace, the House of Parliament, all guided by a London expert, so you'll get a bit of a history lesson too. Fingers crossed for good weather!
Go for an Outdoor Swim
If you'd rather plough through icy waters rather than a tin of Quality Street this Christmas Day, you're in luck.
The Serpentine Swimming Club will run their famous 100 yard handicapped Peter Pan Cup in the Serpentine at Hyde Park (strictly for members only so you may have to watch from the sidelines).
Brockwell Lido, Hampton Pool, Tooting Bec Lido, Parliament Hill Lido and Hampstead Heath Ponds are open for business – but you'll have to book. Be sure to check their specific guidance on how to swim outdoors safely in winter. It could be very chilly indeed!
Chocolate can always come afterwards, of course.
Volunteer with a Charity
You might consider volunteering on Christmas Day (and beyond). There are a few charities worth looking at. Crisis is one of the biggest which operates a number of volunteering opportunities over the Christmas period.
Look up The Soup Kitchen, Ealing Soup Kitchen, Peckham Project, Shelter from the Storm and The Salvation Army for ways to help people in need.
Go to Evensong at St. Paul's
One of the most popular places to go on Christmas Day is St Paul's Cathedral. The programme for December 25th is Holy Communion 8-8.30am, Morning Prayer 8.45-9am, Sung Eucharist (carols for choir and congregation) 11-12.30pm and the famous choral service of Festal Evensong, sung by the St Paul's Cathedral Choir 3-4pm.
Virtually all Advent and Christmas services are free and unticketed with seating allocated on a first come, first served basis.
Celebrate Christmas on The Thames
Alternative Christmas Day tours in London include a 3 hours 15mins cruise on the Thames, also organised by Golden Tours.
Your ticket includes a glass of sparkling wine, a four course Christmas lunch with tea and coffee. Listen to festive music and carols for a hearty knees up. The tour starts and finishes at Westminster Pier.
Visit Chinatown
Not everyone wants a traditional Christmas lunch on the 25th. How about Chinese for a change? If you haven't booked a restaurant, check out some of the eateries and cafes open in Chinatown, particularly if you need breakfast in London on Christmas Day.
Eat, Drink and Be Merry at a Restaurant or Pub
Not all pubs are open on the 25th but some will be open for Christmas lunch and/or a festive beverage. Hotel bars may also be open for drinks on a walk-in basis but do your research to find out what the options are for each venue. Also keep an eye on any changes due to Covid.
Like the sound of eating out? There are many fabulous restaurants open on Christmas Day in London serving up some of the finest festive lunches. More on that next…
Best Restaurants Open on Christmas Day in London 2021
Riding House Cafe
Oxford Circus
The irresistible Christmas Day menu at Riding House Cafe (£90pp) includes a choice of scallops or steak tartare to start, followed by hake with lardons or turkey as a main.
For dessert – cheesecake, chocolate torte or Christmas pudding. Vegetarian courses are beetroot and labneh with mushroom and sweet potato wellington for main, plus lots of extras for the table.
Cinnamon Kitchen
City + Battersea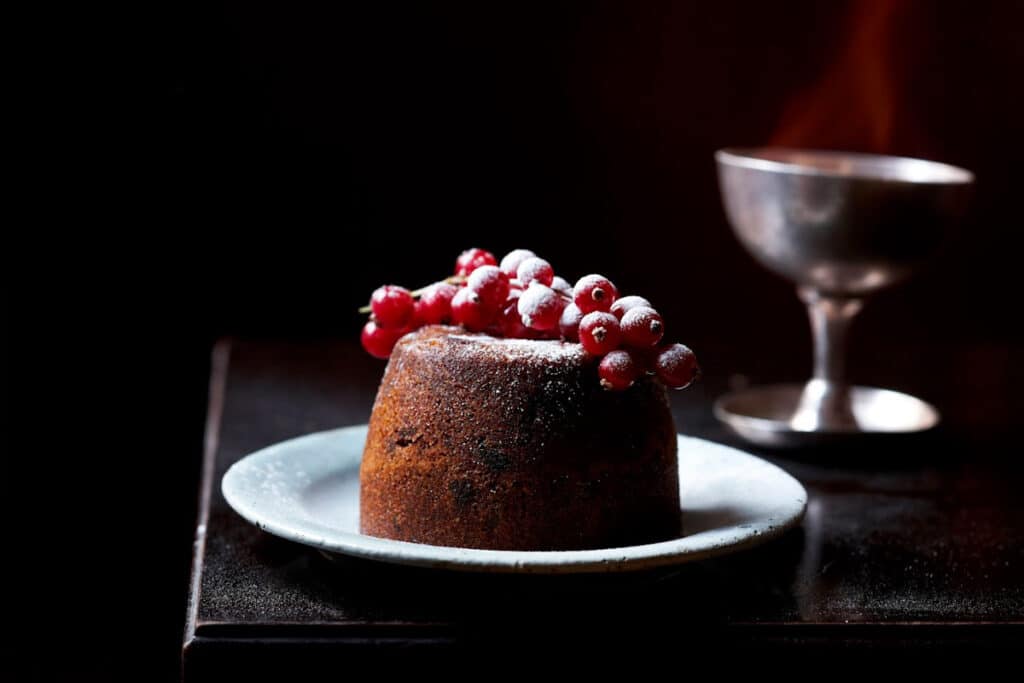 Fancy and Indian twist on Christmas lunch? The Christmas Day 5-course menu at Cinnamon Kitchen boasts a wide choice of modern Indian dishes such as grilled partridge breast, tandoori spiced venison or saffron poached pear and garam masala Christmas pudding (£75pp).
Pont de la Tour
Shad Thames
Christmas Day restaurants don't come much more festive than Pont de la Tour. The 6-course menu includes beetroot and horseradish cured salmon, roast turkey with apricot and thyme stuffing, chocolate marquise, not forgetting the finale – coffee, minced pies and truffles (£120pp).
Skylon
South Bank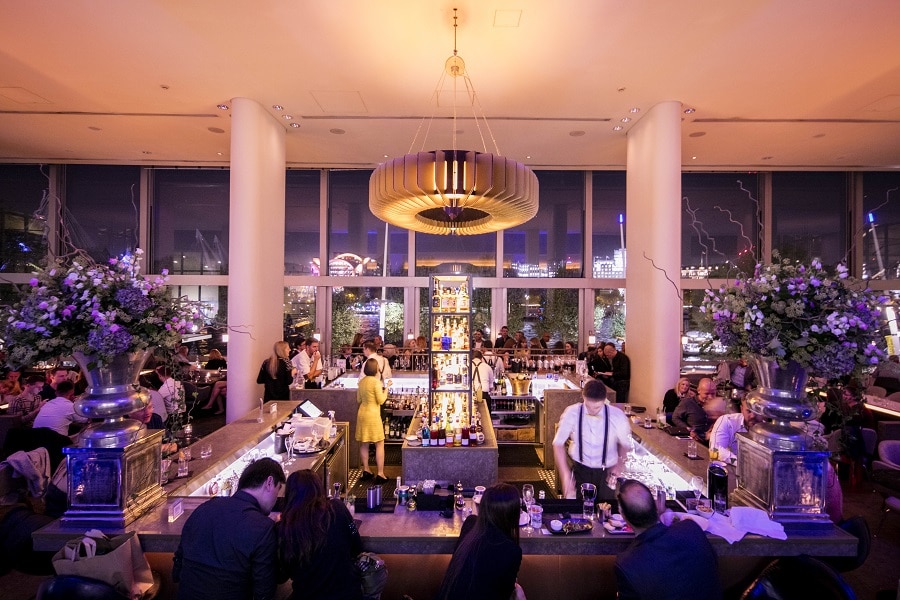 For Christmas Day, the 5-course tasting menu at Skylon (£155pp / £77.50 for kids) has all the festive favourites – salmon, turkey and Christmas pudding.
You'll also be treated to tantalising dishes such as 'native butter lobster poached, Tokyo turnip and lobster bisque', 'Jerusalem artichoke barigoule' and 'Heron's Farm venison wellington.'
Madera at Treehouse
Marylebone
Madera is a beautiful Californian-Mexican restaurant, plant bedecked with huge windows and epic views of the London skyline.
If you fancy a Mexican twist on your traditional turkey, Madera is open for Christmas Day (£120pp and a children's menu for £50pp). Alternative mains include seafood "arroz a la tumbada" with habanero aioli or Zarandeado halibut.
Spaniards Inn
Hampstead
The 5-course Christmas dinner at Spaniards Inn has a good choice of starters, mains and desserts (£79.95pp).
If not traditional turkey, salmon, beef wellington, root vegetable wellington and venison are also available as mains. A separate kids menu is available for Christmas Day.
Sea Containers
South Bank
At Sea Containers the Christmas Day 5-course menu also has a tempting selection of dishes to choose from. Dry-aged sirloin, turbot or truffle orecchiette are the turkey alternatives (£115pp). The menu also includes a glass of Laurent Perrier.
Ham Yard Hotel
Soho
Celebrate the 25th in Soho with champagne, canapés and a 4-course menu at the stylish 5-star Ham Yard Hotel (£150pp).
There's pork and brandy terrine with apple and celeriac remoulade, roast Rhug Estate turkey with all the trimmings and roast Delica squash with winter greens and artichoke chips. Dessert, artisanal cheeses, coffee, tea and mince pies – the works.
Duck and Waffle
Liverpool St
Enjoy your Christmas lunch surrounded by breathtaking views at the top of Salesforce Tower.
In addition to turkey, you might like to sample Duck and Waffle's lobster cocktail, mulled wine poached pear and naughty hot chocolate, plus lots of other treats (£120pp / £45 kids under 12).
Decimo at The Standard
King's Cross
On Christmas Day, the very cool Decimo promises a Mexican/Spanish feast from The Standard's 10th-floor restaurant. Expect Croquetas de Jamon, Muscovy Duck, a Champagne cocktail on arrival and much more (£70pp).
Practical Tips for Spending Christmas Day in London
If you're wondering if there's any public transport in London on Christmas Day – the answer is no. London transport on Christmas Day is essentially non-existent. No trains, buses or tubes – so prepare to get around some other way i.e. your own car, hitch a lift with a friend, bike, scooter or taxis (not forgetting skateboards, rollerblades, unicycles – if that's your thing).
Talking of taxis, be aware that they will charge a lot more than usual. Not just on Christmas Day but Boxing Day and New Year's Eve too.
There are lots of options for Christmas Day lunch in London, but make sure you book as early as possible to avoid disappointment.
FAQ
Christmas Day in London: Map
Looking for More London Christmas Guides?