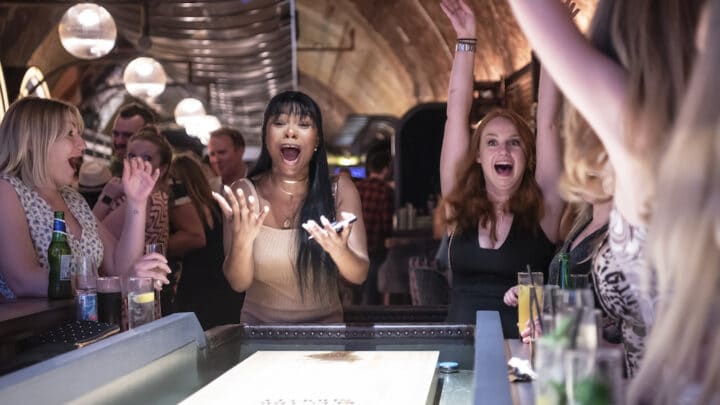 Looking for the best places to play shuffleboard in London? Here's where you can shoot the puck.
Shuffleboard has taken London by storm – the popular 15th Century game has made a strong comeback, and now we're challenging our mates to a game or two in bars and pubs.
From lively bars to traditional English pubs, so many cool spots in the capital have adopted the popular game. Here's where you can play in London right now.
Best Places to Play Shuffleboard in London
London Shuffle Club
In the heart of Shoreditch, you'll find that London Shuffle Club is the home to the supercharged game shuffleboard.
It's also the only London venue with both lane and shuffle table under one roof, and if you're new to shuffleboard the helpful team are happy to show you the tricks of the trade.
Pick your choice of shuffle experience from bottomless brunch, a cracking lunchtime deal or you can even host a party at this London shuffleboard spot.
Electric Shuffle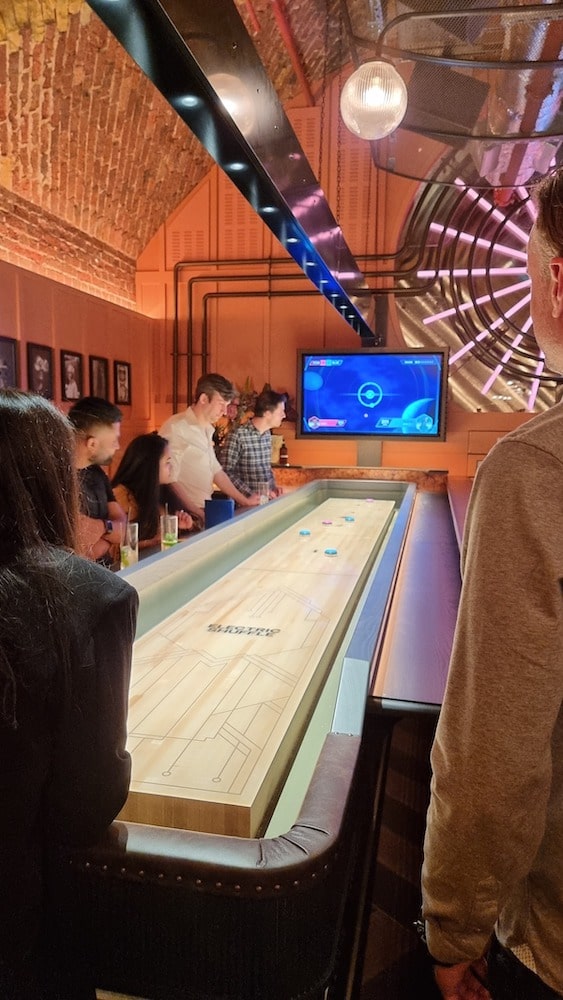 Looking to shuffleboard in London Bridge? This retro-styled, brick-walled shuffleboard spot has 10 electric shuffleboards nestled in the arches of London Bridge.
At Electric Shuffle, groups of up to 32 players can go head to head in their own semi-private playing area for a fun-filled experience. It's not all shuffling and no play, order drinks and food to your private gaming area – because you're bound to work up a sweat, right?
Toast your shuffleboard champions with frozen cocktails and talk tactics over shared pizza paddles.
Psst… Electric Shuffle also has a Canary Wharf venue (which is equally as brilliant).
Players Social
Spitalfields
Head to Players Social in Spitalfields for games, live music and drinks. There's plenty of games to play at Players Social, but you've only come here for one – a thrilling game of shuffleboard.
Pick up your puck and get ready to challenge your mates to a game of shuffleboard at Players Social.
On Tuesday, we shuffleboard. Pencil in Tuesday Shuffleboard Social, it starts at 7pm and it's free entry but if you need a reason to get competitive, there's a £30 bar tab for winners up for grabs.
Burdock
Finsbury
What's better than tank beers and expertly mixed cocktails? Enjoying them whilst playing a competitive game of shuffleboard, of course.
Budock's shuffleboard tables are the perfect way to hang out with friends or even as part of a team-building event with co-workers (that's one social we will not want to miss).
This industrial style bar in Finsbury Square has all the cocktails to accompany your shuffleboard games from the Rum Punch to Espresso Martinis. Hungry shuffleboarders can refuel on bar snacks, small plates, sharing plates and cheesy pizzas.
The Hat and Tun
Located in the heart of Hatton Garden, The Hat and Tun is a traditional pub serving seasonal pub food and real ales – and you can even play shuffleboard here.
This popular shuffleboard pub in London loves nothing more than a game of shuffleboard. If you've never played before, staff are more than happy to explain the rules and players can get involved for as little as £5.
Grab your friends and head to The Hat & Tun for a competitive game of shuffleboard with a side of chicken chorizo and red pepper sandwich, washed down with a pint of Amstel.
Spit & Sawdust
Elephant and Castle
Spit & Sawdust is a trendy rustic bar with low hanging lights, wooden tables and benches in Elephant and Castle.
This bar prides itself on having tons of craft beers on taps from local breweries, and we think that the beers are best enjoyed whilst playing a game of shuffleboard.
Challenge your coworkers after work to a couple of games of tabletop shuffleboard – after all, there's nothing wrong with a bit of healthy competition. Make sure you feast on Spit & Sawdust's El Taco menu after your game, with Beef Barbacoa Quesadilla on the menu, how could you say no?
Bounce
Multiple Locations
Bounce is known for being a ping pong bar, but more recently has jumped on the shuffleboard hype and has become one of the best shuffleboard bars in London.
With locations in Farringdon and Old street, Bounce challenges you and your mates to a game of table shuffleboard. Its revolutionary shuffleboard tables are curved to add a new dimension to the original game – you've got to wind your way up the playing field.
As for food and drink, there are plenty of pizzas and light bites to keep you energised and of course beers, cocktails and everything in between.
Boom Battle Bar
Multiple Locations
Boom Battle Bar is full of exciting games to play. It's also the best shuffleboard bar in London, with boards waiting for you and your friends to compete on.
Once you've worked up an appetite, feast your eyes upon the Boom Bites menu that boasts a selection of finger-licking chicken wings and nachos. As for drinks, Boom Battle Bar's cocktails are inventive with names to complement the variety of games on offer – we'll take an Axepresso Martini, please.
Shuffleboarding in London: Practical Tips
Check online if you need to book your shuffleboard before you go.
You need a minimum of two players to play and some bars and pubs accommodate large groups of players. Again, check online before you visit.
If you're a shuffleboard first timer, staff at these venues are well versed in how to play and will be happy to give you a few pointers.
London's Best Shuffleboard Bars: Map