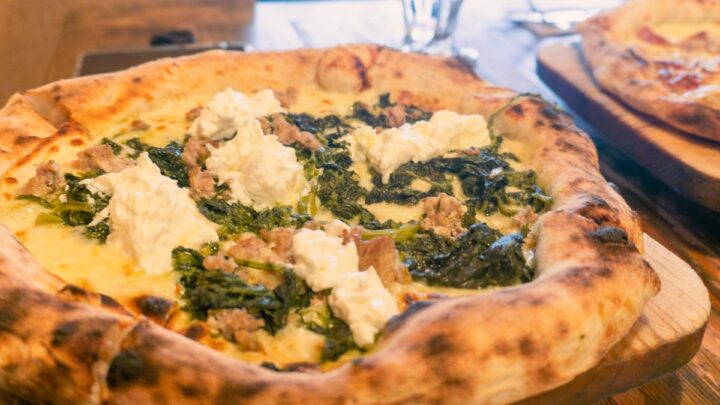 Notting Hill's restaurant scene is buzzing. From high-end eateries to laid-back bistros, discover the best restaurants in Notting Hill.
This eclectic London area is famous for its colourful streets, the eponymous Julia Roberts and Hugh Grant film, and of course, the carnival. However, it has a lot more to offer than just this.
Notting Hill boasts a thriving international restaurant scene for a diverse gastronomic experience. Whether you're looking for tasty British classics or mouthwatering Caribbean delicacies, these Notting Hill eateries have it all.
£ – Under £10 for a main
££ – Between £10 and £25 for a main
£££ – Over £25 for a main
Best Restaurants in Notting Hill
La Mia Mamma
££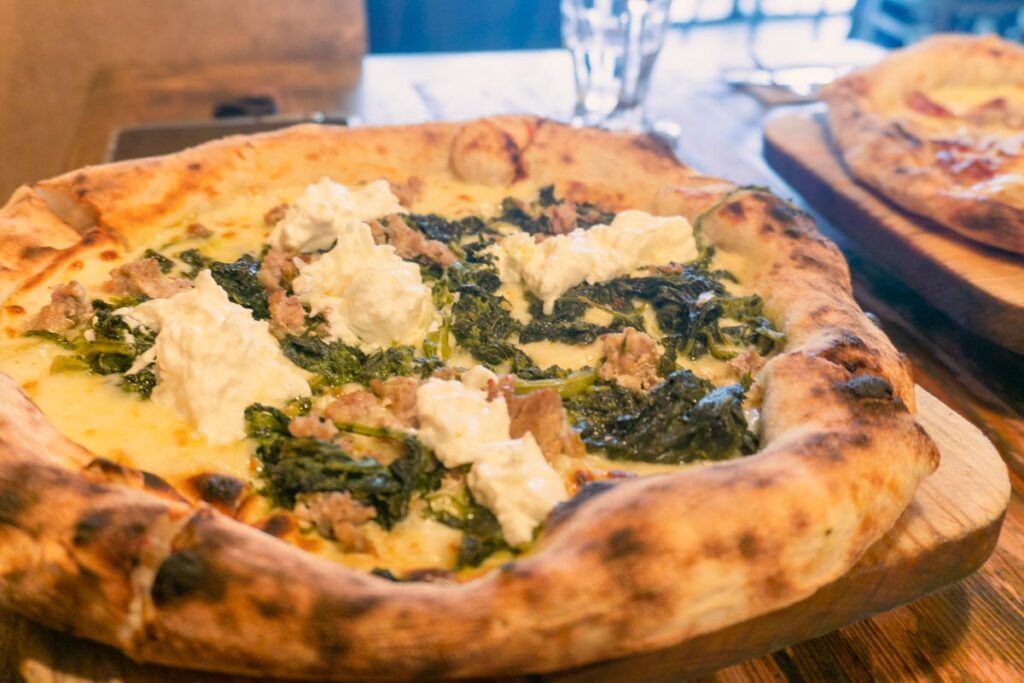 If you're down for Italian cuisine, you should stop by La Mia Mamma. The culinary matriarchy boasts dishes prepared by a variety of Italian Mammas.
Your taste buds take you on an extensive trip to Italy as the diner imports Italian Mammas from 20 different regions. The menu is classic Italian, with handmade pasta, pizza, lasagna, and more on offer. You can down your meal with a selection of cocktails, wines, gin, rum, and the like.
Cocotte
£
Cocotte is a farm-to-table spot that specialises in French cuisine. Their signature dish is free-range chicken, marinated for 24 hours in a secret blend of herbs and spices. Afterwards, it's slowly cooked on the spit to provide the tender bite you expect and comes in full, half, and quarter servings.
Enjoy your chicken with classic sides like French fries and mash potatoes and homemade sauces of your choice. Opt for deliciously indulgent salads like kale and roasted pepper or green veggies draped in basil dressing to complete the meal.
Core by Clare Smyth
£££
Award-winning Core by Clare Smyth boasts an elegant fine dining style. It features wooden floors, super-comfy seats, a light atmosphere, and of course, incredible fare.
The three Michelin-starred dishes are expertly prepared and served with a presentation to match. Core uses fresh British produce that they source sustainably for all the meals. So, not only is the food tasty, but it's ethical too.
You can choose from their classic tasting menu, seasonal menus, and à la carte menu. Whichever you choose, we guarantee you'll get an explosion of flavours at one of Notting Hill's best restaurants.
Electric Diner
££
Electric Diner is a quintessential visit if you're a fan of 1980s American diners. Think low-hanging lights, shiny leather couches, and music blasting in the background.
They serve delicious French-American cuisine with a choice of all-day, breakfast, brunch, and a late-night menu. You can nibble on mac 'n cheese, various steaks, salads, sandwiches, and the like. Down these with a fine selection of cocktails, wine, beer, and non-alcoholic drinks.
The fun, however, doesn't have to stop there as you can hop into the neighbouring cinema right after your meal – talk about an American experience.
The Cow
££
The Cow, also one of the best pubs in Notting Hill, is a fantastic gastropub that's been around for nearly three decades. They've found such prolonged success thanks to boasting a pub on the ground floor and a fancier eatery upstairs.
Their à la carte menu features a variety of dishes with Northern European influences. It's seafood-heavy, with beer and oysters as a popular order. However, you can also find soups, chicken, beef, and more.
Mazi
£££
Mazi, a Greek eatery, features a rustic charm with white brick walls, wooden tables, and leather couches. Mazi means "together" in Greek. As a result, the establishment is perfect for intimate outings with your partner or family to enjoy Greece's finest dishes.
Once you've settled into your seat, choose traditional or modern Greek delicacies and pair them up with your favourite wine or cocktail. The menu features fare like hot plates of pork belly gyro tacos, a Tzatziki with garlic, black truffle chicken, and more.
Suzi Tros
££
Suzi Tros is Mazi's more vibrant, light-hearted, and affordable sibling if you want to enjoy Greek cuisine while being your best carefree self.
It's the perfect place to go for a drink with your mates and score some delicious food at the same time. All their dishes come from sustainably sourced ingredients. Delivered daily, they guarantee you get fresh food every day.
Hereford Road
££
Don't let the modern aesthetic with wooden chairs, leather couches, and wooden tables fool you. The food is as traditional as it comes. Hereford Road serves simple British fare with an innovative twist at affordable rates.
As they use locally-sourced ingredients, their menu changes constantly. Although, you can enjoy dishes like a whole braised oxtail every time you visit.
Are you a wine connoisseur who loves swirling their wine before tasting it? Perfect. This Notting Hill restaurant's extensive menu has many wines on offer.
Granger & Co
££
Nobody in London does Australian fare like Granger & Co, which is the work of renowned Aussie chef Bill Granger. The restaurant has a separate menu for any and all times during the day. We're talking breakfast, lunch, and dinner, or you can just get drinks.
Start with hotcakes, sweet corn fritters, a noodle bowl, or grab a smoothie to-go in the morning. Lunch is all about burgers, salads, chorizo, kimchi fried rice bowls, and sweet sides. Dinner offers marcona almonds, crab linguine bowls, crispy duck, and more.
Six Portland Road
£££
Six Portland Road is all food and no gimmicks. It sits on the relatively quiet Portland Road and features just 36 seats, so be sure to reserve your seat(s) ahead of time. This makes it the ideal spot for enjoying serene dining away from Notting Hill's busier areas.
This Notting Hill restaurant features an evolving menu. This makes it hard to recommend something. However, you won't go wrong with their three-course set lunch and various drinks in support.
Taquería
££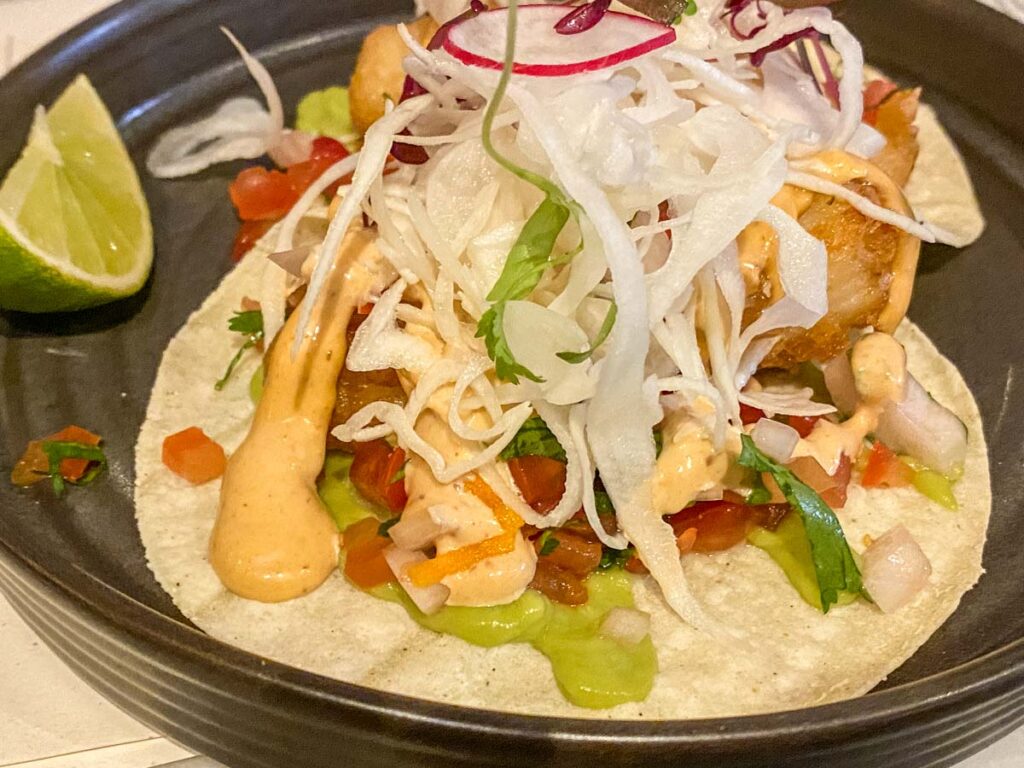 Bid goodbye to your homemade tacos and hello to fare from the real pros of Mexican cuisine. Taqueria initially arrived to feed Notting Hill's Mexican-starved crowd. Having been around in the neighbourhood for over 15 years, it's safe to say their patrons are well-fed and can't stay away.
While the tacos stuffed with brilliant cuts are the stars of the show, ceviches and tostadas are great sidekicks. Not to mention, there's a menu with forever-changing specials, and the drinks will just keep on flowing.
Bright lighting and funky music play a great supporting role to the food. This sets the mood perfectly so you can enjoy a more carefree outing than anywhere else.
Meals are all served on small plates, so it's best to grab two or three (or four, we won't judge) plates.
Caractère
£££
Caractère is a contemporary restaurant brought to life by Diego Ferrari and Emily Roux (daughter of the famous Michael Roux Jr). The atmosphere is perfect for light outings with colleagues in the afternoon or wooing your crush in the evening as the lights dim.
In French, "caractère" means character, and their tasting menu reflects this. The restaurant presents these selections as curious, robust, subtle, delicate, and greedy.
For example, you can enjoy a delicate experience with barbecued octopus, red onions, and garlic condiment, all topped with fried caper leaves.
Alternatively, you can opt for an à la carte menu with three courses or a three-course set lunch menu. All of which you can pair with your favourite wine.
Farm Girl
£
Farm Girl, owned by holistic eating advocate Rose Mann, is fast becoming somewhat of a legend for the social media darlings of Notting Hill. As an ode to its cult status, you're very likely to have seen this place featured on Instagram, and for good reason.
The well-designed, bright café serves all-day brunch delicacies that match their aesthetic appeal. Choose between rose lattes scattered with flower petals, açai bowls, chicken schnitzels, granola, and other wacky dishes, all ready to appease your palates.
Beware, though, you're likely to come across a long queue waiting for you. After all, it's one of the best restaurants in London for healthy grub. Plus, it has a walk-in only policy.
Other Places to Eat in Notting Hill
The Shed
££
A shabby-chic interior and farm-to-fork fare await at The Shed, which is the work of three British brothers. It's the perfect spot to enjoy hearty British food as the restaurant brings countryside Sussex to London.
The menu boasts dishes made with seasonal, locally-sourced ingredients. The restaurant ships these in straight from the brothers' farm. While the menu changes seasonally, we recommend grabbing the set lunch menu. It features six courses inspired by the English countryside.
Enjoy a quick meal with friends on the outdoor terrace in the summer, or opt for an intimate session with your partner in the alfresco dining area.
Farmacy
££
As you may have already guessed based on the name, Farmacy is all about your well-being. It's an upmarket, cashless diner laden with plant-based food, all made using ingredients from their farm.
The atmosphere is light and laidback, with lush greenery serving as decor and wooden tables and simple chairs adding to the chic look.
Their farm-to-plate menu features delicious treats like loaded mushroom tacos, the playful "got no beef burger", chopped kale salad, winter truffle ramen, and more. While the menu is seasonal, rest assured, the friendly staff, drinks, and delicacies are evergreen.
Café Beam
££
Cafe Beam is a walk-in only spot on Westbourne Grove. It boasts a minimalist design, towering plants, and low-hanging lights with plenty of space. It's the ideal restaurant if you love unconventionally indulging in brunch even late in the day.
This Notting Hill cafe's menu is diverse enough to satisfy different visitors. Think full English breakfasts or Mediterranean halloumi with eggs, sausages, avocado, feta, and marinated olives. They also have harissa yoghurt and vegan sausage served with hash browns, hazelnut dukkah, and more.
There are also a bunch of brunch selections on offer, like grilled chicken burgers, halloumi wraps, goat's cheese and beetroot salads. The drinks menu is just as extensive, with tea, beer, juice, coffees, cocktails, and wines among the popular options.
Gold
££
This three-storey gastropub doesn't look all that alluring from the outside, so how does it continue to draw in the masses? Easy, they serve incredible cuisine with a different vibe on each floor.
The neighbourhood restaurant boasts an informal menu featuring seasonal plates with generous servings, all cooked in wood ovens. Gold Restaurant whips up all its dishes using live-fire cooking to ensure you get all the flavours you deserve.
The menu is extensive with various meals and different drinks on offer. Try the wood-roasted purple potatoes with caraway sauerkraut slaw and oregano. The braised rabbit leg tortellini with porcini butter is just as good, or try the octopus carpaccio and grilled pepper vinaigrette.
We could go on and on, but we think it's best to stop there and keep the mouthwatering hunger at bay for us. However, you don't have to, as you can go and taste the meals yourself.
Portobello Road Market
£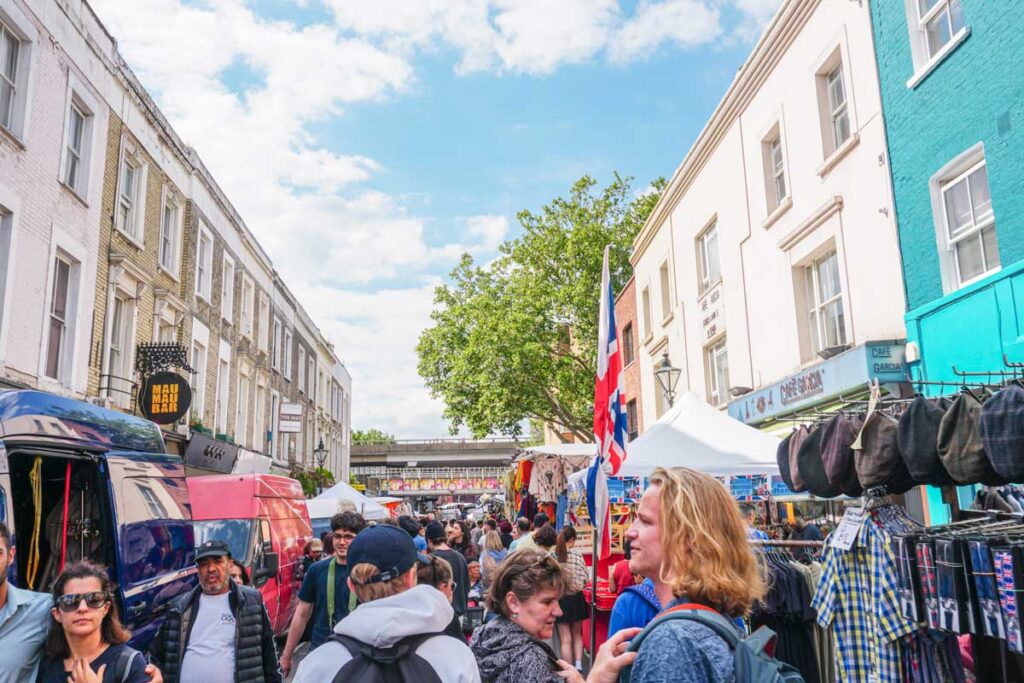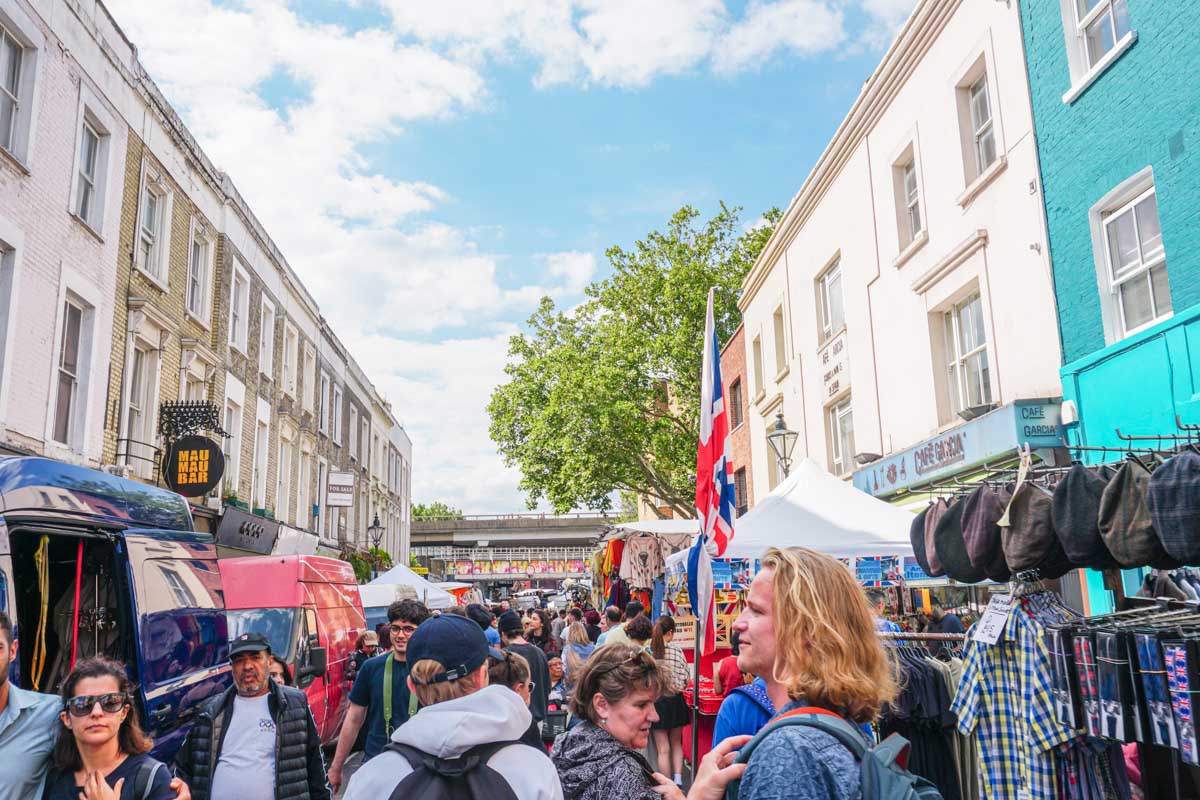 We have to admit, this inclusion is a bit of a cheat as this isn't exactly in the running for the best Notting Hill restaurants. However, given how the Portobello Road Market is one of Notting Hill's greatest jewels, we just have to.
Between your antique and fashion shopping, take your taste buds on a global gastronomic experience without leaving Notting Hill. This market boasts dozens of food stalls selling delicious and authentic international cuisine.
Sink your teeth into fresh Venezuelan arepas and cachapas courtesy of Papelon, opt for Filipino chicken adobo or pork lechon at Pinoy Grill or enjoy various wraps from Mr Greek. If you've got a sweet tooth, then Fala Portugues' artisan offerings are sure to give you the desired sugar rush.
Tip: While the food stalls only operate on Fridays and Saturdays, you may be lucky and find some open on Sundays.
Practical Tips and Map for Exploring The Best Notting Hill Restaurants
Given how popular some of the best restaurants in Notting Hill are, be sure to make reservations ahead of time. For walk-in only eateries, wear comfortable shoes as you're likely to wait in line for some time.
The top restaurants in Notting Hill boast diverse breakfast, lunch, and dinner menus. This makes your exploration of things to do in Notting Hill a seamless experience as you're guaranteed an excellent spot to re-energise with grub throughout the day.
Read More Notting Hill Guides