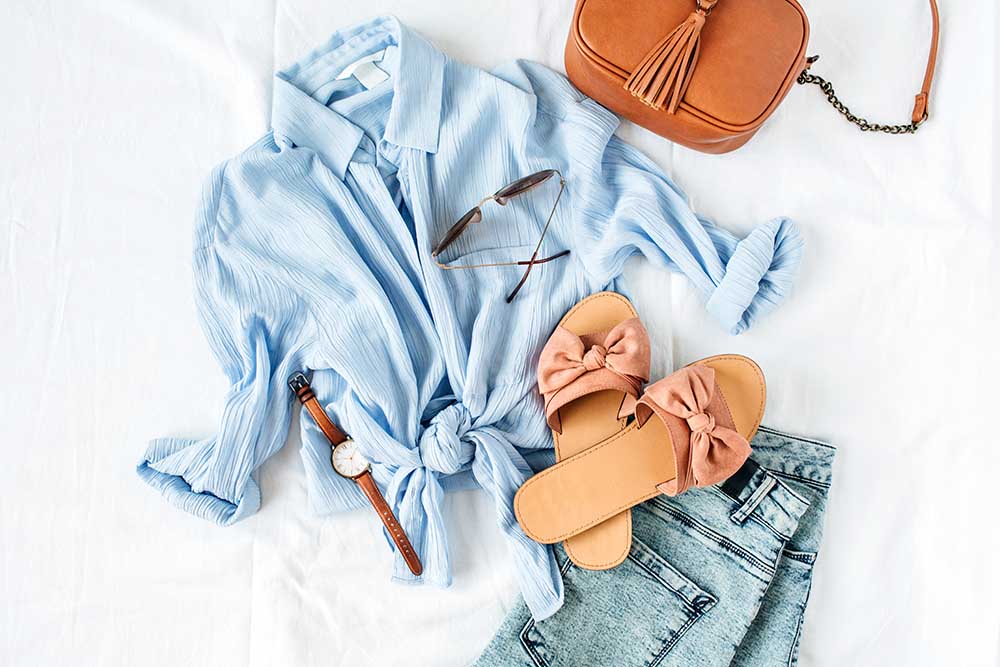 Packing for London is no easy task.
How do you pack for a city that can see bright sunshine, rain, heavy winds and then back to bright sunshine again in the course of an hour?
That's why we've put together this all-singing, all-dancing London packing list. Everything you need to know to pack like a pro.
Lets face it, the weather in London can be… temperamental. Some might say crazy, but we think that's a little harsh.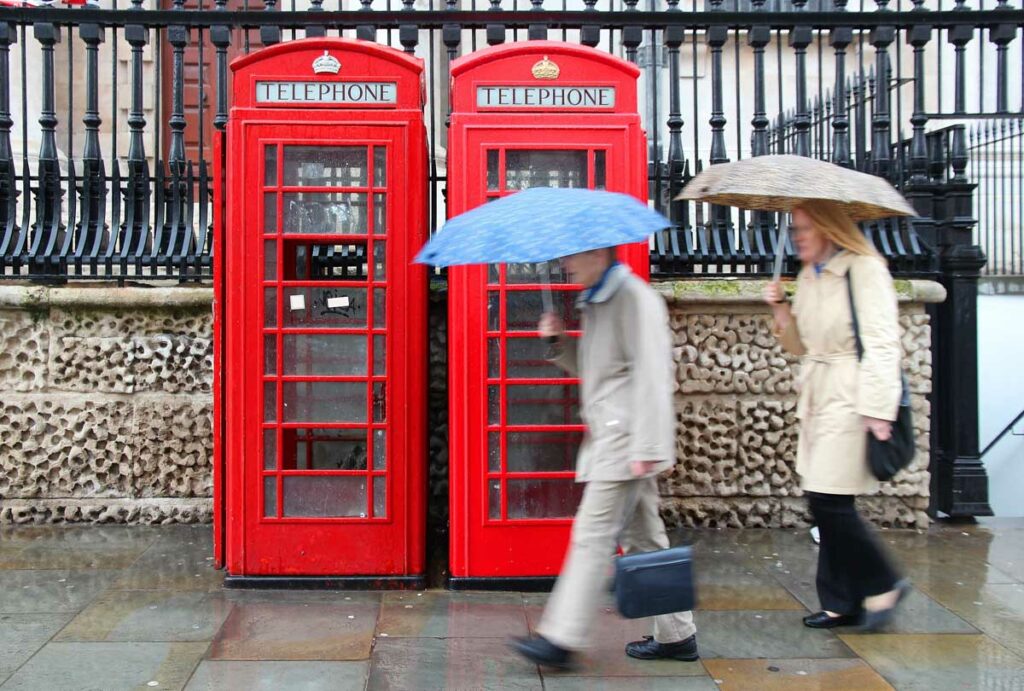 So when it comes to packing for London, it's totally fair that you might need a little guidance.
London is our hometown – we've spent many a spring, summer, autumn and winter scuttling around the city but it's only after a spell living abroad we thought of a London packing list.
All of a sudden, the things you take for granted, like having rainproof shoes and an umbrella to hand, ready to put on if it looked like it was going to be a wet day, were things you had to bring. With a limited baggage allowance.
We can all agree that nothing focuses the mind like having to a) cart a suitcase heavier than a corpse b) being faced with the prospect of overweight luggage fees.
And so our London packing list was born: what to pack for a London trip – plus a season by season breakdown of additional items.
You can thank us later.
PS: Planning Your Trip to London? You Should Also Read
Printable London Packing List
What to Pack for London
Packing essentials for London at any time of the year.
London Packing List: Luggage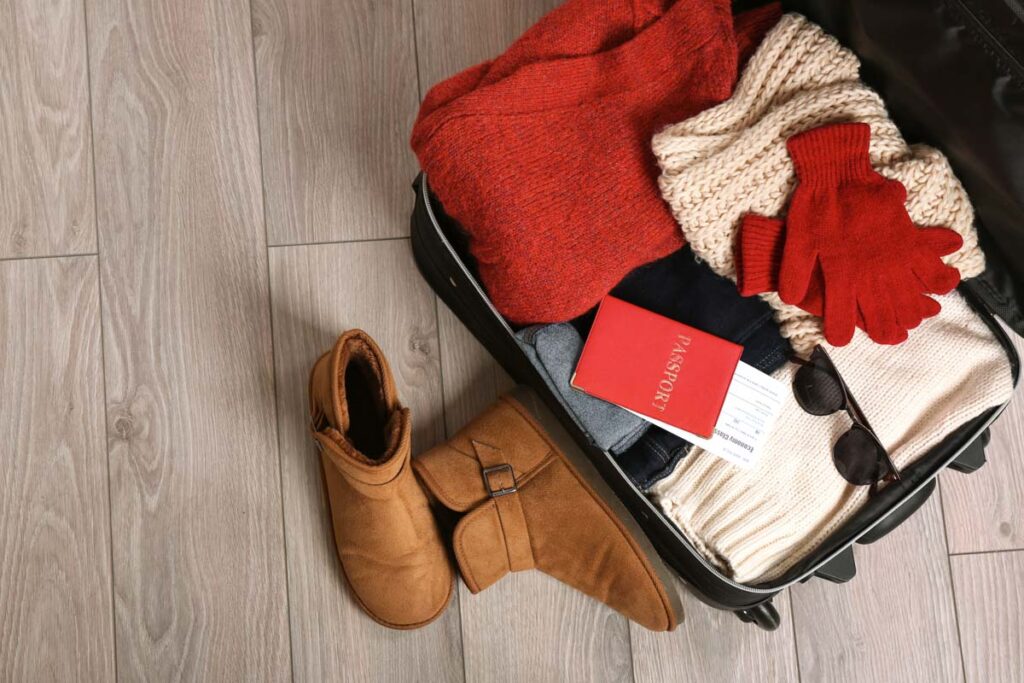 Your first decision is what luggage to go for.
We try to pack carry-on only for trips of up to a week now and use a suitcase that is sized accordingly. Not only does it mean that you don't have to faff about with checking your bag in, but it also means that there's little chance of the airline losing your luggage when it goes into the hold.
These days so many people travel carry-on only that there's a chance that you might have to put your bag in the hold anyway but it is worth trying.
Personally we're big fans of the American Tourister Moonlight range as it comes in a couple of cool colours and patterns that help your luggage stand out. Plus the carry-on isn't too expensive but is durable and will stand up to some wear and tear.
You might prefer a backpack: we don't use ours as much these days as it's easier to use a lightweight suitcase but the Osprey Farpoint and Osprey Fairview 40 litre options are good options for men and women respectively.
Looking for more tips about buying carry-on luggage? Read this.
Packing Cubes
What did we do before packing cubes?
Rummage through our luggage, simultaneously messing up my tidy packing and determinedly failing to find what we were actually looking for – that's what.
Packing cubes are the single best packing hack we can ever recommend (well, that and rolling your clothes) – not just for packing for London but period.
Pack each cube as you see fit – either with one cube per day, or separating out different items (i.e. underwear, tops, trousers etc in individual cubes) and then revel in your nice, tidy and organised suitcase.
You can even put them into draws or onto a flat surface in your hotel room to make it even easier to get at everything you need during your stay.
PS: put all your leads, cables, battery packs, adapters and other gadgets / electronics into a packing cubes and keep it in your carry on. It stops leads from getting everywhere and ensures you have the main things you need in case your luggage gets lost.
Daypack / Day Bag
OK, so you've got your main bag all sorted… now the question is what kind of bag are you going to use once you arrive in London?
The answer is really going to depend on your personal style and what you're doing on a day-to-day basis during the trip but, here are a couple of options to consider.
The Osprey Daylite. A true daypack – practical AF, with lots of compartments for everything you might ever need. Don't expect to get into any swanky bars wearing it though.
Herschel Retreat. Less overtly practical but still a rucksack with plenty of room for your stuff yet still comfortable to carry around all day. More stylish than the Osprey.
A nice shopper tote or traditional satchel. Roomy enough for you to carry your water bottle with you and a few extra bits but nice enough that you don't look like a tourist.
As an aside, you can go a bit overboard worrying about security features on your day bag.
Ultimately, it's a matter of common sense: put valuables into a compartment that is difficult for pickpockets to access and don't leave valuables hanging around on the top of an open bag.
Not every person in London is trying to rob you, so just chill.
London Packing List: Clothes and Accessories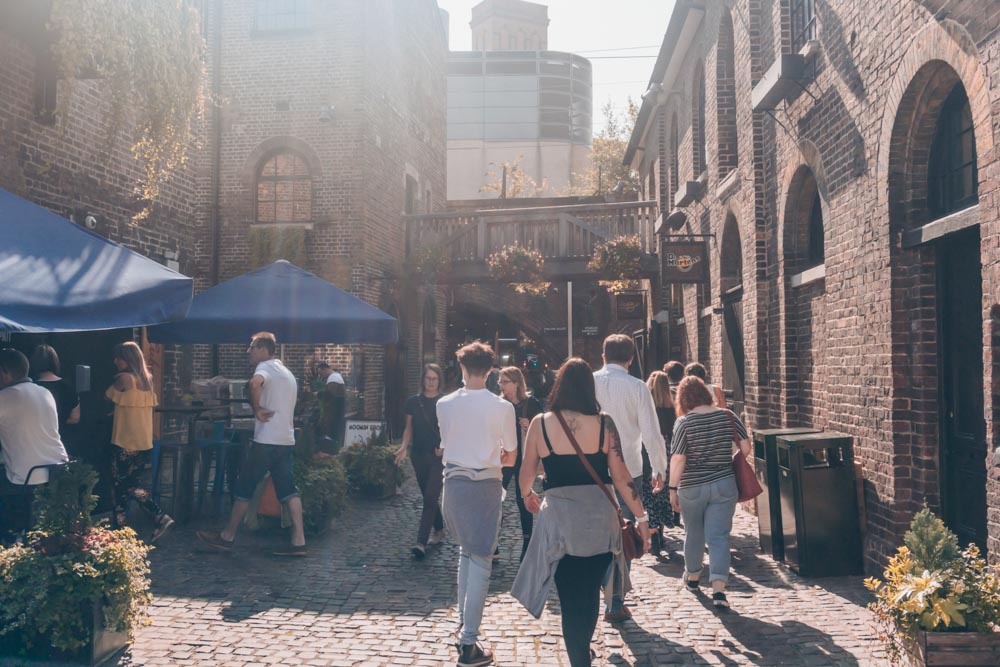 Clothing-wise in London, anything goes.
We're a pretty laid-back city when it comes to dress code – though some of the more upmarket bars and restaurants won't let you in if you look too casual.
It's a city where you can dress as eccentrically or staidly as you wish and no-one will bat an eye.
That said, the weather isn't so forgiving. We've included some tips for what to bring to London in different seasons at the end of this guide but as a rule of thumb embrace the mantra layers are your friend.
Even the balmiest of summer days can turn into a cruelly nippy evening as soon as the sun sets.
Having layers with you means that you won't get caught out but nor will you be sweltering like an over-trussed turkey because you've put on something too warm.
You'll also want to think about what you're planning to do while you're in London. Want to take long walks between the city's biggest landmarks – wear comfortable clothes and shoes that won't rub.
If you're more interested in bar-hopping between the city's swanky secret bars, bring something a little classier. You do you boo.
Dresses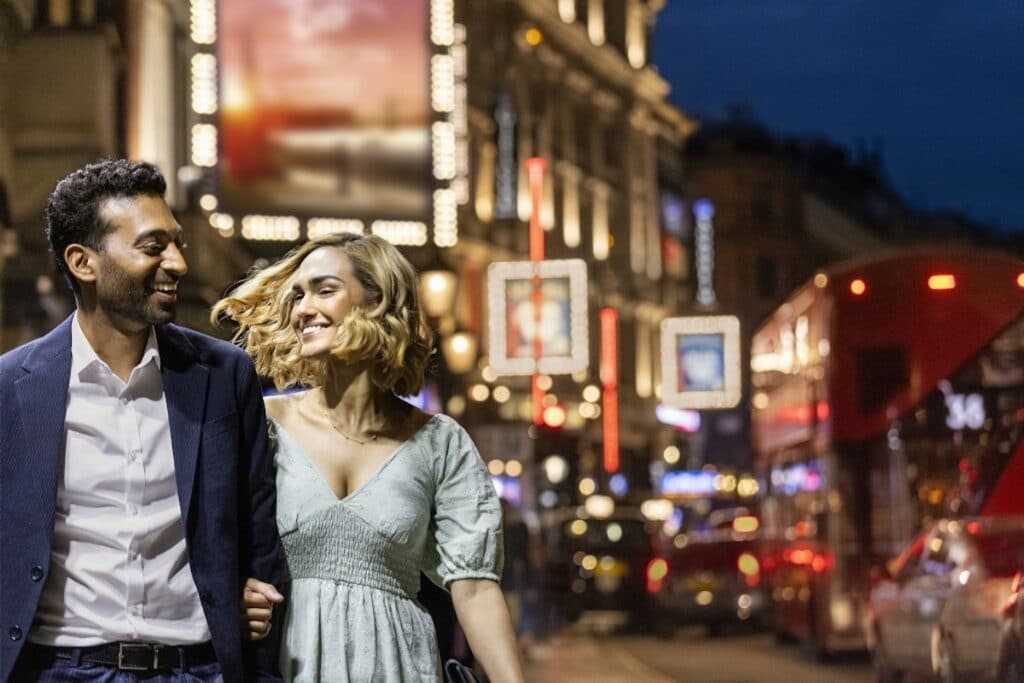 Dresses are an easy day to night option – opt for breathable natural fabrics and designs with pockets.
Tights or Leggings
Not necessary during the summer (though a light pair of tights can be a godsend on a chillier summer evening) but particularly useful for the rest of the year.
Come winter you will want some high denier tights or thick leggings to keep out the chill.
Trousers / Pants and Jeans
Personally we love a bit of athleisure but we know it's not for everyone 😛 Bring some trousers or pants you are completely comfortable in. Smart jeans can be dressed up and down, so are a nice capsule staple.
Tops
Bring a couple that will work with the different skirts and trousers for ultimate flexibility.
Cardigan or Sweater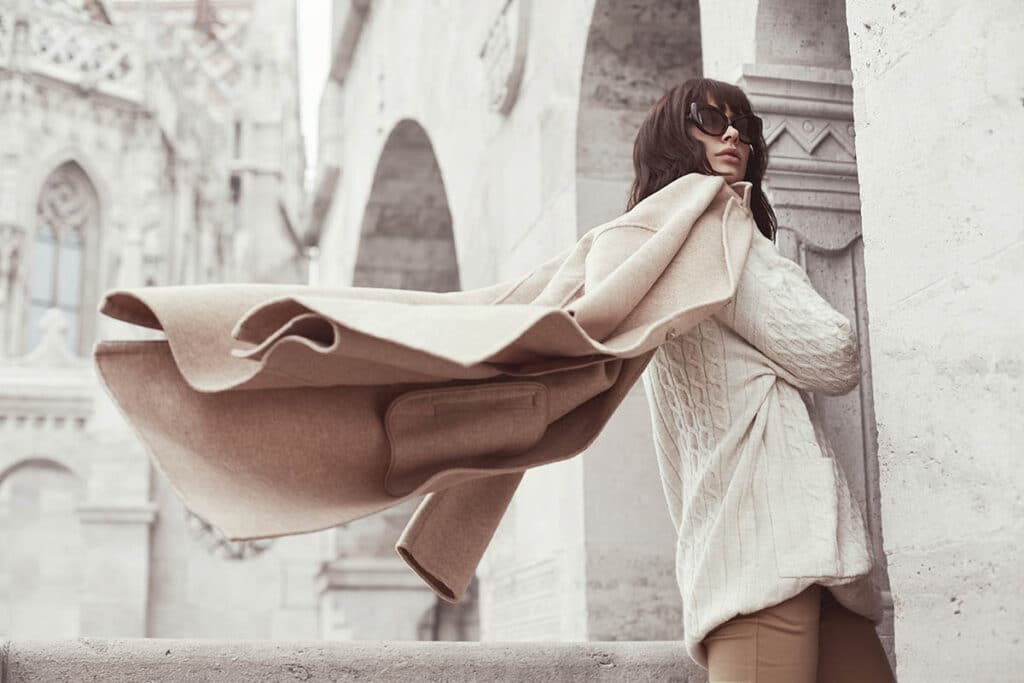 Remember the mantra layering is your friend? That.
Jacket / Coat
The thickness will depend on the season but it's good to have a water-resistant lightweight jacket in summer, moving to a thick coat in winter.
In spring and autumn, you have to take it as it comes as the temperatures can vary so much but use a thicker trench coat on most days.
Nightwear
If you wear it. Saucy.
Underwear
Make sure you bring your comfiest and easiest to wear undies – nothing ruins a trip like rubbed skin. Breathable is absolutely your friend here ladies.
Bring enough for the duration of your trip.
Socks
Pretty self-explanatory we'd say 🙂
Sunglasses
Yes, we do have sunshine in London.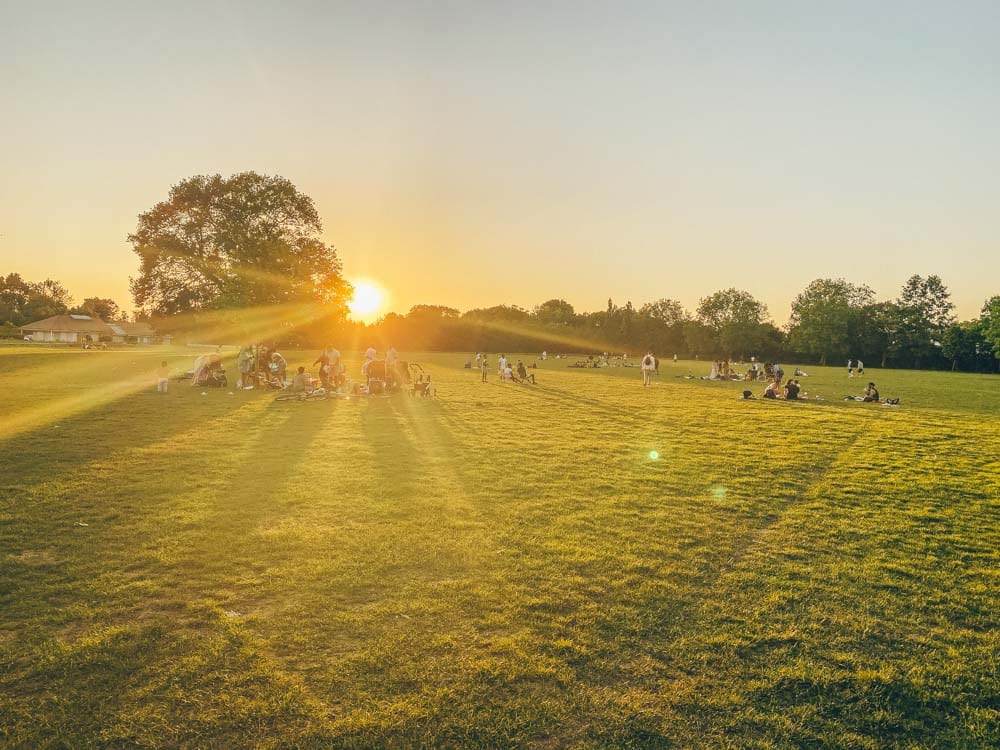 You'll believe it when you leave your sunglasses at home and have to walk around squinting all day.
Umbrella
Look, London is nowhere near as wet as all the naysayers would have you believe. It doesn't rain every day, it's not even one of the wettest capitals in Europe. Get over it.
But also bring an umbrella because when it does rain, it can drench you to the skin in a matter of minutes.
London Packing List: Footwear
Walking Sandals or Shoes
In the summer months, you need a comfortable pair of walking sandals – a pair of black Birkenstock Arizonas are perfect for day to night.
Alternatively opt for Teva Tirras for uber-comfort. In winter, a pair of nice shoes or cool trainers will do.
Dressier Shoes (Optional)
A pair of nice shoes can totally transform a pretty but practical dress from day to night. Is it worth the suitcase space? Up to you.
London Packing List: Gadgets + Electronics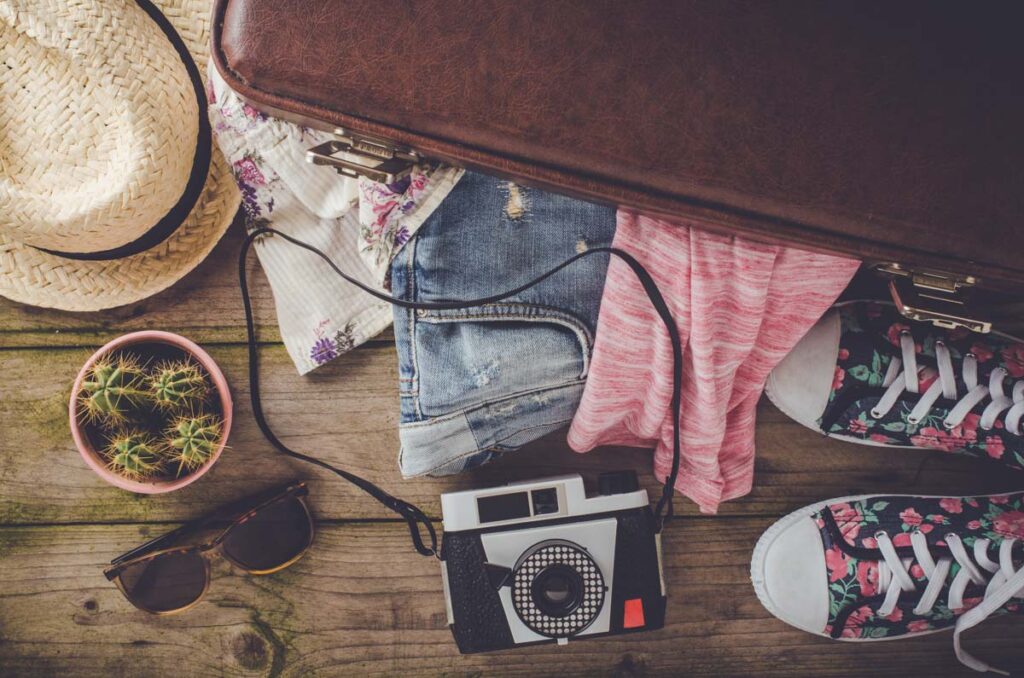 Camera
We are big believers in taking a separate camera with you on trips.
How swish you want to go is completely up to you.
Here at London x London, we use the mirrorless Sony A6500 and love it. For compact cameras the Sony ZV1 is a great option.
Spare Battery
There are few things more annoying than running out of camera battery halfway through the day.
Spare Memory Card
See above but insert memory instead of battery – I've done this so many times and having to find somewhere to get a new memory card isn't always as easy as you'd think (ps – go big so you don't have to replace them as often).
Noise-Cancelling Headphones
Noise cancelling earphones like these ones are great for flights, but also if your hotel room gets a bit noisy or you want to block out some of the city's hustle and bustle.
Unlocked Phone
Unlocking your phone before you travel is a great option for avoiding crazy roaming charges (particularly on data). Super handy if you have a dual sim phone, or a second phone you can use.
You can pick a sim card up at the airport. Even better, pre-order from O2, Vodafone or Three.
Universal Adapters
The British 3-pin plug is pretty rare.
Universal adapters are the way forward anyway as they work in most countries and save you the faff of having to buy new ones for each different destination.
The voltage is high in the UK too so you will need to bring a voltage regulator for some items.
E-Book Reader
Much as we love an actual book, they weigh a lot and it's much easier to bring an e-book reader like a Kindle.
External Power Pack
If, like us, you feel that you're in an eternal race to the next plug socket as device after device chews through battery, you can save yourself a world of irritation and buy a decent battery pack.
We're not talking about one of those pathetic things that half-charges your phone before giving up the fight, we're talking about something like this Anker Power Pack that lasts for several charges. I've had mine for years and never travel without it.
London Packing List: Toiletries
The key here is to bring enough stuff without bringing the whole bathroom with you.
Toiletries are really where we've excelled at cutting down on the load as we've travelled more and more.
It can be as easy as really thinking about whether you each item before you pack it – chances are that if you haven't used it in the last couple of days at home, you don't need it when you travel either.
If you're travelling carry-on, remember that all liquids must be under 100ml (3.4oz) and packed in a clear bag – buy a reusable set to cut down on single-use plastics.
Face Moisturiser
Go for a lightweight option in summer months and heavy duty in winter.
Body Moisturiser
Because dry, itchy skin is not the thing.
Toothbrush and Toothpaste
Do we really need to explain?
Shampoo and Conditioner
Opt for travel size ones or go with solid bars.
Makeup + Other Beauty Products
This one's completely personal, so we'll leave it up to you. That said, we do like to bring one or two sheet masks (totally obsessed with Nature Republic's Sheet Masks) to rehydrate our skin post-flight and during the winter months.
Travel Towel
Bring a quick-drying microfibre towel if you're not booked into a hotel / airbnb with towels provided.
We love these Dock & Bay beach-size towels as they're large, come in cool designs and are really quick to dry.
Travel Medical Kit
You can get most stuff you'll need in London but it's useful to have a small stash of paracetamol / band aids / etc with you in a small travel medical kit. The last thing you want to do if you're feeling grim is set off in search of somewhere to buy medication.
Don't forget any prescription medication.
Sunscreen
Because sunburn is not nice and we should be kind to our skin.
London Packing List: Travel Essentials
Passport / Visas
Although it's buried down here way down on this London packing list, we can all agree that your passport is CRUCIAL. Don't forget it.
Also, be sure to apply for any necessary visas well in advance.
Travel Insurance
Are you the kind of person that dismisses travel insurance as totally unnecessary, preferring instead to fly by the seat of your pants?
Hate to tell you, but you're just wrong on this. Lots of people think travel insurance is for scaremongering fuddy duddies but seriously.
Medical bills, compensation for flight cancellation, stolen or lost passports… there are many things covered by travel insurance that, quite frankly, will totally screw you if you land in a situation where you need it and you don't have it.
We use Allianz Travel Insurance in the past and would also recommend that.
Cash / Credit Cards
Let us pass on some tips that we've found useful over the years.
Try and bring a debit card that doesn't charge you for foreign transactions.
Use a credit card that earns you airmiles with your preferred airline (bonus if no charge for foreign transactions).
Never. Ever. Exchange money at the airport. They will give you the worst rate.
In fact, for the most part, you're better off withdrawing money from ATMs as the rate is generally better. Opt to be charged in your native currency, don't let the machine do the conversion for you as they use poorer rates and you generally end up worse off.
Few places in London don't take card but they do crop up, so it is always useful to have some cash with you.
Tickets, Reservations, Emergency Contacts + Addresses
Add printouts of your tickets, emergency contacts, key addresses (like that of your hotel) and reservation numbers to your London trip packing list.
They can be a lifesaver if you run out of phone battery at the airport or somewhere equally important.
Also bring a photocopy of your passport and keep it separate to your actual passport so you have details in case you lose it.
Guide Book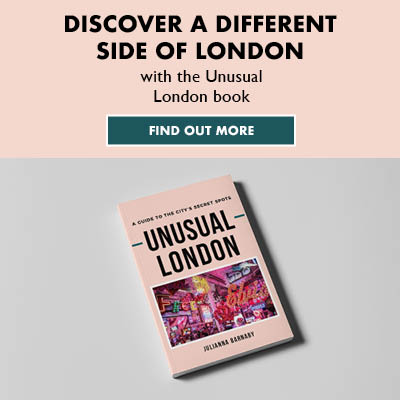 Ooh look at us going all old-school on our list of things to bring to London.
However much we segue into the digital age, sometimes it's good to have an actual guidebook.
We recommend the Rough Guide to London as it's detailed without being overwhelming or our editor's Unusual London book to help you discover the city's hidden gems.
What to Pack for London in the Summer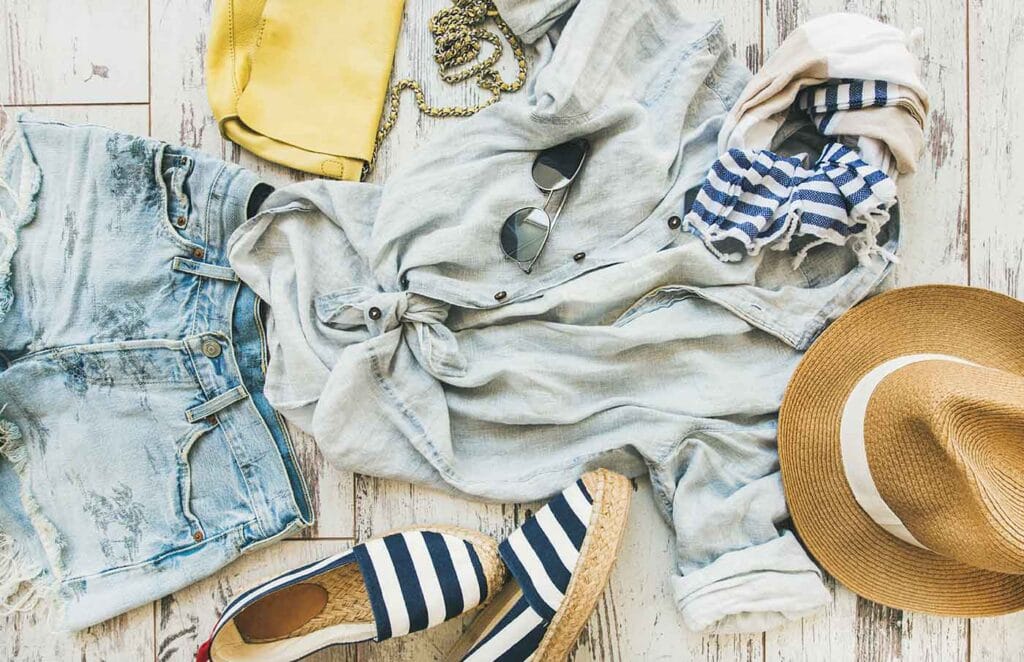 London's summer is unpredictable at best.
We're always a bit bitter about our summers as they can be great or… well, they can suck. This year's summer ranked as a sucky summer – apart from the four days of heatwave when the whole city fell to pieces.
Creating a London packing list for the summer is a tough call – but these are the things you shouldn't leave at home.
Dresses
Bring more dresses, fewer trousers as it can get warm and humid during the summer months.
Shorts
A cool pair of tailored shorts are an easy day-to-night option.
Chub Rub Tights or Cycling Shorts
If you've ever undergone the indignity of having to walk like John Wayne because your thighs have decided they hate each other and want to put you through misery, you'll understand why we've included this in your list of things to bring to London in summer.
A nifty pair of cycling shorts or specific chub rub shorts can go a long way.
Light Jacket
This is the British summer, not the tropics – temperatures can still stay on the chilly side.
What to Pack for London in Spring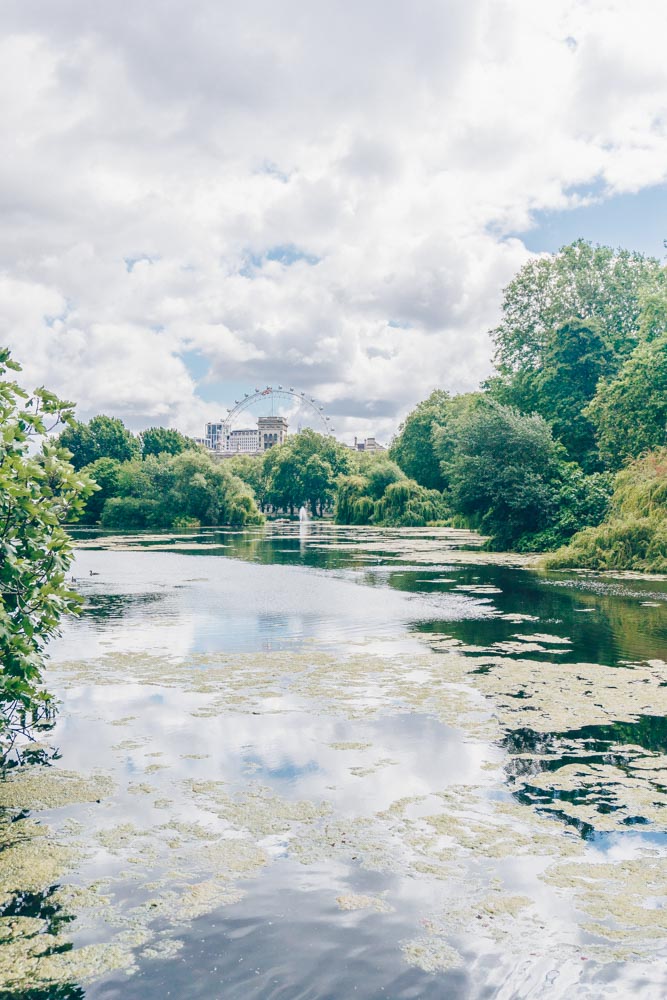 Waterproof / Water Resistant Jacket
Spring can be really wet and windy – you will definitely need a water resistant or waterproof jacket. A trench coat is a timeless London classic.
Ankle Boots
Good for keeping your feet dry and looking stylish at the same time.
What to Pack for London in Autumn / Fall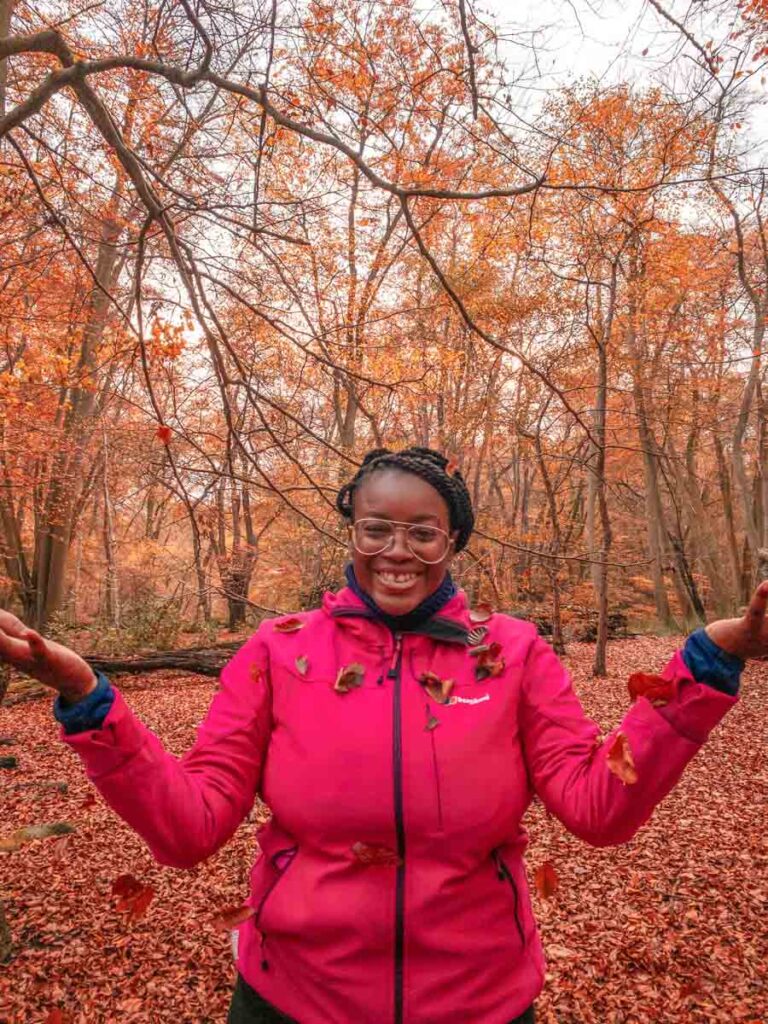 Autumn is a great time to visit London. The weather isn't too cold yet and you can still get some nice sunshine but prices are lower and it's less crowded than in the summer months.
Definitely bring a couple of jumpers and some thick-soled shoes (no ballet pumps!) plus a thin coat to layer on top.
Jacket for Layering
Of all the seasons, autumn can be the most unpredictable. Bring a jacket that you can wear with other layers like thick jumpers or cardigans to keep you warm if necessary.
Comfortable Boots
As for spring, it's good to keep your feet dry. Don't bother with wellies (wellington boots), it's completely OTT.
What to Pack for London in Winter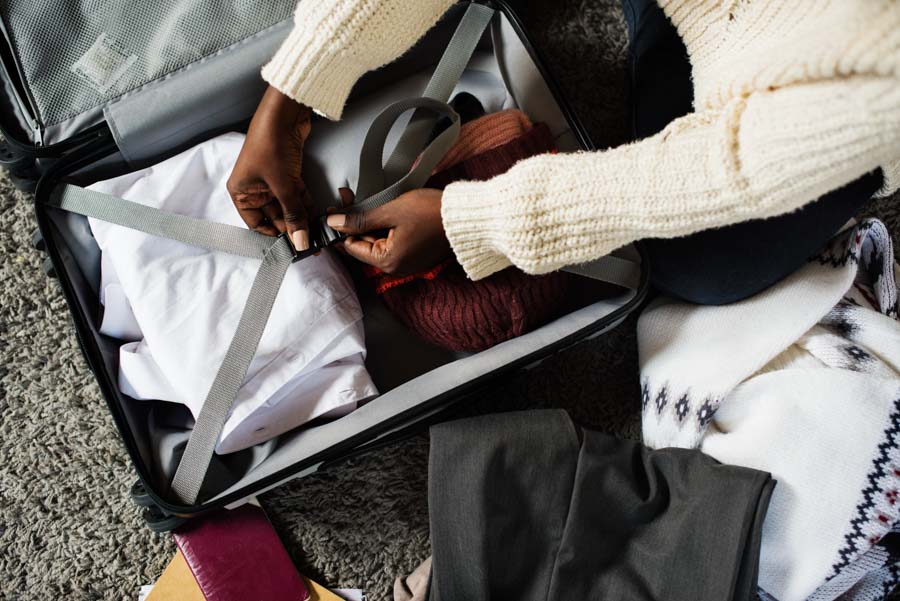 During winter in London sh*t gets a lot more serious.
Remember those summer days when you could breeze out of the hotel in a flippy dress and sandals?
No, us neither. Your list of things to pack for London in winter is all about thick layers and staying warm.
On the other hand, London's winters aren't thaaaat cold thanks to the lovely Gulf Stream – with average highs of around 9℃ and lows of 4-5℃ between December and February.
Key takeaway? Bring too much warm stuff and you are going to get very hot and sweaty when you're walking around – you also run the risk of actually melting when you get onto the tube.
Avoid this disaster by layering like a total pro.
Winter Coat
Any winter coat you pack for London in winter needs to be thick enough to keep you warm but not so thick that you can't wear any layers underneath.
A wool coat is a classic look and won't make you stick out in nicer spots, but obviously a winter shell is practical and warm.
We absolutely hate those fleece puffas that make you look like an inflated, perforated bin bag but if you must….
Thermals
Most of the year London isn't cold enough to bother with thermals, but once in a while we receive the loving attention of nasty blasts of Siberian weather with nicknames like "the beast from the east".
In those situations, you will want to have a thermal top to keep you warm and toasty.
Check the forecast before you go to the hassle of bringing it though.
Winter Footwear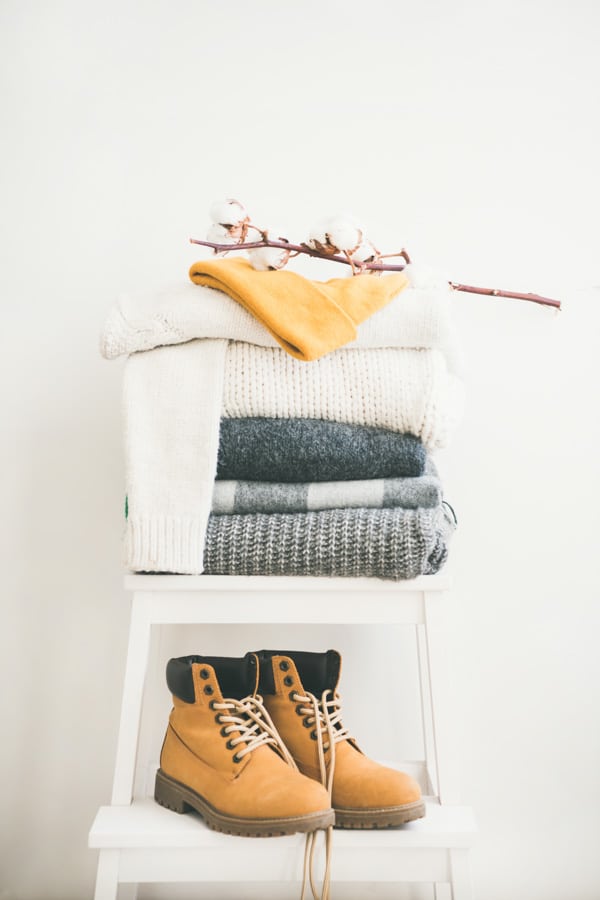 Thick, waterproof footwear with a good grip will go a long way. Dr Martens are perfect, as are Timberlands if, like us, you are fully enjoying this 90s revival thing. Both are waterproof.
Otherwise, a good pair of hiking boots or stylish ankle boots will work.
Bring a pair of thick wool socks too.
Gloves
In the age of the smartphone, you either have to opt for fingerless gloves, gloves with pull back mittens or smartphone-compatible gloves.
Hat
You can go all OTT and do the whole "cover as much of your face and head as possible" thing, or opt for something a little less dramatic.
Either way you are going to want a hat.
Scarf
It's amazing the difference a nice wooly scarf can make. An absolute must.
Heavy Duty Moisturiser + Chapstick
The cold weather and central heating can play havoc with your skin – we use Rosehip Oil on top of moisturiser to keep our skin hydrated but you'll know what works best for you.
Don't forget the chapstick either – sore cracked lips are not a nice thing at all.
Packing List for London – Handy Tips to Plan Your Trip
Layering really is key when it comes to packing for a trip to London as the weather can change in the blink of an eye.
Bring clothes that work well together so you can mix and match to create different outfits. That way you can keep your luggage weight lighter and avoid wearing the same things day after day. Muted colours tend to work well but go with whatever suits you.
Don't bring hair dryers. If you're from the US, they probably won't work because of the voltage difference. Your hotel will probably have one, or provide one on request.
There we have it! The ultimate London packing list.
You should be pretty set on what to pack for London, so here are some handy guides to help you plan your London trip.
London Trip Packing List: Read Next
Love This? Save and Share on Pinterest!