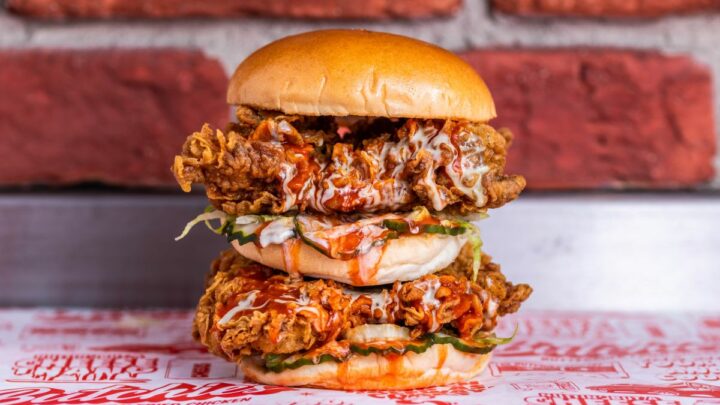 What the cluck? You haven't tried out these spots for the best fried chicken in London yet?
London has a budding love affair with fried chicken, with lots of new places constantly popping up. But, as anyone who appreciates the satisfying crunch of a perfectly-crispy chicken wing will testify, not all spots are created equal.
Shake a tail feather – ditch the greasy KFC for some of the best fried chicken London has to offer.
Best Fried Chicken in London
Coqfighter Soho
Multiple Locations
£
With such a ballsy name like Coqfighter Soho, you can bet these guys mean business when it comes to fried chicken. You can find their fried chicken in Soho, Shoreditch, King's Cross, and more places all over London.
This chicken shop does it all, and even serves up some of the best Korean fried chicken London has to offer (which, if you're wondering, is completely superior to American fried chicken – sorry not sorry).
Their food menu is quite varied, but if you can't choose, try their fried chicken burgers. They even have some vegan alternatives for more filling meal options. Better yet, try their wings or share meals for a full-out feast.
Slim Chickens
Multiple Locations
££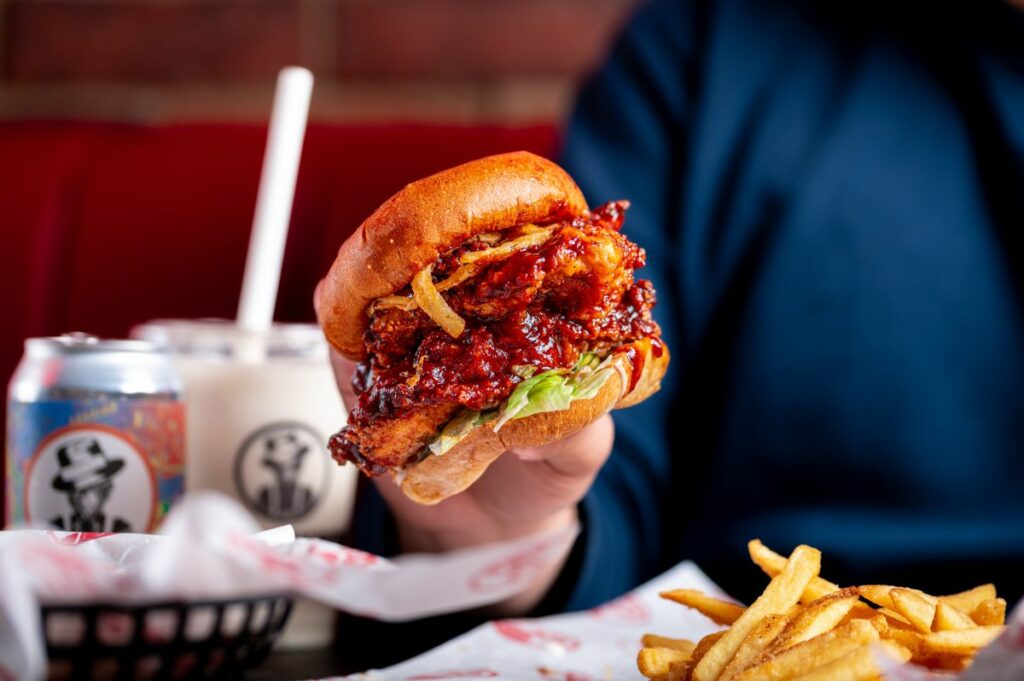 If you're looking for the best halal fried chicken London boasts, Slim Chickens promises to make your day. This chicken eatery first started in Arkansas and has since brought that southern hospitality to London.
You'll find buttermilk fried chicken tenders, sandwiches, wings, wraps, and plant-based meals on their menu. Enjoy your meals with one of their 14 dipping sauces, Texas toast, fries, and a bottomless soda.
For dessert, try their handspun shakes or their take on cheesecake ice-creams they've dubbed 'freezecakes' for a sugar boost.
Dirty Bones
Shoreditch + Kensington
££
Dirty Bones is where all the cool kids hang out and enjoy fried chicken.
They combine comfort food and cocktails at their trendy New York-inspired restaurants. Their crispy fried chicken comes with a mouth-watering garlic ranch dipping sauce that will have you reaching for more.
While you're there, try their chicken on waffles drenched in maple syrup for a salty-sweet delight. It is one of the best places for brunch in Shoreditch for this very reason.
Chick King
Tottenham
£
If you're in North London and haven't heard of Chick King, we call fowl-play. It is Tottenham's go-to chicken restaurant.
This cozy spot's chicken menu is long and at a bargain too. You'll recognise the small shop by how packed it is sometimes – trails of people queue up for their next hit.
You can choose between one to 20 pieces of chicken or opt for meals. They serve chicken and chips, hot wings, burgers, and nuggets too. Sides include salads, coleslaw, corn, beans, and even apple pie.
Chicken Shop
Multiple Locations
££
Chicken Shop's speciality is deep-fried and grilled chicken that is also halal.
Their varied menu is full of options for burgers, wraps, a rice box, tenders, wings, and more. They also have eight handcrafted sauces and dips with flavour inspirations from East Asia to the American South.
Although that will be enough of a treat in itself, you simply have to try their cake flavoured milkshakes or add a bottomless refill to your order. They also serve beers for something with a little extra kick.
Mother Clucker
Shoreditch
£
You can find Mother Clucker at Truman Brewery near Brick Lane Market – you'll recognise them by their army green shipping container strorefront or their eyecatching food van.
They serve their chicken with a tried and true method and recipe. First, they add a tea brine to their chicken before dipping it in buttermilk to keep it soft, juicy, and full of flavour before frying. Then, it's double battered for that extra crunchy exterior.
Chicken gets served with their lime mayo or Mother Clucker pepper sauce made with a secret recipe. If you're feeling egg-stra adventurous, combine the two for an even better tastier meal.
Besides their sauces, they also pair their dishes with fries and tater tots — with either cajun spice, cheese, or a loaded treat with cheese and bacon.
Niche
Angel
£
Niche is one of the few places you can just wing it and get gluten-free fried chicken in London.
Their 'NFC basket', which stands for 'Niche Fried Chicken', will allow you to enjoy buttermilk fried chicken without worrying about your food intolerances. These spiced chicken breasts are fried until golden brown and come with an aioli and BBQ sauce for a little extra kick.
Treat yourself to a few gluten-free desserts and cocktails too while you're at it.
Thunderbird Fried Chicken
Multiple Locations
£
Thunderbird Fried Chicken hangs its medallion in the Wing Fest Hall of Flame as the 2019 winner of the people's choice awards – so you know you're in for a fantastic chicken experience.
What started as a small win ended in a victory as the humble restaurant has now expanded to eight locations. Of course, our first recommendation will be their chicken wings.
Choose between a few sauce options like habanero, garlic butter, spicy salted caramel, or the award-winning Chupuffalo (chipotle and buffalo sauce) wings.
Not a wings type of person? They also have burgers, wraps, strips, and churros to choose from.
Chick 'n' Sours
£
Chick 'n' Sours is one of the best chicken shops in London to sit down with pals and enjoy a tasty meal, and equally delicious drinks. Every dish and cocktail (sours) is carefully curated to bring out the best flavours.
They love experimenting with new flavours and combos. Enjoy wacky fried chicken dishes like drumsticks and thighs with seaweed and pickled watermelon or simple Kung Pao disco wings.
Their drinks menu is just as creative, with cocktails made with habanero sauce, lime, vinegar, and blackcurrant leaves. There's never a dull flavour at this chicken restaurant in the city.
Butchies
Multiple Locations
£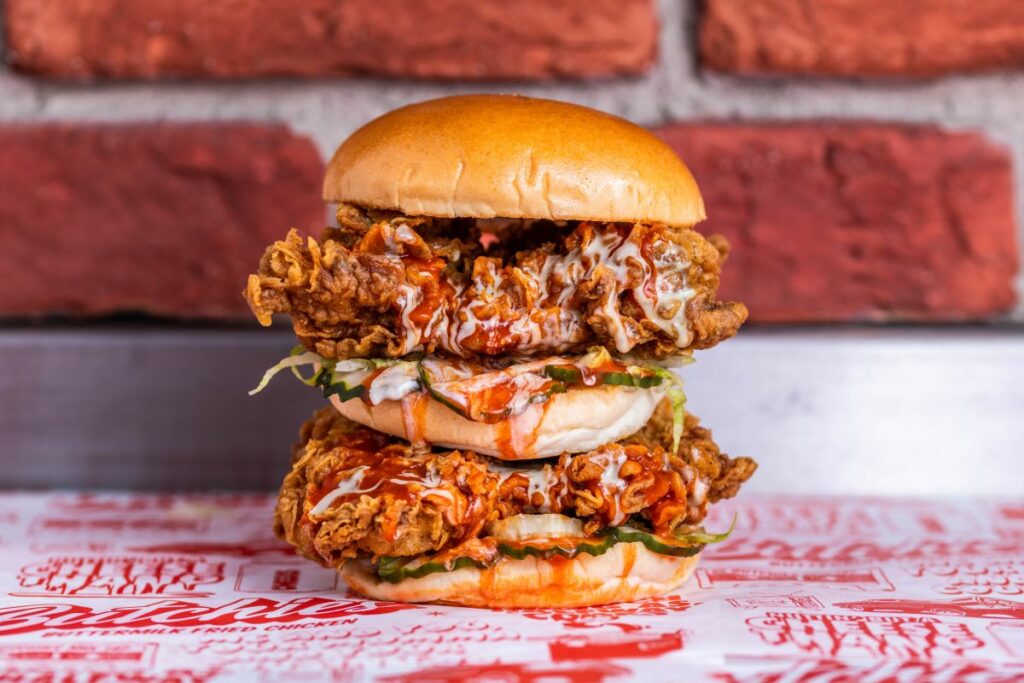 While there is still a debate on the origins of fried chicken, we can all agree that there are few dishes as tasty as buttermilk fried chicken. That's why Butchies made it its speciality.
Whether you're looking for sandwiches, bowls, popcorn chicken, or wings, this chicken shop adds their (not so) secret sauce each time. They even have a vegetarian menu dripping in their "OG sauce".
Butchies serves the best southern fried chicken in London, with branches in Shoreditch, Clapham, Victoria, and a few other places.
Where to Find the Best Fried Chicken Restaurants in London: Map
Discover More London Food Guides