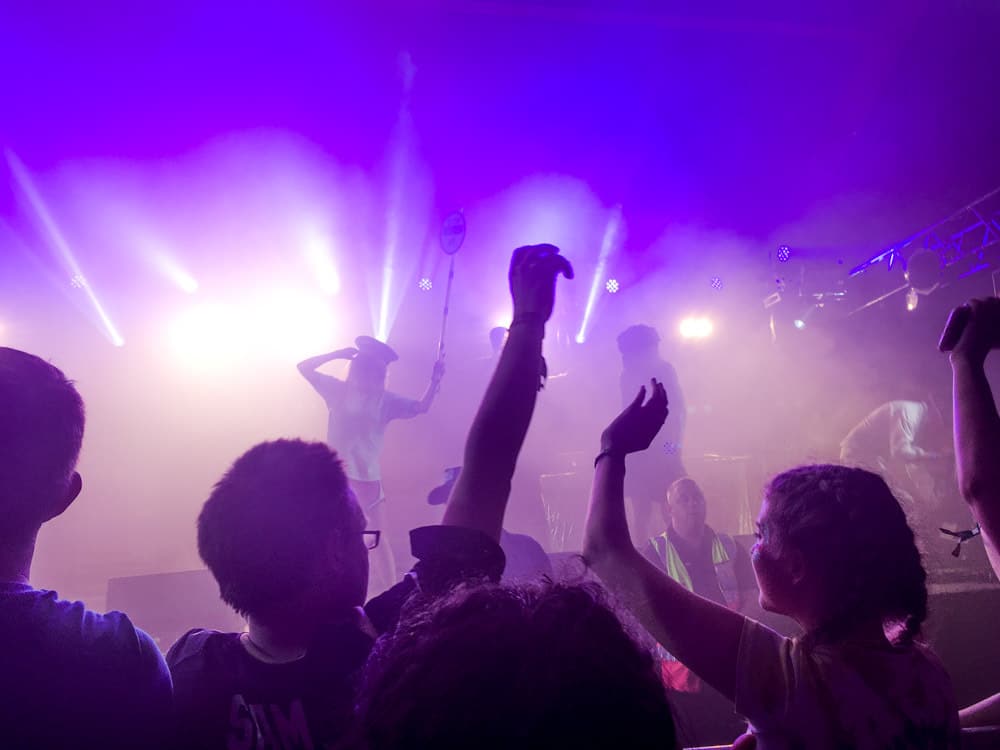 London music festivals are some of the best in the world. As Londoners, we're privileged to be able to enjoy all the multi-day joy of a great festival right on our doorsteps. No tents, minimal mud, and dream headliners, that's London festivals.
And they're back for 2021! From grime to house to post-punk, London's summer festival calendar has something to offer everyone.
So, here's our guide to the best London festivals this year. The tunes will sound even better after such a long wait, we reckon.
Best London Festivals
South Facing Festival
Crystal Palace
August 5th-31st
Tickets £38-£71
This London music festival is brand new for 2021, and runs throughout most of the weekends in August. We've done the complex maths and worked out that most weekends in August means… loads of bands.
South Facing will be particularly up your street if you're of an age to clearly remember the early 2000s (aka still totally very young), as headliners include The Streets, Dizzee Rascal, Sleaford Mods and Supergrass.
The four weeks of music are all being held at Crystal Palace Bowl, so you can explore the gorgeous Crystal Palace Park (including the dinosaurs, which should never be passed up) and the wonders of South London while you're waiting for doors.
All Points East
Victoria Park
August 27th-30th
Tickets from £78.95
This East London music festival has been running for just four years, but is already a much-anticipated event. Usually held in May, it was cancelled in 2020, but will return to Victoria Park in August of 2021.
Run by the people behind Coachella, All Points East is a reliably great time. And Victoria Park is a festival hotspot in itself for Londoners who have been partying there for several long weekends every summer for years. So, we'll all be relieved to be back this August to catch Jamie XX, Kano, Slowthai, Little Simz, Arlo Parks, Pa Salieu and Marie Davidson.
The rest of the lineup hasn't been announced yet, but it's bound to be excellent. I mean, did you hear me? They run Coachella!
Kisstory
Streatham Common
September 25th-26th
Tickets £30.80-£86.80
Kisstory is one of the latest summer festivals London has to offer, so hopefully the weather will hold for this two-day nostalgia-fest on Streatham Common. The usual July event was moved back this year to make sure everything could go ahead as normal, which sounds pretty sensible to us.
There will be Kisstory DJs, special guests, and plenty more fun, but details are still being held back from the public. Check the Kisstory website for further details as we move into summer.
Windrush Festival
Crystal Palace Park
19th-20th June
Tickets £11.50-£16.50
Windrush is a festival of real vibes, celebrating the music, art and culture of the Caribbean as it exists in London.
Over two days, visitors to the festival will be able to explore what various black communities from London and the wider UK have to offer as they showcase what makes them unique through musical performance, murals and food.
This is a grassroots festival built around empowerment, and it's one you shouldn't miss. It's a particularly excellent choice for a family day out, too, so don't let the kids hold you back from heading to Windrush this year.
Queen's Yard Summer Party
Various venues, Hackney
August 7th
Tickets £49.50
Do you need a serious party after surviving 2020 and the first half of 2021? Yeah, us too. That's why we're going to this East London day festival (which should keep on well into the night for good measure).
Queen's Yard Summer Party is being arranged by, amongst others, legendary promoters Adonis and Body Hammer. Neither venues nor lineup has been released yet, but we know it will be happening across Hackney Wick.
You can buy tickets now, and you might as well really, it's definitely going to be great.
Field Day
Victoria Park
August 29th
Field Day is, I cannot stress this enough, an iconic London festival.
It all started in 2007, when Foals and The Mystery Jets headlined and everyone's trousers were still way too tight.
This year, cuts will be wider round the ankle and Bicep and Floating Points will be providing the soundtrack to the one day festival, which is returning home to Victoria Park after a couple of years out in Tottenham.
It looks like August bank holiday 2021 is going to be one to remember.
Defected London
The Drumsheds, Meridian Water
24th-25th July
Weekend tickets £143, currently sold out
This two-day party hosted by Defected Records doesn't even have a line-up yet and it's sold out.
Expect some house greats included in showcases from Defected, Glitterbox, Classic Music Company, DVINE Sounds, Sondela and 4 To The Floor, out at Meridian Water in North London at this multi-stage extravaganza.
Wide Awake Festival
Brockwell Park
3rd September
Tickets £48.95
This one day festival is new to the South London scene for 2021, and promises leftfield jazz, indie, post punk and electro. Which sounds pretty eclectic.
Artists announced so far include Erol Aikan, Daniel Avery, Goat Girl and Gary, Indiana, which certainly makes it sound like Wide Awake Festival will live up to its own hype!
It's a really affordable day of music at £44.50, and Brockwell Park is fantastic any day of the week. Plus, Wide Awake has promised a positive environment policy, meaning that they'll leave the park as clean as they found it, amongst other environmental goals.
Mighty Hoopla
Brockwell park
September 4th
Tickets £67.45
If you love pop, you'll love Mighty Hoopla. This is London's biggest pop festival, beloved by the LGBTQ+ community in particular, 2021's event is set to be one of the most fabulous yet.
The lineup includes none other than Atomic Kitten, En Vogue and Eve, amongst many others (both pop stars and drag queens).
The all-day event is another Brockwell Park festival. Mighty Hoopla will be taking over the hilly park on September 4th, so you can get some great views of London while dancing to nostalgic pop.
Junction 2, Inner-City
Fabric, Tobacco Doc
August 28th-29th
From £29.50, currently sold out
Londoners are going to have some tough decisions to make this August bank holiday weekend, as loads of London Summer festivals are taking place across the 28th-29th August this year.
It should be an easy enough decision if you're a techno lover, though. You'll be choosing Junction 2 Inner City at Fabric.
This year is being handled by Adam Beyer's Drumcode and London Warehouse Events, so expect a night out like no other. Partially because it goes on all weekend, from midday onwards.
Kaleidoscope
Alexandra Palace
July 24th
Tickets £59.80
Kaleidoscope is a multi-arts one day festival at London's Alexandra Palace this summer.
The line up includes Groove Armada, The Coral, Norman Jay MBE, Matt Jam Lamont, Irvine Welsh, Phil Wang, Sophie Duker, and some Hip Hop Karaoke.
The eagle eyed amongst you will have noticed those aren't all musical acts. That's because 'multi-arts' means that this Summer festival includes comedy, literature, and more. Plus, as it's at Alexandra Palace it'll all be experienced with a side of amazing London views.
Gala Festival
Peckham Rye
July 30th Aug-1st Sep
Tickets £55.50
This South London summer festival is just what the doctor ordered if you want to forget about the past year and dance.
Music at Gala will mostly be house and disco, with a smattering of other party tunes to keep things interesting. Announced acts include Andrew Ashong, Oscar Jerome, 404 Eros and Bradley Zero. This will be complemented by food and drink from local Peckham bars and eateries, and hopefully the sun will be shining on the Rye all weekend!
51st State
Trent Park
August 7th
Weekend tickets from £92.95
Okay, I hear you. Where on Earth is Trent Park?
It's actually in Cockfosters, and the fact that Cockfosters is practically Hertfordshire means there's plenty of room at this one day London festival for dancing (yes, it's London, it's even on the tube!).
You'll need the room too, given that 51st State is a 100% dance festival, with a lineup that includes, The Brand New Heavies, Jocelyn Brown, Alison Limerick, Hannah Wants, Dimitri From Paris, Jazzie B OBE, and more.
We Are FSTVL
Central Park, Dagenham
11th-12th September
Tickets £262
Moving to Dagenham for 2021, We Are FSTVL is one of London's biggest summer electronic music festivals.
This year, the line up includes Alan Fitzpatrick, Secondcity, Jamie Jones, and Melvo Baptiste amongst many, many others playing this big festival site.
An impressive range of VIP tickets are available if you want to keep things classy, including the mega-VIP XCLSV option.
Hampton Court Palace Festival
August 13th-24th
Tickets from £82.50
A London music festival at a 16th century palace? Well, don't mind if I do.
Tom Jones, Bastille, Van Morrison, and Keane are all playing this year, which should give you an idea of the relaxed pace of this palace park event.
Think gazebos, picnics and champagne cocktails and you'll have the vibe of Hampton Court Palace Festival 2021 pretty much pinned down.
YAM Carnival
Clapham Common
August 28th
Tickets £66.95
This London summer festival is set to celebrate black food, culture and music. Originally planned for 2020, this year is now the inaugural YAM.
Acts including Davido, Femi Kuti (yes, son of Fela), Kehlani, and Honey Dijon will play over three stages on the immense Clapham Common, where you'll also be able to enjoy food from around the world with a focus on African influences, and see art from a whole bunch of creators.
Masquerade, or 'masked plays' which are common throughout Africa in a variety of forms, will also form a part of this brand new London festival.
Beautiful People
Morden Park
September 4th
Tickets £55
Expect legends of house, soul, R&B and disco at this London one day festival in the far south of the city.
Billing itself as 'the world's friendliest party' means Beautiful People Festival has big shoes to fill, but with headliners like Arrested Development, Black Motion, and Inner City it looks like they might just achieve something magical.
Until recently, this festival was known as Southport Weekender. The name was presumably changed to Beautiful People because it's neither in Southport, nor a weekend-long event. So, good move, Beautiful People!
Cross The Tracks
Brockwell Park
September 5th
Tickets £50, currently sold out
Another great Brockwell Park festival, Cross the Tracks offers funk, soul and great food in Brixton's best green space.
Sister Sledge, En Vogue and The Cinematic Orchestra are all on the bill, along with around 40 street food stalls and a whole slew of craft beer breweries from the capital and beyond.
Assuming the sun shines, this is going to be one of the most relaxing days out possible in South London this summer, so grab tickets while you can and use Cross the Tracks to wind down from all the earlier London festivals you've compromised your hearing at!
Wireless
Crystal Palace Park
September 10th-12th
Weekend tickets £222.75
This London music festival is a showcase of the best in hip-hop and grime, in the ground surroundings of Crystal Palace Park.
Wireless headliners for 2021 are Skepta, Future, and Migos, with a huge list of additional artists playing across the three day festival.
Snap up your tickets quick, as although this is a late summer London festival offering it tends to sell out fast.
Lovebox
Gunnersbury Park, Dates TBD
If you're a London festival goer, you've been to Lovebox.
Originally a club night that ran through the early 2000s, this festival has been held everywhere from Victoria Park to Clapham Common. Most recently, it was at Gunnersbury Park, and it will probably return there in 2021.
We say probably, because the festival organisers are remaining tight lipped. You can sign up to a mailing list on the Lovebox website if you want to keep up to date, but it seems likely they're waiting to make sure the 2021 event will be able to go ahead without any rescheduling or other mishaps before they let the cat out of the bag.
Map of London's Music Festivals