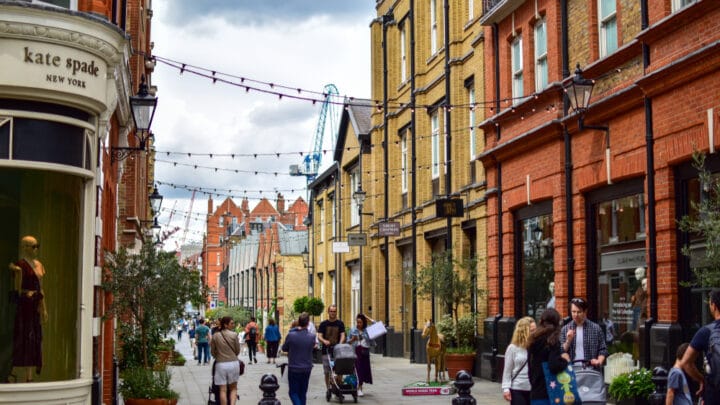 Sloane Square, a small landscaped square in the heart of London, sits nestled within the Royal Borough of Kensington and Chelsea. We've put together the ultimate insider's guide filled with the best things to do.
Historically, what we know as Sloane Square and Sloane Street was a piece of land owned by Henry Holland. During the 17th century, Holland specifically bought the area as a safe passage that would make travel from Knightsbridge through to Kings Road more accessible.
Little did Holland know that he would pave the way for centuries of development, industrialisation, and improvement. The affluent areas of Belgravia and Chelsea now lie to the west and east of the square.
It's no surprise then that due to its importance throughout the history of London, Sloane Square has become synonymous with opulence—one of the true melting pots of culture, shopping, and dining.
The site of numerous high-end shops, a world-class theatre, impeccable art galleries, and sprawling parks, Sloane Square has it all.
So, let's explore Sloane Square.
Things to Do in Sloane Square, London
Cadogan Hall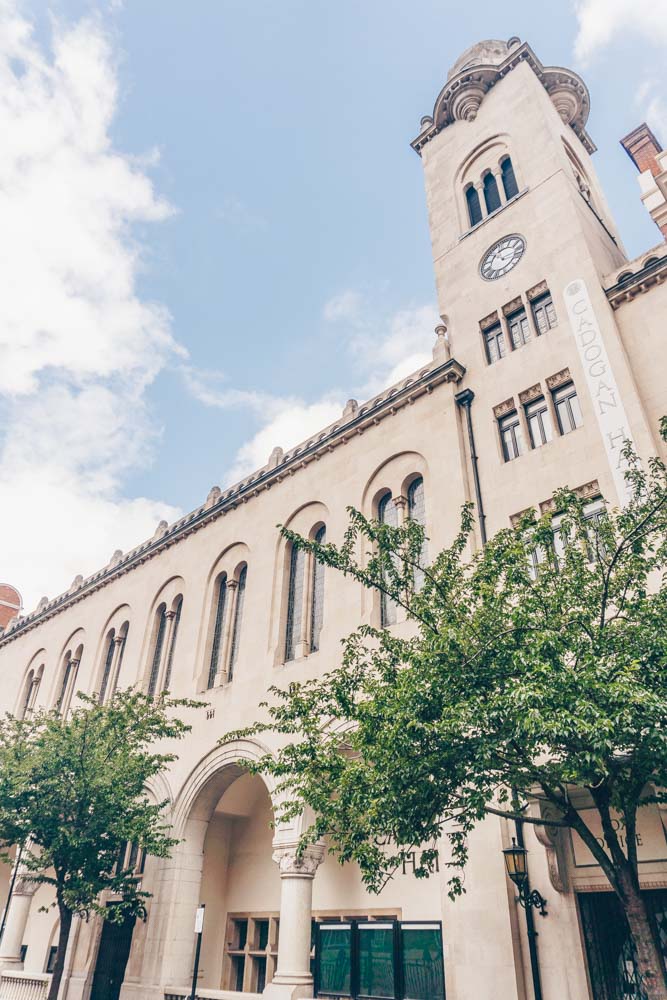 The home of the Royal Philharmonic Orchestra, Cadogan Hall is a globally known and recognised jewel.
Officially opened in 2004 as a concert hall, Cadogan underwent a massive renovation to accommodate a cultural movement.
The venue has kept its intimate feel, and since then, the hall has hosted the best local and international orchestras and a premier selection of contemporary, jazz, and folk music stars.
You're sure to find an event at Cadogan Hall that interests you.
Royal Court Theatre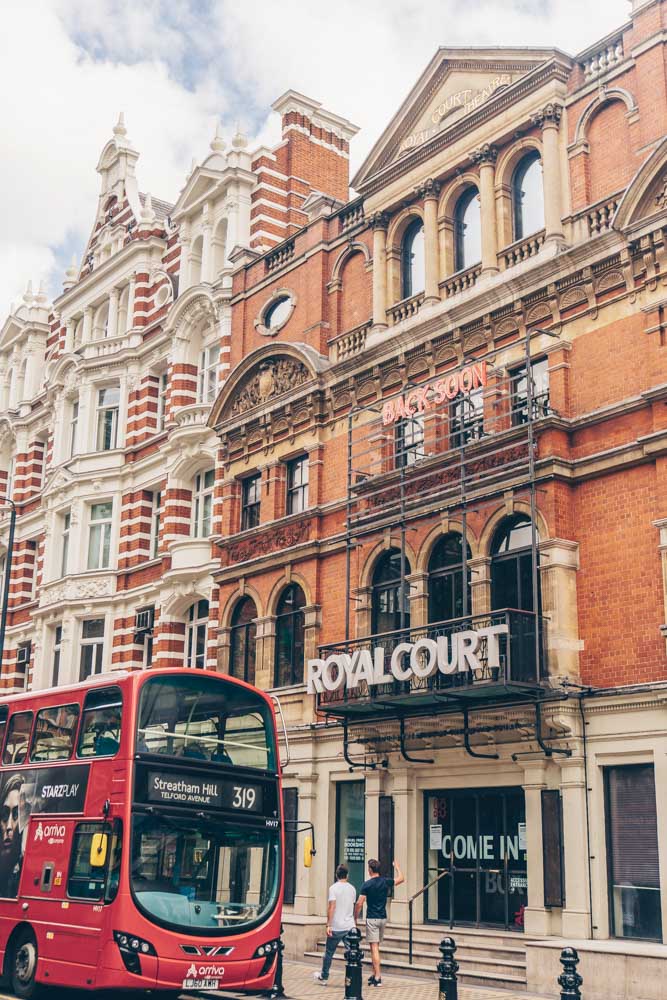 A cultivation ground for many of the world's leading playwrights, The Royal Court Theatre is no stranger to literary genius.
For nearly 60 years, emerging and established playwrights have used the theatre as their chosen production stage and it remains a platform for emerging artists.
Some of the most famous productions that have ever graced the West End or Broadway stages have had their beginnings at the Royal Court. The theatre still offers several writing classes, which are one of the best Sloane Square things to do on a day out.
Saatchi Gallery
For art lovers and philanthropists, few venues can compare with the Saatchi Gallery. The gallery opened in 1985, and has been a highlight of Kings Road ever since.
Initially devoted to the works of Saatchi, the gallery soon drew the attention of the global art community with its love of premiering emerging artists. It is now a staple of contemporary, modern, and experimental art that draws thousands from all around the world.
If you're looking for mesmerising and thought-provoking art displayed in an equally beautiful gallery, look no further than the Saatchi Gallery.
Holy Trinity Church
Officially The Church of the Holy and Undivided Trinity with Saint Jude, this site is one of many National Heritage Sites found in and around Sloane Square. Today, it is a memorial to the Gothic Revival era of London and a major tourist attraction in the heart of London.
Recognisable by the beautifully made stained glass windows that give the church its distinct appeal, Londoners now call it 'The Cathedral of Arts and Crafts'.
The Holy Trinity Church is so stunning that it has and continues to capture the imagination of everyone who visits. Most notably, the famous poet and playwright Oscar Wilde used the church as a muse for many years.
Things to Do in Sloane Square: Eating & Drinking
Ottolenghi
Ottolenghi in Chelsea is this popular chef's sixth branch. Fitting perfectly with the area's aesthetics, Ottolenghi offers high-end cuisine throughout its menu.
Including an exclusive deli experience in the early mornings, the restaurant boasts delicious breakfast, lunch, and dinner items made with care and served fresh daily. A cosy ambience stays true to what people expect from this spot – in the owner's words, "vibrant and bold, yet familiar and comfortable".
In our words, incredible.
The Botanist
A cornerstone of Sloane Square dining, The Botanist is sure to become your next favourite eatery. It blends classic fine dining with unique gastropub elements in its illustrious menu offerings.
What The Botanist is most known for is its prominence in the field of mixology. Botanist cocktails are, simply put, out of this world, making this restaurant and bar a buzzing hotspot for drink connoisseurs.
Colbert
An authentic French café in the heart of Chelsea just off Sloane Street, Colbert, inspired by the smells and tastes of France, is a must-visit. The interior showcases this ode to French cuisine and ensures that everyone leaves with a taste for France.
The menu perfectly blends morning breakfasts, lazy afternoon lunches, and after-theatre dinners. A wide selection of drinks that go well with any meal is served from a stylish bar, while the wine selection is pure perfection.
Top Shopping Spots in Sloane Square
Sloane Square Shopping
The shops that line Sloane Street and Square offer the ultimate retail therapy for anyone looking for luxury brands.
As the annexure for Sloane Street, Kings Road, and Knightsbridge, you will find every major retail store here, including exclusive designer stores and famous luxury brands. These include Tom Ford, Dior, Tiffany's, and Cartier, to name a few.
If you have a refined and specific taste in clothing, jewellery, and tech, Sloane Square is where your dreams become a reality. As one of the best things to do in Kensington, Harrods Department Store is a must-visit.
Practical Tips for Exploring Sloane Square, London
The nearest tube station is Sloane Square Station – it sits right opposite the Venus Fountain.
For an idyllic day, head to Sloane Square on a Sunday morning for brunch at Ottolenghi, and then wander around the shops before catching a performance of Royal Court Theatre.
Where to Stay in Sloane Square, London
Sloane Square Hotel
The Sloane Square Hotel is a centrally located modern four-star hotel, perfect if you're heading for Chelsea and Knightsbridge.
Sloane Place
A genuinely urban hotel featuring a bar and terrace, Sloane Place sits about 200 metres from Sloane Square and is perfect for overnight stays.
DoubleTree by Hilton London Victoria
The DoubleTree in Westminster, close to Sloane Square, is your go-to for easy access to Gatwick and Heathrow Airports.
Sloane Square: Discover More Chelsea Guides