Ready to discover the best restaurants in Canary Wharf? From cool eateries to gorgeous date night locations, these are the top places to dine in this cosy little corner of the capital.
Canary Wharf used to be known for offices and work drinks only, whereas these days it's really made a name for itself as a hub for some of the best restaurants in London.
It's grand, it's exciting, the travel links are wonderful (boring, but true) and the food is even better. What's not to love?
That's why we've curated a guide to the very best places to dine in Canary Wharf right now. Enjoy.
Best Restaurants in Canary Wharf
Bōkan
£££
When it comes to choosing a restaurant for a bit of sky-high dining the views at Bōkan should be some of the first that come to mind. Nestled in among the sky capers of Canary Wharf you'll feel right in the middle of the action even though you're 37 floors up, gazing across the rest of London as you dine.
The kitchen turns out a delightful menu of contemporary European dishes that can (and should) be enjoyed as a lavish tasting menu, probably with a bottle of nice wine recommended by their very helpful staff, whose service matches the quality of the cooking. Looking to impress a date in Canary Wharf? The above says it all.
Big Easy
££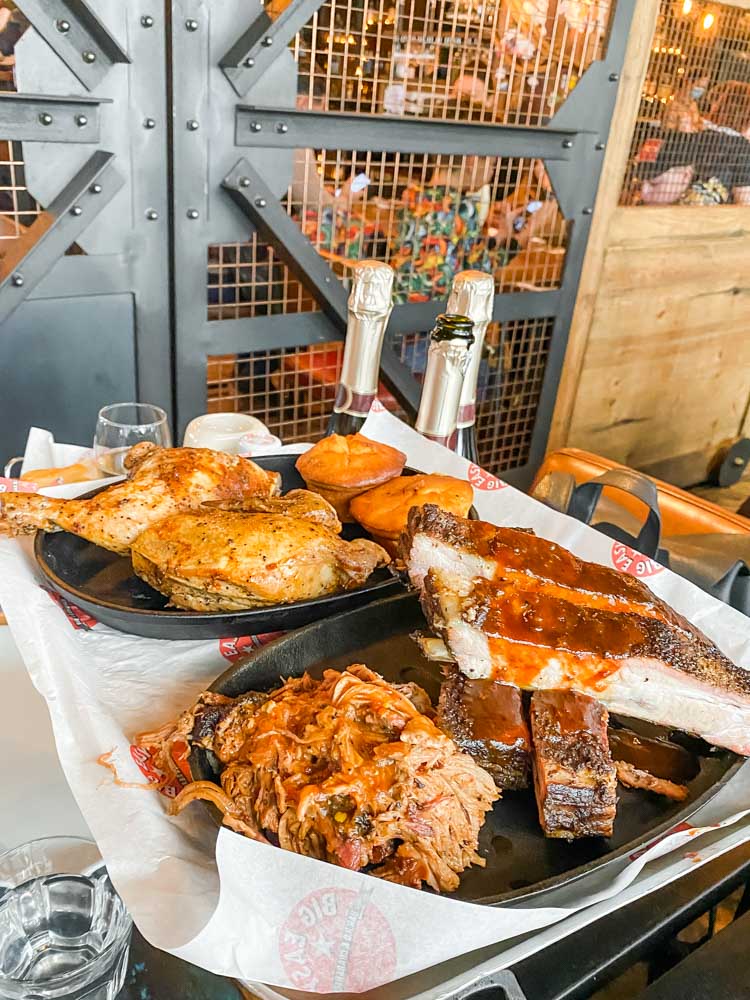 With some of the best views in the capital, Big Easy restaurant has to be our favourite place to eat in Canary Wharf. In fact, we've already blabbed all about their delicious brunch here.
The all-American barbecue vibe really works and it's the best place for lobster and meat dishes, all served in the expected – and very much welcomed – oversized American portion.
It's also a top place to grab a burger (make it the bacon and cheese Smokehouse) and sip daiquiris. You won't go wrong with a cocktail or two here.
Chai Ki
££
Classy Indian dishes with a modern twist and a fantastic roof terrace, what's there not to love?
We've been to Chai Ki a few times and it never disappoints. Well presented dishes, an incredible fusion of tastes and a delightful ambiance to go alongside.
We recommend trying the burnt chilli chicken, a typical Indonesian/Indian (aka indo-indian) style dish – it's to die for. Though the chicken tikka naan is a crowd pleaser, too.
The Pearson Room
££
Who would have thought you could go to Canary Wharf to visit a 1950s style bar? Well, you can. And should. Tucked away from the busy streets sits one of our favourite restaurants in Canary Wharf.
The Pearson Room is the perfect mix between sophistication and relaxation with an eclectic dinner menu that spans the globe (well, it's inspired by the head chef's travels, after all). Ingredients are locally-sourced and organic when possible, resulting in a menu that changes often but always delivers.
You can't go wrong with the food here and it's the type of place that as soon as you step in, you feel right at home. The staff truly go above and beyond to make your experience one to remember.
Six by Nico
£££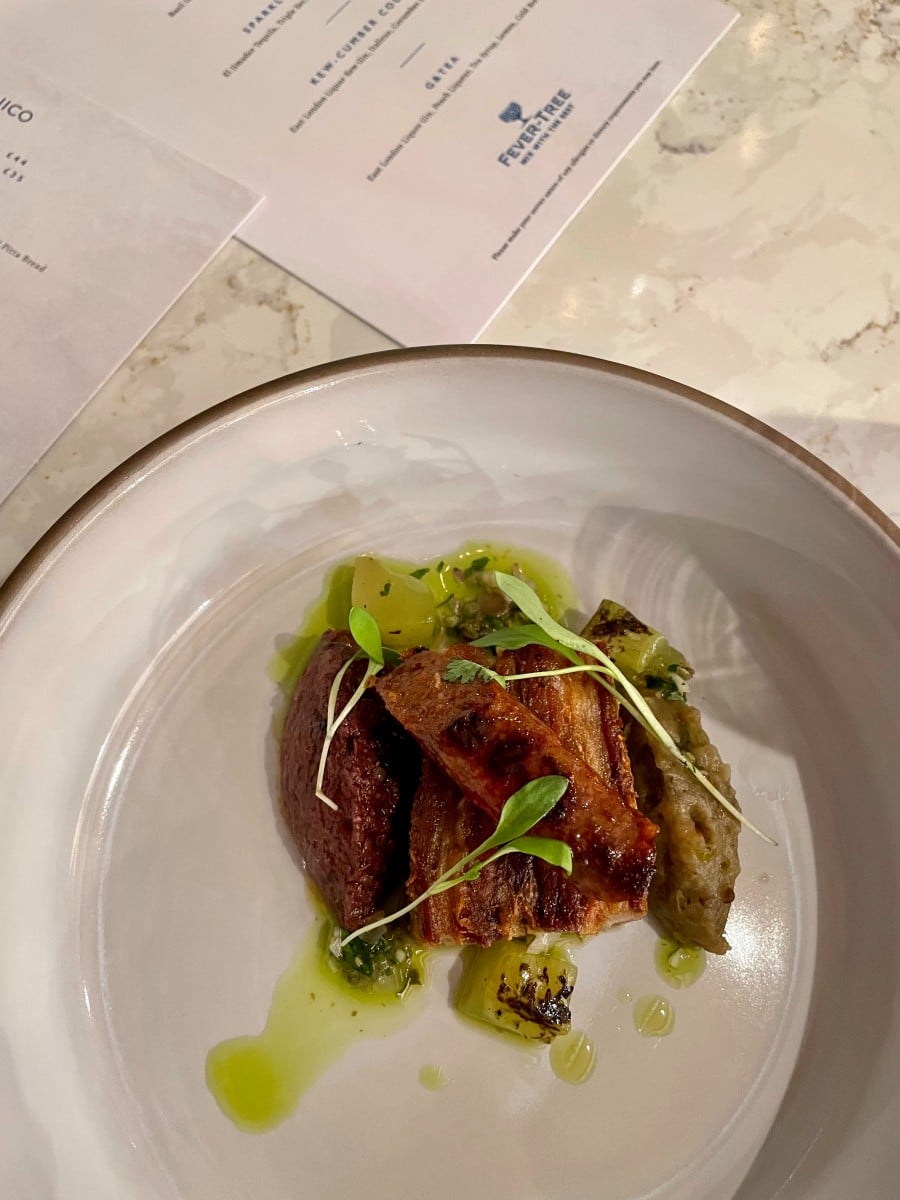 With a rotating menu concept that changes every six weeks, Six by Nico is one of the top places to dine in Canary Wharf. The 'Greece' menu is the restaurant's latest concept, which features 6 expertly-curated plates. It seems like 6 is the magic number here.
Highlights of the menu include a perfectly-balanced Moussaka, a tender Stone Bass with baby courgette, green olive tapenade, courgette and basil puree, crispy squid, and lemon emulsion, and tart baklava with cherry sorbet for pud.
Roka Canary Wharf
£££
Famed for contemporary Japanese cuisine right in the heart of Canary Wharf, Roka is definitely more on the expensive side of Canary Wharf restaurants, but boy is it worth it.
The chefs at Roka use the robata grill to cook the vast majority of their dishes. Think grilled meats and perfectly fresh fish.
This method of cooking was originally from the fishermen of the northern coastal waters off japan, who would cook fish on boats using all sorts of charcoal and share it with others using their oars. Pretty cool, huh?
Although you won't be out at sea in Japan, the food is incredible and the ever changing menu is a good touch.
The Gun
££
Right in the heart of the docklands on the River Thames is this wonderful pub, The Gun. Newly refurbished, the pub serves a fantastic British seasonal menu with daily changing specials.
If you're heading to the O2, The Gun makes for a great pit-stop beforehand. Enjoy some great views of the Thames and, if the sun comes out on the terrace, there's genuinely nowhere better.
We highly recommend the whitebait or seared scallops, both are amazing and make our mouths water as we speak (or type).
Goodman Canary Wharf
£££
The best steak in Canary Wharf by a mile, these guys have a big reputation when it comes to their meats.
The motto is simple at Goodman, 'Great Steak, Great Wine, Great People'… And they certainly live up to it.
The steaks vary from Scottish grass fed fillets, to New York strips and Black Angus' steaks – and if you have any questions the lovely waiters will certainly help you out.
Oh and the bernaise sauce is dreamy. Get that.
Scarpetta
£
We love Scarpetta and its rustic, homemade pasta with a modern twist. This spot has slowly made a real name for itself in the London pasta scene and we're so here for it.
Enjoy a real authentic Italian meal right in the centre of Canary Wharf and don't break your wallet trying to do it. The bucatini cacio e pepe is a refreshing take on a dish that can all too often become a bland gloop of pasta, while their bruschetta really packs a tomatoey punch.
Also, they hand make their pasta every morning from scratch. Now that is commitment to the cause.
Iberica's La Terraza
££
The best place for outdoor drinking and eating, Iberica's outdoor terrace is genuinely the most stunning oasis away from the noise of the big city, yet still so central.
Just around the corner from Canary Wharf tube station, stepping onto Iberica's La Terraza is akin to stepping into Spain.
Enjoy a wonderful selection of tapas and pinchos whilst surrounded by beautiful contemporary design. Definitely give the cured meats a try and ask your waiter for the best wine pairing.
Shutters Canary Wharf
£££
Shutters is one of the best new seafood restaurants in London. It's got a very Californian feel to it and, in fact, is exactly what Canary Wharf needed. This contemporary restaurant is situated in the new Conrad-designed ground floor of One Canada Square.
The fresh cornish fish is a real show-stopper and such a treat. Head over there for a cosy dinner or late night drink, or mosey on down for a tasty bunch. Whenever you go, we can safely say you won't be disappointed.
Market Halls Canary Wharf
£
Although this isn't just one restaurant, it would be mad not to mention Market Halls Canary Wharf. We love it here as you've got such a vast variety of local traders serving some next level street food.
The Market Halls boast some stunning views across the canal in a huge industrial style space, with food from sushi and tacos to burgers and pasta all on offer.
This is the perfect spot to grab a drink and wander around whilst you decide what you want to eat. We love it.
Scoff & Banter
££
Impressive floor-to-ceiling windows stretch over the river of this swanky restaurant, Scoff & Banter.
The restaurant is all about celebrating exceptional local produce with some amazing European dishes. It's all about where the ingredients are from in this restaurant and letting them shine in simple yet delicious courses.
It's a controversial choice, we know, but we're partial to a French onion soup and Scoff & Banter does not disappoint. Otherwise, their elevated take on fish and chips is equally tasty.
The Narrow
££
Although a ten minute walk away from the area, The Narrow is still one of the best restaurants near Canary Wharf.
A beautiful spot by the river (again!) Gordon Ramsey has created a fantastic space for some amazing food in this restaurant. There's no complaining when scallops are paired with rosemary mash and crisp pancetta (seriously yum).
An excellent choice if you're wondering a little further from Canary Wharf, to Limehouse.
Other Places to Eat in Canary Wharf
The Sipping Room
£
The Sipping Room is a gorgeous bar in a grade II listed building with a large al fresco terrace.
We love the atmosphere at this Drake & Morgan bar as it really feels like everyone is there to have a good time. Not only are the drinks great (and strong), but the food is also delicious. We highly recommend the seafood risotto and the aubergine dip to start.
Drink wise, the Lavender and Violet Fizz is a must. Sip away at the Sipping Room!
The Parlour
££
Another Drake & Morgan offering, The Parlour is the perfect location for breakfast, lunch and dinner, with an accompanying cocktail at all times, of course. The striking bar and large terrace is a great place to drink and eat in Canary Wharf.
The food is delicious (they serve a Chicken Kyiv of dreams, trust us) and the cocktails even better. Another lovely selling factor with this spot is the fact that over 40 wines are by the glass.
Practical Tips for Exploring The Best Canary Wharf Restaurants
Take some time to explore Canary Wharf whilst you're there. Have a walk around and take the sights in, and make sure to pay a visit to the Museum of London Docklands.
Take a walk through Jubilee park, a hidden oasis under the looming city skyscrapers. A lovely spot to sit and have a nice coffee or read your book if the sun is out.
For more foodie fixes nearby, check out Billingsgate market. Billingsgate market is a historic wholesale fish market and the largest fish market in the country. The main trading period is between 4am and 6am (it closes at 8am), so you have to be up at the crack of dawn but boy is it worth it! It's open Tuesday to Saturday.
Canary Wharf Restaurants: Map
Canary Wharf Restaurants: More Canary Wharf Guides