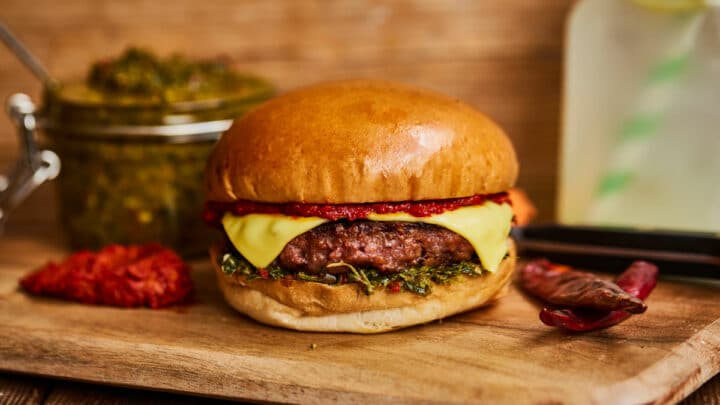 It's time to dine at the best restaurants in St Katharine's Dock – it has quickly become one of London's culinary hotspots, with dozens of restaurants packed around the marina.
Words by Sam Jean
St Katharine's Dock is a vibrant corner of London nestled alongside the River Thames. Since a massive regeneration project in 2014, it's now home to a wonderful range of top-quality restaurants with sublime views across the river.
The dock is just a stone's throw from Tower Bridge and The Tower of London and offers a quirky, relaxing place for eating and drinking.
Hungry? Here are some of the best restaurants the St Katharine's dock area has to offer.
Best Restaurants in St Katharine's Dock
Bravas Tapas
££
Craving something super satisfying? Head to Bravas Tapas, a Spanish tapas restaurant inspired by dishes from the Basque Region. The menu includes classic tapas dishes like patatas bravas and croquetas, short ribs, Iberico pork cheek and seafood options like octopus carpaccio.
The restaurant is warm and lively, and, as expected from a Spanish joint, boasts a stellar selection of Spanish wines and cocktails to enjoy whilst looking out towards the dock.
Bravas Tapas is a divine Spanish restaurant that emphases the social nature of tapas. Warm day? Head out to the terrace with a glass of cava in hand.
Kilikya's
££
Situated in the middle of the dock is Kilikya's, a modern Turkish restaurant with an absolutely massive menu covering authentic cuisine, with small plates, big plates, wraps, burgers, pasta, seafood and more.
The grilled meze platters are wonderful, and the Turkish tapas options are great for sharing with friends or family at lunch or brunch. Looking straight out into the dock, Kilikya combines robust Turkish and Mediterranean food with beautiful views – you'll feel like you're dining on the Turkish riviera.
If that wasn't enough, the restaurant has a beautiful interior, decked out in traditional Turkish tiles and lanterns, and a warm and welcoming atmosphere to match.
The Dickens Inn
££
For something a little more traditional, The Dickens Inn is a historic pub and restaurant located in a stunning 18th-century warehouse. It's a very large venue with several balconies, superb views of the Thames and Tower Bridge, a sizable bar area for socialising, and plenty of room to meet, eat and drink.
If you eat in the bar area (which has more of a pub vibe), you'll find an excellent pub food menu with burgers, sandwiches, classics like fish and chips, and pizza, including the colossal Beast Pizza that measures a whopping 23" x 15".
The second menu is a little more restaurant-y, with starters, mains and desserts, though it's still very laid back. Choose from salads, steaks, curry dishes and upmarket pub classics.
The Melusine
££
On the search for a quality fish restaurant? St Katharines Dock delivers The Melusine, one of London's most adventurous seafood restaurants.
Founded by Theodore Kyriakou, co-founder of Livebait, The Real Greek and the Greek Larder, The Melusine is a much-loved seafood restaurant with an in-character dockside setting.
Dishes are creatively crafted and inspired by Greek and Mediterranean cuisine, with plenty of sublimely well-presented fish and shellfish on the menu ranging from pollock and plaice to eel, scallops and monkfish.
Desserts are a little leftfield – like the blue cheese ice cream with olive oil. The Melusine has a high-end feel, but for a seafood restaurant, it's reasonably priced.
Côte St Katharine Docks
££
Côte St Katharine Docks is a modern French chain restaurant on the west side of the dock.
The interior is warm, welcoming and laid back, with plenty of seating for families, couples and groups. The al fresco dining area has wonderful views across the marina, perfect for summer evenings.
If you've been to a Côte before, you'll be familiar with the modern French menu stacked with succulent meaty dishes, pork and fish. Though there are plenty of veggie options, including vegan-friendly risotto.
In addition to the à la carte menu, Côte St Katharine Docks offers a set menu, with two courses for £16.95 or three courses for £20.95, and features a range of dishes from the à la carte menu.
Natural Kitchen
£££
Located on the north side of the dock, Natural Kitchen is a small chain that aims to serve some of the healthiest, freshest meals you can find in a conventional restaurant setting.
The extensive menu covers breakfast, brunch and larger meals for lunch and dinner, with a sublime selection of meat, veggie and vegan dishes. You'll find some fairly expensive dishes, like the tuna steak, and the burgers are pushing £20, albeit they're large, juicy and come with plenty of filling and chips.
The takeaway deli menu is great if you want to grab a fresh bite to eat and go about your day. A flavour-packed restaurant with happy hours, monthly specials and free reusable coffee cups in 2023 while stocks last.
Honest Burgers St Katharine Docks
££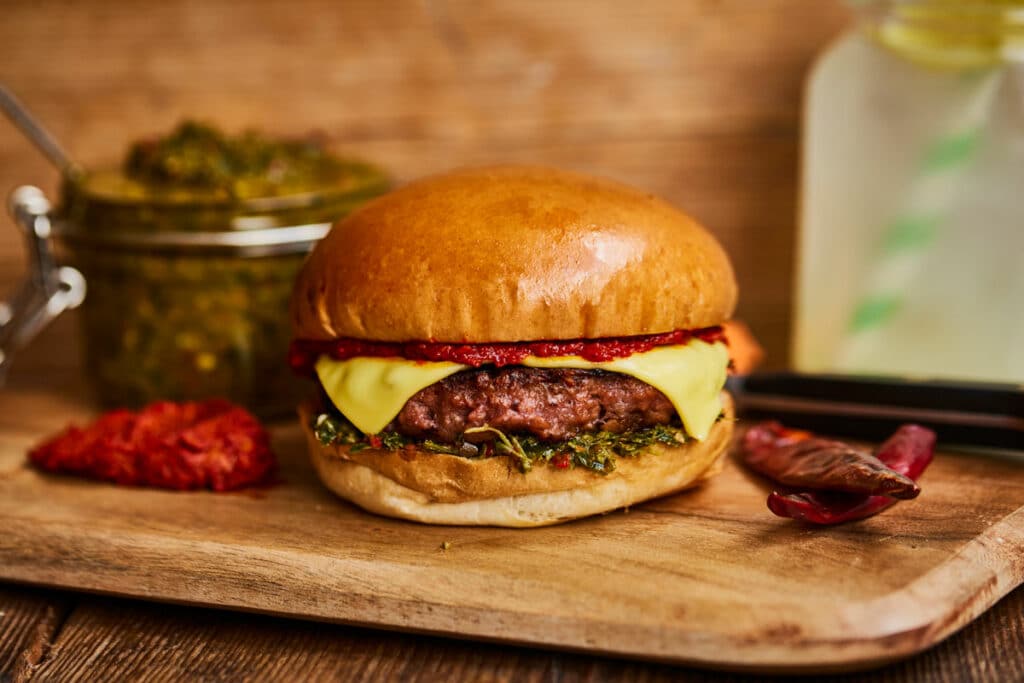 A London staple, Honest Burgers does what it says on the tin, with a menu that features burgers galore. And it's not all just beef and chicken – there are two vegan patties with Beyond Meat and various fillings and a veggie patty with veg and cheese.
The meat options are glorious, and there's always a monthly special to indulge in if you become a regular (when you become a regular).
Burgers come with rosemary chips, seasoned coleslaw, dressed green salads, and a selection of homemade sauces, including chipotle mayo and various hot sauces. Other sides include buffalo wings, onion rings and many other tasty snacks.
Ping Pong St Katharine Docks
££
Ping Pong is a trendy Chinese restaurant with stacks of dim sum, noodles, rice, baos and soups. Though the dim sum is the headline here – delicious hot steamed buns filled with a huge range of mouth-watering fillings, perfect for any time of day.
Every day from 3 pm till 6 is Ping Pong's happy hour, Don't Give a Shiitake, where you can indulge in half-price drinks and over thirty items on their menu. On Lazy Sumday, you can dig into all-you-can-eat dim sum and dumplings.
A simple, laid-back Chinese restaurant with delicious food at reasonable prices.
Emilia's Crafted Pasta
££
There's something special about truly handmade pasta, which is exactly what Emilia's Crafted Pasta delivers.
If you like Italian food, you'll love this menu, which features 8 glorious pasta dishes inspired by different regions in Italy and their culinary traditions.
The antipasti, salads and sides are all you need to complement these delicious pasta dishes, and there's an extensive Italian wine and beer list to boot. One of the best up-and-coming restaurants in St Katharines dock.
Other Places to Eat in St Katharine's Dock
White Mulberries
££
White Mulberries is a charming café and deli serving coffees, drinks and fresh, homemade food made with locally-sourced ingredients.
Located in the middle of the dock, it's a terrific location to stop for lighter bites, drinks and chilling. Tuck into cakes, brownies, cookies and other treats from the counter.
The banana bread is sublime, touted as some of the best in London (we totally agree). A super-casual and relaxed cafe with tons of fresh drinks, brunches, lunches and treats for anytime of day.
Azimut Café Italian
££
If you're searching for a new fave Italian restaurant, St Katharines dock offers Azimut, which has only been there a matter of months.
This new Italian cafe hasn't been in the dock long, but has some promising early reviews and is well worth a little scout out if you're looking for classy Italian cuisine.
The cafe was founded by the luxury yacht builders Azimut Yachts UK and has an exquisite location on the southwest wing of the dock.
Practical Tips for Exploring The Best St Katharine's Dock Restaurants
St Katharines dock restaurants are all conveniently positioned around the marina. Most have wonderful views of the dock and Thames.
If you're searching for high-quality seafood restaurants, St Katharines dock offers a few choices, including the prolific The Melusine.
You can access the dock easily from Tower Hill station, which is just a few minutes away.
St Katharine's Dock Restaurants: Map
St Katharine's Dock Restaurants: Read Next