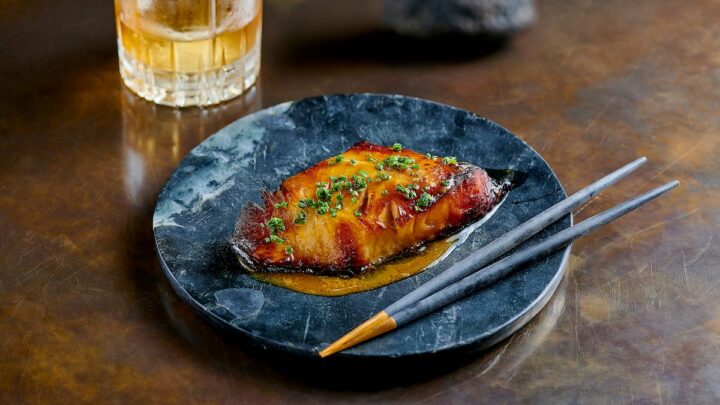 Looking for the best halal restaurants in London? We've got you covered – from decadent Michelin-starred meals to lip-smackingly good roti, these are the places to have on your hitlist.
London has no shortage of halal restaurants… but that doesn't mean to say that finding a good halal restaurant, nevermind the type you'd rave to your mates about, is easy to come by.
Yes, the city's halal food scene is booming, but it still takes a practised eye (or mouth to be more specific) to hunt out the best.
Whether you're in the mood for Indian cuisine or fancy chowing down on Brazilian BBQ food, these are the best halal restaurants in London.
Best Halal Restaurants in London
Etles
Walthamstow
Etles is the first Uyghur restaurant in Walthamstow and, better yet, it's family run. This spot serves up traditional Uyghur food that originates from Xinjiang, a province in Northwest China.
Uyghur cuisine is a tasty mix of Central Asian and Chinese spices, and Etles' comfort food has offerings of hand pulled noodles, spicy broths and steamed lamb dumplings.
All meats at Etles are all certified halal, so no need to check with your server on this one. This snug and relaxed eatery is perfect for all the family and hearty plates are filled to the brim making sure no one leaves Etles hungry.
Baba G's Bhangra Burger
Baba G's is a halal burger joint in Vinegar Yard, and it's a well known spot on the London street food scene.
This tasty spot also offers some stunning views of The Shard with lots of outdoor seating – the vintage style outdoor garden is perfect for warmer weather.
The Crazy Lamb Jalfrezi Burger stuffed inside a sesame seed bun is unreal and so are the deliciously spicy Masala Fries. If you're looking for a light bite, Baba G's Chicken Tikka Nuggets, Pachos and Bhangra Bullets are just what you need.
Gymkhana
Gymkhana in Mayfair is an extremely popular spot on London's dining scene, and has been ever since it opened in 2014– you'll need to book in advance for this one.
From the traditional Bombay decor to its delicious Indian cuisines, Gymkhana hits all the right spots. This halal-friendly spot has chicken, lamb and goat dishes that are all completely halal certified.
The Michelin-starred Indian restaurant has a three-course lunch menu that's available on weekdays as well as signature dishes like the fenugreek spiced Goat Keema and traditional Aloo Chat.
Taza Kebab
Bayswater
Family-run Taza Kebab house is one of the oldest kebab restaurants in London and it has been serving hungry Londoners since 1985.
Chances are you'll spot the ever-present queue snaking its way from Taza's door before you spot Taza itself – a hefty hint of the restaurant's popularity.
All food here is halal meaning you can sample everything from shish kebabs, kofta kebabs and vegetarian rice. There's also a selection of freshly pressed juices to help you wash down your food at this stellar halal restaurant in London.
Ishtar
Enjoy traditional Turkish cuisine at Ishtar in Marylebone. Every dish on Ishtar's menu is halal so no need to worry about asking your server– order away.
Ishtar's set menu comes with a selection of starters, hummus, tabbouleh, sauteed aubergine and calamari to name a few. Braised lamb shank cooked in Ishtar's signature sauce is a popular dish here, as well as the mixed kofta kebab with lamb, chicken and lamb chop.
Things get lively in the evenings at this contemporary Mediterranean restaurant, so expect live music and belly dancing.
Galvin La Chapelle
Liverpool Street
After fancy halal places to eat in London? A few minutes walk from Liverpool Street is Galvin La Chapelle with a modern French menu.
With fresh, seasonal ingredients hand picked from Covent Garden markets daily, the Michelin-starred restaurant takes fine dining to new levels with five and seven course tasting menus with carefully selected wine pairings.
Think pressed foie gras, black garlic caramel vinegar and fermented cherries to start, followed by barbequed monkfish, baby turnip and clam veloute.
The best part? Some of the dishes on Galvin La Chapelle's menu are halal, so you would need to ask your server or call them up to find out in advance.
Christopher's
Christopher's is a classic American steakhouse and grill with a grand martini cocktail bar. This halal steak restaurant in London requires 48 hours notice for halal a la carte options, but it's well worth the pre-booking.
Nestled in Covent Garden, Christopher's Australian and Scottish steaks are all served with a choice of bernaise, chimichurri, peppercorn or blue cheese sauce.
There's also the Japanese grade a5 wagyu fillet if you're feeling fancy, and you can add half a grilled lobster to really push the boat out at Christopher's.
Chai Wu
Head to Chai Wu if you're looking for a halal Chinese restaurant in London. On the fifth floor of Harrods in Knightsbridge, Chai Wu is a contemporary Chinese restaurant with marble tops and plush leather seats.
The warm fine-dining experience is what Chai Wu stands for – that, and seriously good Chinese food, of course.
Signature dishes include the aromatic Beijing Duck with fresh pancakes and hoisin sauce and the wok fried Korean Lobster drizzled in spicy honey sauce are well worth the splurge.
Buddha Bar
Knightsbridge
Fancy some pan-Asian fare? One of the best halal Asian restaurants in London is Buddha Bar. The menu here blends Far Eastern cuisine with Western tastes, you'll sample everything from Japanese, Chinese and Thai flavours.
The Knightbridge restaurant's small plates Chilli Salt Crispy Baby Squid and Soft Shell Crab Bao Buns showcase traditional Asian flavours.
There's also sushi rolls and sashimi– you can also order them as platters. As for the meat, there's plenty of mouthwatering dishes like the Wagyu Fillet in Shanghai sauce and Whole Boneless Chicken in green curry served with a garlic naan.
Shakazulu
Shakazulu is one of the best halal restaurants in London serving South African cuisine. This elaborate dining spot in Camden wows with its outlandish African decor and baai menu of springbok, zebra and exotic meats.
The two floor restaurant, bar and club offers amazing food with a halal menu, drinks, live music and lots of dancing, as well as family daytime entertainment. From the halal menu, the Peri Peri chicken wings are zingy (Nandos, who?) and the Roasted Lamb Rump with mint dressing just melts in your mouth.
Colonel Saab
Modern Indian restaurant nestled in London's West End, Colonel Saab takes a modern approach to Indian cuisine.
The smart dining space plays old-style jazz music with museum worthy artworks for a backdrop, marry that with a modern twist on the flavours and textures of Indian food and you have Colonel Saab.
Colonel Saab's all day dining menu is completely halal and has delicious dishes like the home style South Indian fish curry, Nadan Meen Curry and Chicken Chettinad is a myriad of Indian spices with fried green masala chilli.
Cabana
Multiple Locations
Brazilian BBQ joint Cabana is a vibrant halal restaurant serving award-winning Rio street food.
Inspired by 1950s Rio where they danced samba in the streets and Havana cigars clouded late night bars, Cabana's Brazilian BBQ's famous flame grilled chicken skewers are a must try.
The sharing menu has Blistered Padron Peppers and Buttermilk Churrasco Fried Chicken that's double dipped in buttermilk and tossed in smoked sweet paprika. It's not all about the food at Cabana, the Brazilian inspired cocktail menu is equally as good as the food here– after a few Palm Tree Punches you'll think the same.
Souk
In the heart of Covent Garden, Souk has some of the best North African cuisine in London. Giving you an insight into traditional Moroccan and Algerian style dining, Souk is the place to be for lunch, dinner and late night drinks.
The Casablanca Feast is a selection of starters and mains with slow cooked tagines, hummus and pitas and a selection of Baklavas. The best part is, tagines, hummus and couscous are refillable for free.
Every night at Souk you can experience belly dancing shows, shisha and Arabic beats play all night long.
Roti Chai
Mayfair
Roti Chai comprises two very different dining experiences, the Street Kitchen is open Monday through Sundays for casual dining and the Dining Room serves delicious Indian small plates.
Both menus showcase traditional Indian cooking techniques adding in contemporary twists and it's one of the best halal restaurants in London.
The Street Kitchen's all day menu features Indian soul food like spicy bun samosas, chicken lollipops and kerala prawns. Whilst the Dining Room has small plates like Saffron Chicken Tikka and Chilli Garlic Prawns.
Chotto Matte
Multiple Locations
Looking for a halal Japanese restaurant in London? Chotto Matte brings you halal fine dining, with beautifully presented plates of Japanese-Peruvian cuisine.
With locations in Soho and Marylebone, Chotto Matte's Robata Grill menu offers Japanese style grilled dishes like the Black Cod Aji Miso with yuzy and chives and the Wok Fried Bok Choy marinated in garlic soy sauce,
There's also an extensive sushi and sashimi selection and the California Roll and Dragon Roll's are definitely worth a try.
Dining in a large group? Try Chotto Matte's sharing menu with a selection of Chotto Matte's popular dishes, you can also choose wine pairing.
Roti King
Multiple Locations
You'll find Roti King across from Euston station and its newly opened restaurant is in the trendy Battersea Power Station.
Roti King's Malaysian and Singaporean street food is authentic and the mastermind behind it is Sungen Gopal, who was born and raised in Malaysia.
It's one of the best halal restaurants in London and you'll find Singaporean classics like Nasi Goreng and Nasi Lemak on the menu. Roti King's Roti Canai pairs well with your choice of six Kari's, from Dhal to Mutton they're all equally as moreish.
Tukdin
A popular Malaysian spot opposite Hyde Park, Tukdin's menu is fresh, authentic and completely halal.
Tukdin is a neighbourhood, family-run restaurant and the welcoming service is enough alone to make you want to repeat dining here.
Tukdin focuses on traditional Malaysian flavours with oxtail soup on the bone with meat that just melts in your mouth. Tukdin also goes big on curries, Kari Udang with prawns and green beans and the Ikan Kari is a deliciously spicy fish curry with a whole piece of sea bass.
Rosa's Thai Cafe
Multiple Locations
Rosa's Thai Cafe serves up authentic, home-cooked Thai food combining the feel of a London cafe with the flavours of Bangkok.
This fuss-free Thai halal restaurant in London's all day menu is bursting with flavour, lemongrass-scented Chicken Satay with Rosa's peanut dipping sauce and the honey Marinated Skewers with Rosa's homemade tamarind sauce are both delicious.
Classics like Pad thai, Drunken Noodles and Stir Fried Flat Noodles taste like they were cooked in Thailand. There's also a Thai inspired cocktail menu that has suggestions of food pairings- we love the idea of Lychee Ginger Spritz and noodles.
The Halal Guys
Earl's Court
Ok, so it's pretty obvious that The Halal Guys serve halal food in London, the name kind of gives that one away.
This no-frills eatery cooks up Middle-Eastern style sandwiches and platters. The Halal Guys started out in the 1990s in New York selling halal food to Muslim taxi drivers.
Fast forward to today and we're thankful The Halal Guys expanded to London because their tasty (and famous) platters come with beef, chicken, and falafel. Or, for those who can't choose, the combo is the best of all worlds.
WingWing
Multiple Locations
Inspired by Korea's chicken and beer joints serving up Chimaek, Wing Wing has London's best Asian soul food.
Serving up addictively crispy chicken wings and tasty sides, you'll also be pleased to know that Wing Wing's menu is fully halal.
We're not even sure when to begin with Wing Wing's clucking good chicken, signature wings come with a choice of soy garlic, hot or liquorice mix and all chicken is double fried.
To go with your ultra-crispy chicken, order the seaweed fries, battered green beans and kimchi coleslaw.
Practical Tips for Finding the Best Halal Food in London
Whilst these places are certified halal, it's always best to check with your server if you're unsure.
Some restaurants need to know in advance if diners have halal requirements, this means they may not have what you need for a walk-in visit– best check this online when you book.
Most Michelin-star restaurants are so popular that you need to book well in advance, but it's well worth the hassle.
London Halal Restaurants: Map
London Halal Restaurants: Read Next