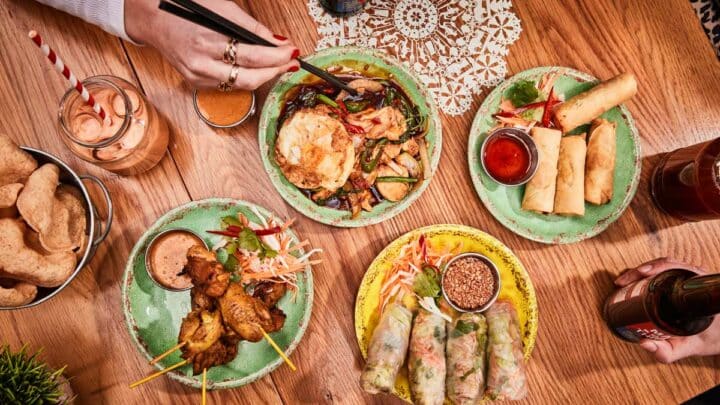 Looking for the best restaurants on Northcote Road? These are the top places to dine on this buzzy street.
Stretching between Battersea and Clapham, Northcote Road is one of the top places to chow down in London right now.
Filled with unmissable restaurants (this is the spot if you're after a perfect bowl of pasta), you need to head here for a dinner date. From upmarket restaurants and family-run joints to high-quality food trucks, there's something for every kind of mood.
Ready to discover the best restaurants on Northcote Road? Let's get into it.
Best Restaurants On & Around Northcote Road
Seafare Fish Bar
££
We'll make a bold statement: Seafare Fish Bar is one of the best fish and chip restaurants south of the river and a real hidden gem on Northcote Road.
It's mostly takeaway, but there is the most adorable outdoor seating area in the sun if you get there at the right time (and the weather's nice).
All the fish is sourced from Billingsgate Market and they recycle their bubbling rapeseed oil into biofuel. You've got the choice of cod, plaice, haddock, rock, squid and scampi – and the batter is to die for.
Breadstall
£
For the best sourdough pizza on Northcote Road, make a beeline for Breadstall. These guys know exactly what they're doing when it comes to dough. All of their breads are absolutely delicious, though the freshly baked ciabatta and focaccia are our faves, which you can fill with whatever you want (go for the chicken).
If we're in the mood for pizza (often) we usually go for the veggie option which we demolish in seconds and then sit contemplating ordering a second to take away. It's too good. The crust is the sort of crust you'll find in Italy and the toppings are more-ish.
Buona Sera
££
Buona Sera means 'good evening' in Italian, and that's exactly what you'll have at this Northcote Road restaurant. We love the vast outdoor seating and the fact that this restaurant has been there for almost 3 decades.
This restaurant is also a prime people-watching spot, so make sure you get there early enough to get a good seat in the sun and enjoy the best pasta on Northcote Road – along with a lovely glass of vino, of course.
Without a doubt, this is one of the best restaurants Northcote Road boasts.
Rosa's Thai Cafe
££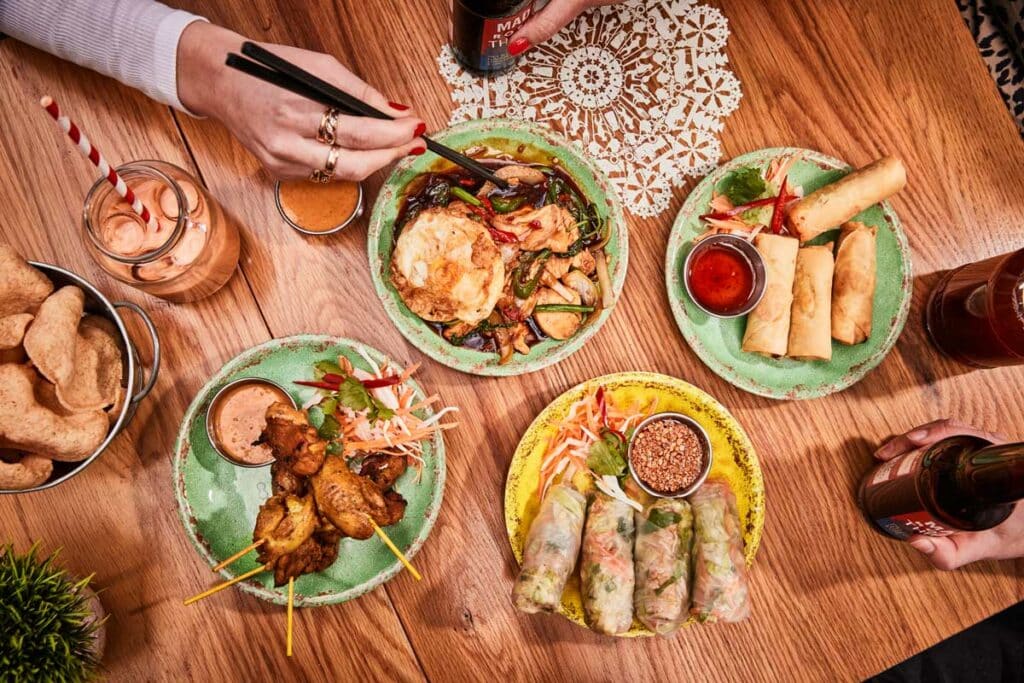 We know it's a small chain but that doesn't take away from this being one of the best Thai spots in London, and definitely the best Thai on Northcote Road.
Our go-to order is Rosa's Pad Thai – trust us when we say that it's quite hard to order anything else ever again once you have it for the first time.
The Chilli and Basil Stir Fry is also great, but frankly we're very rarely led astray and stick to the Pad Thai along with various starters. Apparently, 1.6 million Pad Thais have been served by the whole restaurant group, and we understand why.
Made In Italy 3.0
££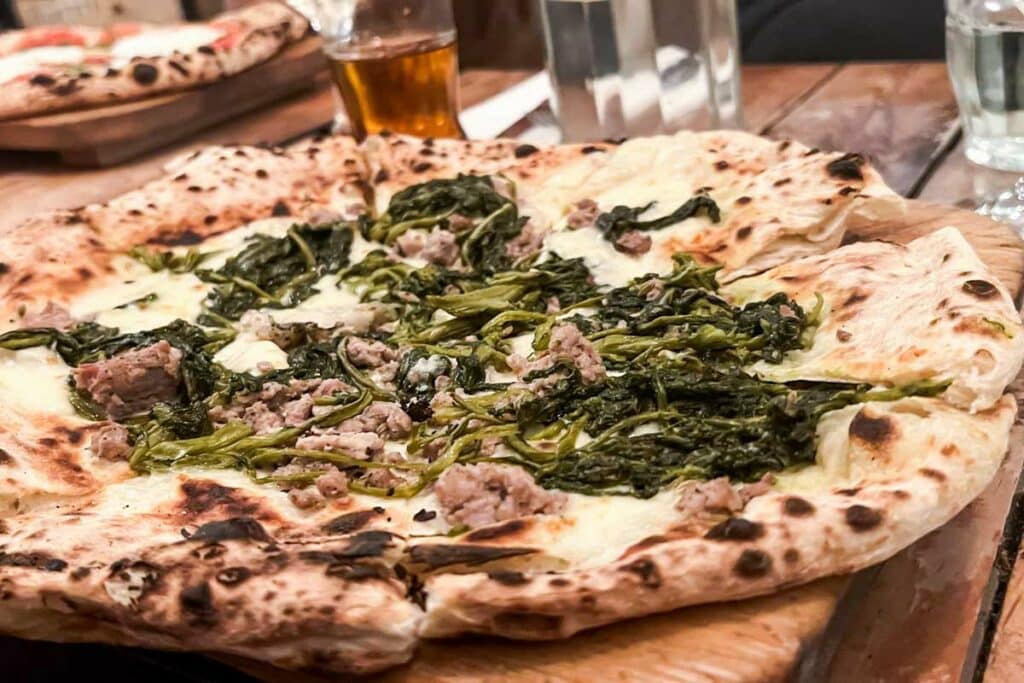 Italian food seems to be the main go-to on Northcote Road, and Made In Italy 3.0 is one of our favourites when it comes to the quality of the food. This restaurant serves up deliciously wood-fired pizza made with fresh ingredients. The best part? They're not stingy with cheese.
That said, the service leaves a lot to be desired – the waiter on our last visit was grumpy at best, out and out rude at worst – and with a 1.5 hour table limit (which he took pains to remind us of the moment one of our party was ten minutes late) and no-pre bookings, it's not exactly a relaxing experience.
Osteria Antica Bologna
££
Another authentic, cosy Italian which has been going for almost two decades. If you're looking for uncomplicated, delicious food and a great atmosphere then look no further than Osteria Antica Bologna.
We love their freshly made pasta as well as the risottos, which are made with so much love and care, you won't want to ever go anywhere else. We also rate their affordable wine by the glass highly.
MEATliquor SW11 – Northcote Road
££
Ok. Let's move on from the abundance of Italian options. You can't walk down Northcote Road without being tempted by MEATliquor.
Sometimes you just have cravings that only a burger can satisfy. And MEATliquor is one of the best burgers on Northcote Road.
They know what goes into a great burger, from composition to texture and exactly the right quantities – they just get it. Along with delicious cocktails and ice cold beer, you get that American diner feel with even more excitement. We love the 1924 burger with a hefty selection of sides.
KIBOU Japanese Kitchen & Bar
££
An upscale Japanese restaurant with delicious cocktails, whisky and Sake. The thing about sushi is that you usually need to break the bank to really get the top quality fish, but not here. For the quality of fish, this is some of the best priced sushi in London.
We'd recommend going for the mixed platter because you get to try a bit of everything and, if you're sharing with a lot of people, it's a great option to have. The mixed seafood futomaki is incredible along with the chicken karaage bao bun.
Amar
££
Amar is one of the best Lebanese restaurants on Northcote Road with a ton of tasty options in a charming atmosphere.
The meat shish kebabs are right off the charcoal grill and you can taste that beautiful chargrilled incense with deliciously tender meat.
The portions are big, we'd recommend going for a mix of cold and warm mezzes (definitely get the dolma, they're handmade which is quite rare these days). It's traditionally excellent.
Other Places to Eat on Northcote Road
Porchetta & Grill
£
Disclaimer: This isn't a restaurant per se but a small trailer serving some of the best food in London.
This is the kind of place to take your pals to if you're looking to impress them with some of the best Umbrian porchetta served either in a semolina-dusted ciabatta or over polenta and vegetables.
It's so simple yet so effective, a sandwich that is worth travelling far and wide for. There genuinely isn't anything better on Northcote Road and we'd vote this one of the best sarnies in London.
VE Kitchen
££
Who knew that one of the best vegan restaurants in London right now lives on Northcote Road? We did. Whether you're vegan or not, sometimes you just need a healthy bowl of goodness that is going to nourish you and bring you back to health.
VE kitchen is all about 100% plant based food prepared by some of London's best chefs. They have the classics like super salads and summer bowls, but also some incredible vegan burgers and hot classics along with the best brownie we think we've ever had.
We recommend trying the dahl if you're after something a bit more comforting, or a super salad if you're in need of a health kick. On top of the great food, they have a fantastic selection of natural and organic wines and some very tasty kombucha.
Practical Tips for Exploring The Best Northcote Road Restaurants
Make a reservation in advance, especially at the Italian restaurants in this guide. They fill up quickly.
There's plenty of seating outside all along the road – grab a takeaway from Rosa's and watch the world go by in the sunshine.
Northcote Road Restaurants: Map
<
Best Northcote Road Restaurants: Read Next