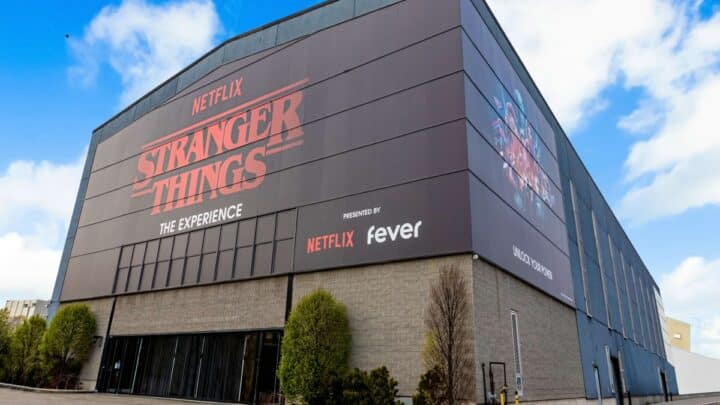 Looking for the best immersive experiences in London? Discover otherworldly realities at these immersive experiences.
Sometimes you just need to switch off from your reality and be transported into a completely new one. That's why we've found all of the best immersive experiences in London right now.
Be transported into intergalactic worlds, see dinosaurs up close, enter the upside down and solve murder mysteries at these immersive experiences in London.
Ready to have your mind blown?
Must-Try Immersive Experiences in London
Secret Cinema
Wembley Park
££
From cult classics to new releases, Secret Cinema brings films to life in a secret location.
At Secret Cinema you can choose to be part of the story and blur the lines of reality. Whether you choose to come dressed as the cast and take centre stage or blend in with the crowd, you'll have lots of fun at this immersive experience in London.
Prepare for an evening of suspense and fun beyond your wildest imagination that begins from the moment you book your ticket. You'll be sent your bespoke identity and previously unexplored parts of the story as well as the encouraged dress code of the evening to kick off the mystery.
Stranger Things: The Experience
Brent Cross
££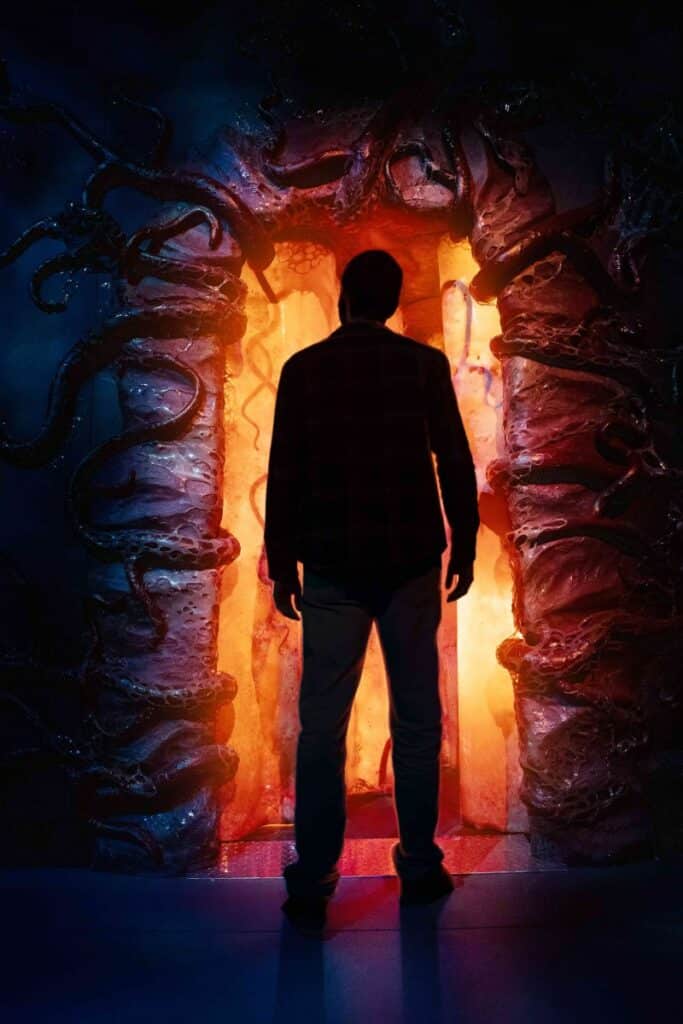 Ever wanted to be part of the Stranger Things cast? Well, now you can, kind of.
Presented by Netflix and Fever Up, Stranger Things: The Experience will see you diving headfirst into the upside down world with Eleven, Dustin, Mike, Lucas, Max and Will.
Step foot inside Hawkins Lab for a one hour immersive experience and throw some shapes to the 80s themed mixtape medley with food and drinks. There are plenty of photo ops at this immersive London experience so don't be shy, it's totally fine to make dreams come true and dress up as Eleven.
Dopamine Land
££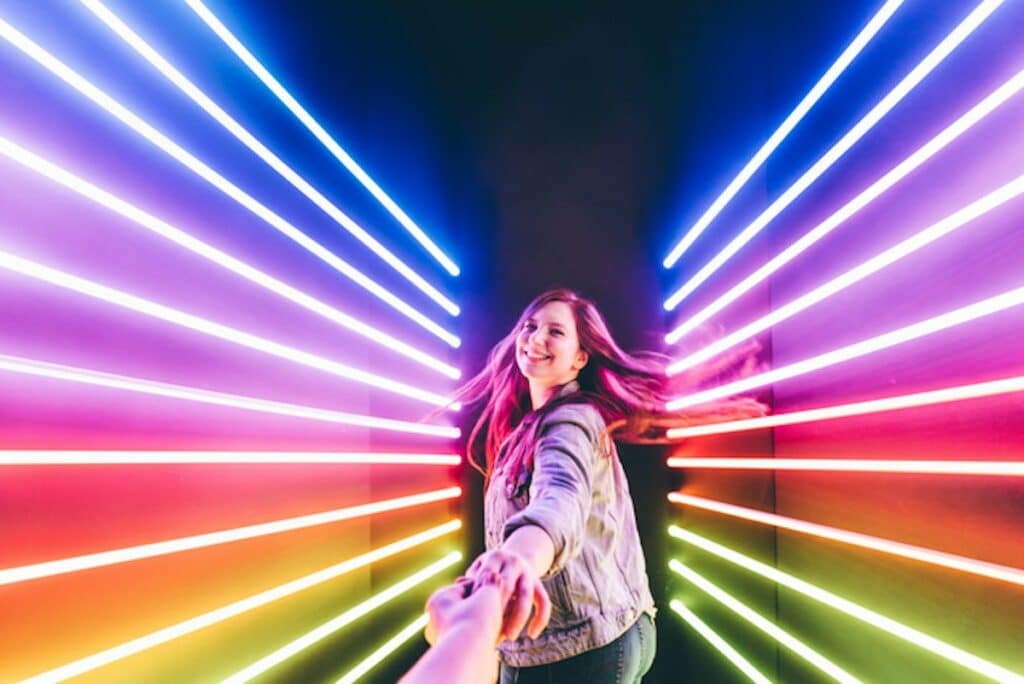 Enter a world of happiness at Dopamine Land. An original Fever immersive event in London that channels your inner child energy and turns it into reality.
Dopamine Land does exactly what it says on the tin, you won't want to leave this colourful multisensory experience. Figure your way out of a room filled with floor mirrors and crazy illusions, lights and sound effects.
Things only get weirder from here as you step inside a popcorn machine– childhood dreams do come true. If you make it out of the rooms, head to the colourful bubble bar for cocktails and bubble tea.
Phantom Peak: An Immersive Open World Adventure
Canada Water
££
Ready to enter an alternate steampunk reality? Start your new life as a prospective resident at Phantom Peak, a fully-realised theme park.
This eerie real-life town even has waterways systems and is a chance for you to discover what life is really like for locals of The Venice of The West, but be careful, not everything is as it seems.
Dine, drink and play at Phantom Peak, embark on a thrilling boat ride and discover the town's darkest secrets through hidden experiences and interactive games.
The Crystal Maze Experience
££
Get nostalgic at The Crystal Maze Experience – yes, it's just like the hit 90s show. After all these years, you and your team can finally become a contestant of the much-loved TV show.
It's the best immersive experience in London for an exciting and truly unique experience. You and your gang have one mission, to get to the Crystal Dome and score as many points as you can.
Against the clock you'll run around four different zones solving mysteries and facing physical and mental challenges guided by your Maze Master. Winning crystals for each challenge you complete on time– think you can get them all?
Jurassic World The Exhibition
Royal Victoria Dock
££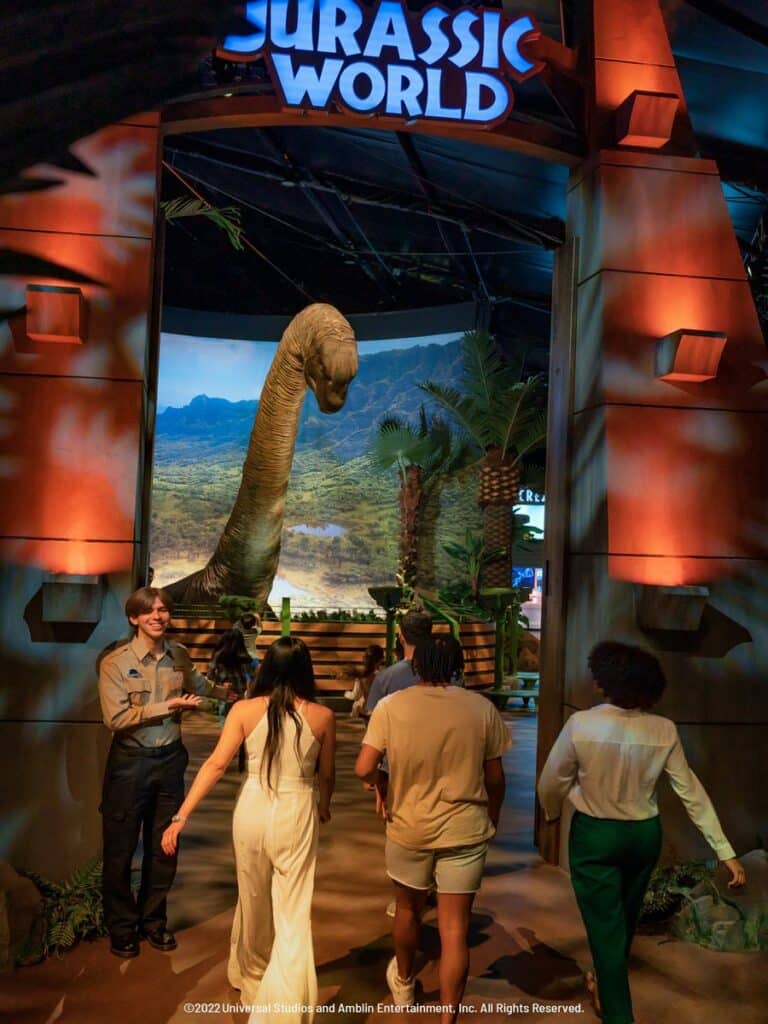 Jurassic Park fans are in for a real treat at the newly opened Jurassic World: The Exhibition. Get up close and personal with living dinosaurs and see them like you've never seen them before.
Step into a life-like scene inspired by the film and discover the science of Jurassic World, walk in the land of Jurassic giants and come face to face with life-size dinosaurs.
Board the ferry to Isla Nublar and walk across the massive Jurassic World gates and come face to face with a Brachiosaurus and dare to look the most vicious dinosaur, Tyrannosaurus Rex in the eyes.
Sherlock: The Official Live Game
££
Play detective at Sherlock: The Official Live Game. Unleash your inner detective skills at the Sherlock inspired immersive escape game from the creators of the hit BBC series.
You and your team will uncover clues and crack codes to solve the mystery and have the chance to visit the iconic sets from the TV show.
Luckily you'll receive lots of help from some familiar faces along the way, Benedict Cumberbatch, Andrew Scott and Martin Freeman will help you solve the mystery.
The Murder Express Part Duex – Jewel of The Empire
Spitalfields
££
Climb aboard The Murder Express train, the year is 1937, the height of the British Empire.
Britain's most famous archeologist, Dr Errol Earhart has unearthed the world's most valuable diamond, the Jewel of The Empire which is being transported on the Murder Express train.
The diamond goes missing and it's your job to unravel an intriguing murder mystery narrative. Whilst onboard the 1920s train carriage, enjoy a delicious four-course meal by a BBC Masterchef Professional.
Otherworld VR
££
Dive into a virtual island paradise at Otherworld VR and access 16 different unique VR experiences.
Once inside the metaverse portal, get ready for take off from your sense-hacking immersion pod with a life-like experience of take off. You're flying through virtual reality space into a boundless world of natural beauty.
The interactive island is a feast for all the senses, feel the wind in your hair, earthquakes beneath your feet and experience VR games that'll see you in a zombie apocalypse or live in a solitary life in the open trees– it's your reality you pick what you want it to be.
Alcotraz Prison Cocktail Bar
££
Ever wondered what it's like to be a prisoner? Wel, you can put on an iconic orange jumpsuit at Alcotraz Prison Cocktail Bar and find out.
Although this prison is a little different to the real deal, at this London immersive experience you'll need to successfully smuggle your liquor past the warden. After all, how else will you get through your time in prison without a supply of personalised cocktails?
Alcotraz is the bar behind bars where serving inmates are your bartenders, the guards are conspicuous and you become a part of the story.
Klimt:The Immersive Experience
Shoreditch
££
Discover Gustav Klimt, an Austrian symbolist painter's art in a thrilling immersive way. Step into a wonderland of moving paintings at Klimt: The Immersive Experience and admire the golden era of modernism.
The immersive room has 360 projections creating a virtual reality guiding you through a day in the life of Klimt. Sit back and relax in deckchairs and watch Klimt's colourful artworks come to life before your eyes and even underneath your feet.
Peaky Blinders The Rise
££
Peaky Blinders The Rise transports you into the world of TVs most notorious drama.
Tommy Shelby invites you to his family's Camden warehouse to share an expansion plan that could prove lucrative to everyone.
Explore the live sets, complete challenges to help Tommy succeed and interact with the show's most iconic characters. Enjoy an evening fully immersed into Tommy Shelby's world as you watch interactive scenes play out right in front of you.
The Gunpowder Plot
Tower Hill
££
The year is 1605, a city is divided and the peace of the nation balances on a knife edge. The Gunpowder Plot is a thrilling immersive experience, using a combination of live theatre and the latest digital technology you're transported into the heart of a story of which you are the protagonist.
Experience the Gunpowder Plot through a 360 environment, you're surrounded by deception, but who will you trust?
This multilayered experience is like nothing you've ever experienced before, motion simulators and stunning special effects steal the show in this unmissable immersive experience in London.
Jeff Wayne's The War of The Worlds: The Immersive Experience
Aldgate
££
When Martian's invaded the world in 1988, they very nearly won. Now you can experience that invasion first hand through Jeff Wayne's The War of The Worlds: The Immersive Experience.
24 extraordinary scenes with live actors, virtual reality and 5D effects help transport you into another world and put you at the forefront of the action. Begin your intergalactic journey in The Spirit of Man, a steampunk bar on London's Leadenhall Street with journalist George Herbett as your guide.
You'll crawl, slide and weave your way through 24 immersive scenes and experience the destruction first hand.
Practical Tips for Finding the Best Immersive Experiences in London
Always book your experience before you go – these kinds of experiences fill up extremely quickly (especially once TikTok finds out about them!)
Check in advance if you'll need a certain number in your team for the experience – you don't want to miss out on the night because you've got too many pals with you.
Immersive London: Map
Immersive Experiences in London: Read Next