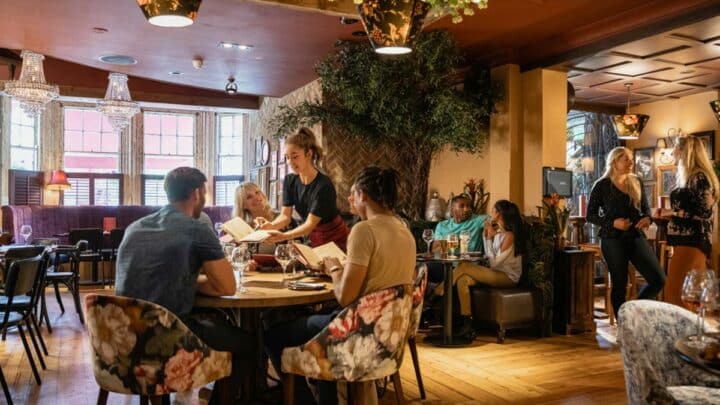 Discover the best restaurants in Hampstead with this insider's guide.
Hamsptead is one of the cutest areas of London. Lots of trees, lovely pebbled roads and cafes, along with some incredible restaurants and a rising foodie scene. We can't get enough of it.
It's the perfect place for a lazy brunch after a walk around Hampstead Heath, or a cute date night that's not too crowded or busy.
An area in London where you can still find amazing hidden gems that are relatively unknown with incredible food? Here's what you need to know.
Best Restaurants in Hampstead
Ham
££
Ham is a casual, friendly, local West Hampstead restaurant which offers simple yet imaginative modern British food, cooked in a way that lets the ingredients speak for themselves.
It's a great restaurant if you're looking for a good brunch in Hampstead that's healthy and a little bit more sophisticated.
The baked potato is to die for. We know, we know – a baked potato? Just take it as testament of the fact of Ham's ability to take a simple dish and elevate it to another level.
You can't go wrong with the eggs benedict or eggs royale too. It's cosy and you'll always find it packed – a sure sign you're onto a winner.
Jin Kichi
££
Jin Kichi is home to authentic Japanese cuisine in the heart of beautiful Hampstead. This has to be one of Hampstead's best Japanese restaurants with a menu including yakitori and sushi, as well as an array of traditional rice dishes and noodles.
The restaurant is newly refurbished and has a fantastic atmosphere. With a beautiful minimalist layout, it's worth the wait to get a table (definitely book as far in advance as possible for this one.)
The grill options are amazing, definitely try the yakitori. It's what it's known for and they prepare it to perfection. This restaurant is like a not-so-hidden gem in Hampstead village that's managed to remain authentically Japanese – it'll be our secret.
Mama's Kubo
££
As far as Filipino restaurants in London go, Mama's Kubo is the best. It's in a total different league to anything else. 'Kubo' is the Filipino word for a 'thatched hut', so the literal meaning of the restaurant is Mama's hut.
The dishes are inspired by the food that mothers and grandmothers lovingly cooked for their families in the Philippines. The chef has naturally also infused their dishes with his own signature flavour, making it unique to anything else out there.
Filipino cuisine is some of the tastiest food in the world, and is mainly a smorgasbord of Spanish, Chinese, Malaysian and Indonesian influences with a dash of American. We can safely say this is the best Filipino restaurant in London. The chilled vibes, amazing food, everything is spot on.
The Swing
££
Right in the centre of Hamsptead is Hampstead's best vegan and vegetarian restaurant, The Swing.
The swing also has plenty of gluten free options and creates dishes with mediterranean and asian influences. They're all about colourful small plates that not only look amazing but taste amazing too. Great for sharing with a menu that is 100% vegetarian.
The food is truly exceptional. We recommend going for the tasting menu, either the veggie or vegan one. The potatoes are unbelievable and every course bought something new to your palette. Also has incredible cocktails and sake.
Ginger & White
££
There's nothing like a good old British café serving amazing sandwiches, salads and breakfast. Right by Hampstead tube station, it's the perfect pit spot if you're going swimming in the ponds or for a walk around the park.
It's a great place if you're after a sweet treat. We recommend going for the Shakshuka if you want something a bit more filling. It's just what you need at any time of the day and the location is amazing.
Ginger & White is best for coffee and breakfast in Hampstead.
The Brew House Café
££
The Brew House Café really is Hampstead's hidden gem and is a place that's remained as good as it's always been. It's situated in a wonderful oasis of calm in Kenwood house.
If you're visiting Kenwood house, definitely make the most of your trip by popping into the Brew House for some food and a tasty coffee. They perfect lovely warming bowls of soup and lattes. A great place to read the newspapers and take in your surroundings.
If you're looking for a calm place to eat in Hampstead, then look no further than the Brew House Café.
28 Church Row
££
28 Church Row is one of the best restaurants in Hampstead. Fact.
The Menu takes its inspiration from the best of Spanish and Italian cuisine with small plates designed for sharing. They let the ingredients do the talking, with cooking them up simply and delicately.
Their wine list is on par with their quality of food, created with an amazing blend of classic styles & unique lesser known wines. The list is always changing and evolving in order to take on more boutique wineries and limited editions, so you know what you're getting is always special.
Not only is the food some of the best in London, the price is very reasonable. A great vibe, great vibe and somewhere you'll want to just keep coming back to.
L'Antica Pizzeria
££
L'Antica Pizzeria takes pizza to an entire new level and pride themselves on only using the best equipment and carefully selected ingredients. Staying true to their heritage is their recipe for one of the best Italian restaurants in Hampstead.
It's a small restaurant near to Hampstead Heath – so make sure you book before as it gets very busy. It's incredible to see the pizzas being cooked in the wood oven. Great value for money and simply amazing authentic Italian pizza.
La Cage Imaginaire
££
La Cage Imaginaire is one of Hamsptead's best French restaurants serving up all the classics and in a cosy French atmosphere.
The menu is small but has everything to satisfy those French food cravings. The foie gras and rabbit legs are delicious and definitely up to French standards. The french onion soup has to be the number 1 thing on the menu, and you'll probably want to keep ordering them.
The prices are very reasonable for the quality and without a doubt, this is a 5 star French restaurant in Hampstead. PS. If you have a sweet tooth, then definitely go for the Creme brulee for dessert.
Patara
££
Patara is a wonderful Thai restaurant around the corner from the train station and the perfect place for a relaxed dinner in Hampstead.
The food is beautifully presented in a cosy ambiance and although more expensive than the average Thai, it's still a good price considering the area.
We love the use of fresh ingredients and how much effort goes into the presentation. We recommend going for the coconut beef and the baked banana as a dessert, but in all fairness everything is delicious and you'll want to try it all.
Other Places to Eat in Hampstead
Charro De Rio
££
An incredible all-you-can-eat grill in Hampstead, this is one of the best meals you'll have in London. The very unique experience starts with a selection of fresh, daily made salads and hot dishes.
Then you'll get skewers of succulent meats straight from the charcoal BBQ carved to your plate. They offer Fillet mignon, Wagyu, Picanha, Ribeye, Smoked Ribs and loads more included Chicken and Lamb. In addition to the crazy meat fest, you'll also get a lovely selection of wine and cocktails depending what you're in the mood for.
Just round the corner from Belsize Park station, Charro De Rio does not disappoint. It's very difficult to find a fault in it and it's quickly becoming one of the best Brazilian BBQ in London.
Retsina
££
An incredible award winning family-run Greek restaurant in Hampstead serving traditional Greek food and modern mediterranean cuisine. Retsina has over 30 years of experience and knows what it's doing when it comes to Greek food.
You can really tell this is a family-run restaurant from as soon as you step into it, you feel right at home. We recommend ordering a bit of everything so you can try them all. The wines are also delicious.
The mixed grill is also a great option to go for with big portions. All the meats are delicious and go so well with a load of sharing dips to start with. The octopus should probably get a special mention too.
Practical Tips for Exploring The Best Hampstead Restaurants
Where you can, make sure you book before. A lot of these restaurants are quite small and definitely require reservations.
Whilst you're in the area, have a walk around Hampstead Heath and maybe even take a dip into Hampstead ponds.
Hampstead Restaurants: Map
Hampstead Restaurant Guide: Read Next