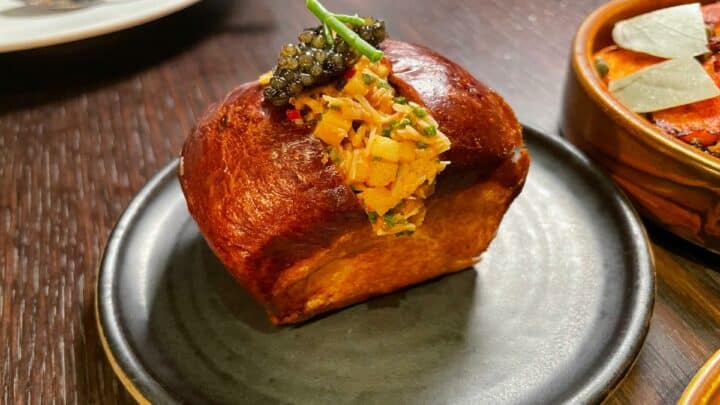 The Mandrake Hotel's in-house restaurant, YOPO, got a complete makeover and it's mental. Read our review now.
Every self-respecting hotel needs a good restaurant. At the Mandrake on Newman Street, that place is YOPO.
Food here is the work of Chef George Scott-Toft who's been at the Mandrake coming on 6 years now. Before this he cut his London teeth at Pierre Gagnaire's Sketch Lecture Room & Library, and co-engineered a Michelin star for Serge et le Phoque in Hong Kong.
It's quite a resume, but not the reason we were most curious about YOPO. They've just had a makeover from what was a fairly-stylish arty-type boutique vibe to something that's, well, how do we even explain it?
First, let's talk food.
YOPO – The Full Review
The Food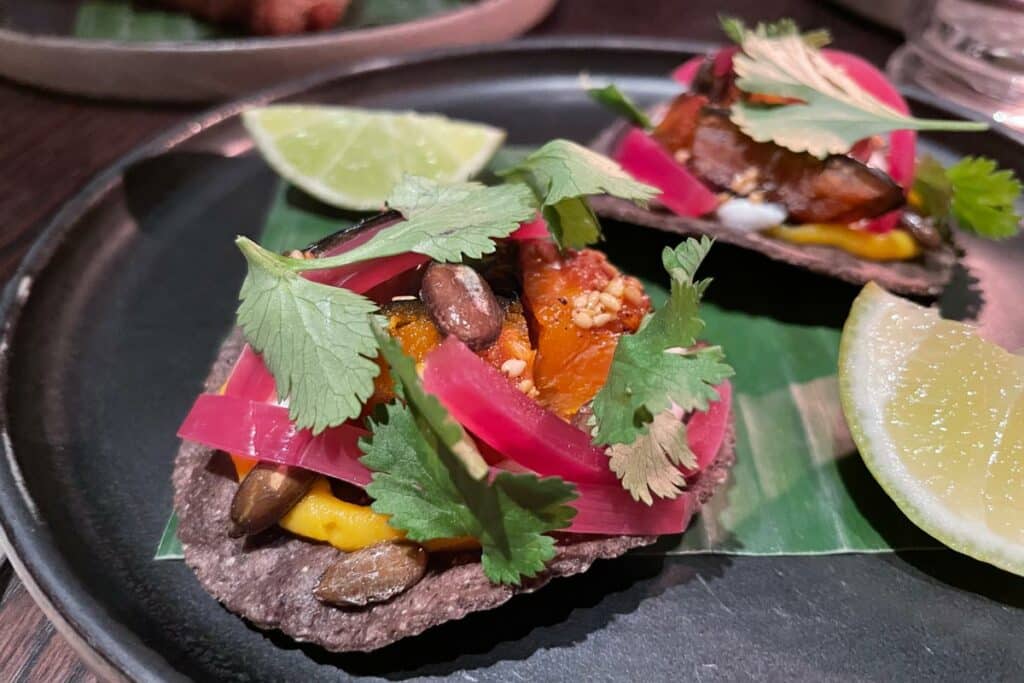 Peeling eyes off the stuffed ostrich with snake-skin neck, duck's bill and plumage worthy of a burlesque outfit was no small task, but once alighted on the menu it was clear we were in for a meal as decadent as the interior makes the place out to be.
YOPO's fare is South-American inspired, so we went straight in for a pair of the Beef and White Bean Empanadas. The filling sits in a pastry that crumbles like a mince pie's does on contact with teeth, leaving you catching tumbling bits of filling and sheepishly popping them back in your mouth. You won't want to waste a morsel.
Potentially the only major deviation from the South American road was a delightful crab and apple brioche loaf. The thing's only little – about two bites – and comes topped with some very high-end caviar and a sprig of green that makes for a very pretty dish.
It's worth noting that George Scott-Toft, if you couldn't tell from the name, isn't South American. He's from New Zealand.
The inspiration here is just that: inspiration. It's clear that his techniques are rooted in the French tradition and that he's lifting flavours and ingredients from Latin American cooking.
He's mostly bang on point with it. We weren't so thrilled by the grilled octopus and potato dish, but the Iberico pork anticuchos – skewers of chunked pork meat separated by mushroom – came with an aji Amerilo and mustard sauce that had one of us licking the pot clean.
A portion of the yellowtail sashimi followed, with a yoghurt dipping sauce that was similarly mopped up. And before the josper-grilled sirloin steak arrived we decided to double back on the small plates for the goat's cheese tostadas and the chorizo Iberico on grilled sourdough, not because we were still hungry, just because why not.
By this point the sirloin steak we'd already ordered was overkill, as was the side of grilled aubergine – a must-order house speciality – but we're professionals, so we pushed on, finished it off and ordered desserts.
What was meant to be a quiet week-night meal had become a three-hour feast.
And it's probably right that it was. The food is exciting – you kind of can't help but want to try it all. The flavours that Scott-Toft plates up run into interesting and unexpected places. The cocktails are similarly exciting.
The Drinks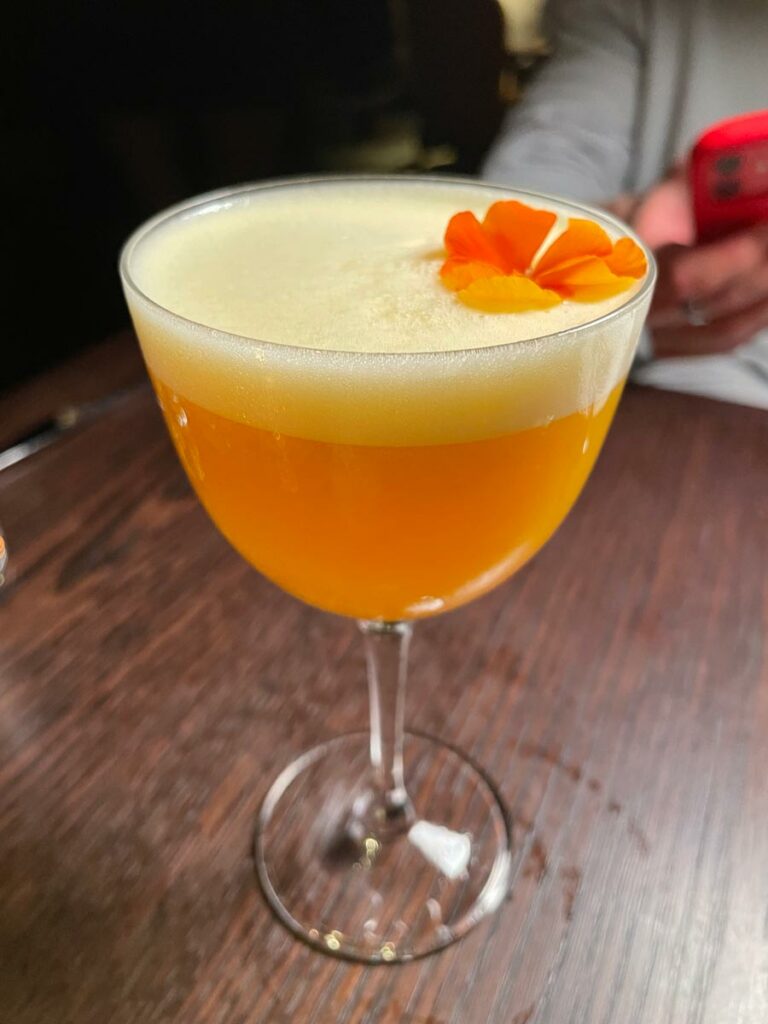 Looking at the cocktail menu you'll probably struggle to picture the flavour of the drinks. Remy Martin 1738 Corn-Infused Brandy, with Caramel Orange and Cardamom Syrup? What exactly might that taste like?
It was delicious. The corn comes through in a sort of burnt nuttyness similar to pandan. The drinks are as creative as the food is. For the most part you're in uncharted territory, but also safe hands.
The Instagram-obsessed will fawn over the Flora Sana, a fruity, foamy beverage that we intended as a pre-dinner drink but couldn't stop ordering.
The Look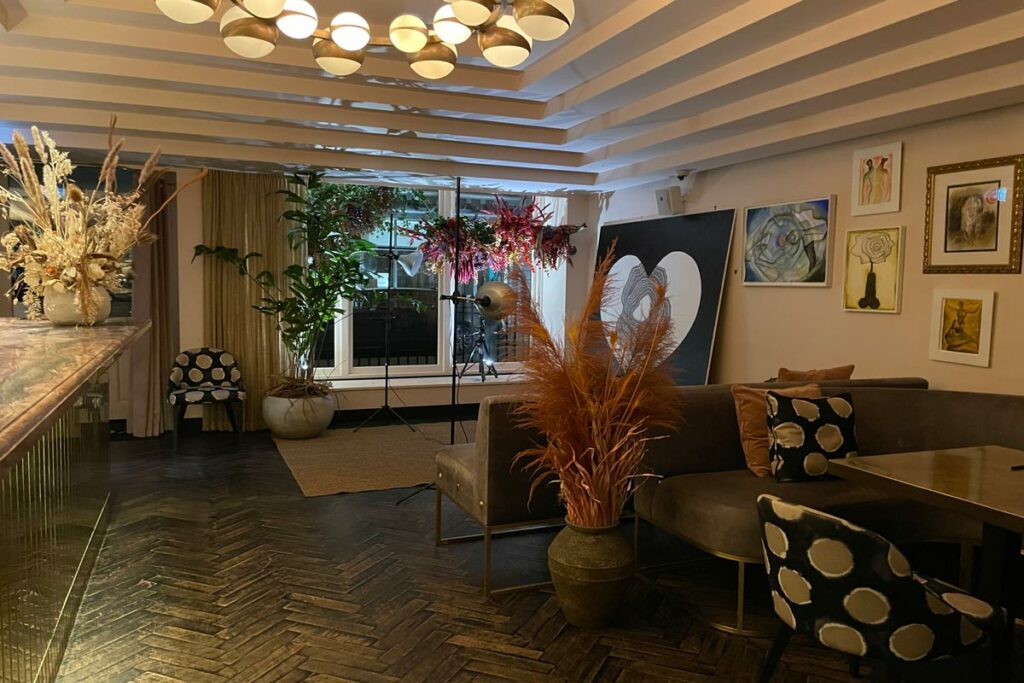 And so here we come to what is a major part of YOPO's whole concept. Decor is where the restaurant becomes almost baffling. We sat underneath a light fixture that looked like it was melting off the wall.
The restaurant's centrepiece is the aforementioned snake-ostrich-burlesque-duck model, that looking back on it now, was also wearing native American headgear. The room is cosy but also dark and mysterious.
Get lost on the way to the bathroom and you might stumble across a leafy outdoor terrace, private dining spaces that could've come straight out of the 70's, a bar of polished rock that could have started life as an asteroid.
The overall feeling is like being on the deep-inside of an ayahuasca trip.
Final Thoughts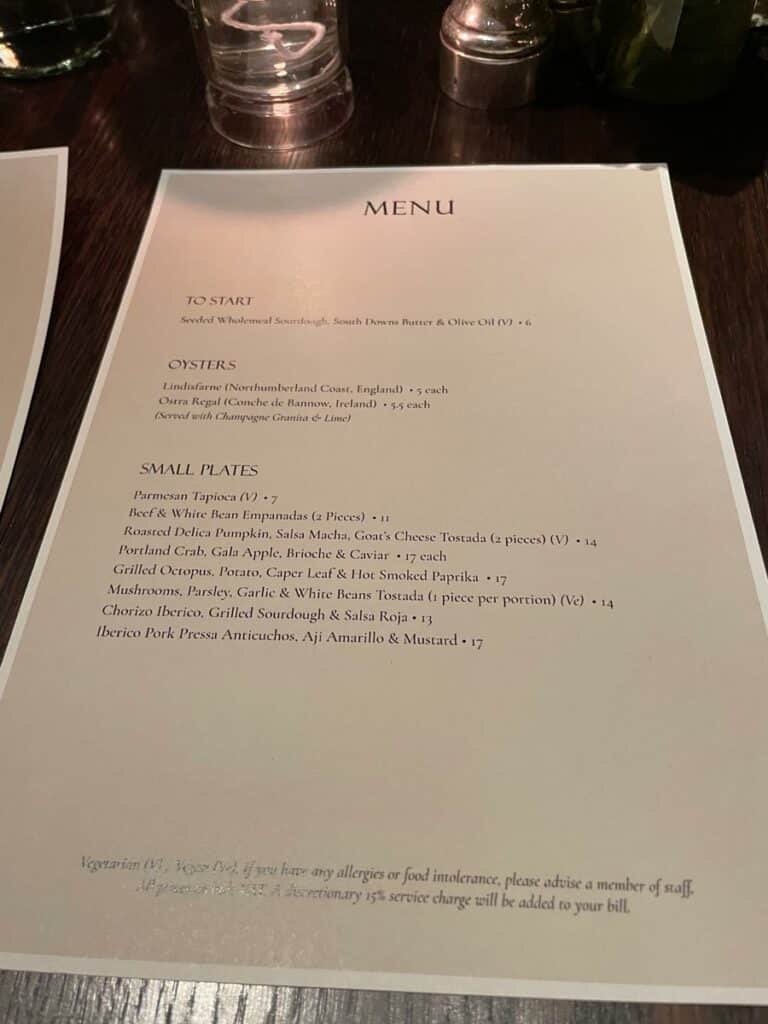 YOPO is an experience for sure. If you like your restaurants over-the-top you'll want to book a table. If you're more for the understated, steer clear. There's another group of people that should probably avoid YOPO thought, and that's those without money in their pockets.
The food and drinks, as exciting as they were, add up. A meal for two with drinks at YOPO could easily slide over the £250 mark, and when you start to put it that way you can't help but ask: was it worth it?
If you've got the money to burn, more power to you. Go for it. Your money will buy you one guarantee: that dinner at YOPO is a capital-E Experience.
Stepping back onto the street outside afterwards, life felt remarkably boring.
YOPO – Practical Information
Price: £££
Address: The Mandrake Hotel, 20-21 Newman St, London W1T 1PG
Review 4/5
YOPO – Map