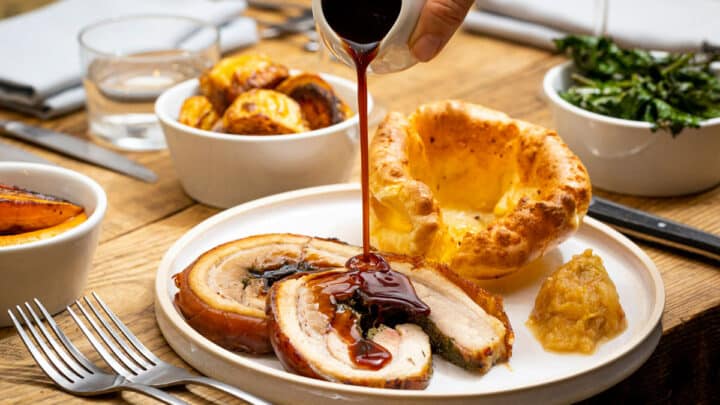 Your guide to the London riverside restaurants not to be missed. From fancy spots to cosy diners, here's where to chow down.
Ok, you've got an anniversary, or maybe an important date, and you need to impress. Where do you take them? Nothing quite says romance like dining on the waterfront, and London does waterfront dining well.
We've got some fancy places overlooking the Thames, there's even a few spots floating on the water itself.
It's not all fancy though. We know there's a time for dates and a time for mates. Whatever the waterside occasion, we've got you covered with our guide to riverside dining in London.
Best Riverside Restaurants in London
River Cafe
£££
Without a doubt, the most iconic riverside restaurant London has in its playbook is the River Cafe. This Michelin-starred Italian restaurant has been top of its game in this city for longer than we can remember.
In that time they've produced some of the finest chefs the English restaurant scene has, and even a few TV personalities – Jamie Oliver we're looking at you.
The restaurant's garden and terrace are just a little back from the western waters of the River Thames and make a pretty dreamy place to eat an al fresco dinner. It doesn't hurt that the food is pretty incredible too.
Barge East
Hackney Wick
££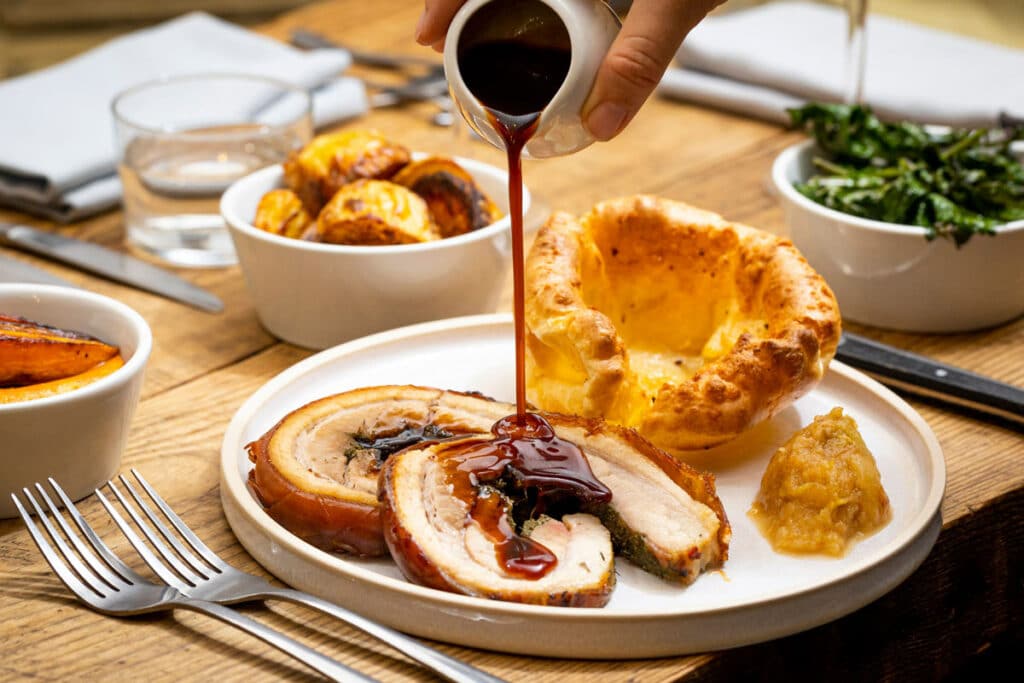 Another of the best riverside restaurants London has to offer comes in the form of Barge East. The floating restaurant made its home on a repurposed barge, and get this: the owners of Barge East had sailed this boat all the way over from Holland.
In 2015 they pitched up on the bank of a canal in Hackney Wick and have gone on to become a bit of a local institution – one that Londoners are willing to travel across the city to get to.
The food is heavily focused on sustainability and fresh ingredients. They'll be knocking out modern takes on broadly British food and doing it largely with the help of the veg garden they grow on the canal bank – which, incidentally, is a very nice place to eat if you can't get a seat on the boat itself.
Skylon
£££
Looking for restaurants on the River Thames? Make sure to have Skylon on your radar. This place is tucked up onto the first floor of Royal Festival Hall and offers some very nice views of the Thames if you can snag yourself a seat by the window.
There are more reasons to come here than just for a waterside meal though. The food stands up. Modern European cooking from head chef Helena Puolakka takes a skillful look at dishes that'll look pretty gorgeous on your 'gram.
This is essentially a pre-show restaurant though so you can still find a few laid-back items on the menu – the burger being one of them.
The Cheese Barge
£
Another favourite joint of ours that takes the whole riverside restaurant thing to the next level by actually being on the water is The Cheese Barge. Again, a giant barge docked up in a London canal, this time in Paddington.
They are a favourite of ours for their dedication to something we love more than anything else in the world (pretty much): Cheese. This place takes some great British cheese and incorporates them into a menu that changes with the seasons.
Expect cheese platters, melted cheese, grilled cheese and any other type of cheese you can think of. Then, add a little creativity and some good-quality ingredients and you're there.
The Pear Tree
£
Ok pedants, we hear you loud and clear. This one is technically a cafe. But so is the River Cafe, technically. And although there are a few grab-and-go options, The Pear Tree does plates of food like any restaurant.
They're excellent, too – mainly light brunch dishes that are available on an all-day menu and a spread of pan-Asian cooking for dinner. All this can be washed down with a decent selection of wines and cocktails.
Cocktails – take note here because that's what you'll want to have in your hand as you dine away next to the still waters of Battersea Park's ponds.
Ok, so it's not a riverside restaurant either. You got us. We think it still belongs here though. Chalk it up as an honourable mention.
The Mayflower
Rotherhithe
£
Few London riverside restaurants have as much history as The Mayflower. They call themselves the oldest pub on the River Thames, but a lot of pubs call themselves the oldest something so we'll take that fact with a pinch of salt.
They certainly are old though, old enough to be the place where the Mayflower ship set sail, carrying pilgrims to the New World. You can still see the mooring point in the river where they tied their boat before setting off in 1620.
Inside is a welcoming pub full of history of its own. You can see it in the very walls of the place, and on them. Most of the free space has been used to hang trinkets and trophies gathered over the centuries.
The Bingham
££
Riverside property doesn't come cheap in London. Especially when it's as stately as The Bingham. This grand old country house turned restaurant is a one-of-a-kind place to eat by the water.
The dining room is trimmed with gold and hung with chandeliers and looks as old-world and aristocratic as they come – we're not sure if the staff here are butlers or waiters.
You'll be dining, though on a very modern menu of small and big plates. Food is presented with a style that's more in touch with the contemporary diner than the setting would have you believe.
Crate Brewery
Hackney Wick
£
If you're looking for less swanky riverside restaurants in London, check out Crate Brewery. It's one of Hackney's many craft breweries, but holds a special place in the hearts of east London's young crowd for the chilled vibes of its waterfront location.
As you can imagine, a place like this has some pretty excellent beers, and plenty of them. What you may not expect though is that Crate also does some pretty killer pizza.
Cooked in wood-fired ovens and made with a thin, crispy base, these pizzas don't mess around. They even get creative: sage and truffle pizza? How about smoked aubergine and goat's cheese? We'll have both.
Duke's Head
Putney
££
There are plenty of restaurants along the Thames, some of them well known, some of them hidden gems. One of the latter is the Duke's Head.
This 150-year-old pub is something of a Putney institution. They've still got much of the old-wood decorations inside, but it's the river you're here for. The Duke sits almost directly on the waterfront and the river can be seen from the high windows while you dine.
If it's a nice day try your best to snag one of the few outdoor tables and get even closer to the water. There's not many of them though so doing so is often easier said than done.
Gunpowder
Tower Bridge
£££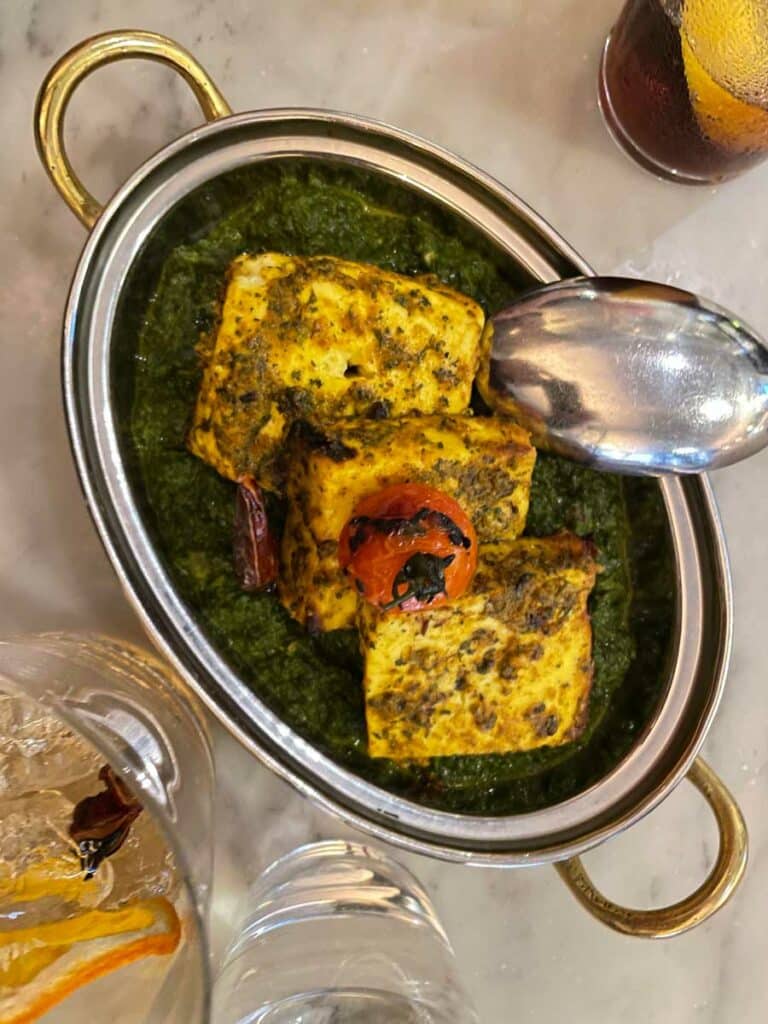 We absolutely recommend Gunpowder to any fans of Indian cooking (we love their Soho branch). They first opened up in Spitalfields and pretty much instantly gained a cult following for their prawn toast, soft shell crab and lamb shanks straight off the grill.
Since then they've gone on to open up a restaurant in Soho and another near Tower Bridge. The latter location is the one you should be considering today.
With some A-list waterfront credentials and a menu of highly innovative, incredibly delicious food, what more could you ask for?
Le Pont de la Tour
Tower Bridge
£££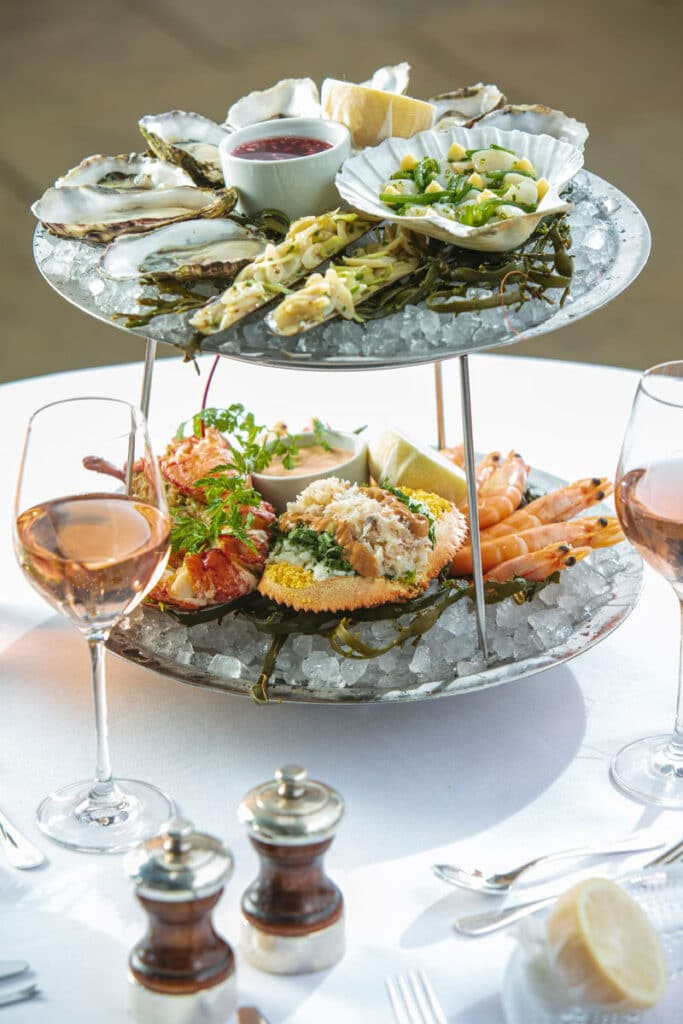 If you're looking for fancy restaurants by the river London has plenty of options. Few of them, though, come as fancy as La Pont de la Tour.
This white-tableclothed dining affair is the sort of place you want to be taking a date to impress. The kitchen turns out a mouthwatering menu of brasserie-style classics with no lack of bombast.
The setting for all this? A newly renovated waterfront space that boasts sweeping – and we mean sweeping – views of the river, Tower Bridge framing the whole lot.
Emilia's Handcrafted Pasta
St Katharine Docks
££
Sometimes simplicity is best. Just because you're dining in full view of the river doesn't mean you have to be doing it with your legs under a white tablecloth.
Emilia's Handcrafted Pasta doesn't take itself too seriously. They know the secret to a place like this is the cooking. And so what they do take seriously is their pasta, all handmade – as you may have guessed – and fresh on the day.
Could you think of a better place to enjoy it than on a sleepy dockfront, eyeing up the yachts of the rich and famous and wondering how long it'll take you to own one of those things?
Who cares when the pasta is this good?
High Timber
The City of London
££
High Tiber is one of those riverside restaurants in London that people often overlook. That might be because it's hidden away in the network of buildings between St. Paul's and Millennium Bridge – it certainly has nothing to do with the food.
Cooking style here leans towards South African with plenty of grilled meat and even some homemade biltong. The restaurant is actually owned by a winery so as you can imagine they've got that whole side of the game on lock (not a canal joke).
The riverside views are pretty spectacular. Situated just as the Thames starts to curve southward, you'll have plenty of water to gaze upon, as well as some of the iconic buildings of the river's south bank.
Sea Containers Restaurant
Southbank
£££
Sea Containers steals the show for a couple of reasons. First off is its view. Sitting high on top of the iconic Southbank building, you've got views that rival some of the best in the city.
It might be tempting to think that because of that they'd whack the prices up and make the whole experience a very classy affair. They don't. It's still very relaxed and that's reason number two.
For a third, you can find some pretty great food on the menu here. Small plates of things like crab toast and smoked trout can be enjoyed to share, or you can dine out of something larger and just for yourself – we'll take the lobster, please.
Rick Stein Barnes
Richmond
£££
A far cry from the coves and hamlets of North Cornwall, but that doesn't seem to bother him. Rick Stein has made himself a nice home on the banks of the Thames. From Rick Stein Barnes he does what he does best: fish.
The dishes you'll find here are some of his classics – that clam chowder makes an appearance – but you'll also find a few things that are unique to his London outpost. Surprisingly the food here's not too expensive. They even have a steal of a lunch menu for £17.50.
And of course there's the location. Where better for a Rick Stein restaurant than within full view of a river – we just hope the Thames isn't where he's getting his fish.
London's Riverside Restaurants: Practical Tips
We'd advise trying to get outdoor seating if possible. There's nothing like a bit of fresh air to complete a dinner by the river.
Make sure you book ahead. These tables are in high demand.
You can always specify in your booking that you want a windowside table or one that's in view of the water to ensure you don't get shoved to the back of the restaurant.
London's Riverside Restaurants: Maps