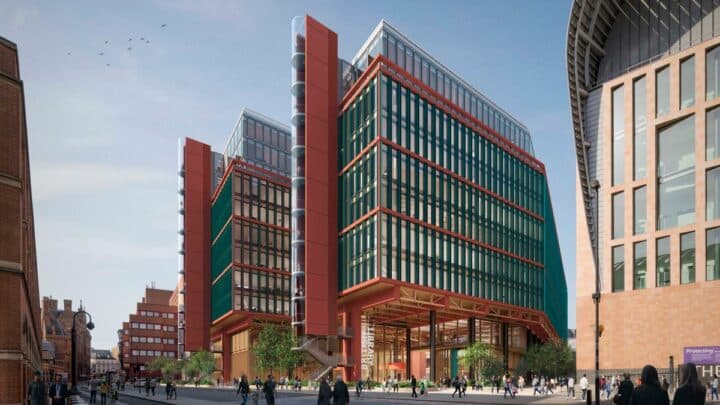 We know what London looks like right now, but here are 12 developments that you can expect from the London of the future.
London changes fast. It's pretty cliche to say so – all city's change fast, after all – but sometimes it's hard to keep your finger on the pulse of what the future of London will look like.
There's already been some pretty big announcements in recent memory. The City of London will be getting a handful of new developments, giving them the office space we didn't realise they were seriously lacking.
New wetlands and green spaces are on the cards too, as well as extensions to iconic London institutions and, of course, there's the cursed project of HS2.
Read on for some of London's newest development projects.
Exciting Future London Developments
Euston Station and (Maybe) HS2
Euston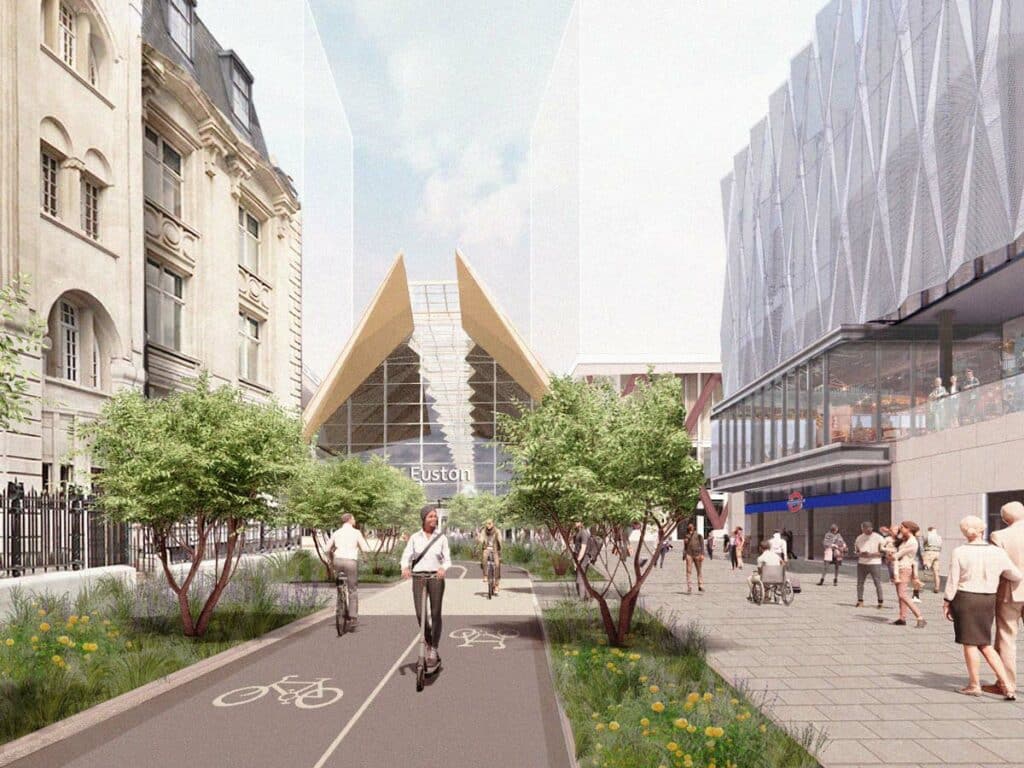 Work on Euston Stations redevelopment project began way back in 2017 with the demolition of buildings that were getting in the way. The second phase – where the actual building comes in – won't start until 2026, but when it does it should be quite something to see.
That's not just because the current Euston Station isn't much to look at, but also because of the scope of the new £2.25bn project. They're planning to re-do the whole facade, expand that cramped ticket hall, improve links to the underground and parking space, and add ten more platforms.
Some of those will of course be reserved for HS2. Or not. Or maybe. Or whatever it was that Jeremy Hunt said. Either way, we're not holding our breath on that one.
The project is aimed for completion in 2033 but, judging by the shambles they've had getting a fast train into London, we're not confident.
Google HQ
Sometimes dubbed a landscaper because of the fact that this 330m long development is longer than the Shard (if you lay the Shard down on its side), you can't miss the biggest new development in King's Cross.
It's the new HQ for tech-giant Google whose offices are actually almost right next door to the site this place is going up on.
The finished offices are said to have basketball courts, rooftop walking trails and nap pods. That's probably on top of all the wild stuff that Google offices are known for like slides, beanbags and an actual London bus (rumoured)
Google is slated to move into the £1bn development in 2024.
55 Bishopsgate
Though 55 Bishopsgate hasn't been approved yet, it's worth noting here for several reasons. First of all, this project aims to build one of the tallest buildings in London. The developers have plans for a 285 metre high structure to join the other skyscrapers in the City.
The other big reason is that it's set to have its own Sky Garden.
Why is that important? Because 55 Bishopsgate will be taller than the Walkie Talkie building, effectively pulling the carpet right out from underneath the Sky Garden there.
The plans describe a building that draws on the fibonacci sequence – a pattern that expresses itself occasionally in nature. Think spirals in pine cones and the centre of sunflowers.
Beddington Farmlands
Sutton
London has more green space than any other city in Europe – and it's about to get some more. Work is already underway for a nature reserve out in south London's Sutton.
The green space was approved as part of a deal to build the terrifyingly named Beddington Incinerator and, once finished, will constitute 400 acres of space for wildlife and plants to thrive.
The project is planned for completion at the end of 2023 but has been held up a couple of times. It's unlikely that they'll finish it on time. Fingers crossed for 2024 then.
Highline Park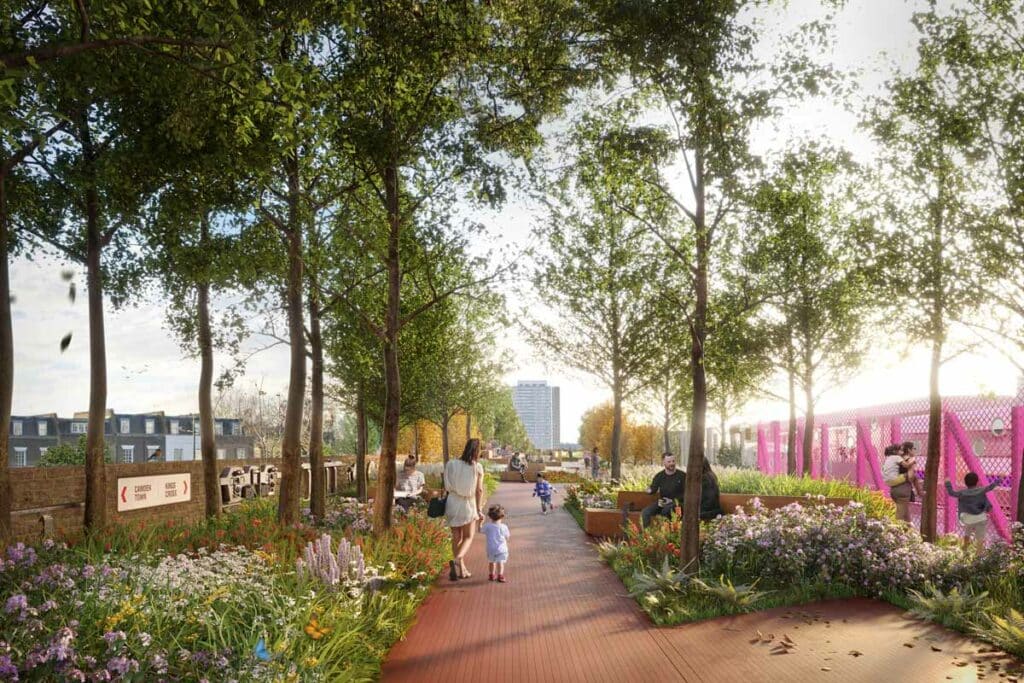 One of the more exciting development announcements of this year was Camden Highline. The project takes its inspiration from New York's highline park and will bring a new strip of green to Camden.
How are they doing it? Well it's pretty cool actually. They're taking over a segment of disused overground railtrack and revamping the space to provide a strip of public gardens 1.2km long.
The project is doubly cool as it's purely crowdfunded. The first section of development has been given the green light but there's no official date as to when the project will be finished.
If you want to donate some money to get this thing going you can do so here.
One Leadenhall
City of London
One of London's newest developments will sit right across the road from one of its oldest – Leadenhall Market. A four-story masonry base will mean that One Leadenhall doesn't stand out like a sore thumb next to it's near-ancient neighbour though.
So what's inside it? Well as you can guess, plenty of office space. 40,000 square metres of it to be precise.
There'll also be retail space on the ground floor and in what is definitely the most exciting part for Joe public, a free outdoor terrace.
Liverpool Street Station Redevelopment
Liverpool Street
This is another one that's still in the planning stage – Liverpool Street Station has been slated for a redevelopment that will whack a 16-story tower on top of the train station.
The redevelopment will cost a proposed £1.5 bn and be handled by Stellar – the folks that designed the Shard – as well as Network Rail and MTR, the company that runs the Elizabeth line.
Of the 16 floors, ten will be office space and six will go to the Andaz hotel. There's also word of a public roof garden with a cafe and most importantly, a pool.
The developers have also sworn they won't be messin' with the Grade II listed Victorian parts of Liverpool Street Station.
The British Library Extension
Euston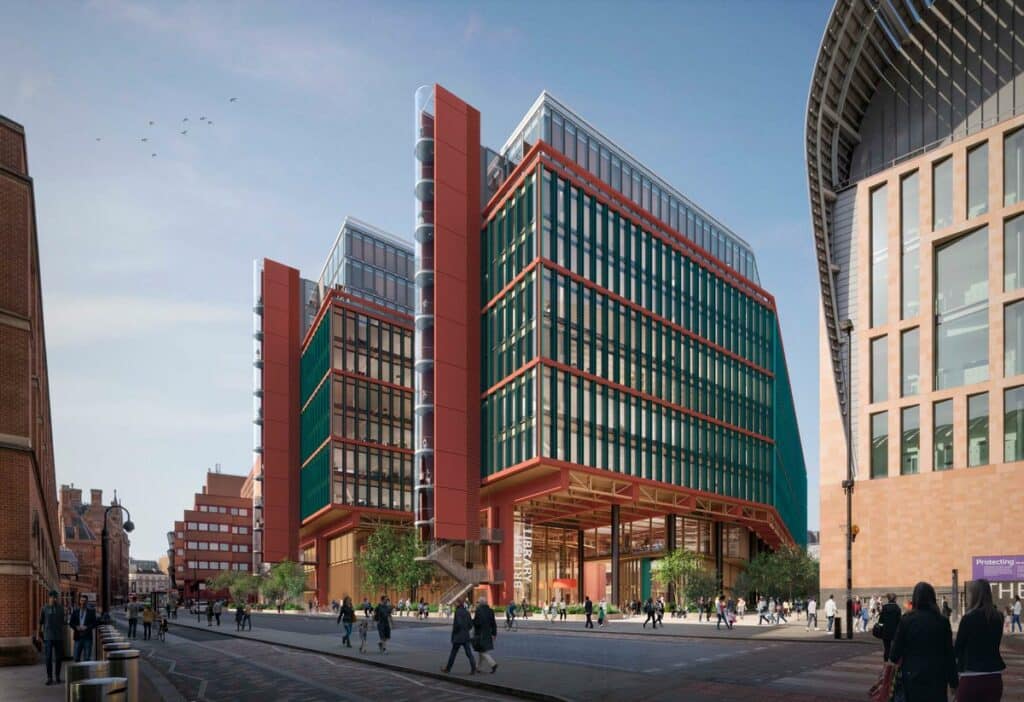 Relevant bodies have given the green light for a massive extension to be added to the British Library.
The estimated £500m project will see more gallery space added to the site, as well as spaces for the library to hold bigger events and a community garden that we're already sizing up as our new summertime reading spot.
There's no word on when the extension will be completed, or even begun, yet but it is said that the new spaces will add an extra 100,000 square feet of space to the already pretty giant library complex.
Gotham City
City of London
Another major development planned for the Square Mile comes in the form of Stanza London, otherwise known as Gotham City for its resemblance to the buildings that Batman lives and works from.
The £400m building is designed to look like the classic North American skyscrapers of last century. Which, in all fairness, is probably the type of building Bruce Wayne would have lived in, seeing as Nolan shot the films in the home of the skyscraper, Chicago.
When finished, the building will stand 34 stories tall and provide (yep, more) office spaces to the City of London. There will also be a sizable retail area on the lower floors.
Mace, the company behind the project, found themselves in the headlines last year for securing a preemptive court injunction to stop "urban explorers" climbing on the building's skeleton while it's being constructed.
As far as we can tell, no one has yet been brave enough to give it a try.
Holland Park Gate
Holland Park Gate is one of London's swanky new residential developments. It's made itself at home on Kensington high street right opposite the gates to Holland Park.
Once completed, the residencies will include a 5* star hotel level service, an exclusive spa with a 25 metre-long swimming pool, a library AND additional space for office and retail.
As for the living space, it's proposed that Holland Park Gate will be made up of flats of various sizes from one bedroom to four. The mind boggles at how much some of those spaces will cost when the place goes on the market.
Park Modern
Hyde Park
This, currently under-construction, project by designers Fenton Whelan is set to add new levels to the luxury that these types of service apartments can deliver.
Another 25-metre (what is it with the mega rich and this pool size?) a pool with exclusive gym and spa areas, as well as a treatment salon are all on site.
But it doesn't stop there. There's also going to be a signature restaurant and cafe, as well as a set of hotel-type perks that come with certain apartments.
Throw in a jaw-dropping view of Kensington Palace Gardens or Hyde park (depending on which was your apartment faces) and you're on for a winner.
How do we put our name down for one of those?
The South Dock Footbridge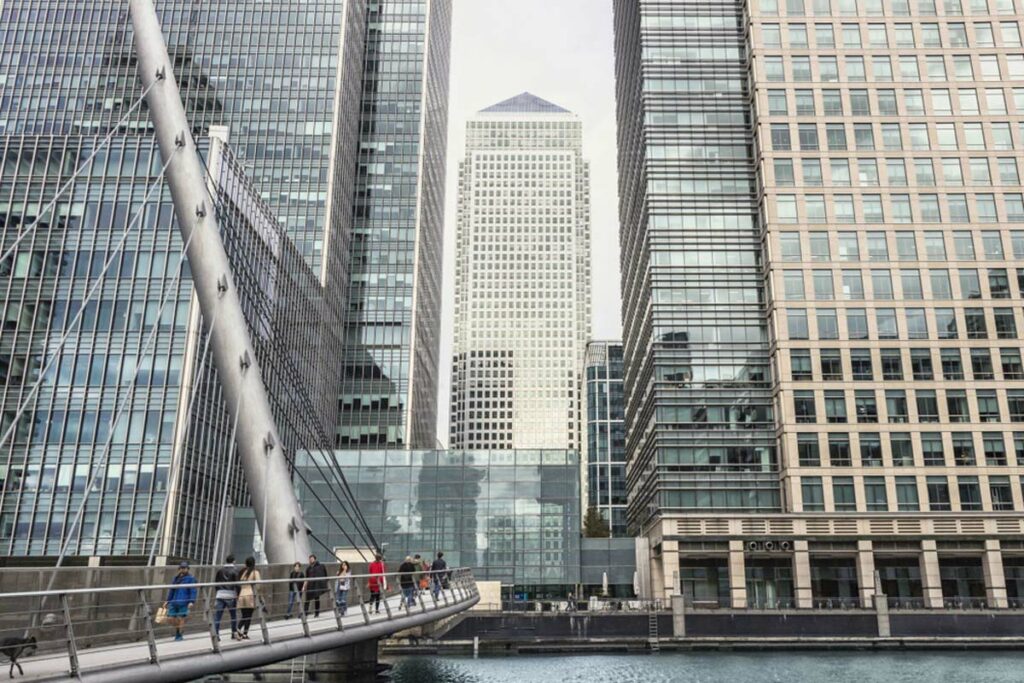 Good news for folks that are tired of walking all the way around the old docks in Canary Wharf. The local council has announced plans to build a footbridge across the water in order to better link the parts where people live and where they work.
The project actually got the go ahead in 2018, but the original plans needed some slight revision. The latest set, that proposes a 35 metre span with drawbridge function, got the green light. It should be finished by 2024.
New London Developments: Map