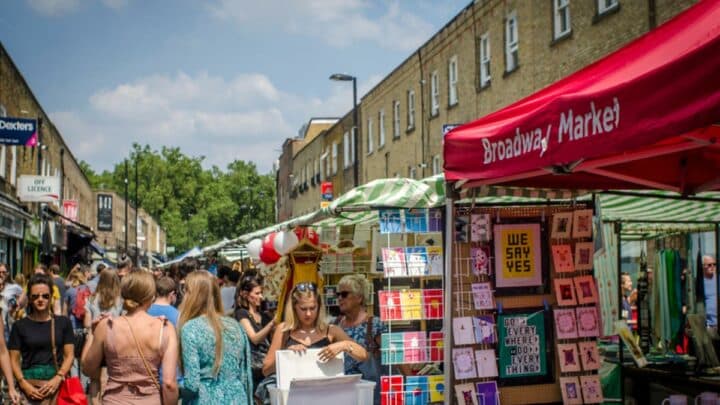 Discover Broadway Market – Hackney's bustling Victorian marketplace – with this brilliant guide. The best bits you shouldn't miss about Broadway Market, and how it came to be.
With a selection of excellent restaurants, cafes and shops, as well as a bustling Saturday market that draws in punters from all over London, Broadway Market is quite the place to be at the weekend.
But did you know its history actually stretches way back beyond the era of artisanal cheeses, sourdough loaves and hand-crafted gift ideas? Way back beyond the Victorians actually, to the people who were coming to London before even the Romans.
With all that history – and so much to offer in the present day – you're probably itching to get down there.
Have no fear, read on for our guide to all the best shops, restaurants and watering holes in and around Broadway Market.
Unmissable Broadway Market Restaurants and Bars
Climpson & Sons
Monday – Friday 7am – 5pm, Saturday 8:30am – 5pm, Sunday 9am – 5pm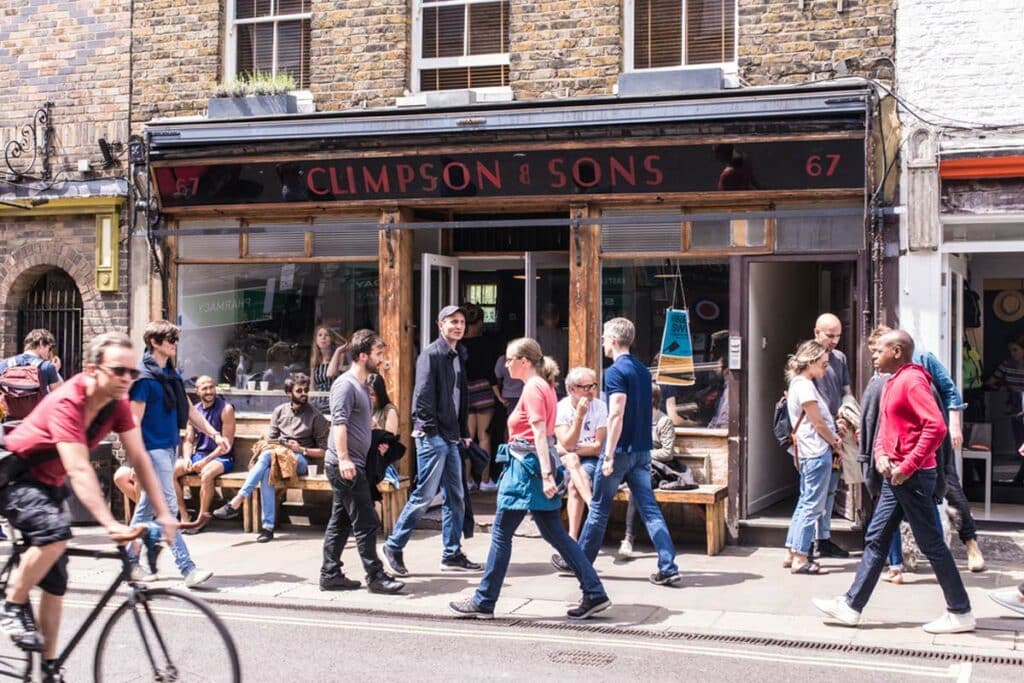 One of the old school kids on London's coffee scene, Climpson's has been brewing joe for over two decades, well before the rise of the hipster coffee shops of today.
They still make a mean brew and open early enough to ply it to whoever drags themselves out of bed early enough to get first dibs on the market. Pastries and treats shipped in from Dalston's Dusty Knuckle are also a welcome addition.
The Dove
Monday – Saturday 12 – 11pm, Sunday 12 – 10pm
You'll notice The Dove for two reasons. The first is the glossy blue exterior that sticks out over the heads of the crowds forming around the markets. The second is the fact that every table outside and in will be covered with drinkers when you walk past.
Not for nothing either, the family-owned pub has been at the heart of the community on Broadway Market for around thirty years. The interior (which looks much older) with wood panels and old-school bench seats just adds to the buzzing atmosphere the family creates.
All of the above, and a killer Sunday roast, make The Dove the best of the Broadway Market pubs.
El Ganso Cafe
Monday – Sunday 8am – 11pm
Outdoor seating where you can watch the hustle and bustle of Broadway market in full swing and (fingers crossed) a sunny sky while you dine is just one of the perks at this laid-back Broadway Market institution.
The other is El Ganso's food. Excellent dishes of contemporary Spanish cuisine that puts tapas at the heart of what they do.
A special mention should also be made for their wine list. Ask for a recommendation to go with your dishes; you won't be disappointed.
The Best Broadway Market Shops
Fabrications
Wednesday – Sunday 11am – 5:30pm
How do you explain a shop like Fabrications? They're essentially a craft shop but they encompass so much more. That's mainly because apart from all the gear you'll need to get creative, you'll also be able to buy upcycled clothing and accessories.
And it doesn't stop there. You can even take classes in sewing and embroidery and attend events on everything from Japanese embroidery to community craft clubs.
If you want to get creative with clothing and the like, this is the place to do it.
The Broadway Bookshop
Tuesday – Saturday from 10am – 6pm, Sunday 11am – 6pm, closed Mondays
A one-stop shop for all of your bookish needs, The Broadway Bookshop is a charming local bookstore jankily laid out over some oddly arranged floors.
They stock a good selection of books without having any real focus. The things you'll find on their shelves are never dull and, when it comes to non-fiction, often highly interesting books you wouldn't find at a mainstream bookstore.
Noble Fine Liquor
Monday – Friday from 12 – 8pm, Saturday and Sunday from 11 – 8pm
Noble Fine Wines was founded in 2012 as an answer to a gap in the natural wine market and has gone on to become a key member of the Broadway Market community.
They stock natural, low-intervention and organic wines with a leaning toward old-world bottles. A quick word with the staff and you'll realise they really know what they're doing and are highly passionate about it.
They also do a great selection of beers and ciders that could be popped alongside something from the market stalls at the weekend for a killer picnic by the canal.
The History of Broadway Market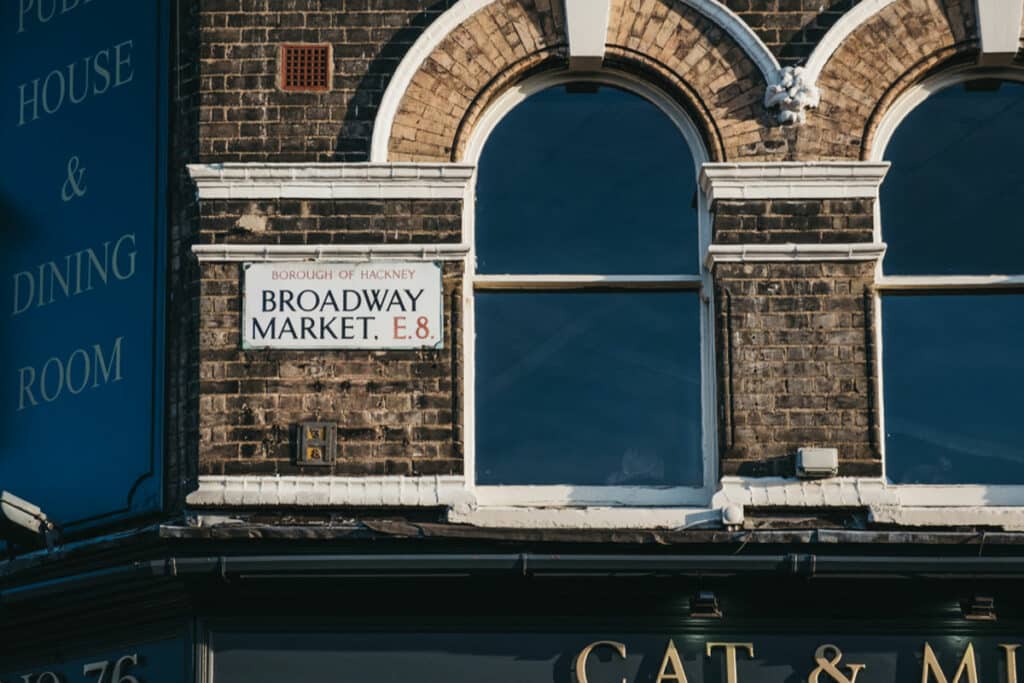 Broadway Market may now be a hip place to go for artisanal cheeses, homemade cakes, street food and craft goods, but its history stretches way back into the ancient world.
1000 BC and Beyond
Way back beyond the Dark Ages and into the ancient world Phoenician traders were setting sail and travelling from the Mediterranean to the British Isles in search of tin and other goods they couldn't find back home.
Their docks – in what wasn't even called Londinium yet – were the destination for goods that would travel across England on newly expanding trade routes. One such trade route used to carry wheat out of the Lea Valley was known as the Porter's Path, and Broadway Market sits right on that route.
The Porter's Path and the trading points along it were used right up through the Roman times and into the middle ages, with a few rocky moments that is.
In the 9th century, King Alfred the Great had to dam and drain the Lea River in order to prevent marauding Vikings from destroying the wheat crop. By this point, the wheat grown in the Lea Valley had become London's main source of grain.
Into the (Relatively) Present Day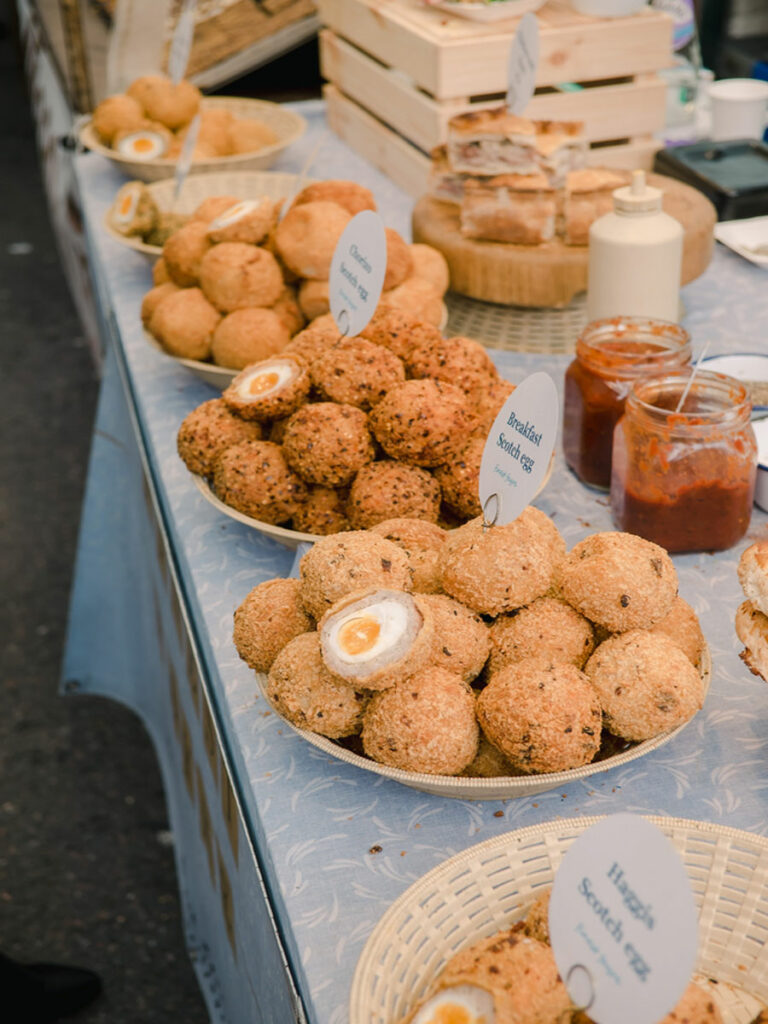 It was in the 1890s that Broadway Market began to take the shape you'd recognise today. Back then, the market mainly supplied the working-class communities of east London with fresh fish, veg and meat, tinware, drapery and hats.
It carried on in a pretty similar capacity until the 1980s, when it began to decline largely as a result of the rise of the supermarket. The market was rescued by two shopkeepers who organised a giant Victorian-themed carnival with invites to everyone in the community.
The plan worked, sort of. It got the local community together to help protect the historic market. They tried a few things like becoming a flower market, but there was too much competition from Columbia Road and they failed. They also tried a food market – but that also failed.
Eventually, in 2004, they hit on the idea of it becoming a general market for high-quality food and wares. And that's the market we know and love today.
Practical Tips for Visiting Broadway Market, London
The stalls come to Broadway Market every Saturday. There are 120 of them and some great street food gems among them. Don't miss out on a chance to try something new.
Broadway Market gets incredibly busy, especially on a weekend. You'll need to book to get into any of the restaurants we mentioned here.
If you want to avoid the crowds, come on a weekday or arrive super early and wish that nobody else had the same idea.
Broadway Market: Map
Broadway Market: Discover More of London's Wonderful Markets