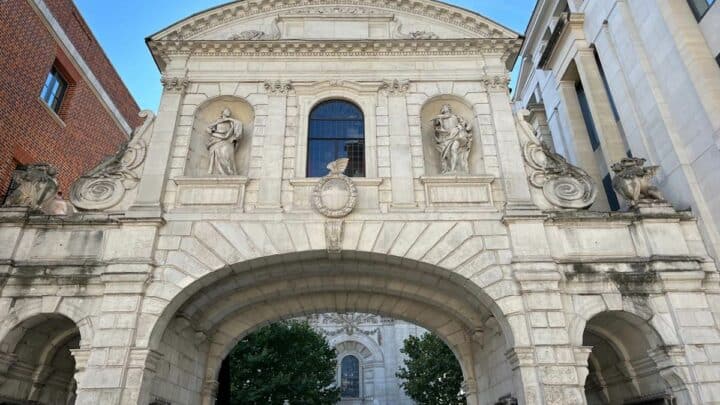 Discover the fascinating history of London's Temple Bar Gate, and how it came to find its present home.
If you've been to Paternoster Square and didn't have your eyes glued to the imposing walls of St. Pauls, you might have noticed a baroque gate tucked between two buildings on the north side of the square. You might even have walked through it.
If you did, you'd have been walking in the footsteps of over 700 years of Londoners.
Sort of. It gets complicated, mainly because Temple Bar Gate used to be in Temple. But also because it used, and we mean these very bricks, to be in Hertfordshire serving as a private tea room for a local socialite.
Allow us to explain.
Why Visit Temple Bar Gate?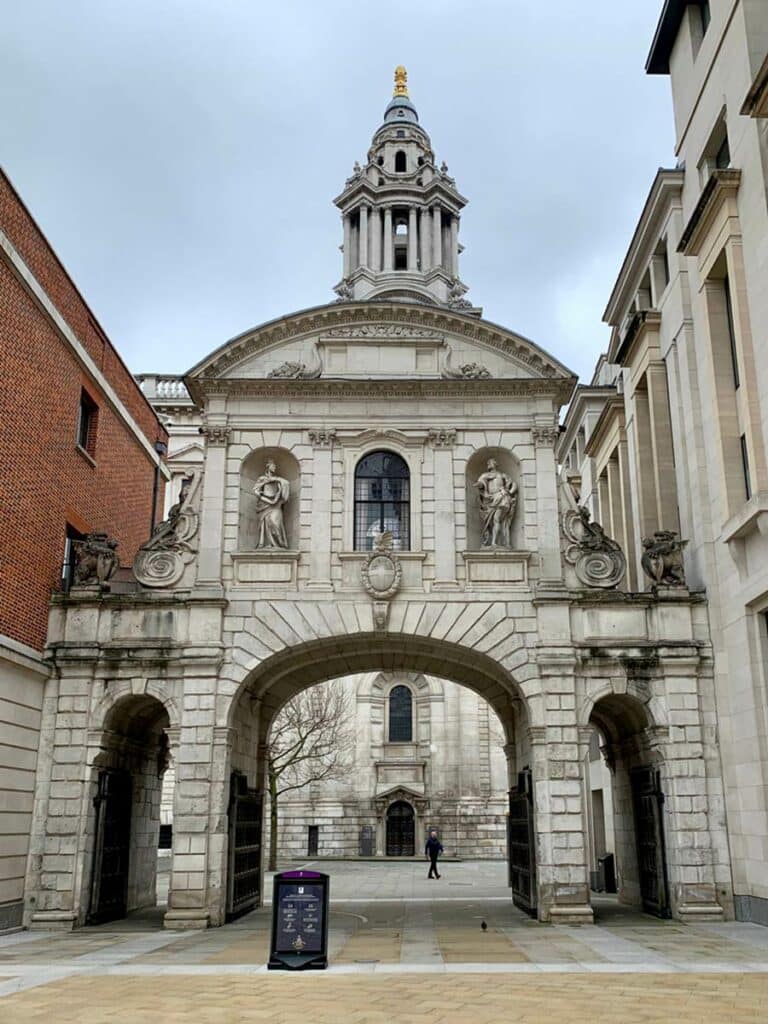 To put it simply: For a slice of history that gets – in typical London fashion – slightly bonkers.
Temple Bar Gate is also a great example of some of Christopher Wren's work (though the story completely outdated him), and a good chance to see what he was capable of when not busy working on churches or other monumental religious structures.
The History of Temple Bar Gate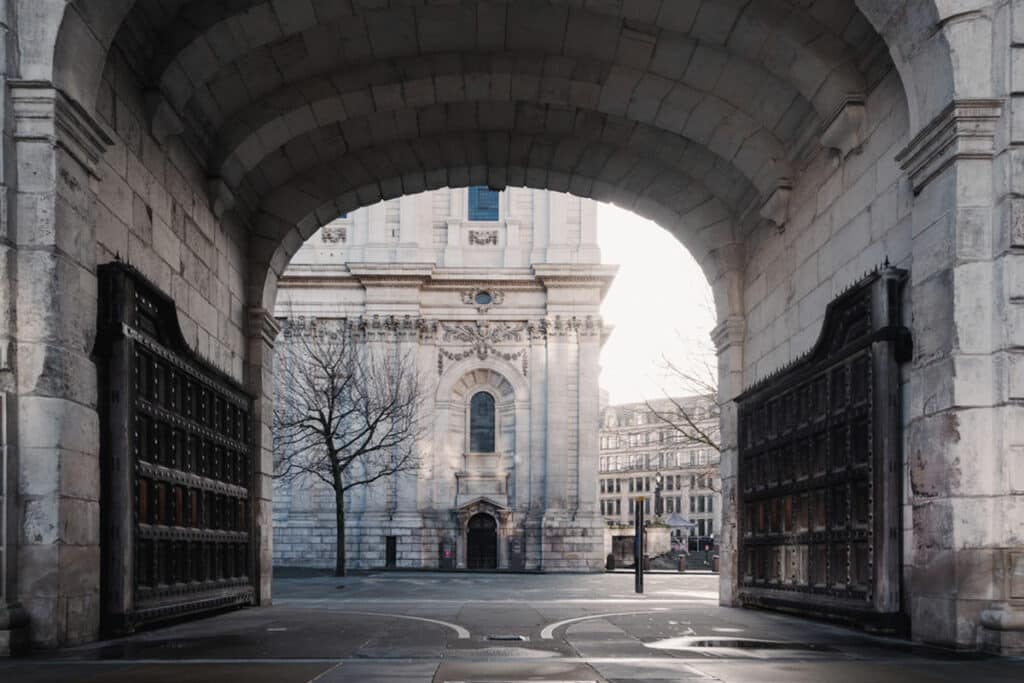 The Original Bar
The history of Temple Bar gate begins way back in the gloomy depths of mediaeval London. It stood at the point where the Strand ends and Fleet Street begins (if you didn't clock it, that area is called Temple) and marked the entrance to the City of London.
The first recorded mention of the grand structure was in 1293 when it wasn't such a grand structure after all. It was probably no more than a literal bar or barrier slung between two pickets.
About a century later though, Temple Bar would become a paid-in-full structure, replete with its own prison (a theme we'll pick back up later).
Old Temple Bar Gate would go on in this function for another hundred years or so, popping up in the annals of history for things like having triumphant kings pass through its gates, its doors being flung open to the newly-married Mary Tudor and Phillip of Spain and the march of a victorious Elizabeth I after the Spanish Armada.
That last tidbit even grew into a tradition that is still honoured today, 400 years later, where the reigning monarch waits at Temple Bar for permission to enter the City of London and is offered the Lord Mayor's sword as they're ushered in.
Wren's Bar
Clearly not content with the royal attention it had been graced with, in the 1600's, Temple Bar Gate becomes associated with one of the most prominent names in London history: Sir Christopher Wren.
Wren, whose work we can still see today in many churches around London, palaces, hospitals, and of course, St. Pauls Cathedral, stamped his name on London – rebuilding much of its important buildings after the Great Fire of 1666.
Temple Gate had survived the fire but had fallen into disrepair. Charles II, one of Wren's longtime commissioners, ordered it to be reconstructed. No expense was to be spared.
The rock was hauled to London all the way from Dorset – only the finest Portland stone would do. A third of the project's budget was spent on four kingly statues. We say kingly because Charles chose to have himself sculpted for the gate. And his father, Charles I.
Oh and, while he was at it, Queen Anne of Denmark and James I. Because, why not? This demonstrated to the public that Temple Gate Bar had as much significance to the royals as it did to the City – likely a subtle display of royal power.
It may have been gorgeously decorated but that didn't stop the grizzly Londoners from putting their own stamp on the gate. For many years Temple Bar Gate was also used in the longstanding London tradition of displaying bad folks' heads on stakes.
This tradition ended on Temple Bar Gate in 1746 with the execution of Towneley and Fletcher for plotting rebellion.
Moving the Bar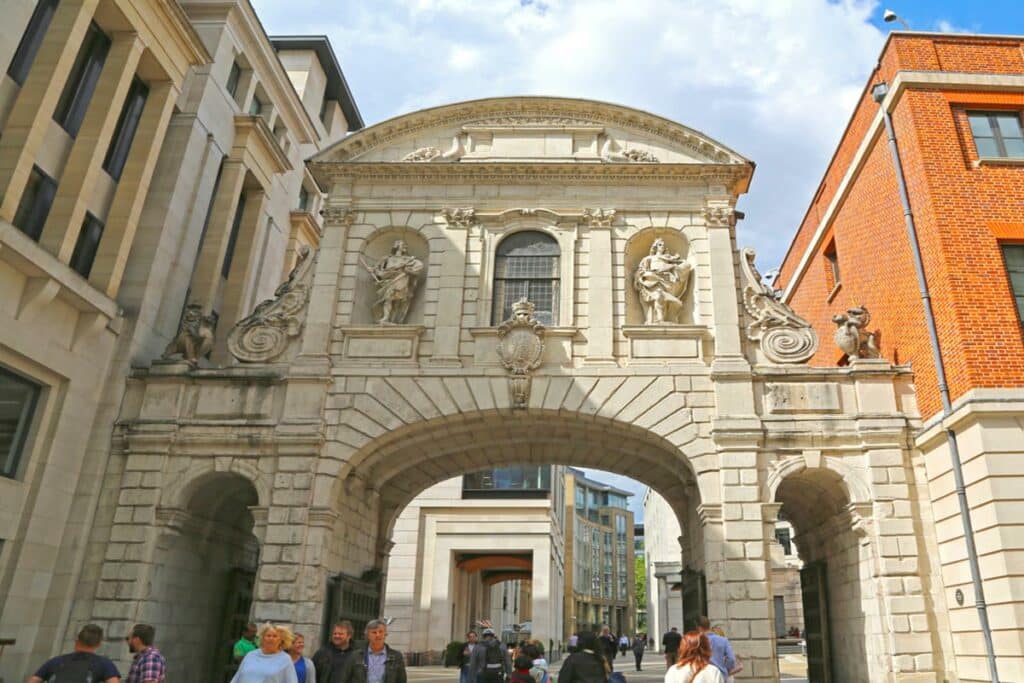 Here's where the truly bizarre bit kicks in. Wren's Bar stood in the original Temple location until the 1870s. By this point, London's population was growing and traffic on its streets becoming a bit of a nightmare (some things never change).
Having a giant gatehouse that was designed for the traffic of a couple centuries prior clogging up the road just wouldn't do. What's more, the Royal Courts of Justice had been slated for expansion and Temple Bar Gate was in the way.
Not ones for sentimentality, the Victorians were almost ready to pull the thing down and be done with it. The (dystopian-sounding) Corporation of London, though, stepped in. They had the Bar taken down brick by numbered brick and put into storage until they could work out what to do with it.
In its place, they chucked up Temple Bar Memorial that can still be seen today out front of the Royal Courts of Justice
Lady Meux's Intent
The stones lay in storage for about eight months before they caught someone's eye. That someone was Lady Meux and she has a remarkably Victorian story.
Valerie Meux had begun life as common folk and worked in a pub as a barmaid who would kick up a ruckus playing banjo for the patrons. In 1878 she married a wealthy brewer, Sir Henry Meux, and was thrust into the beating heart of socialite London.
She took to the role well, claiming a career on the stage although having barely completed one season of a show and often being driven around London in a fancy cart pulled by zebras. No joke.
Though it's likely this was all for show. She was never accepted by her husband's family or by high society. It's why, then, when on the hunt for something to elevate her status, she set her hopes on reconstructing Temple Bar Gate.
Lady Meux had the whole thing lugged to her Hertfordshire estate at Theobalds Park and painstakingly reconstructed where she could throw garden parties around it and dine with distinguished guests in its upper rooms.
Edward VII and Winston Churchill were just a couple of those distinguished guests.
The Bar Today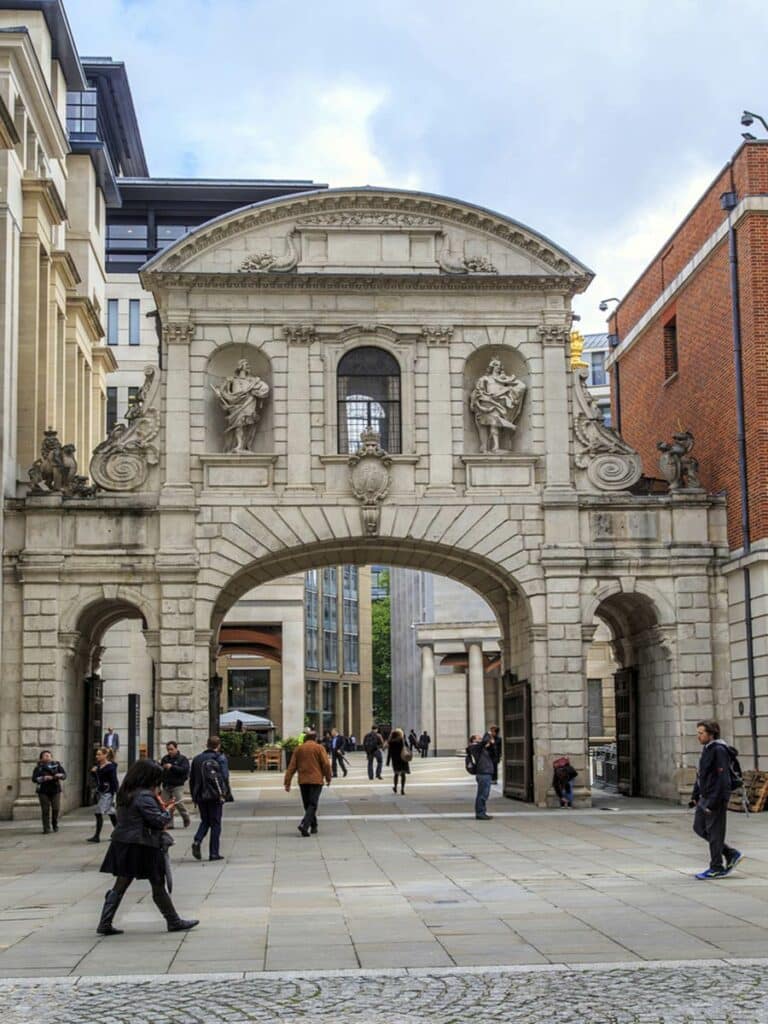 In 1976 it was decided Temple Bar Gate should be returned to London. The Temple Bar Trust was formed by that old society, the Corporation of London, to decide how to bring the gate back.
It wasn't until the very recent year of 2001 that they could get the job done. For the price of around £3 million, the Corporation of London and the Temple Bar Trust, along with the help of several other Livery Companies, funded the second dismantling and shifting of Temple Bar Gate.
You can see Temple Gate Bar in Paternoster Square in the City of London, its present home, for now…
Temple Bar Gate: Practical Information
Address: Paternoster Lodge, 2 Paternoster Sq., London EC4M 7DX
Opening Times: You can visit the gate at any time, though you can't go in the upper room unfortunately.
Temple Bar Gate: Map