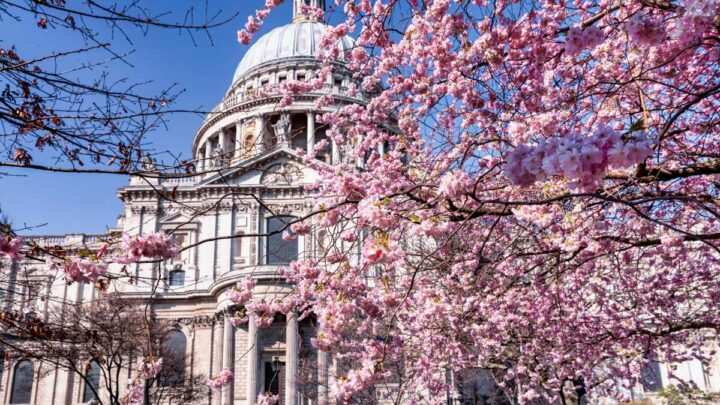 The first signs of cherry blossoms in London have been spotted, which can only mean one thing: spring is well and truly in the air (and in the trees). Get excited!
Ready to partake in the ancient art of Hanami – flower viewing in Japanese, FYI – this year? From well-known parks to some blooming brilliant off-the-radar places, these are the places for London cherry blossoms that you shouldn't miss…
Cherry Blossoms in London
Greenwich Park
One of the most popular spots to see cherry blossoms in London can be found within Greenwich Park.
If you're looking to scope this out, you'll need to head up the park's hill and make your way behind the Observatory and Planetarium, past the Ranger's House and the rose garden (which will also be looking rather beautiful during spring – make sure you stop off here and appreciate them).
We promise the effort of finding them is well worth it: the path is lined with leaning blossom trees, creating a cherry blossom tunnel that looks like it has been lifted straight out of Japan.
Be warned though – this is a busy one. If you're looking for a quieter spot to view flowers, read on.
Kew Gardens
Richmond
If you're after guaranteed cherry blossoms in London, look no further than the kaleidoscopic offering at Kew Gardens. In fact, many of London's stunning botanical gardens will be blessed with a blanket of blossom throughout spring.
It may be the only spot in this guide where you'll need to part with some cash to catch a glimpse of the flowers, but take one look at the stretch of trees along Asano Avenue and you'll see that it's more than worth it.
St Paul's Cathedral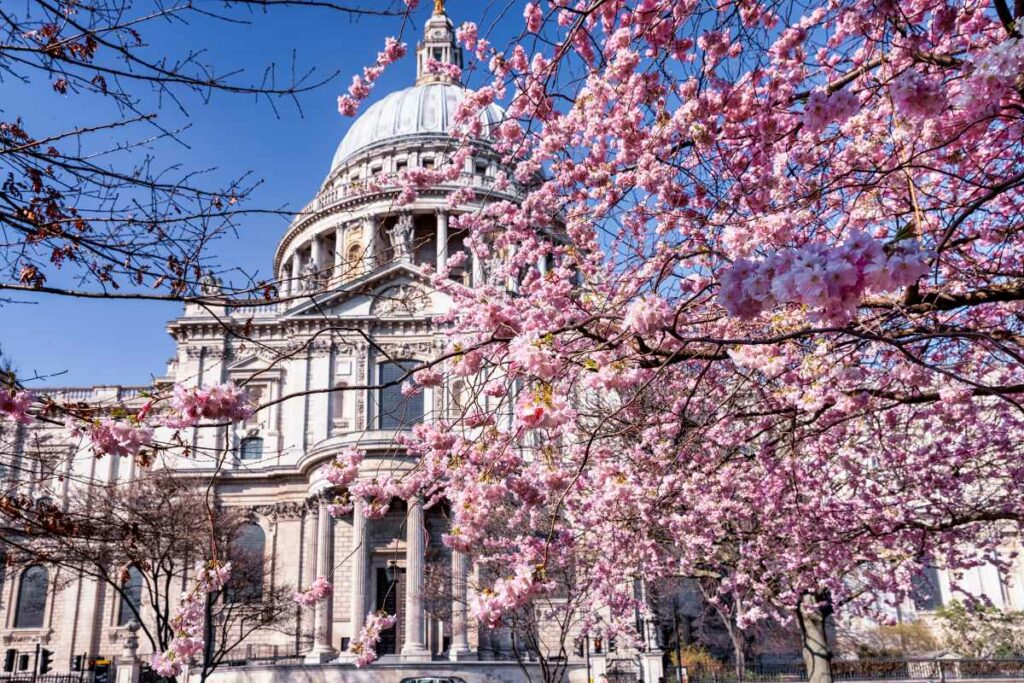 Is there a London landmark quite as iconic as St Paul's? We think not. And this impressive cathedral only gets dreamier in the spring, when it's framed with cherry blossoms.
The amount of blossom may be minimal when compared to some of the other locations in this guide, but the contrast of the pastel hues against the duller tones of St Paul's make for a rather wonderful photo for the 'Gram.
Kensington Gardens
Head into the Kensington Gardens via Lancaster Gate and you'll be welcomed by an explosion of candyfloss-coloured blooms.
If you're serious about hunting down cherry blossoms, there's no better area of London to peruse than Kensington.
While, year after year, residents grumble about the hordes of influencers taking photos outside of their bloom-framed homes, walk down most streets and you'll likely be treated to shot after shot of iconic sakura trees. Just remember to be respectful of those living in the area, obvs.
Kyoto Garden
Kensington
If you're after an authentic experience, where else could you look for sakura than in Holland Park's Japanese garden? Yes, yes, this is another spot in Kensington – but it truly is one of the best places to find these pretty flowers in London.
Head towards the central tiered waterfall and you'll be blessed with a vision of blossoms draping themselves across the water – the perfect backdrop for some much-needed zen.
Cadogan Place
Belgravia's Cadogan Place offers not one, but two cherry blossom spots – I know, we spoil you!
Stalk your way around Cadogan Hall and you'll find a pretty pink tree alongside a much-rarer white cherry blossom tree – catch the blossoms on a sunny day and your photo is guaranteed to be looking *chef's kiss*.
St James's Park
Again, St James's Park isn't blessed with the most cherry blossom trees in the capital, but the few dotted around are so breathtaking that they're worth the visit to this Royal Park alone.
You'll find a couple around the lake, but for the best view you'll need to head towards Buckingham Palace and turn your attention towards the buildings of Whitehall in the distance, which are partially covered by the most impressive tree in the park.
Peckham Rye Park
If you're bored of snapping shots at the most popular cherry blossom spots in London, ditch them for Peckham Rye Park. Not only are the blooms A-MA-ZING, but you can (and should) make a day of it by heading into ultra-cool Peckham to explore afterward.
Pssst… Not only is Peckham Rye Park a great place to snap your all-important cherry blossom pictures, but keep your eyes peeled for the dreamy wisteria that also blooms around the same time.
Park Hill Park
This Croydon park is one of the more secret spots for sakura hunting – which is great news if you don't fancy elbowing your way through influencers for a measly glimpse at the blossoms. We certainly don't.
Come spring, the main path around the park is lined with gorgeous pink flowers, rivaling the popular places.
It's no secret that this chilled-out park is one of our favourites in the capital, but there's certainly no better time to grab a coffee to go and wander around than when the backdrop is garnished in pink.
Ravenscourt Park
Hammersmith
Another spot that's a little bit more off the beaten cherry blossom track is Ravenscourt Park.
This West London park boasts a jaw-dropping blossom-lined path similar to the one you'll find at Kew Gardens, sans the over-excited crowds.
The petals are also a lot more purple-toned than most of the other blossom trees in London, so it's a unique place to enjoy very special flowers.
Cherry Blossoms in London: Practical Information and Map
When is the best time to spot cherry blossoms in London?
Cherry blossoms bloom in London between March and May. April is your best bet, but keep your eyes peeled if you're in the capital in spring and you might just spot yourself some pretty sakura.
Discover More 'Grammable Spots in London