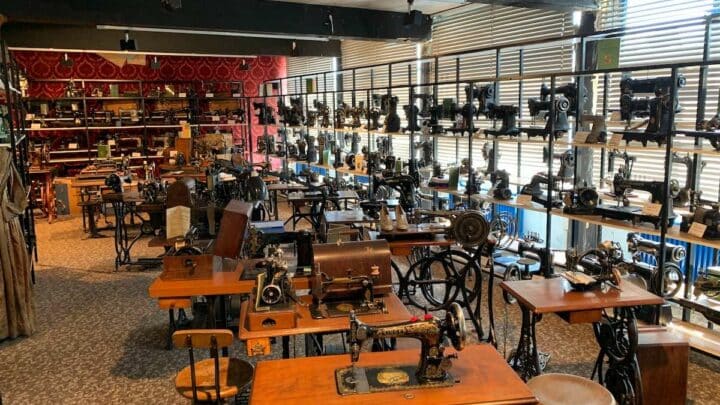 Go back a stitch in time with one of London's quirkiest and most fabulous spots, The Sewing Machine Museum.
Words by John Rogers
London is full of little museums that, at first glance, appear to appeal to the nichest of niche markets. Even more so when they only open to the public for a few hours each month.
These little nuggets of joy, though, often provide the most wholesome experiences.
One such place is the charming Sewing Machine Museum. Here's why you should take a couple of hours out of your Saturday next time they open their doors.
Why Visit the Sewing Machine Museum?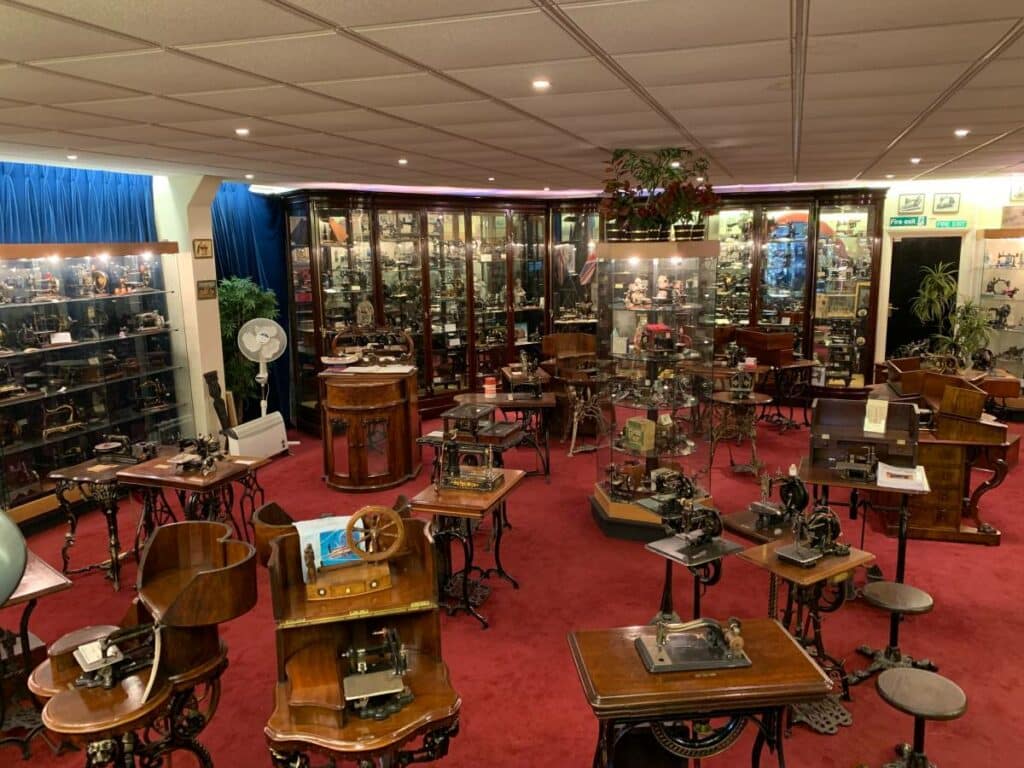 Situated between Balham and Tooting lies a massive 1960s-style rectangular warehouse building with a big blue sign stating "Wimbledon Sewing Machine Co. Ltd." on it.
A reasonably unusual and inauspicious place for one of London's best-kept museum secrets to be hidden, we're sure you'll agree.
But, climb the four steps at the entrance and enter, and you'll find yourself in the foyer of the Sewing Machine Museum.
A Wonderland of Sewing
The moment you open the door, you'll find yourself transported into an absolute treasure trove of sewing machines that line the walls, adorn floor-to-ceiling shelving units, and are kept behind glass. And those out in the open can often be touched and lovingly admired.
Information on the exhibits is on the scarce side. However, a resident expert is on hand to discuss the machines and answer questions while a TV plays a video explaining the museum's inception and some of the most popular exhibits.
You don't have to be a haberdashery expert by any stretch to enjoy taking an hour or two to stroll around the charming room and admire the genesis of the humble sewing machine through the decades.
Royal Exhibits
Among the most interesting exhibits on show is a Pollack & Schmidt machine dating from 1865, which was given to Queen Victoria's first daughter, and later presented to her child's nanny.
A beautifully simple metal contraption with four spools allowing four different reels of cotton to be used and switched, this piece – kept well away from prying hands behind glass – once reached a whopping £23,000 at auction.
Another incredible historical piece, also kept safely behind glass, dates from 1829 and is called the Thimmonier. Named after Barthelemy Thimmonier, widely believed to be the sewing machine inventor, this wooden marvel cost the museum £50,000 at auction. This is the oldest exhibit on show.
Shop Fronts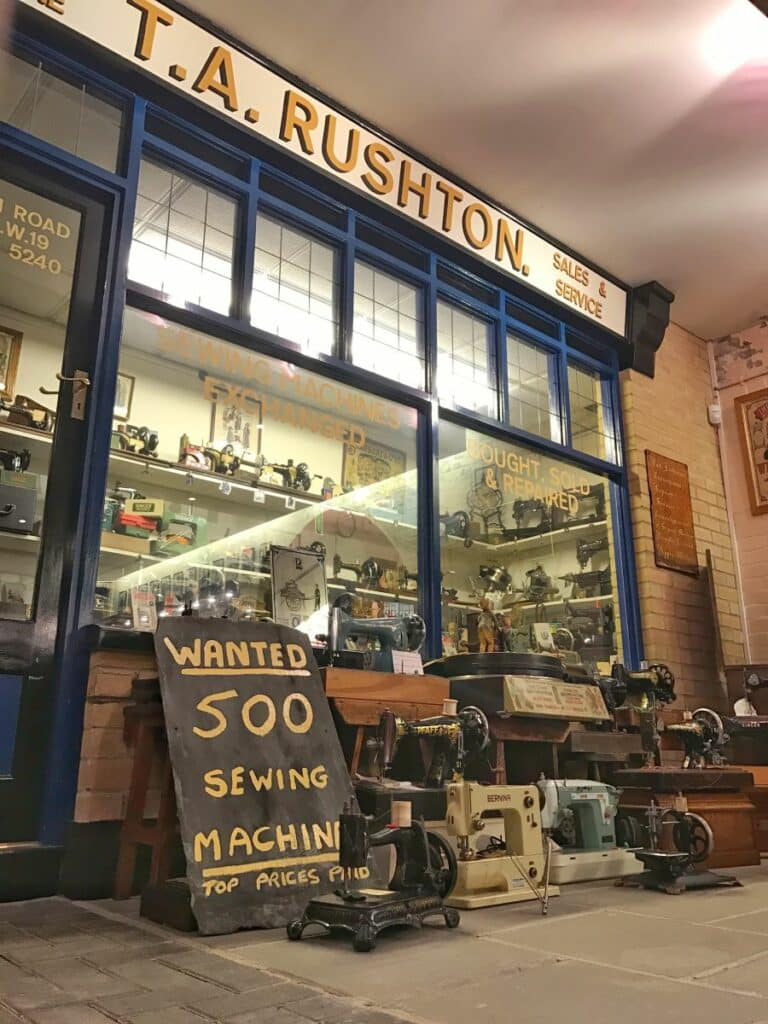 Other beauties include the first machine created by the famous Singer brand name and a prototype machine sent across from the USA for the Great Exhibition in 1851.
Perhaps the most touching and charming exhibit is the recreation shop in front of T. A. Rushton, a sewing machine shop that used to stand on Merton Road, Wimbledon.
Packed with models of varying vintages in the shop window, this shop front is a faithful recreation of the curator's father's old shop, approximately two and a half miles away.
The History of the Sewing Machine Museum
Who knew that the humble Sewing Machine Museum could have such a cool little history?
The Rushton Family
The museum houses the collection of sewing machines gathered over 50 years by salesman Ray Rushton.
As seen from the recreated shop front that provides an enduring monument to his family's lineage, sewing machines have played a full and central role in the Rushton family's life.
Ray's father began selling second-hand sewing machines shortly after the Second World War, with Ray starting to transport and help repair the devices from an early age.
As time went on, he decided to indulge his interest, as all good enthusiasts should, by beginning to build a collection of some of the most exciting and historically notable machines of yesteryear.
From Private Collection to Public Exhibits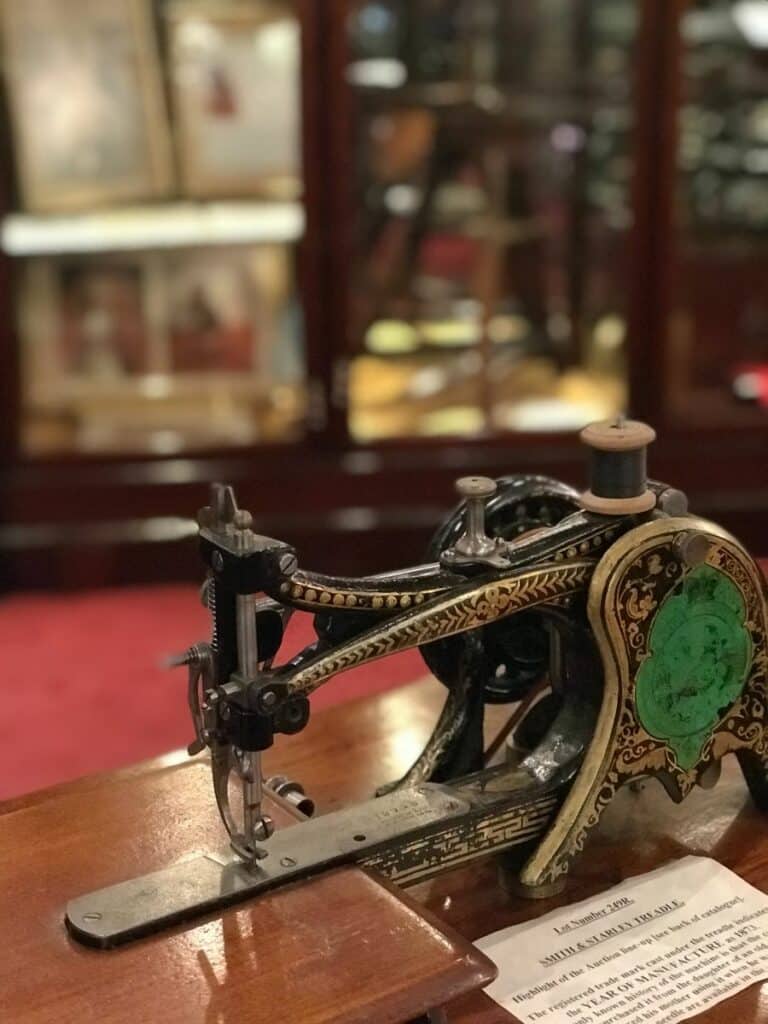 As the collection grew from several dozen to many hundred, Ray decided at the turn of the Millenium to exhibit his collection and open it up to the public in a couple of rooms upstairs at his place of work, the current location near Tooting Bec.
Since then, thousands of visitors have been enchanted by the opportunity to peruse the collection, take themselves back with reminiscences of machines they used in childhood, or remember their parents and grandparents using.
The exhibition now houses over 600 individual machines and thousands of additional exhibits, from cotton reels to old boxes of needles.
Better yet – the collection continues to grow as modern machines age and become historical relics aching to be preserved. Luckily for us, there are people like Ray Rushton still around to keep the history of the sewing machine alive and well.
The Sewing Machine Museum: Practical Information
Address: Sewing Machine Museum, 308 Balham High Road, London, SW17 7AA
Opening: 1st Saturday of each month between 2pm and 5pm
Admission: Free (charitable donations are encouraged)
The museum is located very close to Tooting Bec station. Please be aware that the exhibition is housed up approximately 40 stairs and there are no ramps or lifts available in the building.
The Sewing Machine Museum London: Map
London Sewing Machine Museum: Read Next