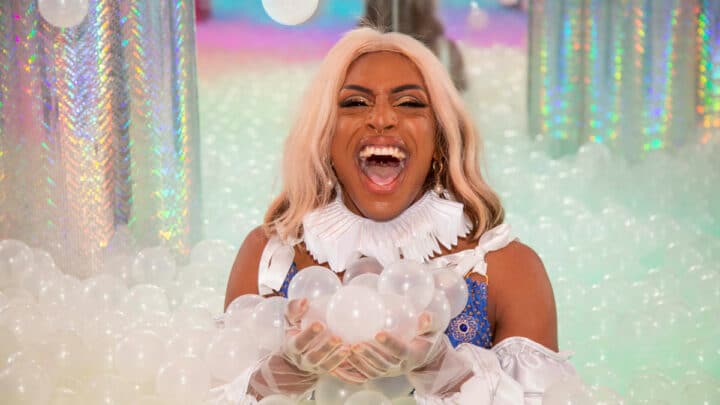 Looking for the best ways to celebrate the August Bank Holiday in London? We've got you covered. All that's missing is some beautiful weather. Fingers crossed.
Since the slurry of bank holidays earlier this year (platty jubes, we totally took you for granted and we're very sorry), it's safe to say that we're all in need of a long weekend.
Roll on 27th – 29th August.
What's on in London, we hear you ask? So, so much. There's Notting Hill Carnival, a banging ball pit party, and plenty of festivals for you to get involved with. And that's just the tip of the bank holiday iceberg.
Read on to discover our top picks for the top events in London Bank Holiday weekend…
Unmissable Things to do in London This August Bank Holiday
Celebrate the Return of Notting Hill Carnival
£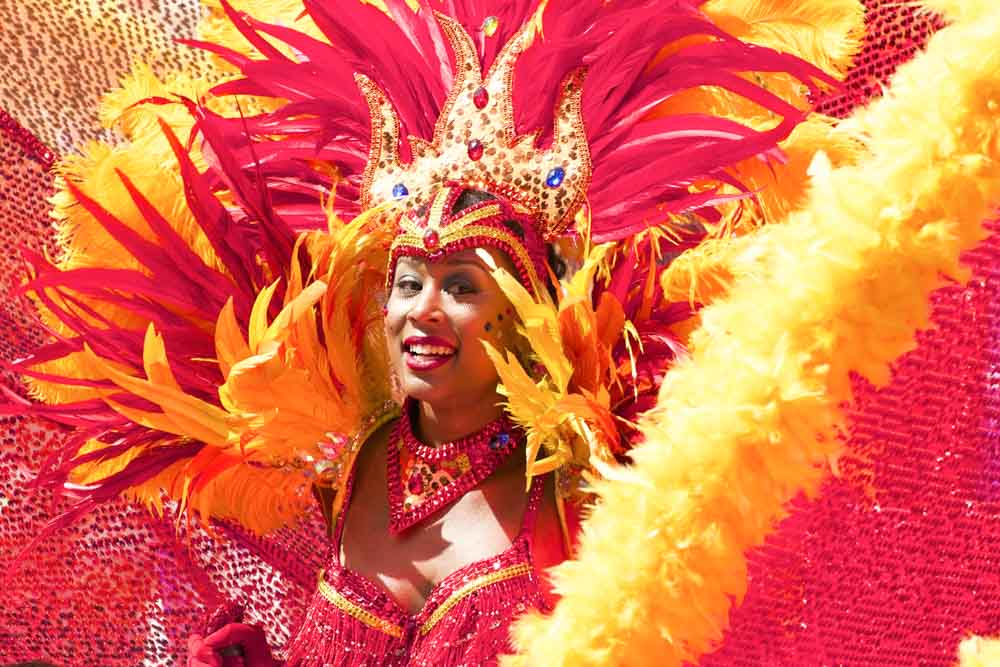 *Screams from the rooftops* it's baaaaack! Spending London's August Bank Holiday weekend partying at Notting Hill Carnival is where you'll find us.
It's been a sad couple of years without Notting Hill – that's for sure. After two years of virtual celebrations, get ready for soca, calypso and dancing fuelled by banging sound systems in a Caribbean carnival like no other.
In fact, this huge carnival is second only in size to the Rio one – it's miles better though, obvs. If only because it's the time when London steps out in its best colours and puts on one hell of a party.
Join the mas bands on their iconic parade through Notting Hill where participants dress in jewels, feathers, and flags. Oh, and you can bet on the street food being absolutely delicious.
Read More: Notting hill Carnival 2022 Guide
Party at Ballie Ballerson Shoreditch
£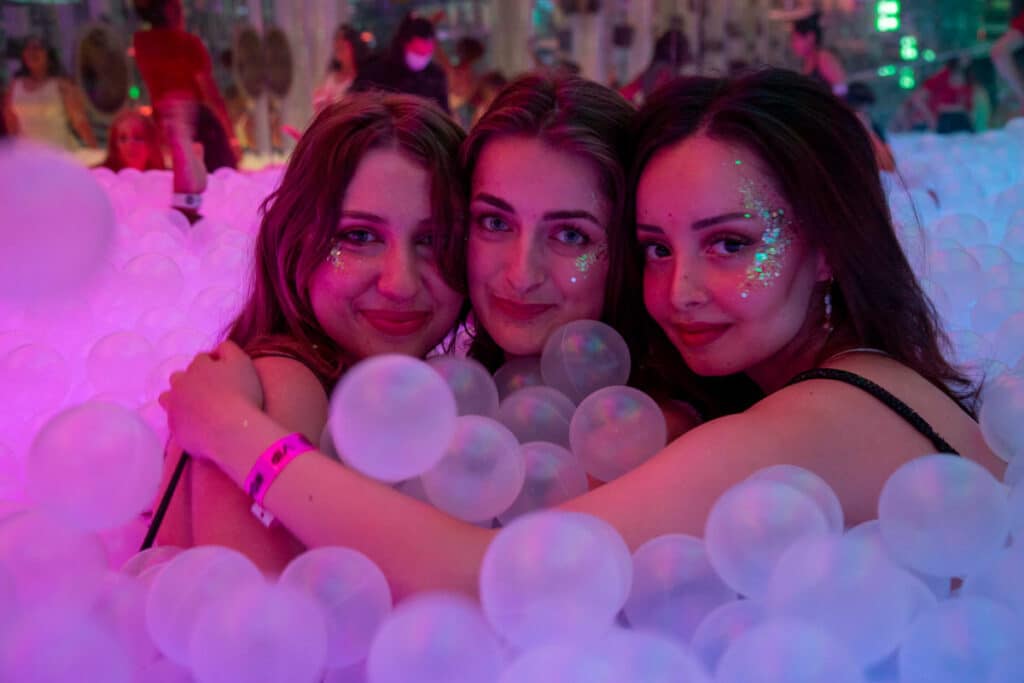 Ditch the messy festivals and head to Ballie Ballerson (AKA the OG ball pit bar in Shoreditch) for the Ballie Bank Holiday Weekender from 26th-28th August. Expect 3 nights of banging music, live DJs and the chance to live out your wildest hot girl – or boy – summer dreams.
Friday sees House and Funk all night, Saturday is THE Ultimate Vibe with current hits and the final festival night, Sunday's Sunny Day Sounds, will finish off with RnB, Hip Hop and Basement.
All of that plus a special summer cocktail menu and hours of ball play? This weekend is set to be one for the books. Get your tickets here.
Attend a Vogue Ball at Somerset House
£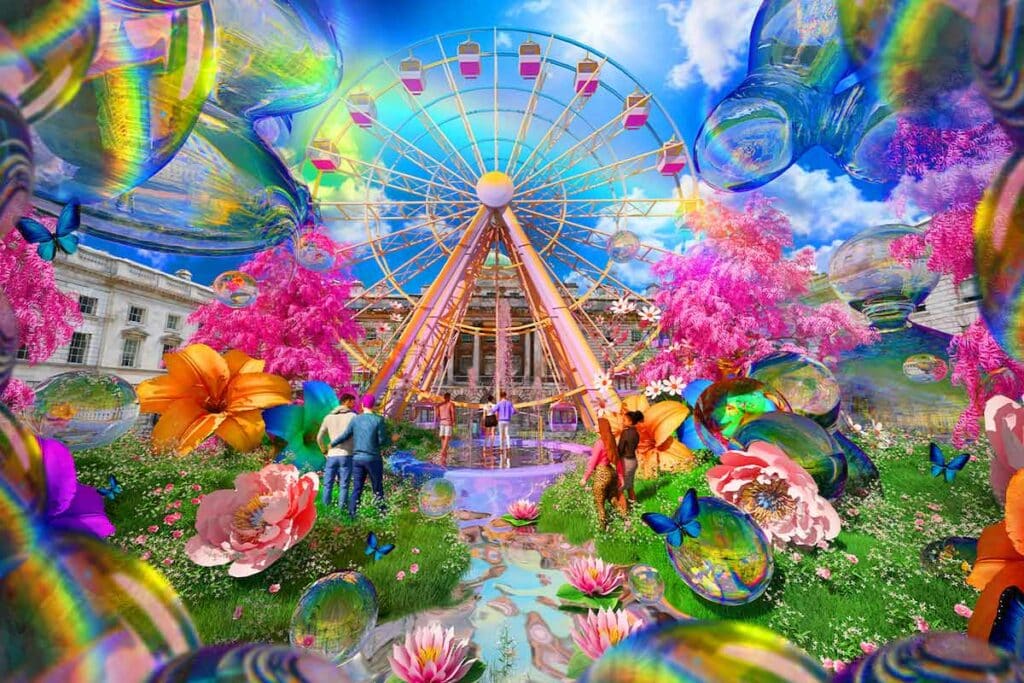 This Bright Land has been one of our favourite exhibitions in London so far in 2022. And, Somerset House is hosting another one of their infamous Vogue balls. Expect the best voguers in the capital to perform.
The London Bank Holiday August edition celebrates Queer icons, paying tribute to the likes of Black transgender activist and drag queen Marsha P. Johnson, Freddie Mercury, French designer Thierry Mugler, and the Spanish singer, actress and sex worker Cristina Ortiz Rodriguez.
Go Dino-Spotting at Jurassic World: The Experience
Newham
££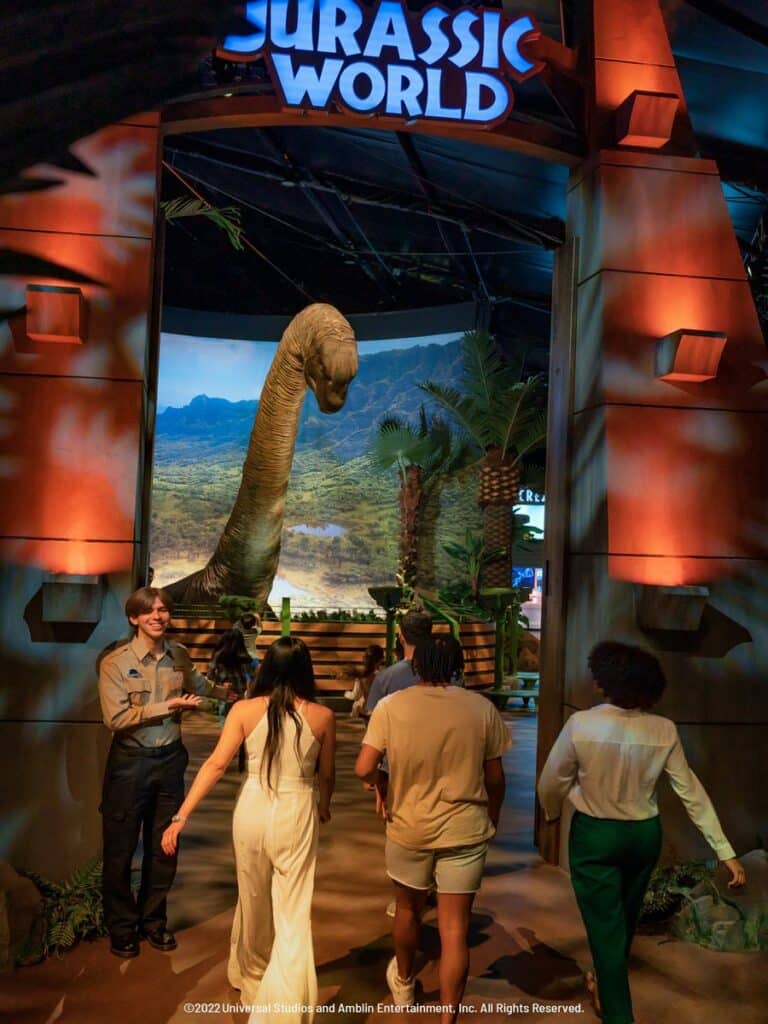 Little ones and big kids alike will adore the brand new Jurassic World exhibition coming to London, just in time for the August Bank Holiday.
20,000 square feet of immersive fun awaits – wander through the Jurassic World gate, where you will come face-to-face with life-sized dinosaurs. As well as this, Park rangers will be on hand to help you make the most out of your experience.
There are also going to be adorable baby dinosaurs to play with – we are soooo excited.
Read More: The Jurassic World Experience Roaring into London
Attend Junction 2 Techno Festival
Tobacco Dock
£££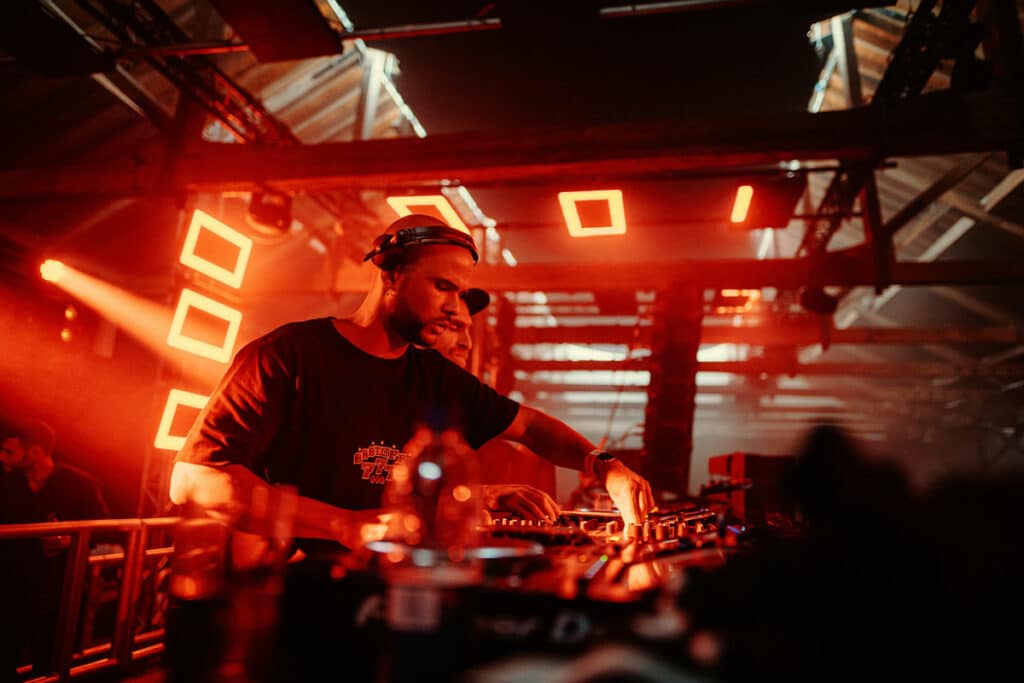 Junction 2 is back this London August Bank Holiday… and you should be very, very excited.
Hard hitters in the world of techno will be heading to Tobacco Dock to party up a storm across the weekend. We're talking about the likes of Theo Nasa, techo-punker JASSS, Gabber Eleganza, and Sama' Abdulhadi, among plenty others.
In other words, it's going to be epic. Might this be the best August Bank Holiday 2022 London event? We think so.
Head to the Brunel Museum's Midnight Apothecary
Rotherhithe
££
Who knew that one of London's quirkiest museums has a hidden rooftop garden? Well, we did. And we also know they host brilliant Midnight Apothecary events.
Join actor (and local legend) Tim Thomas as you enter into the Brunel Museum's Tunnel Shaft and embark on a tour of this engineering masterpiece.
You'll then be invited up to the cocktail garden for a late night drink or two. Sit around the campfire and toast marshmallows whilst you sip cocktails made from wild and foraged ingredients. Yes, please.
Check Out the Greenwich and Docklands Festival
£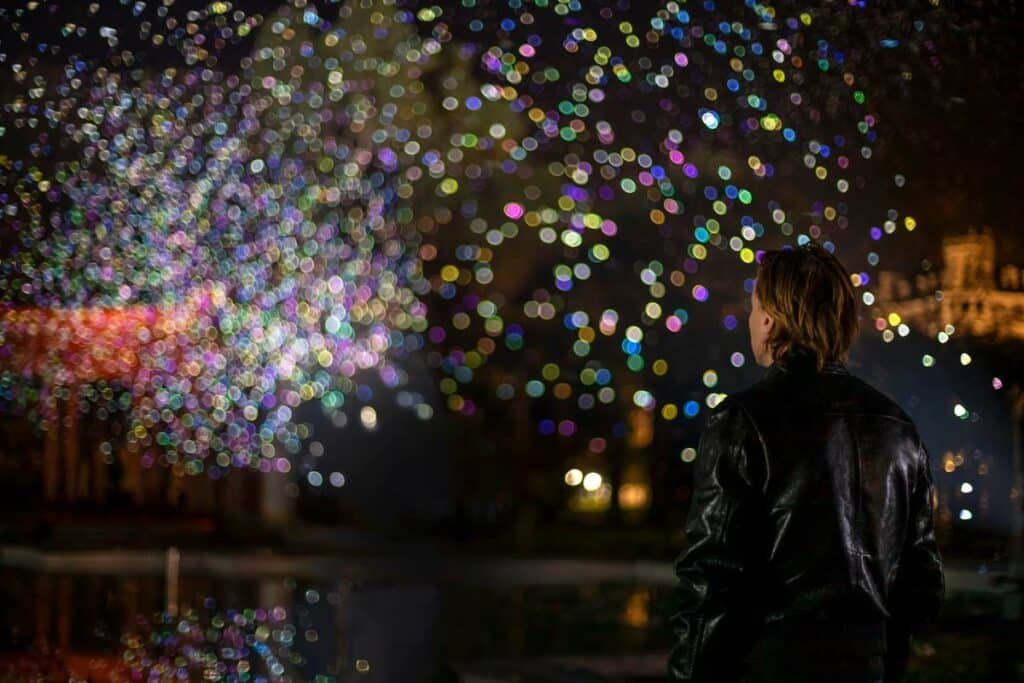 We love a festival – and we love it even more when they're free. Enter the Greenwich and Docklands Festival, one of the coolest events this August Bank Holiday in London.
With an aim of making art, theatre, circus, and dance accessible to all, this looks set to be one of the most important events in the London calendar.
Kicking things off will be the premiere of SPARK, a beautiful (and more importantly – sustainable) light performance that draws inspiration from fireflies and fireworks.
You can also expect a chilling Ukrainian art installation and performances from the likes of accessible theatre company Graeae.
Party in The Tropics at 100 Wardour Street
££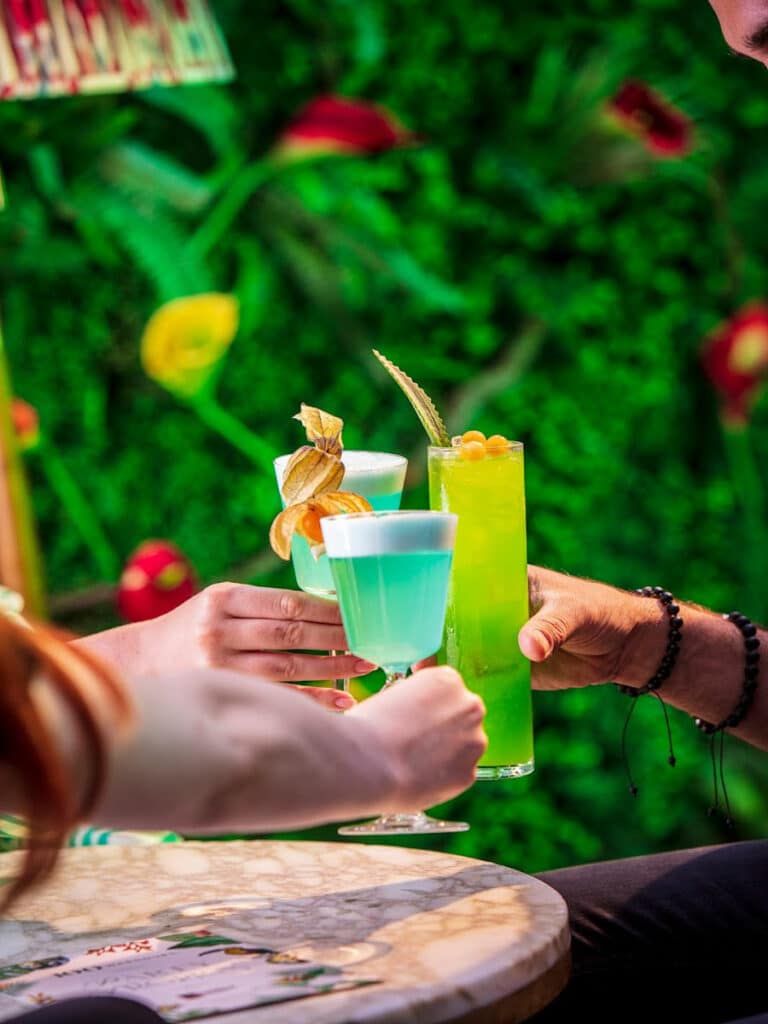 Did you know that London actually has a hidden jungle? Shhh… You'll find it at 100 Wardour Street.
Party in The Tropics is the bar's brand new pop up that allows you to enjoy deliciously sippable cocktails underneath a lush jungle canopy. You'll be happy to know that the drinks match the surroundings – the Jungle Juice is made with Ketel One, melon and lychee liqueurs, lychee purée and lemon and goes down a TREAT.
An array of tempting small plates will also be bringing the tropical vibes, think tortilla chips with guac and pico de gallo, and an indulgent black bean quesadilla.
In case that wasn't fun enough, 100 Wardour Street is also hosting a brilliant Bank Holiday party on Sunday. Bottomless booze, tasty brunch, and a DJ spinning holiday tracks… What's not to love?
Dance at Number 90's 4-Day Bank Holiday Bonanza
££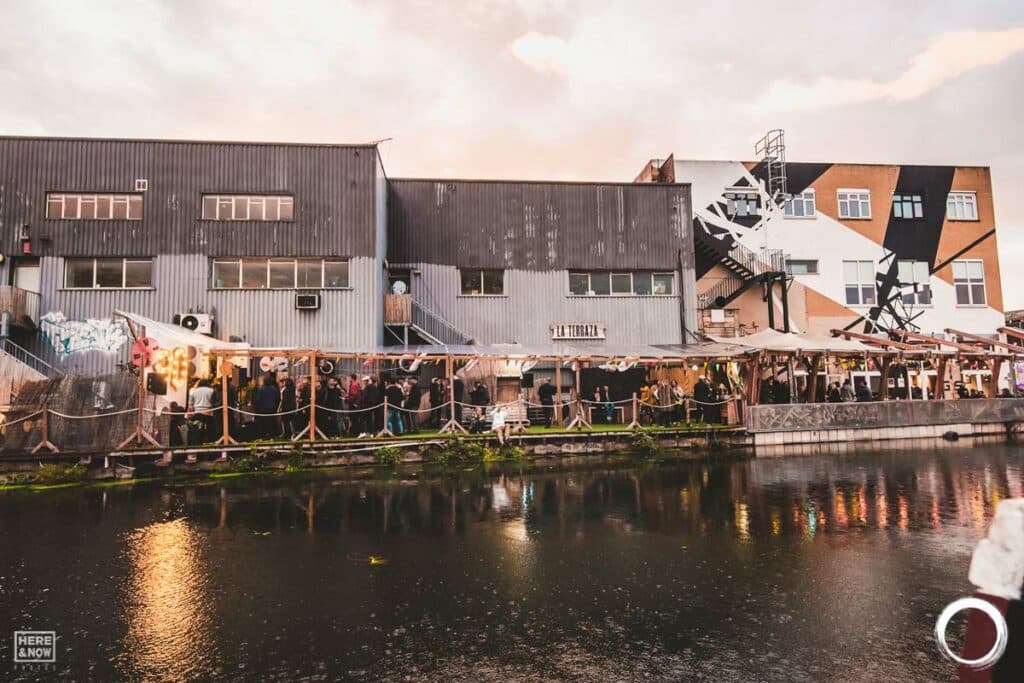 Number 90, AKA one of our fave spots in Hackney, is throwing one of the biggest August Bank Holiday events London has ever seen. No, we're not being dramatic – it's 4 days long.
If you think you can hack it, the weekender will include music from the likes of The Disco Express, S.A.S.H, and Half Baked Records. And there'll be plenty of toothsome burgers and cocktails.
The Friday night experience looks banging. Resident DJs The Disco Express who will be spinning tunes with special guests Hifi Sean, Bustin' Loose, Tiger Balm and Tatiana. Cocktails are 2-4-1 too, so that helps.
Travel Back in Time at Victorian Vauxhall
Vauxhall
£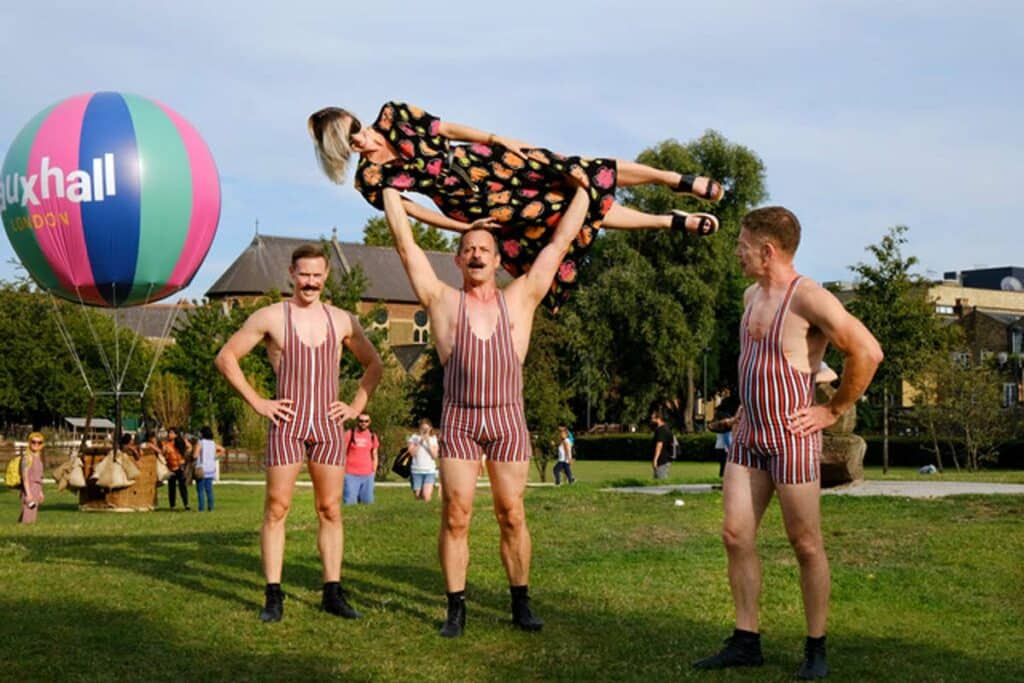 When it comes to London August Bank Holiday events, Vauxhall's Victorian Funfair looks set to be an enjoyable day out for the entire family.
This free festival is being held in the Pleasure Gardens and will feature vintage games, circus performers, and classic British food in an afternoon of pre-technology-based fun. There's even a prize for the best dressed, so don your finest Victorian gear.
Attend All Points East Festival
Tower Hamlets
£££/
Picture Coachella (it's run by the very same people) but indie, and that's the vibe you'll get at All Points East. It's one of the capital's top festivals, and a limited number of tickets are still available.
With a line-up boasting Tame Impala, Kraftwerk, and Gorillaz, is it any wonder we're so excited?
Sing Your Heart Out at a Gospel Motown Brunch at The Anthologist
££
Fancy being serenaded as you dine? We thought so. Head to The Anthologist for a booze-filled brunch that looks set to be one of the top August Bank Holiday events in London.
Included in your ticket are two brunch plates and the option to go bottomless for 90 minutes. Get ready to belt out the likes of Aretha Franklin and Stevie Wonder along with the incredible gospel choir.
Party at Supa Dupa Fly's Carnival Takeover
£
Supa Dupa Fly sure knows how to rock the capital – and they're back with a whole host of bank holiday events this year. But we cannot wait for the Carnival Takeover edition at The Prince of Wales.
Known for hosting the wildest '90s, '00s, and now hip-hop and R&B events, there's no better way to let loose (and make the most of that extra lie in on Monday).
Spinning tunes all night will be DJ's Sandra Omari, G-Starr, and Pavlos – you'll need to be quick if you want to nab a ticket.
Chill Out at the Spiritual Festival
£
In need of a more relaxed event to attend this London August Bank Holiday? The Spiritual Records Festival in the iconic Lafayette venue has got you covered.
Spiritual Records Summer Festival will feature London's finest folk, blues and Americana musicians – so expect an intimate evening of live music on the 27th. On the line-up is Ferris & Sylvester, William Poyer, and Ann Liu Cannon, among plenty of others playing alongside a full band.
Drink Your Way Around the Blackhorse Beer Mile
Walthamstow
£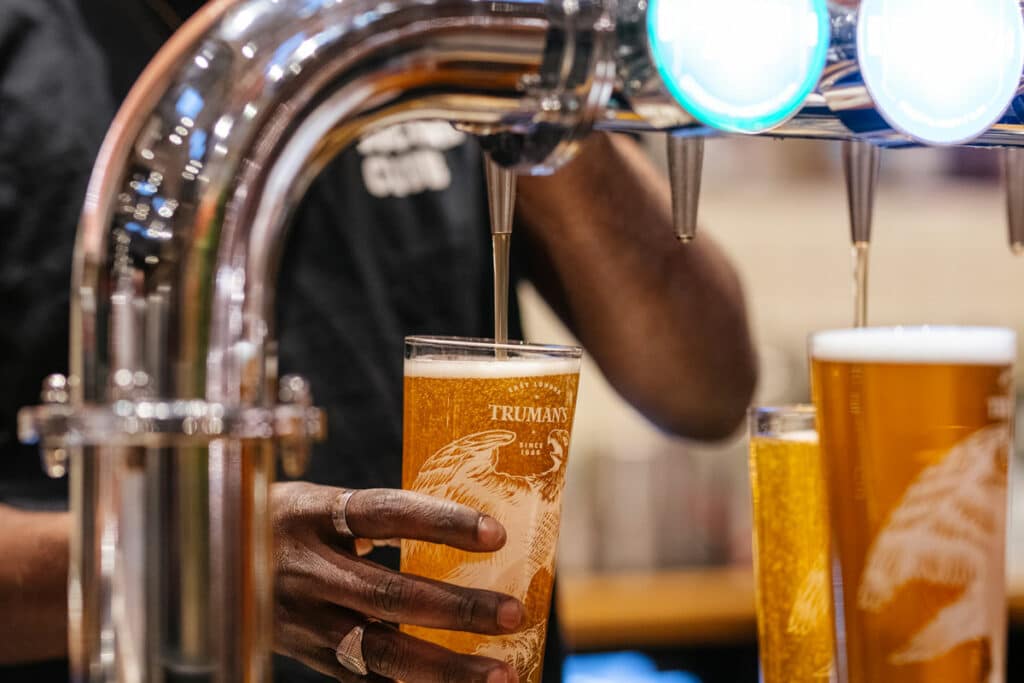 On the 28th August, the walking route along Blackhorse Road is back – and six of the best breweries and taprooms in the area (and the capital, for that matter) are taking part in the ultimate pub crawl.
It's totally free to join (aside from the drinks, obvs) and there'll be live music and a huge selection of beers and food available all evening. Make sure you grab a beer passport at your first stop and collect stamps as you go – your prize for completing the walk is an exclusive summer party pint glass.
Sounds great, but what's the route?
The first step is to make your way to Truman's Social Club on Priestley Way for a cheeky pint (resist a second, you don't want to peak too soon) before you pass the likes of Exale and Beerblefish Brewery.
You'll finish up in Hackney Brewery – for a well deserved pint, of course.
Catch a Gig at the Fervour Festival
Elephant and Castle
£
Drag, cabaret, spoken word poetry, and live music awaits you at the Fervour Festival. And this August Bank Holiday line-up is pretty incredible.
On Friday, the Swedes Stina and Mick Olsson Wollter will be performing and exclusive duo gig. It's bluesy, and packed with the chilled out vibes we all need right now.
While Saturday night sees a fabulous cabaret evening hosted by Mark T Cox – expect drag, music, puppetry, and plenty of salacious fun with Just May and Shardeazy Afrodesiak. Get involved.
Scoff Your Face at The Breakfast Club de Fromage's Bottomless Brunch
££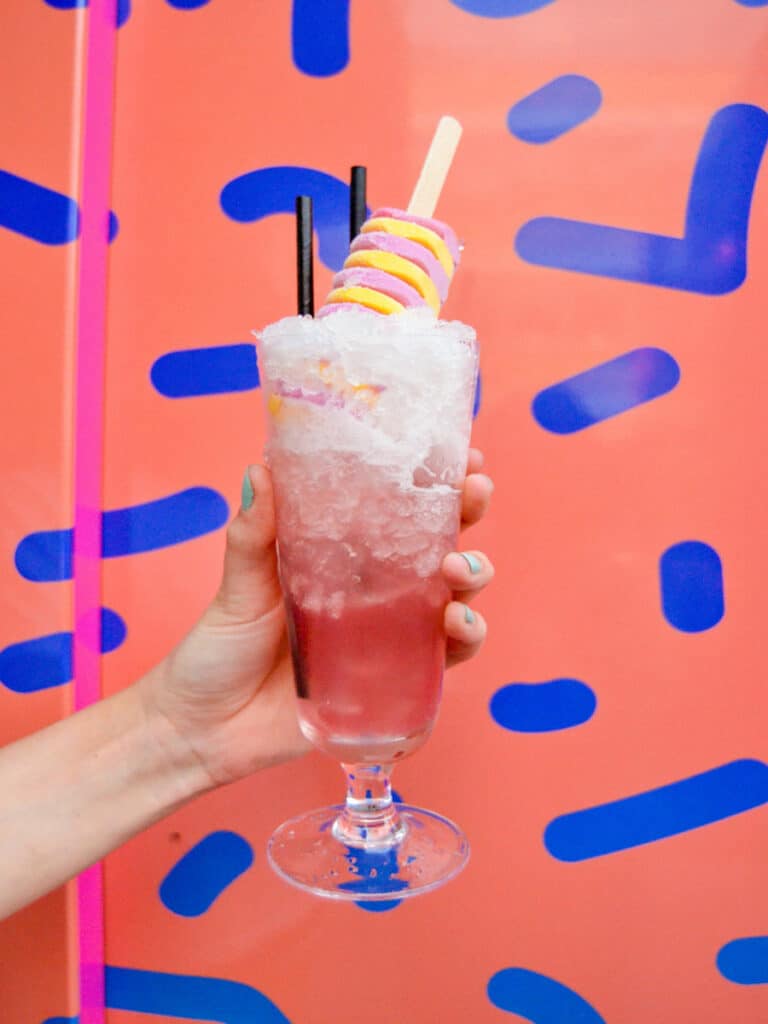 Mark your calendars for August 27th. The Breakfast Club is teaming up with Club De Fromage for an epic bottomless brunch – you'll get a Breakfast Club dish plus unlimited bubbles or beer.
Club de Fromage will be bringing the party vibes in the form of live music (80's, 90s, noughties, and beyond) and dancing, of which you're encouraged to join in.
Oh, and expect free shots, confetti cannons, and maybe (definitely) a smoke machine to pop up throughout the meal. We're buzzing – this is the top August Bank Holiday brunch London boasts.
Be Amazed at The Magic Hour
Piccadilly
££
If you're yet to attend a show at The Magic Hour, let this August Bank Holiday in London be your first. Prepare to be dazzled by Tony Middleton, AKA Sonic, who will blow your mind and leave you wondering, how on earth did he do that?
In the style of old Victorian masters, Sonic and his assistants will perplex you with their close-up magic.
Have a Late-Night Party on the Thames
££
Thames Lates are finally back! And there's no better time to party on the water than during what looks set to be a scorcher of a bank holiday.
As the sun sets, it's time to take to the water. You'll head onto a Thames Rockets boat for a 50 minute part-guided, part speed tour of the river Thames.
DJ Mikee Snooze will be providing the tunes, and you'll also be handed a seasonal drink as you pass under Tower Bridge at sunset. Tickets are £49 – grab yours here.
Practical Tips for The Best August Bank Holiday Events in London
It goes without saying that bank holidays are extremely busy times to be in London. Book well in advance (like, right now) to avoid being disappointed. We've all had a naff bank holiday where you can't get in anywhere. They suck.
London Over the August Bank Holiday Weekend: Map
August Bank Holiday in London: Read Next