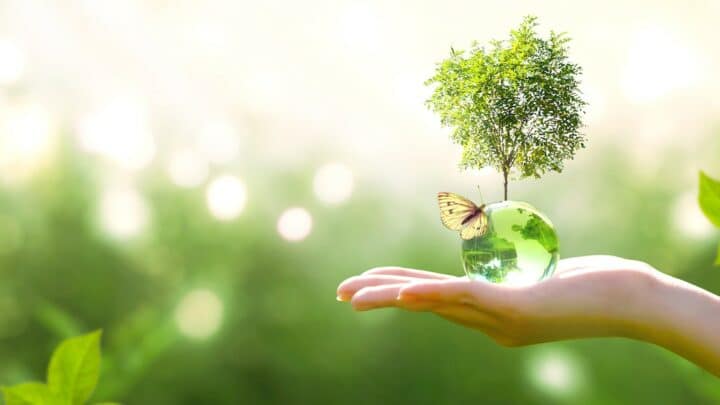 Looking for the best Earth Day events happening in London? Don't miss this guide to the best things to do for Earth Day 2022.
If you didn't know, April 22nd is Earth Day – a.k.a one of the most important events of the year.
This year's theme is "Investing in the Earth", and there's a whole host of exciting events taking place around the capital to celebrate our planet and raise awareness as to how we can do better.
Read on to discover our top picks for Earth Day 2022…
Top Picks for Earth Day 2022 in London
Get Crafty at a Terrarium Workshop and Bouldering Session
April 24th
For the ultimate feel-good fun, join Leafage for an environmentally friendly workshop where you'll learn how to create a miniature garden.
In the masterclass, you'll be given step-by-step instructions on how to create a self-contained terrarium, as well as a quick lesson on how to care for your micro-greenhouse.
Don't panic – you'll also be sent home with a complete care guide to help you care for your new plant baby.
If that wasn't fun enough, you've got the option to add on an adrenaline-fuelled bouldering session with Yonder.
Tickets start at £55 – book yours here.
Spot the Chimps at London Bridge
April 22nd
Keep your eyes peeled for a rather unusual sight this Earth Day – a community of chimps is moving into the capital.
We've bigged up sculptures by Gillie and Marc time and time again, but now they're introducing their most important exhibition to the public, Chimps are Family.
The piece is a result of Gillie and Marc spending time observing the creatures who, despite sharing 99% of the same DNA as us humans, are under threat from us. In celebration of Earth Day, the artists are bringing their 28 chimp sculptures to London Bridge City – a spot right next door to the iconic Tower Bridge.
How many can you spot?
Attend Fascinating Talks at Makerversity at Somerset House
April 22nd
Looking to make a real difference? Join Somerset House for an Earth Day bonanza this year, where a variety of speakers will be discussing some of the most important topics within climate change and the environment right now.
Throughout the day, there will be talks and workshops from the likes of The Tyre Collective, Nate Petre, and SHADEY.CLUB, covering everything from the shift towards zero emissions and the rise of sneaky greenwashing, to the importance of sustainable fashion.
As well as this, CQ Studio, Kvatt, and plenty of other businesses will be showcasing a selection of innovative items that might just play a huge role in creating a sustainable future.
Join Soho House for an Earth Day Discussion
April 19th
Soho House is home to one of the most important events in London for Earth Day 2022. Venetia La Manna will be hosting a fascinating panel discussion around the topic of sustainability, and how we can all play our part in making a positive change.
With the issue of unsustainable brands hijacking genuine, grassroots-led movements in order to increase profit becoming increasingly common, La Manna wants to highlight what true sustainability looks like… and she wants you to get involved too.
The panel will also feature Sojo app founder Josephine Phillips and Daze Aghaji, a youth climate justice activist, among plenty of other inspiring eco-warriors.
Ready for a rousing discussion that will have you itching to make a positive change? Grab your tickets here.
Get Involved in Actions for Earth at the National Maritime Museum
April 17th
The National Maritime Museum has been hosting a selection of eco-conscious workshops in the run-up to Earth Day 2022.
Perfect for those with little ones, the final workshop is taking place on the 17th of April. Artist Rosie will be teaching both adults and little ones how to create a kite out of scrap paper and old maps.
You'll also be encouraged to write loving messages to the planet and head out to the park to fly them once your masterpiece is complete.
Listen to Imperial College London x UN
April 22nd
Can't make it into central London for Earth Day 2022? Reduce your emissions by staying at home and participating in an online event to mark the occasion with Imperial College London.
The event is a reflection of the important Rio Summit that took place 30 years ago, which acted as the blueprint for international environmental action – and the Global Development Hub and Grantham Institute at Imperial College London will be chatting with some of the key figures in the UN to reflect on just how successful we have been.
Practical Information and Map
When?
Celebrated on the same day each year, Earth Day is officially celebrated on the 22nd of April.
What is Earth Day?
Starting off as an environmental movement, the first Earth Day took place on April 22nd, 1970. Since then, the day has become a celebration of the earth, as well as a day of raising awareness as to how we can protect the planet.
Discover More of London in April