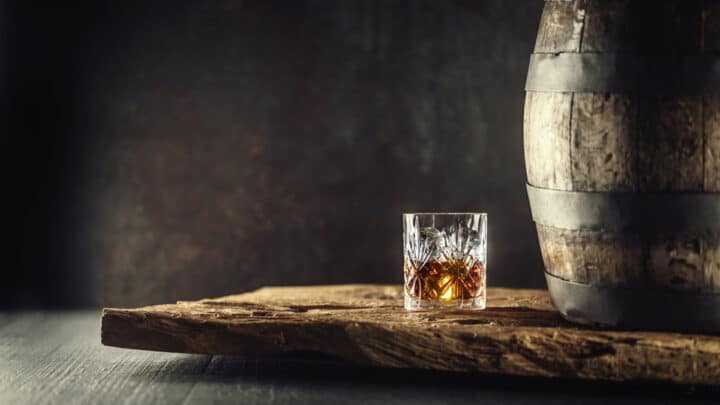 Time for a dram. The best whisky bars in London await.
Sometimes a pint just won't cut it. Sometimes you just fancy a glass of something strong. No problem, we welcome all here at London x London.
Whatever it is you're after, London often has the best of it. So it should come as no surprise that this is true with whisky as well.
There are some excellent bars dedicated to the malted liquor around the capital, but where's best?
Read on for our guide to the best whisky bars London has to offer.
Best Whisky Bars in London
Black Rock
Moorgate
One of London's most iconic and well-known whisky bars is Black Rock. They broke the mould of the whole industry when they opened up back in 2016. How? Well… They took out the bar.
That's right. You don't do things the old-fashioned way here. Instead, you pull up a seat and grab the attention of the floating floor staff who'll show you to a cupboard and help you pick out a dram of something you like.
The centrepiece of the room is a near-two-hundred-year-old piece of tree, cut and carved into a whisky barrel where the Black Rock brew their own whisky, then topped with glass so you've got somewhere to put your glass.
It needs to be seen to be believed.
Four Quarters
Peckham
When you think of whisky bars you don't tend to think they go hand in hand with gaming arcades. They also aren't the type of places that require something like arcade games to get the punters through the doors. That all changed with Four Quarters.
Yes, it's a gimmick bar. No, they aren't specifically whisky focused. But they do have over 50 bottles on their back shelves, and sport whiskies from all round the world – including a few very nice bottles from Japan.
Old Tom's Bar
Leadenhall Market
Pairing whisky and cheese may have been one of the most genius ideas to come out of London since, well, ever. Old Tom's Bar in Leadenhall Market is the spot for it.
They've got a great space carved out for themselves, complete with all the old tiling and wood-panelled ceiling.
Apart from cheese, they do killer charcuterie boards with cured meats to go alongside whatever's in your glass. That will take the form of one of their imported bottles.
From Scotland to Kentucky (and Japan's even in the mix, too) there's something for every whisky drinker's tastes here.
Dropkick Jonny's
With whisky's history of bootlegging it was almost a guarantee there would be a speakeasy in this article. That speakeasy comes in the form of Dropkick Jonny's. It's sort of loosely Irish themed though the area they pay homage to the emerald isle best is in their whisky selection.
The drinks won't break the bank either and come in larger pours than your usual dram, so we're smiling on that front.
So how do you find Dropkick Jonny's? It's upstairs from the Tap Tavern pub in Richmond. You'll have to head inside the pub to find it.
The Bar at the Athenaeum
Mayfair
We'll level with you. We're not totally sure what an Athenaeum is either, other than it's the name of a chain of swanky hotels. They also have a very nice bar that's worth consideration if you're looking for a good glass of whisky.
They are known, among other things, for the quality of their whisky selection. It's home to bottles from all around the world including a couple of very nice scotches.
The lounge area, being plushly decked out with comfy armchairs is the perfect place for a dram.
And if you want to learn more about malted liquor, you can take a whisky masterclass with their knowledgeable bar team.
Milroy's of Soho
Milroy's is a bit of a Soho institution. Not only do they have a whisky shop with some truly excellent bottles on offer, and staff that have an almost encyclopedic knowledge of the stuff, but they also have a small bar where you can taste your way through the selection.
Then, and this is the best bit, hidden downstairs in true speakeasy style, there's a whole separate bar to really settle in for a proper glass of whisky.
They also do cocktails and spirits of other types if you'd prefer, but Milroy's has been accumulating whiskies since the sixties so you'd be foolish not to try a few. You are in one of the best whisky bars London has to offer.
Salt
Marble Arch
This dedicated whisky bar and restaurant combines two things we absolutely love. Whisky and Indian food. Yep, it sounds like an unusual pairing at first, but trust us, it works.
The option for a hearty curry is there at Salt if you want it, but we'll get talking about the whisky. They've got over 180 bottles of the stuff lining their walls, imported from all corners of the Earth.
You'll find the usual suspects: American ryes and bourbons, Irish blends, scotch, as well as some bottles from places you might not usually associate with whisky – like Wales and Canada.
Of course, there are Indian bottles too.
Boisdale
Canary Wharf, Belgravia
Serving broadly British food, this Scottish restaurant's roots can sometimes be a little blurred. That's neither here nor there. The point is that Boisdale has a killer collection of scotch – as it should.
There are two locations and you can drop into either for a dram, though you should really eat what they have to offer. Boisdale is luxurious though, so don't go unless you're prepared to drop a few quid.
What you'll find behind the bar will be worth every penny, if you're willing to spend.
Bull in a China Shop
Subtly vibing off the whisky bars of Japan, Bull in a China Shop is one of the more atmospheric places to grab a glass of the good stuff. Their collection is extensive, with over a hundred bottles to choose from.
Much of the collection hails from Japan, including some very rare bottles that you're unlikely to find elsewhere in London.
They're happy to serve your poison of choice however you like: neat, over a chunk of hand-cut ice, in a highball, or mixed into a cocktail.
Whatever way you take your drink, you won't be disappointed here.
East London Liquor Company
Bow
This gin and whisky distillery has also branched out into distilling things like rum and vodka but they're still true to their roots. East London Liquor Company's rye whisky is really on point, though you'll find plenty to love about the rest of their selection.
You can head down to the distillery and get on the whisky on-site (gotta love a bit of local business). They also have a restaurant turning out some top-notch grub so you can make a day/night of drinking.
And talking about making a day of it. They also do tours of their distillery.
The Connaught
Regularly cited as being one of the best bars in the world, so it's sometimes a surprise that The Connaught's whisky selection is impeccable.
That's mainly because they're known for their infamous Martini trolley, and a bar of consummate pros that knock out some excruciatingly good cocktails.
But we digress. They've also been building a bit of a following for their ever-growing selection of whiskies. They've brought in bottles from all over the world, and naturally only the best. There's even a bottle on their whisky menu that hits the four-figure price mark.
You'd better have deep pockets.
The Sun Tavern
The Scottish get too much attention for their whiskey. What about other Celtic nations with strong drinking traditions? Irish whisky may not have the pedestal that scotch has beneath it but it's still some of the best in the world.
Down at The Sun Tavern, a little neighbourhood bar in Bethnal Green, they celebrate that with a collection of over 70 bottles of the Irish stuff – the largest in London – and a team of barmen who're more than ready to help you navigate it.
They also do a lesser-known Irish brew called poitín. Worth a try for anyone feeling adventurous enough.
Le Magritte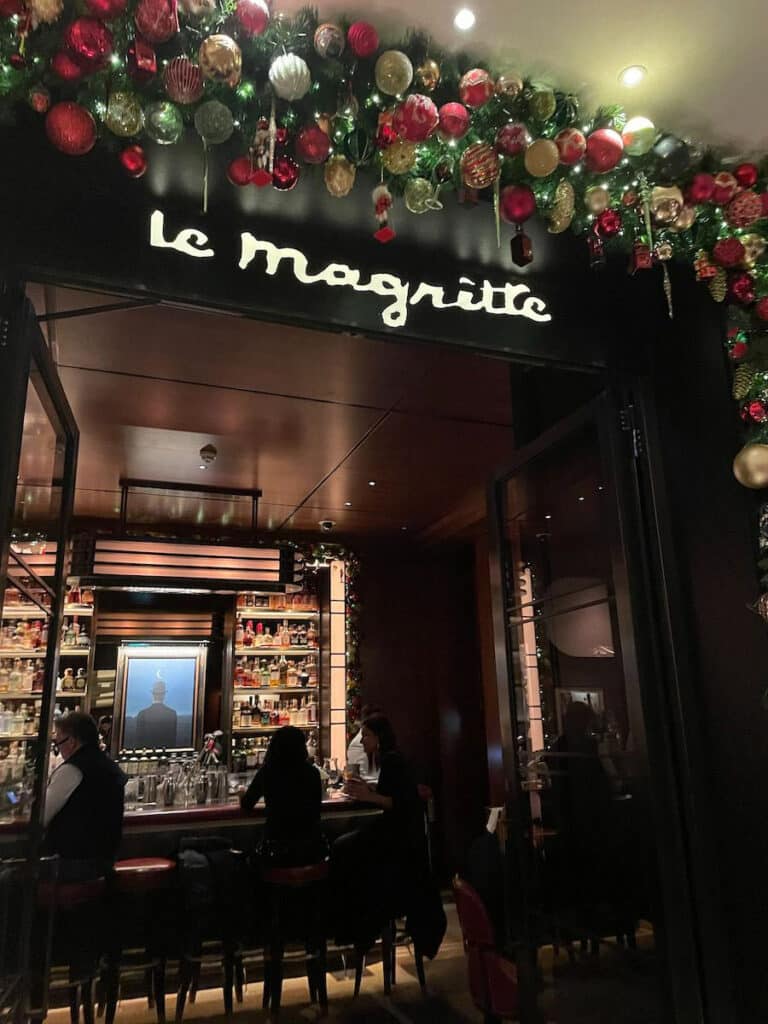 Looking for a classier affair? Le Magritte is one of London's suavest bars.
This American-style watering hole, bedecked with dark woods and white-suited barmen,
could be classy enough for the likes of Sinatra or Capone.
Though they do a great cocktail, they also specialise in American whiskies. They have a large collection of bourbons and ryes that tempt us to try and drink them all every time we find ourselves at the bar.
So far we're still trying.
Other Places to Drink Whisky in London
The Scotch Malt Whiskey Society
Farringdon
These guys love the malted liquor so much they had to put in their very name, and believe us when we say they don't mess around. The folks at The Scotch Malt Whiskey Society have a love for whisky that runs deep.
This, their London outpost, is set in a charming Edwardian townhouse that doubles as a whisky bar and members club. Here's the hitch. You'll need a membership to enter. That'll cost you £85 a year and can be bought on the spot.
Once you've got it though, you'll have full access to their whisky bar and member's rooms.
Here comes the numbers: they've got over 500 bottles of whisky on offer. Mostly scotch of course, but also including some of the best of the rest.
Anyone with a serious love for whisky should have these folk on their radar.
Practical Tips for Exploring the Best Whisky Bars in London
Whisky brings out the nerd in its drinkers. People that you meet in places like this will often know their stuff. To that end, it might not hurt to ask your barman or that guy you end up chatting to at the bar for a recommendation.
A lot of these places will be highly busy. They will take walk-ins but make sure you book if you're planning ahead of time. It's gonna save you a lot of hassle.
Whisky Bars in London: Map