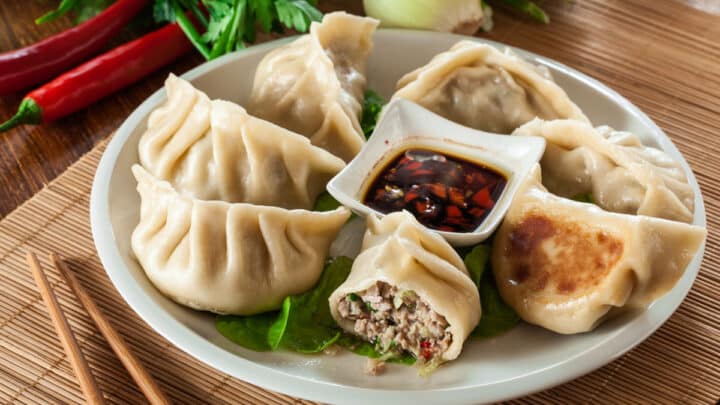 The ultimate guide to eating dumpling of all shapes and sizes in London
There's a special place in our hearts for the dumpling. They're somehow so simple and yet unbelievably delicious. Thankfully London is full of Chinese restaurants, and as such anyone who feels the same way as us has plenty of options when it comes to tracking down the best dumplings in the city.
Whether you're after soup dumplings, dim sum dishes or even fried gyoza, you're in the right place. In honour of our love of this fine fine food we've put together a guide of the eight best dumpling spots in the city.
Ready to discover the best dumplings London has to offer?
Best Dumplings in London
Beijing Dumpling
Chinatown
One of the finest spots to eat dumplings London has to offer is Chinatown's Beijing Dumpling. The name is slightly misleading as you'll be coming here for a dumpling that hails from Shanghai – the xiao long bao.
These are the classic soup dumplings you must have tried before. Slightly difficult to pick up and just the right size to be eaten whole, they come with a small amount of fatty soup in the filling that bursts in your mouth on first bite.
The xiao long bao are great here. Their dough is thick and chewy – more so than other places in London – and the fillings are meaty. You shouldn't forget to order a bowl of the crab and pork variety. It's a classic.
Poon's Wontoneria
Location changes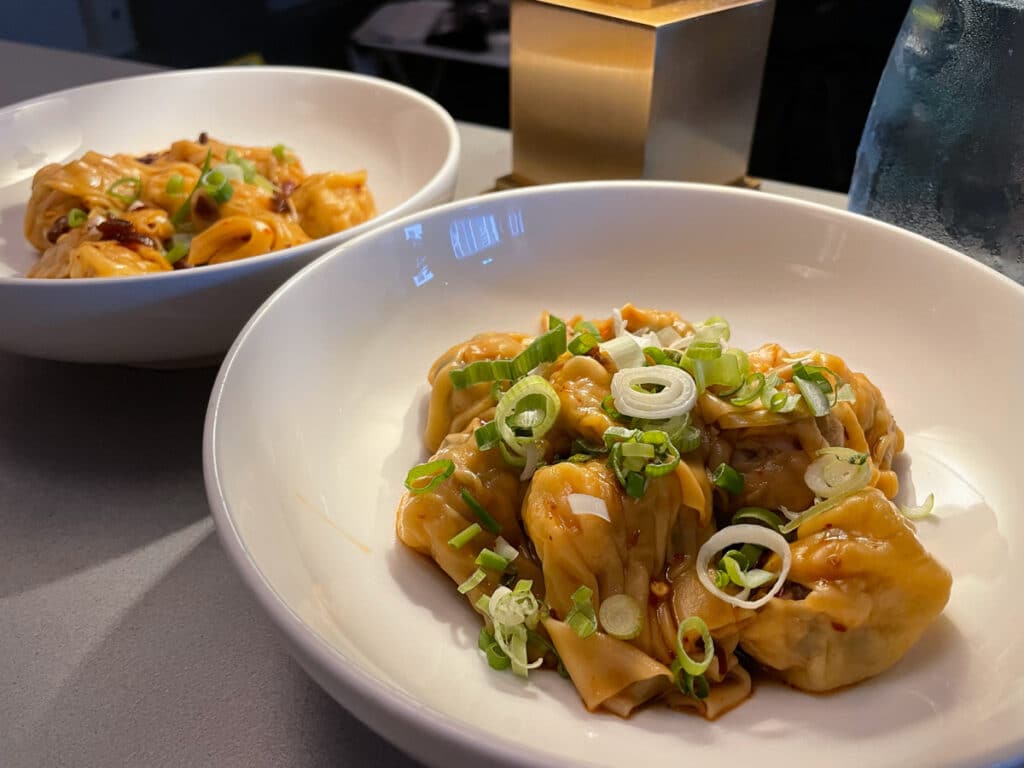 We absolutely love Poon's Wontoneria for many reasons. First and foremost is the dumplings. They make some of the best dumplings in London. Hands down.
As you might have guessed from the name, these folks specialise in wontons, packed with fresh, flavoursome ingredients and served under a dollop of house-made chilli sauce. We love the prawn variety but the chicken and mushroom deserves a mention too.
Another reason we love Poon's? The history. The family that run this pop-up can trace their restaurant lineage back to the Chinese imperial court, through to restaurant superstardom and even have claim to inventing the stock cube. Today they're a humble pop-up doing some of the best Chinese food in town.
Read More: Poon's Wontoneria – The Excellent Pop-Up Chinese Restaurant You Need on Your Radar
Din Tai Fung
Covent Garden, Tottenham Court Road
Din Tai Fung comes to us via way of Taiwan. They're the posh boy on the dumpling scene. The high-class option and something approaching dumpling heaven. Don't take our word for it – their Taipei flagship restaurant holds a Michelin star, not easily won for a food as humble as the dumpling.
But there's nothing much humble about Din Tai Fung. Interiors are quietly sleek and at times impressive. You're here for xiao long bao. The kitchen has preparation down to a fine art, creating exactly 18 folds in delicate dumpling skin and working some kind of magic on the soupy insides.
You'll have to pay a bit more for the privilege of eating here, but we happen to think it's worth it for some of the best soup dumplings London can boast
Dim Sum Terrace at Harrods
Knightsbridge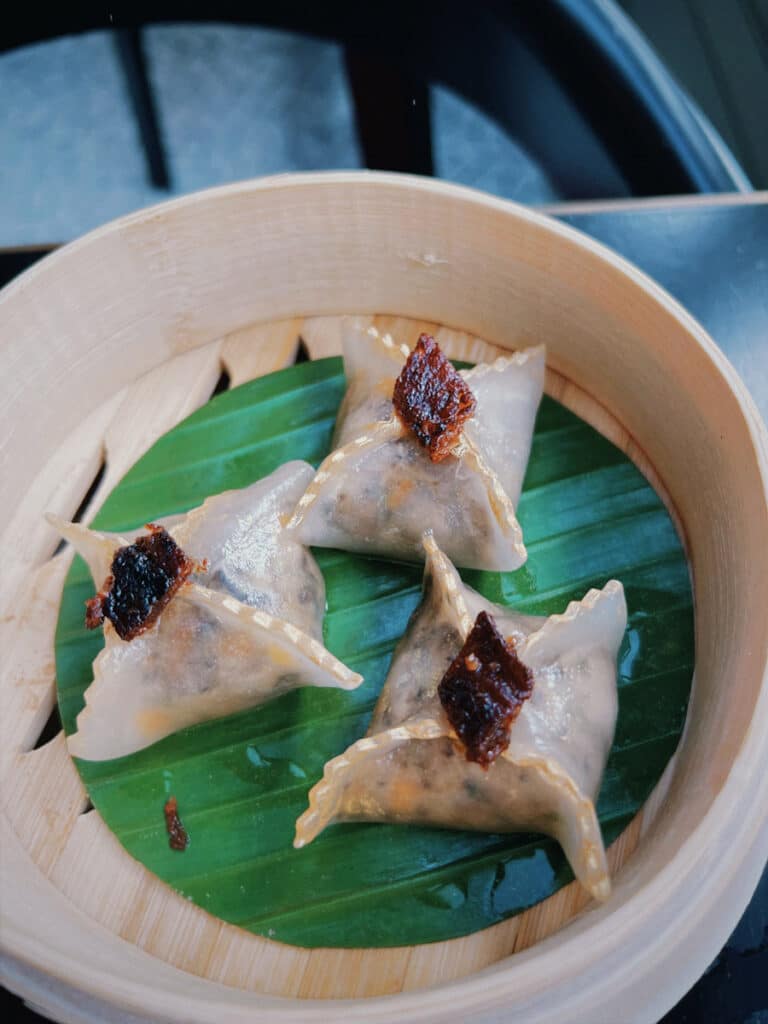 While we're on the subject of high-end dumplings it would be rude to neglect what's on offer at the Dim Sum Terrace at Harrods. This place is the sister restaurant to Harrods' upmarket Chinese eatery Chai Wu and does some pretty mind-boggling things with dumplings.
We think the words duck and truffle steamed dim sum topped with crispy duck skin should give you some idea of what we mean.
Food here is very fancy but boy is it delicious. It's also unlike many of the other spots you might go to eat Chinese food in London. If you're willing to lay down the money though, you will find a marked difference in quality.
Ugly Dumpling
Soho
If you're looking for dumplings, Soho has a few options. Most of them are spillover from nearby Chinatown. Among them is one of a dumpling restaurant London and all the people in it should know about.
That would be Ugly Dumpling. They take the humble dumpling and elevate it slightly by sticking it on some nice plates and giving it a splash of colour. None of that matters to us really. We love what they do because the dumplings are seriously delicious and won't break the bank.
Cafe TPT
Chinatown
Obviously Chinatown is full of spots for a good bit of dumpling dining but you can't really do much better than Cafe TPT. This Hong-Kong themed cafe is a London favourite of ours.
It's basically a very faithful representation of the dim sum houses of Hong Kong. That's largely noticeable in the dumpling soup they do on the menu. Its wontons are chunky, the soup hearty and the price reasonable.
Like dining in Hong Kong, you may well be elbow to elbow with strangers at Cafe TPT. It's frenetic in there and that makes it kind of magical.
KOI Ramen Bar
Brixton
It would be wrong of us to write a whole article on dumplings and not mention the gyoza. It is a dumpling afterall, even if it is a fried one. If you're looking for a plate of the Japanese delights, a good place to start would be KOI Ramen Bar.
It's one of the many great spots to eat at Pop Brixton, serving up a solid menu of Japanese ramens and snacks. Some of those snacks are the gyoza we're here for.
They're expertly fried and packed full of fresh ingredients which gives them a nice clean edge in spite of the fact they're fried.
The beauty of this place being in Pop is that you can have a plate or two of gyoza for a starter and then choose a whole new cuisine for your mains.
Dumpling Shack
Spitalfields
Last but not least in our dumpling guide is the legendary Dumpling Shack of Old Spitalfields Market. These guys do a killer plate of sheng jian bao – a type of Chinese dumpling made in bao-like dough and then shallow fried so that the bottom is crispy.
The bao are made fresh daily just like everything else on their menu – speaking of other things on their menu actually reminds us that they also have a great bowl of chilli oil prawn wontons at this spot.
We highly recommend getting a portion of each.
Practical Tips for Exploring the Best Dumplings in London
It's common sense but make sure you book ahead if you can. You don't want to miss out on dumpling dinners because you didn't book a table. That said, Chinatown spots will usually be able to accommodate walkins easily.
Don't wear white. Eating dumplings can be messy business. You might come away from it covered in chilli sauce or dumpling soup, and no matter how pro you think you are with chopsticks, no one is immune.
Dumplings in London: Map