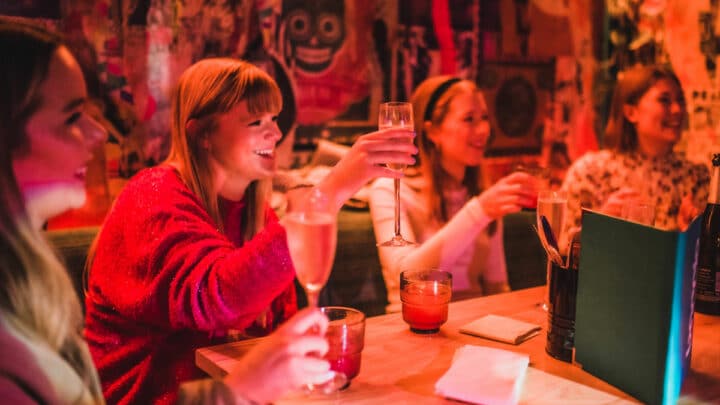 Looking for the best happy hours in London? Yes, they do exist. Here's a guide to our favourite happy hours that are just begging to be taken full advantage of.
Happy hours. Where would we be without them? Well, a few quid poorer for sure, and maybe getting on with work minus a nasty mid-week hangover.
However much they might tempt you into partying with abandon on a school night, we just can't live without a good happy hour.
Acknowledging that we only have our lack of willpower to blame for the nasty headache, and not the BOGOF margs, we've decided to put together a guide of our favourite happy hours around London.
From fancy cocktails to jugs of rum punch, and deals of all shapes and sizes. Here's what we think are the best happy hours in London
Best Happy Hours in London
Kanpai
Kanpai broke ground not just in London but in the UK by being the first ever British sake distillery. They take this stuff seriously, using mystical techniques to ensure the PH level in the water they use matches that of the water in sake country, Japan.
They also take your drinking budget seriously, offering a pretty solid happy hour on Wednesdays and Thursdays from 5pm till 7pm.
During those wonderful hours, you can nab yourself a sake cocktail or bottle of the sake of the week for just £5. How do you say bargain in Japanese?
The Rum Kitchen
Multiple locations
You'll find a branch of the Rum Kitchen in all of the coolest corners of London: Soho, Shoreditch, Brixton, and in them you'll find a happy hour that's pretty difficult to turn down.
£20 will get you a hefty jug of rum punch to be shared between friends (or just demolished yourself, we'll leave that choice up to you). They've got heaps of different flavours so you'll always find something to suit what you're after.
They also have some pretty tasty food on offer if you need something to line the stomach before trying to put away a jug of rum punch on your ones.
Barrio
Multiple Locations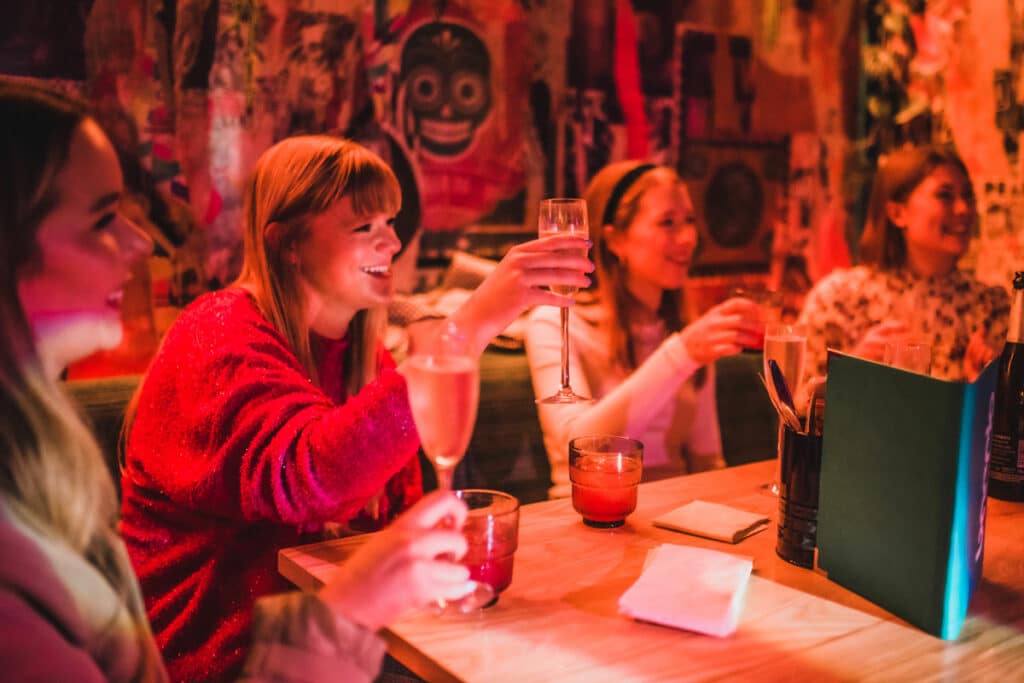 Bringing a touch of Latin cheer to your happy hour is a surefire way to ensure that it drags on into the night and probably another bar or two before home. But that shouldn't stop you.
Barrio's happy hour will mean you make most of your money back before the night goes awry.
Until 9pm Mondays to Thursdays, and 7pm on Fridays, you can snag deals on the best 2-for-1 cocktails London has to offer, bottles of prosecco for 20 quid, £3 shots of tequila and £4 bottles of Sol.
Is that really not enough to get you down there? How about we remind you that tacos are also £3 during happy hour?
Blame Gloria
Multiple locations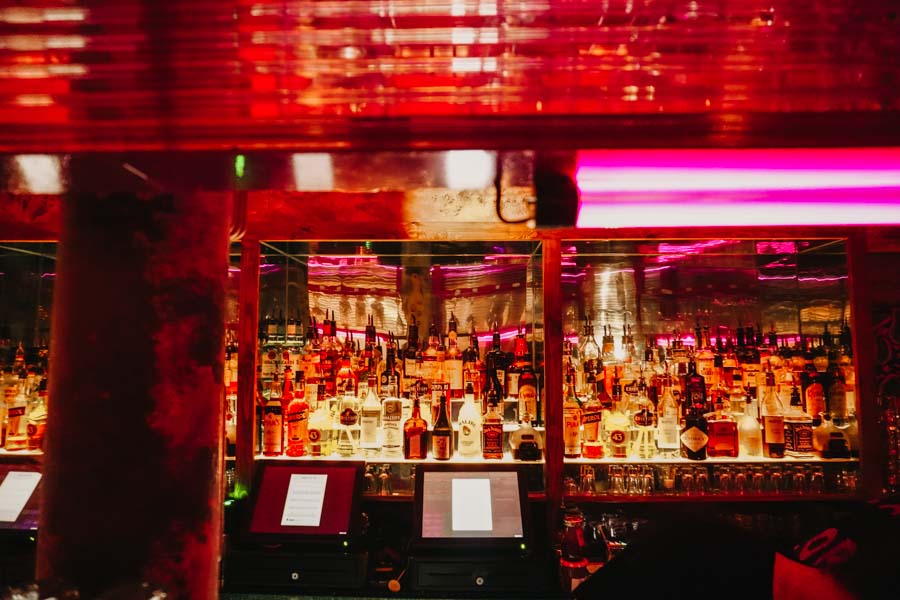 Nobody's quite sure who Gloria is, but it's been confirmed that she throws the wildest parties. Her secret? Getting everyone sloshed on cheap drinks…
Blame Gloria is well known among the drinkers of London as the site where many a terrible hangover was born. It all begins (usually) with their truly unbeatable two for £12 cocktail deal.
That runs from 5pm – 7pm Monday to Thursday, from 4pm – 6pm on Fridays, and in case you need a cheap hair of the dog (or two) 3pm till 7pm on Sundays.
The Montpelier
Peckham
We're always on the lookout for what might be the best happy hour London can offer us. We were pretty pleased with ourselves then when we stumbled across the 2-for-1 spritz offer at The Montpelier in Peckham.
The deal runs from 5pm to 8pm on Thursdays, just as the pub starts to fill up with those after work drinkers ready to take Friday as a work-from-home day and fill up on cheap drinks.
If you're reading this and that sounds a lot like you, know that The Montpelier also does a banging spread of chicken wings and burgers. Lining the stomach with some of them might swerve the worst of Friday's hangover.
Sing Easy
Leicester Square
At the top of our mind when thinking about the happy hour bars London has to its name is Sing Easy. This place kicks off.
Be ready to sing along to your fave ballads as presented by a proper West-End show host, joined in by waiters who belt out lyrics with you and aided by a killer happy hour deal.
That deal comes in the form of 50% off all drinks from 5pm – 7pm every day. Yes, you read that correctly. It's pretty much an unbeatable deal when you consider the fun you're guaranteed in a bar like this.
Colours
Shoreditch
If you want to spice up the end of your week with a few drinks and a boogie, Colours in Hoxton may be just the place. Not only does the bar pop off as the week draws on but they offer some of the best happy hour cocktails London can boast.
How good can they be, we hear you ask… Well, how does £5 cocktails from 5pm to 9pm sound? When? Wednesday, Thursday and Friday folks – the days when you need them to take the edge off the busy work day the most.
All About Eve
Tucked a few blocks back off Camden High Street you'll find All About Eve. Obviously, the location makes this bar an ideal spot for a bit of a post-market-shopping booze but there's another good reason to be hitting drinking here.
That would be a happy hour that gets you two cocktails for £15 – a deal only sweetened by the fact that cocktails is what All About Eve does best. The deal runs from Tuesday to Thursday from 4pm-7pm.
The Loft
Spitalfields
If you've done the rounds of Spitalfields market enough, you'll probably know of The Loft – the market hall's arborital bar, perched in the rafters.
The leafy bar is a lovely place to hang out and, as well as a killer happy hour deal or two to draw you in, even has ping pong tables to provide a bit of light entertainment value.
As for that happy hour deal, you'll find much to love about the Loft. Two Margaritas go for £15, Monday through to Friday from 4pm-6pm, and on Mondays, Tuesdays and Wednesdays you can grab yourself two-for-one cocktail deals on selected drinks.
All of the above is perhaps best taken advantage of on Tuesdays when the loft rolls out a selection of discount tacos and gets into the Mexican vibes.
Market House
Brixton
Looking for the best happy hours in Brixton? Top of your list should be Market House. They run a happy hour every day of the week from 5pm – 7pm that'll get you to buy one get one free on any and all cocktails they have on the menu.
As for the venue itself: a multi-floored space that pumps out lively music and is known to get wild as the night goes on. They also do some pretty tasty food if you need a bit of dinner between putting away cocktails and partying the night away.
Zodiac
Camden
If you're looking for a Saturday happy hour London probably won't be too forthcoming. One place you can find one though is Camden's Zodiac. This pumping LGBTQ+ bar keeps busy until 2am, but you'll want to arrive a bit earlier to take advantage of the drinks deals.
They kick off a happy hour at the weekend that runs from 5pm-7pm on Fridays and Saturdays and gets you two-for-one on cocktails and a range of beers for an enticing three quid.
The same deal runs Tuesday to Thursday, and Sunday from 5pm to 9 pm if you really want to take full advantage of those discount bevvies.
The Lowback Bar by Hawksmoor
Probably the nicest spot in our happy hour guide comes in the form of the Lowback Bar.
That, if you didn't already know, is the bar of the Canary Wharf outpost of bougie steakhouse chain Hawksmoor. Don't let the word chain fool you. These guys do it classy, and the Lowback is no exception.
Drinks are good enough to rival some of the best in London and the bar is about as sophisticated as they come. Naturally, drink prices reflect that…
Except from Tuesday to Saturday when you can put away these delicious drinks for just £7 each between 4pm and 7pm.
It's a deal you really should take advantage of if you're out in that part of London, and one that may devolve into a wildly good steak night rather than the messiness that happy hour drinks usually lead to. How's that for class?
Practical Tips for Exploring the Best Happy Hours in London
There's (probably) no need to book for these places. The happy hours run at times when most people are busy working or commuting so the bars should be a little more empty than normal. That said, this is London…
There are millions of watering holes out there and no chance we can cover all of them – though we do our best. This guide is just our favourites. Don't be afraid to poke around your neighbourhood for some more deals. You'd be surprised what you might find.
The same comment applies to bars near where you work, especially if you work in an area like the City of London that is known to have lots of offices. Bars will be very eager to cash in on those thirsty workers.
Happy Hours London: Map