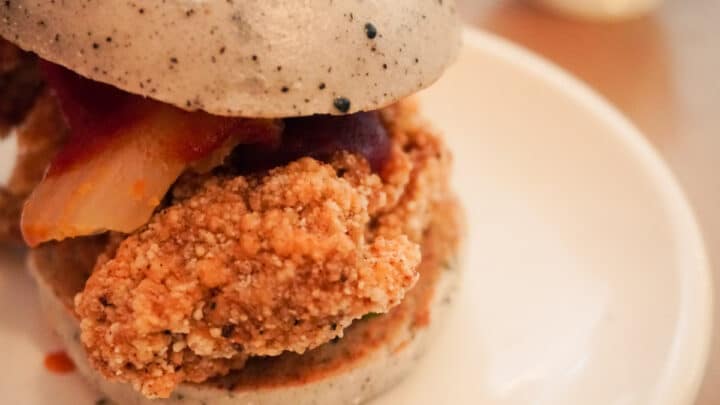 Ready to chow down on pillowy bao? These are the top bao restaurants in London you do not want to miss.
When it comes to Bao, London's restaurants have a lot to offer. So you won't need to look too far for some sweet and spicy Chinese delights.
Contrary to popular belief – and plenty of jokes – we think that London's cuisine is actually pretty impressive (and we won't hear a bad word against it), but variety really is the spice of life.
London's diverse, multicultural community has brought flavours from all over the world – and our taste buds couldn't be more grateful.
Today, you can find some of the best bao buns in London. These traditional Chinese steamed buns filled with savoury goodness have popped up all over the city, ready for you to feast upon them.
Hungry? Here's our guide to the best bao restaurants in London for you to try.
Best Bao in London
BAO Soho
₤₤
Locals would agree that BAO Soho is the best spot for a bao bun in London. This restaurant has won the Michelin Bib Gourmand award for seven years in a row, and once you try what's on the menu, you'll know why.
BAO has six restaurants around London that each focus on different aspects of Taiwanese culture. This restaurant serving bao in London, Soho, is influenced by Taiwan's night market scenes.
This carefully curated menu has something that vegans, vegetarians, and meat-eaters will love – order the fried chicken bao and you won't be disappointed. The pork offering is a close second.
Bahn Bao Brothers
₤₤
Waterloo's Bahn Bao Brothers restaurant is the place to be for pan-Asian-style tapas. This lively joint, clad with Japanese cherry blossom trees and neon lights, offers a selection of small plates inspired by Asian flavours.
Bahn Bao Brothers celebrates the Asian practice of coming together to share a meal. Along with vegetarian, chicken, beef, lamb, and pork bao, you'll find various other pan-Asian plates. Try the chilli garlic prawns or the popcorn chicken with sriracha mayo and you'll be extremely sad about sharing.
Bahn Bao Brothers suggest you order at least three small plates per person. Though we recommend an extra one (just in case). Pair that with a Japanese iced tea cocktail or a Tsing Tao beer.
Daddy Bao
Tooting
₤- ₤₤
The Daddy Bao restaurant in Tooting is the brother establishment to London's popular Mr Bao restaurant. Daddy Bao is a heartwarming tribute to the owner's father, Joe, who arrived in the UK in 1975 and eventually opened his own restaurant.
This restaurant boasts a family-friendly and casual dining experience while also delivering amazing bao, dumplings and other Taiwanese dishes. We adore slow-braised outdoor reared pork, house pickles, roasted peanuts, hoisin sauce, and a flourish of coriander.
Daddy Bao has many vegetarian options that they can make vegan on request.
BAO Fitzrovia
Fitzrovia
₤₤
BAO Fitzrovia is the sister restaurant to BAO Soho and, although they're part of the same family, you'll find some different items on the menu. BAO Fitz (for those in the know) has an extended drinks menu that features sakes, wines, whiskeys, cocktails and milkshakes.
The open bar-style restaurant creates a friendly dining experience. BAO Fitz has a great set menu designed to guide you through the world of bao.
Even though BAO Fitz offers casual dining, you'll definitely have to make a reservation to eat here. The confit pork bao bun is a hit with locals, and don't leave without having a chocolate and toasted rice milkshake for dessert.
Bao Yum
₤
At the Westminster Hotel in London, you'll find Bao Yum. They serve an eclectic mix, from a full English breakfast to Nashville fried chicken and kung pao shrimp bao.
Bao Yum provides a unique approach to classic bao by combining western and eastern styles of cooking into a humble steamed bun. They've even got sweet bao with cheesecake, raspberry, and custard fillings.
If you're looking for vegan bao in London, give Bao Yum's vegan pulled beef bao a try.
On The Bab
Multiple Locations
₤₤
Inspired by the city of Seoul, On The Bab has restaurants in London and Paris that serve Korean street food style meals. They currently have two establishments in London and plan to open two more by the end of 2022. SQUEAL.
We especially like On the Bab in Shoreditch, here you'll find unusual adaptations of traditional bao. On the Bab has a variety of fried chicken and noodle dishes along with their selection of baos in London.
On The Bab is one of our favourite lunchtime restaurants in London for those working around Shoreditch. They've been serving steamy bao buns well before the craze took off in London #beforeitwascool.
Yum Bun
Multiple Locations
₤
Yum Bun offers fluffy handmade bao in East London. What started as a small stall in Hackney's Broadway Market has grown to two restaurants in London that celebrate the owner's Japanese upbringing.
You might've seen Yum Bun's big yellow bus at festivals and markets all over London. But now, you won't miss their charming little restaurants in Old Spitalfields Market and the Seven Dials Market.
Try their Mushroom Bao Bun with toasted walnuts, cucumber, spring onions and miso glaze for the ultimate mouthgasm.
Flesh and Buns
Multiple Locations
₤₤- ₤₤₤
With restaurants in Kensington, Oxford Circus and Covent Garden, it's no surprise that Flesh and Buns serve some of the best bao buns in London. Inspired by Japanese cooking and culture, this modern restaurant is a tribute to art and pleasure.
Manga fans will love the restaurant's bespoke Anime-style artwork. Driven by indulgence, Flesh and Buns' menu is far from limited – this restaurant has a variety of dishes to suit everyone. We love the miso aubergine and Korean chicken varieties.
Typically, you'll find a younger crowd dining here—probably because it's one of London's 'vibey' bao joints and not the best place for a quiet family dinner.
Dumplings & Baos
₤
Dumplings & Baos near Clapham Common station has an assortment of dumplings, wontons, dim sum and some of the best baos in London. While they're primarily a Chinese restaurant, you'll find a few Thai and Korean dishes on the menu.
The locals love this bao restaurant in London for its food and wonderful service. As a result, it gets busy, so make sure to book a table before visiting them. Try Dumplings & Baos' salt and pepper aubergine and squid dishes for a really toothsome treat.
Discover More London Food Guides
The Best Chinese Restaurants in London
Where to Find the Best Bao in London: Map