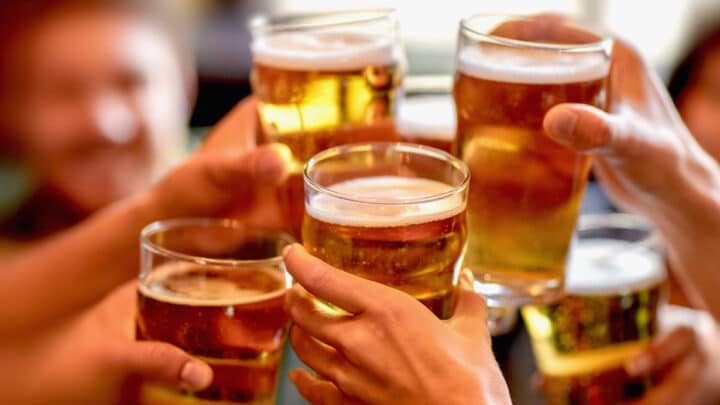 Fancy a pint at one of the best pubs in Clapham? You're in for a treat. These cool pubs are all about the best vibe, cold beers and a *guaranteed* good time.
*OK that might not be true.
Clapham is a pretty fancy neighbourhood so it's no surprise that a host of cool pubs and bars have popped up to keep this clan happy. From Clapham pubs with beer gardens to cosy spots for a drink on a cold day, we've got you covered.
The Best Pubs in Clapham
The Abbeville
Clapham South
Walls adorned with Victorian paintings and a rustic and dark interior with candlelit tables is what you can expect at The Abbeville.
It may be a little different (read: quirkier) to the other Clapham South pubs in this guide, but it's very atmospheric and one of the cosy pubs in Clapham for a drink on a cold day.
With 11 keg taps that constantly change with different beers from around the world, the beverage choices won't bore you. They also serve an interesting brunch menu, and it is a great place to visit after a trip to one of London's best Saturday markets.
The Landor
Clapham North
When you think of a classic British pub, this Clapham North pub, The Landor, is probably similar to what you've imagined.
A dark wood bar lined with velvet bar stools sets the scene, and the rest of the place follows suit. With comfortable and homey feeling table settings as well as a snooker table – you'll feel the British hospitality in this pub.
The beer garden has a relaxed atmosphere, and the regular summer parties and BBQ's make for a great afternoon with friends.
The Bolingbroke
Clapham Junction
Looking for more laid-back café type vibes but still wanting a great drink? The Bolingbroke Pub and Dining Room is your place. As one of the best ​​Northcote Road pubs, you can expect hearty British meals and an extensive drinks menu. If the weather is a little grey, this is also one of the cosy pubs in Clapham Junction to enjoy a beverage.
You can expect quality Sunday roasts, sustainably sourced ingredients, and even vegan dishes at this coveted spot. They also offer an indulgent Christmas Day Lunch which you should consider. There's nothing like not having a mountain of dishes to get through after hosting a festive get-together.
The Northcote Pub
Clapham Junction
Stroll into The Northcote and it will greet you with chic velvet and leather interiors and a lively atmosphere. Sounds pretty good right? It is.
What better way to spend a fun pub quiz evening than in a place that serves almost anything you could imagine? This establishment aims to keep every customer smiling with a wide selection of ales, beers, cocktails and wines, and a Clapham Junction pub quiz like no other. It's also one of the pubs near Clapham Junction station, so it's easy to access.
It's also a great place to catch a live sporting broadcast and while you're at it, try their delicious chicken and ham leek pie. As far as Clapham junction pubs go, this is a real winner.
The Rookery
Clapham Common
Serving craft beers from around the world, artisan cocktails, and small-batch produced wines, there is nothing more that you'll need at The Rookery. Oh, and it's got one of the best pub gardens in Clapham, so there truly is nothing to complain about.
If you are looking for some comfort food to wash down with your pint, you can't go wrong with anything on the menu. The BBQ basted pork belly served with slaw, and sweet potato fries is particularly delicious and will have you coming back for more.
The Alexandra
Clapham Common
We had to add a traditional Irish pub to the list, and The Alexandra took first prize. It's quirky and has 11 beers on tap for you to take advantage of. From the house bitter to crafts and stouts, there's plenty to choose from. They also have a decent wine selection if you'd prefer.
They whip up some pretty impressive bar snacks, but if you're hungry, you can't go wrong with one of their pizzas. This is one of the best Clapham Common pubs for a casual pint with friends and a round or two of darts.
The Windmill
Clapham South
Along with their wide range of normal and craft beers, The Windmill also offers gluten-free and alcohol-free beers, catering to a wide client base. You can also enjoy classic British meals along with your drink of choice.
This quintessential pub serves up food just as delightful as its design. The interior is elegant and light-filled, while the newly designed garden is a lovely option if you are looking for outdoor pubs in Clapham.
The Railway Tavern
Clapham North
A staple establishment in Clapham North, you'll hardly ever find this place without another person in it. Known most popularly for its music, if you feel like shaking those hips at one of the most loved Clapham High Street pubs, The Railway Tavern will give you the beats to do so.
You'll find the usual beers and ales, but if you're feeling daring, why not try the signature "Magic Rock Common Grounds". Yes, this drink is as weird as it sounds. It's a combination of seven different malts combined with seven different coffees, which are all added separately during the ale making process.
The Bobbin
Clapham Old Town
A hidden gem like no other, not many people know about The Bobbin tucked away on a quiet backstreet in Clapham Old Town. The outdoor beer garden with sprawling roses up the walls is a charming place for a leisurely lunch. It's pretty small, though, so get there early to snag a spot in the sunshine.
The interior is equally beautiful for a dinner or an afternoon drink, and the well-considered beer and drinks list certainly doesn't disappoint. It's truly one of the most delightful Clapham Old Town pubs.
The Sun
Clapham Old Town
Come summer, expect flowing drinks and good vibes at this stunning beer garden in the heart of Clapham Old Town. The food is pretty tasty too, and you'll have a variety of bar snacks to pick from.
The pub regularly rotates ten craft beers on tap, so there's something new every time you visit. You'll want to book a table in advance for The Sun, especially in those lovely London summer months.
Clapham Pubs: Map